Employee Training on Salesforce is a Cornucopia of Innovation! In the last 18 years, the ecosystem that the CRM built has created a greater leeway for a plethora of new-age user adoption, learning and training solutions. Salesforce myTrailhead is the latest in this stride of training solutions, which is expected to join the bandwagon of thriving solutions like Digital Adoption Platforms (DAPs), Microlearning Solutions, and LMSs.
All of these solutions have been woven into the fabric of the Salesforce ecosystem just because they are differently capable of solving the same problem that affects the masses. That is, making employees effective and efficient on the CRM.
Let's say that all the tools I mentioned above have the same outcome. That is, these tools augment adoption and employee training methods making employees more efficient. But then, with so many tools available, the only significant question would be – how to decide on what to use?
To decide on that you need a clearer perspective on the capabilities and benefits of these tools. And moreover, you need to understand how much of returns will you get on your investment!
Well, to make things simpler, I've written this nifty article that'll give you clarity and perspective while looking for your training solution.
Spoiler Alert: This article will also help you decide whether you should or shouldn't go for myTrailhead.
For ease of understanding, I am dividing the article to answer 3 vital questions that you should consider while looking for training solutions. (TL;DR?- Click on the link to jump to your preferred part!)
Author's note: I would recommend you to read the article sequentially for best understanding. Especially, if you are planning to make changes in your current Salesforce training plan.
Let me start with the explanation to the first question. – The common thread between all the new-gen training solutions.
The Common Thread – Personalized Employee Training Experience!
Personalization of Employee Training is much like the new kid on the block.
Many of the Enterprises turn a blind eye towards its existence and still prefer the tried and tested instructor-led classroom training. As an addition to the monotonicity of these dated methods, they bombard employees further with documentation and videos to aid them while learning. (That reminds you of your school days, doesn't it?)
Nevertheless, these methods are generally time-consuming and rest on the delayed proficiency of the employees.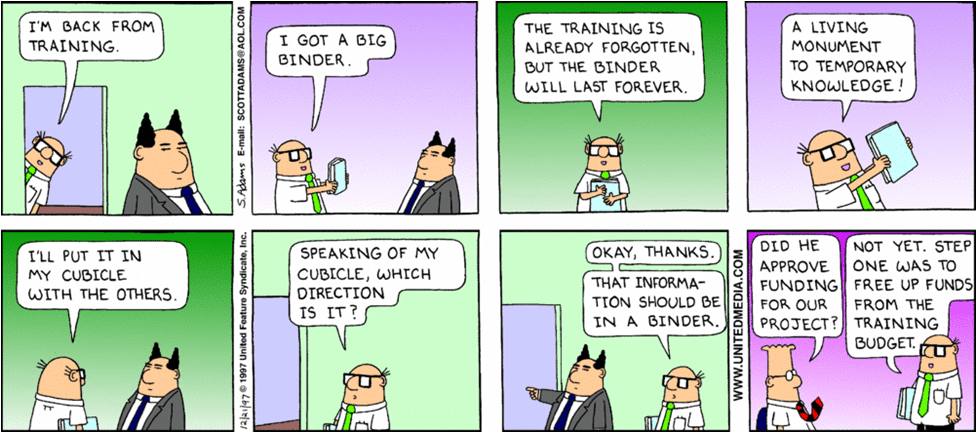 But despite its shortcomings, would you still vouch for this tried and test method?
To a certain extent, yes. (Well arguably, it does work!)
But, then is it scalable with the rapid growth of technology? Well, that's a big NO!
The reason – "People's learning mentality is changing with technology."
According to LinkedIn's Workplace Learning Report 2018, "49% of the employees prefer to learn at the point of need, and 58% of employees prefer to learn at their own pace."


So, how do we go about this tricky situation?
It's pretty obvious!
Tailor your employee training according to the needs and capabilities of your employees. Personalize it so that your employees can learn individually on their own!
---
Let's try and understand why personalization is so critical.
Why is Salesforce launching myTrailhead?
With myTrailhead, the aim is to extend its user adoption and training platform – Trailhead outside of its walls, giving businesses the ability to personalize their employee onboarding, training, and learning.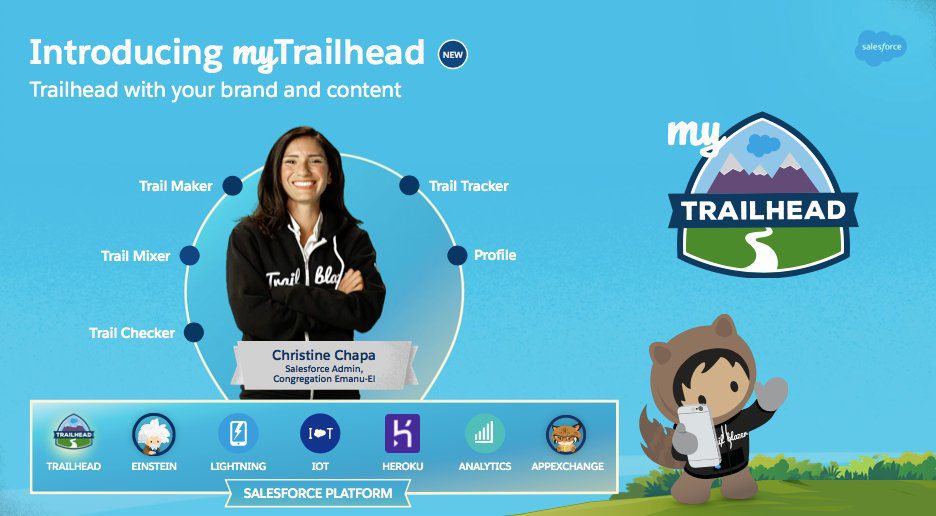 Trailhead, Salesforce's internal online training platform launched in 2014, was initially created to service around their products targeted towards its 1 million+ community members. But soon after, the cloud CRM started including modules around corporate values such as equality, diversity, and certain things that had nothing to do with technology. The idea was to be a platform that vocalizes the CRM's ideals, while helping individuals adopt it effectively as well grow their careers within the ecosystem.

With myTrailhead, clients are given the opportunity to personalize their content delivery to reinforce their own values along with providing a platform for employee training and adoption. This is the USP that myTrailhead has been leveraging even before its official release. (expectedly in the 2nd half of 2018)
Also, this is the same common thread used across by employee training and product adoption solutions like Digital Adoption Platforms, Microlearning solutions, and LMSs. With personalization at the helm of their offering, these solutions are helping business improve employee engagement and productivity.
The Many Solutions to Salesforce Adoption
An effective user adoption strategy is at the crux of employee productivity on any platform. As for businesses using Salesforce, this has become more of a necessity. Especially since user adoption on the CRM is quite the challenge due to its sophistication and expansive feature set.
According to Ebsta's 2017 survey on Salesforce usage, "65% cites user adoption as one of their biggest Salesforce challenges."
This is the opportunity that many solutions have tapped into, which has resulted in the huge buzz in Salesforce adoption, onboarding, and training.
How are these solutions differently solving the same problem?
Let me explain in brief about how this adoption problem is solved by the other mature solutions in the market.
1. Digital Adoption Platforms
Digital Adoption Platforms are used to automate the product adoption lifecycle of a software application user. It is the pathway to product success whereby the user is able to obtain full value out of the application in a very short period of time and is able to continue gaining value at a constantly maintained productivity level.
Digital Adoption Platforms focusses on employee training through real-time interactive guidance. Used by many businesses on Salesforce and other Enterprise platforms, these platforms enable you to hand-hold your users across the live platform, prompting them to take actions to perform a task.
Say for example, here's how the Digital Adoption & Performance Support Platform, Whatfix, helps users.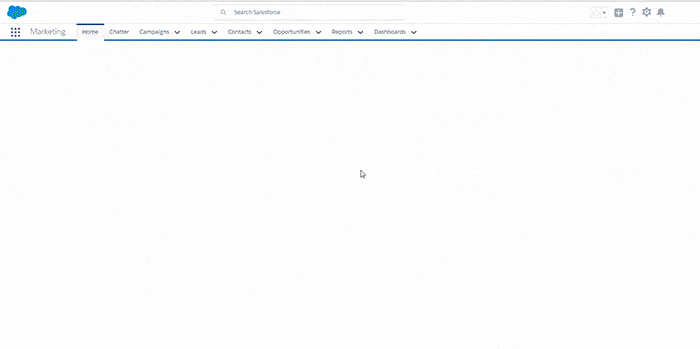 Whatfix on Salesforce Lightning
The idea here is to provide a focussed employee training and onboarding, that helps in delivering on-demand just-in-time help to the employees.
In the above case, Whatfix allows users to "learn while doing" in real-time with its code-free interactive walkthroughs. These walkthroughs appear as an overlay on the platform as personalized context-sensitive tips that guides and engages the users.
The major benefit of this solution is that it improves the knowledge retention of the employees in contrast to the likes of myTrailhead. Also, unlike the specifically tailored content on myTrailhead which is time-consuming to create, these walkthroughs can be created and deployed quickly and easily.
Evidently, being one of the strong contenders to myTrailhead, solutions like Whatfix are steadfastly moving to the must-have category in Salesforce Training.

2. Microlearning solutions
Microlearning refers to the delivery of training content in the form of information nuggets, each no longer than 10 minutes. It is a methodology through which you can keep your employees motivated as well as engaged with short, focused content.
Widely applicable on mobile devices, Microlearning can include content like short text-based descriptions, explanatory videos, Q/A, screenshots, web-based training, quizzes, and other learning games.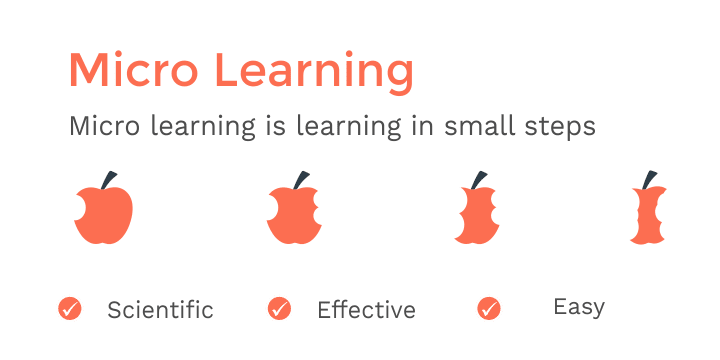 Microlearning also has certain similarities to Digital Adoption Platforms as both are capable of providing just-in-time employee training. Although, the disparity is that, Digital Adoption Platforms rely on actions of the users' in real-time while Microlearning is all about learning and understanding just-in-time.
When stacked up against myTrailhead, Microlearning is far more concise and focussed.
3. Learning Management Systems (LMS)
Being one of the earliest eLearning solutions, LMSs have penetrated deep within the Salesforce ecosystem. LMSs will allow you to document, track, report and deliver specific training programs to your employees.

LMSs are already popular for its ability to integrate tried and tested interactive content like tests, quizzes, etc. These along with the analytical capabilities, make LMSs as one of popular training options. Albeit, as a con, LMSs in comparison to the other available solutions have a larger turn around time for completion of training.
A possible way to negate this would be to combine forces. Since LMS is already a fully-fledged platform, all the other three solutions can be added to it to complement the effort.
That brings us to the next part.
How to create a single, effective training program?
Consider this scenario in which you have a holistic Salesforce training system.
An LMS with all the specific documented training courses.
myTrailhead which is the gamified technology + cultural learning center.
A Microlearning solution on mobile that gives chunks of learnable material to your employees.
And to top it all you have a Digital Adoption Platform like Whatfix on your Salesforce that gives real-time guidance, while you are employees are working on the platform.
Sounds great, doesn't it?
Well, although the idea sets in well, it may be a bit too heavy on pockets.
Although, if you mix and match the above-mentioned combinations with your existing training program, you could possibly work out an effective mechanism.
Read Also: Whatfix Launches World's First SCORM-compliant In-app Guidance Tool
Is MyTrailhead Really Your Best Bet For Salesforce Training?
It's highly likely that within a few months, the first version of myTrailhead is going to be launched. Because of the high regards of Trailhead, it will surely jump to the forefront for many who are evaluating it as an adoption and training tool.
But to be honest, from all that we know so far, myTrailhead is simply the old wine (Trailhead), put in a new bottle!
You already know all that Trailhead does. Using the "my" has just rebranded Trailhead, put on a "paid" tag to it, for businesses. If you put Gamification aside, myTrailhead is just another customizable interactive documentation put together. Another cause for concern is the time-to-productivity of the employees. Trailhead indeed has been contributing to the individual career growth with its expansive knowledge base, but with its new facade – myTrailhead, all that's speculatively changing is that it can be branded and mixed with company-specific content.
In comparison, the other options like Digital Adoption Platforms and Microlearning, attribute to a quicker time-to-value for employee training.
So, before you make your decision, be intelligible to understand the effectiveness of the already available methods in the Salesforce ecosystem. Also possibly try out the combinations that I mentioned earlier.
Plan out your expectations, draw a timeline, find the probable solutions, stack it up against each other, compare their offerings and then decide.
---
What CRM training methods do you use in your organization? How has it been working for you? Let us know in the comments below.