Our Dev and UX team have been crazy busy over the last couple of months, and today we're excited to unveil our fresh, more intuitive and cleaner dashboard.
The new dashboard has been completely redesigned to provide a better user experience and in-app navigation. It is fully responsive and provides extensive customization capabilities for your organization's Whatfix guides. (a.k.a Whatfix Flows)
How we've taken the User Experience up a notch
We felt that navigation and usage of our older dashboard could be made a lot better. Simplicity and functionality being our primary focus, this was a challenge we resolved to see through.
For this, the look and feel had to completely change. And alongside it, easy accessibility of all the guides became the priority.
We started off by gathering feedback from our users on what could change. And we're glad that we've been able to implement all the suggestions and more with the new dashboard.
So, what's new in the Dashboard?
We've added a left-hand-side column, that gives you quick access to manage your guides, users, and tags.
To be more specific here's a glimpse of the new Whatfix Dashboard.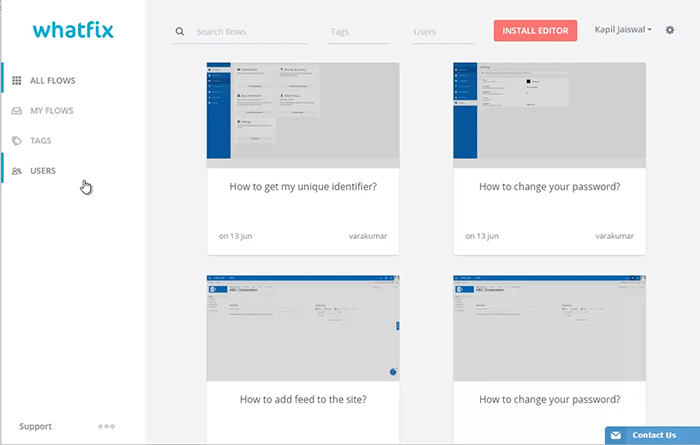 The new elements that have been added are:
1. My Flows -This will show you the list of all the guides/flows created by you
2. All Flows – This will show you the list of all the guides/flows created by the multiple users on your Whatfix enterprise account
3. Users – This will show you all the users who have access to creating guides on your Whatfix enterprise account
4. Tag Configuration – This allows you to edit all the tags that you've been using with your guides/flows
5. Filters – The filters available on the top of the dashboard will allow you to view guides/flows as per user or tags
6. Search bar – This will allow you to do a quick search of all the guides/flows created on your account
This is just a precursor to a lot of features we've planned for the dashboard. Pretty soon we will be releasing features like selection and edit capabilities for guides/flows, single and multiple deletion of guides/flows, multitag configuration, etc.

How will this affect you?
First of all, functionally nothing has changed. The new dashboard is simply the improved version of the older one, which will give you better user experience.
We've made sure that the user interface is much simpler so that you don't take any time at all to get started with it. Within a few minutes, you will be able to manage your guides, users and tags faster than before. And we're sure that you'll have some amazing feedbacks for us once you've started using the new dashboard.
How do you get the new Dashboard?
The next time you login to Whatfix, the new dashboard will be there to welcome you.
Do let us know your suggestions on the new look and feel. You can do so in the comments below or email us at [email protected]
---
What Else Is New?
Although, our new dashboard is the show-stopper for this feature release, we have some more upgrades that you'd love.
1. Onboarding Pop-up With Video Embed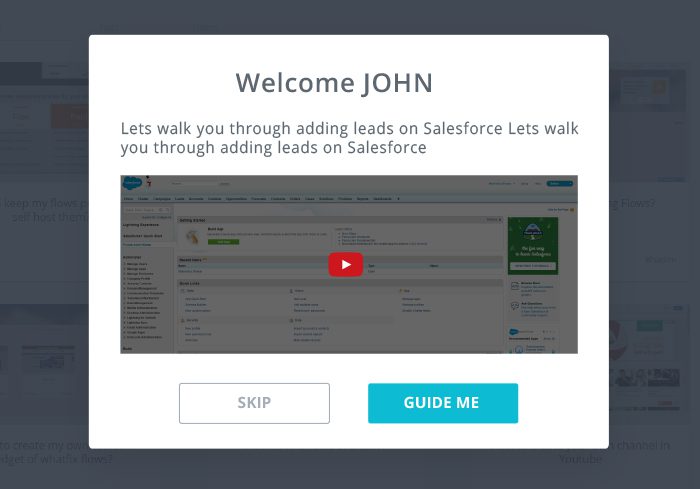 Just like how you can embed videos inside a Whatfix tooltip, users can now quickly and easily embed any video (from any platform) inside the onboarding pop-up.
So from now on, along with the getting started interactive guide, you can showcase your product explainer video (or any other video) to users directly.
2. New Upgrade for Whatfix Tooltip Configuration
Last month, we rolled out the configuration setting for Whatfix tool-tip, which allowed you to completely customize its appearance. Adding on to that, we've added two more upgrades, which will enable you to customize the onboarding pop-up and end message.
The configurations are similar to that of the tooltip, where the customizable attributes are as follows.
For Onboarding Pop-up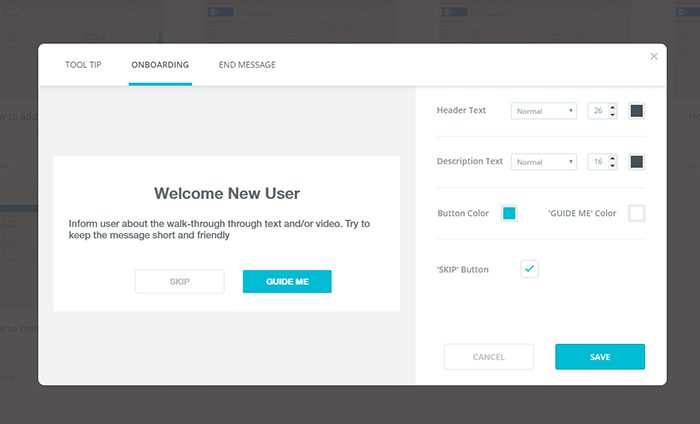 You will now be able to customize:
Header text

Description text

Button color

'Guide Me' button color

Add/Redact 'Skip' button checkbox

For End Message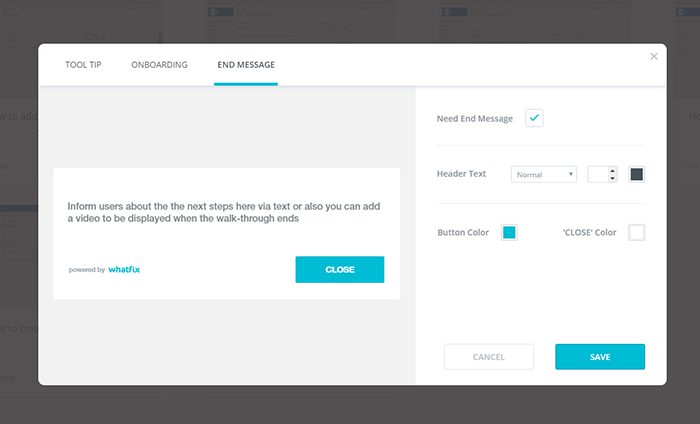 You will now be able to customize:
Header text

Button color

'X' color (Close button)

Add/Redact 'End Message' checkbox

In the next few weeks, we will be populating the theme configurations further. The upcoming releases for the theme configuration will feature Self-help widget, Tasklist widget, Guide description, etc.
Feel free to reach out your success manager for more details on these features. You could also email us at [email protected]