All of us at Whatfix are obsessed about Product Adoption. Every day of the month we fuel that obsession by building some incredibly useful features and enhancing your experience with our platform.

In our August release, we introduced you to a new content type, a better way to stylize content and some functional upgrades and improvements.
This month we have some promising updates that will help you organize your content in an efficient manner, plan your announcements effectively, and help you drill down on your Whatfix usage comprehensively.
Without further ado, let's take a closer look at our September release.
Organize content into Structured Groups
This is a big one. As you continue to build content and leverage Whatfix for driving adoption you will feel the need to organize the content in a way that's easy to create as well as consume.
Grouping of content allows you to group content into a logical structure that helps your end-user drill down on the help content in your Whatfix widgets.

Say, for instance, you can use structured groups to:
– Make content easy to find and learn for your end-users
– Collectively categorize the content in a particular section or page in your application
– Group content as per their content type (For eg, videos can be bundled together)
Excited much? Here's how you can create groups to organize your Whatfix content: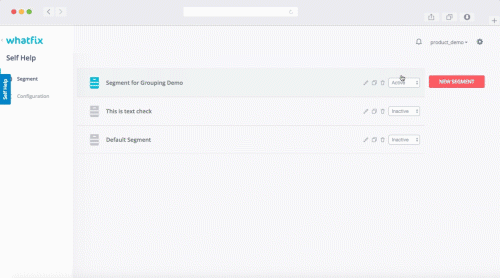 Currently, grouping is in a two-tier hierarchical model, in which you can have a parent group within which you can add the multiple content types of Whatfix.

Grouping of content is available for both Self-help and Task-list.
To augment your experience, we've also added the point-and-click drag-and-drop functionality using which you can quickly organize the groups from within your Widget configuration.
Grouping of content in Self-help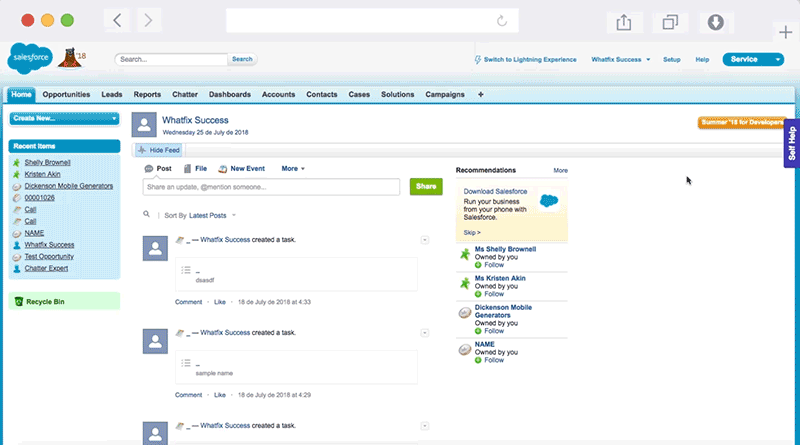 Using the grouping of content in Self-help you can proactively help your end-users with a structured delivery of your help content. You can include the variety of your Whatfix content that aids your end-user to consume content by watching, reading, and learning how-to while doing each of the tasks.
Grouping of content in Task-list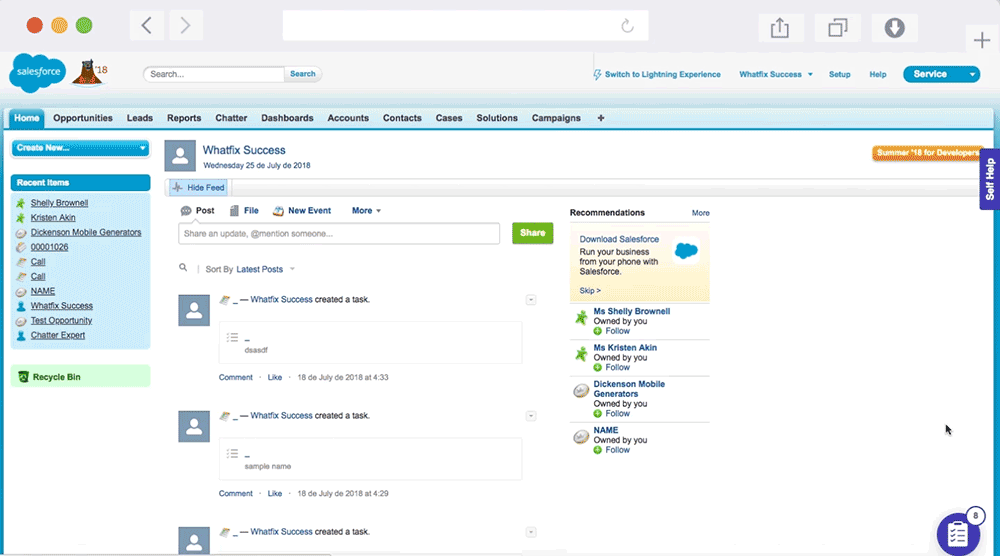 With the structure grouping, your Task list learning-modules (or groups) can be configured with the multiple Whatfix content types easily.
The best way to utilize this feature would be to:
– Organize the content within the Task list by relevance (by page)
– Organize the content as per expected user goals (based on the user proficiency level)
By organizing the content, you will be able to provide your users with related content all in a single place. And can effectively monitor the progress of the user via the task list's task completion.
Schedule Whatfix widget notifications
Have a maintenance or system upgrade on the calendar? Inform your end-users with a timely smart pop-up, guided pop-up, or/and shout-out beacon.
With the new widget scheduling feature, you can assign when to show the pop-up/beacon at a given time and data.
Here's how you can you can use Whatfix's widget scheduling: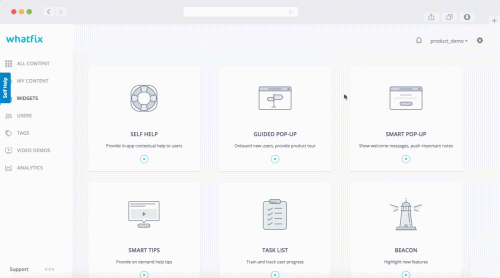 For the three supported widgets, i.e, smart pop-up, guided pop-up, and shout-out beacon, apart from where (using existing visibility rules conditions) you will also be able to configure when precisely you want to users to get the alerts. The following options are available for scheduling widget notifications – time, date, recurrence, and time-zone.
Multiple content types in Task list
Earlier this year, we had introduced the multiple content types of Whatfix. To start with, we had it exclusively for the Self-help widget.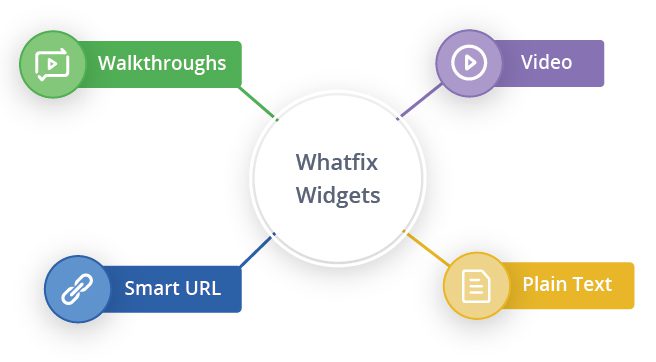 Our Task list is a popular widget among our customers who use it to diligently deliver onboarding and training in the form of task-based mini-courses/learning modules.
With this release, now it's possible to add multiple content types to your Task List.
You don't have to be restricted to just walkthroughs instead you can utilize our multiple content types like Plain Text, Links (Article links like the web page, document links like PDF, sheets, etc.), Interactive slideshows, and Videos as per relevance.
The progress of each task in the learning modules (or groups) is also recorded on completion, making it work like a mini-LMS.
Latest Analytics improvements
With every release, we take our analytics up a notch. This time we have added a full-rounded way to visually track the effectiveness of all your widgets and static data so you know what's working well with users.
Drilldown of attached content data (Pop-up and Beacon)
This gives you the direct links to the attached content to the Beacon or the Pop-ups. In addition to that, if a Whatfix walkthrough is attached (a.k.a Flows), then you will also be able to get a drill down on its analytics.
Note: Drill down is not available for content types like Link and Videos (applicable only to Beacons)
Effectiveness of Whatfix Beacons and Pop-ups
You can now get a consolidated analytics view of the Beacon and Pop-up segments to understand their usage and effectiveness at a glance. This will include a list of all the Pop-ups/Beacons created, its live date, number of times they were displayed and number of interactions with them.
View the usage of static content
This new addition will help you to understand the usage of the static content (i.e, links, videos, and text) embedded in the Task list and Self-help.
Latest UX upgrades & improvements
Alongside our new features and additions to our analytics dashboard, we also have some useful user experience upgrades & improvements.
Download Whatfix's annotated video
Now you can directly download the auto-generated annotated videos of the walkthrough from within Whatfix, without needing to upload them on a public hosting site like Youtube, Vimeo etc.
Embed directly with Video links
You don't need the embed code for including videos from YouTube, Vimeo, Wistia or any of the other Whatfix supported video channels. You can directly drop the link of the video and Whatfix will automatically pick it up and display it.
Quick Export analytics summary report in pdf
A summary report on the usage of all your widgets can now be easily exported in a pdf format for sharing with management or peers.
Facelift for Whatfix PDF format
We have redesigned the PDF format to reflect our slideshows. Now, you can download the PDF which explains the contextual walkthrough and print it out as hand-outs for quick reference. To view the sample, click here.
---
What's next?
Wondering what you will see next on Whatfix? Here's a sneak peek into what's cooking.
– Tighter integration with Salesforce:- using Salesforce objects for creating specific segments in Whatfix.
– Aggregation of Whatfix content with Knowledge bases:- for quicker and comprehensive in-app help.
– Smart flows concept:- is an intelligent automation which will make the creation/segmentation of walkthroughs quicker and provide better end-user personalization.
---
What do you think about these new features? Let us know in the comments below.
Feel free to reach out to your Customer Success Manager for more details on these features. You could also email us at [email protected] or tweet out to us at @whatfix.