According to a BDO survey, 46% of nonprofits said new technology limitations restricted their ability to respond to COVID-19. As in-person programs and events were canceled and more staff had to work remotely, short-term nonprofit digital transformation projects have climbed higher and higher up priority lists. As a result, 64% of organisations planned to invest in new technology solutions in 2020.
But the need to integrate new technologies into nonprofit operations won't disappear when the pandemic is under control. After the health-crisis subsides, you'll still need to address persistent challenges, like increasing funding (even in the midst of a recession), managing overhead costs, and improving donor engagement.
While the pandemic has brought more urgency to nonprofit digital transformation conversations, it's important not to stop with short-term projects. Making transformation a priority isn't just a means of survival right now—it's critical for maximising the impact of your nonprofit's mission over the long term.
Why Prioritise Nonprofit Digital Transformation Now?
The best time to start your transformation journey might have been five to ten years ago, with the rise of cloud computing and the growth of SaaS solutions. But the second-best time is right now. Prioritising transformation right now will ensure that you have the infrastructure and operational efficiency needed to improve the impact of your mission.
Generally speaking, digital transformation is a long-term project dedicated to digitising all aspects of an organisation's operations. Digital transformation for nonprofit organizations can include almost any individual projects that replace manual, siloed nonprofit operations with modern applications and software that integrate more seamlessly. However, that general definition can make  transformation seem out of reach for many nonprofit organizations due to budget constraints and a need to maximise spending on program-related activities.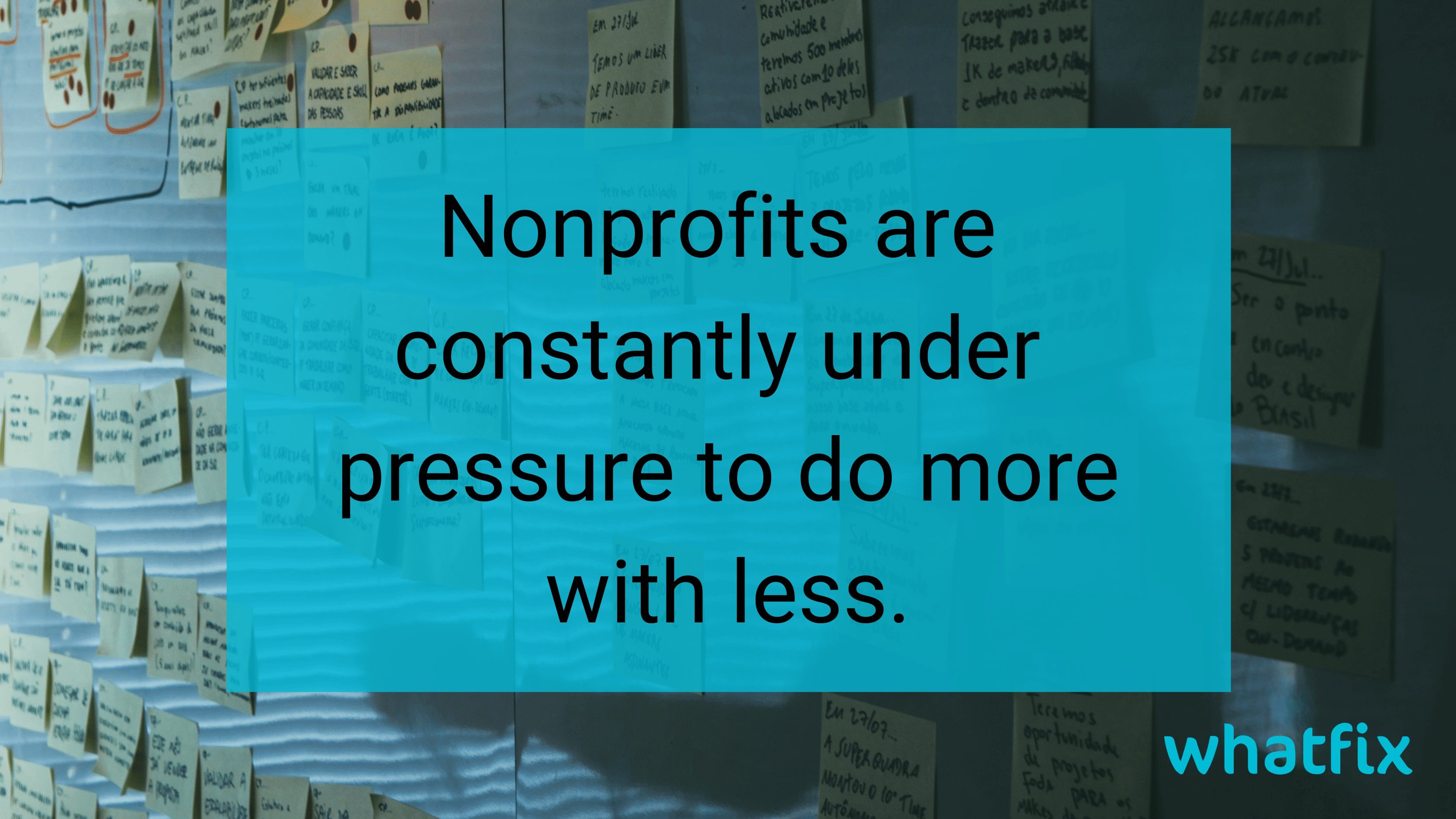 BDO found that 66% of nonprofits saw investing in any technology at all as a top challenge. When individual tech investments are so challenging, the wide-ranging "digital transformation" concept starts to look more like an industry buzzword and a costly collection of operating expenses instead of something to prioritise.
But you shouldn't think about digital transformation as a siloed operating expense—one that takes away from program-related activities. Instead, ask yourself: what are we missing out on by delaying digital transformation projects?
Now is the time for nonprofit organizations to prioritise transformation because it unlocks three benefits that will drive your mission forward.
You're Able to Stretch Resources Further
Digital transformation helps you stretch resources further by leveraging digital tools that make operations more efficient.
Nonprofits are constantly under pressure to do more with less. That pressure will only intensify as you spend months (maybe years) rebuilding your funding pipeline following the 2020 pandemic and recession. The more you can integrate back-end systems, the easier it is to support data-driven decision-making that can help pinpoint opportunities to improve operational efficiency.
One example of a digital strategy that could stretch resources further is consolidating merchant processing into a single, automated platform. Some nonprofits spend countless hours manually combining data records from multiple merchant processing platforms. This makes it difficult to keep records updated and creates silos that limit data-driven decision-making.
Bringing all of that information together in one system frees up your staff to focus on higher-value tasks and gives you a strong foundation of reliable data to analyse. The result is more targeted outreach personalized to the donors and beneficiaries who need it most.
You're Able to Expand your services
Going digital can significantly improve workforce productivity, enabling your nonprofit organization to reach more constituents.
Your mission can change lives, which is why it's so important to continuously find ways to serve more people and communities in need. But the traditional manual processes, siloed systems, and paper-based documentation that are still so common in the nonprofit sector limit your scalability.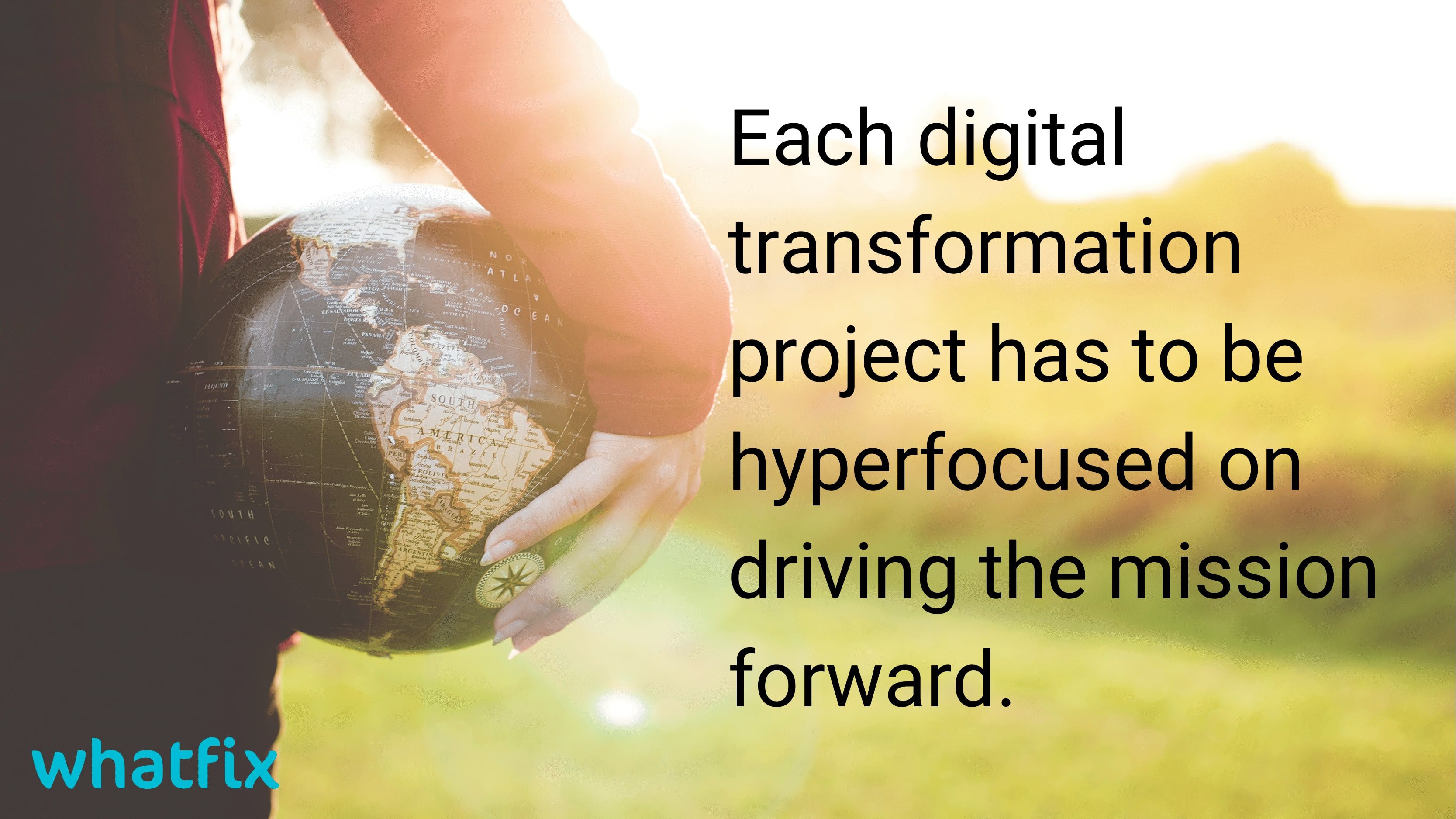 One example of a digital technology that can deliver this benefit is the upgrading of your CRM and integrating it with marketing automation software. Having to manually upload records between your customer database and marketing tools limits staff productivity and can result in communication errors with donors and beneficiaries. Bringing these systems together improves the efficiency of your outreach and helps you scale communications to more people as your nonprofit organization grows.
You're Able to Increase the Impact of Your Programs
Providing innovative user experiences that meet new digital expectations can lead to more engagement opportunities that increase the impact of your programs.
Rapid innovation in new technology has completely changed digital expectations for donors, employees, and beneficiaries alike. Social media, mobile apps, smart devices, and ecommerce have made digital interaction the norm, and nonprofits can't ignore the demand for these experiences.
One simple way to adapt and deliver more modern experiences could be designing an online portal for beneficiaries to interact with your nonprofit. Making it easier for people to find the information they need and creating an hub for administrative tasks, like updating personal information, can increase the conversion rate for recurring donations and also make it easier for people to take advantage of your services. Minimising friction for beneficiaries ensures that they have positive experiences and get the most out of your programs.
What Digital Transformation Meant for These 3 Nonprofits
The fact that there are so many different ways to approach digital tools is a blessing and a curse for nonprofits. The blessing is that you can create a digital transformation strategy perfectly suited for your budget and internal capabilities. But the curse is that finding the right starting point can be a real challenge.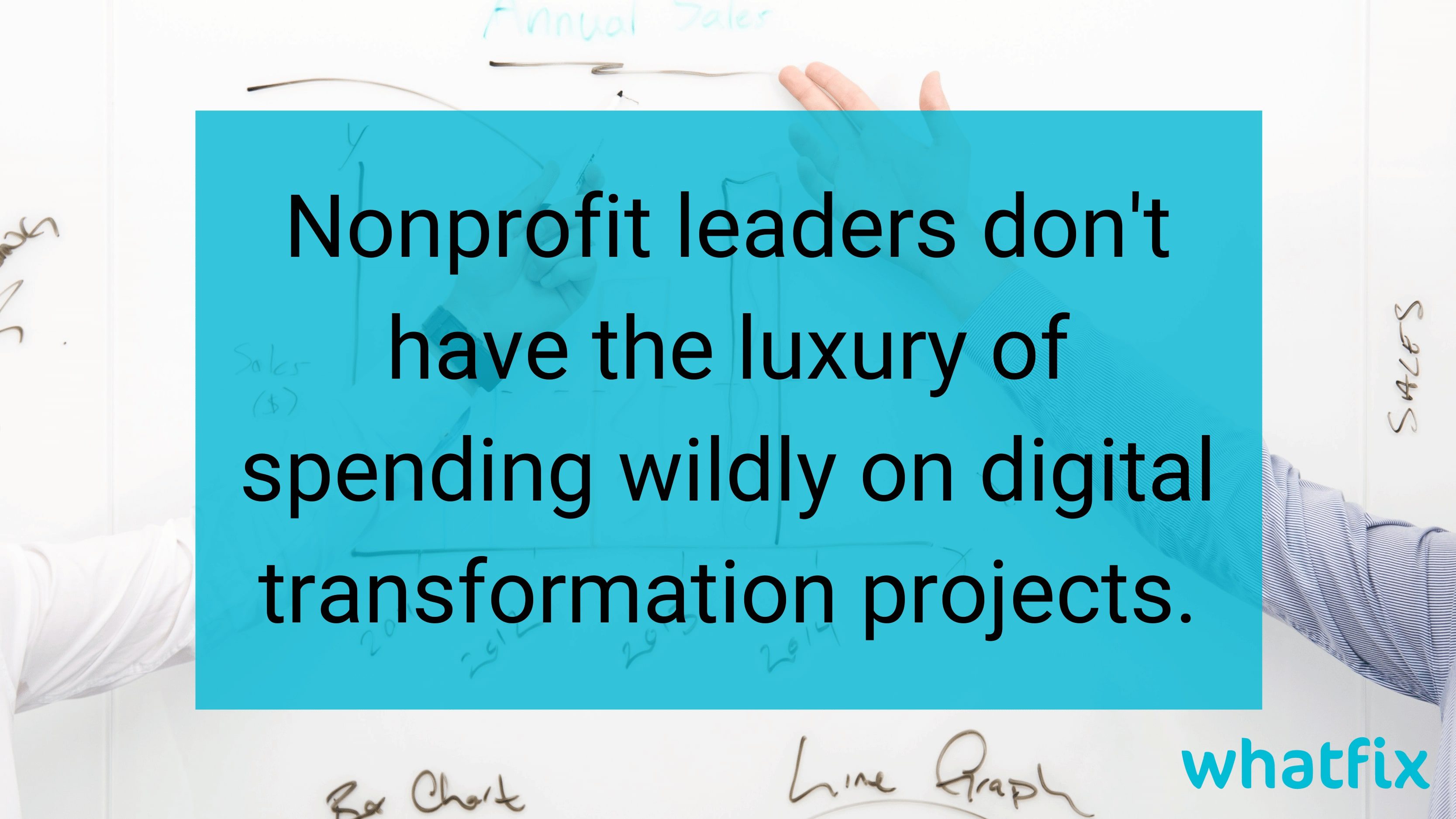 While global spending on digital transformation initiatives is tracking toward $2.3 trillion in 2023, nonprofit leaders don't have the luxury of spending wildly on these projects. Each digital transformation project has to be hyperfocused on driving the mission forward. That starts with some real-world inspiration from successful transformation stories.
For Legal Aid of the Bluegrass: Making Services Portable
Legal Aid of the Bluegrass made its services more portable by upgrading to a hybrid cloud IT infrastructure. Before the migration, outdated servers limited Legal Aid's ability to maintain connectivity for staff members as they tried to extend services to over 200,000 low-income clients across rural Kentucky.
New servers made it easier to support the nonprofit's remote workforce and increase its base of beneficiaries. According to executive director Joshua Crabtree, "Portability for employees is so important. Now they can work from home and telecommute in a planned way."
The $750,000 project wasn't just another operational expense to add to the financial reports. Crabtree said that the upgrades have helped Legal Aid reach thousands more clients while also attracting new generations of tech-savvy employees to the organisation.
For Social Innovation Foundation: Scaling Services by Digitising Documentation
Thailand's Social Innovation Foundation (SIF) scaled its services by implementing new ERP and CRM systems that helped the nonprofit move from paper-based processes to digital documentation. The nonprofit's mission is to help people with disabilities find local job openings, but paper-based processes limited the number of people it could help.
According to a Microsoft case study, SIF "struggled to meet their targets as its staff grappled with the challenges of collating thousands of paper documents and ensuring piles of forms were filled out accurately."
The new systems helped SIF go from processing hundreds of cases in a year to upwards of 10,000. According to president Apichart Karoonkornsakul, the digital transformation project enabled better communication with clients and sponsors while supporting faster, more data-driven decision-making.
For the Open to hope Foundation: Providing A Better Donor Experience
The Open to Hope Foundation started providing better donor experiences by treating transformation as a long-term strategy. The nonprofit executed multiple projects that, over the span of a few years, incrementally improved operational efficiency and gave the nonprofit a better public image.
The foundation started small by building out a website, social media profiles, and a podcast to better convey its mission to the world. However, these initial steps opened the door to bigger initiatives behind the scenes.
According to Dr. Gloria Horsley, founder of the Open to Hope Foundation, they found a number of ways to turn manual processes into digital ones. They moved files to the cloud, eliminated paper-based processing for accounting and payment, and implemented low-cost software for many other operations that quickly minimised expenses.
"As we continued to pursue the new reality of digital, we found more places to incorporate it into our processes," Horsley said. "The response from donors was overwhelming since many were already accustomed to making online payments and were thrilled with our decision to migrate to a digital transaction system."
Effective Adoption: The Key to Making Nonprofit Digital Transformation Work
Digital transformation doesn't have to be a massive, daunting undertaking to help you maximise the impact of your nonprofit's mission. Whether you're just taking your first steps or spending a sizable amount of money on a system overhaul, digital transformation projects won't deliver ROI if your employees struggle to adopt new technology. That's why any digital transformation initiative should be coupled with an effective digital adoption strategy.
Implementing a digital adoption platform (DAP) like Whatfix makes it easy to create contextual in-app guides for all of the new systems and interfaces you implement. The systems won't cut costs, scale operations, and improve donor experiences all on their own. By empowering your staff to master new tools, you create a smoother path toward digital transformation ROI.
Sign up for a demo to see how Whatfix can create a smoother path to digital transformation success.