Thanksgiving is just around the corner, and we want to begin this blog by thanking all our customers and partners for the continued trust in the Whatfix product and the Whatfix team.
With Autumn coming to an end, we can already feel the slight chill in the air, signaling the onset of winter. But, the Whatfix Product and Engineering teams are heating things up with the November 2020 Product Release.
---
New Capabilities
Announcing Whatfix for Desktop and Mobile
Whatfix is excited to announce the launch of Whatfix for Desktop and Mobile applications. Businesses that use a combination of these platforms can now deploy Whatfix's Digital Adoption Solutions end-to-end across the enterprise.
Why did we build Whatfix for desktop and mobile applications?

While the popularity of web-based applications is without questions, enterprise businesses still place a significant amount of trust in desktop applications. And with remote and distributed models of work gaining more traction, access to critical applications on-demand is fuelling the growth of mobile as a platform. Hence, modern businesses employ a mixed platform environment that is best suited to address the complex needs of their teams.
Application users, however, still require training, onboarding, and learning guidance on these distributed platforms to the same degree as web-based applications. 
Whatfix for Desktop and Mobile reduces the learning curve on these complex applications and workflows, empowering businesses to continue on their digital transformation journey. Whatfix enables step by step guidance, in-application help, and more, that creates a single, unified digital experience across any application on any platform.
This also reduces the amount of time it takes for employees to find support information and decreases the number of tickets by providing self-service support and change management.
How to trial Whatfix for Desktop and Mobile?
Whatfix for Desktop, and Whatfix for Mobile are available now with standard features including static content (Videos, Links, PopUps), dynamic content (flows), analytics, and multiformat content, with more features scheduled to be launched in the coming days.
Whatfix for Desktop currently supports applications that have support for accessibility in Windows 10. Whatfix for Mobile is available for custom native apps on iOS and Android.
Get in touch with your Customer Success Manager to know more.
Announcing Whatfix Content Inspector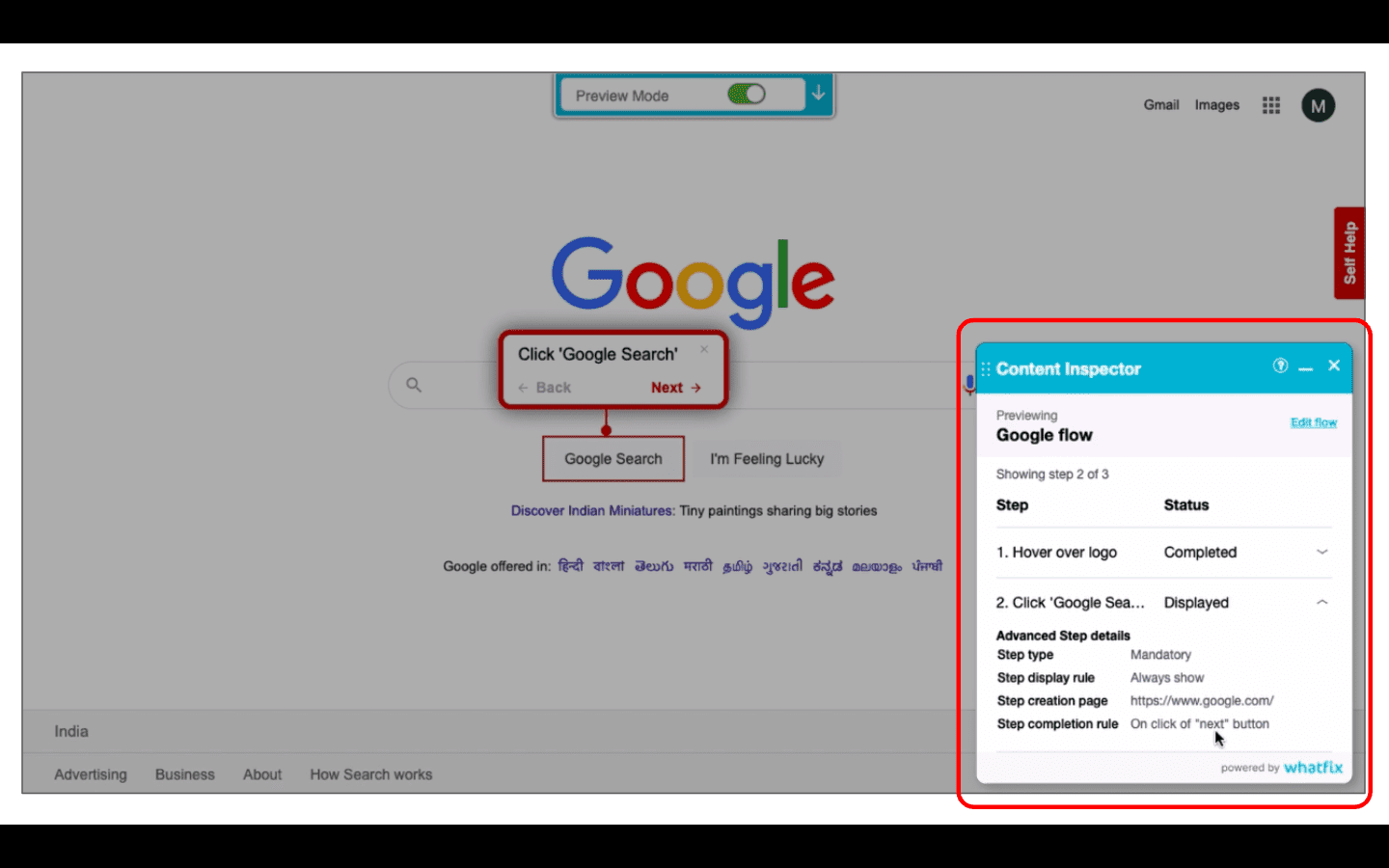 Whatfix Content Inspector is built for content creators and administrators to troubleshoot and fix errors when creating or testing Whatfix flow.
What is it?
Content Inspector is a live tracking feature that gives real-time updates on the configuration of each step of a Whatfix flow. For example, a Whatfix flow might fail due to an incorrect configuration during creation. When admins test the flow during the Preview Mode or through the See Live feature, the Whatfix Content Inspector shows a real-time run-through of the configurations associated with each step, enabling the content creator to hone in on the reason for the failure and edit it to resume normal flow operation.

How does it help?
The Content Inspector displays the basic and advanced details about a step of a flow such as:
Current Step number and total step number
Total errors found
Status – Failed, Searching, Triggered, Played
Completion and Display Rules
Branching
Whatfix has made it simpler for content creators to diagnose and fix flow errors. Content creators can resolve flow configuration errors all by themselves, without having to raise queries or contacting Whatfix.
Whatfix Content Inspector is currently in beta. Please reach out to your CSMs to get it enabled for your account.
Cleaner Insights from Flow Feedback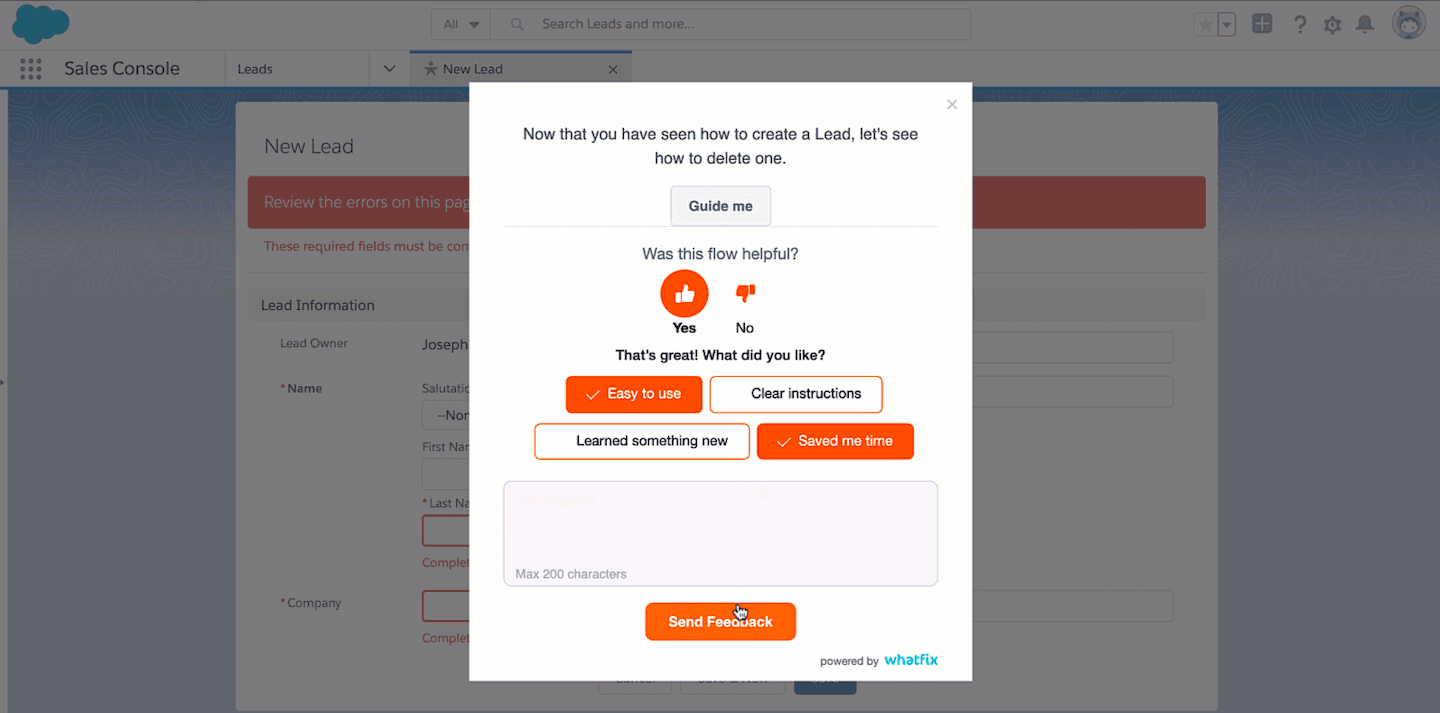 To ensure end-users are benefitting from the flows that you've created, Whatfix triggers flow feedback at the end of every flow. While this simple yet effective step has proven to be highly useful, we've now identified some key areas of enhancements for this release.
End-users can select from pre-defined options for both positive or negative feedback. These options were not available earlier.
End-users can choose to provide additional qualitative feedback in the text box. Until now, this was mandatory for both positive and negative feedback, and often times it resulted in poor quality insights for the positive feedback.
End-users can now do both – give feedback as well as continue with the linked flow. Previously, this was an 'either-or' action, but not anymore.
Additionally, even the Flow Analytics section in the Dashboard has been upgraded to provide deeper insights.


Enhancements and Upgrades
Flow Analytics Gets Deeper with the Summary View
You will now have a summary view of analytics for all the flows that you have created. You can look at usage trends of flows across widgets, completion rates, the breakup of widgets from where a flow was triggered, feedback on flows, and other metrics, all in one place.
A Journey towards 'No Code'; Ability to create User Attributes

Integrating your applications with Whatfix has become simpler and quicker. You can now create 'user attributes' for all your inbound integrations in the UI itself, without having to write code and generate schemas using an external platform for API development. You can also use the 'user attribute' to set visibility rules for your widgets.
More Control Over Content Publishing

With this release, you will now get to preview the summary of all changes you have made to your content before pushing it to the live environment or exporting. A pop-up notification will list down changes made to the content, widget segments, and any global themes and configurations. You can ensure that all changes are complete and accurate before publishing your content.
Integrations Enabled for Four New Applications
Whatfix can now integrate with Einstein, Power BI, Oracle Fusion, and Salesforce Community to add to the list of Integrations that are already available.
'Delete' Feature for Integrations

You will now also be able to delete an Integration while it is in the Draft phase, by just clicking the 'Delete' button.

Task List Widget Repositioning

The Whatfix Task List won't be fixed to the bottom left of the screen anymore. End users will now have the freedom to position the Task List on the bottom right corner or left corner of their screen to ensure there's no hindrance to viewing the content on the screen.
Improved scheduling for the Pop-up

You can now schedule pop-up notifications that repeat once a week and once a month. This is in addition to the once-daily option which you already had. Engage with your users without being intrusive.
Reduce Manual Tagging Effort in Content Aggregation

We've noticed a very large number of articles (anywhere between 300-500) get aggregated from content repositories through Whatfix Content Aggregation. Clearly, manually tagging them becomes a challenge. Now, Whatfix will automatically create tags under the 'Other Tags' category in the Dashboard. Once these tags are created, they will be auto-mapped to the articles that have been aggregated. Additionally, we've also extended out-of-box support for Salesforce and ServiceNow applications.
Upcoming Capabilities
Schedule automated content tests at a set frequency – biweekly, monthly, or on a specific future date.
Ability to nudge end-users based on their task-completion status from the UI itself with 3 nudge rules.
Integrations with Workday, Active Directory, Oracle HCM, Hubspot, and Tableau will be enabled. You will also have the ability to run integrations at desired schedules.
User action & Analytics – Generate insights and deeper analytics by capturing user interactions and use that to understand end-user behavior. Map your business goals to the tasks on the application to track your KPIs.
Intelligent step retry timer for Flow on standby; Set the 'step retry' time intelligently based on the past step data of element finding time.
Group installations on any browser will be streamlined with the launch of the single installer for extensions.
Further integration capabilities with content repositories, analytics, and other tools and applications.
---
For additional information, you can access the release notes here.
---
Whatfix Support Documentation Feedback
Now you can easily give us feedback (verbatim) on any article in support.whatfix.com.
At the end of any article, click either the thumbs up or thumbs down icon under the Was this article helpful? section and enter your feedback.



If it's not regarding a specific article, you can also write to us at [email protected].