Most sales and marketing executives want things as simple as possible. But a sophisticated CRM platform like Salesforce, that can boost your day-to-day work efficiency and productivity, may not be too simple. In fact, Salesforce can work its magic only when it's properly implemented and tailored to fit your organization's needs.
Whatfix has been actively helping Salesforce users with its self-help guides. (aka Whatfix flows) These useful guides can help any sales or marketing professional to optimize Salesforce and bring in the value for each resource.
Salesforce 101 is our new series of blog posts that will help you learn and understand each and every process of this powerful CRM tool, interactively. In this post, we will get you started with the basics of adding and managing users on Salesforce.
How to add users in Salesforce?
Depending on the size and requirement of your company, you can add users one at a time or quickly add multiple users in a single shot. The maximum number of users you can add is determined by your Salesforce edition.
To get interactive live instructions within your Salesforce, click on See Live on the following flow and install Whatfix's Flows Editor extension. Here's how it's done.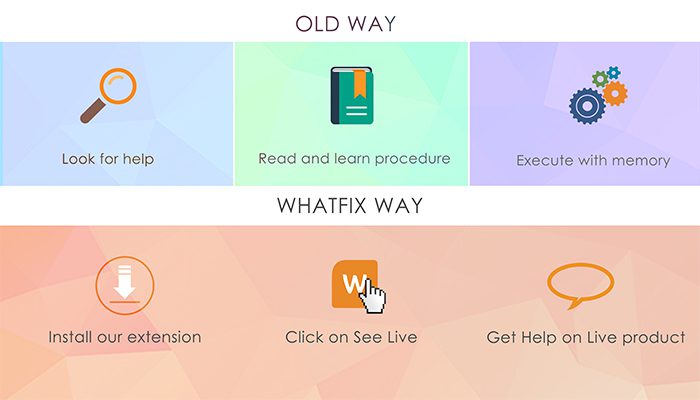 Now, let's get started with the flows.
By deactivating a user (changing the user's role to 'Inactive'), you will be able to cut off that user's access to all shared records and files. Once it is done, that user will no longer be able to log into your Salesforce. However, administrators and other users can create or edit accounts, opportunities and custom object records that are owned by the inactive user.

User profiles define what you can do within Salesforce. Depending on your Salesforce edition, the available user profiles varies. If you have the Professional or Group edition of Salesforce, then you will only be able to choose from the predefined profiles made available to you. But if you are using the Enterprise or Unlimited edition, then you have the option to set up a custom user profile that fits your needs.
This flow will ease you through the process of changing your user profile.

Freezing users in Salesforce is basically a temporary suspension of a user account. In certain cases, you may not be able to deactivate an account immediately. So by freezing users, you will be able to prevent them from logging into your organization temporarily, till you deactivate that user's account.

This blog series is a great primer for getting started with Salesforce. Share it with your teams to increase productivity and get the most out of your Salesforce.
For more Salesforce tips, tricks and news, subscribe to our blog.
Planning to switch from Salesforce Classic? Check out training series on Salesforce Lightning.