Leads are unavoidably the most important element of an organization using Salesforce. A Salesforce lead may be a prospective client who loves your product, a manager interested in the services that your company offers, professionals inquisitive about your product features or everyday users who respond positively to your marketing campaigns. Identifying these potential customers and categorizing them as a lead is the first step towards achieving a positive outcome in your sales pipeline.
Switched from Salesforce Classic? Here's How You Can Manage Leads in Salesforce Lightning
In this tutorial of Salesforce 101, we will walk you through the basics of  utilizing leads in Salesforce. For best results, we recommend you to try the Whatfix Way.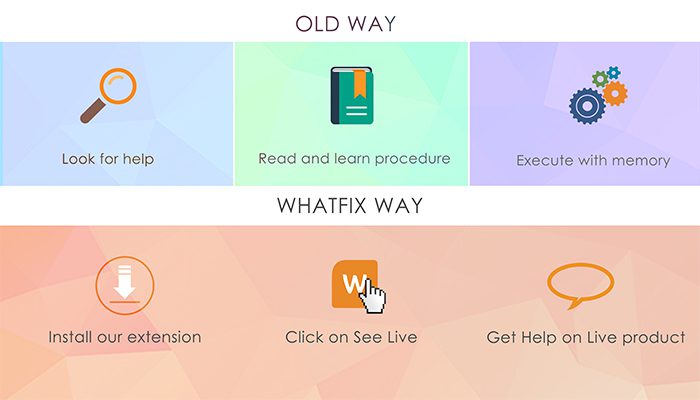 Let's dive into the flows.
If prospects express interest in your products and services, then don't think twice, add them as a lead in your Salesforce. Converting leads into a value for your company is the predominant factor for your business to thrive. This Whatfix flow will guide you through the process and show you how to create leads easily in your Salesforce.

Duplicate leads can be nerve wracking. But Salesforce's 'Find Duplicate' button is a useful tool that will help you find whether a specific lead has an existing duplicate or not. Here's how you can go about it.

A lead source is the primary reference of a potential customer, which will help you track where the lead came from. Simply because of that, this flow becomes one of the most important ones among this lot. See this flow live to learn how to add a new lead source in your Salesforce.

A picklist is basically Salesforce's version of a drop down menu. Although this field is prepopulated with some common values, you can edit it to the specific values that are related to your company.

Lead assignment rules determine the ownership of a lead to a user or a queue in Salesforce. This Whatfix flow will show you can change it accordingly and transfer ownership of all the notes, attachments and open activities owned by the current user to another user or queue.

This blog post is part of a dedicated series to help you learn Salesforce better. Share it with your teams to increase productivity and get the most out of your Salesforce. Also, check out our previous posts:
In our next chapter, we will learn how to customize your leads on Salesforce. For more updates subscribe to our blog.