Don't you wish you could just peer into a crystal ball or break open a fortune cookie and divine the Salesforce future?
Maybe you could find out exactly which way the industry is headed? Or what new CRM features will make it easier for your sales team to reach better targets in 2021? Or, what disruptive technology will make a big impact on the sales/marketing workflow next year?
Such questions (and more) are on all our minds.
What are the biggest trends looking into Salesforce's future in 2021?
Lightning strikes harder
Big year for system and data integration
AI and data-driven intelligence is king
Focus on customer satisfaction
Blockchain makes a big splash
Enterprise mobility gains steadily
More industry-specific CRM solutions
Skyrocketing demand for Salesforce skilled talent
Luckily, you don't have to be skilled in occult practices to gain front-row seats to these industry trend forecasts.
All you need to do is track the strategic moves made by the industry leader in the worldwide CRM market, Salesforce. Et Voila! You are ready to predict what CRM clients can hope to expect from providers.
On that note, let's deep-dive into the relevance of Salesforce in 2021, and major trends that are changing the very face of the Salesforce automation (SFA) industry.
Is Salesforce Still in Demand in 2021?
Salesforce has managed to stay relevant since its inception. With an increase in remote work, more and more organizations are looking at digital selling to stay afloat. There's a visible increase in Salesforce usage to assist the remote sales team.
Features like Salesforce anywhere allow users to sell from across the globe with ease. Further, in accordance with the digital-first approach, Salesforce launched Sales Cloud 360 in March 2021 to support digital selling and boost remote sales productivity. 
Additionally, Salesforce has improved collaboration by combining platforms like Quip, Salesforce Meetings with Salesforce Anywhere, and acquiring Slack. This product offering provides an additional value to Salesforce users and is responsible for an increase in further demand.
8 Major Trends in Salesforce's Future
Here are 8 Salesforce trends to watch as we look to the future of the SDFC application suite.
1. Lightning strikes harder
Salesforce announced that only the more user-friendly and intuitive Salesforce 2.0 (dubbed 'Lightning') will receive useful upgrades. This means that users of the older 'Classic' version will miss out on several cool, productivity-enhancing features.
Already, several exciting new features are ONLY available on Lightning – including customizable dashboard, calendar enhancements, Einstein, Snap-in chat, and Smart Macros. So now, a stage has been reached wherein organizations will have to urgently migrate from Classic to Lightning or risk being left behind in the race for efficiency and effectiveness.
In fact, according to the Total Economic Impact™ of Salesforce Lightning for Service Cloud study by Forrester Salesforce Lightning could deliver return on investment of 475% (over three years) for a composite service organization.
Clearly, Lightning is the immediate future method and organizations need to adopt smart change management tactics to ensure a smooth transition. Digital Adoption Platforms such as Whatfix (request a demo here) can help make speed up this migration and digital transformation without compromising employee productivity, from the familiar Classic UX to that of Lightning by offering:
Learning in the flow of work – Leveraging a DAS is a great way to shorten the learning curve since it offers a sequential microlearning curriculum that supports various learning styles. To get users comfortable with the Salesforce Lightning UX, Whatfix allows them to learn while doing; via bite-sized lessons. It also connects with your existing LMS (using SCORM and xAPI compliance) to deliver formal & on-the-job training.
Contextual Guidance – No matter what feature of the Salesforce app your employee is using, the DAP will be able to deliver event and task-specific training. Such contextual support includes live, interactive step-by-step walkthroughs (flows) to help with onboarding. Whatfix even offers scheduled beacons and smart pop-ups that help users become aware of the latest Salesforce releases and announcements.
In-app self help – Whatfix has a 24/7 digital training assistant that addresses user queries without them having to register and wait for support tickets to be answered. So, whenever the user is stuck within the Salesforce app, contextual Tooltips and Self-help widgets responds to queries and concerns, in real-time. We see that such features reduce support costs by up to 60% and boost Salesforce adoption!
Automation – The core aim of Whatfix is to get users to do more and learn more with less effort. This is where the product's AI element comes into the picture. It auto executes repetitive tasks. Whatfix automatically detects elements on the app during flow creation, it also integrates with chatbots to deliver instant responses to queries. You can even save 60-85% on content creation costs, as Whatfix automates the production of training content in different formats (pdf, videos and slideshows).
Thus, these Whatfix features can help onboard your users quickly, smoothly and without disrupting the sellers' workflow. This is a definite improvement from the recent past where you had to tear them away from their work and force physical books, handouts and classroom-style training sessions on them.
So, invest in such powerful DAP tools (and also leverage change champions or influencers) to ensure that you are well on your way to conquering this most pressing Salesforce trend and ensuring digital transformation success.
2. Big year for system and data integration
Customers have begun to expect seamless and connected experiences, based on the information they share at various touchpoints (social media, physical forms, phone support, etc). But according to the latest Salesforce Connected Customer report, only 50% of companies are able to customize their engagement based on past interactions.
This is because, nowadays, data resides on multiple clouds and many organizations connect Salesforce to off-platform systems. Thus sales, service and marketing teams end up scrambling to better understand and connect with their customers.

Source: Trends in Integrated Customer Experience Report
To enable companies to deliver such data-driven, personalized experiences, Salesforce is constantly working on advancing its customer data platform, Customer 360.
The platform connects Commerce Cloud, Marketing Cloud, and Service Cloud to deliver a single view of the customer's journey with the organization.
Along with web-based integration platform MuleSoft Inc (acquired by Salesforce in 2018), Customer 360 helps businesses make better decisions and deliver contextualized and customized experiences. The latest upgrades will allow for greater data unification and consent management, advanced audience segmentation, and much more.
In spite of all these efforts, unlocking siloed data and providing a completely connected user experience across channels might take a while to achieve. But such a Salesforce product strategy focused on integration has the potential to deliver a future method where organizations get 100%+ ROI from their CRM tools.
Enterprises are increasingly using Digital Adoption Platforms to connect various different sales systems. DAPs link not just various Salesforce Clouds but also other CRM systems (such as CPQ (e.g. Apttus), CLM (e.g. Icertis), End-User Collaboration (e.g. SharePoint), Sales Performance Management (e.g. SAP Callidus Cloud), ERP/ Invoice & Expense (e.g. Oracle) and HCM (e.g. Workday).
And ultimately, only when enterprises provide sellers with a seamless unified digital sales experience, will they be able to deliver a connected customer experience.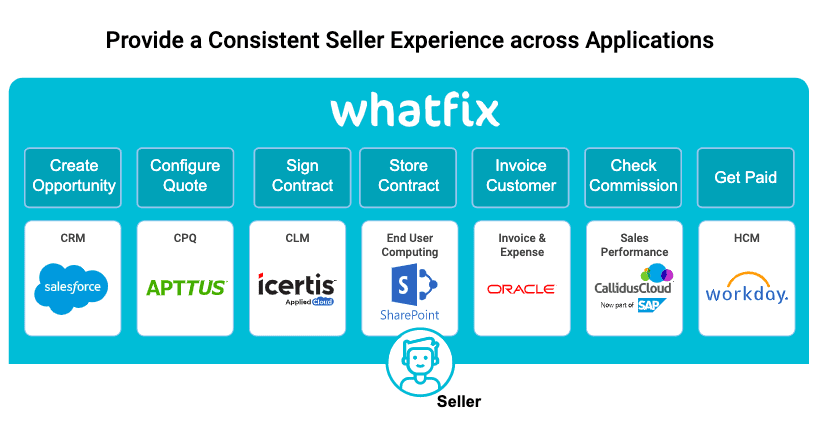 3. AI and data-driven intelligence is king
The AI-powered Sales Cloud Einstein was launched in 2017 to deliver data-driven predictions, insights, and recommendations that help make better lead/sales decisions. It does this, while continually learning from your CRM data about team performance, whitespace, and pipeline trends. Think of the saving, in terms of time, manpower, and opportunity costs, that Einstein brings to the table by automating data analytics.
Here are some of the other developments since then, that goes to show that Salesforce is really quite serious about AI and data analytics:
Tableau Software acquisition: An interesting and celebrated move made by Salesforce's was its acquisition of Tableau Software, the number-one business intelligence (BI) and analytics vendor. This is really exciting stuff – when one thinks about the future of data analytics in improving sales targets.
Voice-enabled analytics: Then, in 2018, Einstein Voice (a voice assistant) was unveiled. Through natural language processing (voice commands), users can instruct Einstein AI to update Salesforce records and create tasks.
Encouraging the development of third-party technologies: Several Salesforce AppExchange partners are encouraged to build tools that better Einstein's value proposition; and in turn, improve sales, marketing and service efficiencies. These investments clearly show that developing strong connections between CRM and AI is essential to disrupt sales and other business processes
4. Focus on customer satisfaction
Sure, data and system integration, data analysis, and AI are all striking trends. But undeniably, all of it leads to improving customer satisfaction and experience. And this is currently banging at the center of the 'Goliath' CRM's strategy.
At Whatfix, we have ensured that customer satisfaction is tracked to measure our internal sales performance. So, the Whatfix sales team is assessed based on the Customer NPS score generated post-sale along with positive public reviews.
Below is a glowing Whatfix review by one of our customers detailing their experience using Whatfix on top of Salesforce: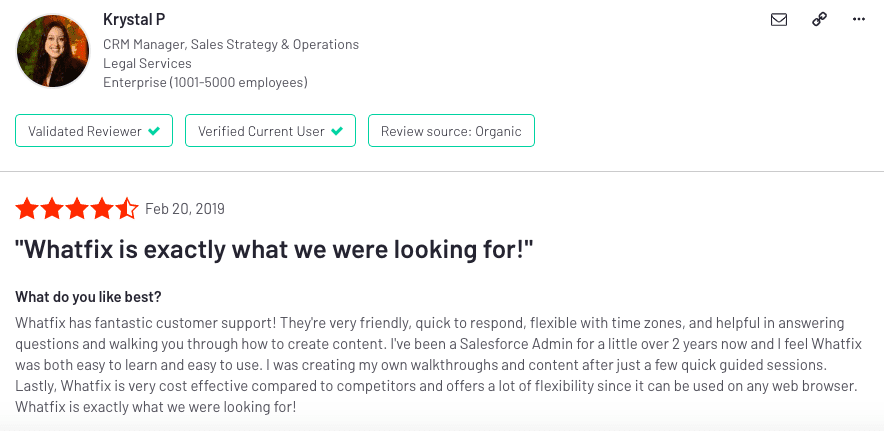 Reviews such as these are just as important for us at Whatfix, as is the seller's ability to meet sales quotas.
5. Blockchain makes a big splash
In a press release, the CRM giant called Salesforce Blockchain as a  new technology "a low-code platform that enables organizations to share verified, distributed data sets across a trusted network of partners and third parties". To this end, Salesforce Blockchain can help create blockchain networks, workflows and apps. Simply put, the central goal of such a solution is to enable Salesforce clients to access and share data (in a secure manner) with a diverse and dynamic set of partners.
And a distributed ledger helps plugs the 'trust gap' to deliver new experiences. Thus, Blockchain can help organizations do away with unnecessary costs and inefficiencies by saving, tracking and verifying data from every partner in the network.
6. Enterprise mobility gains steadily
Gartner predicts that mobile technologies will be used by 40% of the sales organizations for most of their SFA by 2020. Salesforce has been on top of the mobile revolution, bringing CRM to mobile devices since 2007. Looking back, Salesforce had laid a solid foundation for future methods.
And it is now further encouraging users to use the mobile interface via upgrades such as:
Building native apps: In 2018, Salesforce partnered with Apple (the world's most advanced mobile operating system) to redesign the native Salesforce app. The intent is to leverage iOS capabilities such as Siri Shortcuts, Face ID and Business Chat to deliver a better user experience.
Democratizing Salesforce app development: Salesforce platform was also crowned Leader in the 2020 Magic Quadrant for Enterprise Low-Code Application Platforms – as it delivers very intuitive point-and-click app development tools. Salesforce recognizes the importance of empowering Salesforce developers with Mobile Builders, a "low-code development environment," with pre-built JavaScript components.
This allows Salesforce admins and respective owners to quickly turn spreadsheets into apps with just a few clicks, without any formal training.
To help users navigate such development platforms, Whatfix can come to the rescue. You may train employees, on a live Mobile Builder platform, with a Whatfix-powered step-by-step and interactive guide so they're ready to harness those tools in the flow of work/development.
7. More industry-specific CRM solutions
Salesforce platform has been widely used in industries such as financial services, manufacturing, media, and retail industry. And the cloud-based software company has clearly stated that it will focus its energies on certain industry verticals, in order to deliver more targeted solutions that meet their specific challenges. The CRM behemoth seeks to build on its CRM and cloud expertise with a layer of industry-based depth.
With the intent of growing its grip on specific industries, Salesforce recently launched upgrades to its Salesforce Financial Service Cloud that will help unify customer experiences. The CRM solution company has also begun to fortify its relevance in the healthcare industry with the announcement of its Health Cloud at the DreamForce convention in 2018.
Salesforce AppExchange also offers a growing bouquet of ready-to-install apps, solutions, and consultants that allows clients to extend Salesforce to any industry.
8. Skyrocketing demand for Salesforce skilled talent
Salesforce has hundreds of innovative features delivered to users three times a year during their seasonal releases. Thus developers and users need to be constantly reskilling themselves in order to keep up with this quantum of change. In fact, a recent IDC study estimates a huge increase in new jobs, wherein Salesforce skills are a prerequisite, between 2016 and 2022. While new hires can plug this gap, they can often be expensive to bring on board and train from scratch. That's where in-app training via Whatfix can help.
Through interactive guides and contextual support, Whatfix helps employees grasp the software changes faster and maintain productivity in the face of new software releases. It also automates training content creation. In this way, Whatfix helps democratize Salesforce skills without spending too many resources on training efforts.
Improve your team's Salesforce training, adoption, and proficiency with Whatfix
Discover how Whatfix's Digital Adoption Platform can help your organization roll-out change effectively, with high levels of employee adoption and increased productivity.
Accelerate Salesforce Adoption With Interactive Walkthroughs
This Ebook covers all the aspects to help simplify your Salesforce adoption, improve end-user performance and productivity with an in-depth look into the nifty technology called Interactive walkthroughs.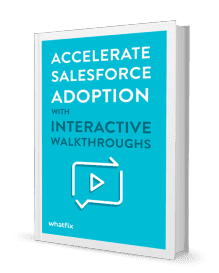 Conclusion: Stay on top of all new Salesforce features with Whatfix
If you would like to get ahead of the curve, show this article to your IT and operations team to see what disruptive Salesforce technologies you can adopt to help your organization achieve maximum ROI.
Whatever the new Salesforce feature is that you choose to add on, be sure to invest in the analytics-driven and personalized digital adoption platform Whatfix to get users comfortable with the functionalities.
Start your free trial of the Whatfix digital adoption platform to see how it helps your employees use Salesforce efficiently and effectively.
Learn in the Flow of Work with Whatfix
See how Cardinal Health learns in the flow of work with the Whatfix Digital Adoption Platform