It's been an action-packed few months here at Whatfix. In August, we announced a slew of new features including enhanced security and analytics. 
We're rounding off the quarter with some additional capabilities that pave the way for driving digital adoption. These include:
A faster and sharper analytics dashboard

Increased personalization within elf help 

Proactive flow maintenance on SuccessFactors and Oracle HCM
More power to you – with the new, faster, and sharper Analytics dashboard
We're thrilled to launch the new in-house platform for analytics. This enables us to manage the end-to-end data pipeline within the Whatfix infrastructure eliminating the need to use third-party vendors. Self-built analytics capabilities give you great flexibility to serve richer insights on user behavior within your application.
Near Real-Time Analytics- With new self-built analytics capabilities, the time taken to refresh user data in your Whatfix Analytics Dashboard comes down to near real-time from the current 14.5 hours. Gauge the effectiveness of your content quickly and make decisions to enhance quality and end-user experience. 
Robust, Secure, and Scalable Analytics- With end-to-end control of the complete data pipeline, the platform is now more robust and secure. It can be scaled to serve millions of end-users processing billions of events. 
More Data Points, Richer Insights- The platform allows flexibility to capture more data points allowing you to send context-specific events to get richer insights. The platform also serves as a base for the new insights framework which will allow you to create ad-hoc insights and reports. No more using third-party tools to meet your reporting needs.
Important: You need to complete push-to-production or re-export by 31st October 2021 to enable the new analytics capability on your account. 
Understand your users better and contextualize experiences with the new and powerful insights capability
We're not done with analytics. The new insights framework powered by Whatfix's self-built analytics capabilities allows you to generate ad-hoc insights and reports. These insights and reports can be shared with other users and exported in multiple format types. With the upcoming releases, you will soon be able to slice and dice data across multiple criteria and visualize data in several ways. 
Look at in-app user behavior from different lenses and vantage points to be able to deliver a seamless experience and improve engagement and adoption.
In this release, we're launching Funnel Insights. More ad-hoc insights will follow in the coming weeks.

Funnel Insights
Save time inside self-help content with Whatfix personalization
With Whatfix, thousands of users learn about applications & adapting to digital change every day. Each of them uses different sets of content & training flows specific to their role and time of need inside their application. 
With Whatfix personalization, every user can now find the most relevant feed of content in the self-help section, based on their past usage patterns. All of this is done in a secured manner without using any additional data points. This will not only save time in searching inside self-help but also widens the scope for seamless upskilling & additional training of employees.

self-help content before and after personalization
Integrate Salesforce with Whatfix, instantly
You can now integrate your Salesforce application with Whatfix in a matter of seconds, with 3 easy steps:
Click Quick Integration

Authenticate your Salesforce account

Save the integration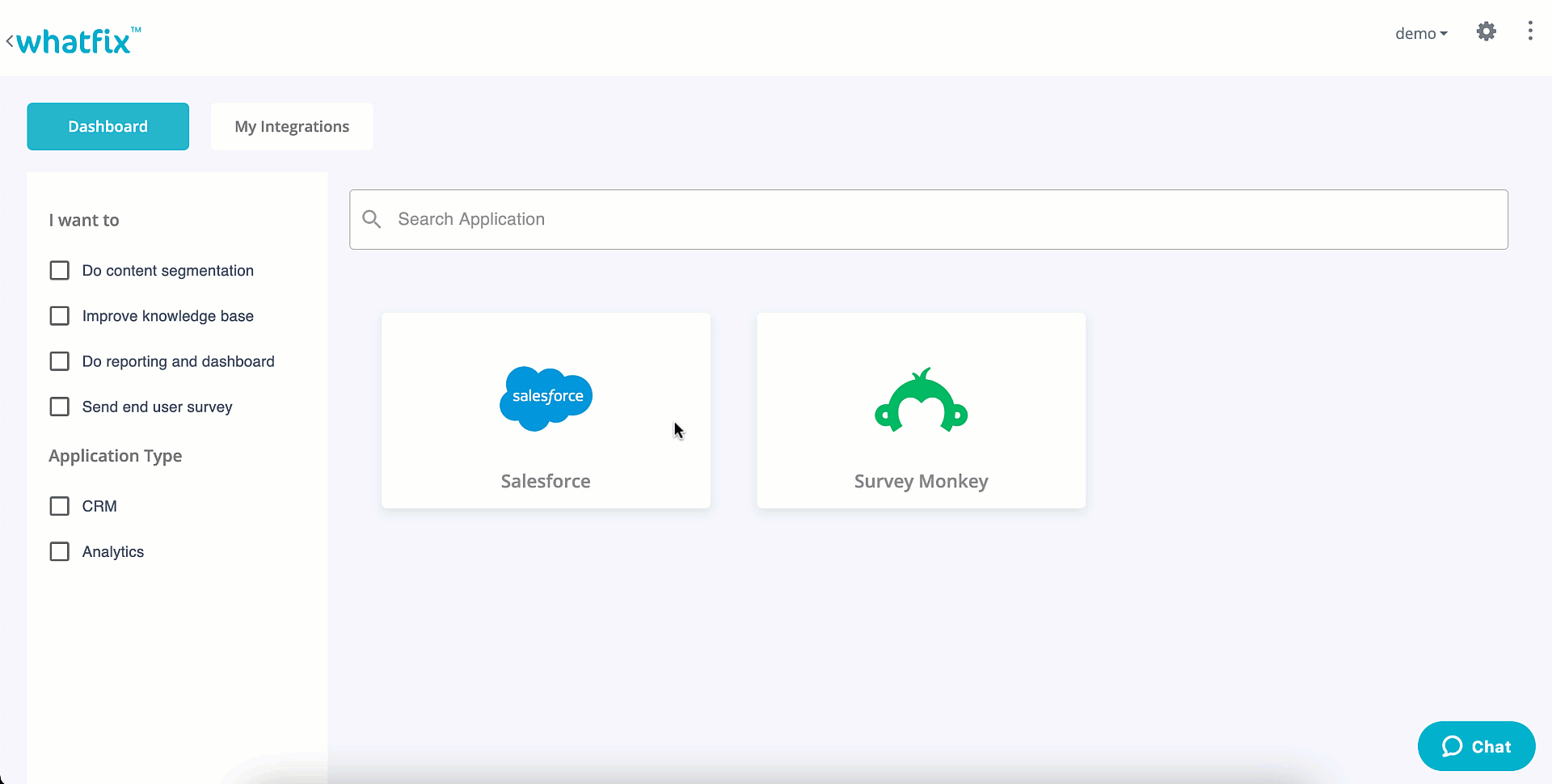 3-Step integration of Salesforce with Whatfix 
Get deeper insights on user behavior with the ability to download lists of users who performed key actions
You now have the ability to download the list of users who performed certain actions that you want to track within the application. Generate more rich data points on user behavior with this enhancement. Some sample use cases include: 
Target upsell and resell- Track users who clicked the 'Buy Now' button on your application and failed to complete the transaction. You can now feed this user data to Pardot to help your sales team nurture these users and upsell/resell products and services
Understand feature usage trends- You can download users who performed certain actions in your application and feed them into a visualization tool to get deeper insights into key feature usage, active and passive users, and other engagement trends
Offer personalized feedback to users on application usage- Help individual users become more proficient with key processes by tracking their actions and offering corrective feedback 
Save time on content creation with automatic PDF generation of Flows 
The Flows you create will now be automatically converted into PDF and published as a static content link in your dashboard. This will help save significant time in content creation when building Flows at scale.
Improve in-app guidance experience for your users in the EMEA region
Deliver better in-app guidance to your global users with the new default language enablement for the voice-over on your Flow video. You can now set your preferred language as 'default', instead of English, when you create content for your Flow video's voice-over and automatically download the video in your preferred language.
More flexibility in content creation for pop-up notifications
You now have the flexibility to add or delete slides and rearrange slides on the go while you edit a chosen template for your pop-up notification.
Content Testing is now live on SuccessFactors and Oracle HCM
With Whatfix's Automated Content Testing & Reporting capability, initially released for Salesforce and Icertis earlier this year, content creators can test Flows in an automated way. This feature is now also available on SuccessFactors and Oracle HCM applications. Content creators can also run test cases in their desired order. 
Planning organization-wide change management? Content Testing ensures that your employees get a seamless experience with all workflows, old or new.
Out-of-the-box aggregation of Salesforce files content
Whatfix Content Aggregation is one of the prime capabilities to modernize the learning & development of your workforce by easy integration of existing knowledge bases. With this release, aggregation of content on Salesforce gets wider with seamless integration of content under both the "Knowledge" and "Files" sections. Can't recall where you stored your training content last time? Don't worry! Whatfix can bring all of them inside self-help & train your employees interactively.
Get more content support inside self-help section
Do you find yourself moving across multiple tabs to access content? Do you not lose track of your workflow in moving across these tabs? With Whatfix, accelerate your digital adoption learning with self-help knowledge links opening right inside the application itself. Whatfix shall open a pop-up of the link within the application itself, making your journey smooth & seamless. 
Simplified updation of the Whatfix Desktop Editor
The Whatfix Desktop Editor can now be updated with a single click within the application. 
Content creators get notified of the update on the application itself whenever there's a new version available and with a single click can have the latest version downloaded and installed.
With this, reliance on IT support for updating the Whatfix Editor is eliminated and our customers running Whatfix on their desktop applications get a more stable and simplified content authoring experience. 

Get notified of new Editor versions and update with one click
If you're a Whatfix customer, please reach out to your Whatfix CSM for more information on these features or access the release notes here. 
If you're not yet a Whatfix customer, we'd love for you to connect with us to learn more about how Whatfix can help you drive digital adoption in your enterprise.