When it comes to marketing, nothing is more powerful than referral marketing.
When users learn about your product from their friends or people they believe, they're encouraged to use your product.
Nielsen reported that 8 out of 10 people admitted to taking some form of action upon the recommendation of their friends or family.  
But what gets people to recommend you? More so, what gets your existing customers to recommend you to their friends and families?
Above everything else, it's how delightful and satisfied they feel with your product and service. A happy and satisfied customer will promote your brand and share their experience with others.
Now I'd like to share with you one more interesting statistic — despite a high 83% consumers willing to refer a friend after a positive experience, only 29% actually do.
Not leveraging happy customers to get more sales can cost you business. But that's where a referral program comes to the rescue.
So What's A Referral Program
Referral marketing is a way of encouraging customers to share the word about your brand and services among their friends and acquaintances.
As customers refer mention and endorse your brand in their social circles, they bring in new customers.
From top multinational brands to SaaS startups, companies of all sizes can benefit from a customer referral program. Companies like DropBox, Uber, and Evernote hacked their way to thousands of users by running successful customer referral programs.
In one of his interviews, Phil Libin, Evernote CEO, said that a lot of the success that Evernote has seen is due to word of mouth.
He said, "It's just driven by word of mouth. We don't spend any money on user acquisition, we don't do any SEO or SEM. There's no tricks. We don't pay money for users. We don't pay for incentive downloads or any of the stuff you hear people talking about, we don't do any of it.
It's all just word of mouth and people finding Evernote because of friends who love it and are recommending it."
Why Referral Programs Work
Referral marketing is highly targeted. Customers know the people in their circles who would be ideal users of a product they use.
By getting introduced to a targeted audience through someone they know (and trust), your chances of making a sale increase.
It saves you money as well since you can decide how you want to reward your customers for making the effort to share.
Ready to begin your customer referral program? Here's a simple 3-step process.
A 3-step Process to Create A Customer Referral Program
Different products design different kinds of referral programs. So you too will have to create a custom referral program. But no matter what your product is, the following 3 steps will help you lay a solid framework for a successful customer referral program.
Step #1: Choose the right incentive
It's extremely important that you know your target audience before you choose your incentive. Without researching, you might end up with offering a reward that doesn't excite your customers as much as you'd like.
ReferralCandy gives some excellent advice on how to choose the right incentive. For their client, Leesa (an online mattress retailer), they chose a cash back reward as opposed to a discount on the next purchase.
They did so because a person who has bought a mattress isn't expected to buy another one immediately — making a discount coupon on the next purchase a highly ineffective incentive.
However, an immediate cash back offer for sending a referral sale sounds lucrative after making a hefty purchase.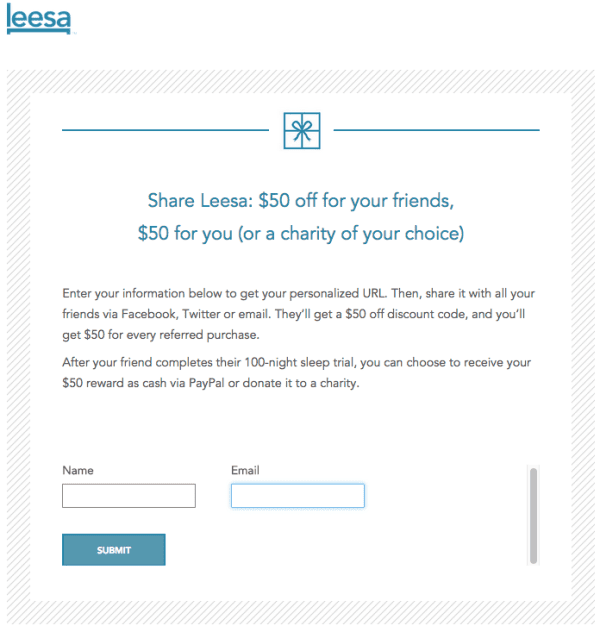 Image source
If you contrast Leesa with an online apparels store, the better choice of the incentive for the apparel store would be a discount on the next purchase.
This incentive will work better because people buy clothes often. They will happily share word about your store for a discount on their next purchase.
For SaaS-specific referral programs, you can find some great incentive-choosing insights in this post from SaaSquatch
Your choice of a referral system will depend upon the incentive that you choose.
Like there's Dropbox, a cloud storage service. It provides an extra space of 500MB to both the user as well as to the user's friend who gets onboard.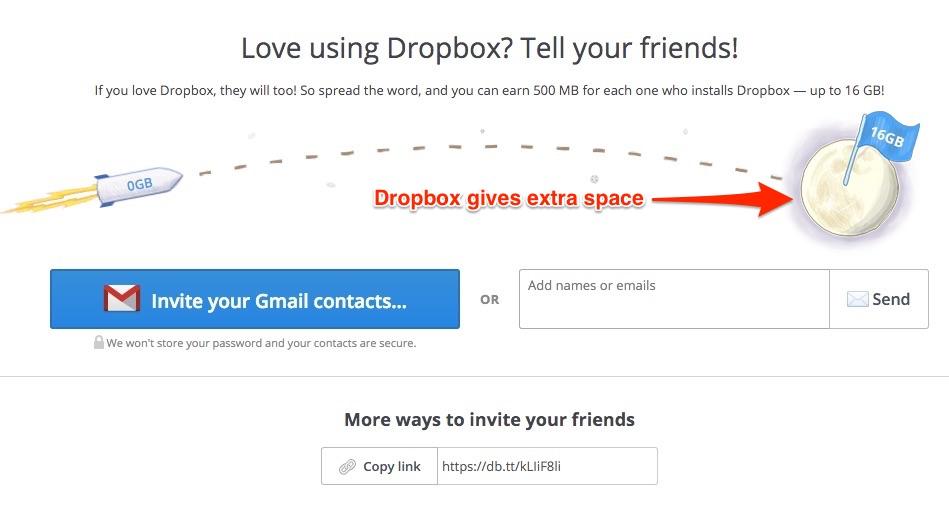 Such a system works great for Dropbox.



And then there's Uber, a cab service provider. When Uber customers refer their friends, both of them get a free ride.
Ideally, you should try to offer incentives to both the customer and the referral. That brings more happiness among customers and referrals. It can kick them into bringing more customers.
I'm a big fan of LastPass, a premium password manager service. Everytime I get a friend on board, we both get a month of their premium service for free.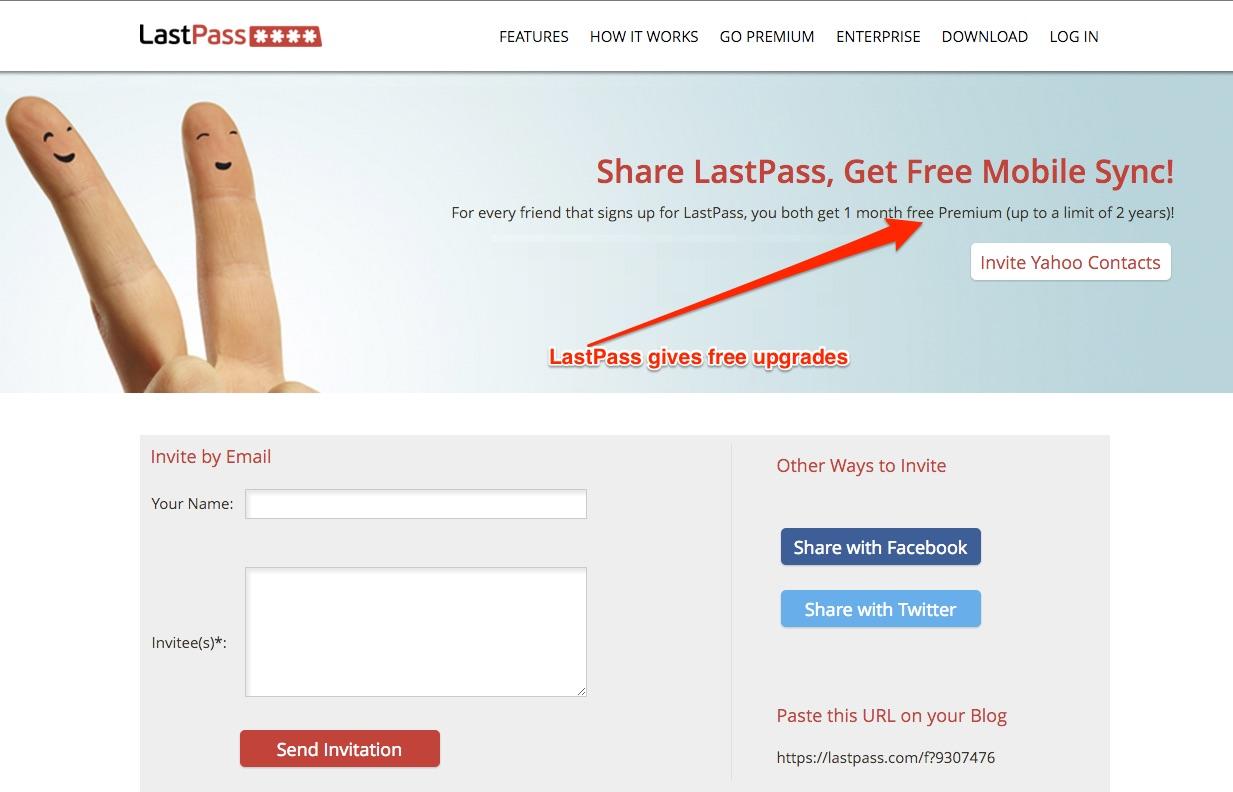 Like you saw in the above examples, your incentive (and thus the structure of your referral program) depends a lot on your product. You need to devise a system that will work best in your case.
Step #2: Ask for referrals
While your customers might be your raving fans, they might still not endorse you in their social circles.
You need to ask them to do so.
Once you've setup a referral program, tell your customers about it and make it easy for them to participate.
Some easy ways to tell your customers about your referral program:
Give shouts on social media
There are two benefits of using social media for promoting:
It's a no-brainer that a big part of your customer base is active on social media. So talking about your referral program on those channels makes sense. Your message will reach a lot of your social media savvy customers.  
People who are frequent on social media platforms have huge followings. So you get a chance to hack into their followings.
Gamify the process
Lots of referral programs give bonuses to their best-performing customers. While this works, it's not so challenging as it can be with a little gamification. Gamifying a referral program can be as simple as adding different levels to it.
This way, customers can see on which level they are and how they can move to the higher and more rewarding levels. The challenges of reaching a higher level add a bit of a thrill to an otherwise very mechanical process of referring.
Harry's, a men's grooming brand took their referral program to a whole new level by introducing different referral tiers.
Originally the rewards for their different tiers looked like:
First tier prize: a free shave cream for five successful referrals.

Second tier prize: a free razor for ten successful referrals (meaning additional five after the first tier).

Third tier prize: a shave set with Harry's premium handle, The Winston for 25 referrals(meaning additional 15 after the second tier).
And then the big fat prize was a year of free shaving for customers who brought in 50 friends.
If you're wondering how Harry's referral program did, you should know that more than 200 people claimed the top prize.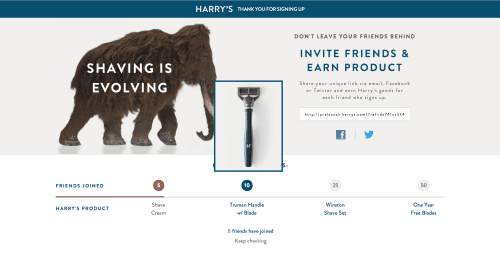 Image source.
If you too can find a way to offer such a milestone-like preview of their referral status, your customers will continue to do better and better at referring new friends.
Send emails blasts
Send emails to your customers telling them about your referral program.
Buffer does this really well. It sends out a dedicated email to their users asking them to spread word about Buffer on Facebook and Twitter.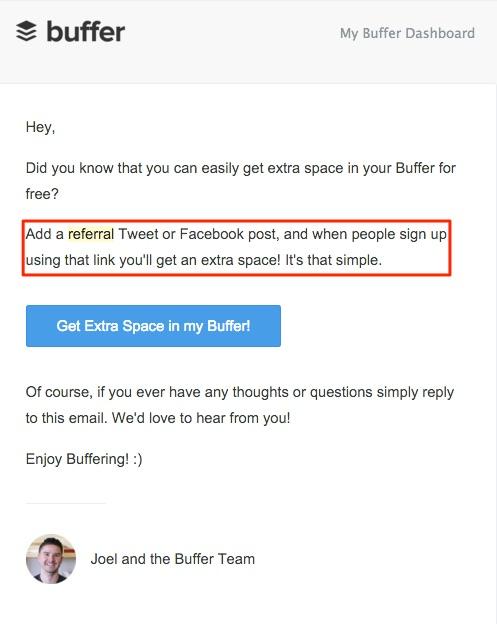 Two key takeaways from Buffer's referral program:
Choice of channels of promotion

– Of course, any referral program will need to be promoted on some platform or the other, but Buffer's choice of platforms is right on the mark, given that it is a social media management tool.
If you contrast this with Evernote, you'll see that Evernote stresses on the email channel in their referral program.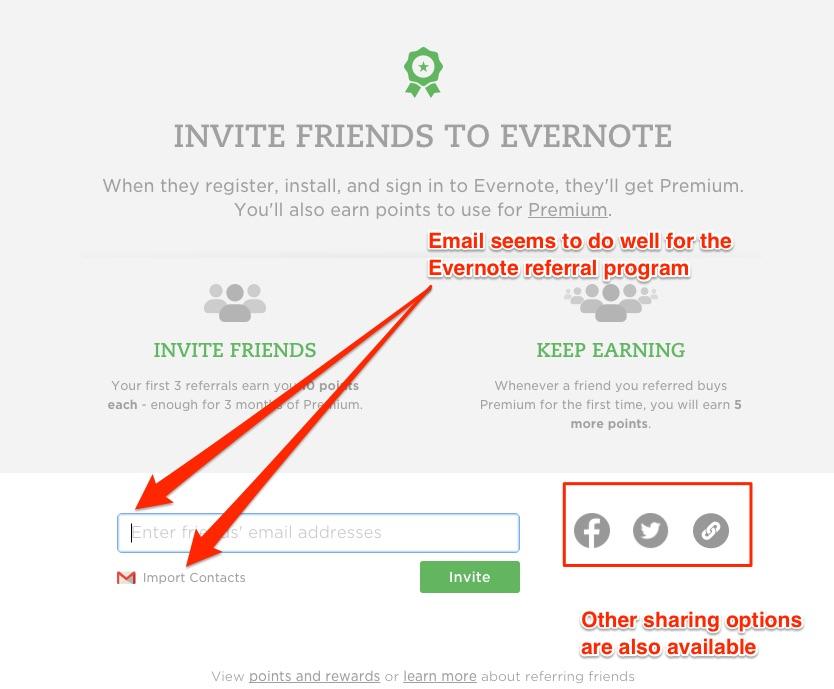 Ease of sharing

– If you go back to the Buffer referral program email, you can see how they're giving a one-click way to promote their product.
Even the Evernote program gives you handy ways of sharing the word about the product.
On the same note, sending promotional emails about new launches and updates as well as post launch reminders can keep your product fresh in the minds of your customers. All these excuses for contacting can be clubbed with reminders about your referral program.
Step #3. Say thanks
Whenever customers express their love for your brand by referring a friend, thank them. Also, thank your customers after a successful sale.
These little gestures will encourage your customers to refer you more often.
LastPass is good at this.
Look at the following email. LastPass sends this email when a customer successfully gets his or her friend onboard.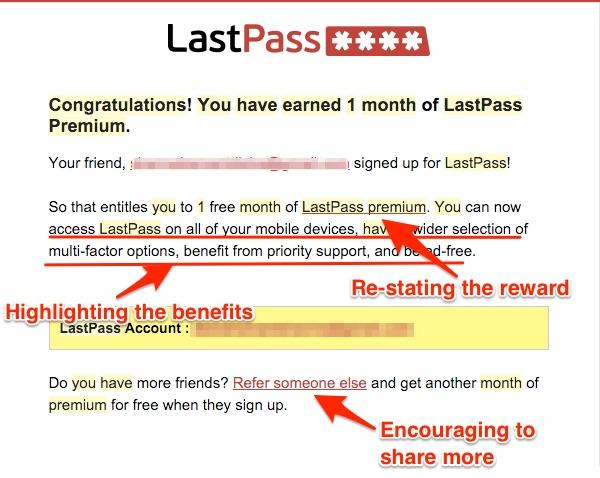 Sending customers emails asking them for any queries that they might have about your product is also a good tactic. Such interactions help you build a bond with your customers. And once you build good relations with your customers, it gets easier to ask for referrals, and your customers will also feel more obliged.
Another common way to promote a referral program is to talk about it in a site's Members Area.
Again, depending upon your product, you can find many innovative ways to promote your referral program.
Wrapping Up
Remember that about 65% new business comes from referrals. You're losing business if you don't have a referral program.  
So turn your customers into lead generating machines by launching your referral program today. Know of any referral programs that we missed out on? Let us know in the comments section.
You might also want to read: 30 Best Customer Support Tools to Delight Customers