One of the biggest shifts that the Covid-19 pandemic has brought about in the economic world is the way people work and where they work from. Only about 11% companies don't expect many of their employees to work remotely down from more than 36% before the pandemic hit the world, according to the PWC survey. It is a marked change in corporate attitude towards remote or digital work and it's exactly what employees want too. Almost 85% of office workers want to work from home and those who still don't probably think so for the fear of lower productivity and efficiency. Of course, the shift to a remote digital workplace was in motion before the pandemic in some way as almost 39% enterprises, in 2018, had a remote digital workplace strategy in place.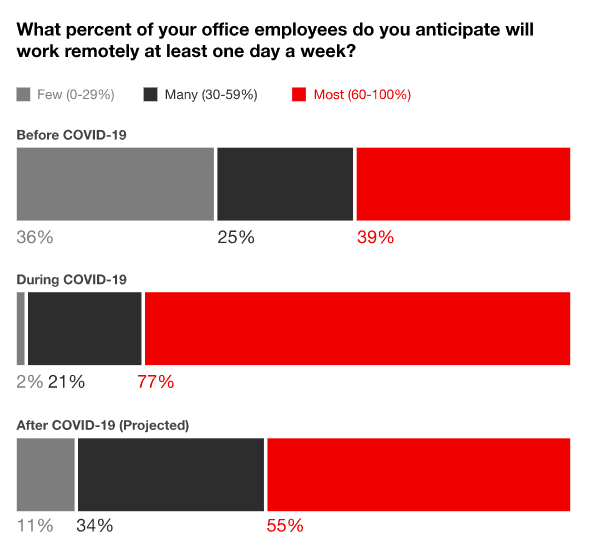 The Current Face of Digital Workplace
Since the e-commerce trend came into the picture, it has changed the face of the retail industry. Although the physical stores never ceased to exist, the e-commerce trend has been on a rise due to the many benefits it offers over the traditional stores. 
Post the COVID outbreak, the trend gained even more hype due to the contactless shopping experience, accelerating the shift from physical stores to digital shopping by roughly five years. 
You might be wondering how the e-commerce trend relates to the digital workplace. Well, just like the retail industry is moving towards the modified online version, workplaces are experiencing a similar trend. 
The digital workplace can be considered as a modified version of the traditional working space which comes with its own benefits and challenges which we'll talk about. 
With the immense shift towards remote work, employees are turning to collaboration and mobility tools to continue working away from office. The workplace is no longer a physical space, an office, a desk that employees occupied during regular office hours. The always connected, instant access environment has blurred the difference between the physical office space and the place where work is done.
Remote work and dispersed workforce are the major reasons why workplaces are becoming more digital. And as workplaces are becoming more digital, employees are communicating and collaborating in unprecedented ways. In order to reflect their staff's changing work ways, leading organizations are starting to implement a new working environment called the digital workplace. 
According to a Gartner digital workplace survey, 68% of C-level executives have expressed involvement in the digital workplace since the COVID outbreak. 
What is a Digital Workplace?
Try searching for "What is a digital workplace?" online and you will discover hundreds of results but not a consistent definition. Why? 
This is because with an increase in the popularity of the term digital workplace, its interpretations have also been increasing. Hence most of the definitions you come across might appear vague and they have to be that way, since a digital workplace is still only a broad idea, and not a definitive framework yet. 
Back in 2009, when the term was coined by Paul Miller, the digital workplace was conceived as an understanding that an exploration into how technology would affect both the workplace and the nature of work would be necessary.
In order to understand the concept of Digital Workplace, let's look at the changes it has brought to the traditional workplace. 
Before the workplace was "digital", it was a destination for employees – a place where they went everyday to do their jobs. So what has changed? The modern digital workplace is no more a destination but an experience where employees are free to work from anywhere (be it their office, home or maybe a cafe) on the device of their choice.
Employees in a digital workplace are measured on the basis of the output they bring to the table rather than their presence inside the office. 
Technology, intranet, HR systems, video conferencing, collaborative forums, sharepoint and mobile deployment etc – these are all the constituent parts of the constantly evolving digital workplace. 
A digital workplace is an always-connected environment that provides instant access to everything employees need to get their tasks done. It's an understanding that work is now a location-agnostic event that can happen at any time on any device. 
The digital workplace is all about how technology is transforming the type of work employees perform, as well as where and how work gets done.
Let's look at an example for you to get a better understanding. Whatfix conducted its first online Digital Adoption Summit this year, where we invited speakers from different parts of the world to join in and share their thought leadership. More than 2K people tuned in, irrespective of the place and time-zone they were in. Our team members were constantly collaborating and communicating with each other via digital tools to keep the summit running successfully. We were also able to communicate with the attendees via real-time chat to answer their questions and send emails to keep them updated on the event. 
How were we able to conduct such a huge event while sitting at our homes miles away from our team members? Well, for us, that's what the digital workplace enabled us to do. 
Why Do Organizations Need to Move to a Digital Workplace?
In this cut-throat competitive environment, every organization wishes to have the right combination of technology and talent to overcome their competition. A digital workplace fosters a unique work experience by providing a flexible work environment for employees which helps them attract top talent and keep their employees productive.
Let's have a look at why organizations are having a better work experience with digital workplaces
Flexibility
Millennials make up the largest block of the U.S. labor force and a digital workplace is the key to attract, retain, engage and motivate this generation. This is because Digital workplaces allow employees to work on their choice of devices to facilitate the modern workstyle. 
Also, employee content and data is securely embedded in the collaboration tools (like Asana, Zoom, Microsoft OneDrive, etc.) and cloud storage, making it easier for users to access data from any device, irrespective of the place they are working from. Access to this data increases efficiency and drives employee productivity. These collaboration tools allow easy access to virtual meetings, removing the barriers of time, location, and devices. This flexibility provides a greater work-life balance for the employees, enabling them to work remotely with optimum productivity. 
Improved Communication and Collaboration
Almost 86% of employees and executives blame lack of collaboration and communication for workplace failures, according to SmallBizGenius. 
Since communication and collaboration play a major role in getting work done across an organization without any hiccups, a digital workplace provides a virtual space for your team members to be aware of what's going on in the company. It allows teammates to keep in touch with each other at all times even when they are outside the office.
Information Access
Have you ever wasted your productive time looking for a doc your colleague emailed you last month or the Dropbox folder you put your sales pitch in?
Searching for information at the time of need can be a tricky business since all your important work documents are scattered over Google Drive, OneDrive, email attachments, and PC folders.
Digital workplaces handsomely provides a solution to this proble
m by allowing team members to gather all of their content and information in one place. A central location for all files, documents, weblinks, and other rich media makes it easier for employees, irrespective of their location to access information from any device whenever needed.
Increased Efficiency
Did you know that work overload can decrease employee productivity by 68% because they feel they don't have enough hours in the day to complete their tasks?
Since running a business in 2020 is all about being efficient and achieving more in less time, Digital workplace is the need of today. A digital workplace can help increase productivity by getting rid of commute times, time spent searching for information, as well as time spent on other administrative tasks that can be done quickly with technology. 
Knowledge Management and Sharing
Imagine your operations director with years of experience decides to switch to another place or retires? They take the knowledge, which is extremely useful in teaching new hires about the ins and outs of your business, with them and it becomes an uphill battle for you to lay the foundation of an efficient workforce.
Infact, Fortune 500 companies lose roughly $31.5 billion a year by failing to share knowledge, according to Bit.AI. Well, that's a lot of money if you ask me!
A Digital workplace uses tools like knowledge management systems that allows organizations to preserve this valuable knowledge and experience of senior managers even after they are no longer a part of the organization. With a knowledge management system in place, your employees can easily access this information at time of need and continue working without any hiccups.
Effective Digital Workplace Components
People: The successful transition to a digital workplace ultimately comes down to "people" because employees are the most valuable asset of an organization. A digital workplace empowers your employees to drive knowledge management and collaborate in ways that make sense to them and delivers value. Here are some ways to achieve measurable value:
Provide applications that help employees identify cross-sell and up-sell opportunities 

Supply tools to help research, develop, and deliver new products more quickly. 

Enable employees to find the required information quickly to serve their customers better.

Provide tools that help employees execute business processes and functions as currently designed.

Provide the right tools at the right time for their employees to their jobs
Tools: Every organization already has a digital workplace toolbox in place. For most organizations it can be broadly classified under eight categories to support the ways in which employees communicate, collaborate, connect and deliver day-to-day tasks. Usually these tools are implemented in silos without the benefit of a holistic digital workplace strategy. To overcome this issue, organizations need to create a digital workplace strategy that articulates the business focus and helps identify the appropriate tools needed in the toolbox, according to the business requirements. 
Culture: An organization's culture guides the way employees work. It determines how employees leverage the digital workplace to connect, communicate and collaborate. The key here is to understand your employees' needs and develop a digital workplace strategy that aligns to your organization's work culture. With this culture change, and technology components, a digital workplace helps you improve: 
Collaboration: In order to operate productively, organizations need to leverage knowledge across the enterprise with integrated and intuitive digital collaboration tools that can help employees to work together. 

Communications: To ensure the correct information reaches the right audience, employees need tools to support two-way communication and the personalization of content. 

Connections: Employees need tools that allow them to connect and gain insight from one another. A digital workplace delivers on these goals by enabling a stronger culture and community within the workplace.
Who is In Charge of Digitalization of Workplace?
To ensure successful digitalization of the workplace, commitment needs to come from every level, including employees, managers, business leaders.
HR & IT leaders are responsible for designing, executing, managing, and optimizing organizational change. 

Members of the IT team are responsible for implementing and integrating them into the existing IT infrastructure.

CIOs/Digital adoption managers are responsible for maximizing productivity, software utilization & ROI, and data security.

L&D leaders are responsible for promoting digital literacy and improving employee training, learning, and development processes. 
Designing Your Digital Workplace
The benefits offered to businesses through a digital workplace, for instance enhanced communication & collaboration, mobility, and ease of the process of finding information, are influenced by the way you design your digital workplace environment.
Here's how you can start building your digital workplace design: 


Challenges of a Digital Workplace
Employee Resistance:
Employees are usually resistant towards anything new if they do not believe the change would make their work life easier. At this point, it might be really hard for employees to move away from their regular ways of working in a physical environment to the remote work environment. The pandemic outbreak forced people to move towards the digital ways of working, to which people are still trying to adapt because there is no other option for them. 
As far as organizations are concerned, this is an opportunity for them to move towards a digital workplace structure and reimagine how they want to get the work done. But for them to be successful, it is important to overcome the employee resistance which could otherwise end up defeating the purpose of the digital workplace.
To overcome resistance and introduce a digital workplace successfully in your organization it is important to explain the value it can provide to the employees in improving their work efficiency and productivity.
A Digital Adoption Platform can be adopted as a digital workplace solution by the organization to bridge the gap between humans and technology by prioritizing user adoption. Building a human-centered approach can equip organizations to meet the expectations of the employees and grow an effective, digitally-enabled workplace. This can be achieved through intuitive, in-app guidance for applications that can help employees understand the functionalities in real-time. By addressing the critical product adoption challenge, Whatfix helps reduce end users' time-to-competence thereby improving their productivity and performance.  
Cyber and Information Security: 
With continuous phishing scams and data breaches of customer and employee data around the world, cybersecurity and information security are usually making headlines. CIOs are under intense pressure to ensure protection against these attacks. Although many organisations do have robust information security policies, enforcing them across the digital workplace can be challenging.
The best way to get through this challenge is by using a digital workplace platform that can directly comply with all data security guidelines. Or conduct end-user security awareness seminars that help employees understand the importance of data security and best practices to follow while accessing confidential data from their devices. 
Issues with Employee Productivity:
You might experience a dip in employee productivity for the first few weeks after implementing the digital workplace as it can take them time for them to get used to the new technology. 
Post implementation, productivity depends on the effectiveness of training and upskilling sessions provided to the employees to leverage the new platform. The L&D process design needs to be focused more on objective end user performance and productivity. 
Effective training sessions can be conducted by using a digital guidance and engagement platform like Whatfix that integrates learning knowledge into application environments to serve employees the right information when needed. Whatfix DAP allows organizations to create and embed interactive walkthroughs, within an application, guiding users through every step of a workflow in real time. It enables employees to learn while actively working on the tool to understand it better, thereby reducing digital fatigue. 
End Note…
Even though there are many challenges associated with the digital and workforce transformation, the resulting outcomes can change the game for organizations that are struggling to survive, especially since the pandemic impacted the work culture tremendously. With a clear strategy to support your digital priorities, you can reshape the modern working environment with measurable outcomes and results, like: 
Increased digital dexterity to help employees easily access information whenever they need it. 

Improved communication and collaboration makes it easy for employees to effortlessly communicate and collaborate with their teams and brainstorm innovative solutions to accelerate an organization's performance.

A unified approach to IT, automation of mundane tasks, and management of data and workloads across the organization leads to cost savings.
An ideal digital workplace empowers employees to work productively and stimulates their performance and engagement. Going the extra mile to develop a digital workplace strategy that fits with your existing technologies and business goals can assure a clear competitive advantage for your organization and result in enormous benefits, no matter the circumstances.