Salesforce Lightning isn't just like old wine in a new bottle, it's redesigned to give users a completely new way of working. This is both a boon and a bane. A boon because the Lightning Experience is more dynamic and is a completely new way of interacting with your org. A bane because it is a completely new way of interacting with your org. While Lightning Experience may be a big leap forward in building a more intuitive, easily customizable, and intelligent interface, the migration itself is a bigger challenge. You need a Lightning Migration Tool stack to help you evaluate the new interface, develop your rollout strategy, test it in sandbox,  do pilot runs, and finally make the switch to Lightning Experience. Here are 23 of them across categories like –
Lightning Readiness

Lightning Adoption

Lightning Components

Lightning Data Migration

Lightning Migration Services
Lightning Readiness
Part of your Lightning rollout strategy is analyzing if you are ready to move to Lightning. You need Lightning Migration Tools as well as resources that can help you analyze your Salesforce org.  Here are a few inbuilt Lightning migration solutions that can help you with that –
1. Lightning Readiness Report
You're on your way to getting everyone onboard the Lightning Train! Great! Before you make the changes to your implementation, you need to go on a "Are you ready for Lightning?" mission by running the Lightning Experience Readiness Check. Once you do that, you'll get a personalized Readiness Report that shows what to address in Salesforce, plus a free consultation with a Lightning Experience expert for advice on next steps. Some reports may even shed light on how your organization is going to benefit from moving to Lightning with the Lightning Experience predictions. Use this to make your case for the transition with management and other stakeholders. This Readiness Report is a necessary part of you Lightning Migration Tool stack because not only does it tell you if you're ready for the Lightning Experience but these findings are a valuable resource of information to strengthen your rollout plan.
2. Visualforce Check
When moving from Salesforce Classic to Lightning Experience, your Visualforce pages need quite a bit of attention. The reason being that if you've used JavaScript in your Visualforce pages, it might not reflect in Lightning Experience. While most of your pages will work in Lightning Experience, you might still have to tweak a few things to make sure it matches the LEX styling. Here's a point to note – if your Visualforce pages use the built-in standard components, their look-and-feel matches Salesforce Classic, whether your users access them in Lightning Experience or Salesforce Classic. This Visualforce Check is an important step in your Lightning Migration rollout plan so don't miss it!
3. Salesforce Optimizer
While you are evaluating your Salesforce instances, you can use Salesforce Optimizer to determine how your organization uses certain Salesforce features and get insights on how you can improve them. The Optimizer gives you recommendations on ways to simplify Salesforce and drive adoption of features. Before you kick off with the Optimizer, find out which features and customizations it considers so you know which of them will be evaluated by the Optimizer and which you still need to evaluate yourself.
4. Configuration Converter
If you have custom buttons that use a JavaScript, you can use the Configuration Converter to convert these buttons and links to Lightning-Friendly alternatives since the JavaScript content source isn't supported in Lightning Experience. This Configuration Converter works as a Lightning Migration Tool by analysing what your org's JavaScript buttons and links are doing, then recreates them as Lightning components, quick actions, or other declarative solutions, without touching the original items. Before committing any changes, you can preview the new component code or the declarative steps and verify the alternatives work as needed.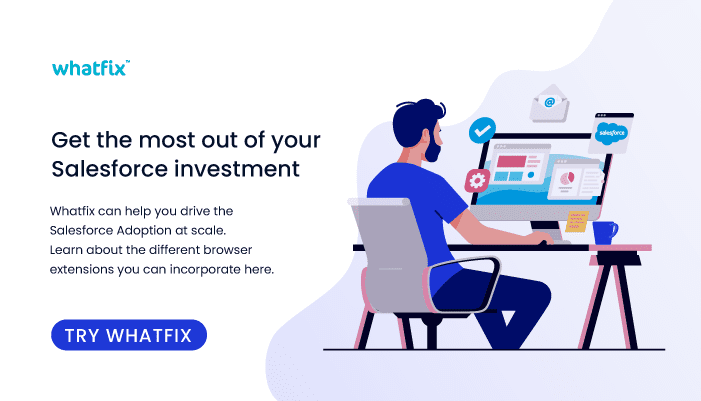 Lightning Rollout Strategy
Salesforce has explained this with a very relatable analogy of a Broadway Musical. You need Lightning Migration Tools to plan, strategize, sync up all your data, and create quick Lightning pitches for the management and other stakeholders. Essentially, while in the rollout strategy phase, you are helping your organization visualize a reality where Salesforce Classic is being completely replaced by Salesforce Lightning. Having a Salesforce onboarding strategy in place for Lightning will be super helpful for you. Here are a few apps that can help you put together a great show –
5. Magic Mover for Notes And Attachments to Lightning Experience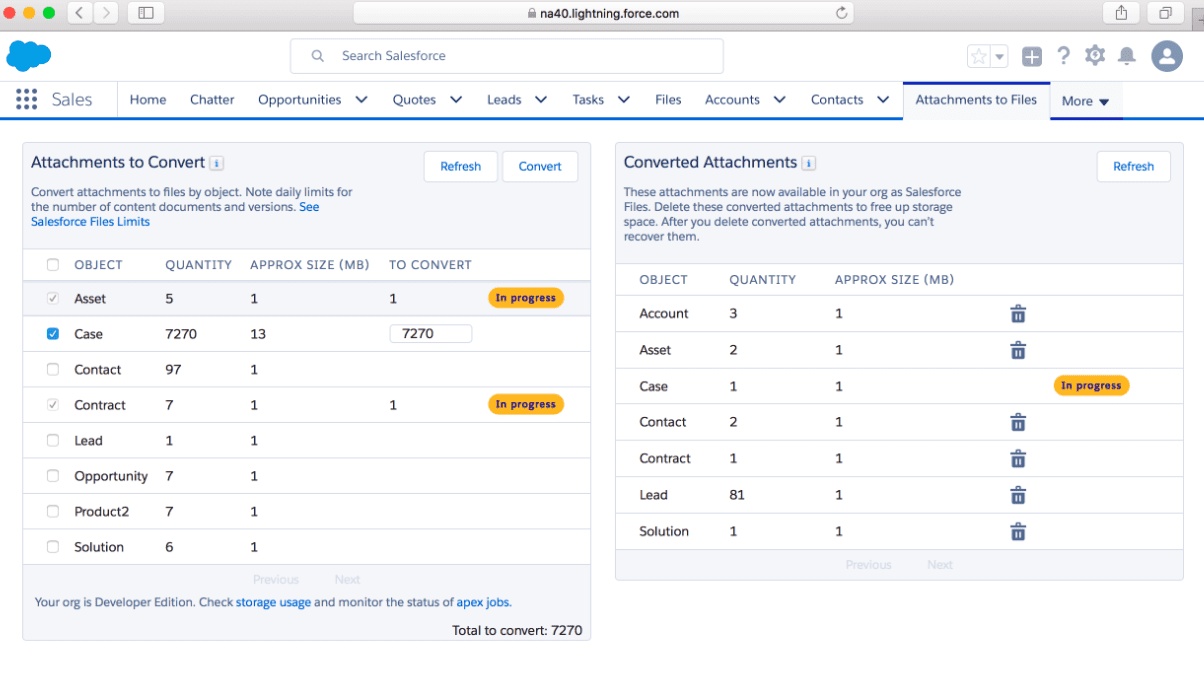 As a Salesforce Classic user, you're used to attachments and notes. But, those don't work in Lightning. Say bye-bye to attachments and hello to Files. Files provide a lot more functionality and flexibility in sharing and collaboration. With Magic Mover for Notes And Attachments to Lightning Experience, you can convert attachments and Classic notes to files because files are optimized for Lightning Experience and provide additional capabilities beyond attachments, including the ability to relate files to multiple records, track multiple versions, and view file previews.
6. Salesforce Agile Accelerator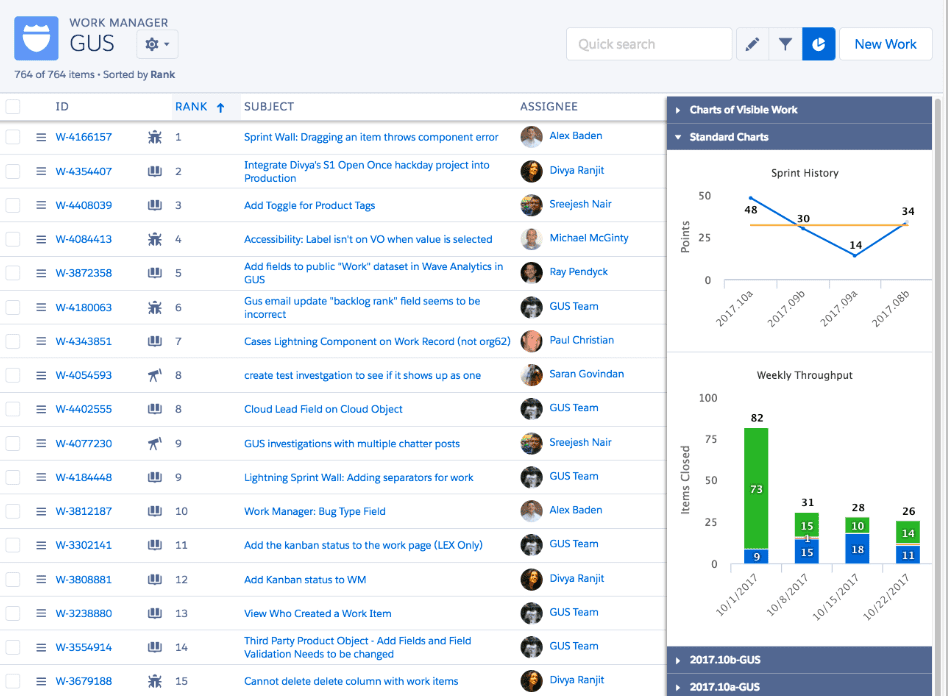 When thinking of a Lightning Migration Tool to help you manage this massive project, you must check out Salesforce Agile Accelerator, a new Salesforce Labs app. Teams can easily track business requirements, measure progress, and successfully deliver releases – right from Salesforce. With a project like Lightning Migration on your plate, an agile system that lets you collaborate with cross-functional teams on requirements, updates, access release schedules, and more is quite important. Salesforce Agile Accelerator helps you do all that, even through Chatter itself.
7. SUMO Scheduler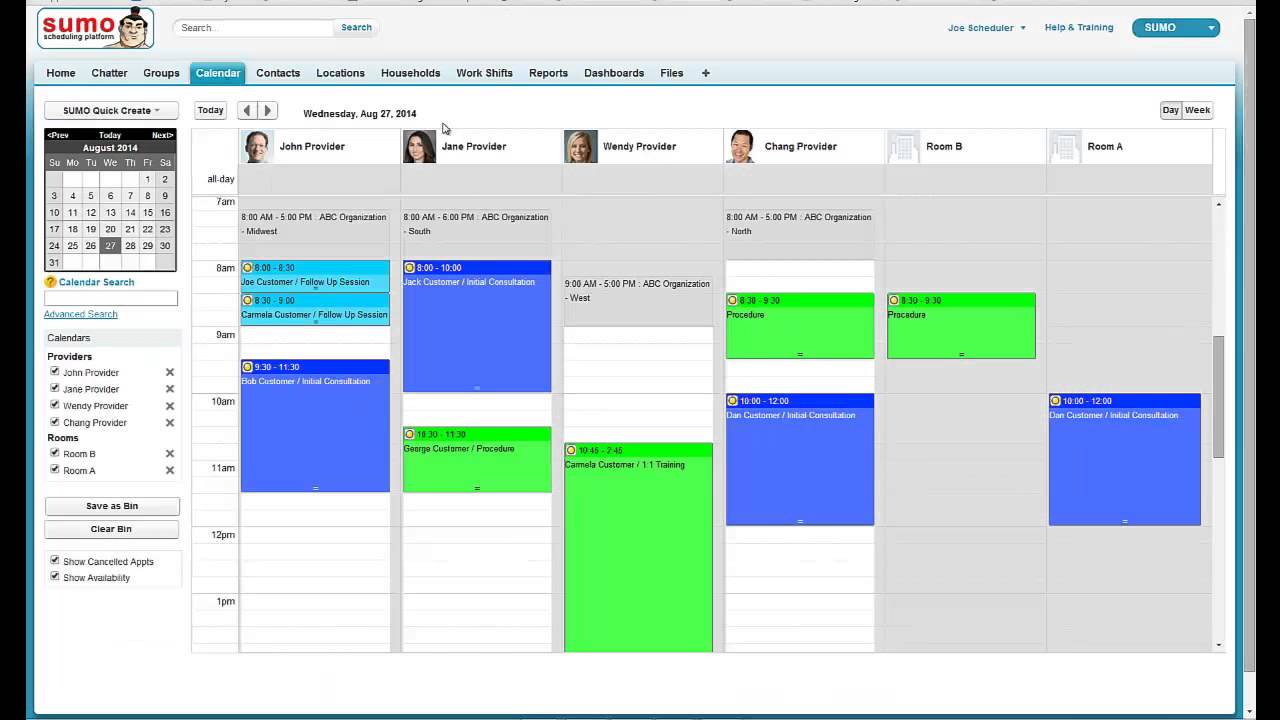 Built on the native platform of Salesforce, this Lightning Migration Tool does all the appointment scheduling work for you. While coordinating with multiple stakeholders, it is imminent that you keep any scheduling friction at bay. SUMO Scheduler lets people self-schedule appointments with your team. It also automatically inserts the Web Conference details into the calendar invitations.
8. OneMob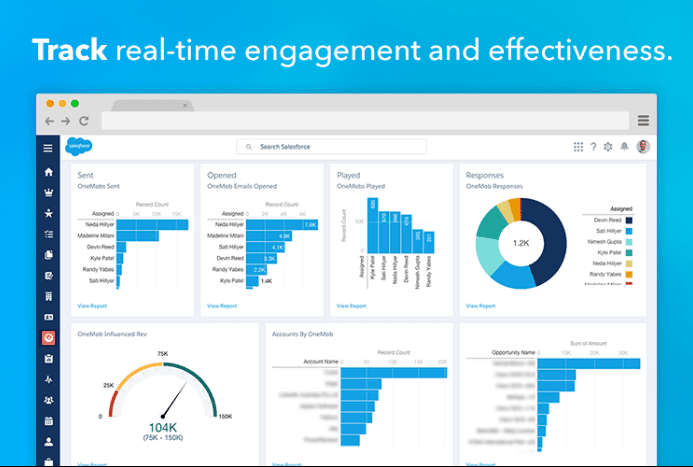 Yes, rolling out Lightning can feel a lot like selling. If you want to make videos to personalize your pitch, OneMob helps you make video and text-based content, manage, send, and track in realtime what content is being watched, by who, and for how long. This is especially useful if you are making quick Lightning Experience demos to give your organization a peek into what Salesforce would look like in Lightning.
Lightning Adoption
All that planning, strategizing, pitching, coaxing, and prepping has paid off! Now, you're all set to deploy Lightning Experience to your organization. What do you think will happen post-migration? Users might not know how to use this new looking Salesforce that's staring at them. They haven't understood how exactly to use Lightning yet and since it's still essentially "Salesforce" they probably will keep doing things like they were in Classic. A Salesforce Training strategy for this migration is essential to help drive Lightning Adoption in your organization. These Salesforce Training and Adoption tools will help you accelerate Lightning Adoption in your organization.
9. Whatfix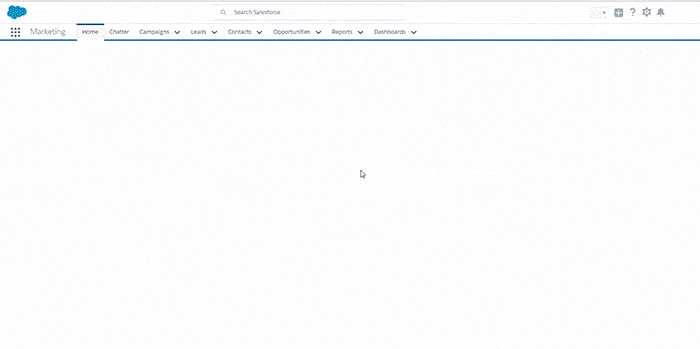 Be it Classic or Lightning, it's still Salesforce. Your users know how Salesforce works. All they need is to be retrained in doing the same processes as they were in Classic, in Lightning. A readily and always available performance support tool like Whatfix can lead them through the Lightning Experience from within the live application.
Users don't need to learn the concept behind the processes, say creating a new lead. What they need is a step-by-step guidance that is inside Lightning post-migration so they learn how exactly to perform the tasks they're well aware of in a new looking UI. With this in-app guidance, users have access to live support embedded within Salesforce Lightning which means they can solve their problems without raising a ticket. This saves you and them hours of time and users are learning in the most effective way – while doing their job.
10. Ambition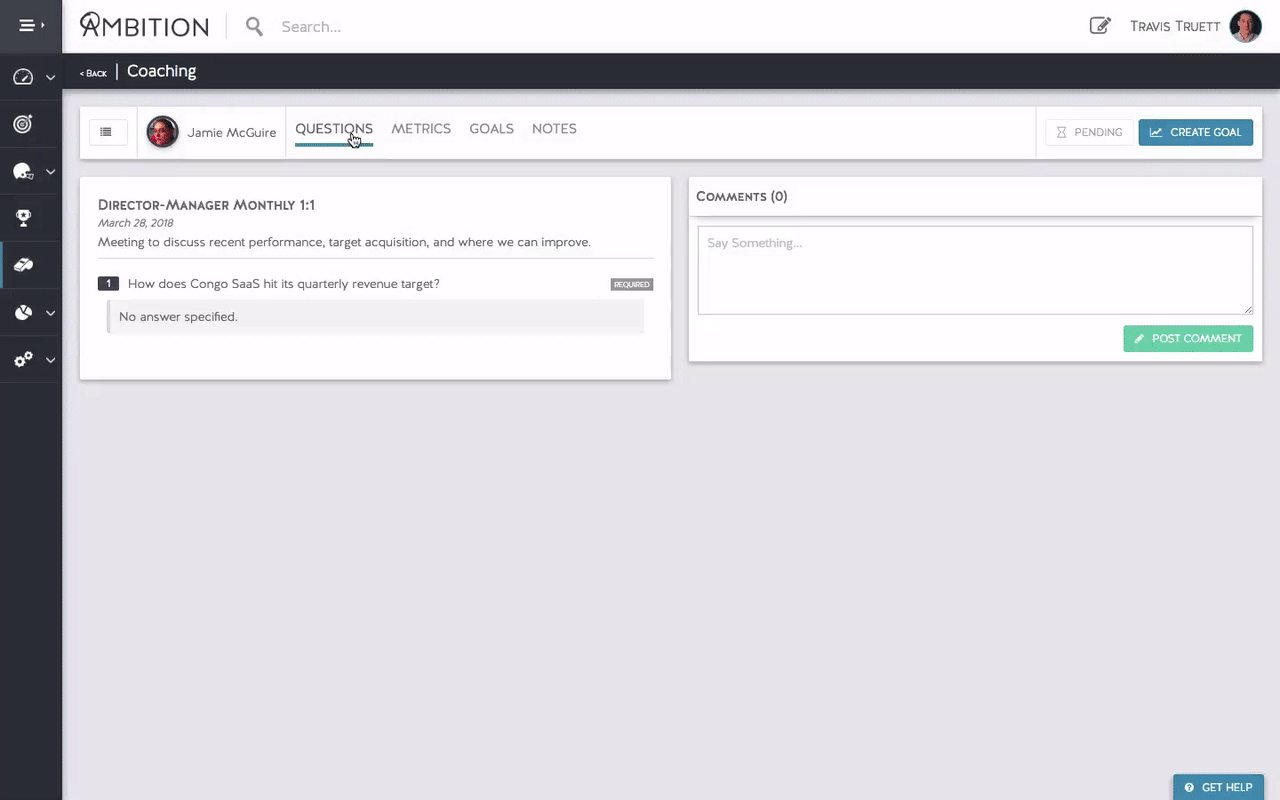 Transitioning from Salesforce Classic to Lightning Experience is a case of change management. This invites its own set of problems like resistance to change which hinders the adoption and hence, is a big bump in your rollout strategy. Gamifying the new experience might help you ease out this big bump. Ambition is essentially a sales effectiveness tool which can be used to drive Lightning Adoption in your organization. Ambition's free Salesforce integration app helps in enhancing data visibility, sales effectiveness in the new environment of Salesforce Lightning, and analysing the overall team performance. You can create custom goals, metrics, scorecards, contests, and more. You can even have personalized anthems every time someone exceeds a milestone.
11. Lightning Usage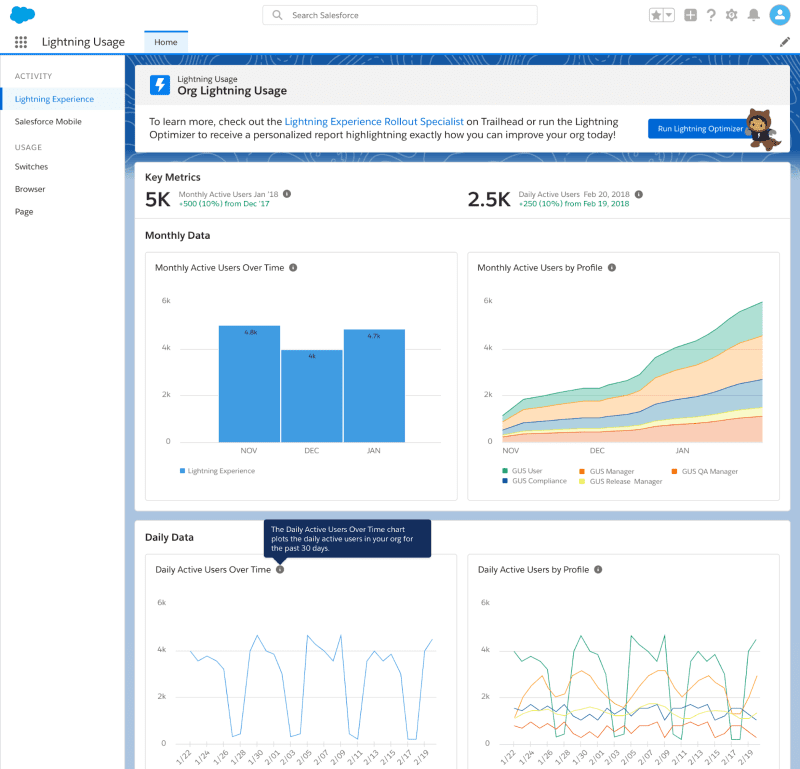 As a Lightning Migration tool, this app is a great way to track adoption and usage of Lightning Experience in your organization. Lightning Usage app gives you insights like daily active users, the number of users switching to Salesforce Classic per day, and the most visited pages in Lightning Experience. With these insights, you can understand where your users are faltering and train them accordingly. The best part is it is free to all Salesforce customers and available right from within Lightning Experience. All you have to do is click the App Launcher icon in the navigation bar, type Usage in the search box, then click Lightning Usage. In the app, click tabs in the ACTIVITY or USAGE sections on the left side of the page to view the associated data.
12. Trail Tracker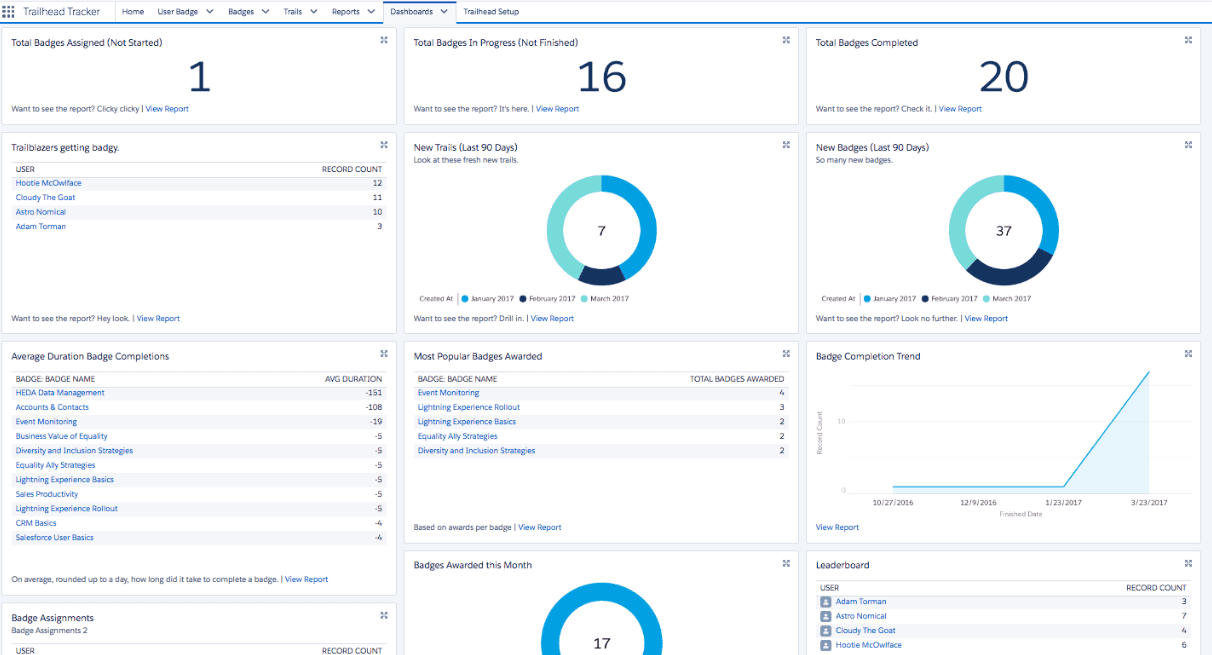 You can easily onboard, train, and assess the Salesforce knowledge of your employees with Trail Tracker. It is a free app to guide users through their Salesforce learning experience on Trailhead. You can assign, track, and get reports on badges earned by your team with pre-built reports and dashboards.
You can assign Trailhead courses specific to Lightning Experience to your users, assign relevant badges, and map out their learning curve. Salesforce can become overwhelming very easily. With Trail Tracker, you can assign the trails to specific user groups in your organization. This will ensure that users aren't thrown into a huge pile of information but only what is relevant to them.
Get Feedback from your Users
When you finally rollout Lightning, either in batches or as a Big Bang to the entire organization, collecting feedback is crucial. It's highly likely that your users will have a plethora of questions and concerns. Having a feedback system during Lighting Migration in place will help you address all these issues in a systematic manner. These Salesforce integrations for Service teams will come in handy when you have to collect feedback from customers as well.
13. Survey Force

As a free Salesforce Labs application, Survey Force allows you to create 3 types of questions (single select, multi-select, and free form text) and order your questions via drag and drop. Surveys are deployed via email templates and Sites. You can leverage the Reports and Dashboards to analyze survey results.
14. GetFeedback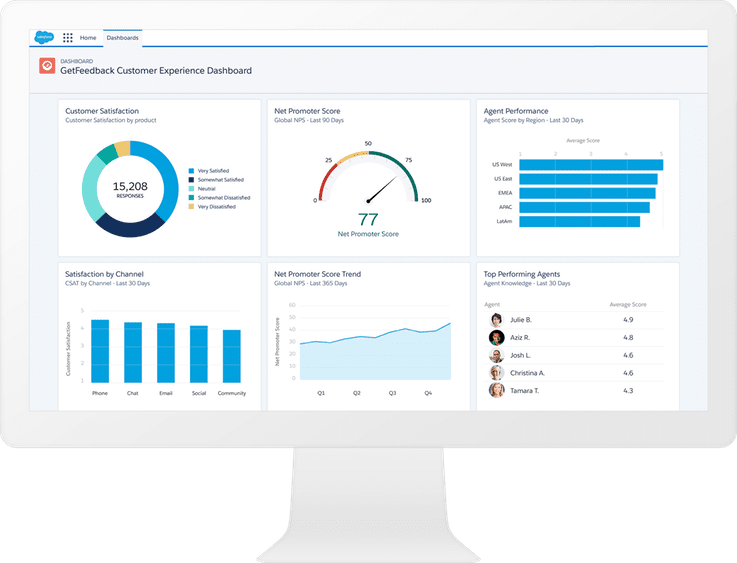 Using GetFeedback, you can measure and improve your user experience with mobile-friendly surveys. You can trigger surveys based on activity in Salesforce Lightning and push responses into Salesforce for easy reporting. So, if you need to know what your endusers feel about a particular Lightning function or feature, for instance the Kanban feature, you can setup these trigger surveys when they land on that feature.
Lightning Components
When moving from Classic to Lightning Experience, there are certain customizations like ones created with JavaScript that don't get replicated in Lightning. For that, you have Lightning Components that seamlessly help you customize Lightning.
15. Lightning Carousel and Banner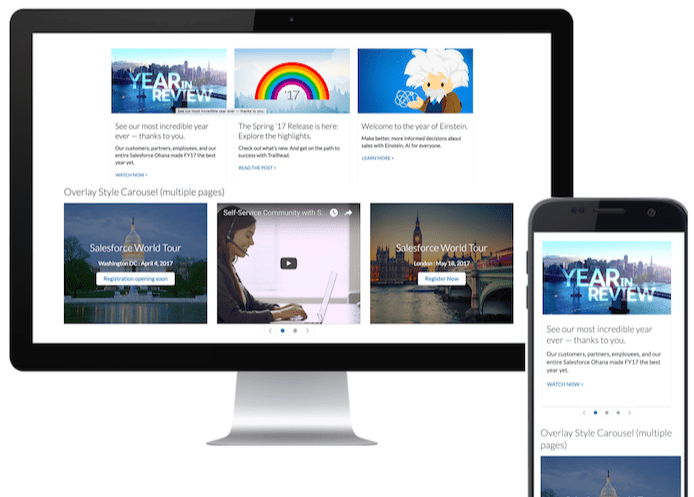 When it comes to engaging with your users and highlighting important information, Lightning Carousel and Banner components will come in handy. Developers can also extend this package to feature custom content. You can embed and play videos from YouTube, Vimeo, and Vidyard in this image-based component which comes with plenty of configuration options. You can feature these images and video content in a carousel as well with options like autoplay, number of slides, display order, HTML content, and slides per page.
16. Lightning Sharing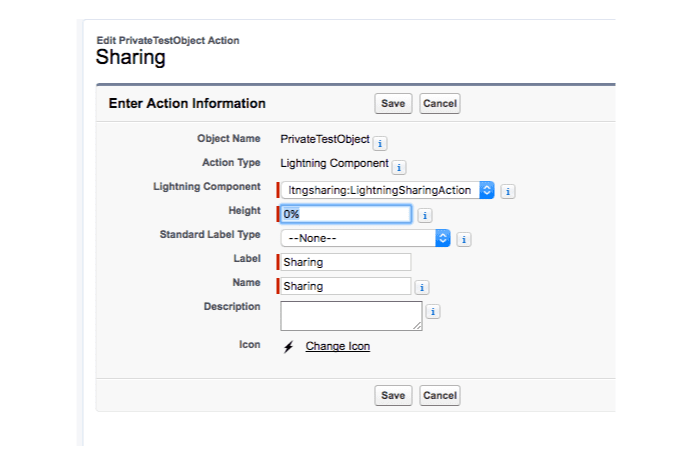 Salesforce Classic has a "Share" button which lets you share records with users across your team and manage permissions. With Lightning Sharing, you can enable this record sharing feature in Lightning Experience. You don't require a code to enable manual record sharing but instead all you have to do is add a component action to an object's record page and you'll have a Share button to manage sharing. On clicking the button, you can create or modify sharing, specify user permissions, or modify who it's currently shared with.
17. AnyCalendar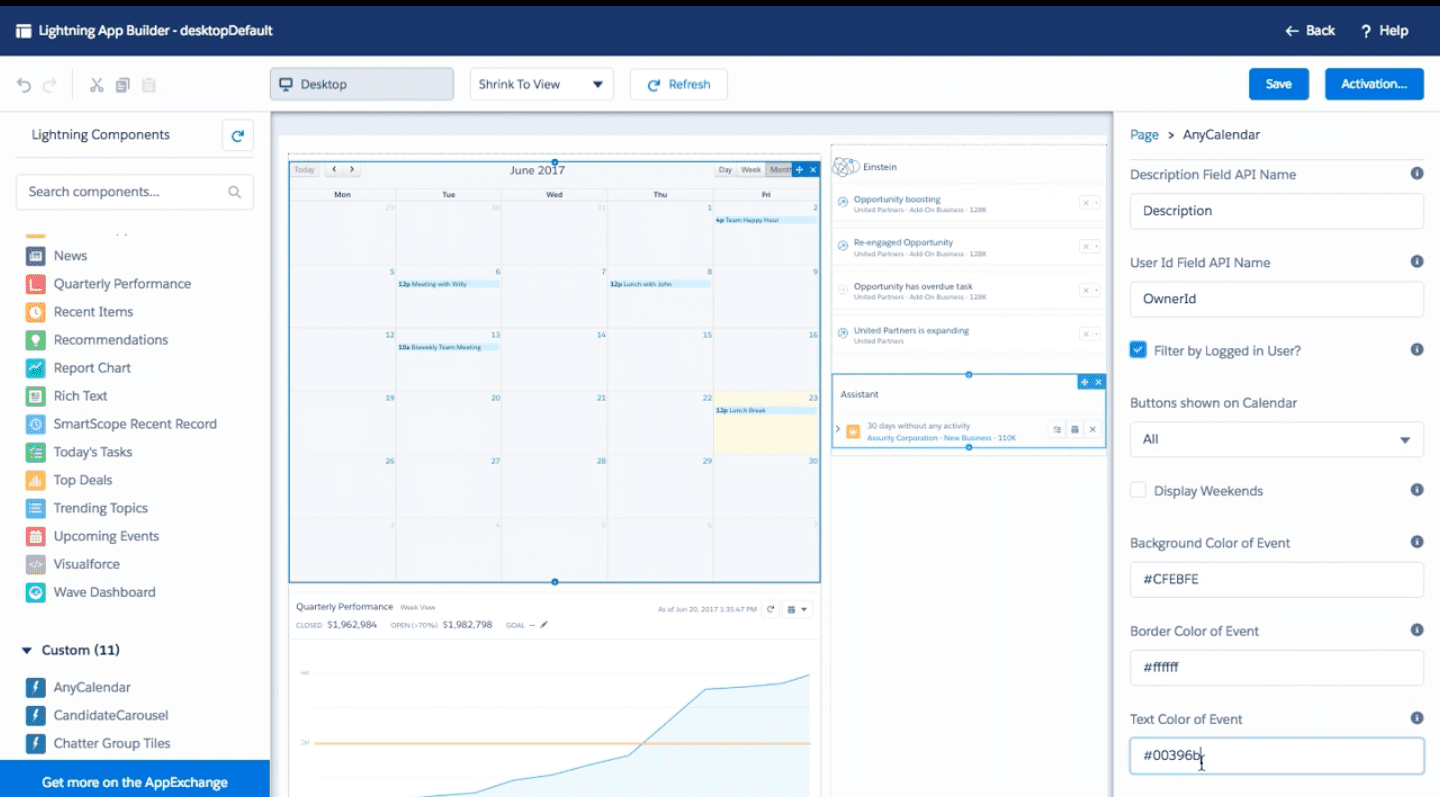 AnyCalendar is a Lightning component using which you can drop a customized calendar using any object into Lightning Experience. You can select a standard or custom object and customize the calendar display options. It has multiple customizable views – day, week, month, and list.
Your users can also create, edit and delete records directly from the calendar and each record can be dragged, dropped and resized, which modifies its date and time accordingly. You have the ability to filter by logged in user, customize the displayed buttons, background, text, and border color of the events on the calendar. 
Lightning Data Migration
Unfortunately, all the data you have in Classic isn't automatically moved to Lightning. You might have to use a data migration app to automate this. Here are a few of them –
18. Jitterbit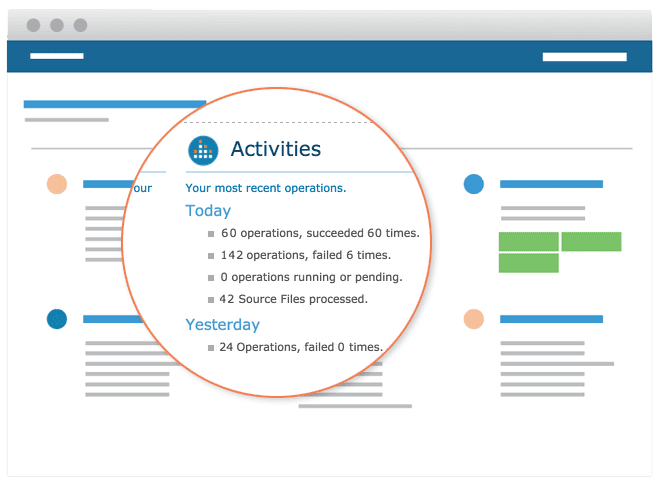 Jitterbit data loader is a free data migration tool that enables Salesforce users to automate import and export of data in Salesforce. Jitterbit Data Loader for Salesforce supports Create, Insert, Upsert, Delete, Hard Delete, Query, and Bulk Loads.
19. Cloudlingo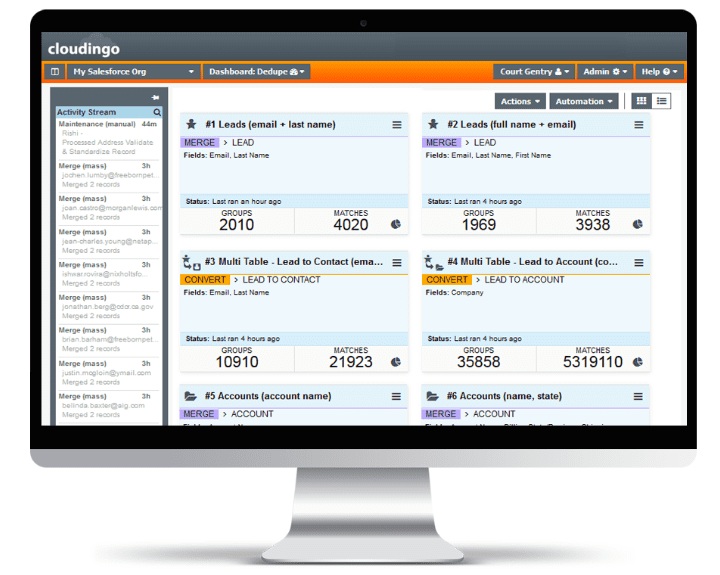 Cloudlingo helps you automate cleaning your Salesforce database and mass imports by removing duplicate records.
One glance of the dashboard itself gives you all the information of the state of your data. With this, you can find duplicate records and dedupe data, auto-merge, mass merge or manually merge duplicate data, mass update and delete records, geocode and standardize addresses and more.
20. Dataloader.io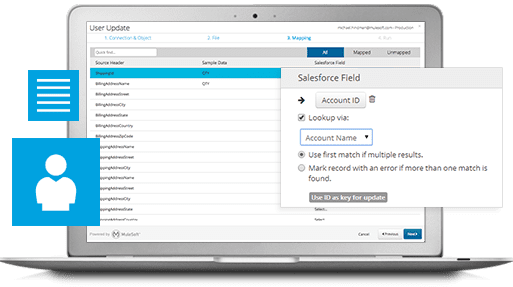 This is a data loader app by Mulesoft for Salesforce to quickly import, export, and delete unlimited data. You just use your Salesforce login details to access Dataloader.io eliminating the hassle of downloading an application.
Using the auto-mapping feature, data is automatically mapped relevantly so you don't have to spend too much time on mapping data from the source file to the Salesforce fields. You can just take the CSV file of your data, tell it what fields to map, and run the updates or upserts. You can even run multiple updates simultaneously. Dataloader.io lets you import and export data directly from Box, DropBox, etc. You can also schedule the import and export tasks to repeat periodically. Dataloader.io is free to use but it also has some useful premium features.
Lighting Migration Solutions
There are a few apps that provide end-to-end Lightning Migration solutions which especially focus on helping you move all the customizations you have in your Salesforce Classic to Lightning Experience. Here are three –
21. Skuid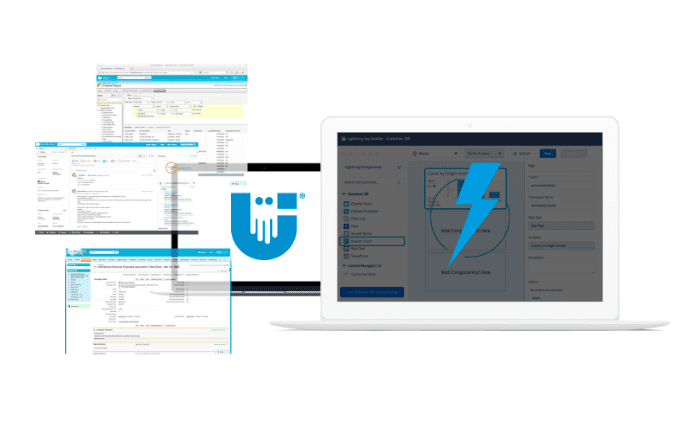 If you have customized your Salesforce classic with Visualforce pages, the migration to Lightning Experience would need some of these customizations to be rewritten in the Lightning framework. Skuid offers migration services that craft custom migration strategies to help your Salesforce org move to Lightning seamlessly. The crux of how it works is if you are using Salesforce Classic, you'll recreate those apps in Skuid and then migrate those Skuid apps to Lightning.
22. Flash by PopcornApps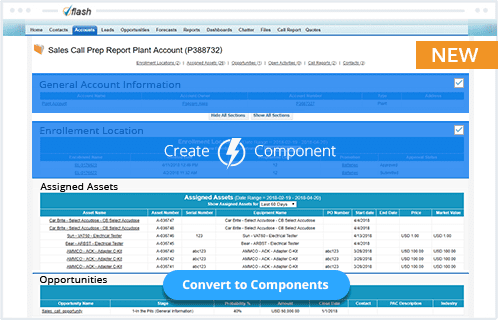 Flash by PopcornApps helps you migrate from Salesforce Classic to Lightning in four steps. First, it analyses your Lightning Readiness Report and assesses the impact of Lightning on your implementation, finds the repository of custom JS, CSS, Visual Force pages, VF tags, and Controller classes, helps you redesign by moving it into Lightning components and pages, and finally aids you in deploying Lightning Experience to your org.
23. Gridbuddy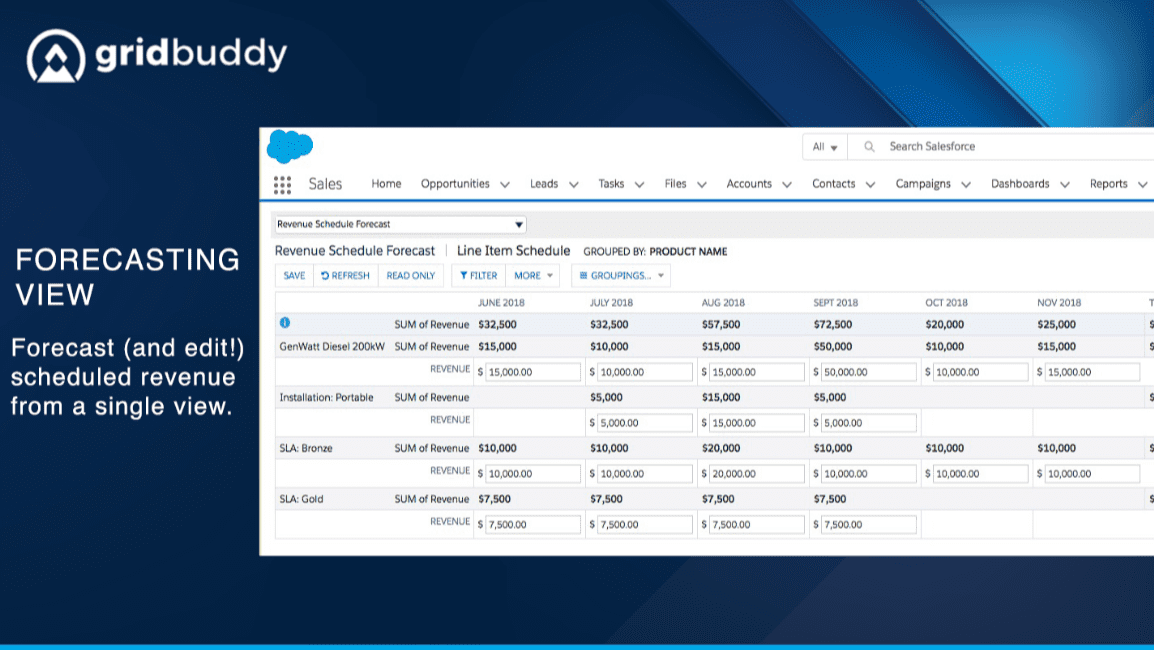 Gridbuddy is another solution that helps you understand every aspect of the Readiness Report well enough to determine every implication the migration may have on your Salesforce org. It addresses feature gaps in Lightning and provides essential functionality that isn't natively available in Classic or Lightning. Using Gridbuddy, you can save time and resources while developing Lightning components which allow you to preserve custom buttons, links, and objects. It helps you create single page user experience, bulk editing and mass updating on multi-object usecases, reusing custom JavaScript like custom buttons and links that aren't supported in Lightning and more.