For years, L&D teams have been organizing training sessions for their employees under the guidance of an instructor at a specified time and venue, or by building online courses and training modules via online management platforms and eLearning tools. However, a shift towards the remote work culture post the COVID pandemic and an increased influence of digital technology has changed the traditional methods of employee learning. 
The term "Remote learning" (not known to many before the pandemic) has been thrust into the spotlight in response to the coronavirus crisis. Organizations have been pushed to adopt a remote learning model, but with almost no preparation or lead time. This sudden shift has left many of them struggling to put essential employee training online since both the employees and trainers are now working outside of the office and are separated from each other for the first time.  This shift has had more impact on the organizations that weren't used to digitizing their training materials or working in a digital environment, as compared to the ones already using online platforms for employee learning.
Although the shift towards remote learning has been challenging for most businesses, its adoption shouldn't be feared but embraced as a chance for organization-wide innovation and providing more opportunities for people around the world. 
To keep in pace with the new trend and maintain employee productivity, most organizations have begun to leverage online training tools to provide more flexible, learn-at-your-own-pace, and personalized training to their employees while they continue working remotely.
Online training tools have evolved over the period, empowering employers in providing employee training effectively. Employees can utilize these tools to learn new skills and improve their performance and productivity. 
While most online training tools have some similarities, they are also different from each other in terms of the features they include. Here are some of the best online training tools for you to develop and deliver training programs for remote teams:
Digital Adoption Platform
Speed up learning and development for your remote employees by implementing a Digital Adoption Platform (DAP). DAPs can be integrated with your existing LMS and offer walkthroughs and videos to guide users through the new technology and help supplement their remote learning.
Most importantly, these platforms enable employees to learn at their own pace. The guided walkthroughs and extensive self-help menus enable employees to learn on their own time and in the flow of work, thereby eliminating the need to schedule dedicated training sessions.
DAPs also enable hassle-free remote team communication about the latest updates in a software via a guided walkthrough showing them how to use the feature. This saves time and prevents you from having to organize team-wide training for every update.
Whatfix gives your employees a top-notch digital learning experience. It automates most parts of the employee training process, thereby decreasing training time, increasing employee satisfaction, and improving employee retention rate.
Whatfix provides comprehensive in-app training with customized guidance workflows. You can provide real-time training and support to improve knowledge retention, give task-specific training, and provide options for on-demand review.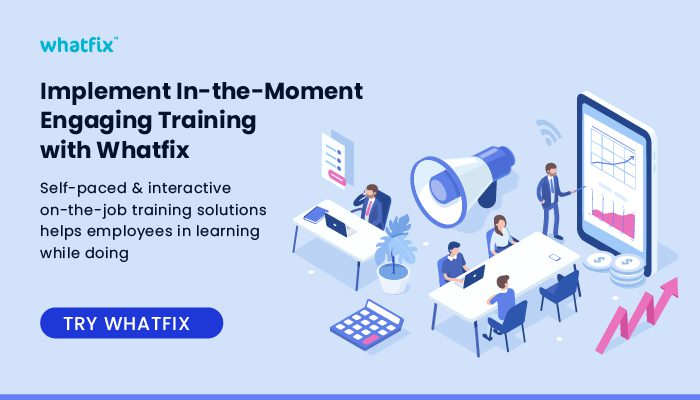 All these features encourage employee self-service, shorten overall training time, and increase employee productivity even while working from home.
Features of Whatfix
Walkthroughs for Goal-Based Guidance – Guide users with step-by-step walkthroughs and deliver goal-based guidance that matches a user's role, competence, and location in the application.
Integration with your LMS – Whatfix not only helps you in promoting 24/7 learning but also contextualizes and measures that learning. You can make your SCORM-compliant courses available in-app and track completion in your LMS.
Around-the-Clock Help – Make the most relevant content available from company-wide systems and knowledge bases so users feel help is always available.
Insights – Understand how users engage with your product, and leverage the insights to improve the product experience.
Global Rollout Management Using Multi-Language Support  – Translate your content into multiple languages to support localization requirements in international implementations.
To learn more about how a DAP can help your organization with remote learning, schedule a demo with our experts.
Learning Management System (LMS): 
A learning management system provides a framework that handles all aspects of your learning process – from housing to delivering to tracking the training content. An LMS is designed to make life easier for those in charge of training and development by helping them identify and assess individual and organizational learning goals, track progress towards meeting those goals and collect data for supervising the learning process.
A cloud-based LMS that is ideal for training both in-house and remote employees. As a lean online training tool, TalentLMS offers the most efficient and hassle-free learning experience.
Features of TalentLMS
Content-friendly – Build courses from scratch by using all types of media like videos, presentations, and docs. Or reuse content you've already created.
Learning Delivery – Use the blended learning method to train learners. Gamified elements can be added to make the courses more exciting. Videoconferencing and messaging tools facilitate seamless communications.
Multilingual Support – Cater to a global audience in different linguistic regions. 
SCORM, cmi5 & xAPI – Deliver interactive courses with support for the latest eLearning content standards, like SCORM, xAPI, and cmi5.
Looop is an effective online training tool that creates a digital learning space for your workplace needs. L&D professionals can use this tool to build questionnaires for remote employee onboarding and training.
Features of Looop
Automation – Deliver learning to your learners' inbox automatically and intelligently based on rules and conditions you set. Campaigns put learning delivery on autopilot so you can spend more time improving L&D and less time coordinating L&D. 
Data-enabled decision-making – Provides qualitative data on what resources are required and when, and quantitative data to understand where resources are accessed, and completed. 
Real-Time tracking – Monitor training compliance with remote employees. Leverage actionable insights to understand what works and what doesn't. 
Adobe Captivate Prime delivers an enhanced learning experience for your employees. Take advantage of the AI-based social learning capabilities to encourage learning in the flow of work and allow peers to learn from each other. 
Features of Adobe Captivate Prime LMS:
Automated Content Curation – The system automatically keeps a check on the quality of learner content by approving only those that meet a certain quality score. This is achieved by intelligent scans on the content based on AI & ML algorithms. 
Learning Curve – Adobe Captivate is a powerful online learning tool that uses new future-ready technologies, but comes with a steep learning curve. You definitely need to take training classes before you'll be able to take advantage of all its capabilities.
User-Generated Content – Learners can post their own content like videos, audio clips, and screenshots to Social Learning discussion boards for an open discussion with peers.
Sales enablement – Deliver training at the point of need across variant devices for your sales and customer-facing teams to maximize productivity. Take advantage of the "headless LMS" capability in Adobe Captivate Prime to deliver learning in-context.
Docebo LMS is praised for its ease of use, high configurability, robust learning management, delivery functionalities, and affordable pricing model. 
Features of Docebo:
Mobile learning – Support remote learning with a continuous learning experience on any mobile device anytime, anywhere, online or offline with Docebo's mobile app.
Train anyone at anytime – Docebo Learn LMS powers both employees and extended enterprise learning programs from a single instance. The interface of your learning experience can be personalized for different audiences.
Languages and localization – Deploy your learning management system with a global reach. Docebo is available in 40+ languages.

Personalized learning paths – AI as an LMS feature makes learning easier and more tailored. It makes the LMS understand learner's preferences and sets them on the right path.
SAP Litmos Training can be implemented as a standalone solution or in combination with a robust course library, SAP Litmos Training Content. The SAP Litmos LMS enables targeted learning, boosts employee engagement, and protects the brand by keeping the organization compliant.
Features of SAP Litmos
Rapid deployment and integration – SAP Litmos Training is deployed in days and can be quickly integrated with other critical business systems such as CRM, HRIS, web conferencing if required.
Task automation – SAP Litmos Training reduces time and effort for admins by automating a wide variety of tasks like adding new users, group enrollment, and learning path assignments.
Online course builder and content management – You can use embedded content creation tools that support multiple formats.
Tracking and reporting – You can review performance and gain insight into training impact with reports and dashboards, or create custom reports delivered via email.
Litmos for small companies – If your e-learning project is smaller than 150 learners/month, Litmos can be a bit costlier for you. In this case, you can go for other platforms from the list. 
The Learning Pool ecosystem can cover many aspects of your eLearning needs, from ready-made eLearning catalogs to custom content production and powerful tools like their LMS, LXP, and LRS.
Features of LearningPool:
Compliance made easy – Track, monitor, and report on your team's progress to ensure regulatory compliance.
Learning plans – Adaptive, personalized learning pathways based on job roles and associated competencies.
Learner engagement – Offer and accurately track digital certifications, points, badges and leaderboards.
Improved management information – Keep learners up to date with critical learning and report progress in real time. Visualize trends to show return on investment and demonstrate clear business benefits.
Course authoring Tools
In the realm of learning and development, authoring tools are used to create digital learning content. Course authoring tools are commonly used by instructional designers in L&D teams to create digital training content, convert it into an eLearning format, and distribute it among learners via a learning management system, or on the web.
Elucidat features a custom theme builder, pre-made templates, collaboration tools, and a user-friendly design interface.
Features of Elucidat:
Speed and efficiency – With Elucidat's Learning Accelerator you can produce training 4x faster.
Scalability – With customizable user roles and permissions, you can invite all of your stakeholders to collaborate within the platform, from learning designers to SMEs.
URL release – If you do not have an LMS, Elucidat's online link release mode will generate a unique URL. Sharing this with learners gives them access to your course via any browser.
Supported elearning formats – Elucidat's authoring platform is cloud-based, which produces high-quality, SCORM compliant HTML5 elearning content. Supporting most elearning formats, advanced xAPI data reporting, and mobile responsive content, makes Elucidat one of the top SCORM elearning authoring tools for Mac & Windows.
Tracking and reporting – Track which learners have started, completed and passed or failed each course in the Analytics Suite.
Articulate Storyline is a Windows desktop course authoring tool that leverages a PowerPoint look and feel. It has a modest learning curve considering the flexibility it offers. Storyline 360 can be used to develop interactive courses that work on every device without any manual tweaking.
Features of Articulate Storyline 360:
Speed and efficiency – Being a desktop-based tool, collaboration and review can hamper efficiency in the production process as compared to the cloud-based tools. Once projects are launched, it can be time-consuming to update the learning content or fix bugs.
Learning curve – Articulate 360 is a robust tool that has huge content creating capabilities, but it takes a lot of time to explore all of them. So if you're not ready to invest the time in training, authoring efficiency can be limited.
Scalability – As a desktop-based tool, collaboration and scalability is limited for Storyline 360. It can be tricky to share courses with others for reuse, and assets aren't housed centrally.
Supported elearning formats – Articulate Storyline is a powerful windows-based application that supports most elearning formats – AICC, SCORM, xAPI (TinCan), Windows
Gomo is a cloud-based, mobile-first, responsive HTML5 eLearning authoring tool that organizations use to collaboratively author and deliver digital learning content. It comes with a range of themes that can be tweaked to create modern elearning. But the fully customized themes require specialist development, which can be costly if you have huge plans for your visuals.
Features of Gomo:
Speed and efficiency of authoring – Pre-built templates and quick start wizards can help you start creating content straight away.
Scalability: Being cloud-based, Gomo allows authors to collaborate on creating courses.
Multiple language support via XLIFF translation export/import – With Gomo you can create courses with multiple languages. Build a course with as many languages as you need and export the 'default language' course text via XLIFF for your translation agency. When the translation is complete, simply re-import it into the course to instantly get the alternate language versions of your content.
Supported elearning formats – Gomo is a cloud-based authoring tool designed for both windows and mac. It produces HTML5, mobile-first content that can be released to its own LMS.
iSpring is a PowerPoint-based authoring toolkit that enables you to create text-based content, quizzes, dialog simulations, video lectures, presentations, and other interactive learning materials.
Features of iSpring:
Fast Authoring – Take advantage of rapid and user‑friendly eLearning toolkits to create courses, record narrations, and publish them online. No need for prior experience in development and a shorter learning curve.
PowerPoint Integration – iSpring supports PowerPoint features like buttons, hyperlinks, styles, transitions, etc. You can either reuse an existing presentation or create a new one using all PowerPoint effects.
Speed and Efficiency of Authoring – For established PowerPoint authors, iSpring has a pretty small learning curve. It allows the creation of basic, responsive elearning courses quickly and easily.
Lack of collaboration – Lack of collaboration makes it difficult for teams to be efficient, and with PowerPoint being a prominently Microsoft based software, Mac users can be left out in the cold.
Supported elearning formats – iSpring is a desktop-based authoring tool, with some online functionality. It is primarily a windows-based elearning software. You can import your PowerPoint and create SCORM compliant, HTML5 content.
Adapt is a free and easy to use e-learning authoring tool that creates fully responsive, multi-device, HTML5 e-learning content using the Adapt developer framework.    
Features of Adapt:
Flexibility – Adapt's authoring tool allows for a significant amount of custom design for course creators to play with and is not based on fixed templates.
Scalability – It's possible to duplicate courses. However, there are no sophisticated translations or variation features, which can limit how efficiently you scale up.
Deep scroll design – Adapt stands distinctly apart from other authoring tools which have evolved from a 'PowerPoint' format design as courses created via Adapt Learning offer a webpage-like experience. It scrolls vertically, not horizontally. The navigation offers an inherent familiarity to users and is an experience more attuned to the web.
No offline-access – A key disadvantage to using Adapt is the inability to access it offline. If the course creators' targeted audience is likely to frequently access content offline, this feature would create issues.
Supported elearning formats – Adapt is a complex online tool requiring in-depth technical development to develop compliant elearning courses. It also includes customizable HTML5 content. It supports: HTML5, SCORM, Windows, Mac OS.
Conferencing and webinar tools
Zoom is one of the best conferencing and webinar tools to keep you connected with your remote employees. It offers group chat, online meeting, and web-conferencing solutions across all popular devices and operating platforms.
Features of Zoom:
Video Webinars – Enable on-demand viewing of recorded sessions in HD audiovisual. Leverage a range of control systems designed for hosting an enhanced experience.
Meetings & Chats – Engage in real-time meetings and messaging with team members and allow simultaneous screen-sharing by multiple participants.
Security – Zoom offers security features like SSL encryption, AES 256-bits encryption, single sign-on (SSO), and HTTPS access that protects the information shared in your webinars from data theft.
Cost – Zoom isn't the most affordable video conferencing platform. Although it is reasonably priced for the basic level features, its add-ons and extras make it a bit pricey for events with many participants.
Zoho ShowTime is a comprehensive platform to deploy and manage online employee learning. It is an all-in-one learner-centric solution that can be every your employee's training assistant.
Features of Zoho ShowTime:
On-Demand Training – You can upload training material and let learners access it at their preferred time, place, and pace. Zoho ShowTime allows learners to engage in asynchronous training sessions.
Enhance learner engagement – Facilitate collaborative learning in your virtual classroom through Q&As, polls, screen sharing, whiteboard, and more. Add and manage co-trainers to offer diverse perspectives on a subject.
Make data-driven decisions – Analyze your results with ShowTime's intuitive graphs. Gather insights into audience engagement and trainer performance to build and improve training programs.
In conclusion – Choosing the best online learning tool
Organizations are embracing and adopting the remote work and learning culture by investing in these new-age training tools. If you haven't done it yet, I hope this collated list of top online training tools helps you narrow down your choices and select the most suitable tool for your organization. 
Although there's a lot of overlap in the functionality of the tools talked about in this blog, your choice would ultimately depend on the requirements of you and your team – be it the learning curve, scale at which you want to produce digital learning, speed and efficiency, or other such factors.