The on-premises solutions are phasing out gradually and organizations are migrating to the cloud. There's a noticeable shift towards cloud computing in local governments, which is evident via initiatives like Government 360. It leverages Oracle for powering its 4-pillars of innovation- secure architecture rooted in the cloud, smarter solutions for a connected government, cloud-based mobile back office, and emerging technologies powered by predictive analysis. 
Since Oracle applications find extensive usage in US Counties, they have a high dependency on Oracle UPK because it is one of the few in-app performance and productivity support apps available for Oracle.
Now, this is a matter of concern for US Counties. Although there's a high dependency on UPK, it's an on-premises solution, and the timeline for Oracle UPK sunset is approaching. 
There is no major release or product upgrade that will follow the UPK 12.1 version. The Premier support will only be available till December 2022, and Oracle won't be releasing any replacement product for UPK.
With phasing out of UPK, several questions still remain unanswered! 
Why is Oracle sunsetting UPK? What does Oracle UPK sunset mean for US Counties, and what will its impact be? Should the counties start looking for alternatives? What are the suitable alternatives post-Oracle UPK sunset? 
Let's dive further to explore these answers.
What is the Reason for Oracle UPK Sunset?
Oracle introduced Oracle Soar Program, which aims at accelerating cloud migration with a 30% reduction in time and cost. The main objective is to keep pace with cloud computing trends and provide Oracle users with a renewed experience of the cloud journey with increased transparency, reduced risks, and faster time to value. Hence, to focus more on cloud migration, Oracle decided to do away with UPK, which is an on-premises solution.
Why Oracle UPK Sunset Drives Need For UPK Alternatives Now More Than Ever?
Oracle UPK sunset leaves more than 4000 organizations and over 4 million users without product support. 
As a UPK user, it is alarming for the US Counties and raises legitimate concerns for the future of their workforce productivity. The need for transition is now more than ever as there's buffer time left until the Oracle UPK sunset, and counties need to look for alternatives to manage training, productivity, and change management within them.
Now that it's clear there's a need for UPK replacement, it's vital to understand how all this would impact the counties. 
What does Oracle UPK End of Life Mean for US Counties?
Are you wondering what will happen to your existing content? 
You can continue to use the content. But with Oracle UPK sunset, there would not be any on-demand support available, and your best bet for support is limited to the UPK community. You can either consider migration, recreation of existing content, or leverage performance support systems to redefine your training and support. 
If you still risk it all to continue using UPK, you should be ready to deal with issues pertaining to the security, performance, and compatibility of the entire system. 
Given that Oracle UPK sunset extensively impacts training, support, and user adoption of the complex Oracle suite, US Counties should aim at reinventing their employee productivity with a performance support system. A Digital Adoption Solution(DAS) like Whatfix aims at the proficiency of enterprise applications, user adoption at scale, and data-driven insights. It will not only act as an alternative to UPK but also enable the counties to work smarter, accelerate employee productivity by leveraging learning-in-the-flow of work, and attain high ROI. 

How Whatfix Compares to Oracle UPK?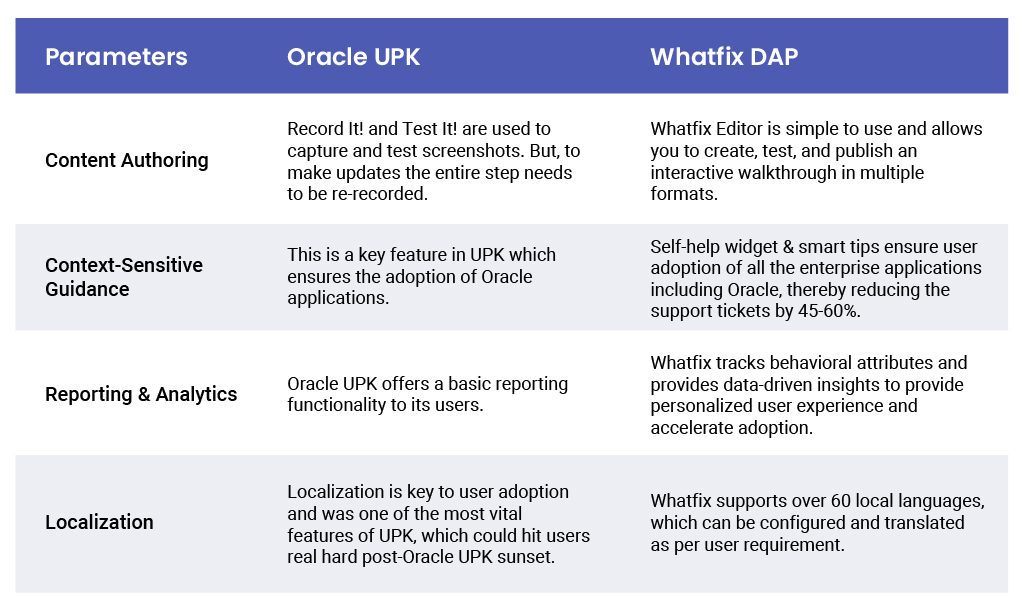 Why Whatfix is the Best Alternative to Oracle UPK?
Post Oracle UPK sunset, US counties need a well-crafted strategy to deal with change management and implementation dip. Whatfix can be your partner in change, assist with the adoption of Oracle products, and can be used as an overlay over other enterprise applications as well. With Whatfix, you can tackle the following use-cases.
Onboarding & Training- Whatfix onboards its users with an interactive welcome pop-up and offers contextual in-app guidance with personalized on-demand training. It leverages learning-in-the-flow of work so that your workforce doesn't have to spend dedicated hours for training and familiarizing with the applications. The information retention is high with the micro-learning approach used to bring new users to pace.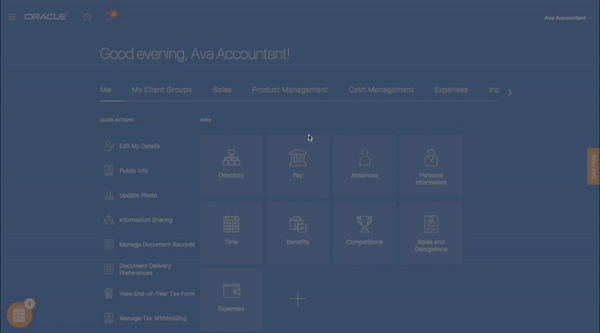 Change Management- Employees often resist change due to mistrust, improper communication, and unrealistic timelines to be productive with the new applications. Whatfix hand-holds its customers through the phase of change management with features like beacons, task-lists, and product tours.
Total Cost of Ownership- Whatfix reduces the content creation time and efforts with intelligent segmentation. It improves the launch time of an application by 33-50% and brings users to pace with minimal human intervention, thereby recording a 25-37% increase in productivity. 
Still, wondering how a Digital Adoption Solution will enhance employee productivity? Download our Digital Adoption Playbook to explore more.
Book a demo with our experts to discover how Whatfix can be a direct substitute for your Oracle UPK instance.