Think of learning experiences as an ocean of puzzle pieces scattered everywhere. Each of these need to be meticulously identified and linked to translate into 'the whole picture'.
In the training context, this means knowing and tracking everything that the learner does, from reading an ebook to webinars and mobile-based lessons. Eventually, the final image that reveals itself will be a comprehensive view of each individual's performance and needs, sometimes across their entire career. As Sae Schatz, Ph.D., who serves as the Director of the Advanced Distributed Learning (ADL) Initiative, aptly put it 'xAPI helps us put the puzzle together'.
This attempt to routinely piece together the individual's 'learning puzzle' is key to a more intuitive and agile future of learning.
xAPI stands for Experience API and is a cutting-edge eLearning standard format. Developed in 2013 (then known as Project Tin Can), xAPI was created to be the successor of SCORM – the most widely used learning specification form in the world.
This framework has been working quite well for most organizations. Yet something seemed to be amiss – it was limited to online learning and it didn't have the power to capture/record most of learning instances between multiple systems and applications.
When the developers of SCORM released xAPI, it was considered a massive 'upgrade' to SCORM. This new learning standard made it possible to log every part of the learner's journey. Every click, comment, learning interaction and activity is automatically recorded; whenever and wherever they happen. 
Tom who works at company X was asked to undergo a mobile-based tutorial on CRM tools. But after the session, how does the company know if the training helped at all? Is Tom using CRM actively to manage sales activities? Is he helping new colleagues find the 'merge opportunities' section in the CRM? 
xAPI helps answer these questions and more. xAPI works by producing simple statements that follow a few basic grammar rules. xAPI statement features "noun, verb, object" (e.g., "Tom completed a mobile tutorial.")"
Here, noun is the learner (Tom) who can have multiple accounts (depending on the system in use) and is identified by e-mail address or OpenId. Verb describes the action (completing a course) exhibited by the learner, while object (mobile tutorial) is what the learner interacted with. Many such detailed statements let you know what e-learning content Tom has interacted with and how he fared at each step of the exercise.
Now imagine that, apart from the online tutorial on the desktop, Tom is also learning about CRM via an educational game on his phone and a video on the corporate LMS. As described above, xAPI will extract click-by-click details about how each of these courses were navigated. Next, this revolutionary open source API will record data about which parts of the course, Tom struggled with and where he breezed through – in real time. It would also extract from the CRM, updates on how Tom's interaction with the software has changed as compared to before the training. And then, all these particulars would be stored in a learning record store (LRS), or a data storage system.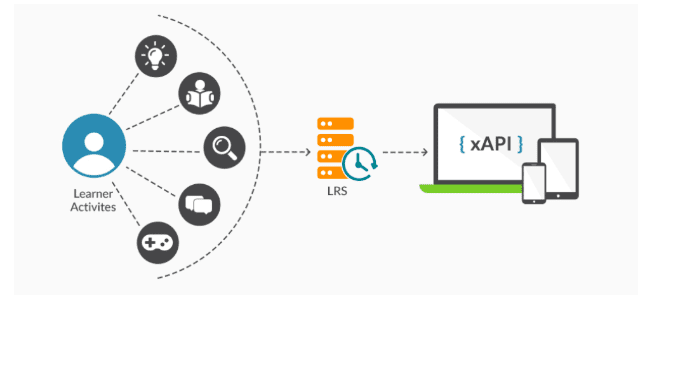 Further to this, your L&D team can use analytical tools to make sense of this big data and plan for future employee development. Such data would reveal what parts of the session, Tom needs a refresher course in and if he is putting this learning to good use.
Such a holistic view of the business repercussions of learning, was erstwhile difficult to achieve with traditional protocols. But with the help of xAPI, trainers can understand if the learning exercise delivered on its intent at all; and if not how to remedy the situation.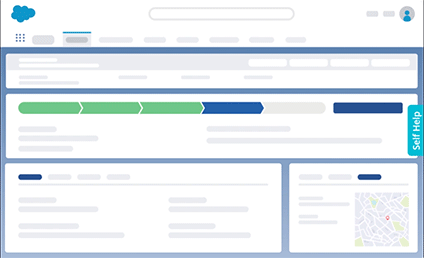 Create personalized learning flows for your enterprise apps with Whatfix
Whatfix empowers your users with contextual flows and self-help widgets, improving productivity and proficiency while cutting training and support costs.
Most L&D professionals can be found grumbling about reporting being a "nightmare" and that they end up spending too much time on structuring and collating fragmented data from various sources. Ultimately, they barely have time to analyze the data and end up not knowing if the training efforts are worth it. Thankfully, xAPI can swoop in to alleviate most of these concerns.
In fact, according to a survey conducted by Software Advice, most users prefer xAPI (over older protocols such as SCORM and AICC) for its advanced tracking and reporting capabilities and course creation flexibility.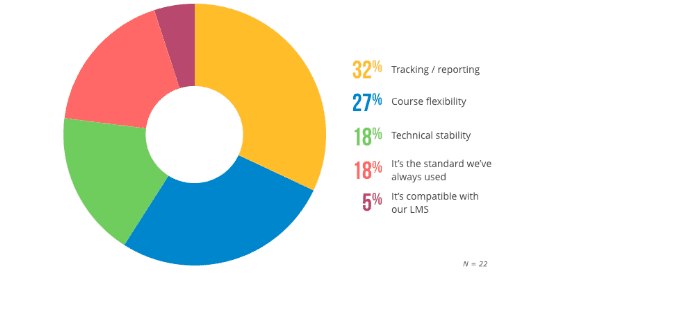 Source: Software Advice
As such, xAPI's ability to meticulously track experiences and enable the personalization of content is perfectly suited for the present scenario where blended, adaptive, long-term and interactive learning experiences are growing in popularity.
Here are six of the top benefits that xAPI offers to organizations serious about achieving their L&D goals:
1. Tracks richer data, for better ROI analysis
xAPI empowers L&D leaders to unearth a direct link between an employee or group's learning experiences and their on-the-job performance. Such in-depth and integrated snapshots of learning activities secured by the communication protocol can be analyzed to derive actionable insights. And since automated tracking happens alongside the learning activity; L&D pros get to make quick decisions without having to wait.
Consider the example of a B2C furniture conglomerate that was facing a dip in sales for a few months. On examining xAPI data, they deduced that the sales team hadn't been scoring well on customer service training; specifically lacking in product and service knowledge. So, the L&D team created and disseminated personalized learning modules to help employees correct that particular service deficiency. This in turn, led to better customer engagement and improved sales.
Such business-linked insights are especially important for L&D teams that are struggling to prove that they are more than just a support function.
2. Offers course flexibility and innovation
xAPI can be used to design engaging and social learning experiences by removing limitations of older e-learning standards. Also, thanks to the predictive capabilities of xAPI, training content can be edited in real-time (as employees work) because the system 'knows' individual learning preferences and knowledge levels. Consequently, the attention and time of learners can be directed towards concepts that the employees really need to know, while the unwanted content is removed.
This improves the effectiveness, efficiency and agility of training content – particularly relevant at a time when, according to a recent study by LinkedIn, 90% of leaders see L&D as the means to close skills gaps. xAPI-compliant digital adoption platform, Whatfix, also allows you to understand the experiences of learners, and use these granular insights to improve and personalize its learning content.
3. Supports mobile learning to reach its true potential
Around 47% of enterprises impart training via mobile devices. But the content for mobile learning is usually just a smaller adapt of 'made-for-desktop' training modules. Since xAPI can function independent of web browsers, more courses can be specially designed for smartphone users for a better learning experience.
4. No need for constant network connectivity
Even if the learners complete their training offline, it doesn't matter. Their experiences will be uploaded to the LRS later as soon as there is access to the internet connection. This removes the dependency on net connection for conducting training, thus making learning more flexible.
Where traditional LMS only captures details of learner-activities within the LMS, xAPI does one better. No matter where the learning activity is happening, in a performance management system, CRM or HRMS; xAPI can track and upload each experience. It can even track online articles and websites that the employees read.So, the communications protocol is capable of unifying and integrating data from multiple learning and performance platforms.
Since Whatfix is also xAPI compliant, it can track learning even outside the LMS, enabling the creation of an open ecosystem.It's also important to note that integrating xAPI compliant systems is cheaper and easier than those without the interoperability specification.
6. Supports multi-device learning
Any enabled device (mobile phones, laptops, PCs etc) can send xAPI statements. So, it promotes learning across multiple gadgets. This is yet another feather is xAPI's 'flexibility' cap.MedStar Health, a Washington-based healthcare provider, was imparting a 'Code Blue' training program to equip staff in case of emergencies.
This blended learning approach included elearning via an LMS on desktop, in-person simulations and real-life demos with a defibrillator training app. But all three different training touch points wouldn't communicate with each other. So the hospital employed Watershed (an open learning analytics platform that is powered by xAPI) to aggregate data from all these sources.
By adding xAPI to the mix, the institution was able to determine where the issues lay in the training program. And that helped improve performance in times of emergencies, which in turn, saved more lives.So, ultimately, xAPI lets you say "no more" to disjointed data and "yes" to a richer and clearer picture of employee training.
What Organizations Require xAPI Compliance Learning?
86% of respondents rated improvement of learning and development (L&D) as the most important issue, according to a global survey by Deloitte. And you most likely fall within that subset, convinced about the significant value-addition that xAPI brings to the 'L&D' table, if you have read this article thus far.
But still, for argument's sake, let's try to derive an answer to this article subhead with a few more questions:
Does your L&D department want to track learner progress at a detailed level, in real-time? And do you want this to be completely automated?
Are you missing out on opportunities by not having all this information? 
Do you need the e-learning tracking solution to function both offline and online?
Are you keen to promote effective informal learning? What about mobile learning?
Do your learners access training material from different sources, ranging from the LMS to other third party learning apps?
Do you wish to link learning to business goals, in the most intricate fashion?
Have you been facing any other limitations with SCORM and AICC?
If you answered 'yes' to even one of these questions then it's time to think of how to make xAPI a key part of your training design architecture. 
Conclusion: Is xAPI the Future of Learning?
Circling back to the Software Advice survey – only 15% of businesses claimed to use xAPI for their learning courses. This makes xAPI the "least adopted standard among the big three".
That trend is understandable, considering xAPI is still far too new to the game.
On the other hand, in the Global Sentiment Survey in 2018, most respondents felt that xAPI was the one thing that should have been included into the consideration set. xAPI compliant learning tools such as Whatfix let you embark on this journey with no lag and let you experience the benefits of xAPI, so you can start imagining the possibilities.
So, interest for this new interoperability standard is definitely growing. It is the only standard to deliver diverse and more engaging learning scenarios, along with detailed interaction data that can immediately improve the training.  And that, right there, is the 'hot' & 'new' future of eLearning.
Increase end-user adoption with Whatfix
With Whatfix's Digital Adoption Platform, create in-app learning flows, contextual training and onboarding, and self-help knowledge bases. See it in action below.