Large enterprises, on average, use 129 software applications daily to get work done, according to Okta. These applications include Customer Relationship Management software, Human Resource Management Systems, collaboration tools, and support software. However, Multiple applications and complex workflows lead to poor user experience, engagement, and adoption.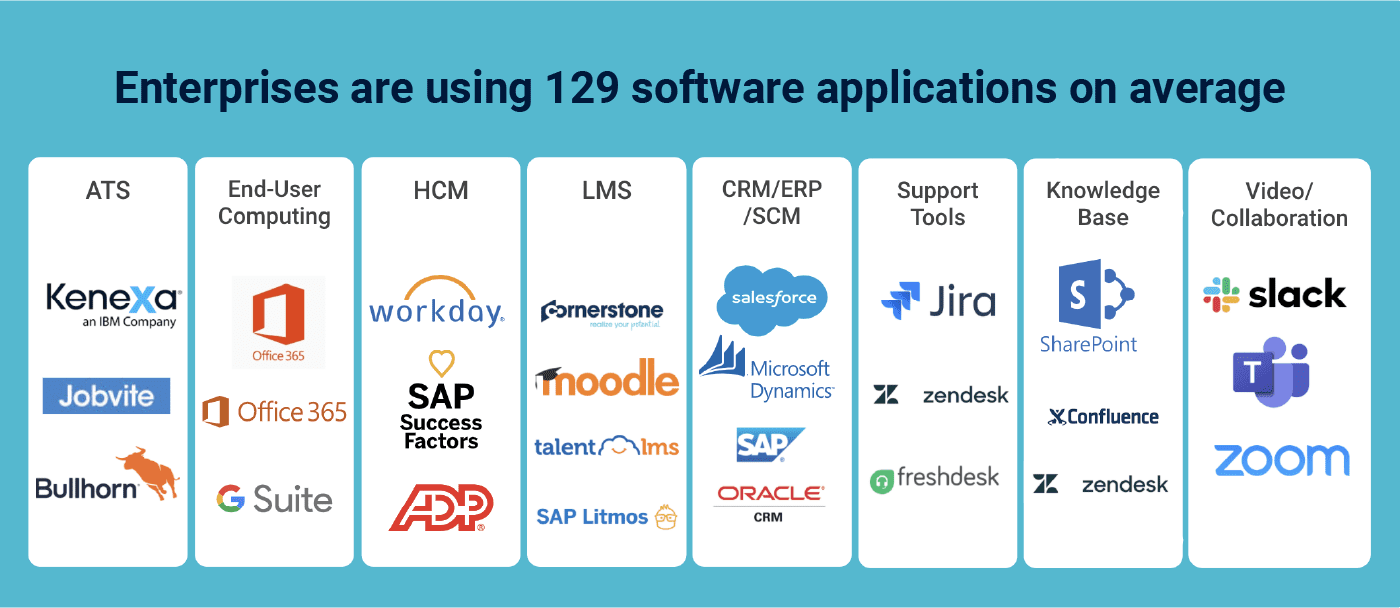 Source: Okta
Whatfix Digital Adoption Platform acts as an experience layer on top of the enterprise applications to deliver a unified experience to users. It offers in-app guidance and self-help to train users within the application. When existing enterprise applications are integrated with your DAP, user experience can be further refined by leveraging data obtained from those applications. L&D teams can personalize onboarding based on the role of a user; business process leaders can drive productivity by nudging users to complete tasks, provide feedback, and discover information.
Whatfix Integrations
The Open Ecosystem philosophy of the Whatfix platform helps organizations leverage existing software to share data and refine the user experience to drive adoption and maximize ROI from technology investments.
Staying true to this approach, Whatfix has now introduced Whatfix Integrations, an enterprise-grade Integration solution to help enterprises deliver targeted and personalized experiences to users, powered by data.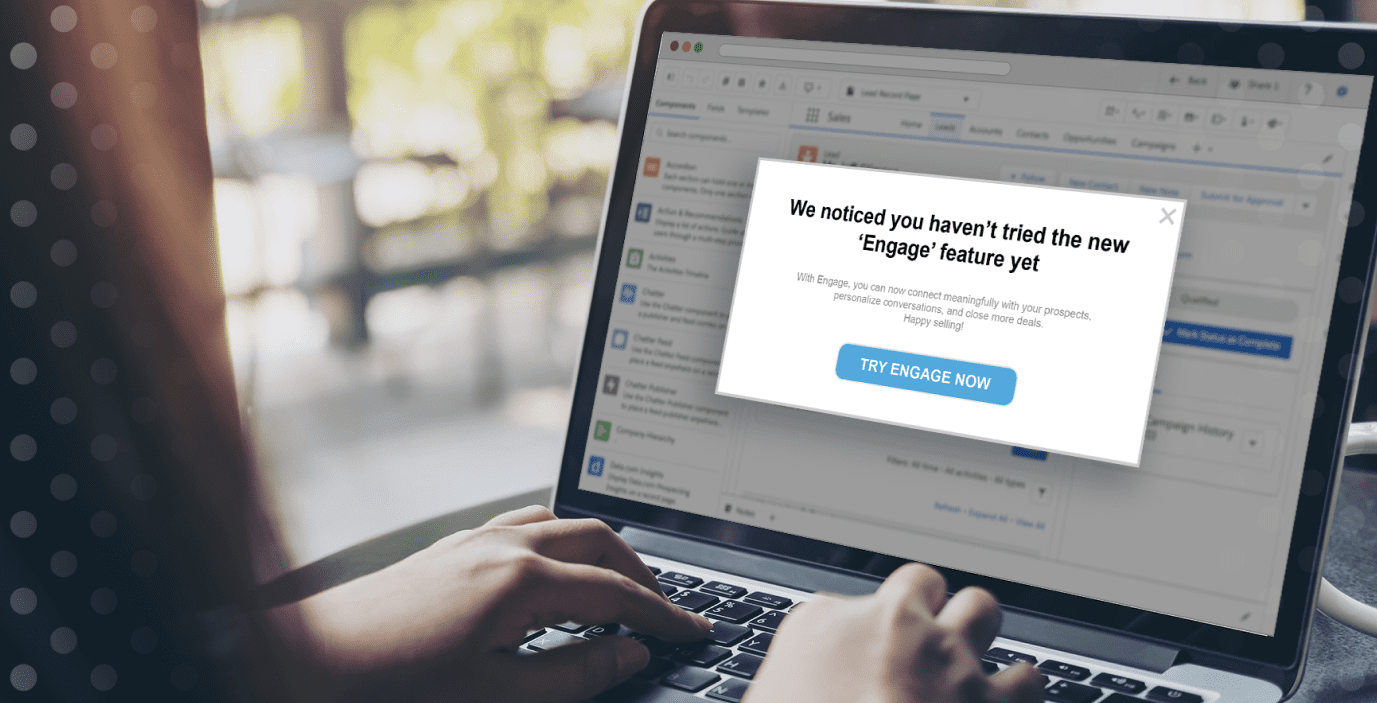 Whatfix Integrations enables automated, bi-directional, secure exchange of data and attribute streams between enterprise applications and the Whatfix platform. This capability allows data exchange in multiple forms to unify and obtain insights into business processes.
With Integrations, you can:
Contextualize and segment Whatfix Help content for users based on various attributes.
Offer non-intrusive, targeted experiences with timely notifications, and personalized content.
Obtain more profound insights into application usage with the help of analytics data from Whatfix.
Whatfix Integrations comes with a simple and intuitive UI. You can activate the integration between any application and Whatfix with the help of a few clicks. On the other hand, with a developer's support, you can execute more complex integrations with the same UI.
Automated Bi-directional flow of data
The intelligent architecture of the Integrations feature empowers enterprises to scale and automate data flow to suit requirements. You can send data and receive data from Whatfix. You can carry out the data exchange on-schedule, on-demand, and in response to an event. Data exchange is immensely secure and compliant as per the ISO 27001 and SOC 2 norms. Additionally, Zycus is GDPR compliant and has a documented security policy in place.
Personalized Experience for users
The ever-expanding technology stack concerns the organizations with an adequate ROI. Data flow between applications is imperative for the business to maximize ROI on the investments made in technology. User behavior and other attribute level data (role, function, geography, etc.) obtained from one application are used to refine user experience on another application, thereby, drive engagement and adoption. The added benefit is a seamless, unified user experience across applications. The user gets rid of frustration caused by navigating complex enterprise workflows. Thus, leading to less time for task execution and better productivity.
Whatfix leverages user behavioral data from enterprise applications to segment and contextualizes Help content in the application.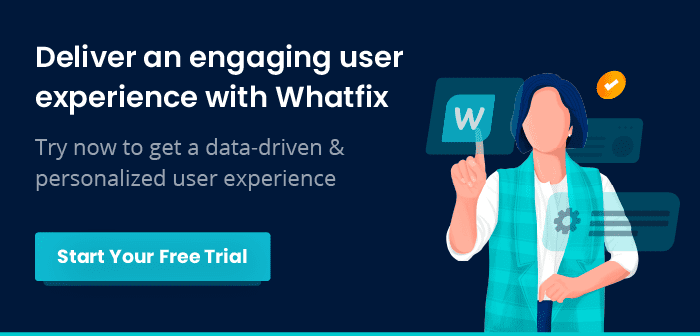 Use Cases
Whatfix can listen to multiple APIs and Webhooks. These are the ways you can get apps to communicate with Whatfix and exchange data.
Here are some exciting and innovative use cases that Whatfix supports:
Salesforce
Use variable data from multiple objects (Lifecycle stage, Function, Lead type, etc.) to show a pop-notification on a new feature
Segment users who are in the next billing cycle and auto-trigger a flow that navigates them to the Payments page
SAP SuccessFactors
Announce a new HR policy to users in a specific country using a segmented pop-up notification
Roll out in-app reminders to employees who haven't completed their self-appraisal for performance review
Confluence
Whatfix flows get automatically published as articles or slideshows on Confluence.
You can either convert selected Whatfix flows or convert Whatfix flows in bulk as articles in Confluence.
Additionally, the Confluence article gets created as a Child Page to the page of your choice. Any update to the Whatfix flows will automatically get reflected in Confluence Pages.
Survey Monkey
Show surveys to new users till they give their onboarding feedback.
Target only those users whose feedback is pending by showing the survey form specifically to them.
Show survey form in a pop-up notification till a user completes the mandatory security course.
Google Analytics
Drive feature adoption by highlighting the feature with a Beacon for new users and trigger a flow.
Show survey form in a pop-up notification to receive feedback from users in a specific geography who have clicked on the feature at least three times.
Amplitude
Show a pop-up notification with high-value feature messaging to users when they intend to leave the application in less than 30 seconds.
Show a survey form pop-up to users who have clicked on a new feature at least three times in the past week.
…and more.
Digitization means more applications, complex dataflow, and hence more learning for employees. Higher efficiency and productivity would require an instantaneous data flow in real-time. Whatfix Integrations helps create a more personalized and cohesive user experience resulting in a more data-driven and targeted approach to improve engagement.
Whatfix Integrations works for 15 top enterprise applications for now. We are adding more applications every week to improve your user experience. These applications include Salesforce, SAP SuccessFactors, Confluence, Amplitude, Google Analytics, Heap, FullStory, Quantum Metric, Survey Monkey, Google Sheets, MS Forms, Bullhorn, and Power BI.
Click here to get a personalized demo today.