Eighteen months ago, I joined a team that brands itself as the customer first. At every meeting, during every conversation, I would hear my colleagues—from our founders to our engineers—talk about our customer-first culture. They were constantly saying that our customers would lead us to success—and our customers have done exactly that.
The Whatfix team has proven how important listening to customers and acting on their feedback and suggestions are. I have personally seen how keeping our customers front and center when setting our key performance indicators (KPIs), designing new features, and prioritizing new initiatives has helped us stay ahead of the competition and thrive in the digital adoption platform (DAP) industry.
Amid the trying times brought about by the global pandemic, our customers have been an even brighter guiding light and source of inspiration. Keeping them in mind has helped us almost double our revenue growth and company size when other companies have been struggling to stay afloat. It has also helped us achieve the Gold and Silver Stevie® Awards in the customer satisfaction and customer service categories, respectively, from the American Business Awards®. Here's how we did it.
We Created a Community for Our Customers
Our customer-first culture means that we're always trying to create a better experience for our customers, so we built a community where our customers could connect with other DAP professionals, help each other reach their goals, and influence innovation at Whatfix.
The Customer Advocacy team started by establishing our Customer Connect program, which includes meetups, user groups, a customer advisory board (CAB), and an online community. These online connection points have been idea generators, feedback sessions, and support groups during the COVID-19 pandemic.
This community helps our customers attain higher ROI by learning how other customers are optimizing Whatfix and driving their digital transformation initiatives forward. And our community affords us a deeper understanding of our customers, enabling us to continually innovate to deliver the best possible experience.
Our community has also helped foster customer loyalty—one reason why we have more than twice the number of customer reviews on G2 and Gartner Peer Insights compared to our largest competitor.
We Listen to Our Customers and Act on Feedback
From the very start of the Whatfix customer journey, we listen.
We use an omnichannel model so that our customers can give us feedback whenever they want, through whatever channel is most convenient for them. Much of the most valuable feedback comes through our Customer Success team. When you join the Whatfix family, you are assigned a dedicated customer success manager (CSM) and an entire onboarding team, including Professional Services experts, who ensure your successful go live. Post go live, your CSM stays by your side to ensure your Digital Adoption goals are achieved and you continue to advance your knowledge and practice of Digital Adoption.
And, the Whatfix Customer Support team is first class. It maintained a customer satisfaction score (CSAT) of 97% in 2019-2020, 21% higher than the software industry average. In 2021 the monthly CSAT has averaged 99%.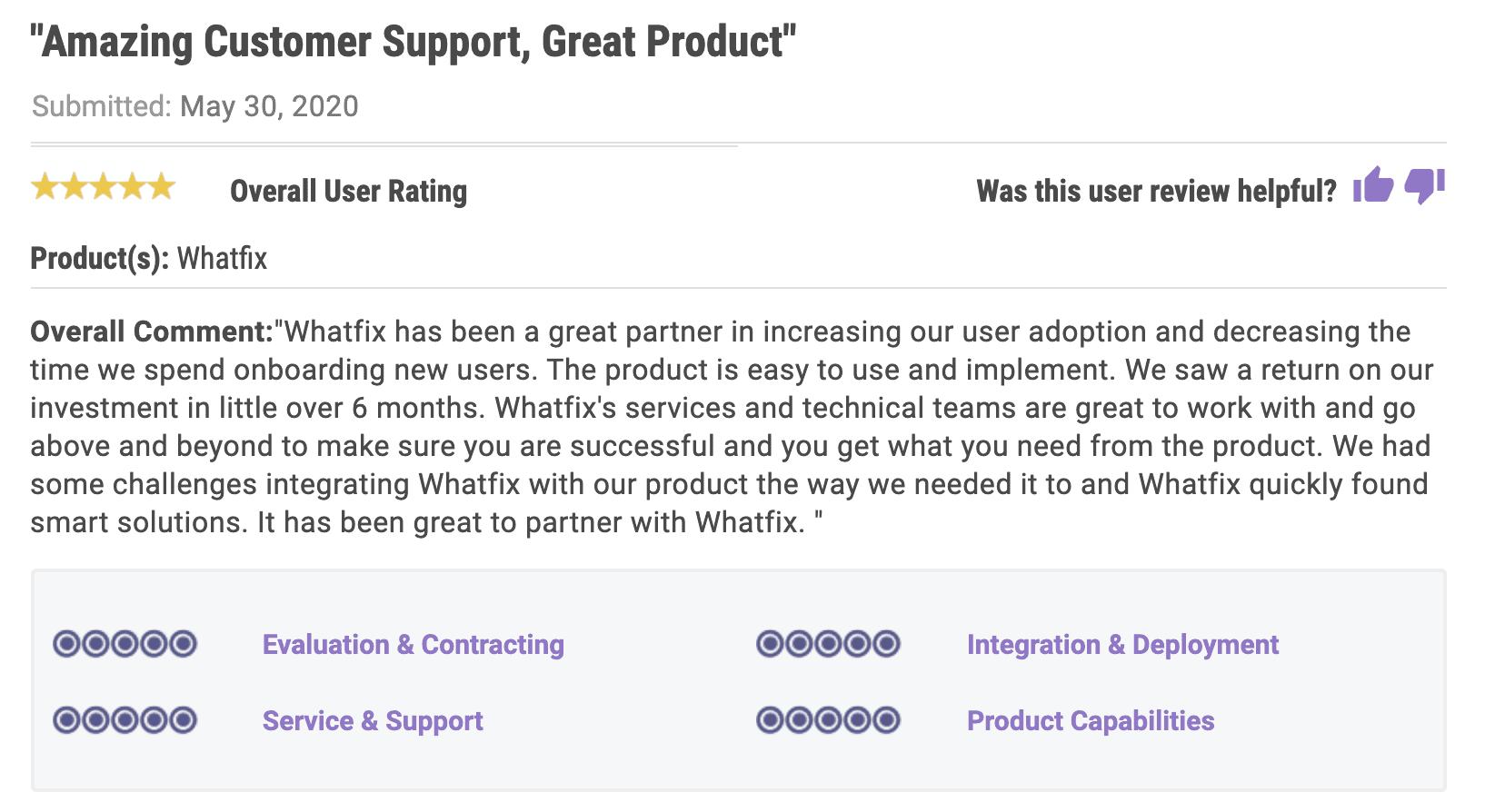 This review on Gartner Peer Insights validates our customer-first approach.
Customers regularly feel compelled to tell me in the midst of a conversation that, "Whatfix has the best customer service over any other company I have worked with." We see this substantiated by our customers on review sites. Whatfix received a star rating of 4.8/5 for service and support on Gartner Peer Insights and a score of 9.8/10 for quality of support on G2 Crowd Reviews. Both scores are higher than the industry average.
Sixty percent of the product updates our Product and Engineering teams continuously add to our DAP platform are driven by customer feedback. Listening has led to happy customers– we were recently named a 2021 Top Rated product by TrustRadius in the Digital Adoption category based on our customers' reviews.
We Genuinely Care About Our Customers—And Go Above and Beyond to Show It
Creating a community is only the beginning. We genuinely care about our customers.
As an example, when the COVID-19 pandemic hit, we knew that many of our customers would be negatively affected, and we wanted to help. So our Customer Success team started the Helping Hand initiative to give these customers access to paid business continuity solutions for free.
The goal of the initiative was to help impacted customers transition smoothly to remote work. We wanted to make sure that they could still onboard, train, and ensure workforce productivity despite the abrupt shift to remote work.
Customers who opted into the Helping Hand initiative received free access to Smart Tips, Smart Pop-Ups, Guided Pop-Ups, and our Self-Help features. Customers could use these to notify employees of a service disruption, provide additional assistance, create a searchable resource guide, and share best practices – to name just a few use cases.
Apart from our Helping Hand initiative, our Customer Marketing team also created the Whatfix Customer Club to help customers share their wins and best practices and build their brands.
Showing our customers that we genuinely care has increased customer loyalty and reinforced that Whatfix truly is a customer-first company.
Our #OneWhatfix Customer-First Approach Has Earned Us Industry Accolades
At Whatfix, KPIs across all departments and teams are tied to optimizing our customers' experience. Every Whatfix employee is accountable for providing customer delight and a differentiated customer experience.
Marketing understands our key personas, their needs, and how Whatfix can help—and embeds this in their campaigns and collateral. Sales employ long-term, customer-centric selling. Customer Success and Professional Services understands customer needs and delivers excellent experiences while delivering on business goals. The Partnership team empowers an ecosystem of industry-leading technology and services partners to deliver customer-centric, value-added solutions. Finance and Legal ensure they are as easy as possible to work with. And HR ensures the Whatfix team has a positive employee experience (happy employees make customers happy). 
This company-wide accountability has allowed us to gain recognition across various industries as the top DAP in customer experience.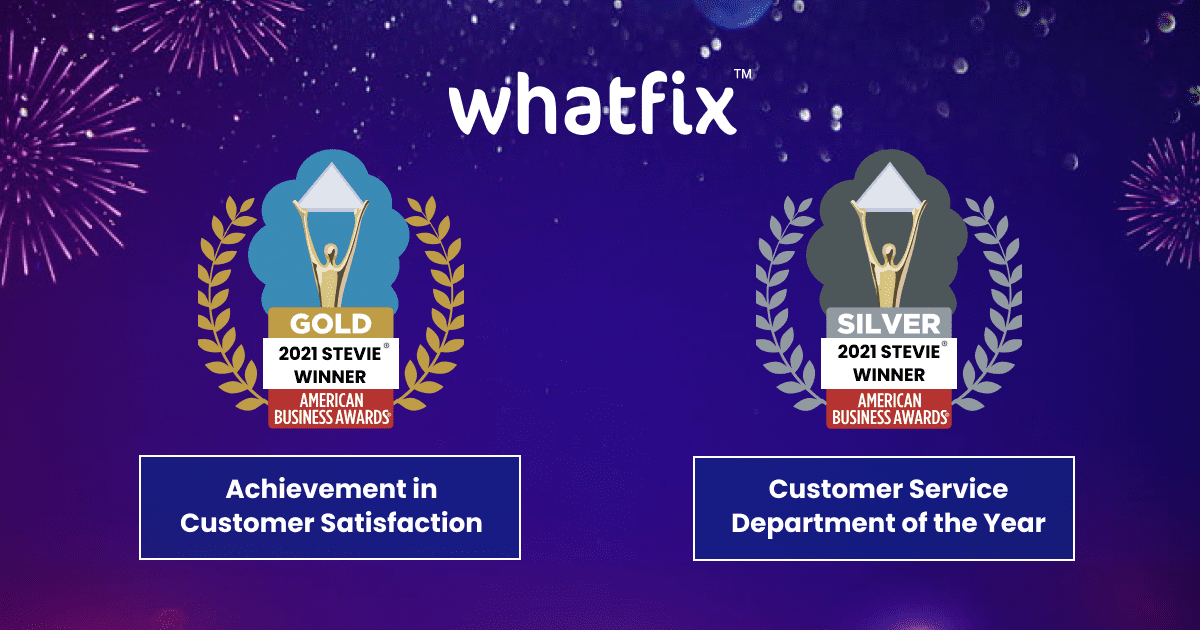 We are Gold Stevie® Award and Silver Stevie® Award winners.
We are extremely proud to share that in 2021 we are the sole recipient of the Gold Stevie® Award in the customer satisfaction category and a winner of the Silver Stevie® Award for best customer service department of the year. We were also named a finalist for the BIG Excellence in Customer Service Award. 
One major reason why I joined Whatfix was because of the customer-first brand promise. I wanted to join a team that cared about its customers and made decisions based on adding value for customers, not just making dollars. Whatfix delivered both.
Whatfix is unequivocally a customer-first company. This approach to business has helped us achieve astronomical growth despite the pandemic. We now have more than 500 customers, and around a hundred of them are Fortune 1000 companies. No matter how big we get, our customers will always be our top priority and our secret to success.