Supporting the success of our customers and providing them with the best possible experience has always been a priority for Whatfix since the very beginning. From our round the clock worldwide customer support to the amazing helpful blogs and resources, we have been passionately providing our customers with all that they need to be successful.
This passion is what drives us to up the ante continuously. Investing more of our resources in enhancing Whatfix's Security, Analytics, and UX, we have 7 new exciting updates for you this month.
1. Introducing Whatfix Single Sign-On (SSO) Support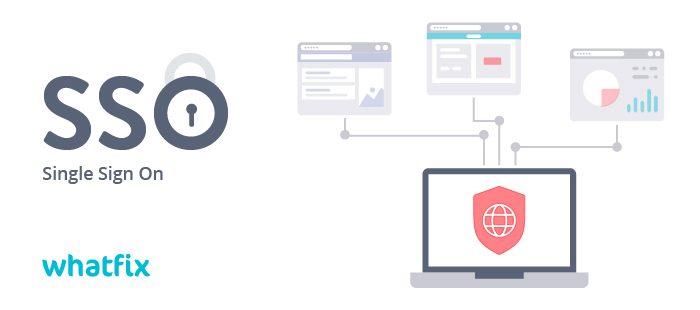 We're glad to announce that it is now possible to use Single Sign-On with Whatfix. With this release, now you won't have to deal with yet another login and password to remember. Moreover, Team Managers can take solace in the fact that user management is automated and security is enhanced through more granular controls.
How does Whatfix SSO Support work?
Whatfix's Single Sign-On Support enables users to sign in to their Whatfix account with their existing SSO compliant enterprise credentials quickly and easily.
What's so great about Whatfix SSO Support?
Here are some of the major advantages of Whatfix SSO Support:
– Enhanced Security with Enterprise credential – With a good SSO system, you would have your account credentials stored in one location which can have multi-level authentication.
– One-Click Corporate Log In – Do you already use SSO on some other tool? With Whatfix's SSO Support you can directly login with the same credentials without any hassle.
– Easily Activate/Revoke User Access – You can easily handle the access of your employees centrally by activating/revoking their SSO credentials.
Have any questions about Whatfix's SSO Support? Contact your Enterprise account manager.
2. Whatfix Analytics Is Live For All Accounts

With the invaluable feedback from our Beta users, Whatfix Analytics is now live for all accounts. From now on, by default, you can track and analyze the usage data from within your Whatfix Analytics Dashboard. You can also link this data to your Google Analytics if required.
If you are using any 3rd party analytics platform and want to integrate it with Whatfix, then please check out this support article.
Our Latest UX Upgrades & Improvements
If there's one thing that our Product & Engineering teams are passionate about is consistently enhancing Whatfix to give you the best possible user experience. So, along with the features mentioned above, we have some great new upgrades and improvements that will brighten up your day.
1. Whatfix Branching Is Now On Editor
Whatfix Branching is an intelligent way of interconnecting your Whatfix walkthrough (flow) to guide users based on their interactions with your web application.
Although it has been available for a while now, with this release we have moved Branching on to the Editor of Whatfix itself.
This improvement is especially for all the Whatfix Power Users, who actively use Branching to interconnect multiple walkthroughs. With this update, you can now select the conditions to uniquely identify each walkthrough, and attach it to the relevant walkthrough.
Here's how it looks on the Editor: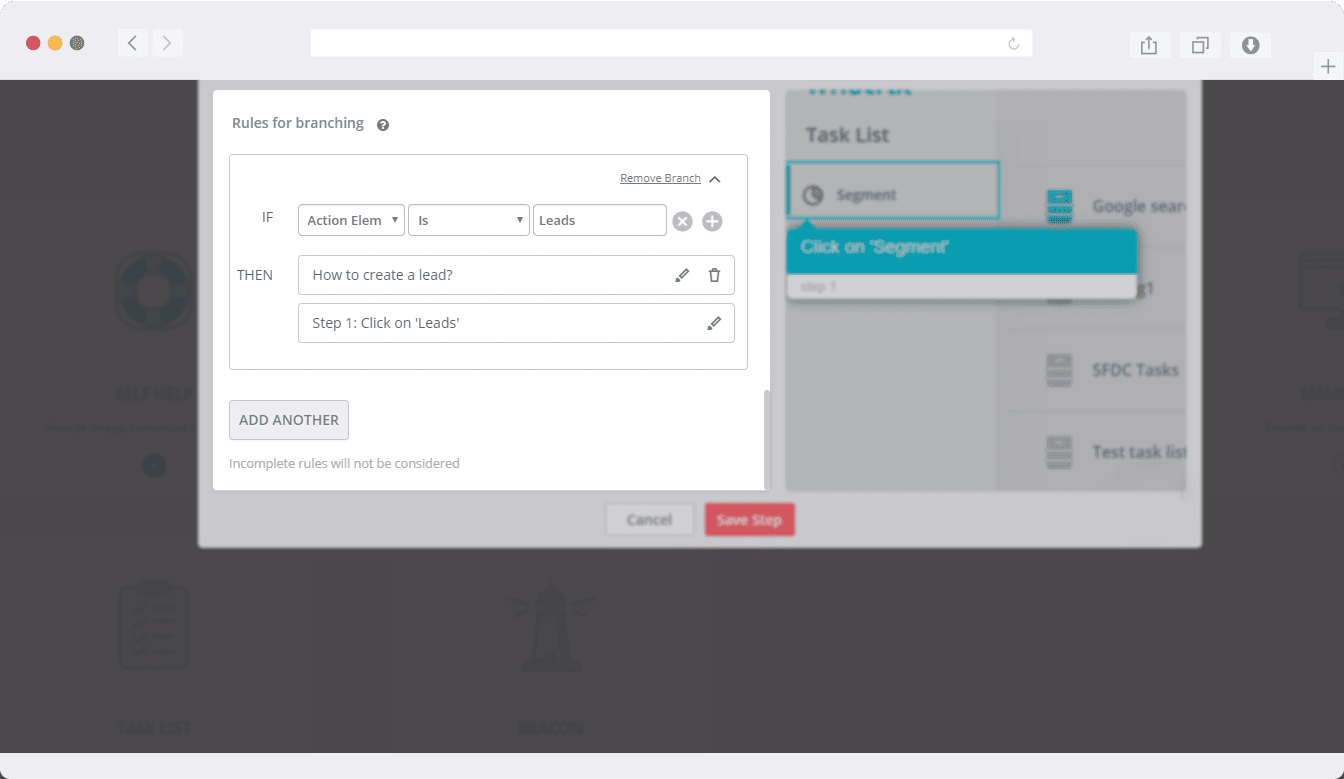 To understand better, here's an example of how Whatfix Branching can work for you.
You have created a walkthrough that explains the User Dashboard of your web application. The flow explains the multiple parts of your User Dashboard as the tooltip hovers on different elements. Branching can be set up from this walkthrough to specific walkthroughs created to explain the separate parts on the dashboard.
That is, your user can use the branched walkthrough based on his/her action on the elements on your User Dashboard.
2. Visualization Of Whatfix Widgets On Your Application With Our New Preview Mode
The Preview Mode is one of our latest UX additions that will allow you to visualize your Whatfix walkthroughs and widgets.
This will help you get a good look at how Whatfix will look on your application, what all walkthroughs will show up on the widgets and the overall workability of Whatfix. All of this can be done during the guide development itself. Another highlight of this feature is that you need not have Whatfix's custom platform extensions to enable the preview mode.
The preview mode can be activated on any web page via your Whatfix Editor.
Here's how: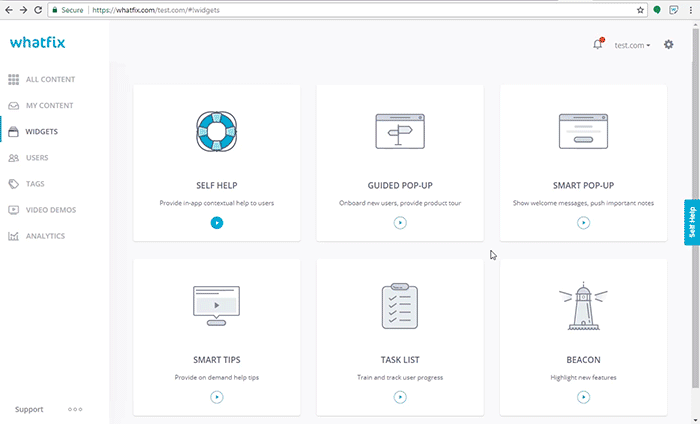 What is so great about the Preview Mode?
With the Preview mode, you can view exactly how Whatfix will be displayed to your user even before it is live. This will help you verify the content before it is made live. This feature is also vital to see how the walkthrough will show up on the Whatfix widgets.
You also have the provision to create/edit segments directly from the Self-help widget in the preview mode. This helps in quicker discovery of content to be added to the self-help widget and also reduces effort.
3. A fresh look for Whatfix Content Tiles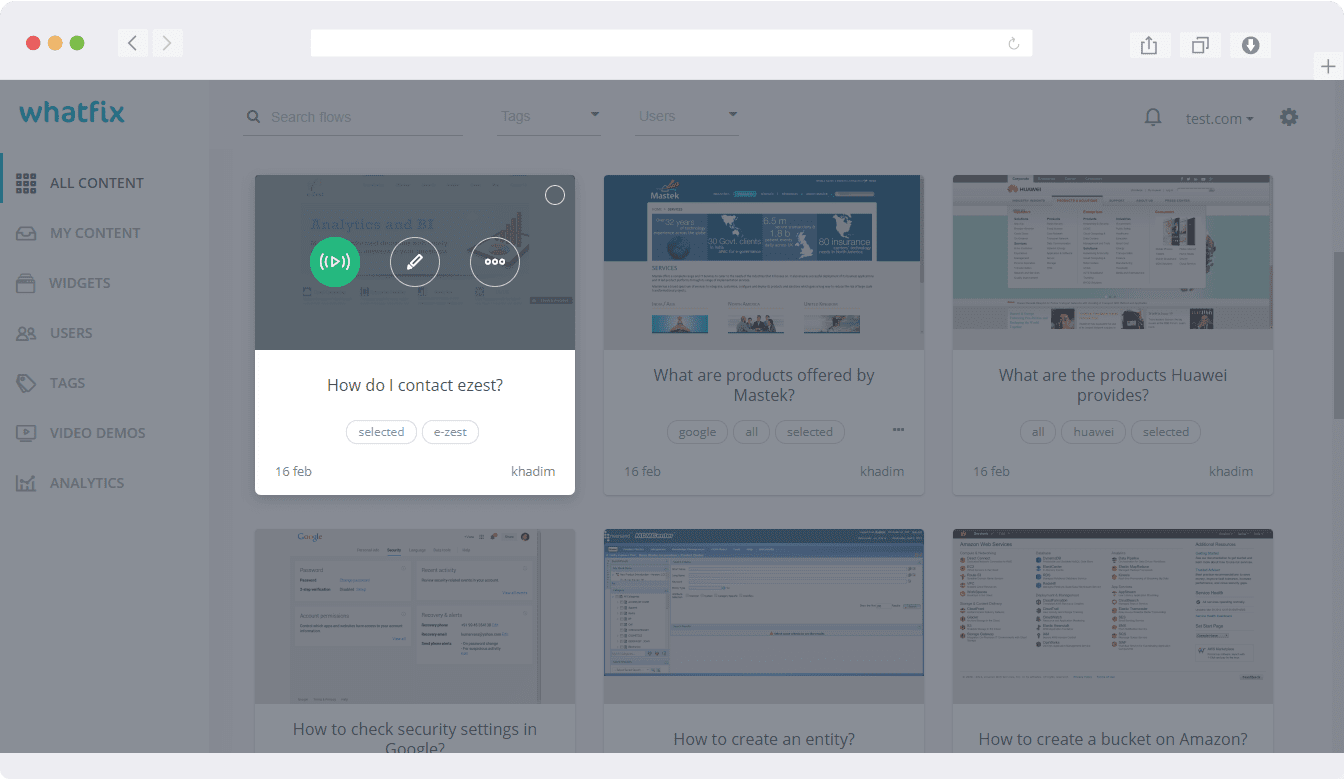 The next time you go to 'All Content' on your Whatfix Dashboard, you will notice that the Whatfix Content Tiles has 3 options on hover over. These new options reduce an extra click, making the access much quicker. The 3 new options on the Content Tile are:
– See-live: Click to quickly see the walkthrough in a real-time environment
– Edit: This will launch the Walkthrough edit right from the dashboard
– More: With this option, you can directly download the PDF version of the walkthrough, and also Copy/Delete it as required.
4. Whatfix's Full-Edit is Now in Real-time
Our new update to the Full-Edit feature is a combination of our previous 'Test Run' and 'Edit' feature. With this, you can now edit your Whatfix walkthroughs in real-time from within the live-application. This will give you a better control over the actions, cleaner view of the content on the tooltips and moreover helps you establish the right context during edits.
5. Custom Icons for Smart Tips
Whatfix's Smart Tips allows you to provide instant contextual help on any element, on hover over. The new update allows you to replace the original Info icon with possible alternatives.
Simply browse and select the icon from your system. Please note that the icon to be uploaded is dimension specific.
---
What's Next?
Wondering what you will see next on Whatfix? Here's a sneak peek into what's being cooked here.
– Data Validation: This will allow you to validate the values entered by the users in the form fields pointed by Whatfix tooltips.
– Rich Text Editor: With this update, you will be able to use a full-scale Rich Text Editor from within the Whatfix tooltip.
– GDPR Compliance: The GDPR will apply in all EU member states starting May 25, 2018. We are on track to be compliant well within the timeframe.
---
What do you think about these new features? Let us know in the comments below.
Feel free to reach out to your Customer Success Manager for more details on these features. You could also email us at [email protected]