HCM applications like Workday deliver a robust workplace and employee experience by providing a wide range of functionalities like attendance management, benefits management, compliance, compensation, talent acquisition, etc. 
However, even after successful implementation of the application throughout the organization, the project can lead to abandonment if not used actively by your employees. Enterprises cannot just roll out the Workday Adoption Kit and expect employees to master the software. Driving successful Workday onboarding should be the first priority for organizations to provide the right guidance and make using the system as easy as possible. The success of your project will depend on how well the employees are able to adopt the system and integrate it into their daily workflows.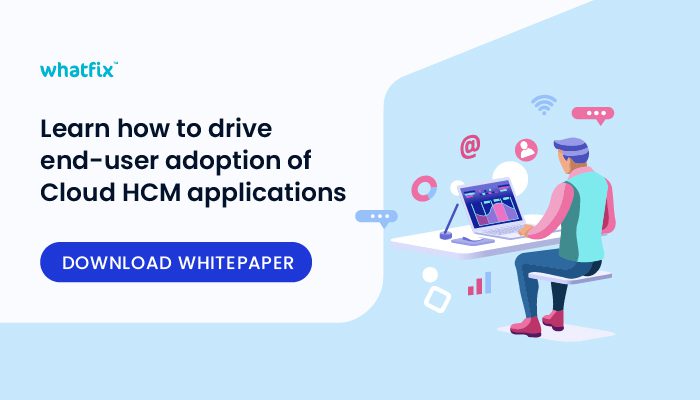 The Challenge at hand
Organizations face complex barriers when onboarding employees to the new digital tools. The workday onboarding process might be a bit overwhelming for both employee and employer in many cases. The wide breadth of capabilities provided by the software can act as a barrier to successful user adoption. 
Let's have a look at some of the reasons for low user adoption on Workday.
Feature-rich interface: 
Comprehensive features of a solid product like Workday come at the cost of typically long navigations.

To avoid drop-offs and infrequent usage of the software, employees need relevant and personalized training.

Employees waste a lot of time accessing help content outside the application and come back to complete tasks within the application.
Company-wide Rollout:
Workday implementations touch every single employee in the organization.

Workday onboarding and adoption become challenging with employees spread across geographies, functions, and roles.
Lack of accessible help:
With a customized instance of Workday, providing personalized and in-the-moment help can be a long and tedious process.
Continuous Upgrades:
Workday pushes multiple updates in the system on the UI front along with introducing multiple new features. 

While the regular product updates are beneficial to platform improvement, it requires employees to learn and relearn how to use the platform which might hinder their daily workflows. 

With a traditional Workday onboarding program, it's very difficult to keep employees updated with the changes.
Traditional Training Methods:
Workday onboarding and training is a critical part of the implementation process. It is highly expensive and time-consuming to

develop the onboarding and training content

, especially when it needs to be updated on a frequent basis. 

Traditional methods of providing Workday onboarding and training aren't real-time, continuous, and do not suit the different learning styles of employees. 
Ensure Seamless Workday Onboarding and Complete User Adoption with DAP
To make full use of powerful tools such as Workday, organizations must take a new approach that engages employees that simplifies the user experience, accelerates user adoption, decreases the burden on technical support and training, and shortens time-to-competency. 
If you wish to accelerate your Workday onboarding process and employee engagement, a Digital Adoption Platform is your best bet. A DAP accelerates time-to-competency and makes your employees productive in no time with contextual engagement and step-by-step guidance.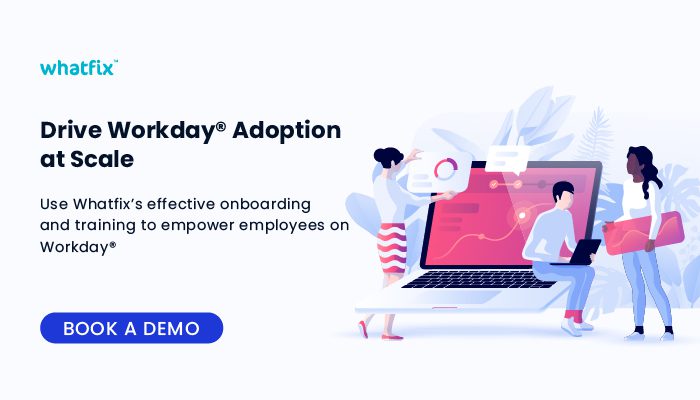 Since traditional training methods can no longer match the expectations of the new digital employee, digital guidance is the new alternative to these methods. Digital guidance helps employees onboard to applications like Workday by guiding them through different workflows as soon as they start with the application. 
Digital Adoption Platforms enable digital guidance and ensure seamless Workday onboarding, effective training, and long-term adoption of the platform. Here's how:
Personalize onboarding experience
Deliver an effortless Workday onboarding experience with intuitive walkthroughs that guides your employees through every step of their life cycle.

Welcome new employees with the first call-to-action based on their role.

Provide

guided product tours

to keep employees engaged. Even a basic walk-through of the dashboard and simple tasks like filling out account information can set the stage for a smoother Workday onboarding process.
Reduce training efforts
Design

interactive walkthroughs

and in-app self-help to empower employees to become proficient in the software quickly.

Automatic intelligent segmentation offers

continual self-help support

and training content that is customized based on employee role, location, and behavior.

Training is delivered at the moment of need, within the application itself, thereby allowing users to immediately apply what they've learned.

Step-by-step guidance eliminates the need for human intervention.
In-App Task Lists for Workday Onboarding
Integrate a Workday onboarding task list within the software with core functions associated with employee-specific roles to help them understand what's expected of them.

Workday

onboarding task lists

bring an element of gamification to the onboarding process. As employees complete tasks, they'll gain a sense of achievement by checking those items off the list. It seems simple, but don't underestimate the power of gamification to motivate new employees and keep them engaged.
Interactive Walk-Throughs of Core Workday Processes
Interactive, in-app walk-throughs help employees learn in the flow of work, which simplifies the Workday onboarding and training process.

In-app walk-throughs

create opportunities within your employee's day-to-day workflows instead of turning training into a separate task that hurts productivity.

DAPs make interactive walk-throughs the foundation for your Workday onboarding program. And that's what makes this approach to training so much easier than traditional methods.
Contextual help from across the enterprise
Empower users to enter search queries and get

real-time contextual results

from within the app and across the enterprise.

DAPs leverage knowledge from various applications and make it accessible for your employees wherever they are.

Bring down L1 support queries and cost as employees help themself without having to wait hours for resolution from an agent.
Advanced analytics
Measure user engagement on Workday with

advanced analytics

features to optimize the experience and drive adoption.

Get access to the intuitive dashboard which gives you granular information on the usage of features and the lack of it.

Identify gaps in help content using the 'unsuccessful search terms' report and create content which your users are looking for.
In Conclusion
Workday has the power to transform HR operations for your enterprise but only if your Workday onboarding and training process are efficient enough to drive adoption across the organization. That is why implementing Digital Adoption Platforms like Whatfix is critical to maximizing your Workday investment.
With the help of a Whatfix digital adoption solutions, you can get the most out of your software investment by:
Initiating the perfect handshake with a personalized employee onboarding experience.

Creating and delivering digital training content that is easy to scale.

Providing real-time, in-app, task-based training for your employees.

Delivering contextual self-service help embedded within your applications.
If you'd like to learn more about how Whatfix can help you get the most out of your Workday investment, schedule a demo with us today.