The Workday human capital management (HCM) system can streamline 500+ business processes ranging from recruiting to training, payroll, compensation, and resource planning. And while it's the HCM of choice for companies like Walmart, FedEx, and Comcast, every enterprise has to overcome the same challenge: the software's steep learning curve.
For years, Workday training has revolved around the Workday Adoption Kit — a massive collection of instructional guides, videos, and communications templates to help with Workday adoption. But all that content revolves around traditional, inefficient training methods that aren't tailored to your custom Workday implementation.
7 Keys to Easiest Workday Training Process for Enterprise Users
Enterprises can't just roll out the Workday Adoption Kit and expect employees to quickly master the software. If you want to accelerate user adoption, build Workday training processes around these seven key elements with a digital adoption platform (DAP) like Whatfix.
1. Welcome Messages and a Product Tour
Start every new user's Workday training process with a personalized welcome message and product tour to make the dashboard less daunting. Instead of dropping users into the complex software with no guide, you're able to engage employees from the moment they first log in to Workday, making adoption easier in the process.
A DAP like Whatfix can overlay a customized welcome message specific to a user's role. You can also include a short video in the welcome message to introduce Workday and highlight the software's value.
Some users will see the welcome message and want to start exploring the software on their own. But for less tech-savvy users, you can offer an optional guided product tour to keep users engaged. Even a basic walk-through of the dashboard and simple tasks like filling out account information can set the stage for a smoother Workday onboarding process.
You need Workday to make a strong first impression with your employees to kickstart adoption. Maximizing engagement from the outset with welcome messages and guided product tours will keep users from feeling overwhelmed and resisting the new software.
2. In-App Task Lists for Workday Onboarding
Integrate an onboarding task list into Workday with core functions associated with a user's specific role. That way, each user gets a clear line of sight into what's expected of them and can simplify the training process.
An in-app task list keeps users from feeling like they have to learn the entire Workday platform in one sitting. Onboarding tasks will remain top of mind for users when they return to the dashboard, so they can continue learning at their own pace.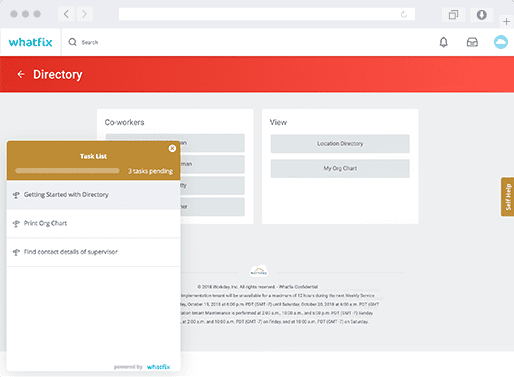 Workday training task lists also bring an element of gamification to the onboarding process. As users complete tasks, they'll gain a sense of achievement checking those items off the list. It seems simple, but don't underestimate the power of gamification to motivate new users and keep them engaged.
3. Interactive Walk-Throughs of Core Workday Processes
Interactive, in-app walk-throughs help employees learn in the flow of work, which simplifies the training process and accelerates adoption rates.
In-app walk-throughs minimize the effort required for Workday training. They create microlearning opportunities within your employee's day-to-day workflows instead of turning training into a separate task that hurts productivity. And when employees learn while doing their jobs, they're more likely to retain knowledge than if they read a basic set of instructions or watched an educational video outside the platform.
The standard Workday Adoption Kit fails to meet the new standard of learning in the flow of work. It's built around traditional training methods that take users out of the software to read, watch, or otherwise engage with external content.
DAPs like Whatfix make interactive walk-throughs the foundation for your Workday onboarding process. And that's what makes this approach to training so much easier than traditional methods.
Drive Workday Adoption at Scale
Use Whatfix's effective onboarding and reinforcement training to empower employees on Workday.

4. Self-Help Content Within the Software
Create a searchable self-help database to keep users from having to call your helpline when they have Workday issues. Self-help content streamlines support and accelerates time to proficiency for new users. It empowers new users to quickly solve problems on their own, making them less likely to get frustrated with the software.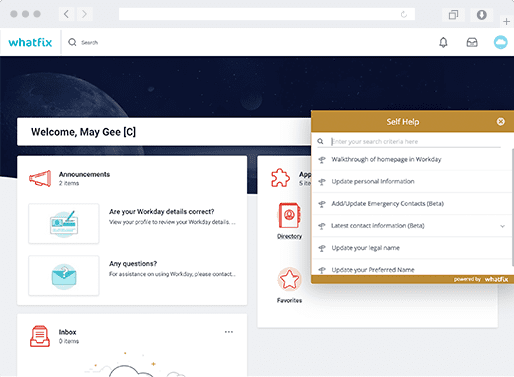 The Whatfix DAP pulls information from all of your existing knowledge bases to create a self-help database. All content from FAQ pages, the Workday Adoption Kit, your LMS, and other knowledge bases comes together in one in-app hub to make life easier for users. Bringing all of this information into Workday keeps users engaged even when they experience bugs or don't understand a feature.
5. Surveys for Workday Training Feedback
Gather feedback on your Workday training processes with in-app surveys. The Whatfix DAP helps you deliver surveys to users after they've finished a walk-through and checked an item off their task list, completing the feedback loop so you can continuously improve your Workday onboarding sequence.
Surveys are a great way to collect qualitative feedback about Workday training and gauge user sentiment for the software. You can gather information about what employees struggle with most during specific tasks. And you can use those insights to improve training. In-app surveys help you proactively create self-help content to fill knowledge gaps and update walk-throughs to make onboarding easier for the next group of new users.
As you gather information from surveys, you'll start to see which employees might need additional help with the software. Craft personalized training plans for individual users to engage even the slowest tech adopters.
6. User Analytics for Training Progress
Track user progress on Workday training tasks with advanced analytics. Leverage the user-level analytics in Whatfix to understand how each individual employee is progressing with Workday onboarding.
The Whatfix DAP provides insight into all of the key metrics you need to track Workday adoption rates. This includes user login rates, the rate of profile completion, turnaround times for implementing new business processes, search success rates, eLearning course enrollment, and more.
User analytics can help you identify gaps in your training program so you can make Workday onboarding easier for employees. Spot opportunities to create new walk-throughs and self-help content. And gain quantitative insight into where users need more assistance.
7. Announcements of New Workday Features
Provide alerts and in-app announcements of new features to help employees keep pace with ongoing Workday updates. The volume and pace of Workday updates are some of the most challenging parts of adopting this powerful software. Having an easy training process means supporting users with these updates beyond initial onboarding.
In-app announcements help you highlight opportunities for users to increase their Workday mastery. You can offer guided walk-throughs for more advanced business processes as well as new workflows that emerge alongside new features.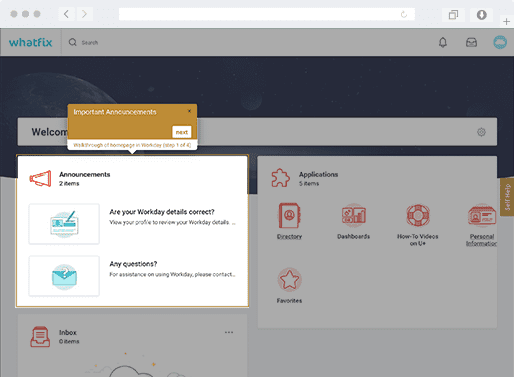 The best way to maximize Workday adoption is to create a culture of continuous learning. In-app announcements foster that culture by engaging users in new, helpful features rather than leaving them on their own to keep up with workflow changes.
Whatfix Enables the Easiest Workday Onboarding Process
Workday has the power to transform HR operations for any enterprise—but only if you have an onboarding process that drives adoption across your organization. That's why implementing a DAP like Whatfix is so important.
Whatfix helps the world's largest enterprises create personalized onboarding journeys for complex enterprise software like Workday. The ROI of a Whatfix-driven onboarding process is significant.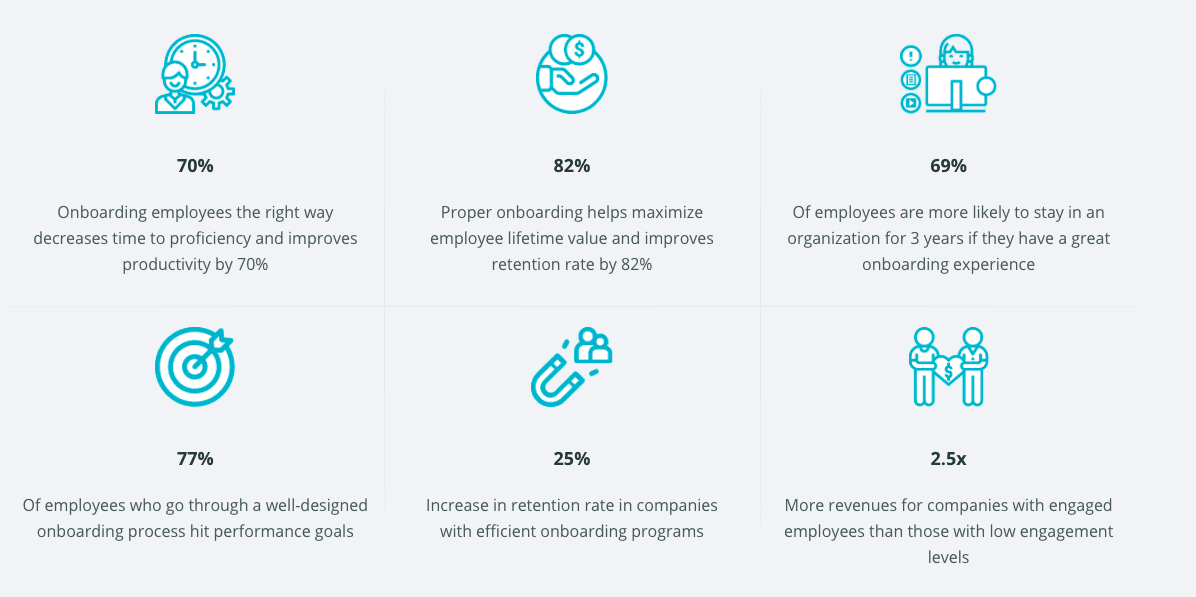 Want to see how easy it is to create and distribute Workday training content with Whatfix? Get a free demo today and learn how you can build the easiest Workday onboarding process.