Yardi is exactly the kind of end-to-end software platform that property managers need to boost efficiency, improve customer experiences, and drive profitability. There's just one problem—for many users, it's almost impossibly difficult to use.
This is why Yardi training is so important for real estate companies investing in the platform. Without a way to get your employees up to speed with the software quickly, you'll never tap into all of its benefits.
If you want to take advantage of all that Yardi has to offer, you need a digital adoption platform (DAP) like Whatfix that will eliminate the biggest user challenges.
3 Challenges That Limit Yardi User Adoption
Yardi has become a market leader in property management software by packing a lot of power into an end-to-end solution. But there are user adoption challenges that prevent real estate companies from maximizing the value of its wide range of features.
For all the software reviews that praise Yardi as the best property management platform, there are others that say things like "one of the most challenging parts of my job is managing Yardi." That disconnect makes Yardi training such a critical part of effective implementation.
You can't just roll out the new software and hope that your employees will figure it out on their own. From the start, you need to set users up for success by addressing key roadblocks to user adoption.
Challenge #1: Complex Architecture Creates a Steep Learning Curve
Yardi is an end-to-end platform as far as functionality goes. But from a technical standpoint, it's a collection of different products—all with their own complex interfaces that can make life difficult for new users. For example, a Yardi deployment for senior housing use cases could include a distinct ERP system, a CRM, an electronic health record database, a business intelligence tool, and a vendor management system.
Once you get the hang of Yardi's interface, the software can streamline so much that goes into property management. But even tech-savvy users cite a steep learning curve as a downside of Yardi.
Without a detailed Yardi training plan, your best-case scenario might be for users to experiment with the software and eventually become proficient with it. But this is an inefficient approach that increases time to productivity and hurts overall ROI.
And in the worst-case scenario, frustrated users may revert back to legacy systems, derailing Yardi adoption and preventing you from realizing the benefits of this technology.
Challenge #2: Training Materials Are Inadequate for User Needs
Yardi is well aware of how complicated its products are. That's why it's made such a big push to build out a Yardi eLearning library and create content that can drive user adoption. But that content isn't enough.
Yardi eLearning content is largely based on traditional training methods. It offers webinars, PDFs, and live support for in-person training. While these can be valuable components of a Yardi training program, they're inadequate on their own.
Unless you've built a robust Yardi training program internally, your users likely aren't getting support at the exact moment they need it within the software. Pushing them to external documentation and virtual training sessions slows down product adoption.
Challenge #3: Frequent Updates Put Pressure on Users
Yardi is constantly updating its suite of solutions, which puts pressure on users to keep pace with the evolving software.
These continuous platform updates are a blessing and a curse. On the one hand, it's great that Yardi is always pushing to add more value for customers and increase functionality. On the other, the pace of updates often forces users to learn new features before they've even mastered the existing ones.
The relentless pace of product updates can quickly frustrate Yardi users and interrupt their daily workflows. Real estate companies need more effective Yardi training programs to avoid this ongoing problem.
How Whatfix Simplifies Yardi Training and Drives User Adoption
Whatfix simplifies Yardi training by giving you easy-to-use content creation and distribution tools to tailor learning materials and programs to the specific needs of individual users. With a focus on learning in the flow of work, the Whatfix DAP helps you provide contextual support exactly when users need it most—accelerating adoption in the process.
User adoption is the key to maximizing ROI for any software solution, and Yardi is no exception. But Yardi's complex interface, inadequate out-of-the-box eLearning material, and constant updates stand in your way.
The Whatfix DAP drives a more user-friendly approach to Yardi training with four key features, helping you overcome these user adoption challenges.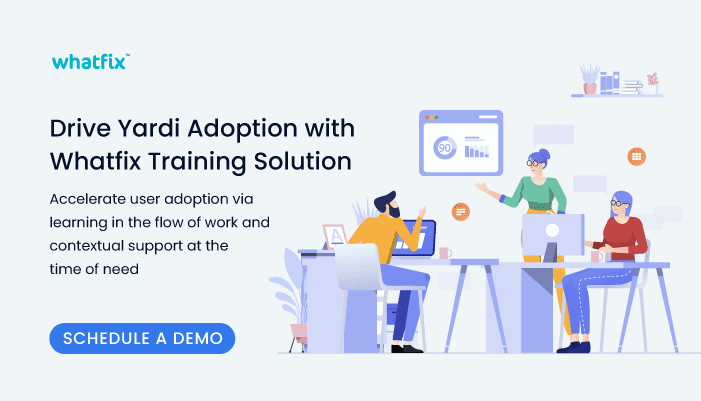 Personalized User Onboarding Experiences
Whatfix makes it quick and easy to create content that streamlines onboarding for specific user segments. You can narrow the onboarding process based on a user's role, so they only have to focus on tasks that are most important to their day-to-day workflow. That way, you aren't dropping new users into the complex interface with no direction.
It's easier for users to get used to a new system when you tailor onboarding experiences to their specific jobs. And when users can build momentum by learning basic tasks first, they'll be more likely to fully embrace Yardi.
In-App Training and Support
Whatfix helps you create interactive walkthroughs of key features directly within Yardi. This approach gives users a more practical, hands-on way to learn how to use Yardi compared to traditional instructor-led training programs.
Learning by doing is one of the most effective ways to maximize knowledge retention. This approach will help drive initial user adoption while also helping you provide continuous training. As Yardi releases new features, you can simplify the rollout with in-app announcements about workflow updates and guidance for new processes.
Searchable Self-Service Support
Whatfix integrates with your learning management system (LMS) and other knowledge bases to help users discover answers to their questions quickly—without leaving the Yardi interface. The DAP acts as your central repository for all Yardi training content. As you build up the content library, you can make sure there's relevant training material for all levels of user proficiency, from the least tech-savvy employees to the ones with the most advanced questions.
The search functionality in Whatfix surfaces the right content for the right users at the right times. This drives user adoption while reducing support costs.
Automated Workflows for Repetitive Tasks
Whatfix doesn't just distribute training content to teach users about Yardi features. It can also automate repetitive tasks, like data entry in Yardi's accounting products, that take up so much time in property management.
Auto-executing data entry frees up time for employees to focus on parts of their job that drive more value for your business. For example, automating repetitive Yardi workflows could help employees at a senior living facility spend more time taking care of residents and less time in the software.
This feature also helps drive Yardi user adoption. When employees see the tangible value of software, they're more likely to buy into the tool and want to learn more about it.
Whatfix: The Ideal Yardi eLearning Solution for Maximum ROI
Making Yardi part of your real estate digital transformation strategy is no small investment. You can't afford to implement the technology only to have slow user adoption hurt ROI.
Instead of relying on traditional Yardi eLearning content that doesn't drive adoption, leading real estate companies are turning to DAPs like Whatfix to maximize property management software returns. And they're seeing significant results.

Whatfix is the ideal Yardi training solution for driving user adoption. If you want to learn more about how it works, how it can help you get more out of Yardi, and how you can see results like these, request a demo today.