Enterprise software products have always been Oracle's forte. Known for its sophistication and extensive feature suite, its software products are ubiquitous across companies.
But, when it comes down to sophisticated software, often there is a critical challenge that even giants like Oracle struggle with, i.e, Slow user adoption.
To beat the implementation dip due to slow user adoption, every Oracle Cloud implementation must entail a well-crafted and effective end-user adoption strategy.
Execution of this strategy will primarily determine the success of your Oracle cloud implementation in your organization in the long run.As the in-house solution, Oracle offers Oracle UPK for legacy system users (On-premise) and Oracle Guided Learning for cloud users.
Although many Oracle customers use these solutions for ensuring end-user adoption, they are quite often perceived to be expensive with the over-the-head costs of Oracle University and its subsequent learning/training modules.
As an alternate solution, this article will introduce you to Whatfix, which is a popular Oracle Guided Learning alternative as well as an Oracle UPK alternative, which will not only help you with your end-user adoption of Oracle products but also provide you with:
Real-time contextual help that can reduce your overall support costs
Experiential learning that augments your user's learning capacity
Interactive in-app guidance that actively engages end-users at multiple touchpoints
Building an effective re-usable user/employee onboarding and training program
What Is the Best Alternatives to Oracle Guided Learning?
Whatfix
UserGuiding
Userlane
WalkMe
Apty
Pendo
10 Reasons Why Whatfix Is the Best Oracle Guided Learning Alternative
Training employees on your Oracle products have never been cheap. You may have already invested a lot in traditional training methods like the instructor-led classroom training, induction workshop, seminars, or even face-to-face training.
Some may have also gone up a notch by creating extensive training content on Oracle UPK, which is already in the ventilator.
Moreover, in 2016, the Oracle University's, Oracle Guided Learning path was launched with a glimmer of hope in improving product adoption in Oracle Fusion applications.
The idea, which had already been prevalent in the market with expert Digital Adoption Platforms like Whatfix, quickly caught the attention of many Oracle customers.
Threading on the lines of experiential & blended learning, such product adoption solutions can turn the tide to improving your workplace productivity by large.
If you have already looked at Oracle guided learning, then you already may have some evaluation points in hand. To make your evaluation quicker, here are 10 strong points on how Whatfix stacks up as the best Oracle guided learning competitor.
1. Whatfix is Platform Agnostic
Whatfix's digital adoption platform has been actively helping businesses accelerate their product adoption since 2013.
With its real-time interactive walkthroughs at the core, Whatfix helps users by enabling them contextually at the time of need on any web application.
Having stringent security policies and compliances in place, Whatfix is also ISO 27001:2013, SOC 2, and GDPR compliant demonstrating its effectiveness of controls about the trust service principles of security, availability, processing integrity, confidentiality, and privacy.
Having a significant footprint among Oracle customers, Whatfix has 70+ enterprise customers using its services on Oracle products, and an effective team that handles services.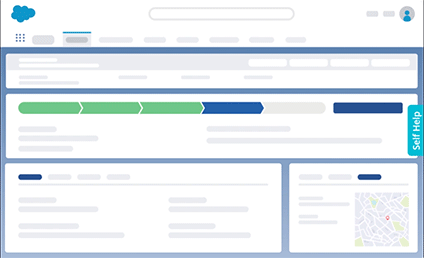 Create personalized learning & training flows for your Oracle applications with Whatfix
2. Whatfix is Easy to Use and Maintain
When it comes to training and support resources, creation, updating, and maintenance of the content is always a nightmarish ordeal. But with Whatfix, this process cuts down by large.
Whatfix allows you to create various types of content in a jiffy with its effortless editor available on both Google Chrome and Mozilla Firefox. After installation of Whatfix custom browser extension, Whatfix's editor allows you to create real-time interactive walkthroughs, smart static tips, and notification beacons, which form the basic content types of Whatfix.
Creation of an average 10-step Whatfix walkthrough would take roughly 3-5 minutes.
Here's how easy content creation is on Whatfix: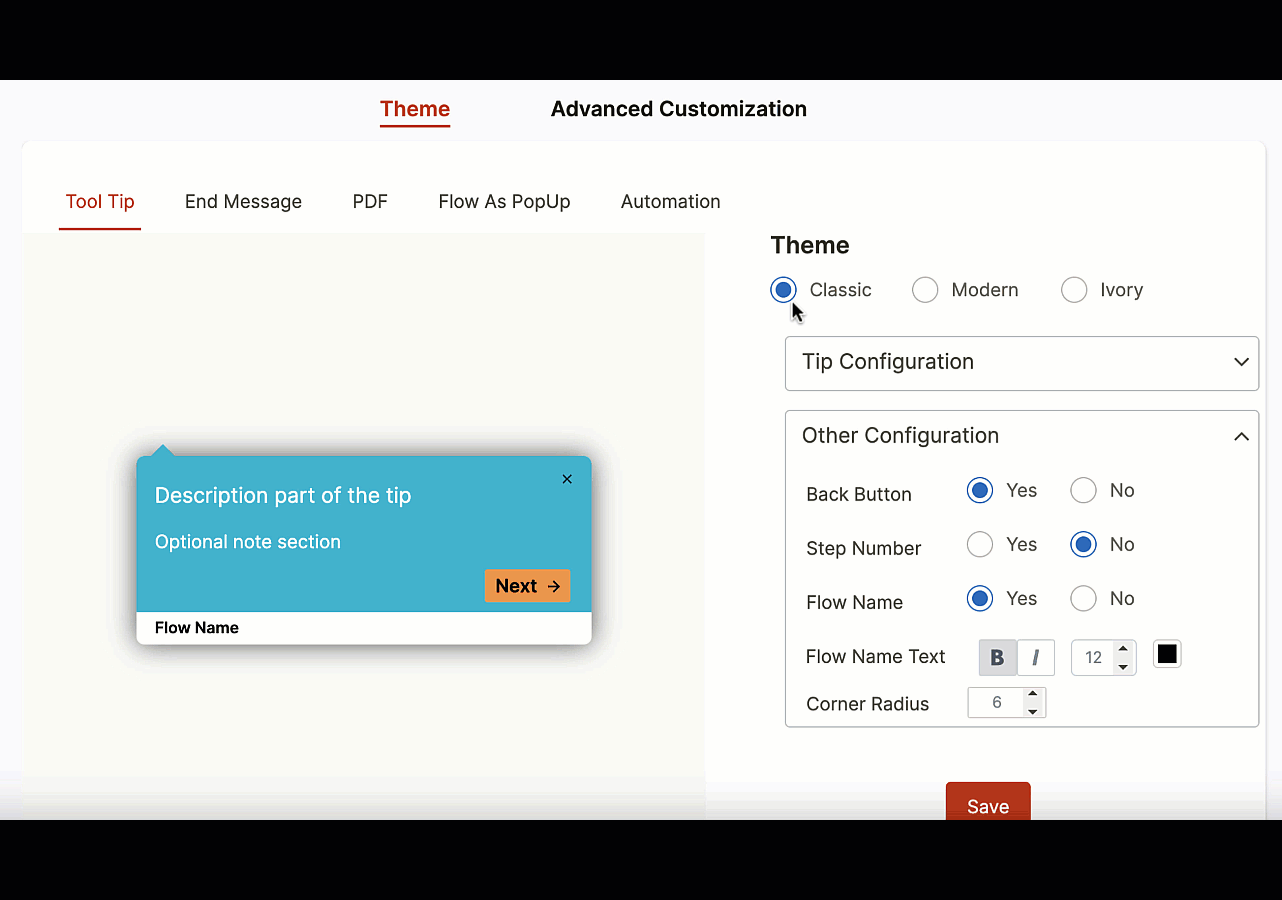 Missed out something during creation? Simply click on the "Edit" button on the walkthrough on your Whatfix editor to update it. You can also go to the "Full-edit" mode to recapture the step if required.
On publishing the updated version, the changes instantly reflect across all Whatfix content associated with the walkthrough. This is especially useful when your team is scattered across the world.
3. Whatfix Provides Interactive, Omni-Channel Content
With Whatfix, you create one resource as your training/support material, and it automatically is converted to various media formats, readily available to deploy.
Once you create a Whatfix interactive walkthrough, it is automatically converted to multiple formats like:
Annotated videos (with/without voice-over)
Interactive slideshows
PDFs
Embeddable HTML articles
Smart quick deploy URLs
Furthermore, these multiple content formats can be served in various packaging with specialized Whatfix widgets.
4. Whatfix's Smart Widgets for Role-Based Use Cases
If you have already vetted Oracle guided learning, you would already know that product adoption problem is not just about getting people onboard and trained.
It stretches across an end user's product experience lifecycle wherein he/she gets started with it, becomes better at it, becomes a power user, and becomes a loyal advocate of the product.
Whatfix's specialized widgets that tackle each use case help you transform your employee's efficiency by taking them through the aforementioned stages effectively.
With the smart guided pop-ups, you can induct your employee onto your Oracle cloud application with a quick product tour or send/schedule significant updates and notifications to them such as process changes. Both of these pop-ups can be configured to include videos and a call-to-action button which can be further linked to the relevant content.
Advantages:
Quickly create Product tours and new Feature tours
Schedule important notification lions like process changes, maintenance upgrade, etc.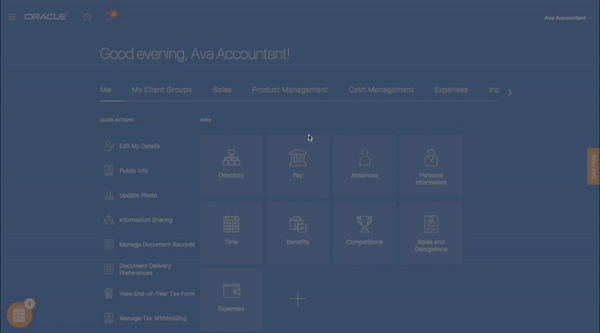 On-demand self-help assistant
No matter where you are on your Oracle application, you can ensure Whatfix's help to be available on-demand. Our self-help widget is simply a mini-knowledge base available to your employees round the clock within your Oracle app, which can contain interactive walkthroughs, video, links, and even plain text.
As an additional step, you can also configure this widget for more functionalities by integrating it with your ticketing and customer support platform.
Advantages:
Always available real-time contextual help
Reduces support queries by large by providing a quick access knowledge base with a variety of content
Can be tailored for continuous training with distinct guides based on pages, URL paths, user roles, etc.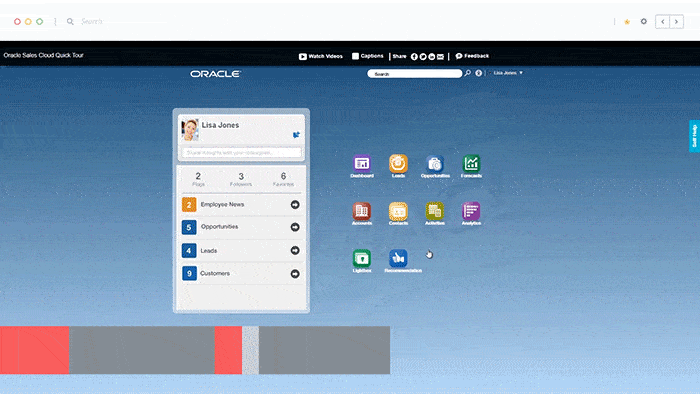 Microlearning with task lists
Whatfix's Task-list is basically a mini LMS which will be available right within your Oracle application. It will show your users all the required tasks to get started and will also track their progress simultaneously.
You can use Task-list's structured grouping feature to create multiple mini-modules which can be tracked actively as per the completion of the assigned tasks.
Advantages:
Extensively used for onboarding and continuous training
Task-based monitoring to understand the performance of users
Content can be structured into mini-modules for ease of learning
Intelligent segmentation can be done for specific pages, URL paths, user roles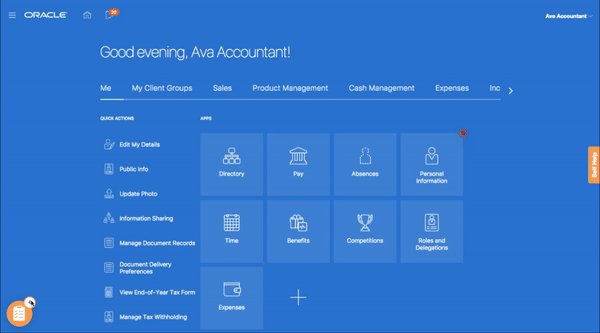 Instant, contextual help with smart tips
When was the last time you came across a long form and had to look-up what needs to be filled in it? Whatfix's Smart tip is a very useful feature for such forms.
Attested to an icon or to appear on hover over, the Smart tips are basically interactive tooltips which give the user instant info on what needs to be done on a specific field.
This enables the users to quickly carry on with their task without much of a confusion.
Advantages:
Extensively used on forms like registration, data entry in sales/accounting, etc.
Info tip can be customized as required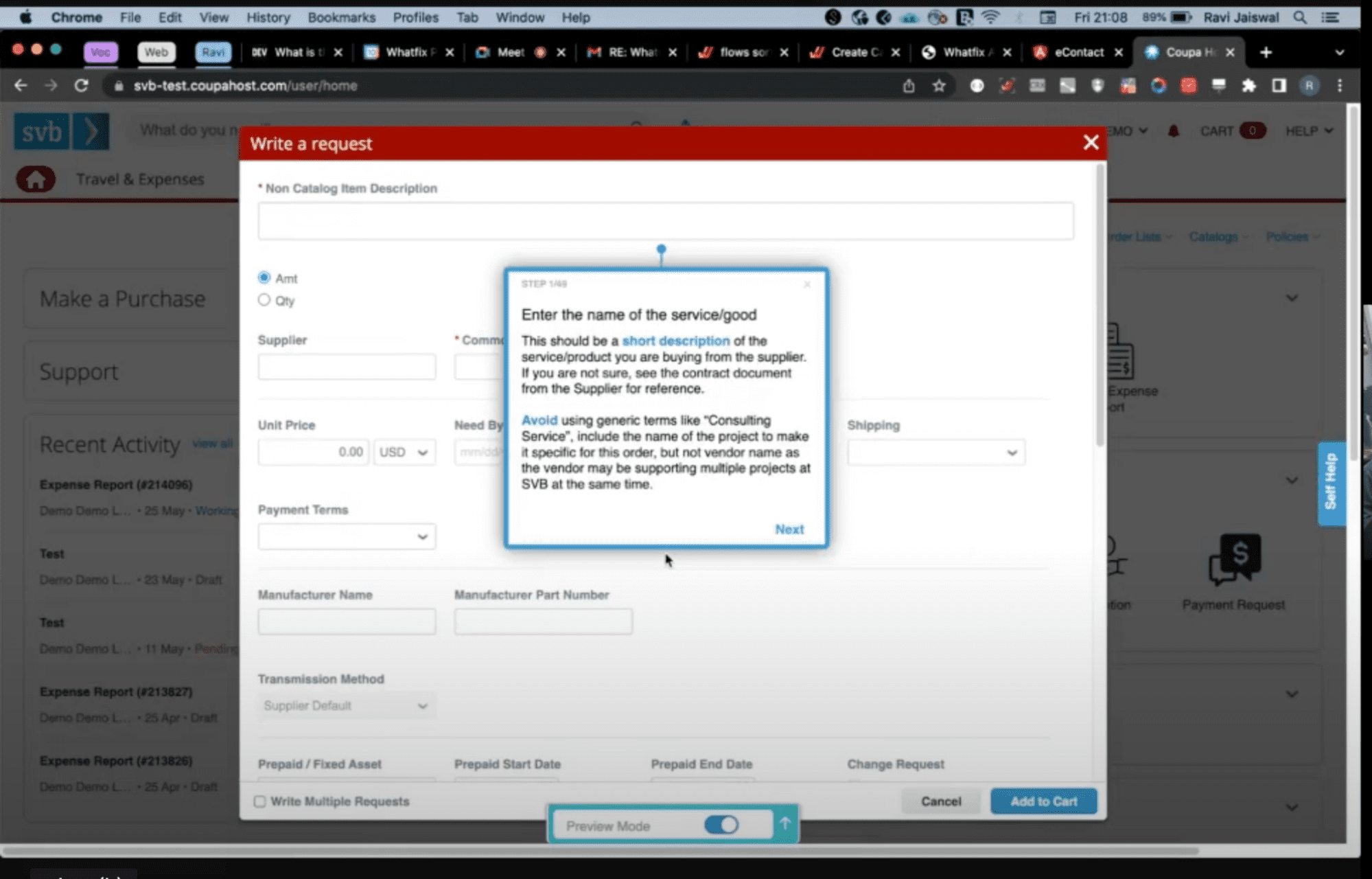 Highlight new features and process updates with beacons
Recently released an update with a new feature? Bring your user's attention to the feature with Whatfix's Beacon.
The Beacon's constant blinking will capture the user's attention, and it can be tasked with call-to-action like links, walkthroughs, pop-ups, etc.
Advantages:
Unavoidable when used. Can be configured as to the number of times to be shown
Can be used as a starting point to a collaboration of multiple content types of Whatfix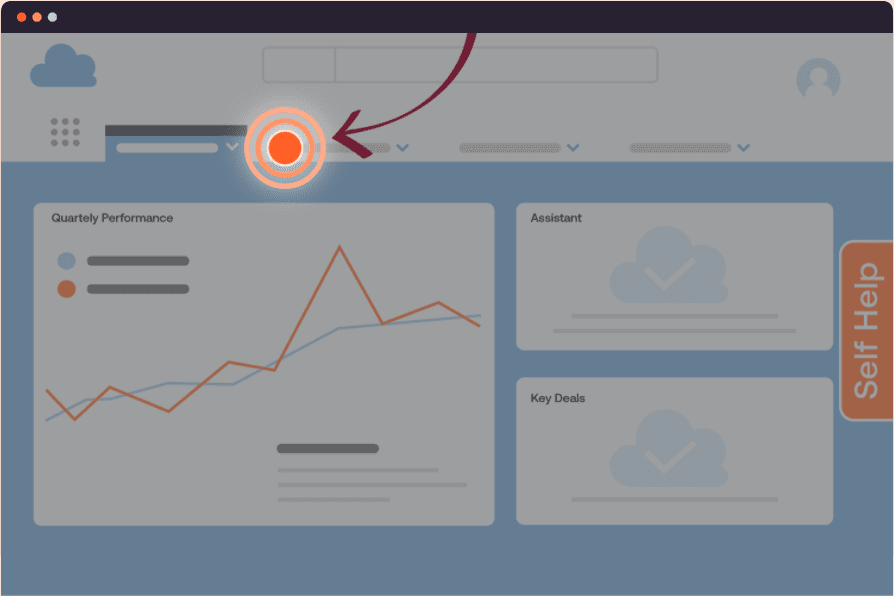 5. Intelligent Interactive Segmentation
Often, Whatfix deployment spans across multiple subdomains, user roles and sections of the applications. With the intelligent interactive segmentation, you can completely segregate the content to be shown as per the requirement.
Say, for example, you have two sections to your application namely, Analytics and Dashboards. You have already created several types of content that pertain to both sections.
With this feature, you will be able to segment the content based on the section, using the available conditions and display the corresponding guides.
That is, you can segment Analytics based guides to be displayed only on the Analytics section and likewise for the Dashboard section.
6. First SCORM Compliant Digital Guidance Platform
Being SCORM compliant allows Whatfix to be directly embedded with any LMS. Whatfix's walkthroughs can be easily converted into a SCORM package, which can then be uploaded to LMS as interactive courses.
Much like the task list, the SCORM package also will allow you to monitor task progression.
SCORM compliance is a stark differentiator that puts Whatfix as an Oracle Guided Learning alternative.
7. End User Behavioral Analytics
Learn more about your end-user behavior and create actionable Whatfix content with our in-depth analytics. Accessible from our Dashboard, the analytics will give you a complete picture about how the Whatfix implementation has been useful for you, actionable daily insights, user-drop outs, etc., in the forms of reports and graphs.
You can also export customized analytics reports that contain performance-based data to compare and further scrutinize your data.
In case you already are using a third-party analytics platform to collect all your data, then you can link it with Whatfix using our API integrations.
You also have an option to push all your analytics data to your Google Analytics.
8. Whatfix Easily Integrates With All Desktop, Web, and Mobile Applications
Unlike Oracle Guided Learning, Whatfix has opened its API to several applications. This means that you can easily integrate Whatfix and its Omni-channel content with:
Knowledge bases like Zendesk, Freshdesk, Desk.com, etc.
All SCORM-supported LMSs
Video platforms like YouTube, Vimeo, and Wistia
Ticketing and other support platforms
Survey platforms like SurveyMonkey
Whatfix integration codes are generally a single line of code and are hassle-free. In case of deep integrations, we have an in-house services team that hand-hold you through the process.
9. Customer Satisfaction Is Our Primary Concern
We understand that our customers are our ambassadors. We want to ensure that you are happy and satisfied with Whatfix at all times.
With round the clock customer support and dedicated Customer Success Managers, our primary objective is to empower you to make the maximum ROI possible with Whatfix.
In case you need assistance with the creation of Whatfix content, then you can also opt for our professional services. Our in-house experts will manage everything from creation to deployment for you.
Want to read what our customers have to say about Whatfix? You can explore all Whatfix reviews on G2.com to learn more.
10. Whatfix's Pricing Is Tailored to Fit Your Budget and Requirements
We believe in a performance-based pricing model. That means, instead of pushing you to a regular subscription model, we tailor the pricing based on your usage of Whatfix to meet your requirements.
Our customized pricing model comes with our ROI calculator which enables you to calculate your ROI from Whatfix during your evaluation stage itself. The price that you pay for Whatfix, is for the value that is promised to you.
Whatfix Is the Best Alternative to Oracle Guided Learning
Like this article? Share it with your network.
Subscribe to the Whatfix newsletter now!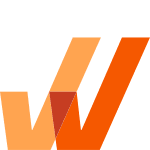 Software Clicks With Whatfix
Whatfix's digital adoption platform empowers your employees, customers, and end-users with in-app guidance, reinforcement learning, and contextual self-help support to find maximum value from software.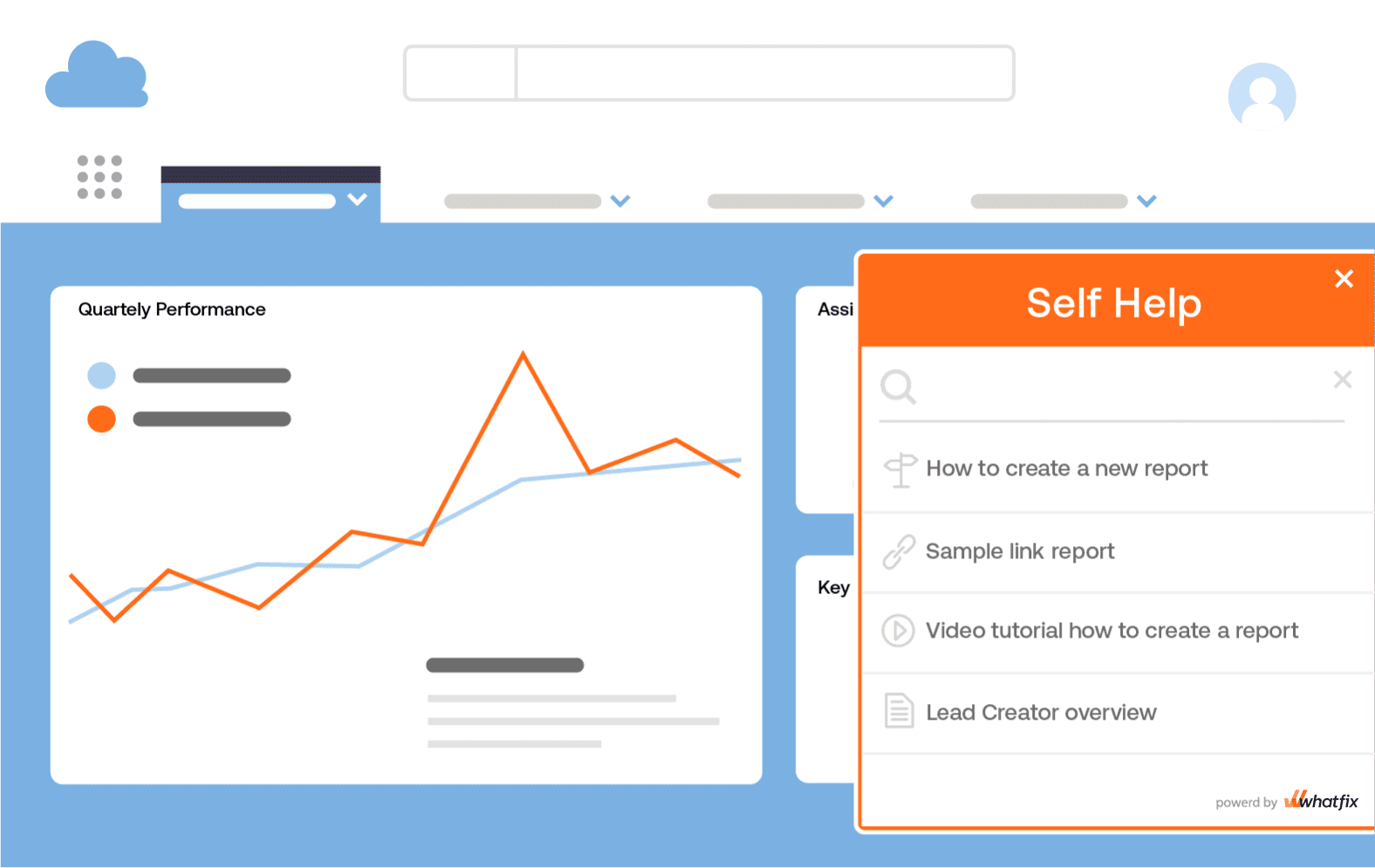 11 Best DAPs in 2023 - Ultimate Comparison Guide