WHATFIX
Helping Businesses Thrive by Helping People Adopt and Grow with New Technology
New technological tools arrive every day that enable us to do more at our jobs and in our lives. Keeping pace with evolving technology, however, is costly and time-consuming. Without proper know-how, the tools meant to propel us forward end up holding us back.
Whatfix helps companies thrive with fast and efficient digital adoption for customers and employees.
500+
Whatfix customers globally
Our Culture
We are a can-do company
We don't let obstacles and challenges defeat us. We are biased towards action. We approach problems with purpose and work efficiently to achieve our goals.
People – Our people are our pride. Together, we have built a culture where work is fun, success is celebrated, and support is offered to all who need it. Our customers love us, and so do our employees.
Passion – Our goal is to be the best. And our passion for our goals and ambitions permeates every action we take.
Perseverance – Our motto is #hustlemodeon. We work hard and persevere till we find a way and get it done.
Our Journey
Explore some of the major moments in Whatfix history—and be sure to check back soon for updates.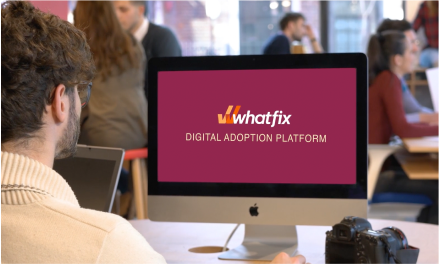 Our Beginning
In 2010, the foundation of Whatfix was laid when our co-founders launched 'SearchEnabler', an on-demand SEO platform. After recognising the immense potential of digital adoption platforms and a desire to empower people to solve problems with technology, the platform later evolved into Whatfix in 2013.
First Office
Whatfix opens its doors for the first time with an office in Bangalore, bringing its mission and vision to the world.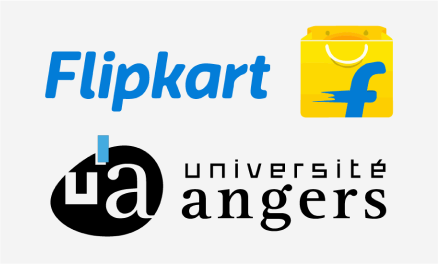 First Customers
Whatfix signs its first India-based and international customers, Flipkart and University D'Angers, adding viability to its mission and vision for the DAP category, as well as launching its global presence in the DAP category.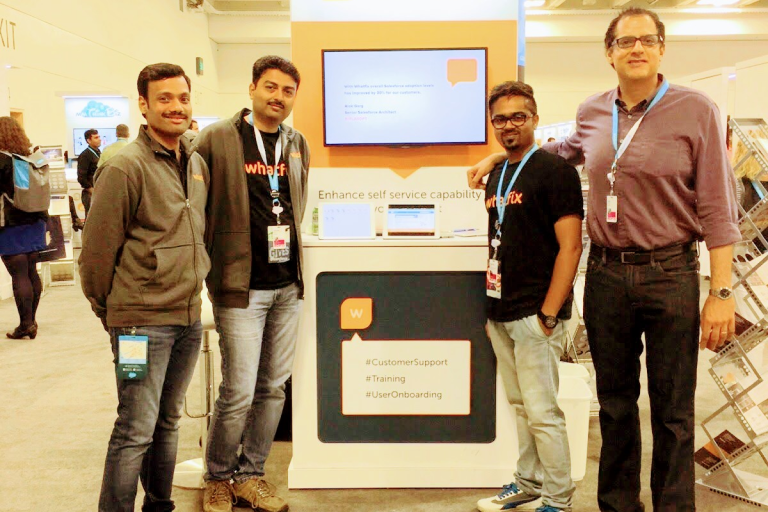 First Global Event
Whatfix attends its first major event at Dreamforce with only five employees, gathering key learnings and showcasing our unique DAP offerings.
First 100 Customers
Whatfix hits 100 customers, a key milestone driven by our foundational value and commitment towards being a "customer first" organization.
First International Office
Whatfix opens its first international office in San Jose, solidifying its global pledge to support customers and partners of all sizes.
Category Recognition by Top Analysts
Whatfix achieves analyst recognition as a leader in DAP by Everest in their first-ever PEAK Matrix® Assessment for the category.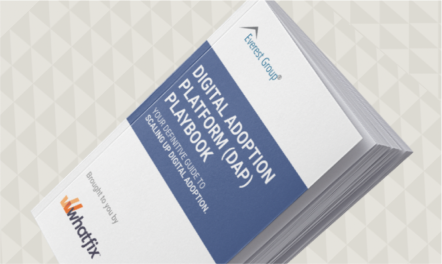 500 Employees
Whatfix continues to grow its international team, crossing 500 employees globally
Fortune 500 Customers
In 2021, Whatfix crossed a landmark of 50 global Fortune 500 customers. Today, our customer list includes some of the best global organizations including Microsoft, UPS, CISCO, and more.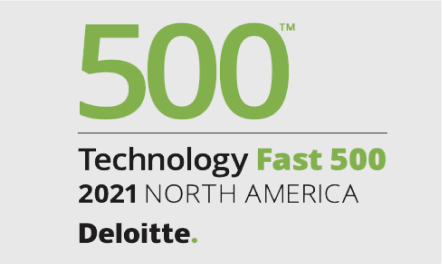 Gold Customer Experience Award for Customer-Centric Culture
Gold Customer Experience Award for Customer-Centric Culture
Customer Service Department of the Year
Customer Service Department of the Year
Customer Success Team-Department of the Year
Customer Satisfaction of the Year
Customer Service Department of the Year
Best Deployments/CS Department of the Year
Khadim Batti
Co-founder & Chief Executive Officer
Khadim Batti is the Co-founder and CEO of Whatfix. Khadim co-founded Whatfix with Vara Kumar in 2014 with the mission of empowering individuals and organizations to freely use and experience the maximum benefits of technology. An entrepreneur at heart with an engineer's mind, Khadim is also giving back to the start-up community by sharing his passion, knowledge, and mentorship with aspiring talent for over a decade and a half. Khadim also acts as the Grievance Redressal Officer for Whatfix.
Vara Kumar
Co-founder, Head of R&D and Pre-Sales
Vara Kumar is the Co-founder, Head of R&D and Pre-Sales at Whatfix. Vara co-founded Whatfix with Khadim Batti in 2014 with the vision of empowering individuals and organizations to work symbiotically with technology to maximize their potential. Based in the US, Vara leads the company's strategy and vision for product development and adoptions, technology development, and innovation – helping accelerate successful integrations for partners and customers. He is passionate about building technology that users love.
Vispi Daver
Chief Revenue Officer
Vispi Daver is the Chief Revenue Officer at Whatfix, who brings a range of experience in sales, partnerships, product management, and corporate development to his role. He leads a team responsible for new and expansion sales, revenue-generating partnerships, sales operations, and sales enablement. Under his leadership since 2018, the company has had significant growth and expanded its footprint across Global 2000 customers, systems integrators, and consulting partners. Vispi is also an early investor in Whatfix.
Vipul Gupta
Vice President, Marketing (Demand Generation)
Vipul Gupta is the VP of Marketing (Demand Generation) at Whatfix. As a data-driven and technology-focused marketing leader, Vipul drives the strategy and implementation of demand generation programs and campaigns for Whatfix, across regions. Vipul is based in India and loves to read, explore new places and spend time with his family.
Kapil Jaiswal
Vice President, Product
Kapil Ashok Jaiswal is the VP of Product at Whatfix. Kapil has overseen product management at Whatfix since 2015. With his customer-first approach, he is instrumental in constantly innovating the Digital Adoption Platform to stay ahead of the curve. He is based in India and is passionate about building products that are at the intersection of technology, business, and user psychology.
Supriya Goswami
Vice President, Product Marketing
Supriya Goswami is the VP of Product Marketing at Whatfix. She oversees the go-to-market strategic direction and solution marketing portfolios. Based in the US, she drives the company's transformation strategy to establish category leadership. Supriya is responsible for brand and content marketing in addition to the product marketing charter.
Romita Mukherjee
Associate Vice President, Human Resources
Romita Mukherjee is the Associate Vice President of Human Resources at Whatfix. Romita empowers the business growth at Whatfix by developing a high-caliber talent pipeline, implementing strategic leadership development and employee development practices, and driving a growth mindset-oriented culture. She is based in India and believes that when you wear the hat of a coach, you have the leadership potential to bring the best out of your team by inspiring purposeful actions from them.
Mohit Jain
Vice President, Global Customer Success & Services
Mohit Jain leads all post sales functions at Whatfix including Global Consulting, Customer Success, Support and Whatfix University and Customer Enablement. He has 15 years of experience in building and scaling SaaS products. Before joining Whatfix, Mohit has built multiple SaaS products. He comes with a deep understanding of Enterprise SaaS business and has vast experience in building and executing them with large matrix teams. Mohit is a graduate of Georgia Institute of Technology with specialization in Data Mining and High Performance Computing. He is based in India and is passionate about technology and startups.
Amit Sharma
Associate Vice President, Finance
Amit Sharma leads Global Finance and Legal. He has played a significant leadership role in integrating Financial and Corporate planning functions. In the current role, Amit is responsible for the company's financial functions, including accounting, audit, treasury, corporate finance and investor relations. Amit has evaluated and played a pivotal role in many transactions of the company including the fund raise ranging from 12.5M USD to 90M USD including buyback as well as front ending key acquisitions.
Kulbhushan Rana
Vice President, Solutions
Kulbhushan Rana is the Vice-President of Solutions at Whatfix. He oversees the development of industry specific solutions which best fit the business needs. Based in Bangalore, he leads the company's effort to establish category leadership with industry focussed DAP solutions. He is responsible for pre-sales efforts to demonstrate, design, and define DAP solutions for our customers.
Patrick Ashamalla
Vice President, Product Design
Patrick Ashamalla is the VP of Product Design at Whatfix. Based in the US, Patrick leads the product design team and helps envision, design, build and ship great products. He has defined the UX Strategy and Design Vision for SAP Success Factors' Next-Gen Cloud Learning Product and built a cross-functional team consisting of UX Research and Design to deliver solutions across web and mobile-native platforms in an agile environment. He also established a customer engagement model to test and refine UX solutions from initial research, early-stage prototyping, and product development life cycle.
Sumeet Kumar
Senior Vice President, Account Management
Sumeet Kumar is the SVP of Account Management at Whatfix and brings his business development, enterprise sales & strategic account management experience to the role. Based in Seattle, Washington, he leads a global team that drives sales into Fortune 500/1000 clients and is a primary growth engine of the company. Sumeet is passionate about technology, solving customer problems and driving value based selling. He has built high performing teams at large companies as well as in his tenure at three start-ups.
Achyuth Krishna
Senior Director, Engineering
Achyuth is the Sr. Director of Engineering at Whatfix. He oversees the engineering and technology charters for the digital adoption platform (DAP) product line at Whatfix. Based in India, Achyuth drives the engineering vision and strategy across the DAP teams with a focus on quality and efficiency. Achyuth is responsible for the DAP product lines, core capabilities as well as platform teams.
Prakhar Jain
Vice President, Global Sales
Prakhar is the VP of Global Sales at Whatfix. As the company's first employee, Prakhar has played a pivotal role in its growth and currently leads the global inbound and outbound sales efforts across North America and EMEA regions. Based in India, Prakhar has driven 3X year-on-year growth for Whatfix, onboarded 135+ Fortune 1000 companies, and services 700+ clients in 30+ countries.
Satya Machiraju
Vice President, IT & Information Security
Satya is the VP of IT and Information Security at Whatfix and the designated Data Protection Officer. He leads Whatfix's IT and security teams through developing and deploying processes and solutions to minimize and mitigate cybersecurity and regulatory compliance risks. Satya is based in India and is passionate about protecting customers' information, as well as creating a culture of cybersecurity preparedness across Whatfix by putting "security first."
Alok Goyal
Partner, Stellaris Venture Partners
Shweta Bhatia
Partner, Eight Roads Ventures
Sanjay Aggarwal
Venture Partner, F-Prime Capital
Ashish Gupta
Managing Director, Helion Venture Partners
Mike Lim
Venture Capital & Corporate Development, Cisco
Tejeshwi Sharma
Managing Director, Sequoia Capital
Sumer Juneja
Partner and Head of India at SoftBank Investment Advisers
Narendra Rathi
Vice President at SoftBank Investment Advisers
INDIA
INDIA
US
US
INDIA
INDIA
INDIA
US
US
San Jose
2107 N 1st St., Suite 450
San Jose, CA 95131
USA
Bengaluru
No.1289/1090E, 18th Cross Rd,
Sector 3, HSR Layout,
Bengaluru, Karnataka 560102
India
Gurugram
Unit 7 and Unit 8, 12th Floor, Tower B, Building 9, DLF Cyber City, DLF Phase III, Gurugram, 122002, Haryana, India
United Kingdom
Registered Office: Salisbury House Station Road, Cambridge CB1 2LA, UK
Co-Working Space: Aldwych House, 71-91 Aldwych, London WC2B 4HN, UK
Germany
FRANKFURT, Alte Oper, An der Welle 4, Germany
Australia
Registered Office: Suite 416, 4 Columbia Court, Norwest, NSW 2153, Australia
Co-Working Space: The Commons, 388 George St, Sydney, NSW 2000, Australia
Singapore
Registered Office: 73 Upper Paya Lebar Road, #08-01L Centro Bianco, Singapore (534818)
Co-Working Space: WeWork, 109 North Bridge Rd, Singapore (179097)
September 21, 2023
Whatfix Positioned as a Leader (fourth consecutive year) and a Star Performer in Everest Group Digital Adoption Platform (DAP) PEAK Matrix® Assessment 2023
June 13, 2023
Whatfix provides data-driven Digital Adoption Solutions on the Microsoft Azure Marketplace
May 9, 2023
Whatfix Launches Enterprise Insights and AI Features. Reimagines The Future Of AI-Driven Digital Adoption Platforms (DAP)