What Is Digital Adoption?
Digital adoption is the process of learning how to use new technology that enables you to take advantage of its full benefits and potential. In a business setting, digital adoption is achieved when an organization facilitates the widespread use of new technology by its employees or customers during implementation with contextually guided onboarding and training, as well as on-demand performance support.
Why to Prioritize Digital Adoption
Digital adoption ensures you get the most out of your technology investments. If customers use only part of your product, they don't see its full value. Similarly, if employees use only bits and pieces of the software you purchase, your company will not see the improvements you intended.

This haphazard software usage stems from two problems – the proliferation of SaaS and custom apps, and the rise of shadow IT (aka unsanctioned apps.)
The longer companies remain in business, the more apps they use, resulting in poor software license management – among other IT and technology-related challenges.
To further complicate this, technology today is highly customized for their enterprise customers, depending on their industry, challenges, and intended outcomes they hope to achieve with a technology provider.
According to BetterCloud, new companies start out with 29 apps on average, and by the time they're 3-6 years old, that number shoots up to 103. 
In fact, organizations with over 1,000 employees use over 177 different SaaS apps and custom apps. Companies also often underestimate just how many apps they use because many apps are purchased by business units or individual employees.
of global companies achieve their targeted business outcomes from their digital transformation investment.
Too many apps lead to app fatigue and redundancy. Plus, there's no visibility on the ROI of unsanctioned apps. Employees must undergo upskill training to use the different apps constantly, which keeps them from doing actual work.
The internal chaos translates into poor customer experience. With data scattered across multiple apps, support agents can't resolve queries quickly and efficiently to help users take full advantage of the platform.
In fact, a Bain & Company study found that only 8% of global companies ever achieve their targeted business outcomes from their digital technology investments
.Despite economic turbulence, Gartner's forecast suggests that worldwide IT spending is predicted to grow to $5 trillion in 2024 — an increase of 8.6% from 2023. To justify that burgeoning budget, companies have to drive digital adoption simultaneously.
The Role of Digital Adoption in Achieving Digital Transformation
Digital transformation refers to companies using and implementing new digital technologies to improve their customer experiences, internal processes, and overall services.
Examples may include adopting new cloud software for legacy application modernization, launching a new online self-service customer portal, or implementing new technology like an enterprise CRM or ERP system,.
While new software and digital processes can dramatically improve and innovate a company's product and service offerings, organizations must create an implementation plan that enables end-users – whether that's employees or customers – continuous, contextual training and on-demand support to use it correctly and effectively.
That is where a digital adoption strategy comes into play.
Digital adoption drives organizational change by empowering individual end-users – both employees and customers – to become expert technology users and embrace new digital processes and tools with contextual onboarding, training, and performance support.
"Whatfix reimagines our training. It supports in-app guidance across almost any platform. It's so easy to update materials, we can finally keep pace with the system changes. Whatfix is an ideal platform for renewables and energy companies looking to improve the adoption of JD Edwards, CRM, or other applications. It dramatically reduces the time spent training and onboarding our employees and supports our environmental stewardship. Looking back, Whatfix was one of the best decisions we have made."
Abby Essing, Sr. Manager, Operations Services at Renewable Energy Group, Inc.
How Digital Adoption Benefits Your Organization
The most significant benefit of driving digital adoption for your employees and customers is maximizing ROI for new technology. 
Companies typically invest in digital adoption in order to increase efficiency, reduce costs, or solve other business problems. For example, a bank might implement automated form-generation software to save valuable time.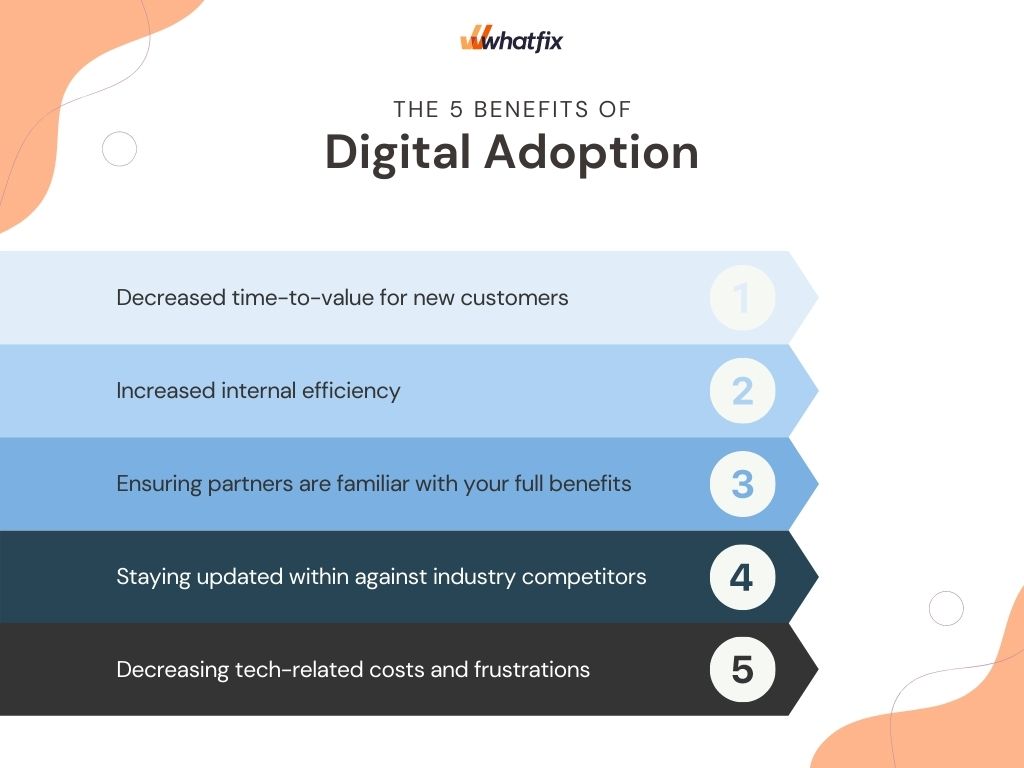 The advantages your company gains from the digital adoption process will depend on the technology you implement.
For example, adopting automation technology increases efficiency and frees employees for more strategic tasks.
Here's a quick look at the most significant benefits of digital adoption:
Decreasing time to value

for new customers by helping them reach their

"aha" moment

faster

Increasing overall internal efficiency

Ensuring partner companies are familiar with the full benefits of implementing your product

Staying relevant in your industry

Decreasing technology-related frustration for employees or customers

Decreasing the need for internal technical support teams, reducing support tickets, and empowering your employees to be technology experts.
What's the impact and risk association with poor digital adoption?
Enterprise software and technology have a high cost. A low digital adoption rate cuts into the ROI of these technologies through:
Loss of productivity due to searching for performance support documentation and information.

Procedural mistakes that result in a lack of compliance and inefficiency processes.

Additional costs of re-training programs and poor overall training ROI.

Lack of adoption or awareness of new product features or company services resulting in poor product knowledge across company's marketing and sales teams.

Failure to achieve ROI from enterprise transformation investments.
What are the challenges of digital adoption?
Organizations working to drive up digital adoption rates have to overcome many enterprise challenges, including:
Overall noise for customers and employees, resulting in it being difficult to capture their attention.

Lack of contextual customer onboarding and education for their use cases and intended outcomes.

Poor customer support.

Complex software.

Overuse of software.

Lack of

change management

strategy for employees

Little emphasis on corporate

learning and development strategy

or employee performance support.
Difficult to onboard new employees to complicated, poorly adopted software tools and digital processes.
"In two years, our provider community has grown from 200 to 2,000. It was vital to train this growing therapist community quickly and effectively, to meet demand, deliver top quality care, and improve outcomes. Whatfix's contextual walkthroughs and smart tips personalize the learning process and provide 24/7 provider self-support. Whatfix enabled AbleTo to innovate, meet the growing demand for virtual behavioral healthcare, and ensure our providers are successful."
Regina Owens, Director, Operations Learning and Development at AbleTo.
6 Tactics to Use in Your Digital Adoption Strategy
Increasing digital adoption among your employees and customers requires a robust digital adoption strategy, especially during change implementation, customer onboarding, and the employee onboarding process. 
In these instances, when employees or customers interact with the technology for the first time and form initial opinions about it, a positive user onboarding experience can drive successful and widespread digital adoption. 
Here are six ways to increase your organization's digital adoption efforts:
Communicate the potential benefits of the new technology to users.

Hire a digital adoption manager to oversee training and technology adoption 

Implement a digital adoption platform to streamline onboarding and training

Develop a

knowledge base

and a self-help menu so users can easily find answers to their questions.

Monitor user behavior analytics to see where employees or customers are getting stuck.

Collect feedback during and after onboarding to see how you can improve the process.
Examples of Digital Adoption
Digital adoption has far-reaching benefits that span multiple use cases for companies across industries. Below, we put together examples of successful digital adoption by top companies.
| Company | Industry | Digital Adoption Use Case | Brief Description |
| --- | --- | --- | --- |
| MarketBoomer | SaaS, Hospitality | Customer Onboarding | MarketBoomer transforms its outdated customer training and onboarding with a digital adoption platform, providing interactive guidance and on-demand support for its hospitality procurement software customers. |
| Vanquis Bank | Finance | Customer Communication & Support | Vanquis Bank adopted an automated system of calls and texts to remind customers of payments due. The bank's digital adoption increased customer contact, with 60% less direct input from agents. |
| Sentry Insurance | Insurance | Employee Performance Support, Employee Onboarding, Customer Experience | Sentry Insurance uses a DAP to enable employees on its internal applications and end-user policyholders on its claims center with in-app guidance and contextual user support across its suite of digital investments. |
| The Home Depot | Retail | Employee training | Home Depot's training system was outdated, and it needed a way for employees to learn while on the sales floor. To solve this, the company worked with Udemy and adopted a knowledge application that enabled employees to train while working. |
| Experian | Data and analytics | Sales | Experian adopted Salesforce for its global sales team and heavily customized the app to suit Experian's business needs. The customization led to some adoption challenges, but Experian implemented Whatfix to drive digital adoption across sales teams. |
| REG | Energy | Employee Performance Support | REG reduced its time-to-proficiency for its employees across its enterprise CRM and ERP software with Whatfix's in-app guidance and self-help user support. |
| Mayo Clinic | Health care | Data storage and analytics | Mayo Clinic partnered with Google to host its data and analytics in the cloud. This has enabled Mayo Clinic to store, organize, and access patient data from a single secure location. |
| AbleTo | Virtual Healthcare | Physician Onboarding & Support | AbleTo launched a new virtual platform for its mental health providers to offer on-demand virtual care to patients. With Whatfix, AbleTo was able to train, onboard, and support its vast network of doctors on how to best use its new online platform. |
"Whatfix is the ideal way for Marketboomer to communicate training to customers. We can easily target use case types and countries, pushing relevant, personalized content to customers. We particularly like task lists, which create roadmaps to progress our PurchasePlus experts and monitor efficiency in real time. Contextual walkthroughs and relevant smart tips personalize the learning processes and provide 24/7 provider self-support"
Drew Nixon, Head of Customer Success at Marketboomer
The Biggest Digital Adoption Trends to Watch
We recently surveyed 1,100+ enterprise software users to understand how they're being supported on new digital tools and processes, and to identify overall trends impacting digital adoption. According to our data, those seven digital adoption trends to be aware of include:
Building inclusive software experiences

Integrating applications with cross-application experiences

Smart user segmentation

Outcome-based adoption strategies

Asynchronous learning and real-time user support

Self-reliant software users

Data-driven adoption strategies and end-user analytics
Uncover the biggest trends impacting enterprise digital adoption in our new report
The Key To Successful Digital Adoption - a Digital Adoption Platform (DAP)
A digital adoption platform (DAP) is software designed to guide your employee or customer as they navigate through a new application, as well as provide on-demand support for continuous training.
A DAP walks the user step-by-step through different sections of the application. Leveraging a DAP helps ensure a smooth and complete training and support process.
In addition, digital adoption platforms have self-help features that allow users to find answers to their questions quickly without needing additional customer support. This saves time both for them and for your support team.
Common features of a digital adoption platform include:
Step-by-step guided walkthroughs
Training videos
Knowledge-base articles
Contextual self-help menu
New feature announcements and alerts for product updates
Structured training in the form of microlearning plans
User analytics
Software clicks better with Whatfix's digital adoption platform
Enable your employees with in-app guidance, self-help support, process changes alerts, pop-ups for department announcements, and field validations to improve data accuracy.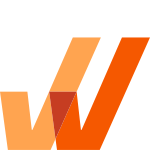 Request a demo to see how Whatfix empowers organizations to scale enterprise-wide changes, improve user productivity, and drive digital adoption fast.