With 60-80% of business governed by contracts, contracts are part of most organizations' everyday work — and probably not the most fun part.
So, who manages contracts? The antiquated paper path of contract management presents a lot of problems in today's digital world (ie. it's prone to mistakes, requires more staff, is manual, and tracking changes is difficult for distributed teams across multiple time zones), but there is a solution.
According to Goldman Sachs, automating contract management speeds up sales negotiation cycles by 50%, cuts inaccurate payments by 75 to 90%, and cuts the operating and processing costs related to contract management by 10-30%.
What is the best CLM software in 2022?
DocuSign CLM
SAP Ariba Contracts
Conga Contracts
LinkSquares
Evisort
Icertis Contract Management Software
Contract Logix
SirionLabs CLM
Ironclad CLM
CobbleStone Contract Insight
Agiloft Contract Management Suite
All good reasons on why you need a digital response to keep track of and manage your various business contracts. Without an automated solution, you risk a lot more than you gain.
When you implement contract lifecycle management (CLM) processes and adopt CLM software, you'll instantly see that the automation saves valuable time and money for your company, brand, or business.
In this guide, we'll define contract lifecycle management, break down contract lifecycle management software, cover features of CLM solutions, and rank the best CLM software for better, automated contract management.
50%
faster sales negotiation cycles with contract automation.
90%
cut of inaccurate payments with contract lifecycle management software.
30%
cut in contract management-related costs with automation tools.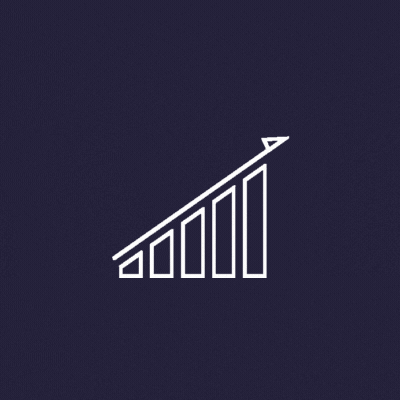 What Is Contract Lifecycle Management?
Contract lifecycle management (CLM) is the administration of contracts, from discovery, creation, negotiation, and approval to execution, compliance, and amendments. Even after a contract is executed, dispute management (if contested), reporting, and archiving may be necessary.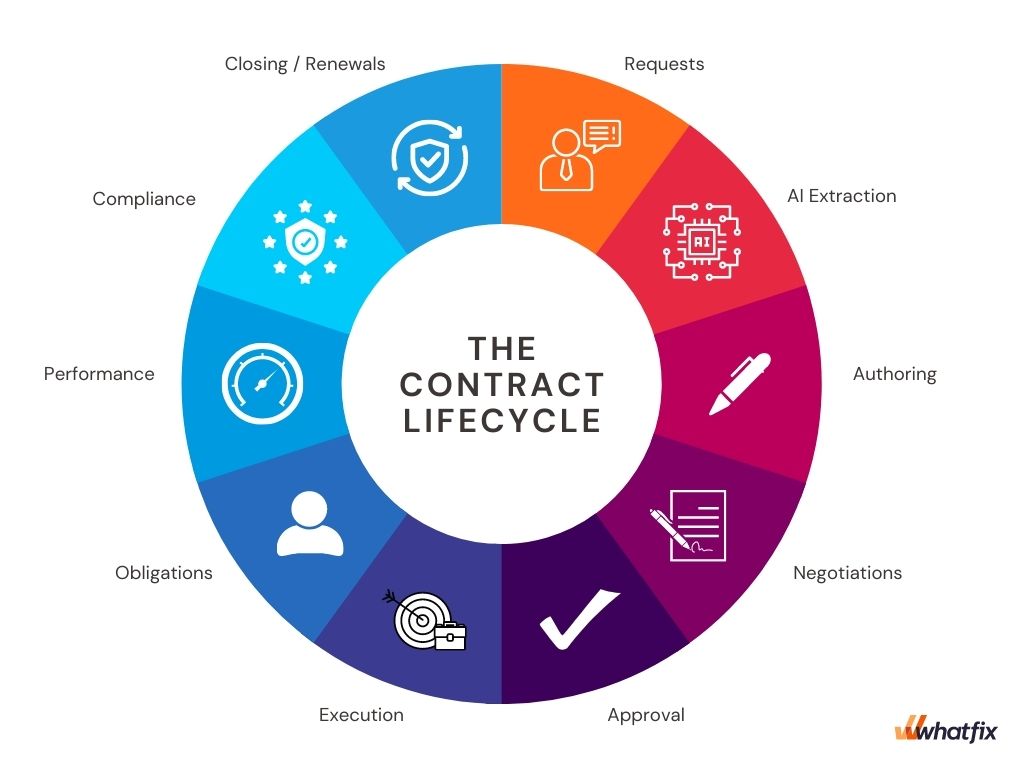 Traditionally, CLM was handled through paper-based systems, but through the digital transformation of the contract management process, it can be managed with software. Because of the high cost of producing contracts — $6,900 for basic agreements and more than $49,000 for complex ones — you need something to manage the contracts you produce.
CLM software is a type of software used to streamline the contract process, and it helps other teams create their own contracts with templates. With the worldwide CLM market growing 3.5x between 2020 and 2030, and a CAGR (compound annual growth rate) of 13%, the overall adoption rate for CLM software rate is expanding exponentially.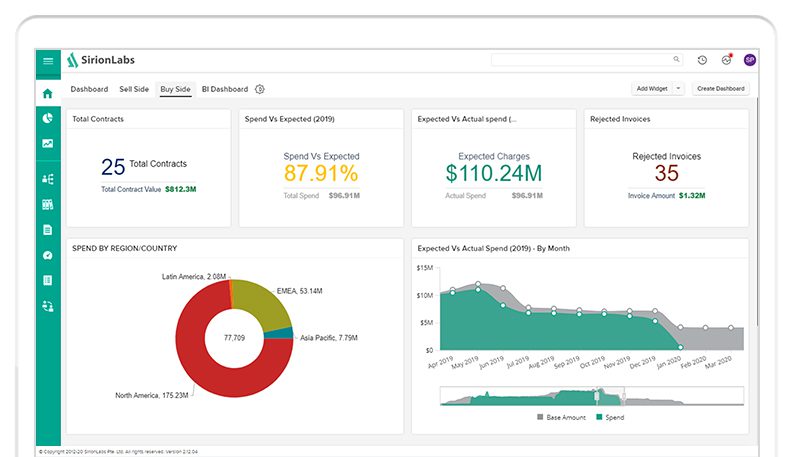 How does it help other teams?
Let's say your engineers need a standard contract for a job they've done many times before. Lawyers compose and approve the standard language for this task. Then they compile a list of standard questions to ask the engineers. The engineers answer these questions digitally, and a standard contract with pre-approved language is created.
Not all CLM software are created the same — and if like most legal departments, you're spending 97% of your time and resources drafting contracts, then you want your CLM software to serve a wide array of interests custom to your business's needs.
Here are some standard features and functionalities included in most CLM software solutions:
1. Contact audit and change history
CLM software is able to create a version history, ensuring you're always using the most current version of a contract — but it also allows you to track the changes that have been made, when they occured, and by whom.
Most CLM software tracks logins, downloads, and other changes to the contract because a closely supervised contract lets you catch mistakes early (errors are more likely to occur in the redlining or editing phase).
KPMG found that businesses stand to lose up to 40% of a contract's value when not closely supervised or managed.
2. Collaborative contract editing
Being able to digitally and asynchronously edit and manage contracts is a must. Your CLM software should contain a collaborative editing feature. For instance, a law office on the East Coast can make changes to a contract that can be immediately viewed and commented on in a law office in Germany.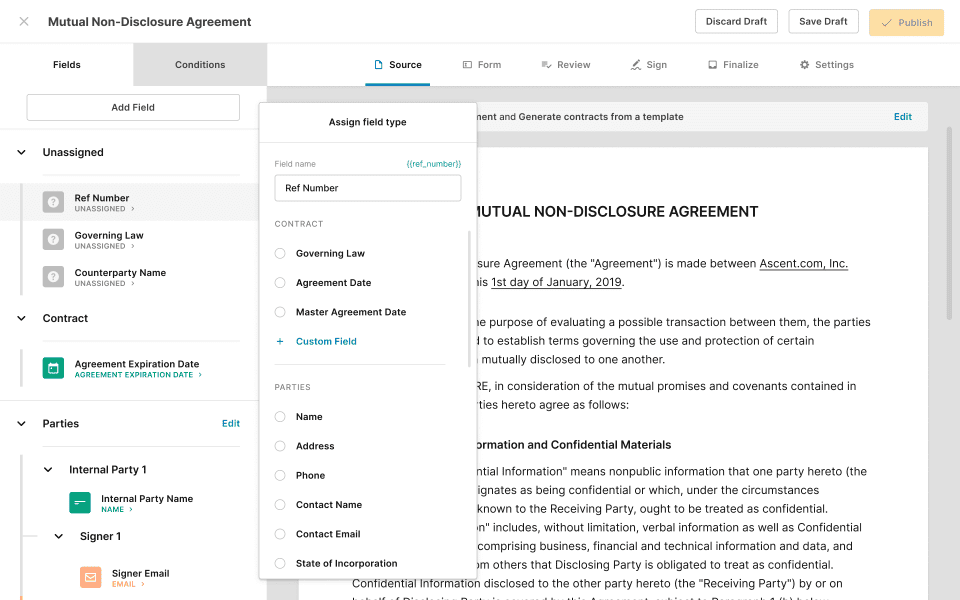 Compliance can be a contract killer, so great care needs to be taken at this stage — and your software should be up to the task of automatically checking compliance for you.
In a recent report by global law firm Ropes & Gray, 61% of respondents said clear guidance of laws and regulations is a top consideration in aiding employees with comprehending compliance. Cross-checking compliance on contracts used to be the responsibility of support staff and paralegals. But when you implement a CLM package, you'll have the ability to file and cross-check compliance by matching it against your company's archives, current legal records, and additional similar contracts.
4. Searchable contract library
The Aberdeen Group states that 78% of top-tier companies keep their contracts in a searchable, central database, which also helps save time and money when searching for specific items.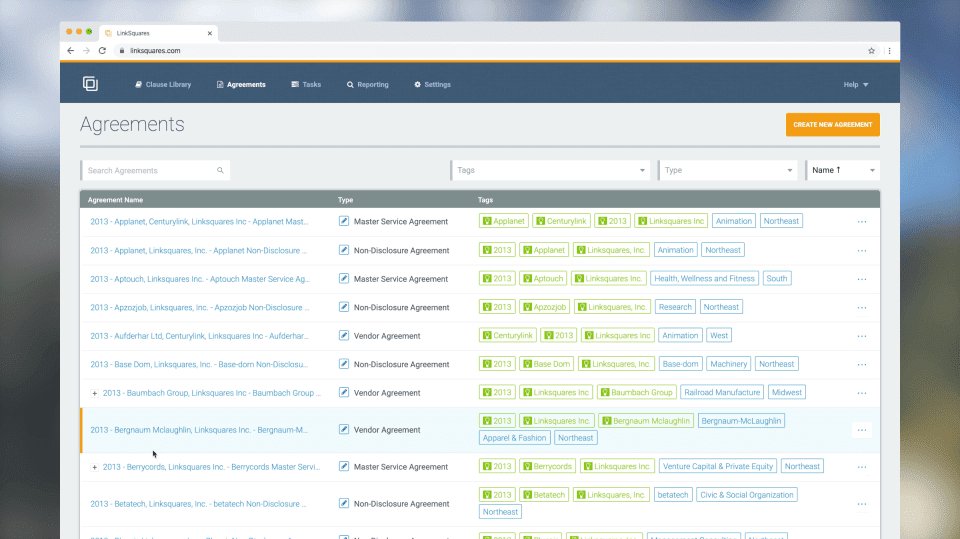 Your CLM solution should have the ability to provide (through a cloud service) reliable, secure storage and a dedicated and searchable database for your data. It should also have the ability to store preset clauses for standard contracts.
5. E-signature capabilities
Digital signatures lower the chance of duplication or alteration of your contracts. Your CLM solution needs to include a legally binding option to accept digital signatures. Because the requirements for digital signatures vary between federal and international guidelines, your CLM software should be able to identify and change these requirements automatically.
This can aid you in expediting contract execution since a digital signature can happen anywhere, anytime. No need to schedule a physical meeting between parties.
Automation and synchronized management of contracts can save up to 82% of a lawyer's time, according to Thomson Reuters. Managing a contract from beginning to end requires multiple parties and various stages, like issuance, negotiation, execution, and renewal.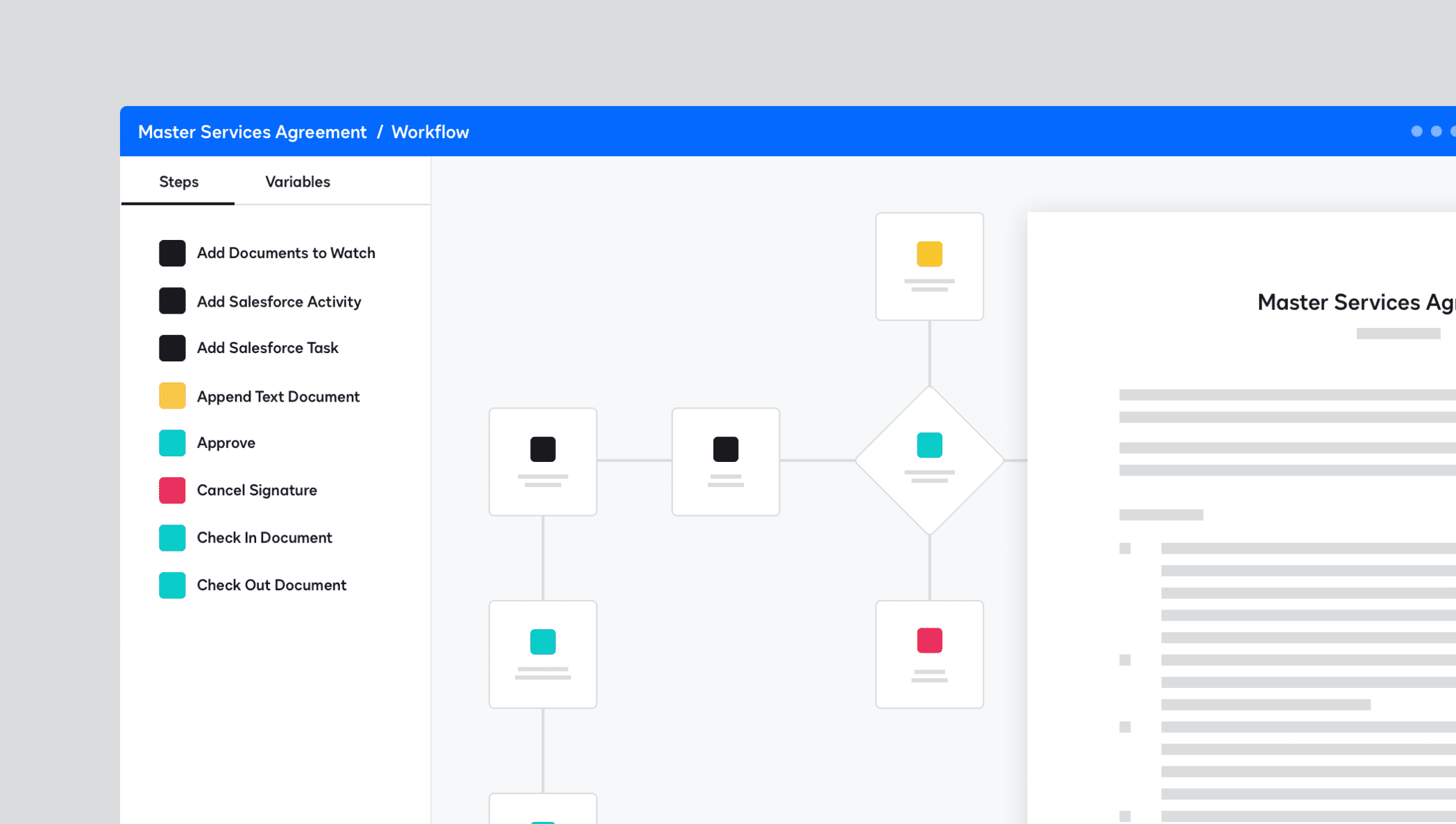 The best CLM software makes sure the parties involved are aligned by informing them of changes, preparing them for their part in the contract (like compliance and pre-discovery), and informing them of what remains to be done through alerts and notifications to complete the contract.
7. Alerts and notifications of contract changes
While tracking who's making the changes, all parties should be alerted ASAP in case there is a mistake that needs to be rectified or an amendment that needs to be made. You can also have your CLM software filter alerts, so you only receive information about relevant changes.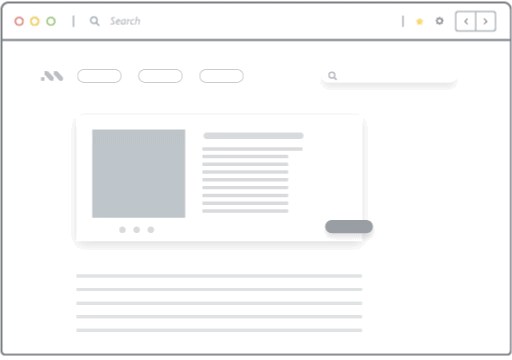 Drive adoption and provide on-demand support for your CLM software with Whatfix
11 Best Contract Lifecycle Management (CLM) Software Tools in 2022
Here are the best contract lifecycle management (CLM) software applications for better contract management: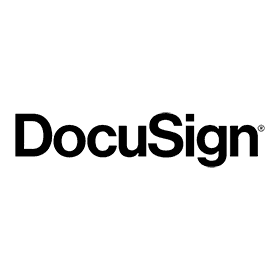 With more than 1,000,000 paid customers and 1 billion users globally, DocuSign is well known in CLM circles. It serves the top Fortune 500 companies in tech, finance, and healthcare along with over 3,000 federal, state, and local government agencies. It is authorized at the FedRAMP Moderate Impact Level (a security protocol for government and DoD) for both eSignature and CLM.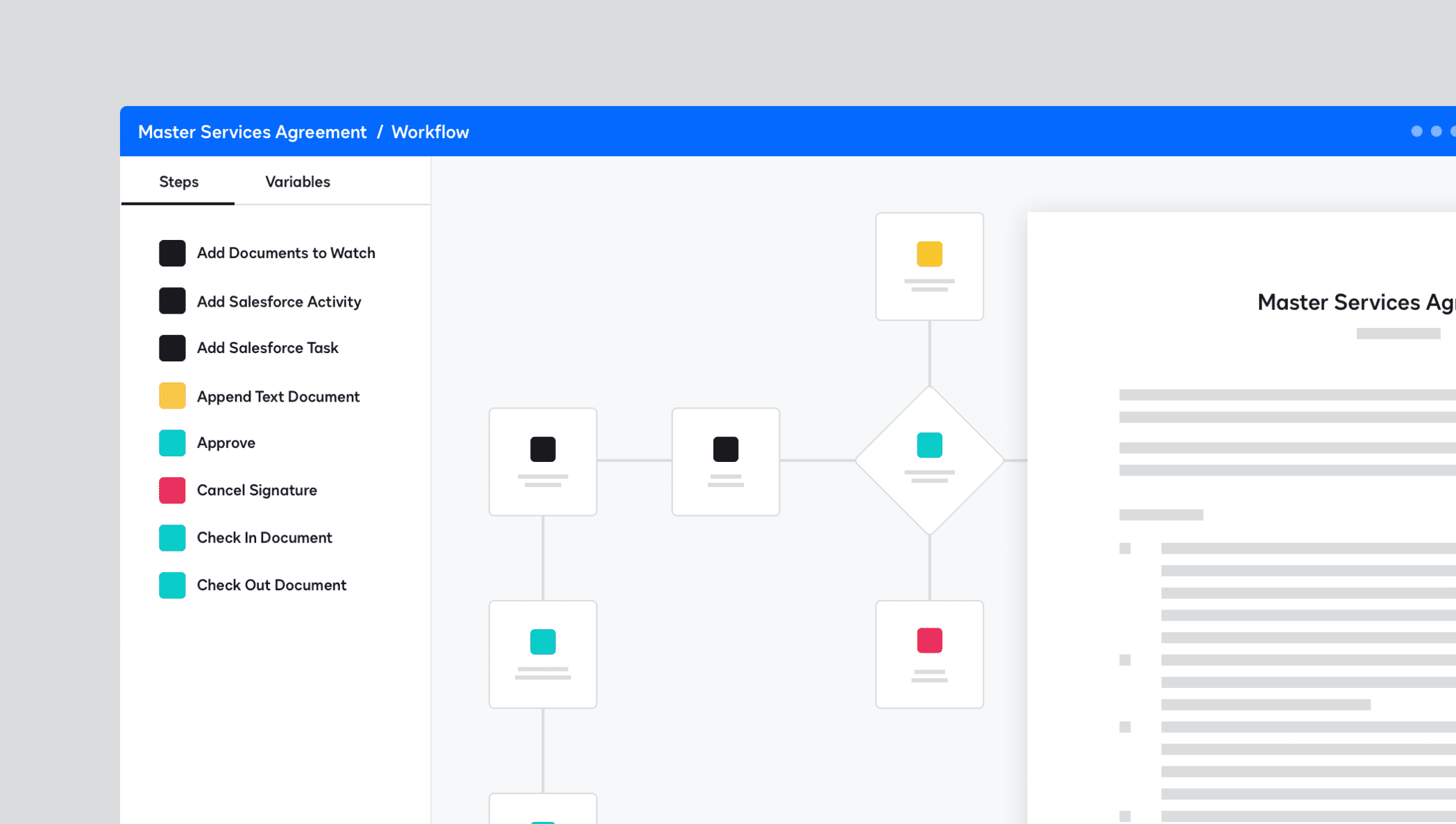 DocuSign CLM features include:
Configurable workflows
Centralized dashboard of contract repositories
Contract document generation
AI-powered contract analytics
Clause library
Customized workflow templates
Renewal tracking
Rish scoring
Collaboration & sharing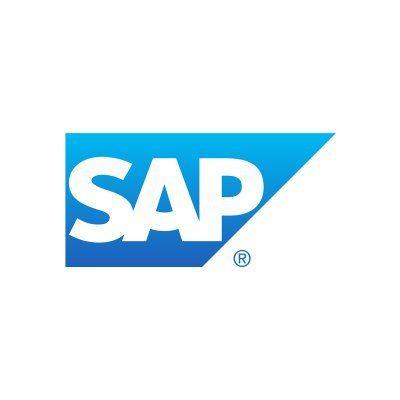 SAP Ariba specializes in creating core templates and unified terms so that repeatable, consistent conditions help buyers and suppliers save time and reduce errors.
The tool assists its customers in managing procurement and sales contracts, IP licenses, and internal agreements and automate and accelerate CLM from start to finish. It also creates contracts quickly and easily with pre-approved templates and clauses.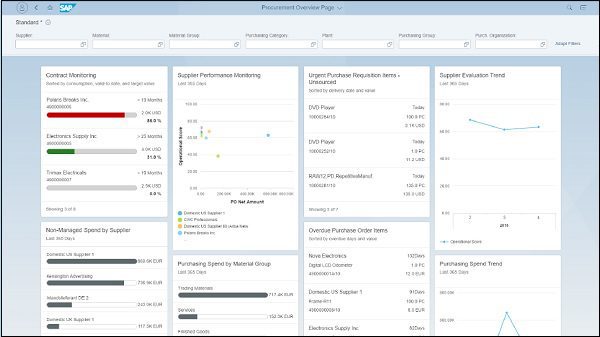 SAP Ariba Contracts features include:
Procurement and sales contract management
IP licensing
CLM automation
Contract document creation and process management
Standardize compliance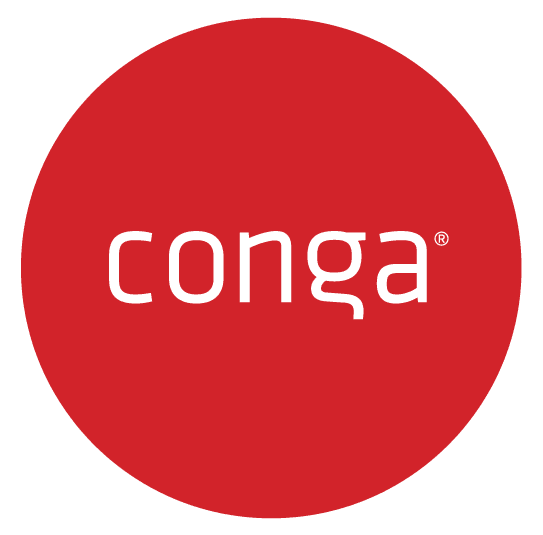 Conga Contracts has a high retention rate among its customers — 9 out of 10 customers renew with them — and have enjoyed a 10-year run as the most downloaded paid CLM app.
It delivers an end-to-end contract lifecycle management solution built within Salesforce. It was also named a Leader in the IDC MarketScape: Worldwide SaaS and Cloud-Enabled Buy-Side Contract Lifecycle Management Applications 2021 and a Leader in the Gartner Magic Quadrant for Contract Lifecycle Management, 2021.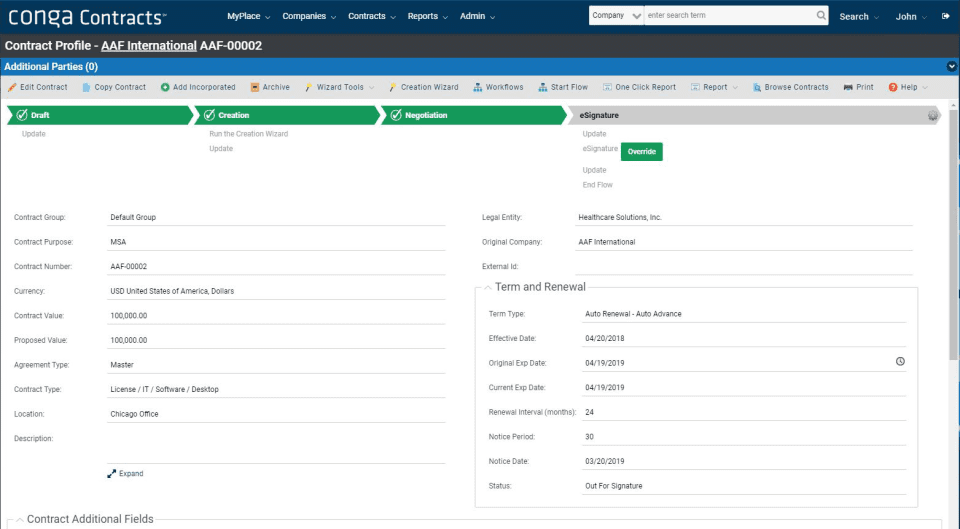 Conga Contracts features include:
Contract lifecycle automation and management
Process automation
Workflows
Transactional contract execution
AI-powered data extraction for risk tracking and managing opportunities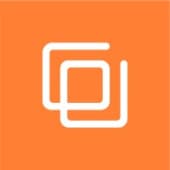 LinkSquares has attained customers – and moved their business forward faster – with more than 400 legal teams at mid-to-large companies, including big brands like TGIFridays, Cogito, and Wayfair. It also offers LinkSquares Finalize, which extracts key data from all your agreements, delivers reports in real-time across your entire legal portfolio, and securely stores every contract in a single online repository.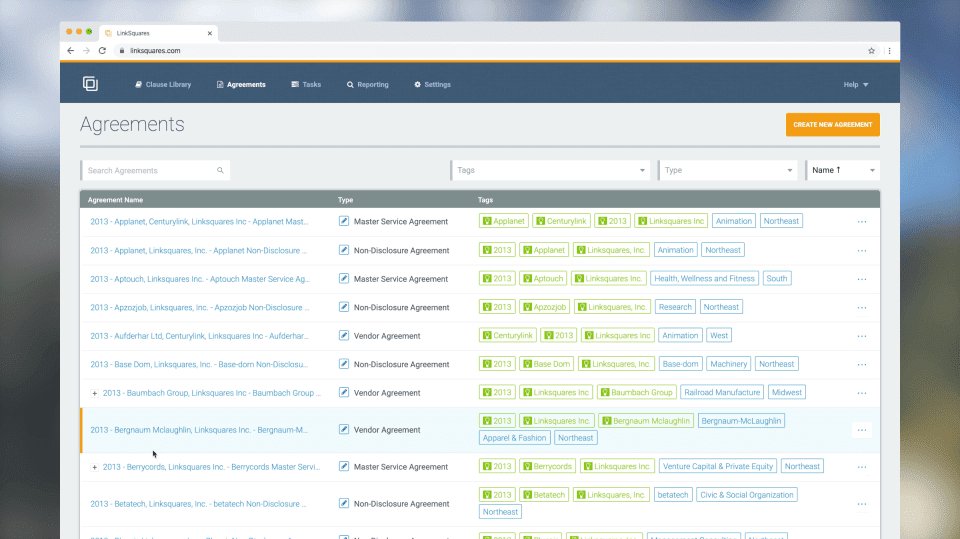 LinkSquares features include:
AI-powered contract analysis
Automated review and execution
Contract clause template library
Tailored workflows
Integrations with popular CRMs and other enterprise software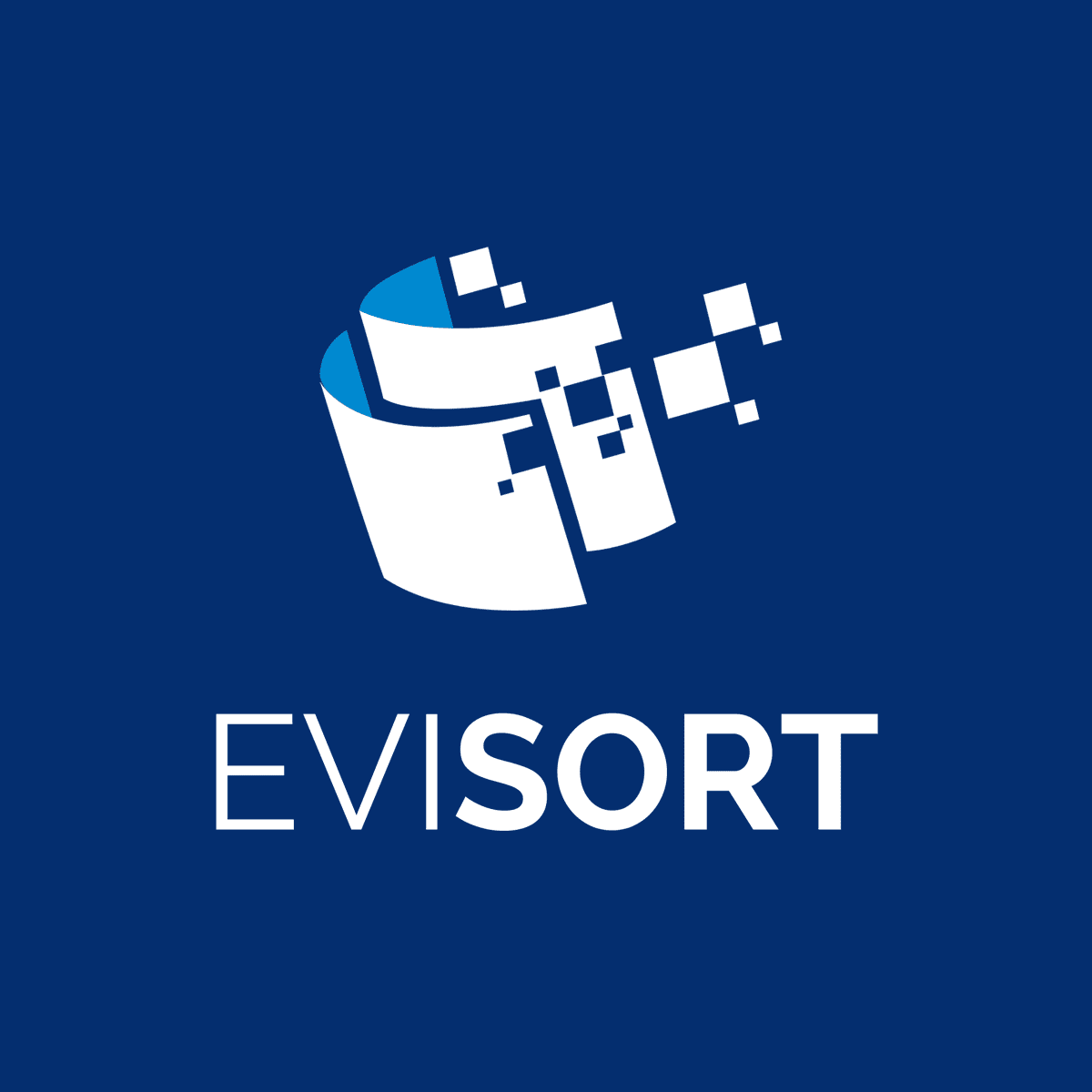 Evisort's contract intelligence platform, developed by Harvard Law and MIT alumni, offers rapid ROI in 30 days by centralizing contracts with no migration, uses AI to track and search metadata and provisions without manual data entry, and enables teams to draft, redline, approve, sign, report on, and renew contracts. The platform also has Intelligent Dashboarding, the first-ever self-populating dashboards that instantly visualize contract data from scanned Word files or PDFs and summarize key metrics without manual data entry.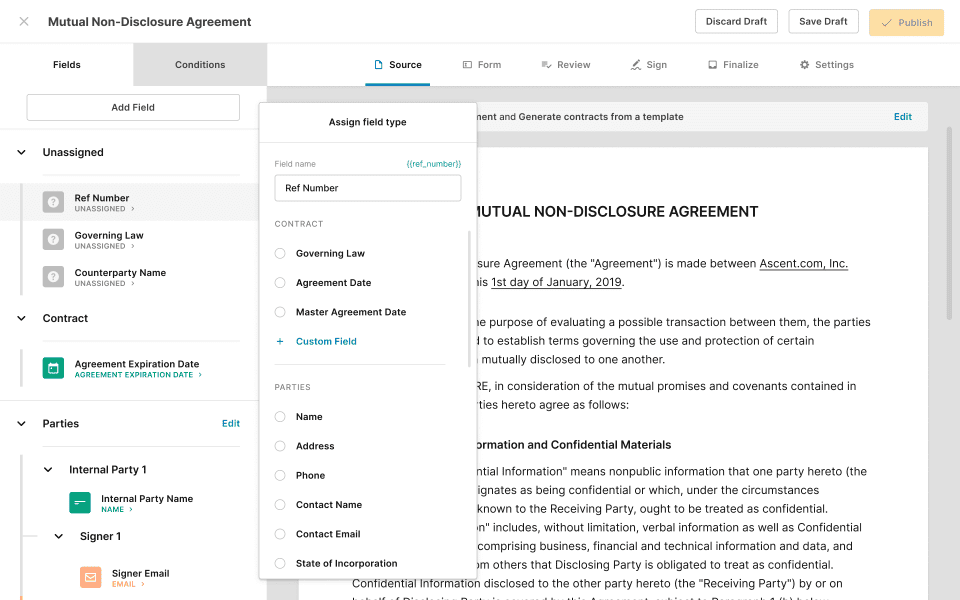 Evisort features include:
AI-powered contract analytics
Contract automation
Contract linear repository
A large amount of enterprise software integrations
Risk mitigation approval processes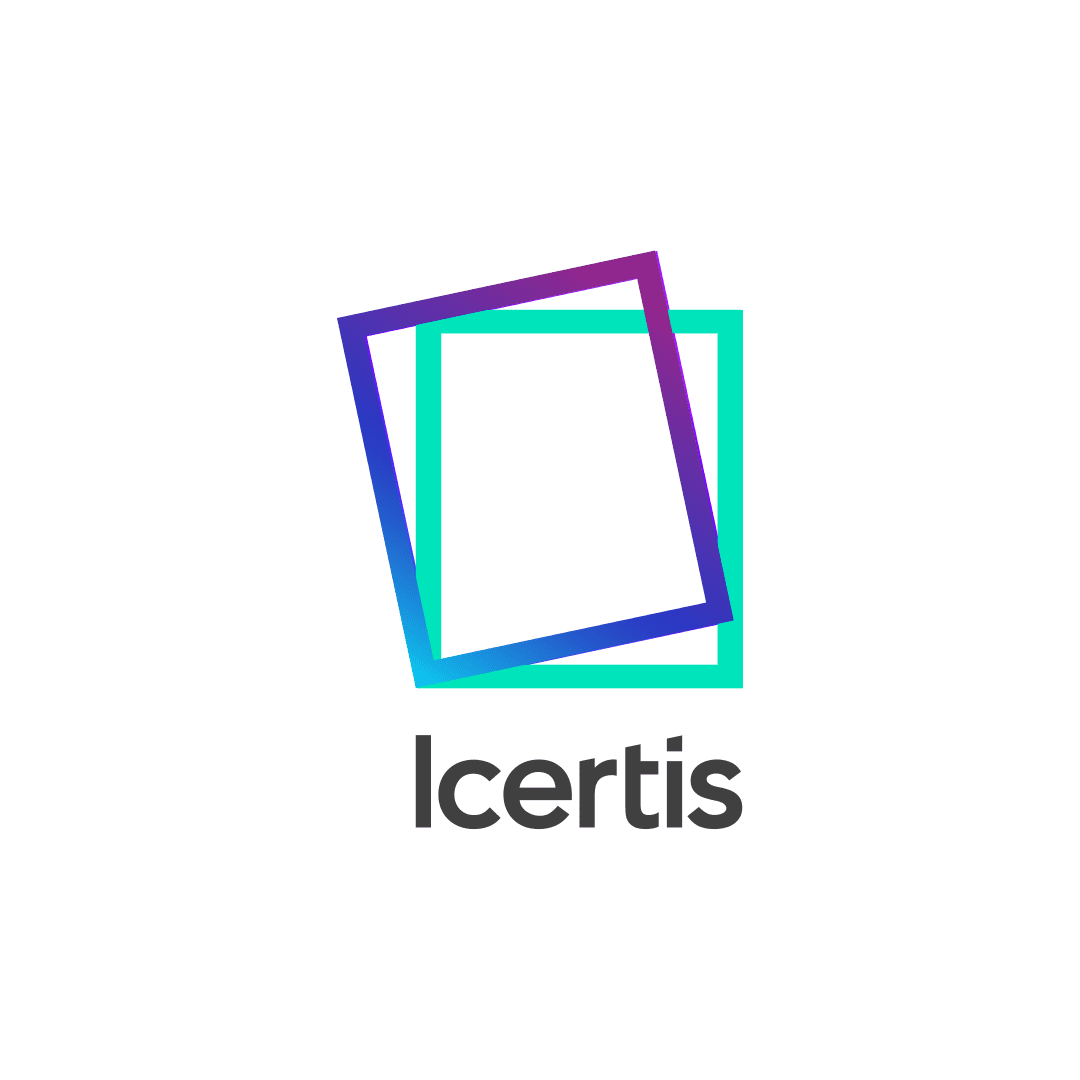 6. Icertis Contract Management Software
Icertis has expertise in a wide spectrum of CLM features like compliance, audit history, and compliance tools. It also integrates into all major ERP (enterprise resource planning), CRM, and spend management systems.
The platform include a dashboard to analyze risk based on internal data and third-party sources, which allows early detection of flaws or risk in a contract, so you can take early action to fix it.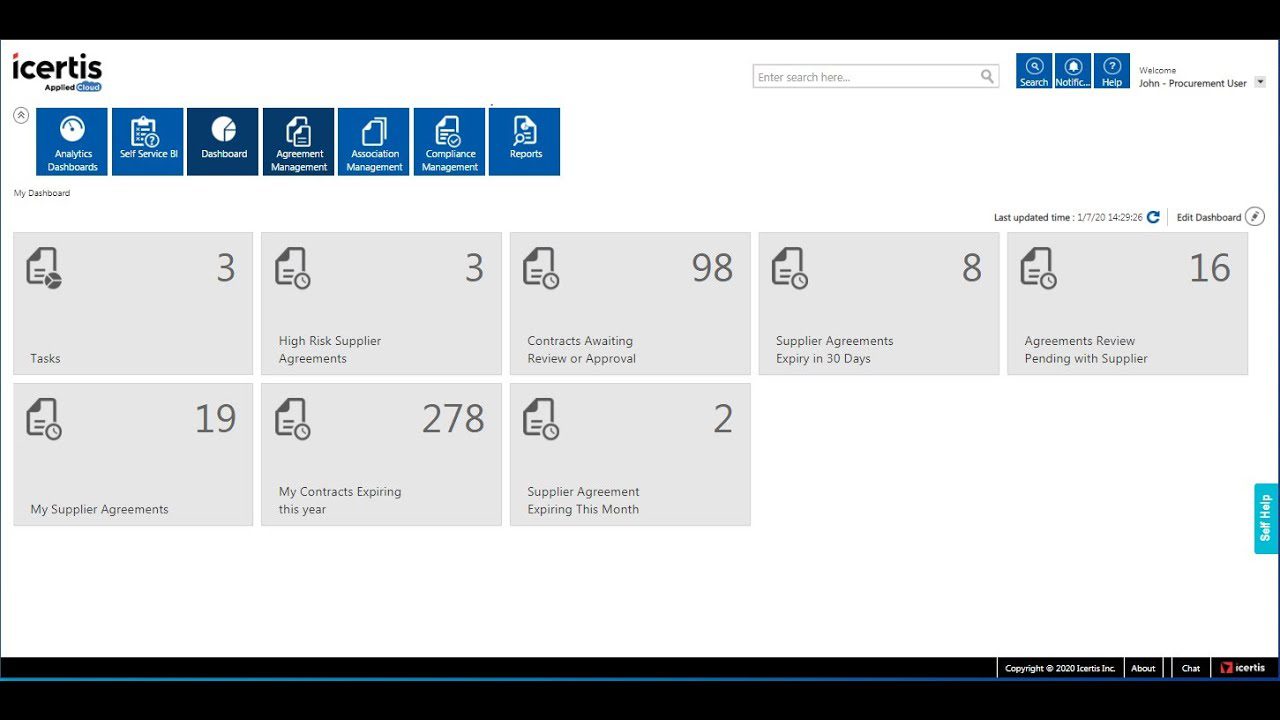 Icertis Contract Management Software features include:
AI-powered contract creation
Automated contract management
Governance, risk, and compliance tools
Proposal management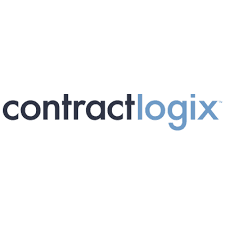 One of the longest-tenured contract management software companies, Contract Logix is a leading contract management company. Thanks to a long history of working in legal, IT, procurement, finance, and sales — hundreds of organizations have partnered with Contract Logix to digitally transform their contract management. The software was awarded "Easiest to Use" and "Highest User Adoption" within G2's Winter 2022 Mid-Market Contract Lifecycle Management Implementation Index.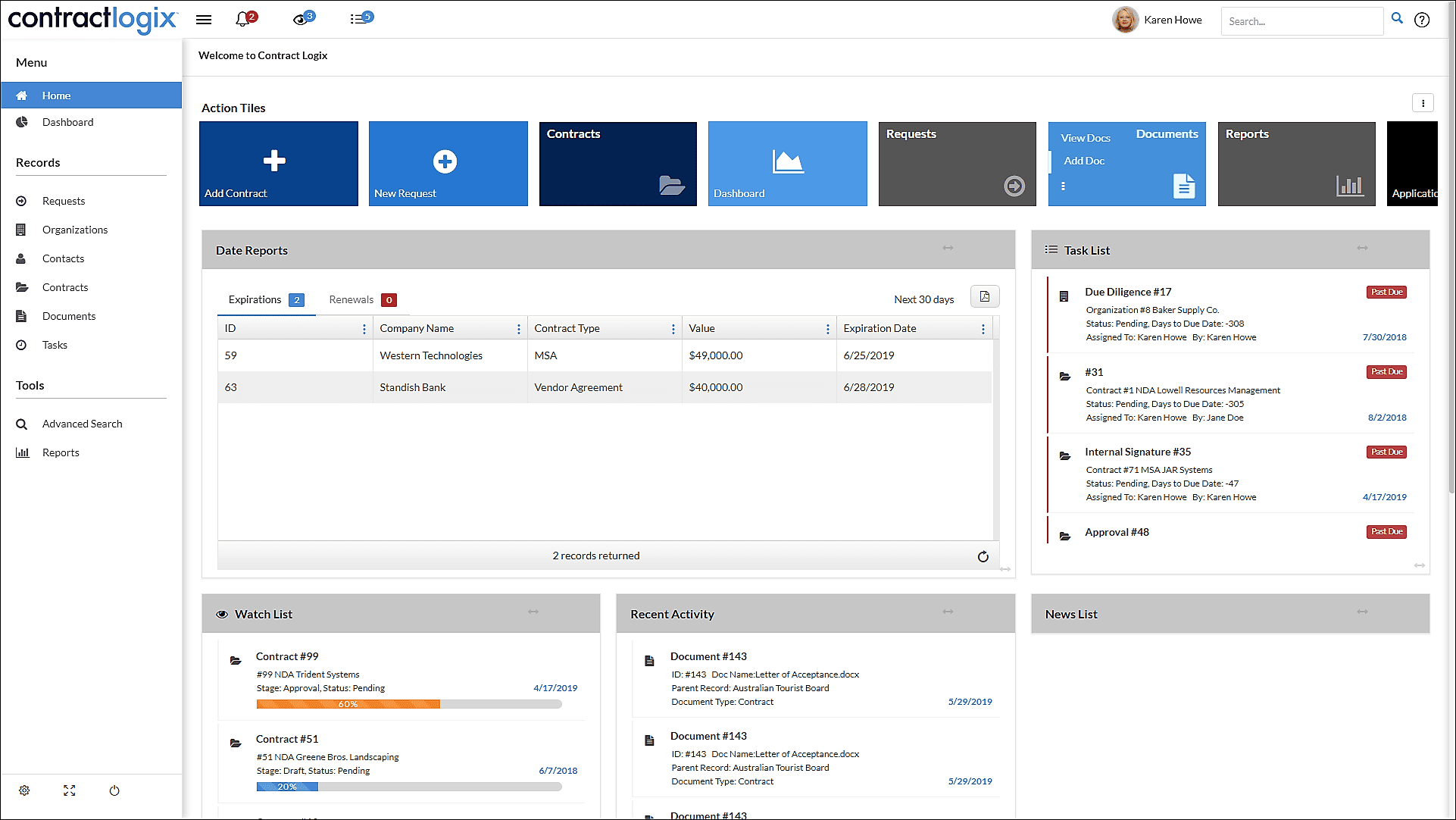 Contract Logix features include:
Secure contract centralization
Dynamic clauses and template libraries
Versioning, e-signature, and other real-time collaboration features
Automated workflows
Compliance alerts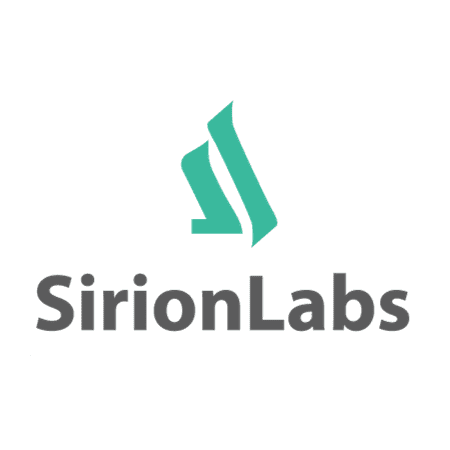 With over 5M+ contracts under their belt and users in 70+ countries, SirionLabs ranks high among CLM software (it surpasses benchmarks for analyst functions, according to SpendMatters) and published the highest ratings of any provider in nine areas, such as metadata extraction, intelligent apps, KPI modeling and the ability to model complex financial information/structures within a contract.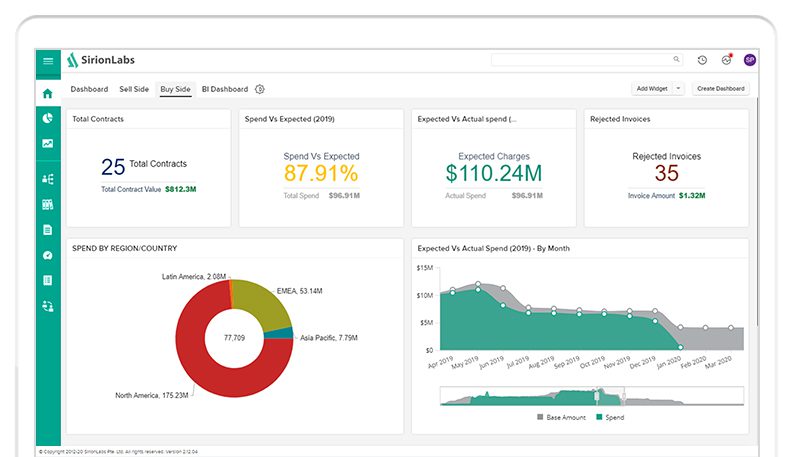 SirionLab CLM features include:
Contract document creation and management
AI-powered analytics
Smart workflows
AI-powered data extraction
Smart clause libraries
Team collaboration
Compliance process automation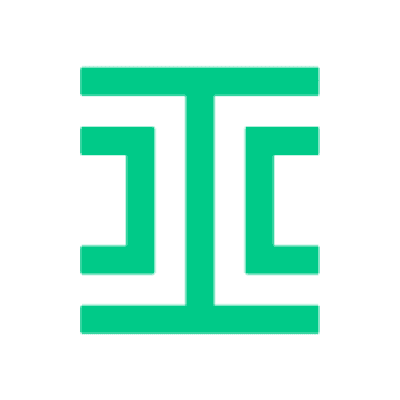 With a rating of 4.8 out of 5 on Gartner's CLM review site and a 94% "Would Recommend" rating, Ironclad is already established as a leader in CLM solutions. The solution recently released Clickwrap, a new product for managing online agreements. Clickwrap contracts are "digitally native, legally binding online agreements that don't require a signature. Is is also executed when the user clicks on a button" or checks a box. The use of Clickwrap contracts continues to trend upward, with each year seeing billions of agreements processed.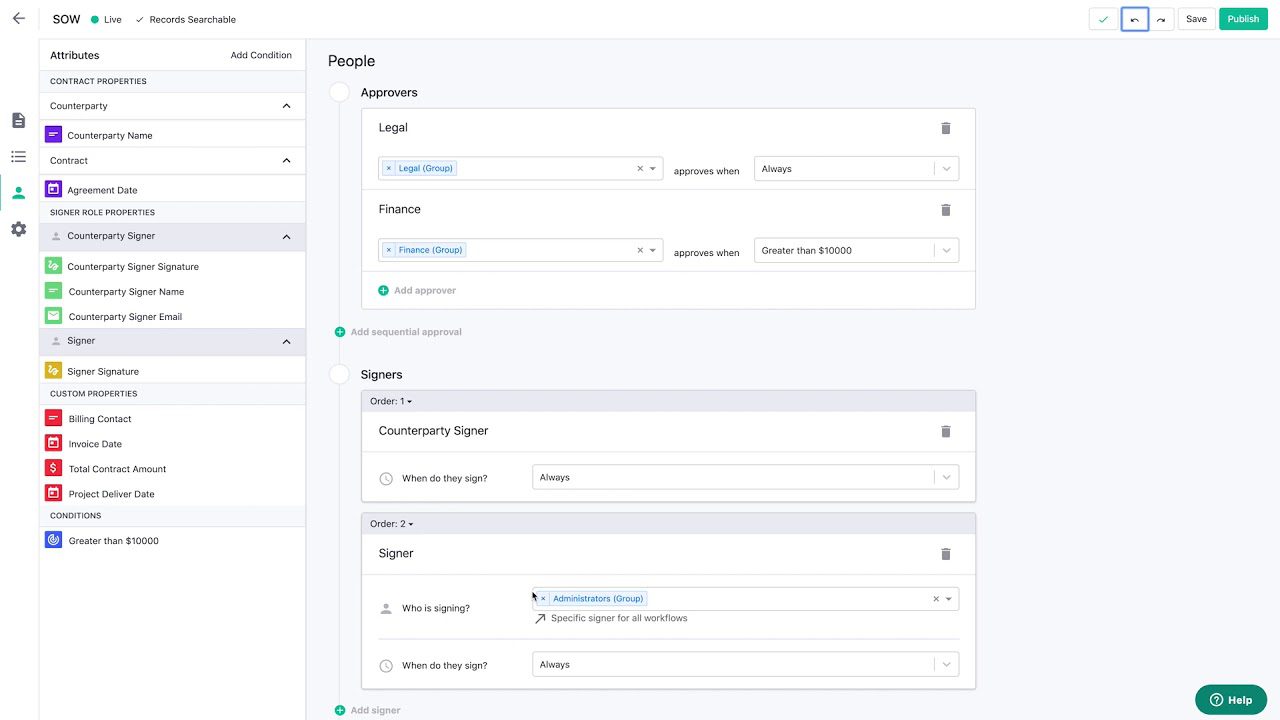 Ironclad CLM features include:
Digital workflows
Real-time contract collaboration
Compliance capture features
Centralized repository of contracts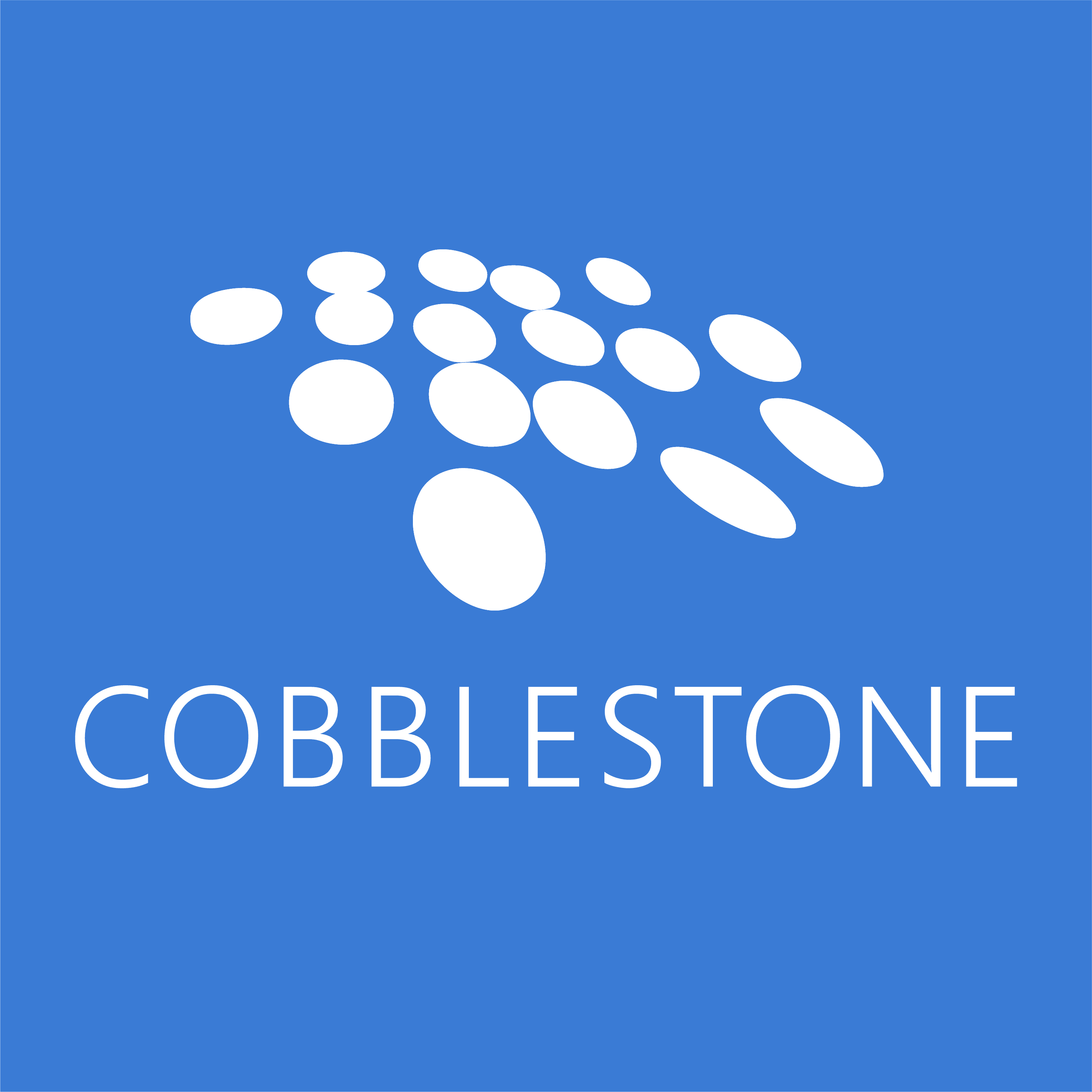 10. CobbleStone Contract Insight
CobbleStone is a feature-rich CLM solution that includes an unlimited amount of contract storage space, e-signature compliance, and financial tracking. It also incorporates the VISDOM® AI system to analyze contracts originating from internal or external data and transform that data into building blocks for improved contract oversight, proactive opportunity identification, and risk mitigation.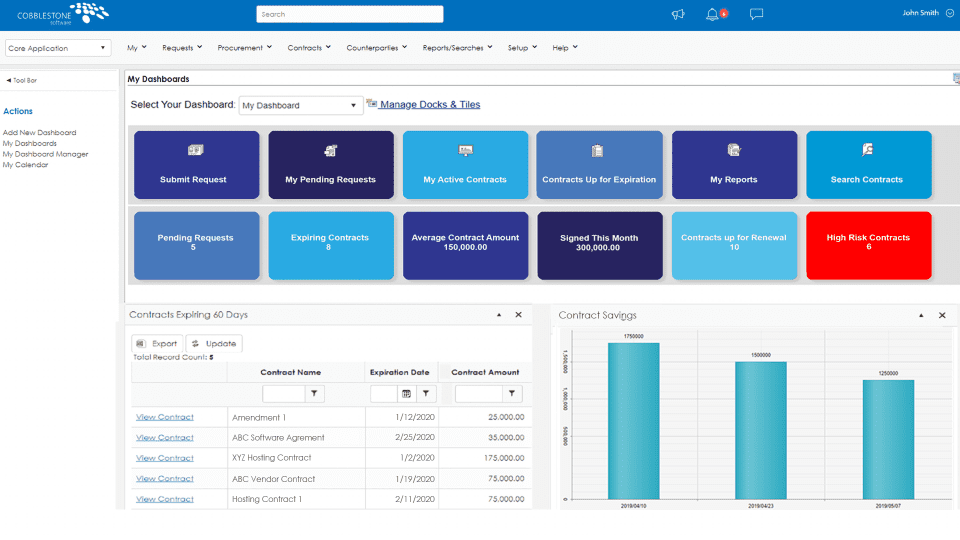 CobbleStone Contract Insight features include:
Secure online storing of contracts
Custom contract reporting and search features
Financial tracking tools
Real-time collaboration and contract versioning
Automated workflows
Clause and contract library of templates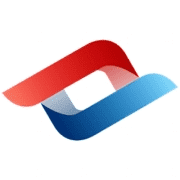 11. Agiloft Contract Management Suite
Agiloft, Inc. is a CLM software provider for commerce and contract lifecycle management. What sets Agiloft apart? Military-grade security that can protect documents by preventing unauthorized internal access and external data breaches and buttoned-down security access and user-access controls to mitigate operational risk.
The CLM tool has built its platform on security-first measures, including automated back-ups, strong anti-virus and malware protection, and safeguards against external users or internal power users.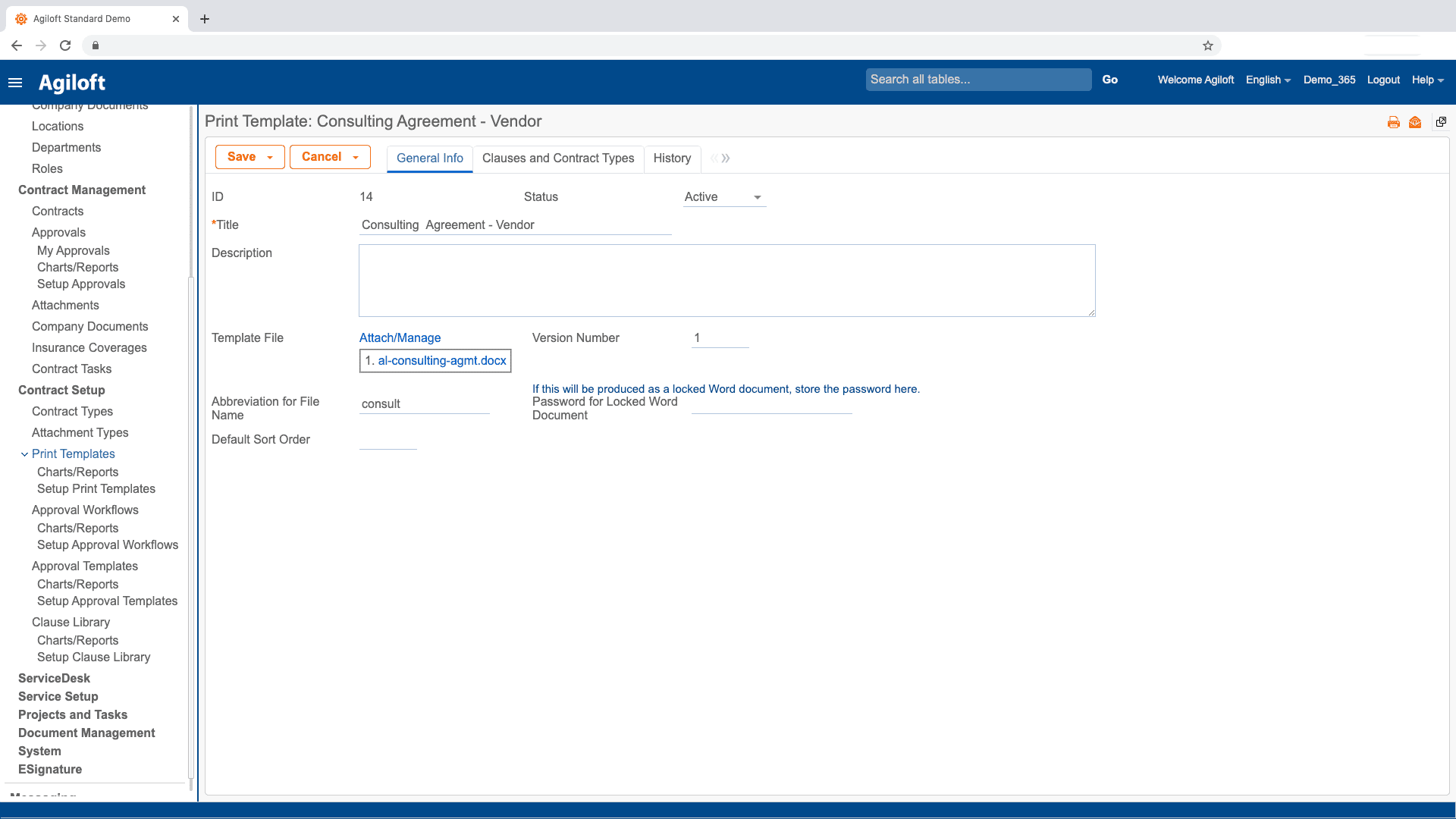 Agiloft Contract Management Suite features include:
Unlimited templates for clauses and automated workflows
Customizable reports and dashboards
Centralized repository of contracts
Text-rich contract search
Approval automation
Streamlined contract reviewal process
Let a CLM do the heavy lifting
Contracts are a lot of work, and kudos to the teams that put them together manually before CLM software became a thing. CLM software makes your job easier by reducing the time and energy spent building contracts. CLM software could be the addition to the legal team you always wanted but could never afford. Using these suggestions, research which CLM software works best for your needs and request a demo ASAP.

You'll be saving time and wasting fewer resources almost immediately — not to mention eliminating the headaches that come with the laborious grind of manual contract management. Let contract lifecycle management software do all your heavy lifting so that you can quickly and safely move on to more important tasks.
Drive adoption of your CLM with interactive CLM training and on-demand support with Whatfix
CLM software only works when your users are proficient in the platform. With Whatfix, create personalized, in-app content such as guided tutorials, tools tips, task lists, and self-help knowledge bases that teach your CLM users how to use various features across the platform, and highlight mandatory compliance fields.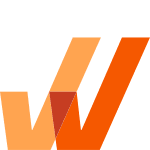 Request a demo to see how Whatfix empowers organizations to improve end-user adoption and provide on-demand customer support
Subscribe to get new content delivered directly to your inbox.