Force Majeure has been one of the most negotiated terms in this pandemic. Changing business dynamics in the period of Covid-19 have accentuated the risk of contract failure, and contracts continue to underperform due to unclear and inconsistent legal language. 
Contracts form the core of every business relationship hence directly impact the revenue and spend of an organization. Many organizations haven't automated their contract management approach and are still using paper-based methods. 
The uncontrolled revisions, outdated templates, and inconsistent language create risk exposure for the organization. More often than not, digitalization is limited to the usage of Microsoft Word. The absence of automation again poses the same challenges. 
Because of growing customer expectations, disrupted supply chains, and volatile market requirements, there's a dire need for change in the contract management scenario. Companies need to adopt an efficient contract lifecycle management process without any room for ambiguity.
What is Contract Lifecycle Management?
Contract Lifecycle Management (CLM) refers to the management of contracts to maximize business performance and minimize risk throughout the contract lifecycle. However, the scope of performance maximization and risk minimization is limited in manual contract management.
According to Gartner, "CLM is evolving from an operational record-keeping system, primarily used for legal audit purposes, to an enterprise-level core system addressing business risk, costs, and the pursuit of revenue maximization."
Contracts, being legally binding, are critical to an organization's performance. Unstructured contract management will expose your business to operational and financial risks. There's a favorable opportunity for digital transformation in contract lifecycle management. Organizations are engaging in the same to drive their performance and achieve their goals.
7 Stages of Contract Lifecycle Management
There isn't a set framework of stages in contract management, and the lifecycle can differ according to organizational challenges and procedures. For effective contract management, it's essential to understand various stages of the contract lifecycle.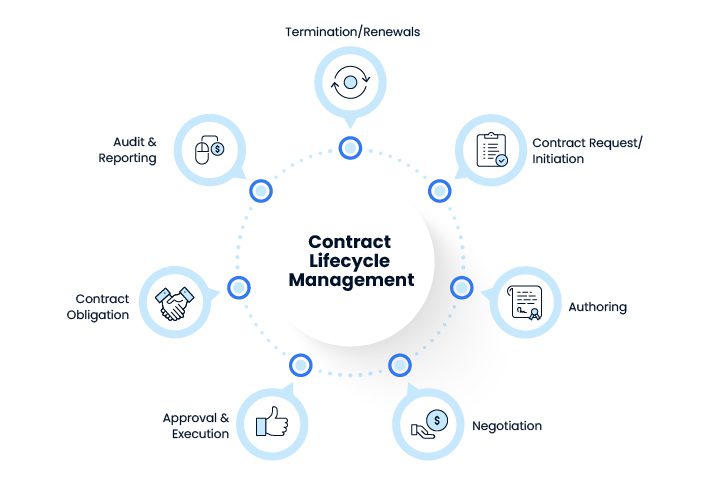 1. Contract Request & Initiation
Before contract initiation, it is essential to identify business objectives and gauge the risk appetite of involved parties. Often, locating the correct contract template is difficult, thereby making contract initiation a time-consuming task.
Slow cycle time pushes revenue from a deal to the near future, making procurement a roadblock. A best-in-class contract lifecycle management solution maintains a template library and ensures easy availability of ready-to-use contract templates. 
Drafting a contract is an extremely critical step as it's essential to set clear expectations for both parties. Any inconsistency in the language can lead to revenue losses if exploited as a loophole.
A well-designed CLM solution offers standardized and approved legal language. The solution consists of a library of contract clauses and terms to choose from. Most contract professionals are comfortable drafting a contract in Microsoft Word. Often CLM tools accommodate this capability in their design and provide professionals an option of utilizing the formatting capabilities offered in Word.
This stage requires a lot of back-and-forth communication between the two parties. A simultaneous comparison of the redlined version of the contract is essential to arrive at a mutual consensus. A contract management solution offers an in-built redlining capability and a side-by-side version comparison. The solution also allows tagging of the required stakeholders for review.
A contract requires multiple approvals from different functions in the organization. This chain of approvals consumes a lot of time and makes the contract cycle longer. A sophisticated CLM solution offers dynamic approval functionality. Based on several criteria like dollar value, industry, and contract type, users can create parallel and series approval workflows. Once all the approvals are in place, contract execution can commence without any delay.
Contract lifecycle management doesn't conclude with contract execution. Post execution, it's essential to ensure that stakeholders meet their deliverables and fulfill their obligations regarding their timelines, performance, and payments. Contract tracking is essential post-execution, as it increases contract compliance. A contract management tool offers visibility and control via features like automated alerts, milestone tracking, dynamic workflows, and analytics. 
Contract audits are required to ensure compliance and reduce exposure to any operational/financial risk. Manual audit and reporting are prone to human error. The solution allows you to track the audit trail and generate on-demand reports with ease. 
7. Termination & Renewals
Once a contract approaches its closing date, the termination/renewal opportunity should lead to revenue maximization and not go unnoticed. You can create automated alerts with a CLM solution. Based on the existing contract, a user can create a renewal contract in less time. 
What Stakeholders Are Involved in the CLM Stages?
There are various stakeholders involved in different stages of contract lifecycle management. Each of the stakeholders including sales, legal, finance, and supplier, has priorities in managing the contract lifecycle. A collaborative approach is essential in an effective contract management process and requires a well-designed solution. 
5 Challenges of Manual Contract Management
Research shows that poor contract practices in organizations cost them 9% of their revenues each year. Manual contract management is highly time-consuming and inefficient. Following are the challenges associated with the manual contract management process: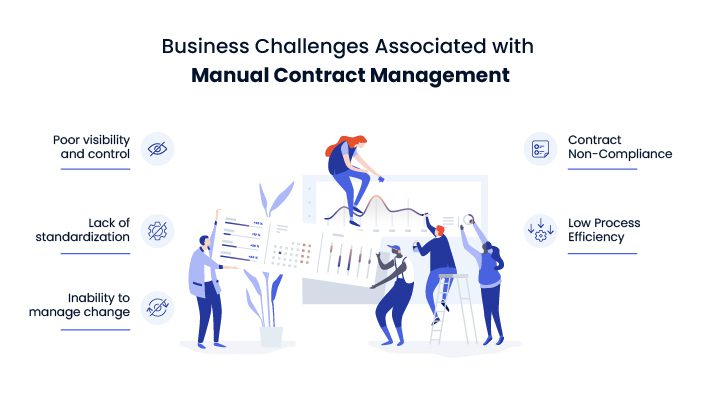 1. Poor Visibility and Control
With the involvement of multiple stakeholders at all times in contract lifecycle management, decentralized contracts offer poor visibility. Navigating through required documents is a task. Visibility is also essential during the contract renewal process. If the contracts and other legal documents aren't visible in a centralized location, you can exercise limited control over them.
2. Lack of Standardization
Inconsistent legal language can create uncertainty in the contract, thereby increasing risk exposure. Loophole because of the vagueness can further be exploited to result in loss of revenue or compliance.
3. Inability to Manage Change
A contract management solution is of prime importance to manage changes like renewal dates, pricing changes, and policy changes. Your retention rate is dependent on how efficiently you can communicate these changes to your vendors and other involved stakeholders.
4. Contract Non-Compliance
In the absence of a contract lifecycle management solution, contract tracking isn't feasible post-execution. Obligation management becomes inefficient, cost comparison also becomes difficult, thereby increasing non-compliance.
5. Low Process Efficiency
The manual contract management process is highly inefficient. Document management is difficult, and because of increased timelines at each stage of the contract lifecycle, turnaround time (TAT) increases, resulting in lower process efficiency.
Digital Transformation and Contract Management
Due to challenges in the contract management space, there exists a need for digital transformation. Before Covid-19 adversely affected the commercial segment, 92% of companies realized a need for change in the digital era. However, Covid-19 has proved to be a digital accelerator, and at 79% of companies, digital transformation budgets grew in response to the new needs created in the pandemic. 
With organizations moving to a virtual environment and work from home being the preferable option, it is essential to use a CLM solution to speed up the contract lifecycle. Earlier the prime focus of organizations was cost reduction. In the pandemic, the focus has shifted to value provided to the customers. 
Digital contract transformation modernizes contracting efforts and allows harnessing of the contract data to deliverable actionable business insights.
Boost the digital adoption of your CLM with Whatfix
Discover how Whatfix's Digital Adoption Platform can help your organization adopt a new CLM software solution with in-app guidance, personalized CLM onboarding and training, and self-help knowledge bases. 

Benefits of Contract Lifecycle Management Software
Finding a CLM software application well-suited to your organizational needs is a critical task, and organizations often question its relevance in their business processes. However, a well-designed CLM solution enhances the process efficiency and proves ROI quickly for organizations.
Here are the main benefits of using CLM software:
1. Seamless User Experience
Contract management solutions automates the entire lifecycle and reduces the risk of exposure and human errors. The ease with which you can handle complex contracts provides a seamless user experience. It simplifies the process of contract management and provides greater transparency. No matter who drafts the contract, a contract manager can track the contract details without referring to different documents.
2. Centralized Contract Repository
A CLM solution maintains a centralized repository of contracts and provides easy accessibility and visibility to enterprise-wide contracts. Document management becomes simplified and efficient with a contract lifecycle management solution.
3. Workflow and Stakeholder Engagement
Securing multiple approvals from different functions is a time-consuming task and increases contract lifecycle time. CLM solutions encourage a collaborative approach. It allows you to configure dynamic workflows and comment suggested changes leading to better engagement of the stakeholders.
A well-designed CLM software platform decreases turnaround time (TAT) for contracts. It accelerates the closing of deals and results in higher revenue for the organization.
5. Contract Compliance and Quality
With a contract management tool, organizations can improve on the overall quality and consistency of their contracts. Consistency in legal language improves the quality of contracts. It limits the chances of any liability created due to ambiguity in contracts. Compliance with supplier terms and timelines increases due to greater visibility, automated alerts, and improved obligation management. 
6. Reporting & Analytics of Contracts
AI-powered analytics allows you to measure the contract's performance and provides you insights to make changes in the contract management process early on. 
8 Best Contract Lifecycle Management Software Solutions in 2021
Conga Contracts
SAP Ariba
Icertis Contract Management Software
Evisort
Docusign CLM
LinkSquares
Contract Logix
Workday Strategic Sourcing
Conclusion: The Road to Successful CLM Adoption
User adoption is imperative to derive the full value of your investment in a contract lifecycle management solution. Often the support teams are not equipped with enough resources to deal with the queries, making the investment in technology questionable. 
Whatfix's Digital Adoption Platform provides organizations the tools to guide you through this journey of digital transformation. With in-app guidance, personalized training, and interactive walkthroughs, it accelerates user adoption of your organization's new contract management solution. Whatfix comes with a self-help feature that encourages your employees to explore the multi-format content available in the self-help feature before overwhelming your support team. It further analyzes the behavioral data to provide a personalized user experience.
Empower your employees with a modernized CLM solution and power it with Whatfix to maximize adoption and improve your team's productivity. Discover how Whatfix can boost the digital adoption of your contract management solution. Schedule a personalized demo today!
Increase CLM end-user adoption with Whatfix
With Whatfix's Digital Adoption Platform, create in-app learning flows, contextual training and onboarding, and self-help knowledge bases. See it in action below.