If you're looking to make changes in your internal IT processes or establish brand new procedures, you need to build an IT roadmap.
Whether you're switching to a different CRM system or investing in a procurement system, a technology roadmap will help you go through the digital transformation process and IT transition smoothly. The question is — how do you build one?
In this guide, we're covering everything you need to know about IT roadmaps before making any IT investment.
An IT roadmap is an outline that maps out strategic steps for realizing IT initiatives within an organization. It should be an inevitable part of your change management strategy.
When going through technological change, a clearly defined IT roadmap helps to prevent workflow disruptions and maintains stable operations.
IT Roadmap vs. Product Roadmap
Before we dive in, let's first state that IT roadmaps and product roadmaps are not the same.
A

product roadmap

is a visual plan communicating your product vision and its development stages created and managed by your product team. It's entirely focused on the product your company is building and what features or development work your engineering team is working on. Often, product roadmaps are displayed publicly to set the right expectations with customers or partners.  

An

IT roadmap

provides direction for managing your internal business toolkit and digital workplace. IT roadmaps are solely built for internal use and provide a roadmap for existing and new software applications and technology that your internal employees are using. IT roadmaps are built and managed by operation managers and IT leaders.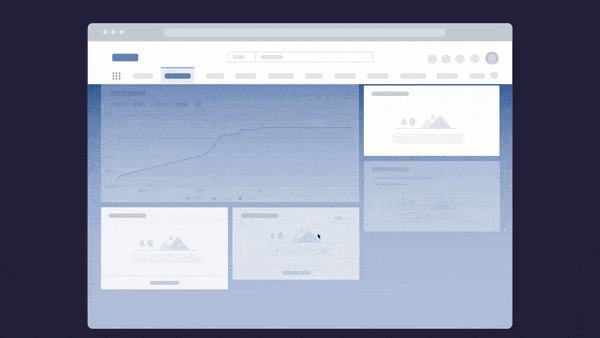 Above: Enable your employees with contextual user support and accelerate IT adoption with Whatfix's digital adoption platform.
The Whatfix Digital Adoption Platform empowers IT teams to create in-app guidance and self-service user support on all internal desktop, web, and mobile applications. Enable employees with Self Help, which overlays onto your CRM, HCM, ERP, CPQ, and other digital workplace applications. Self Help connects to your process and IT documentation, LMS, video tutorials, onboarding documents, and other IT support-related content to provide employees self-help, at the moment of need. Create additional in-app guidance and pop-ups to contextually guide users through applications and alert them to process changes.
There are four types of IT roadmaps you should distinguish between:
An enterprise IT roadmap is a presentation of a company's strategic IT plans on its way toward achieving its business objectives. It helps to conceptualize an enterprise architecture vision through mapping out a range of initiatives and projects, like digital transformation, change management, enterprise service management, and legal changes.
An IT project roadmap is a strategic, big-picture overview of the key steps of a project. Rather than focus on specific nuances, a project roadmap conveys the key milestones and goals of a project.
3. IT architecture roadmap
An IT architecture roadmap is a representation of a complex system that demonstrates how software systems used by an enterprise-sized organization fit together with internal processes, capabilities, and goals.
4. Engineering IT roadmap
An engineering IT roadmap is a technical plan outlining a long-term vision for developing software or physical products. In simple terms, it's a summary of milestones and goals engineering teams need to reach before they complete the development process.
6 Benefits of IT Roadmaps
Creating an IT roadmap is a step toward improving business operations. With an overview of their strategic responsibilities to the company, your IT department and operations managers will be more likely to follow established processes and achieve consistent results.
By mapping out your IT initiatives, you ensure you are making the most efficient use of your budget. Instead of acting chaotically and testing different approaches, you follow a clear plan and don't waste your resources.
3. Launch more strategic initiatives
When you have a clear view of your current strategy, you have more space to launch new strategic initiatives. Having your IT projects organized, it's easier to identify what you're missing to reach your company's broader strategic goals and prioritize initiatives accordingly.
An IT roadmap makes it easy to monitor your progress through your IT strategy. By taking a look at the milestones you've defined in your IT roadmap, you can always understand where you are on your way toward achieving the final goal.
5. Align key stakeholders
By creating an IT roadmap and sharing it across your organization, you're creating visibility that leads to better alignment among stakeholders and employees. A roadmap solves the problem of under-communication and helps everyone involved to be on the same page.
SaaS waste occurs when the software you pay for isn't used at all or underused. Approximately 29% of your organization's spend on SaaS services is wasted. A clear IT roadmap helps to prevent it by giving you full control over your growing stack of SaaS tools. You'll never forget about recurring subscriptions you don't need anymore or purchase new software when your existing systems are capable of performing the tasks you need.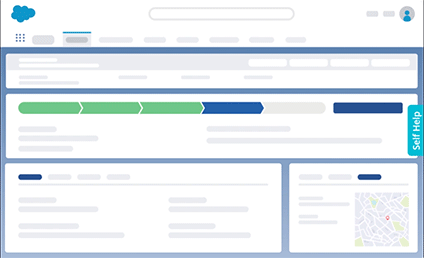 Create personalized learning & training flows for your IT roadmaps with Whatfix
6 Elements Of An IT Roadmap
With all the benefits of a solid technology roadmap considered, you must be convinced to create one for your organization. So what makes a good IT roadmap?
Any roadmap consists of six major elements:
Long-term objectives should be specified in your IT roadmap. As the first step, you need to identify your ultimate goal. Is it cutting operating costs, implementing automation, or something else? Document it in your IT roadmap.
It's going to take a while before you reach your long-term goals. Without achievable milestones, it's difficult to keep your team motivated and hardly possible to track the progress.
As such, your IT team or operations managers should define measurable, time-bound goals that you'll need to reach to get closer to your bigger objective.
When you have established goals and milestones, you can think of the steps you need to take toward achieving them. Here's where you define the work to be done and specify who does what. The more detailed you are, the easier it will be for stakeholders to stick to the plan, align their efforts, and monitor the progress.
It's hard to imagine a linear roadmap. And you don't have to. You can't create a complete project plan from start to finish without knowing what roadblocks you're going to face on your way.
A good IT roadmap anticipates decision points where you assess what's been done so far and make strategic decisions on the further direction of your project.
What do you need to successfully complete the project? At this point, you should define the resources (e.g. budget, personnel hours, skills, etc.) your initiative requires. It's important that you're realistic with your estimates — allocate slightly more resources than you think you might need, as there surely will be unexpected issues you'll need to spend time and money to deal with.
Finally, an IT roadmap includes a schedule showing when milestones are to be reached. In project management, it's also known as a timeline. This element is an overview of all the key IT steps and milestones laid out over a set time frame. You'll need it to consistently progress toward your project goals and compare your achievements against a set time frame.

Whatfix drives technology adoption. See it in action.
4 Examples of IT Roadmaps
Looking for inspiration for creating your own IT roadmap? Here are four examples you might want to build your roadmaps on.
A timeline roadmap helps to communicate project priorities to stakeholders and sets the right expectations as to how much time each step should take. This example of a roadmap includes a timeline displayed at the top with all steps written in bars below it.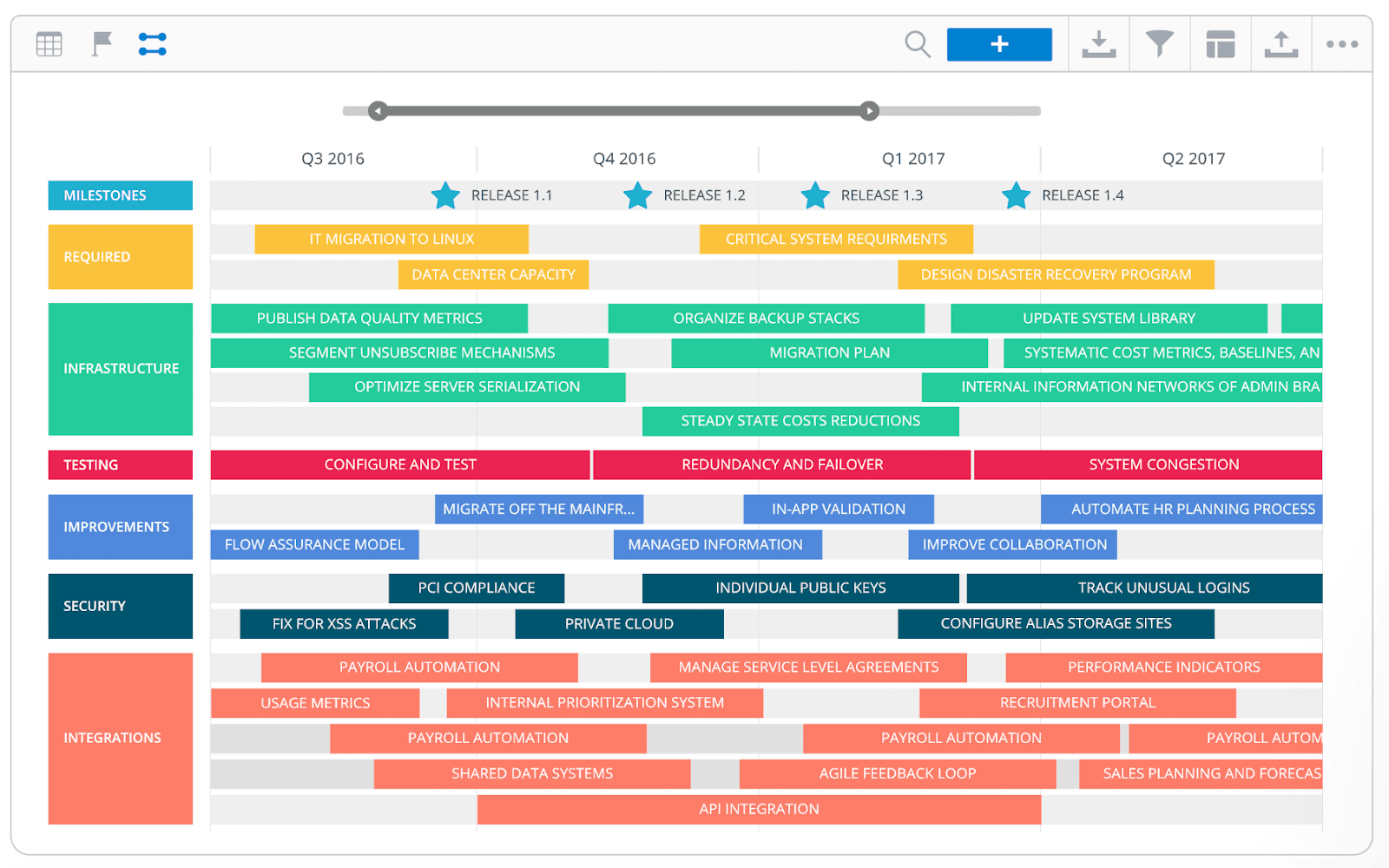 A basic swimlane IT roadmap is easier to navigate, but it doesn't offer a visualization of your project progress in time.
Swimlane roadmaps are theme-oriented and don't include a timeline. They're a good option when you want to build your roadmaps around sprints, roles, or other themes.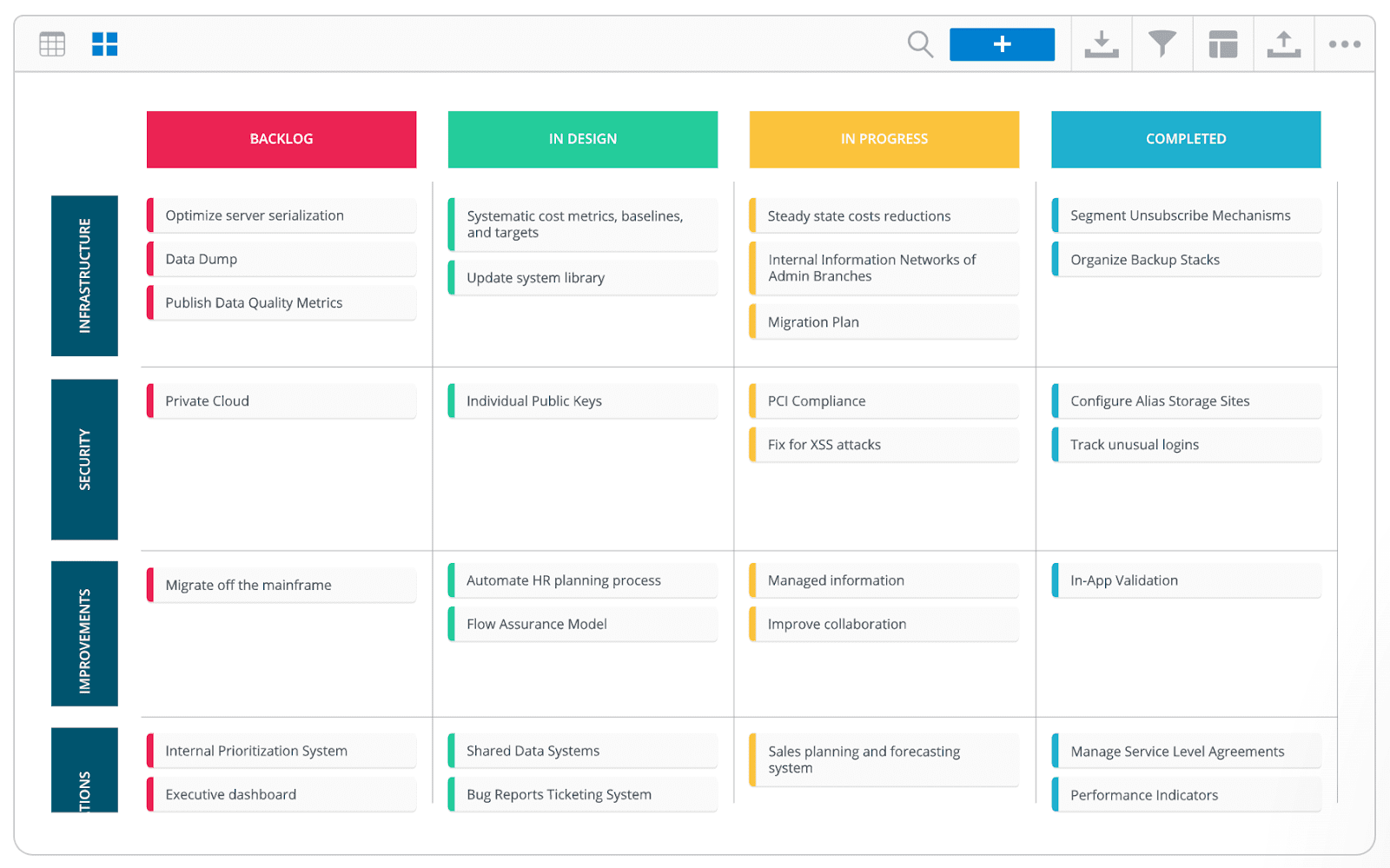 3. Technological change management roadmap
If you're looking for more specific examples, the following two roadmaps are right for you. 
This roadmap outlines a technological change management plan following a set timeline. It provides a view of the milestones that need to be reached to support a business change.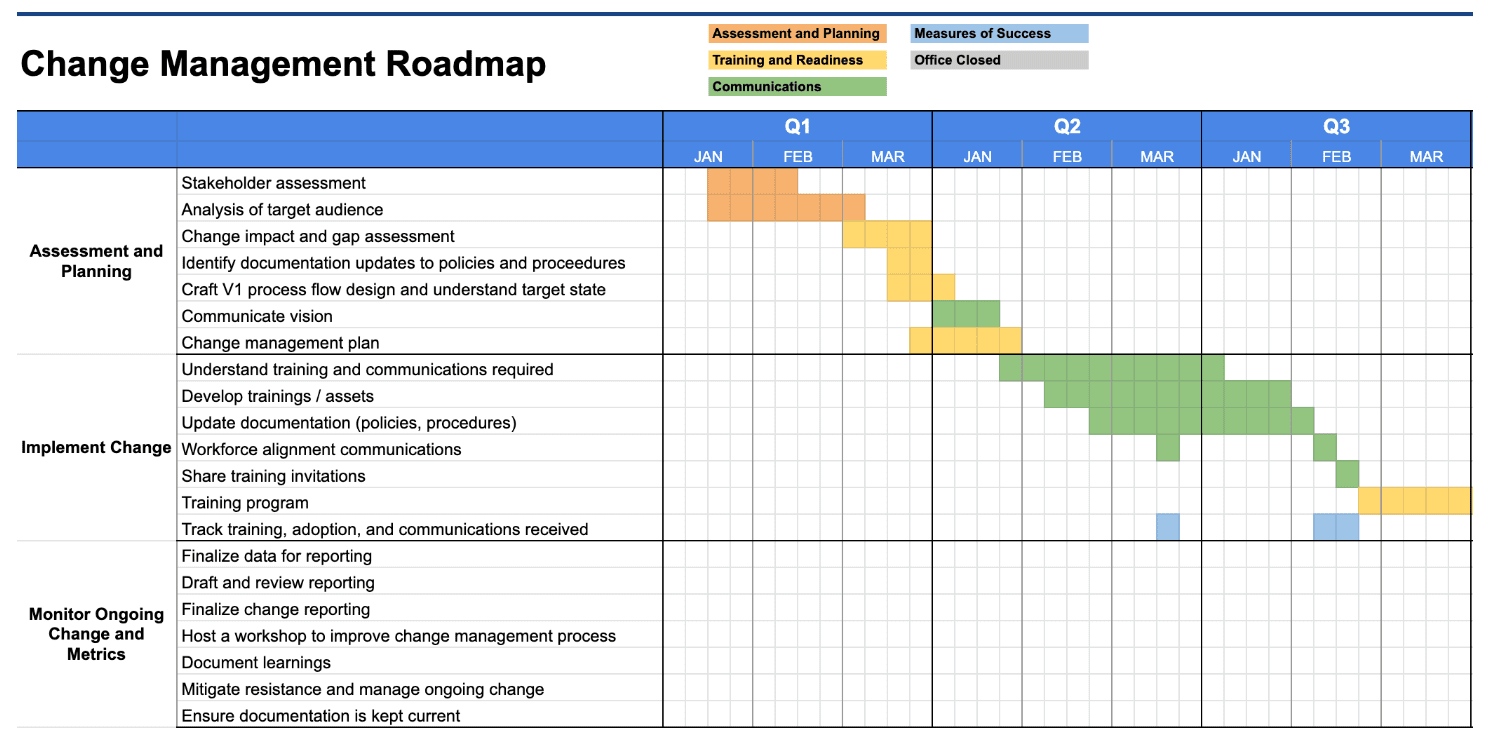 4. Quarterly infrastructure enhancement roadmap
Any company needs to perform digital transformation at some point – you can't keep your software stack fixed. If you're about to go through IT infrastructure enhancement, you'll need a roadmap similar to the one we're providing below.
An IT infrastructure roadmap allows you to plan big changes in your tech stack and prevents infrastructural failures as you're undergoing digital transformation.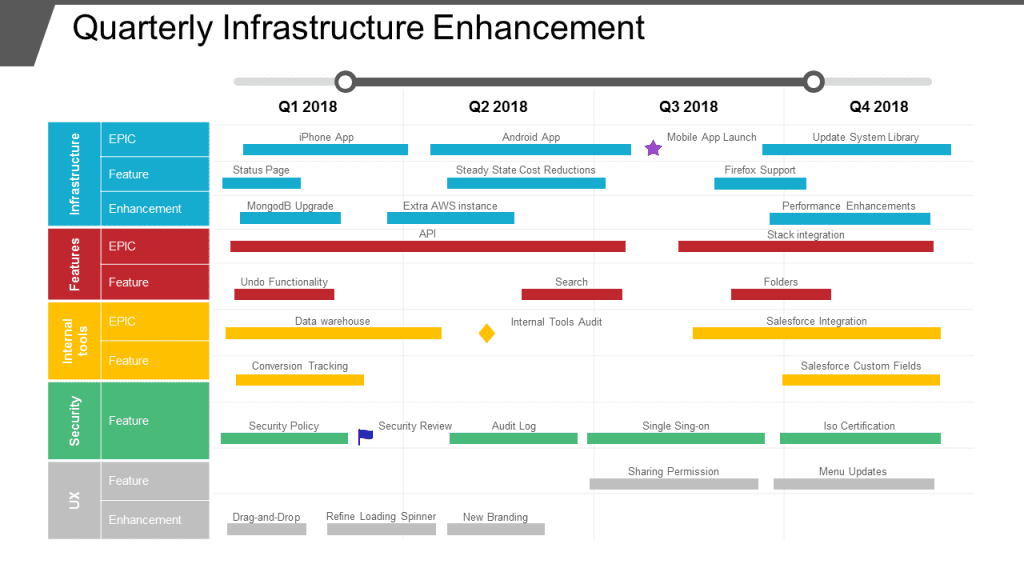 6 IT Roadmap Best Practices
Here's how you build your own IT roadmap:
The first component of any roadmap is a clear end goal. Start with defining the strategic objective of the entire project, and it will be easier to develop short-term goals that will help you hit the target.
An IT roadmap isn't built by one person. All the stakeholders and decision-makers should bring in their input on how they see the development of the company's IT strategy. 
Collecting feedback and using it to develop a roadmap also increases the chance people will actually stick to it.
3. Set realistic timelines
Being realistic is the key to creating an effective roadmap. You should be practical when you set goals, allocate a budget, and most importantly, define timelines. It doesn't matter how sleek your plan is if people can't meet unrealistic deadlines. 
Talk to your team, estimate their capacity and skills, and set project timelines based on your findings, not your own ambitions.
4. Define roles and responsibilities
A lack of clear responsibilities is one of the reasons a project roadmap doesn't work. As you develop your IT roadmap, make sure to clarify who does what (and ideally, when) to avoid double work and prevent conflicts.
5. Stick to a consistent structure
Create a template you'll stick to when developing IT roadmaps. Not only does it helps to create technology roadmaps faster, but it also makes it easier for employees to follow them.
6. Keep your roadmap updated
Your IT roadmap should not be static. Trends and technologies are changing and so should your roadmap.
Of course, you aren't supposed to change your plan every week. But don't hesitate to make adjustments as your revise your strategy every quarter or six months.
The good news is — you don't have to create IT roadmaps manually. Pick one of the following tools to facilitate the process of designing and collaborating on technology roadmaps.
Praxie is a comprehensive platform aimed at helping businesses streamline operations. The platform offers over 100 roadmap templates for IT teams and operations managers. Alongside a collection of templates, you'll access an app for creating and managing custom-built IT roadmaps.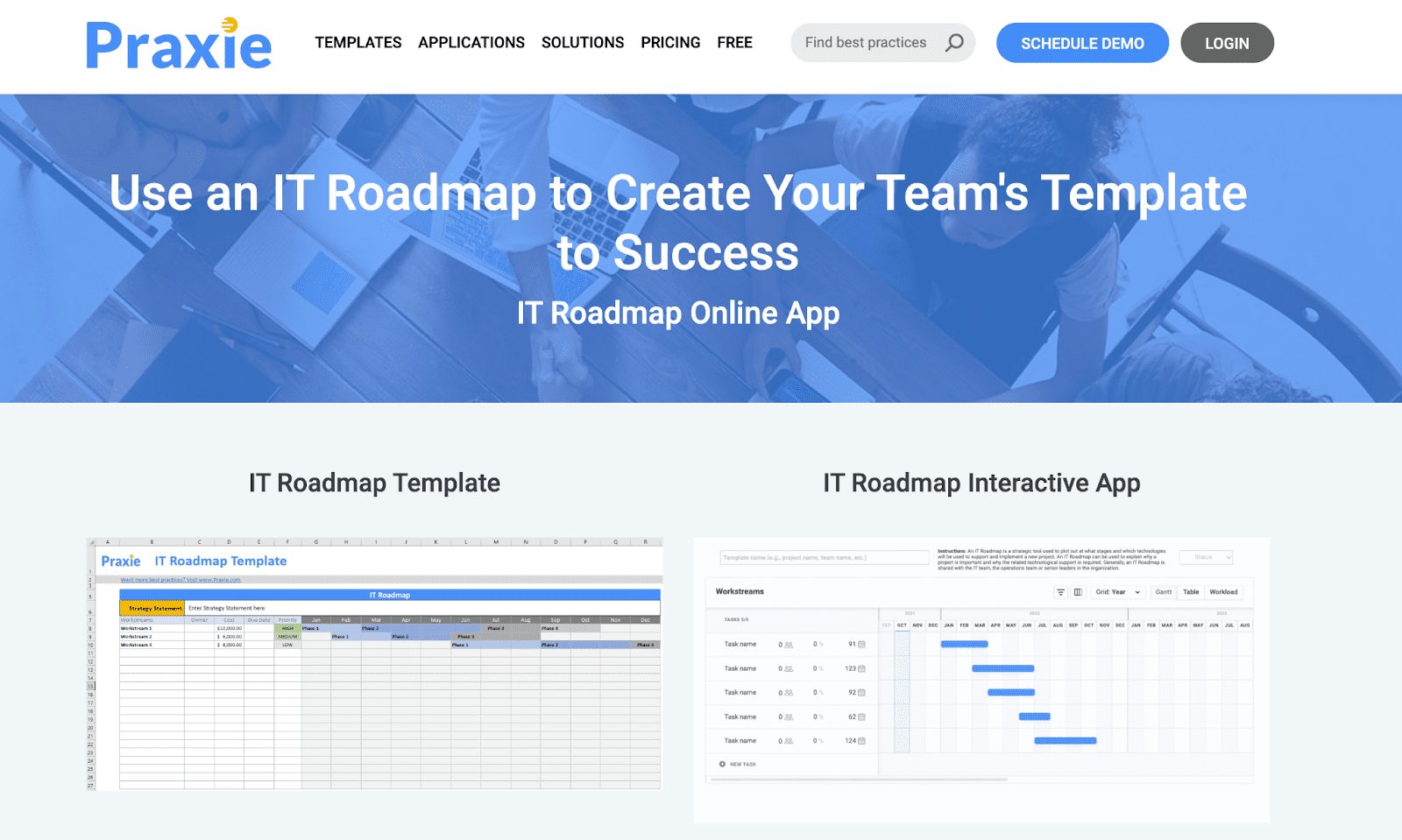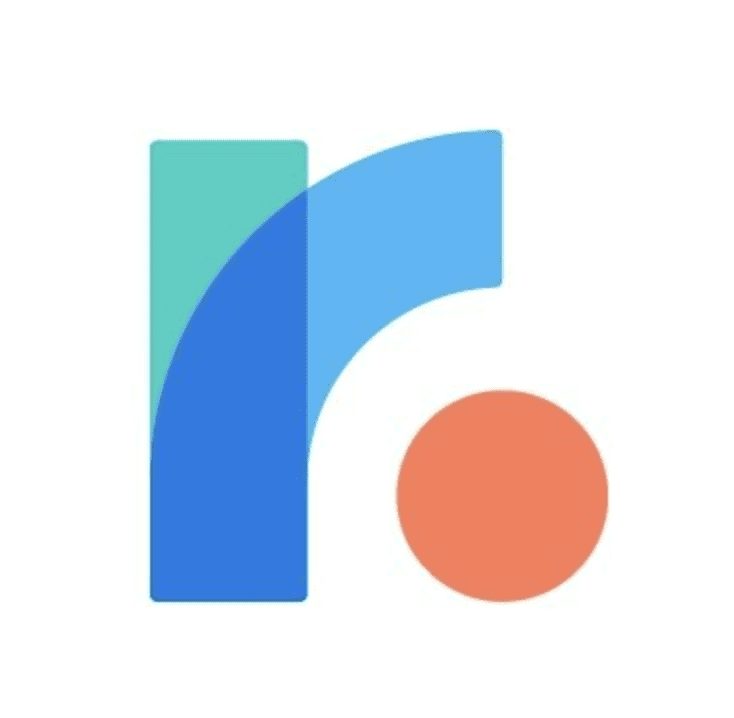 Roadmunk is a dedicated roadmapping tool. While it focuses on product roadmaps, it's also useful for creating strategic IT roadmaps. The tool helps to prioritize tasks, capture feedback, and collaborate directly within a roadmap. 
Both a timeline and swimlane visualization are available with Roadmunk. There are also a lot of templates you can build your projects on.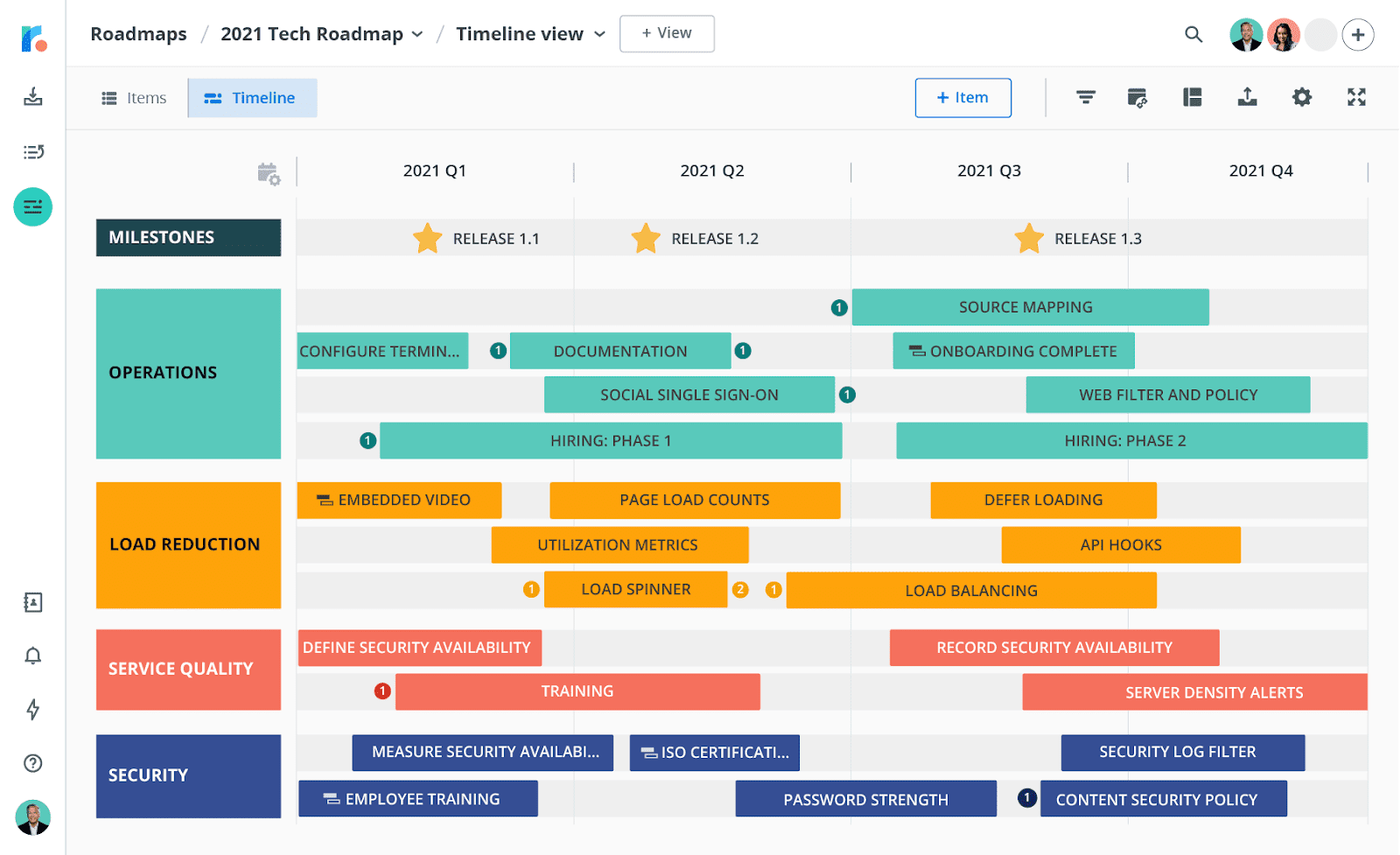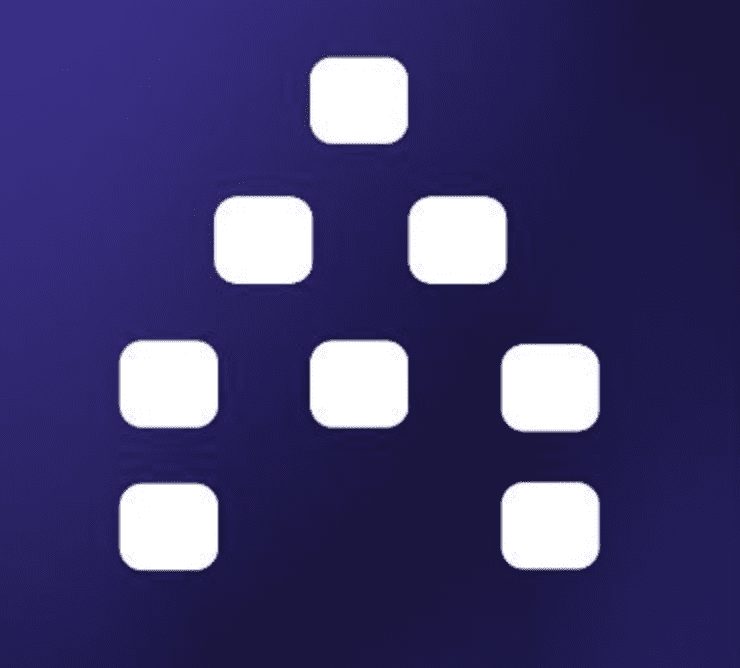 Cascade is strategy software for planning and execution. It includes a range of tools for strategic planning, product roadmapping, and change management. With Cascade, you can build roadmaps with an intuitive drag-and-drop builder and get automatically generated visual representations of your strategic plans.  
Cascade offers a forever-free plan for small teams.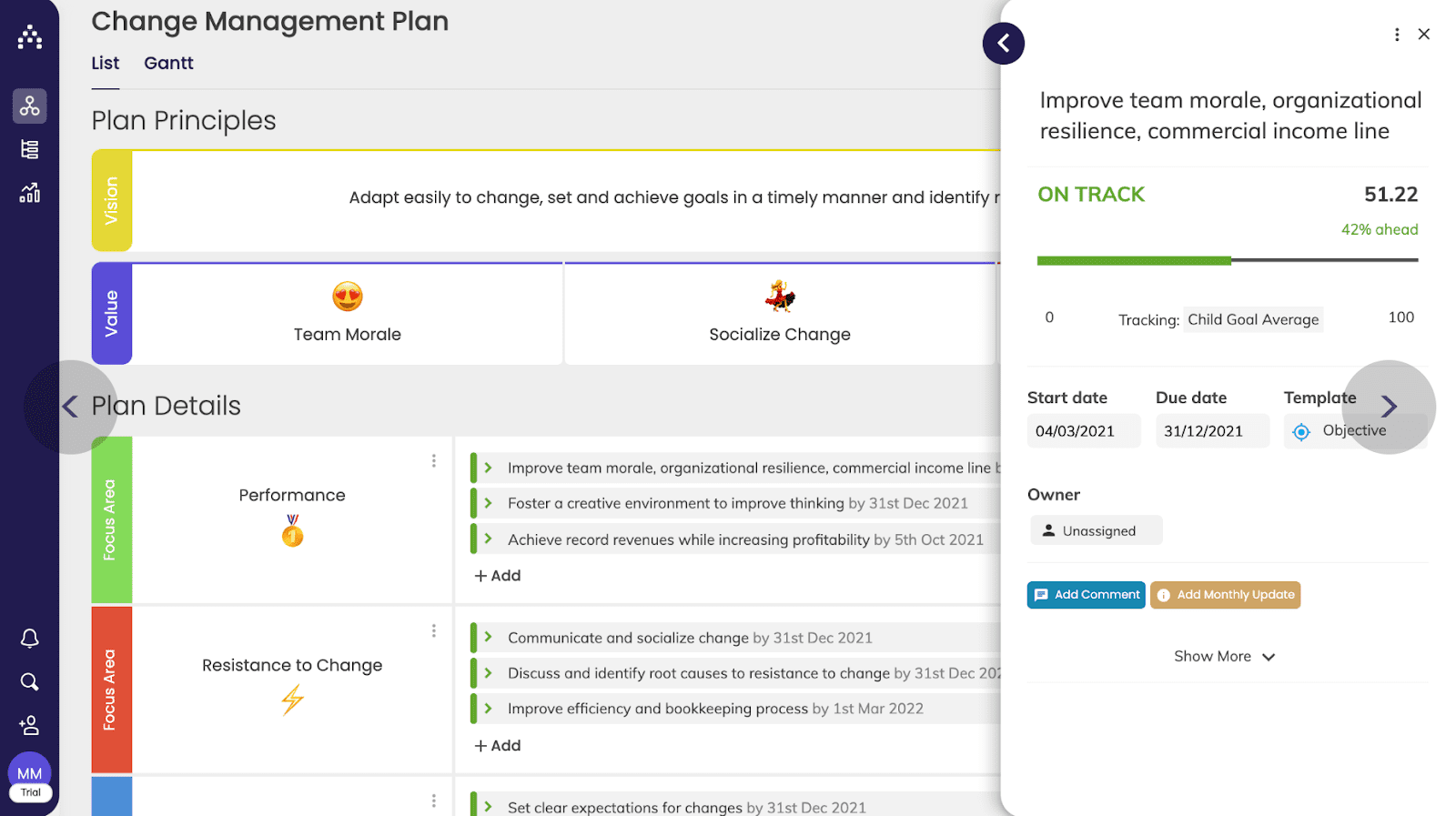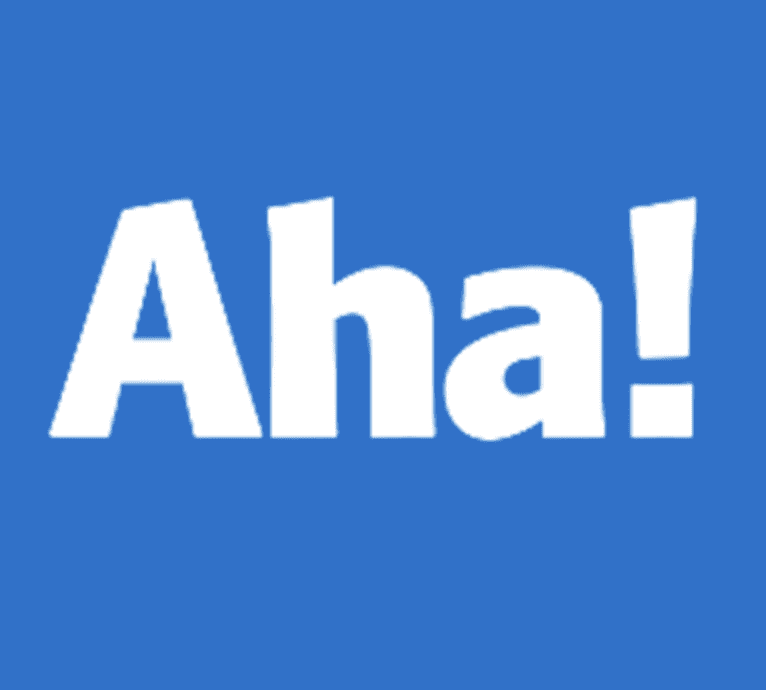 Aha! is a product development tool offering a robust roadmapping feature. It enables IT and DevOps teams to collaborate in real-time, build visual timelines for achieving their plans, tailor the view for different audiences, track project progress, and create interactive roadmap presentations.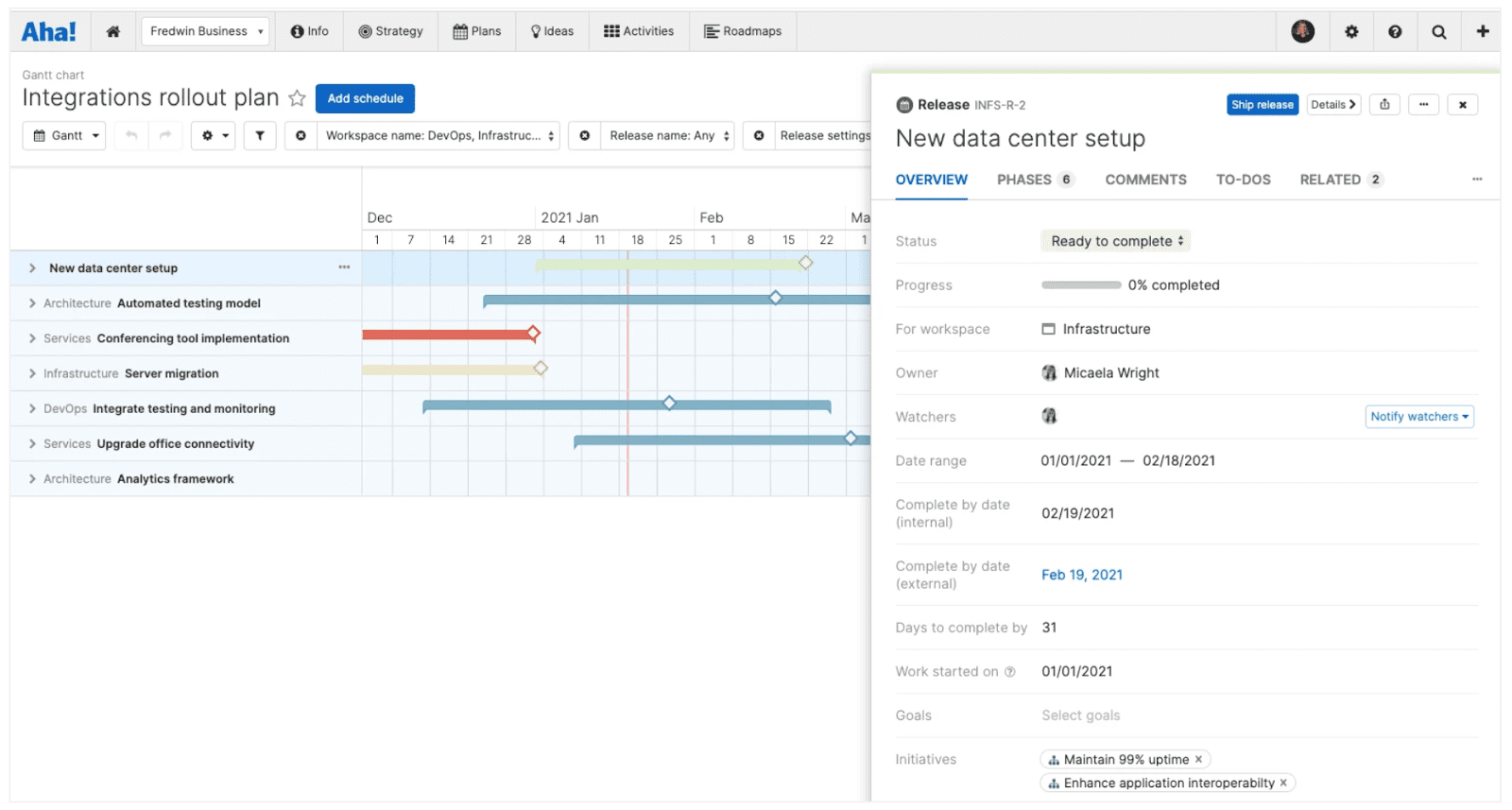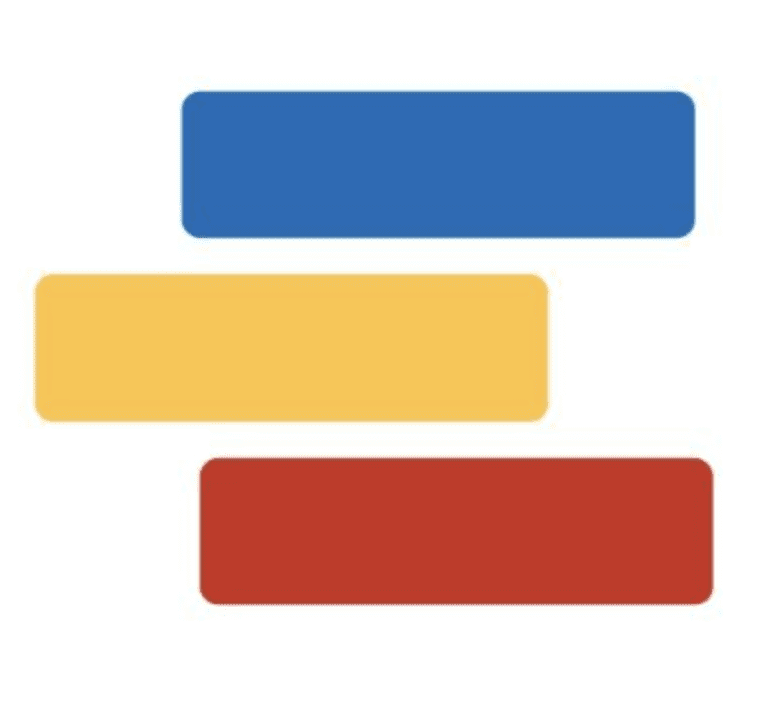 ProductPlan is product roadmap software that also offers templates for strategic IT roadmaps. It provides an intuitive drag-and-drop builder, customizable layouts, collaboration capabilities, and a range of integrations to sync data between ProductPlan and your business toolkit.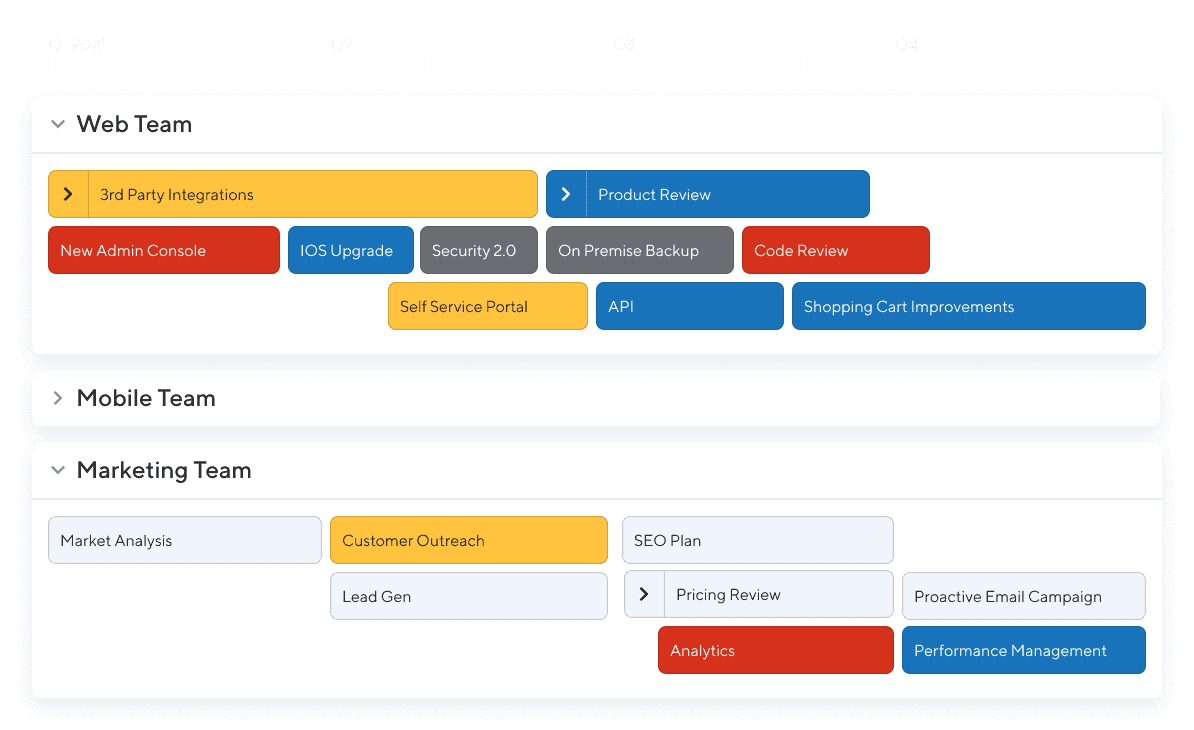 Drive adoption of your new IT-related implementation projects with Whatfix
An IT roadmap is a great way to understand how your daily operations and projects align with overall business goals and objectives. It provides regular work updates, ensuring process transparency and keeping all project teams on the same page. This results in more accurate investments, more effective prioritization and management decisions, adequate risk assessment, and cost-efficiency. But only if your team is equipped to use it to its fullest potential.
Whatfix's digital adoption platform (DAP) enables organizations to create in-app training and support content to drive IT roadmap adoption, support digital transformation, and uncover true ROI. Whatfix helps ensure your users won't get stuck trying to use your IT roadmap and won't overlook vital features.
Learn more about how Whatfix can support your IT roadmap adoption and project management today.
Subscribe to the Whatfix newsletter now!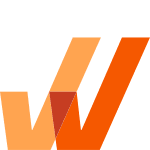 Software Clicks With Whatfix
Whatfix's digital adoption platform empowers your employees, customers, and end-users with in-app guidance, reinforcement learning, and contextual self-help support to find maximum value from software.