With the rapid pace of technological advancement, every organization needs to undergo digital transformation and, most likely, transform multiple times to stay relevant and competitive. 
However, before you can reap the benefits of new technology, you must first get your customers and employees to adapt to this change successfully—and here lies a significant digital transformation challenge.
Organizations thriving in this digital-first era have developed digital innovation strategies prioritizing the change management mindset. This paradigm shift implies that organizations should continuously explore improving business processes.
8 Best Examples of Digital Transformation Case Studies in 2024
Amazon Business

Netflix

Tesla

Glassdoor

Under Armour

Internet Brands®

Sophos

Michelin Solutions
8 Examples of Inspiring Digital Transformation Case Studies
While digital transformation presents unique opportunities for organizations to innovate and grow, it also presents significant digital transformation challenges. However, the best way to develop an effective digital transformation strategy is to learn by example.
Here are the 8 inspiring digital transformation case studies to consider when undertaking transformation projects in 2024:
1. Amazon extended the B2C model to embrace B2B transactions with a vision to improve the customer experience.
Overview of the digital transformation initiative
Amazon Business is an example of how a consumer giant transitions to the B2B space to keep up with the digital customer expectations. It provides a marketplace for businesses to purchase from Amazon and third parties. Individuals can also make purchases on behalf of their organizations and integrate order approval workflows and reporting.
The approach
Amazon created a holistic marketplace for B2B vendors by offering over 250 million products ranging from cleaning supplies to industrial equipment. 

It introduced free two-day shipping on orders worth $49 or more and exclusive price discounts. It further offered purchase system integration, tax-exemption on purchases from select qualified customers, shared payment methods, order approval workflows, and enhanced order reporting.

Amazon allowed manufacturers to connect with buyers & answer questions about products in a live expert program.
The value
Amazon could tap the B2B wholesale market valued between $7.2 and $8.2 trillion in the U.S. alone.

It began earning revenue by charging sales commissions ranging from 6-15% from third-party sellers, depending on the product category and the order size.

It could offer more personalized products for an improved customer experience. 
2. Netflix transformed the entertainment industry by offering on-demand subscription-based video services to its customers.
Overview of the digital transformation initiative
Like the video rental company Blockbuster, Netflix also had a pay-per-rental model, which included DVD sales and rent-by-mail services. However, Netflix anticipated a change in customer demand with rising digitalization and provided online entertainment, thereby wiping out Blockbuster – and the movie rental industry – entirely. 
The approach
In 2007, Netflix launched a video-on-demand streaming service to supplement their DVD rental service without any additional cost to their subscriber base.

It implemented a simple and scalable business model and infused

10% of its budget

in R&D consistently.

The company has an unparalleled recommendation engine to provide a personalized and relevant customer experience. 
The value
Netflix is the most popular digital video content provider, leading other streaming giants such as Amazon, Hulu, and Youtube with over 85% market share.

Netflix added a record 36 million subscribers directly after the start of the COVID-19 pandemic.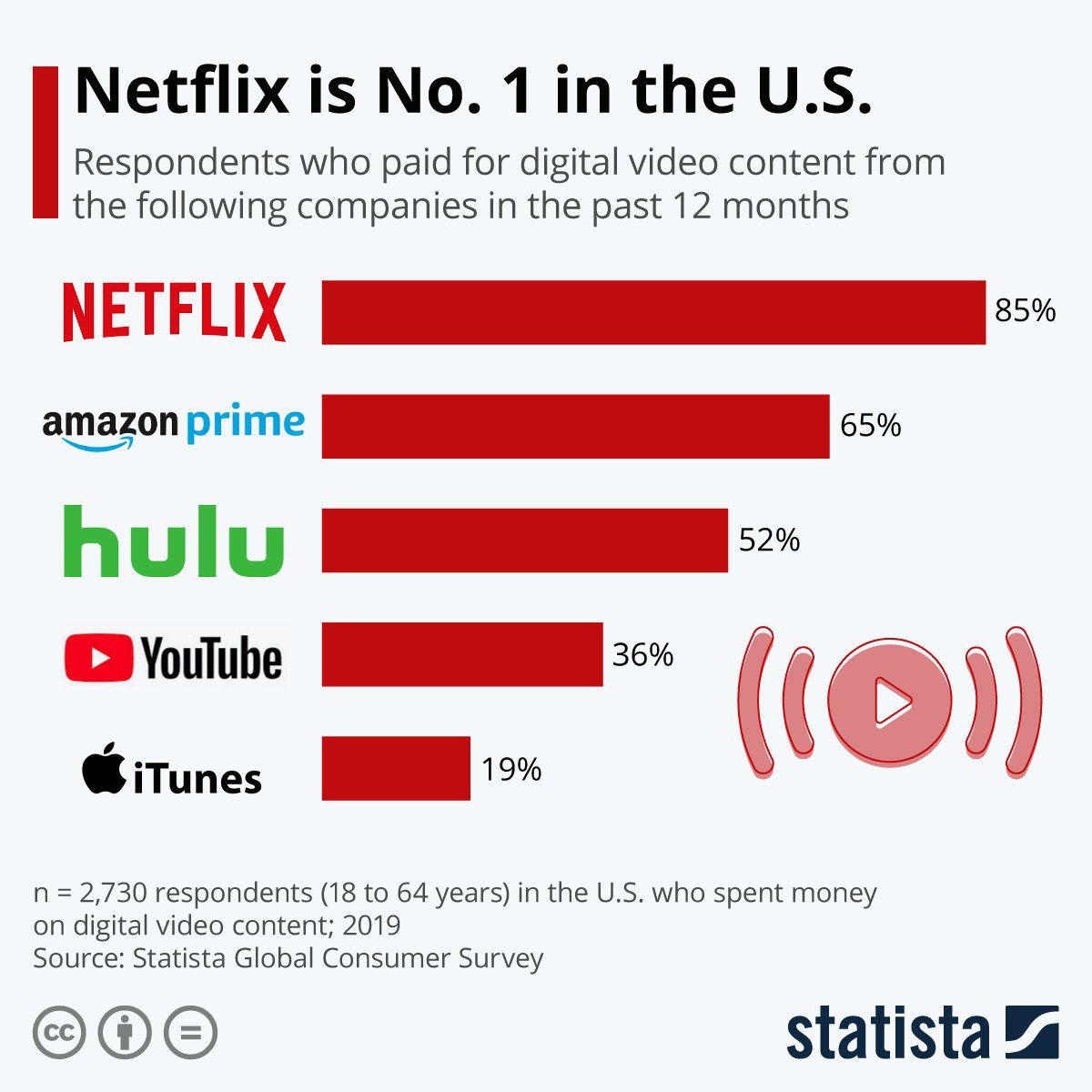 3. Tesla uses connected car technology and over-the-air software updates to enhance customer experience, enable cost savings, and reduce carbon emissions.
Overview of the digital transformation initiative
No digital transformation discussion is complete without acknowledging the unconventional ideas implemented by Elon Musk. Tesla was a huge manifestation of digital transformation as the core motive was to prove that electric cars are better than their gasoline counterparts both in looks and performance. 
Over the years, Tesla has innovated continuously to improve its product, make itself more economical, and reduce its carbon footprint. 
The approach
Tesla is the only auto manufacturer globally, providing automatic over-the-air firmware updates that allow its cars to remotely improve their safety, performance, and infotainment capabilities. For example, the OTA update could fix Tesla'soverheating issues due to power fluctuation. 

Tesla launched an autopilot feature to control the speed and position of the car when on highways to avoid potential accidents. However, the user still has to hold the wheel; the vehicle controls everything else. This connected car technology has created an intelligent data platform

and smart autonomous driving experience.

Tesla further ventured into a data-driven future, and it uses analytics to obtain actionable insights from demand trends and common complaints. A noteworthy fact is that the company has been collecting driving data from all of its first and second-generation vehicles. So far, Tesla has collected driving data on 8 billion miles while Google's autonomous car project,

Waymo

, has accumulated data on 10 million miles.
The value
Tesla's over-the-air updates reduce carbon emissions by saving users' dealer visits. Additionally, these updates save consumers time and money.

Tesla delivered a record 936,172 vehicles in 2021,

an 87 % increase

over the 499,550 vehicle deliveries made in 2020.
4. Glassdoor revolutionized the recruitment industry by allowing employees to make informed decisions.
Overview of the digital transformation initiative
Glassdoor is responsible for increasing transparency in the workplace and helping people find the right job by allowing them to see millions of peer-to-peer reviews on employers, including overall company culture, their CEOs, benefits, salaries, and more. 
The approach
Glassdoor gathers and analyzes employee reviews on employers to provide accurate job recommendations to candidates and vice-versa. It also allows recruitment agencies and organizations to download valuable data points for in-depth analysis & reporting. 

It further introduced enhanced profiles as a paid program, allowing companies to customize their content on the Glassdoor profiles, including job listings, "Why is it the Best Place to Work" tabs, social media properties, and more. This gives companies a new, innovative way to attract and recruit top talent.
The value
Glassdoor created the largest pool of interview questions, salary insights, CEO ratings, and organizational culture via a peer-to-peer network, making it one of the most trustworthy, extensive jobs search and recruiting platforms – and one of the most well-recognized review sites

Glassdoor leverages its collected data for labor market research in the US. Its portfolio of Fortune's "Best Companies to Work For" companies outperformed the S&P 500 by 84.2%, while the "Best Places to Work" portfolio outperformed the overall market by 115.6%.
5. Under Armour diversified from an athletic apparel company to a new data-driven digital business stream to transform the fitness industry.
Overview of the digital transformation initiative
Under Armour introduced the concept of "Connected Fitness" by providing a platform to track, analyze and share personal health data directly to its customers' phones.
The approach
Under Armour acquired several technology-based fitness organizations such as MapMyFitness, MyFitnessPal, and European fitness app Endomondo for a combined $715 million to obtain the required technology and an extensive customer database to get its fitness app up and running. The application provides a stream of information to Under Armour, identifying fitness and health trends. For example, Under Armour (Baltimore) immediately recognized a walking trend that started in Australia, allowing them to deploy localized marketing and distribution efforts way before their competitors knew about it.

Under Armour merged its physical and digital offerings to provide an immersive customer experience via products such as Armourbox. The company urged its customers to go online and share their training schedule, favorite shoe style, and fitness goals. It used advanced analytics to send customers new shoes or apparel on a subscription basis, offering customers a more significant value over their lifetime.

It additionally moved to an agile development model and data center footprint with the

ERP SAP HANA

. 

Under Armour additionally leveraged

Dell EMC's Data Protection

and Dell Technologies to help fuel digital innovation and find peak value from its data.
The value
Under Armour created a digital brand with a strong consumer focus, agility, and change culture. 

With the Connected Fitness app, it provided a customer experience tailored to each consumer.
6. Internet Brands® subsidiary Baystone Media leverages Whatfix DAP to drive product adoption of its healthcare businesses.
Overview of the digital transformation initiative
Baystone Media provides end-to-end marketing solutions for healthcare companies by providing a low-cost, high-value subscription offering of Internet Brands® to promote their practices digitally. Baystone Media empowers its customers by offering a codeless creation of personalized websites. However, as its userbase is less tech-savvy, customers were unable to make the most of their solution. 
The approach
The idea was to implement a solution for Baystone Media & its sister companies to enable its clients to navigate its platforms easily. In addition to PDFs and specific training videos, the search was on for a real-time interactive walkthrough solution, culminating with Whatfix.
The value
Baystone media saw a 10% decrease in inbound calls and a 4.17% decrease in support tickets, giving them the runway to spend more time enhancing its service for the clients.
7. Sophos implemented Salesforce to streamline its business and manage customer relations more effectively.
Overview of the digital transformation initiative
Sophos went live with Salesforce to accelerate its sales process, enhance sales productivity, and increase the number of accounts won. However, the complex interface and regular updates of Salesforce resulted in a decreased ROI. 
The approach
Sophos implemented Whatfix to provide interactive, on-demand training that helped users learn in the flow of work. The 24*7 availability of on-demand self-support, contextual guidance, and smart tips allowed Sophos to manage its new

CRM implementation

effectively. 

It unified internal communications using Whatfix content. First, they created walkthroughs for the basic functionality of Salesforce such as lead management, opportunities, etc. Next, they moved to slightly more complex features that their users were uncomfortable with and created guided walkthroughs and smart pop-ups. Sophos also used Whatfix to align the sales and product management teams by embedding videos and other media to unify product communication instead of relying on various communication tools.
The value
Sophos experienced a reduction in sales operations support tickets globally by 15% (~12,000 tickets). It saved 1070 man-hours and achieved an ROI of 342%. 
8. Michelin Solutions uses IoT & AI to provide customers with a more holistic mobility experience.
Overview of the digital transformation initiative
The digital strategy of Michelin Solutions has essentially centered around three priorities:
Creating a personalized relationship with customers and end-users

Developing new business models

Improving their existing business processes 
The approach
AI is extensively used in R&D, enabling the digital supply chain driven through digital manufacturing and predictive maintenance. For example, connected bracelets assist machine operators with the manufacturing process. 

It deployed sophisticated robots to take over the clerical tasks and leveraged advanced analytics to become a data-driven organization. 

Offerings such as Effifuel & Effitires resulted in significant cost savings and improved overall vehicle efficiency. 

Michelin Solutions carefully enforced cultural change and launched small pilots before the

change implementation

. 
The value
Effifuel led to extra savings for organizations and doubled per-vehicle profits.

A reduction in fuel consumption by 2.5 L per 100km was observed which translates into annual savings of €3,200 for long-haul transport (at least 2.1% reduction in the total cost of ownership & 8 tonnes in CO2 emissions).

Michelin Solutions shifted its business model from selling tires to a service guaranteeing performance, helping it achieve higher customer satisfaction, increased loyalty, and raised EBITDA margins.
Personalize Your Digital Transformation Solutions
Each industry & organization faces unique challenges while driving digital transformation initiatives. Each organization must find a personalized solution and the right digital transformation model when implementing new technology. Their challenges can prepare you better for the potential roadblocks, but the specific solutions will need to be personalized according to your business requirements.
Open communication with your customers and employees will help you spot potential issues early on, and you can use case studies like these as a starting point.
If you would like to learn how you can achieve these results by using a digital adoption platform, then schedule a conversation with our experts today.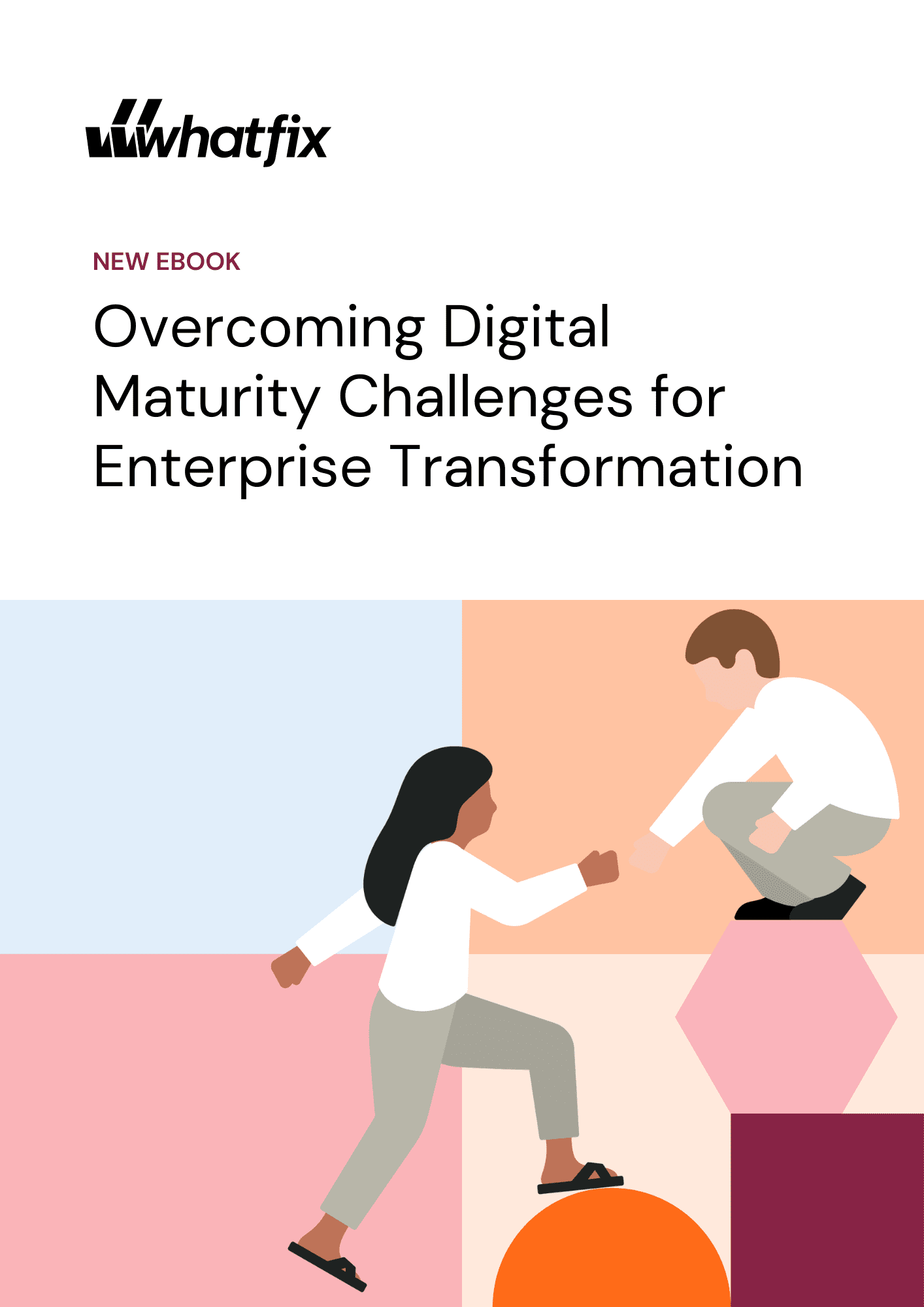 How to Overcome Digital Maturity Challenges for Enterprise Transformation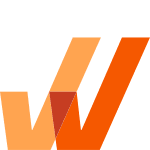 Request a demo to see how Whatfix empowers organizations to improve end-user adoption and provide on-demand customer support
Subscribe to get new content delivered directly to your inbox.