Any organizational change that involves technology could be considered a digital transformation. That means digital transformation examples can cover a wide range of industries and address a variety of challenges. Different organizations go through this change differently depending on their digital transformation roadmap.
While not all digital transformations go as intended, for this post, we're focusing on some interesting and successful digital transformation examples. Each of these solved a unique problem and adapted to digital transformation trends by leveraging the right change management tools to tackle any issue.
Here are 7 Digital Transformation Examples That Were A Success:
User Training Digital Transformation Examples
Introducing new software, apps, or any other tech solution is effective only if your end-users understand how it functions. The following digital transformation examples are focused on improving user experience through digital training.
1. Corrigo
Corrigo's SaaS-based facility management software (FMS) has a large user base that continues to grow. Getting customers up to speed on the system was a significant obstacle, so they turned to the digital adoption platform, Whatfix, to simplify user training.
Challenge: For each customer, Corrigo does heavy customizations of their software before they deploy it out. They have been using offline events and sessions in their businesses as a customer training model for the last 18 years prior to using any alternative. The main motive was to reduce training costs.
Corrigo's support team was inundated with support requests. Every update to the FMS caused confusion for customers, and the wide range of features prevented Corrigo from creating one-size-fits-all training. They needed a way to customize instructions based off how each user interacts with the FMS.
With training costs on the rise, Corrigo needed a business innovation that taught the diverse user base on how to leverage the FMS for their unique work without involving the support team. The solution needed to be simple enough to get users up-to-speed quickly while still providing detailed guidance.
Digital Transformation: Corrigo used Whatfix to create in-app guidance that allowed users to learn in the flow of work.
Corrigo relies on the digital adoption solution to onboard new users and provides additional training for each update to the FMS. The versatile digital adoption solution limits the need for support team assistance while still providing intuitive guidance for users.
Instead of overloading users with information all at once, Corrigo now uses contextualized walk-throughs that appear as users access different features. This allows customers to receive step-by-step guidance without contacting support or even leaving the system.
Corrigo leverages Whatfix's multiformat content and Smart Assist to further customize the user experience. Thanks to instructor-led videos, knowledge-based content, and balloon tips, users can choose their preferred learning method. Corrigo also programs alerts to announce software changes and provide immediate training on any new features.
2. The Home Depot
The Home Depot struggled to provide meaningful training to their hardware store employees. To provide training within the context of where products are displayed within the store, Home Depot worked with Udemy to create app-based training.
Challenge: Home Depot needed a training solution that helped new staff learn while working on the sales floor.
New hires were forced to watch hours of e-learning modules to learn about Home Depot's products. Because training was done in an office setting, staff could not immediately put the new information to use. The result was very low knowledge retention.
The sheer number of products available in the hardware store made it difficult to recall details. The out-of-context training exacerbated the issue. New hires had trouble locating products within the store and answering customer questions.
Digital Transformation: Home Depot worked with Udemy to create a knowledge app so that workforce could receive training on the go.
The app includes two main components: product category and product knowledge.
The product category section allows workers to look up popular products, answer common customer questions, and view items that are frequently purchased together. With this information at their fingertips, new hires can confidently answer customer inquiries as they work on the sales floor.
The product-knowledge component, on the other hand, is focused on ongoing knowledge building. The scavenger-hunt style "challenges" send workers around the store to locate specific items and learn more about them in a hands-on environment. This component is designed to take advantage of employee downtime. Instead of standing idle, they use the scavenger hunt to get on-demand and engaging training.

Customer Interaction Digital Transformation Examples
In these digital transformation examples, companies leveraged the technology their customers already preferred to use to successfully transform how they interact with customers.
3. Vanquis Bank
In their transformation initiative, this UK-based credit card and banking company introduced new customer communication options with the help of the VoiceSage platform.
Challenge: The digital transformation challenge was using live agents and dialers to collect customer payments was labor-intensive and slow.
In a society where even close friends might reject a phone call and opt to send a text message instead, getting people to pick up collection calls is an uphill battle. Agents spent a large portion of their day trying to reach customers and playing phone tag. Vanquis Bank needed a solution that would help them connect with customers in a way that increased payments on past-due accounts while still providing flexibility in payment options.
Digital Transformation: In its digital transformation strategy, Vanquis Bank began using VoiceSage to send interactive SMS, rich media, and voice messages to customers.
Vanquis Bank leverages VoiceSage's messaging options to reach customers through their preferred method of communication. Collections professionals attach automated SMS, rich media, and voice messages to different stages of the collections cycle and send customized messages in real time.
Messages are also tied to performance metrics that, in turn, provide valuable analytics. For instance, Vanquis Bank discovered that while customers were likely to reject or miss phone calls, many would respond to messages quickly.
Transformation of communications to messages in place of phone calls led to a 200% increase in customer contact. Vanquis Bank also saw a 2% increase in "promises to pay" and more conversions of those promised payments — all with 65% fewer agents.
4. Polachi
Executive search firm Polachi specializes in recruiting CEO-, GM-, and VP-level executives. They implemented Thrive talent relationship management (TRM) to replace their slow and outdated homegrown database.
Challenge: Polachi's database was difficult to update and confusing to navigate.
Employees and clients alike struggled to use Polachi's system. Not only was the system counterintuitive, but it also relied heavily on error-prone manual data entry. Plus, the software was not available in the cloud, which made it less accessible. They quickly got frustrated with how long it took to search for and update talent profiles.
Digital Transformation: For a successful transformation, Polachi replaced its clunky homegrown database with Thrive TRM.
The cloud-based system is fast and accessible. Thanks to the ability to add comments to each record, the team can check the progress of records at any time. It also minimizes manual data entry with the option to create or update profiles from resumes or online profiles. The intuitive interface also keeps clients happy, because they can get started without any training.
Efficiency boosting Digital Transformation Examples
Technology is meant to make lives easier, so it should come as no surprise that many digital transformation success stories focus on streamlining processes and increasing productivity.
5. Centese
In an attempt to keep costs low, medical device company Centese previously used a paper-based solution. Once they realized that relying on paper led to higher costs due to the hours needed to manage it, they began using Greenlight Guru's quality management system (QMS).
Challenge: Centese needed an easy-to-implement system to manage medical device documentation, design controls, and risk management more efficiently.
Previous digital transformation initiatives failed and forced Centese to revert to their paper system, so they needed a permanent solution. To prepare for medical device review, documents needed to be digitized, and each edit had to be fully traceable. The transformation process also required the documentation of several internal reviews and approvals.
Centese tried to stay on top of these requirements with a mix of paper documents and manually updated Excel spreadsheets. What they thought would be a cost-effective solution ended up requiring a dedicated part-time employee.
Digital Transformation: Centese implemented Greenlight Guru's eQMS for successful transformation and to minimize manual administrative work and free up employee time to be spent on high-impact work.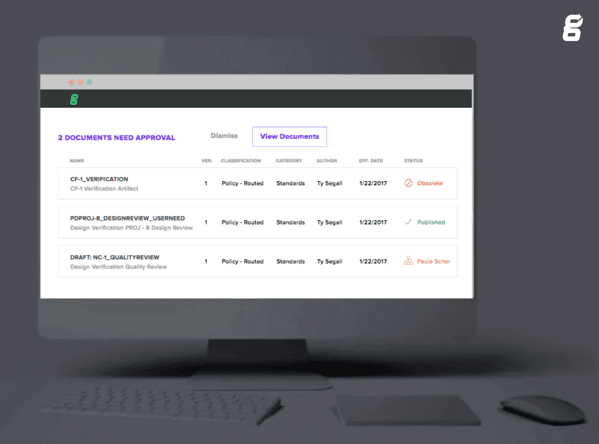 Centese now has system-wide traceability of documents, eliminating the need to manually update Excel spreadsheets every time something changes. Centralizing documents also boosts productivity by facilitating easier team collaboration.
Although Centese wasn't originally looking for a medical device–specific system, Greenlight Guru ended up providing even more benefits than anticipated with digital transformation. The integrated design controls and risk management helped Centese streamline approvals and significantly speed up submission timelines. Ultimately, their digital transformation played an integral role in Centese achieving FDA 510(k) clearance.
6. AdRoll
The legal department of online advertising company AdRoll was bogged down with emails. The team turned to SimpleLegal to avoid tedious email conversations and improve legal invoice management.
Challenge: AdRoll's legal team struggled to organize conversations with law firms and track legal spending due to the email-based communication system.
Chasing down invoice payments was labor-intensive because email communication could not be properly tracked. Without the option to link email conversations, follow-ups were easily buried in individual inboxes and overlooked.
Using email also prevented the legal team from monitoring the progress of work. Without the ability to tie invoices to specific matters or outside law firms, accurately analyzing legal spending was nearly impossible.
Digital Transformation: In its digital transformation strategy, AdRoll implemented SimpleLegal to consolidate invoice and matter information and reduce time spent digging through emails.
The central repository for invoices helped AdRoll significantly cut back on manual invoice management. Likewise, long email chains are no longer needed, thanks to the built-in comments directly within SimpleLegal. The legal team can now link invoices to matters, law firms, and conversations, all within one place.
This centralized tracking provides AdRoll with insight into costs associated with each law firm, legal matter, and even individual attorneys. Armed with this data, AdRoll can collect payments faster and make more informed budget decisions for future work.
7. Hollard
South African insurance group Hollard faced serious backlogs due to the 1.5 million emails the broker community sent each year. Hollard looked to LarcAI and UiPath to create a custom Robotic Process Automation (RPA) solution.
Challenge: Processing and responding to emails relied on humans accessing multiple databases and information systems — a slow process that resulted in growing backlogs.
To properly process each case, emails and attachments had to be interpreted and classified. This analysis was required to ensure compliance with service-level agreements (SLAs) and certain regulatory and statutory provisions.
The workforce struggled to stay on top of the workload. Constantly switching between different systems to gather all the necessary information held it back.
Digital Transformation: Hollard worked with LarcAI and UiPath to integrate AI services and create custom automation in line with their processing requirements for successful digital transformation.
LarcAI took advantage of UiPath's open architecture to create a solution that allowed robots to communicate between systems. Hollard's millions of emails are now reviewed by a UiPath robot that interprets the content. The Robot classifies the documents and interacts with various systems and even human users when necessary.
What was once a labor-intensive process is now a streamlined system. Emails are processed 600% faster than before and 98% are handled without any human review, suggesting successful transformation.
Unique challenges call for custom digital transformation solutions
Digital transformation is all about adapting to new and ever-changing technology solutions and planning & deploying your roadmap accordingly. As companies in every industry introduce new software, rely more on cloud-based services, and work with a wider range of users, the demand for great digital transformation strategies and solutions continues to rise.
No two examples of digital transformation are the same, which is why Whatfix focuses on customizable solutions. Whether you are planning to migrate from Salesforce Classic to Lightning, onboard new hires, or improve software adoption, we can help.
Contact us to schedule a demo and see how we can support your transformation initiatives.