Welcome to the third part of our ongoing Beginners Guide to Blogging series. This is where we'll walk you through the process of choosing the right platform, getting your blog up and running, all the way to finding readers. If you're just joining us, I'd advise you check out the first two posts that I've linked below.
Also, let me take a moment and tell you about the Whatfix Chrome extension that you can install from here. Once you've installed the extension, we'll be right by your side, helping you get things done on the web. 
Now that you've got your first WordPress.com blog up and running, it's time to customize it a bit, add that personal touch to a stock theme we picked in the last post.
While the customization options pale in comparison to the self-hosted WordPress.org, there's still enough stuff here to make sure that your WordPress.com blog doesn't look like every other blog on the network.
First of all, there are hundreds of themes to choose from. A lot of great free themes I might add. And even then, you can change the fonts, add a header image, change background and text color and more to make it a truly personal site.
Let's start by trying out a new theme.
Installing A New Theme
If you've read the previous posts, you are already familiar with the Whatfix way of doing things. If you already have the Whatfix extension installed, click the "See live" button and we'll guide you through the whole process. Or just use the arrow buttons in the box below to view the screenshots and the instructions for installing a new theme.

Customizing Your WordPress.com Blog
Once you install a new theme, you're going to want to customize it. The free account, though, has limited customization options. If you upgrade to the $99/year Pro plan, you can edit the CSS yourself.
But let's be honest. You're just starting out. You don't need to worry about all that stuff. So here's everything you can customize using the free WordPress.com plan once you've clicked that Customize button from the Themes section.
Site Title, Tagline, and Logo
This one's pretty simple. If you want to change what your blog is called, change the text in Site title field. You'll also want to write something catchy in the Tagline field. Something much better than the current filler text – "Just another WordPress.com site".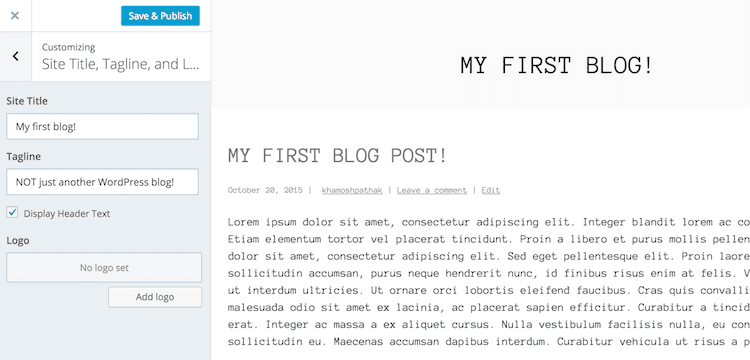 And if you've gone all fancy and got a logo for you blog, feel free to upload that in the Logo section.
Colors and Background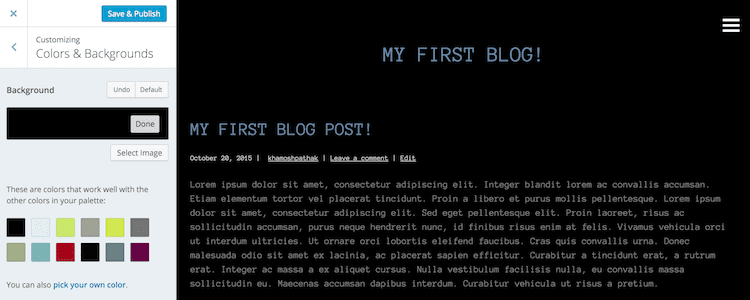 Any theme that you choose comes with a preset color palette – set background color, font text, and the likes. While the free version of WordPress.com doesn't let you customize each of these aspects individually, you can, however, change the background color as well as pick from a set of preconfigured palette options to make your blog a bit more personalized than say, the stock theme.
Fonts
Believe it or not, fonts play a big role in how your site looks, and its tone. If you want to be taken seriously, using Comic Sans as a font isn't a good idea. WordPress.com lets you choose from a couple dozen fonts and you're most likely to find a font that goes along with your blog's tone.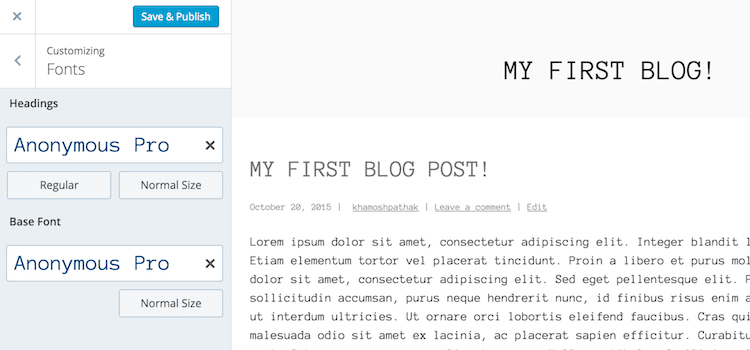 Want to be all fancy? Why don't you try Merriweather?
Going for a sharp look? There's Source Sans Pro.
Looking for a typewriter feel? How about Anonymous Pro?
Just pick a font and see if it feels right.
Header Image
I would say that the header image for your blog is pretty important. Especially because you don't have much room to play with in a WordPress.com blog. The header then is something a new visitor will see first and up close. Pick something that will help you make an impression.
Better yet, I'll say go to canva.com and whip out a header image yourself in a couple of minutes (here's our guide on how to do that).
Navigation
When it comes to navigation, WordPress.com doesn't give you a full navigation bar at the top. You're left with a sidebar menu. But here you can add and customize them. From the Main menu, you can switch between menus you've already created.
Widgets
Again, when it comes to widgets, WordPress.com shoves them in the sidebar that's only accessible by clicking the hamburger menu button. But here, you can add a lot of stuff. Like, a lot of stuff.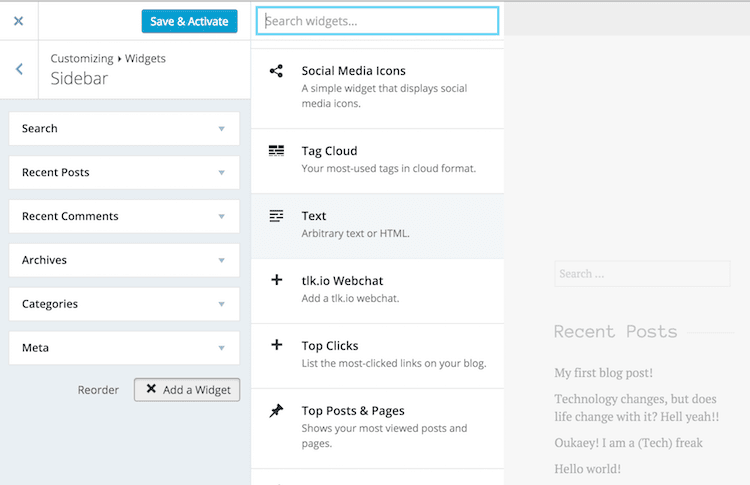 You'll see a couple of boring widgets like recent posts and categories on there.
The real fun starts when you click the Add widget button. You'll now see a long list of supported widgets that let you add all sorts of stuff like a music player, your latest Instagram posts, tweets, just some arbitrary text and much more.
Static Front Page
While you might associate WordPress.com with blogging, there's a lot more it can do. The Static Front Page feature lets you create a post or a landing page that now functions as a homepage of your site. So when a new visitor lands on your website, it won't be the latest blog post that they'll see, it will be this landing page.
While it's a great feature if you want to create a quick personal website or a one page site, it's not really useful for bloggers.
What Does It Look Like?
Now that you're done, what does your blog look like? Share a screenshot with us in the comments below.
I'm glad that you're on this blogging journey with us. Each week, we'll bring you such little, actionable posts that will take you ever so closer to your blogging goals. To make sure you don't miss a post in our Beginners Guide to Blogging series, please subscribe to our weekly newsletter.