Navigation in Salesforce has always been a challenge. Even if you are a new recruit or a trained professional, getting baffled while using Salesforce is quite normal.
Salesforce Lightning Experience, the new User Interface, is Salesforce's solution to thwart this problem. Its app like UI, is doing amazingly well. Even then, getting around and grasping all its functionalities may seem a tad bit tedious.
Read Also: What's new in Salesforce UI?
To help you in such scenarios, our Whatfix Community users have been creating Whatfix flows on Salesforce. With these Whatfix flows, you will be able to:
Quickly solve all your Salesforce navigation issues

Learn different tasks and processes with live walkthroughs &

Create a knowledge base of your own, for reference
Setting Up Contacts in Salesforce Lightning
In this post, we will take you through the basics of setting up contacts in Salesforce Lightning Experience. We will also initiate you to the Whatfix Way, which will help you understand it and navigate through the process, easily.
To use the Whatfix Way, install our extension, then click on See Live button on the following flows.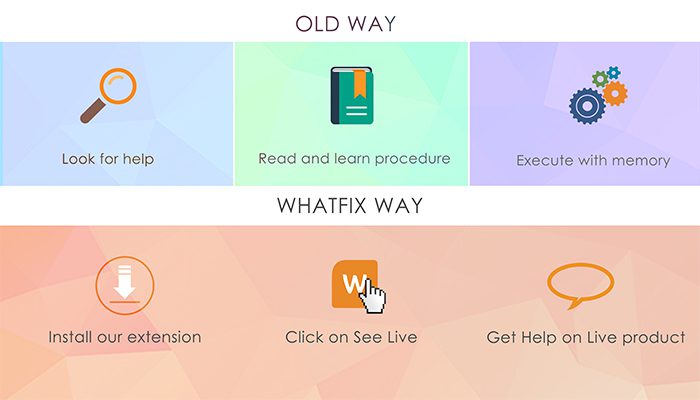 Let's begin with a basic flow to create a Salesforce Lightning contact.
Your contacts tab is present on Salesforce Lightning's Navigation Menu. You can view and access this tab in all your Lightning application windows. The following flow will show you, how to create a contact in your Salesforce Lightning Platform.

Once you are done with creating a contact, what if you need to add or edit out some details? Well, that's easy too.This flow here will show you how to edit your contacts .

Cloning functionality in Lightning is definitely an amazing time saver. On Salesforce Classic, this was more of a tedious process. But in Lightning, you can quickly clone an existing contact to get pre-populated contacts fields. And further on, edit these fields according to your needs. Here's how you can clone contacts on Salesforce Lightning.

Your Salesforce Lightning contacts page allows you to do so many things that setting up events, assigning tasks, or even logging call seems to be effortless. No more jumping around in confusing circles to streamline all these processes. With Lightning, you have it all, in a single window.
Click See Live on this flow to check out these options in detail.

In our next post, we will walk you through importing and exporting contacts in Salesforce Lightning.
Also read: How Accounts In Salesforce Lightning Experience Is Now Smarter
Like our posts on Salesforce Lightning? Subscribe to our weekly newsletter for more updates and news.