With the outbreak of COVID-19, people across the world are stuck indoors which has made organizations look for arrangements to accommodate remote working. Working remotely means employees can no longer count on interacting with their team members whenever they cross paths in the corridors. They have to deliberately reach out to their teammates to stay connected. As part of this, digital collaboration tools like Zoom, Google Meet, MS teams, Skype, Blue Jeans, etc. allow coworkers to chat, or meet face to face via video calls. These tools can also be a lot useful for managers to make regular check-in calls and update their employees with progress reports, review individual goals or discuss ideas.
The video conferencing tools have now become the center of the employee work-life and organizations are on a continuous lookout to acquire the best-in-the-lot tools for their business. Out of all the popular tools available, Zoom has truly entered the public consciousness during this pandemic. 
In fact, Zoom daily users have spiked up to 200 million in March and the figure had risen to 300 million in April. According to the data, at the end of December 2019, the maximum number of daily meeting participants conducted on Zoom was around 10 million which has reached more than 300 million daily meeting participants in 2020. Also, according to another data point by Apptopia, Zoom usage increased to 67% in between Jan and March 2020, during the pandemic.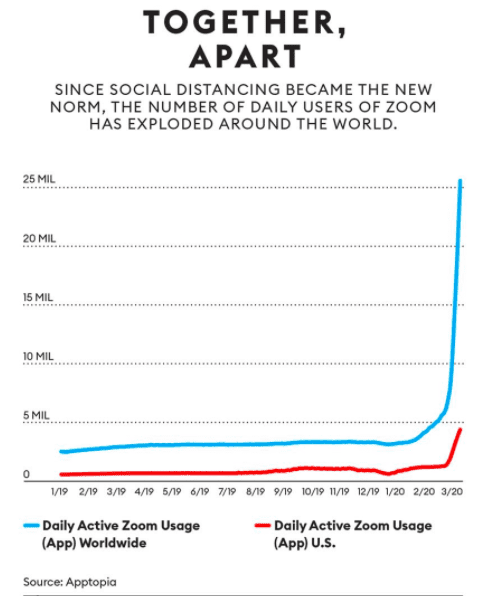 Zoom User Adoption Challenges
The coronavirus outbreak has transformed many organizations into fully remote operations overnight. Zoom provides many features like instant 1-on-1 video meetings, daily team stand-ups, real-time collaboration with screen sharing, cloud recording and sharing capabilities, etc. to support remote working and ensure that a dispersed workforce can be managed effectively. 
As intuitive as it sounds, organizations still experience a gap in the Zoom adoption process since users are always hesitant to make the transition towards a newer technology, whenever there is a sudden change. Some people might already be familiar with Zoom but some might be very new to it and may feel overwhelmed by the number of features available.
The image below shows the most popular 'How-to' searches for Zoom. And the Google Trends graph shows that most of the 'how-to' searches were done during March and April when most cities were under lockdown and Zoom usage really shot up.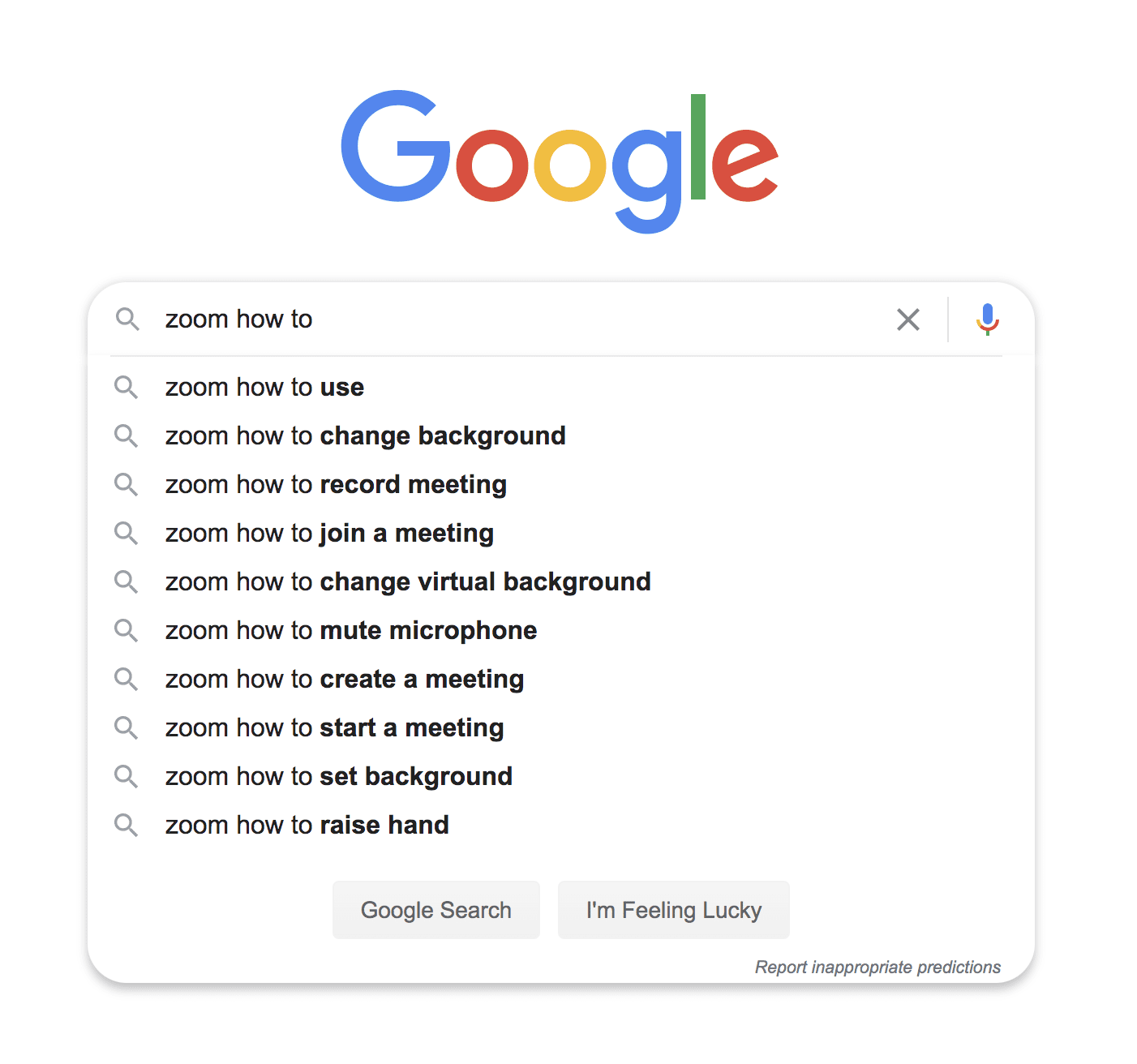 To understand the reason behind these searches, we explored some review websites like Trust Radius and GetApp to figure out the challenges faced by users while using Zoom.  

Zoom Training To Enhance User Adoption
The reviews and trends mentioned above clearly indicate the challenges people are facing while using a new tool due to the lack of familiarity and training. So what can you do to ensure a smoother transition towards Zoom? Here are a few logistics items that can help. 
Make sure employees have a clear understanding of the how to's of Zoom. Offer them effective online training to boost adoption and provide continuous support to keep with the adoption process.

Remind your team of the tools available and reinforce how they can be used to accomplish goals.

Managers can regularly connect with employees to understand any challenges their employees are facing. 
To help businesses adopt Zoom successfully, we at Whatfix saw an opportunity to bridge the gap between technology and humans by leveraging a Zoom training platform via a Self-Help Zoom extension. 
Here is how you can drive enterprise-wide Zoom adoption with our on-demand training. 
A Welcoming Onboarding Experience
Our Digital Adoption Solution(DAS) enables you to welcome new users to Zoom in an interactive manner. It contextualizes onboarding according to specific user profiles. DAS allows you to create welcome popups that introduce Zoom to the user and helps them navigate through different features of the platform. 
Learning In The Flow Of Work
DAS makes users proficient by enabling learning while working on Zoom. It helps create personalized Zoom training courses on a mini-LMS. As a part of this training, users can be shown a list of virtual tasks within the application like how to sign up, schedule a meeting, share screen, record a meeting, enable virtual background, etc. Clicking on each task would trigger a flow that provides step-by-step guidance to complete the respective task. These flows are then automatically converted into multiple formats such as videos, slideshows and PDFs to keep them handy for future use. 
On-Demand Support
To ensure uninterrupted workflow, technology users need quick resolutions to their issues. Waiting for long hours to get a resolution can be frustrating for them, which can adversely affect the employee experience. 
DAS enables customer support to the users without having to raise support tickets and wait for their queries to be resolved. Whatfix provides support to the users inside the Zoom application via the Self-Help widget where they can find answers to their queries at any time. The widget displays the most relevant support content to users. Users can also get quick and easy solutions to their problems with content search as part of Zoom training. 
The Power of Analytics
Whatfix Digital Adoption Platform is powered by analytics that provides usage and engagement related data. Analytics allows you to track the flow completion rate for different metrics to help you understand the user adoption rate and optimize the flows on an ongoing basis.
When it comes to Zoom adoption, DAS can help you track different metrics, like – 
Number of employees signing up on Zoom 

Number of meetings joined by each team 

Number of Zoom application downloads within the team

Utilizations of other features like find recordings, enable virtual background, record meeting, screen sharing etc. 
Drive User Adoption with Whatfix Zoom Training
The Whatfix self-help widgets and contextual flows help your employees master the amazing features of Zoom and leverage them to collaborate efficiently with their team members. The in-app contextual, interactive and real-time guidance helps organizations ensure user adoption. Whatfix has a proven record of increasing employee productivity by 37%, reducing training content creation cost by 50-84%, and reducing support queries by 45-60%. Whatfix makes it easier for employees to achieve proficiency in complex tools in a short timeframe.  
To learn more about Whatfix and unlock the true value of your enterprise application, you can schedule a demo with us today!