When you upgrade to the new Salesforce Lightning platform on your desktop, you might feel that you've seen it before. That's because you must have experienced a similar interface in the Salesforce1 mobile platform. For the past few years, a lot of Salesforce1 and Lightning components have been released. And these components, in fact, laid the foundation for Salesforce Lightning UI.
In this post, we will introduce you to all that's new with the Salesforce Lightning UI. There are many exciting features and the official release is only a couple of days away, i.e October 17th, 2015.
What's new in Salesforce Lightning UI
Salesforce Lightning UI – Homepage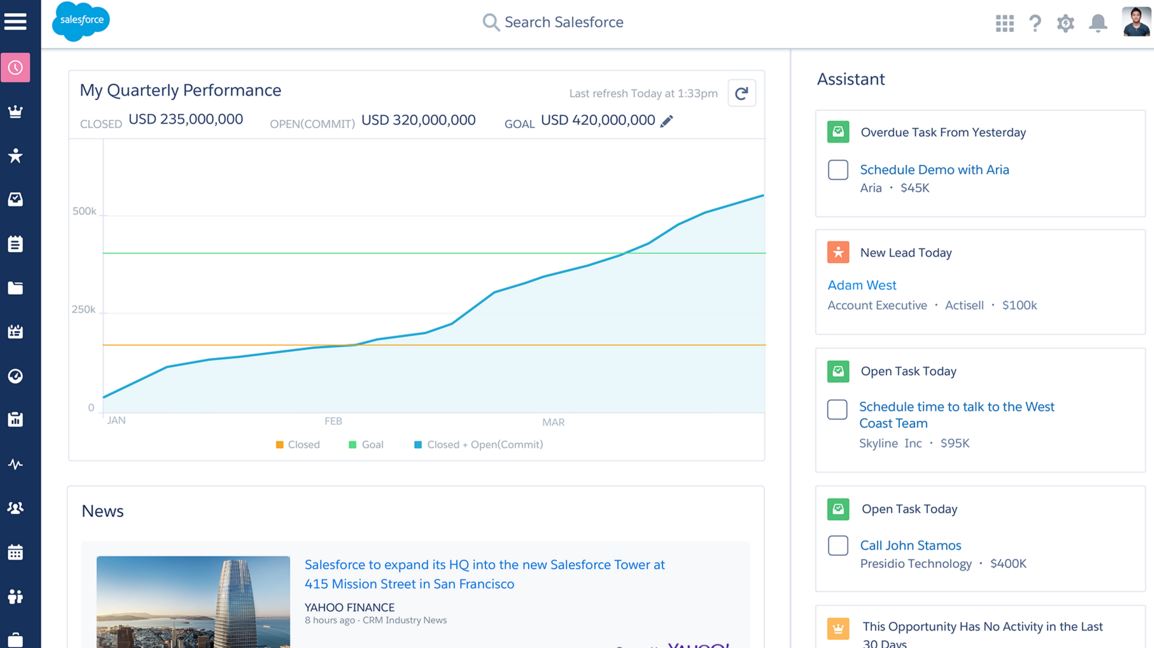 The new homepage is designed to keep you focused. There are a lot of new, easily accessible features right in the homepage.
Performance chart

– The graphical representation of your performance tops the list. In this chart, you can view and track your quarterly performance. So either you start your day feeling good about your awesome performance, or you kick it off with some inspiration to do better.

Assistant

– We keep forgetting things. Hence, it would be great if we had a personal assistant to remind us to follow up with all our work. The assistant tab in Salesforce Lightning is customized to each user and will help in focussing on what is important each day.

Account insights

– If you are looking for a way to close a deal and need a brainwave, then just click on the Account insights. Here you'll get the latest updates and insights on all your top accounts.
Salesforce Lightning UI – Navigation Menu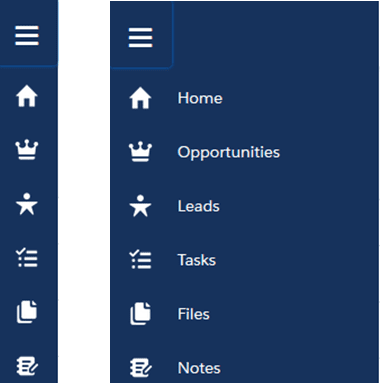 With this nifty menu in place, you can view all the pages and apps within your Salesforce. The menu, docked on your left, will give you information about the different pages on hover over, and you can easily expand and collapse it according to your viewing preference.
Salesforce Lightning UI – Search
The new search bar is super smart. It shows the recently used items, frequently used objects and also gives you suggestions when you type. Saves a lot of time and effort.
Also Read: 6 Things You Must Know Before Creating A Salesforce Training Program
Salesforce Lightning UI – Dashboard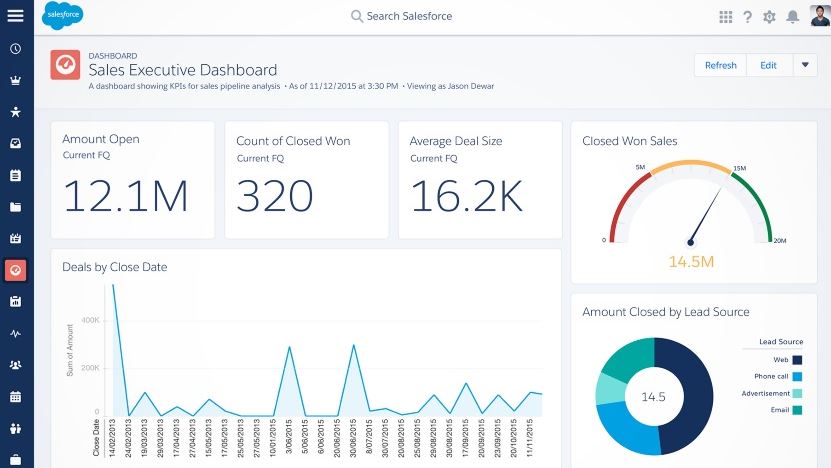 In comparison to Salesforce's classic dashboard, Salesforce Lightning dashboard is stunning. It has a flexible layout which allows you to personalize it the way you want. As a matter of fact, with a little effort, you can make the dashboard look like a collage of all the charts and info that you use daily.
Spanning columns

– You can easily resize the charts in your dashboard for a better visualization.

Flexible layout

– The whole dashboard is flexible. So all you have to do is add the components you need and it will automatically adjust itself.

Easy filters

– Add filters to get the best visualization of your dashboard.
Salesforce Lightning UI – List views
The new list view will help you visualize your data easily. You can view data in a graphical representation or set filters to get specific account information. It's way more simplified than Salesforce classic.
List view charts

– With this you can cut down on scouring for data to understand it better. With the list view charts, you can directly view your lists as a bar or donut chart.

Filters

– By applying the filters, you can seamlessly find all the lists and sort them.

Type ahead search

– This is a simple, but powerful feature of the new UI, that will help you find any list view, almost instantly.
Salesforce Lightning UI – Opportunities Board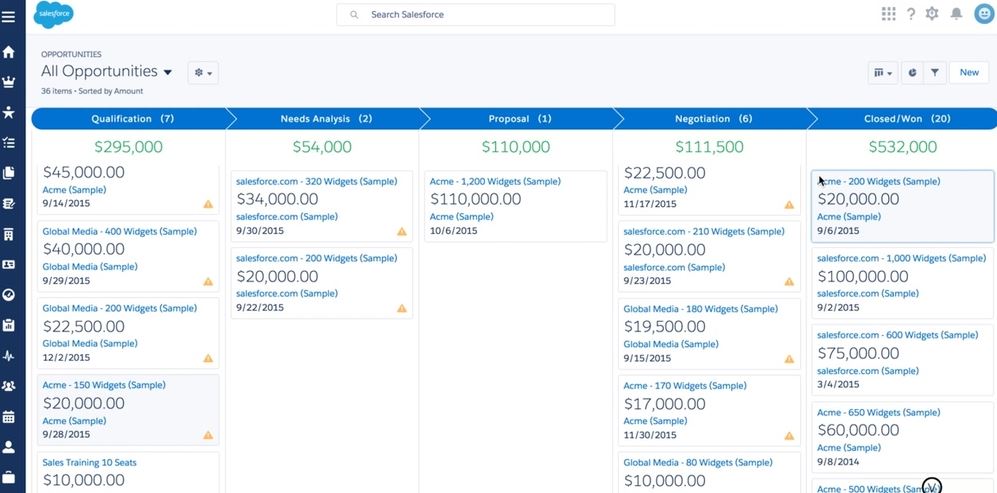 One of the most sought for feature in Salesforce was the ability to drag and drop objects. With the reimagined opportunities board, you can easily drag and drop the opportunities across the different stages.
Organized Pipeline

– Here you will find your opportunities organized into different stages, with the subtotal on the top.

Drag and drop

– Now it's very simple to arrange your opportunities. Simply drag and drop it to the next stage.

Smart alerts

– You can set up alerts for the deals that requires more attention. This will show you timely prompts that will help you take the required action.
Salesforce Lightning UI – Lead Workspace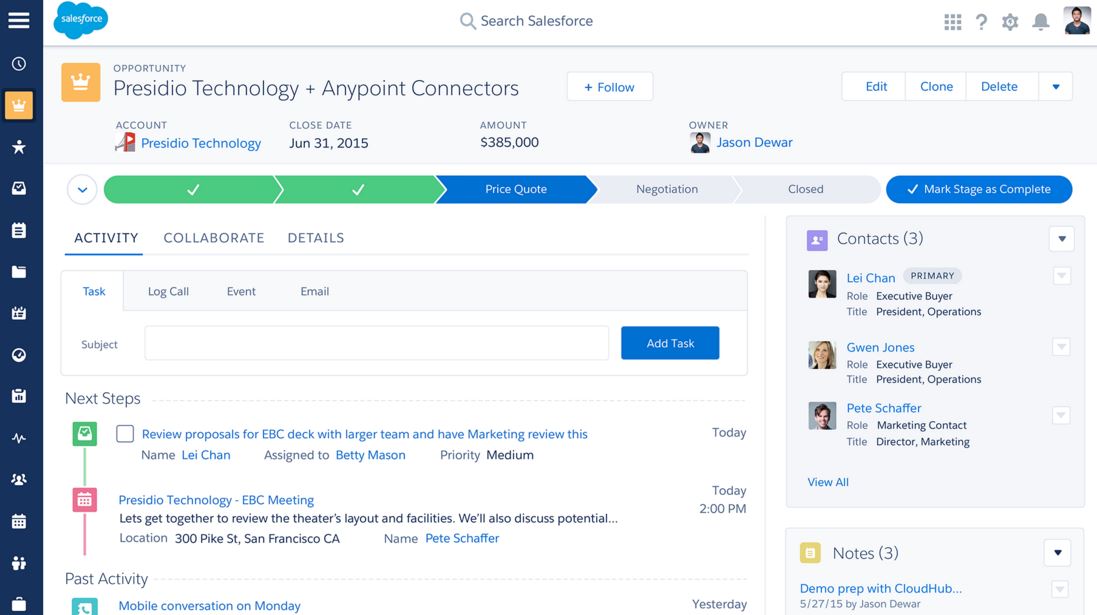 Sales path

– This will give you a step by step guidance, that will help you through the sales process.

Composer

– With this tab, it's easy to create different records. Be it a new task, an event, or composing an email, all of its is available within the composer.

Hover Over

– Another really useful feature of Salesforce Lightning is that it gives you a quick view of a particular page on hovering over.

Highlights panel

– Need to keep a track of everything important? Check out the highlights panel.
Read more: 7 Salesforce Onboarding Best Practices That Work!
Want more news and updates about Salesforce Lightning? Subscribe to our weekly newsletter!