Enterprise resource planning (ERP) systems are efficient tools used by enterprise and SMB businesses to manage day-to-day activities. With an ERP system, companies can track and monitor activities such as procurement, project management, accounting, compliance, and more in a streamlined manner. 
Although integrating ERP software into existing businesses is an expensive and time-consuming digital transformation project, the ROI is worth it in the long run if implemented done correctly. In this article, we've compiled a list of relevant ERP statistics you should know in 2021.
Overall ERP Statistics in 2021
ERP applications make it easier for businesses to automate business processes while providing insights and controls.  With ERPs, data from their core business departments including sales, manufacturing, supply chain, and sales are more centralized and accessible. A large majority of organizations that have implemented an ERP have seen success. 
Here are some stats on ERP preferences of companies around the world and on how these systems are put to use:
53% of businesses believe ERP is one of the priority sectors for investments.

88% of organizations consider their ERP implementation helped them to succeed.

62.7% of organizations go with cloud-based ERP systems over on-premise software.

There are 506 ERP system vendors listed on G2.com as of August 2021.

On average, companies spend 17 weeks selecting ERP software. 

53% of customers are satisfied with their ERP system.

On average, companies spend 17 weeks selecting ERP software.

14% fewer organizations upgraded their ERP in 2020 compared to 2019.

Out of all ERP software, buyers spend the most time comparing SAP ERP and SAP Business Planning and Consolidation.
ERP Adoption & Implementation Statistics
There has been a growing number of companies adopting ERP systems, and these numbers are expected to rise. While a huge number of companies have successfully integrated ERPs into their day-to-day processes, it does not come without its challenges. Here are some interesting statistics on CRM adoption, common motivators, and blockers:
93% of businesses that implement ERP projects consider them a success.

50% of companies are soon acquiring, upgrading, or planning to update ERP systems soon.

2/3 of manufacturers and distributors say their implementations are successful or very successful.

35% of organizations are moving away from legacy systems, making homegrown systems still the prevalent choice. 

14% of organizations moved out of their legacy system to advanced ERP in 2019-2020. 

13% of organizations are upgrading their ERP systems in 2019-2020.

87% of companies seek guidance for ERP implementation on the whole. 67% seek guidance only for ERP planning.

29% of companies believe they face budget overrun with ERPs due to organizational issues.

50% of ERP implementations fail the first time around.

51-54% of companies experience operational disruption when they go live.

92% of current ERP systems represent a bottleneck for CIOs, often requiring manual/programmatic intervention to enable data sharing.

64% of ERP projects will spend more than the allotted budget.

12% of respondents noted the poor quality of software when asked what went wrong during implementation.

51% of companies experience operational disruption when they go live. 

20% of professionals say that the most common reason for ERP implementation budget overruns is due to the expansion of the initial project scope.

62.70% of respondents say that their preference for ERP deployment is the cloud. 

78% of SAP S/4HANA reviewers said implementation went as expected, vs. the category average of 68%.

65% of all organizations found changing ERP organizations difficult or very difficult.

47% of organizations did not complete their ERP project within the expected timeline.

33% of ERP implementations fail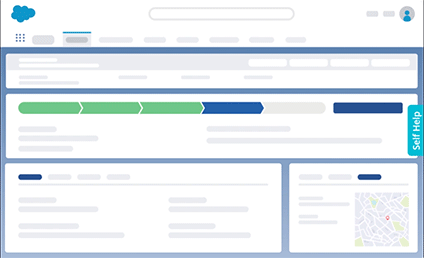 Improve your organization's ERP adoption rate with Whatfix's in-app learning flows.
Whatfix empowers your users with contextual flows and self-help widgets, improving productivity and proficiency while cutting training and support costs.
ERP software helps businesses improve their business processes by solving many of their day-to-day problems. One of the ways ERP systems do this is by giving better visibility into all parts of the supply chain, which increases efficiency and improves productivity.  These stats shed some light on how ERP systems have been aiding businesses:
95% of businesses improved some or all of their business processes after ERP implementation.

82% of businesses achieved ROI in their expected time after implementing ERP. 40% of companies said their primary reason for implementing an ERP system was better functionality. 

67% of organizations expect one of the benefits of ERP system implementation to be reporting and visibility. 

26% of employees use a company's ERP system.  

25% of organizations implement ERP to increase efficiency.

20% of organizations implement ERP to support growth.

20% of organizations implement ERP to increase functionality. 

96% of emerging businesses that excel in their respective industry rely on some form of ERP solution. (Aberdeen Group)

65% of small businesses are taking advantage of ERP consultation services. (Aberdeen Group)

Small businesses with ERP systems can make decisions with 36% less time than they did without the solution. (Aberdeen Group)

SMBs choose ERP systems over standalone platforms because (1) it helps standardize back-office operations by 77%

50% of respondents say that the most common workforce impact of ERP projects and digital transformations is reskilling. 

ERP software improves collaboration and in turn increases productivity by 20%-30%. 

On average, ERP implementations take 30% longer than estimated.
ERP Market Share Statistics
Although there are thousands of ERP solutions available, there are currently only a few leading the market. These stats will show you who's leading the ERP market, and what SMBs and enterprise companeis are looking for when implementing a new ERP or updating to a new one:
The ERP market is projected to reach $86 billion by 2027. 

The global ERP software market is expected to reach $78.4 billion by 2026. 

According to G2, the two ERP systems with the highest market share are SAP's BusinessOne and Oracle's NetSuite.

40% of market leaders are looking for new technologies in an ERP system. 

62.4% of top users of ERP software include manufacturing, IT, and financial services. 

34% of the ERP market is manufacturing.

Microsoft Dynamics is the ERP market leader in 2021, commanding 49% of the market share. 

Oracle Cloud ERP commands 18% of the ERP market share.

Sage Intacct commands 17% of the ERP market share.

Infor ERP and Epicor each command 6% of the ERP market share.