In the rush to be an agile company that meaninglessly adopts new learning technologies, creates hundreds of new courses, and disseminates them rapidly, we sometimes lose sight of what is important. We forget that training must first be about helping employees solve their day-to-day issues and then everything else.
That is why Josh Bersin, Global Industry Analyst and founder of Bersin by Deloitte, came up with the concept of learning in the flow of work.
Ready to shake up the $200 billion corporate training market, it focuses on the kind of corporate L&D employees truly deserve.
What Is Learning in the Flow of Work?
Learning in the flow of work is defined as an employee quickly accessing an answer to a question – or a piece of learning material – while working. This empowers employees to find the actual value of a tool or process without disrupting their workflow and productivity.
Example of Learning in the Flow of Work
Let's look at a real-life application of the learning model to get a better idea of how learning in the flow of work is accomplished. Let's imagine a sales organization has recently migrated to Salesforce CRM for this use case. 
Salespeople will need to learn how to do everything from scratch – from adding leads and opportunities to running reports and everything in between. Instead of traditional onboarding and training methods, learning in the flow of work provides in-app guidance, tutorials, and self-help resources to provide new users direction and tools to get contextual answers to their questions – in the moment of need.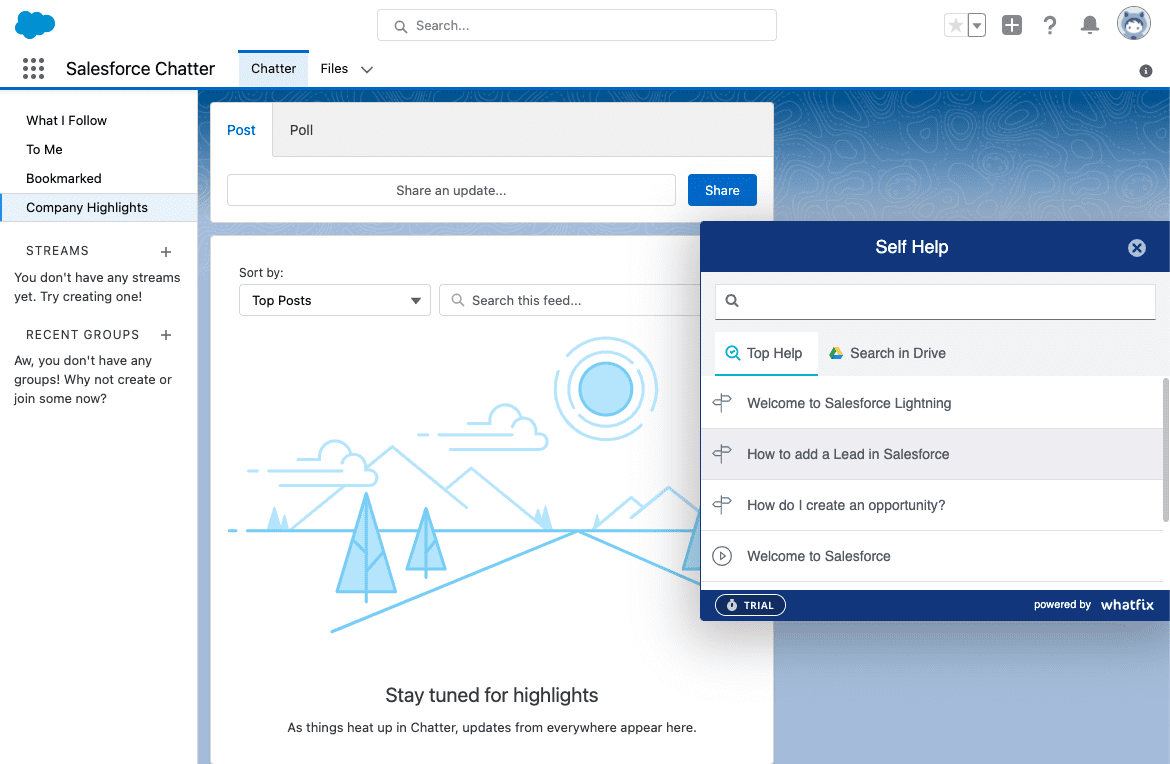 Benefits of Adopting a Learning in the Flow of Work Model
Currently, it takes far too many clicks to find learning content that employees need. And the content itself is so tedious and long that the employee's attention is not retained for long. Also, at a time when the average knowledge worker is struggling to set aside time (just five minutes per day) for formal learning, the traditional learning system is quite redundant. 
Due to inefficiencies in the current training model, employees slot learning into the important-but-not-urgent quadrant of Eisenhower's 2×2 matrix. And they start avoiding traditional corporate learning solutions (such as learning management systems).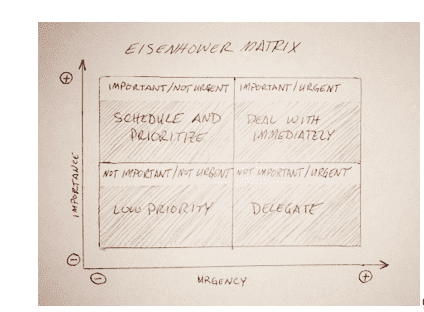 As a learning and development professional, the onus falls on you to not just "train" employees but to create an environment conducive to learning and improved productivity. This would mean everything from rewarding employees for teaching others to adopting new learning tools that enable 'learning in the flow of work'.
In that sense, it has become critical to make learning discoverable by employees and delivered instantly in 'bite-sized' formats (as offered by Whatfix), depending on the immediate need. But learning in the flow of work is more than just microlearning. It tends to be an intelligent mix of micro and macro learning, powered by in-depth employee data tracking and analytics. 
According to Bersin, "Research shows that the more micro things we do, the more they need for macro learning grows. This is how humans thrive. We couple big learning with small learning. And eventually, we want to be credentialed to signal our mastery of certain skills. Then, we become the master and the source of learning and shift to mentoring and coaching others."
Both formats can be used depending on the skill/employee lifecycle stage. Macro or structured learning is great for onboarding and helping employees develop a new skill to seek a promotion or change in role.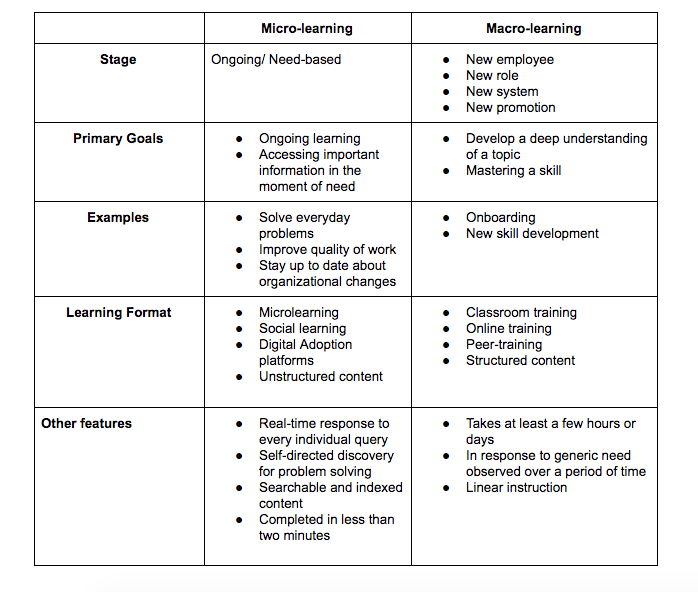 This is because macro modules offer a holistic view of the topic and thus deliver a deeper understanding. On the other hand, micro or unstructured learning helps solve unexpected problems, improve work, stay informed about changes, and so on.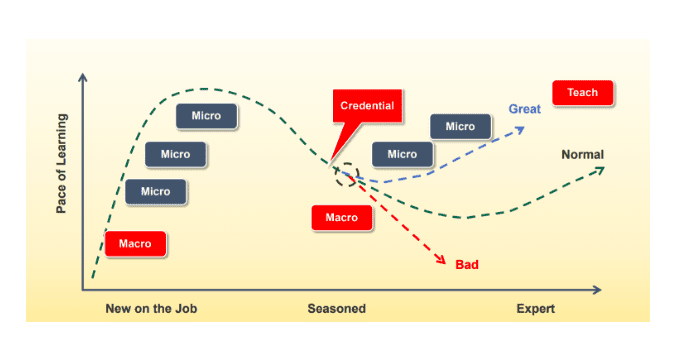 In line with this belief, research by O'Reilly shows that new hires were more likely to benefit from structured content. But as they grow (become experts) in their field, it would help them interact with unstructured content.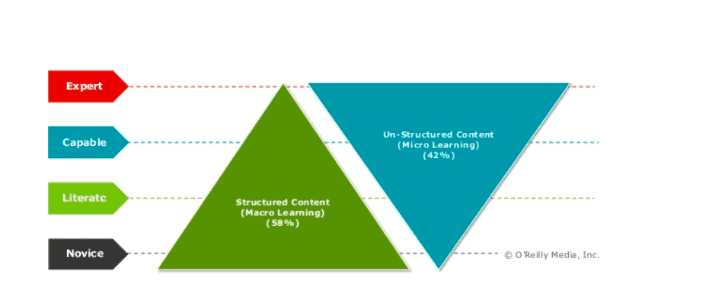 Also, interestingly, a recent Linkedin research noted that 58% of respondents wish to learn at their own pace, while 49% would like to 'learn in the flow of work'. The people (employees) have clearly spoken.

How to Implement Learning in the Flow of Wrok
Did your employee just complete a full-day training on Salesforce, but is still having trouble adding a new opportunity? A micro-learning course on this particular task pops up, as she attempts to complete the new client form.
Or suppose she is worried about how to ace a new business pitch demo? Instantly, a Slack chat window opens up where she can discuss with the team's top performer, while she preps herself. Or, what if she is facing an ethical dilemma, about whether or not to accept a freebie from an agency partner? She gets access to an internal discussion board, to post her concern, and get scores of similar experiences and suggestions from other employees. 
All of these are examples of 'learning in the flow of work' or continuous learning.
It can help you account for a large chunk of the efforts that go into the 70:20:10 model in training design. According to this approach, real business impact is generated when employees learn while working (70%) and working with others in the company (20%). 
No wonder learning in the flow of work is also called adaptive learning and performance support.
1. Embed learning into the workflow of existing ICT systems
This move allows employees to get coached on how to use the tool better while they work. Hence, microlearning platforms and digital adoption platforms, such as Whatfix, allow for integration with the likes of Salesforce, MS Dynamics, Oracle CRM, ServiceNow, SuccessFactors, and SharePoint. And thanks to such integrations, the microlearning tool is able to offer a homogenous user and learning experience. Vendors of learning tools are also offering the option of plugins for Slack, Outlook, Salesforce, and G-suite. 
2. Include the 4Es into your content mix
Education – Made up of training elements that have a fixed start and end, and can be tracked. These include workshops, ILT courses, videos etc
Experience – Learning elements that become a part of the employees' everyday work. This would include development plans, checklists, job rotation, and on the job assignments.
Exposure – This involves training elements that focus on interactions and relationships to encourage knowledge sharing. Peer feedback and mentoring are examples of the same.
Environment – This includes all the tools, systems, and infrastructure that support continuous learning, such as articles, books, games, elearning courses and mobile apps.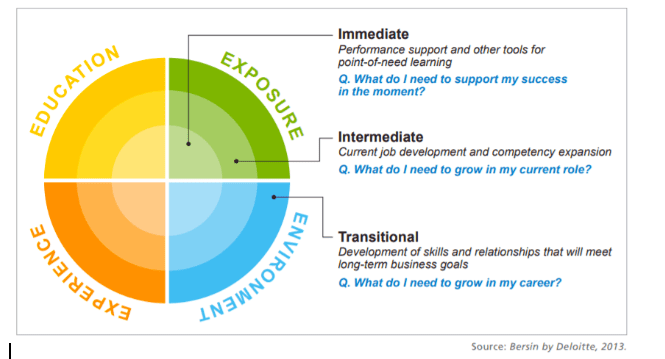 3. Build and deploy learning content for maximum engagement
The width and depth of the content, how relevant it is to the learner, and how often they need to be exposed to it; are all decisions that need to be taken thoughtfully. For instance, make sure that the content is:
Accessible and contextual: Learners need to be able to find the information they are looking for whenever they desire it, on whatever platform, and in the right context. Understanding your employees' capabilities and how they consume information is critical to delivering the right learning experience at the right time. To get this sort of intel, you need to mine employee interactions using xAPI-powered digital adoption platform such as Whatfix. Such data-driven and targeted learning content will ensure that employees immediately look at it, imbibe learning, and then return to completing the task. Ergo, minimum disruption of work and maximum productivity.
Curated carefully: Your learning tools should ensure that all training content is carefully sourced and quality checked. This is an important step, as wrong information in the training can lead to several issues. Chaos would ensue if you were to send non-validated content to heavy machine operators, clinicians, or legal teams. 
Well-spaced: According to the Forgetting Curve, learners forget 90%, of what was taught to them; within a week. Since learning sessions, repeated at the right intervals, are key to long-term knowledge retention, your learning system needs to deliver evenly spaced learning.
Precise and easy to consume: Consumer content platforms, such as Netflix that encourage people to spend more time on content. On the other hand, continuous learning is all about targeted content that is succinct and requires the least amount of follow-up or support sessions.
4. Build a strong corporate learning culture
Remember that continuous learning is not just about the technology or content formats but also about humans and culture. Bersin defines continuous learning as "… structuring resources, expectations, and learning culture in such a way as to encourage employees to learn continuously throughout their tenure with the organization."
You should work towards building an organizational culture that encourages the democratization of learning. Everyone should be empowered to share knowledge via the likes of mentorship and connected internal social networks – which helps to build a learning organization.
Conclusion: The Role of HR To Further the Learning in the Flow of Work Process
The transition from traditional formal learning to always-on performance-based learning has already begun.
Only 16% of L&D spend was directed towards instructor delivery in 2015, as compared to 33% in 2006. This has allowed for more money to be spent on 'on the job' training (15%), online self-study (26%), and learning by collaborating (13%). So, as an industry, we are definitely moving in the right direction.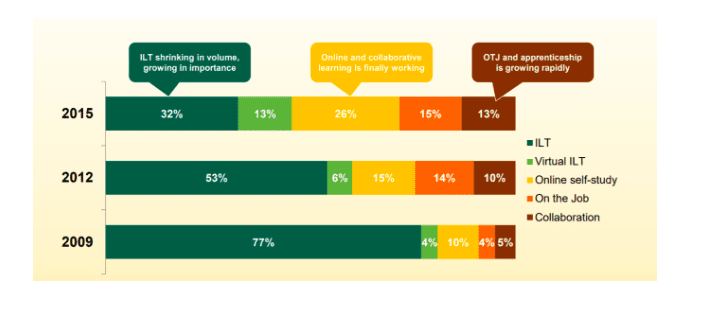 Now it's time for L&D professionals, such as yourself, to start donning the hat of 'connectors' rather than creators. This means that you will need to act as organizational middlemen, who connect those who 'know' with those who need that information. This could be through peer learning, social networks, or professional groups.
Modern e-learning platforms need to adapt to enable the creation and curation of custom learning content, on-demand microlearning, and social learning. Since this content will be made easy to find (via indexing and intelligent recommendations) and consume, it will surely improve the employee learning experience.
To achieve all of this though, you need something that is more powerful than a learning management system (LMS). That's where the employee-centric learning experience platform (LXP) comes into play.
It will offer features of content management, knowledge management, and learning systems; all under one roof. LXPs, such as Pathgather, Degreed will also need to collect employee learning data to arrange unique learning paths for each of them. And how precisely you can structure these learning paths are will determine the future of training.
Such usage analytics will be the key to making learning in the flow of work an indispensable feature of training in the years to come.
For continuous learning on the digital adoption journey, choose the context-aware, analytics-driven, and personalized microlearning platform Whatfix. 
Sign up for a free trial to see how it helps your employees use enterprise software in the best possible way
Subscribe to the Whatfix newsletter now!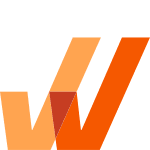 Software Clicks With Whatfix
Whatfix's digital adoption platform empowers your employees, customers, and end-users with in-app guidance, reinforcement learning, and contextual self-help support to find maximum value from software.