A corporate learning and development strategy – from onboarding new team members, developing new skills, and on-demand support – is a make-or-break for businesses. But it's also a time-consuming process that is both expensive and challenging to get right. The best approach offers your employees the information they need to do their jobs, in the flow of work.

The good news is that this knowledge already exists within your business. Your employees, especially leaders and top performers, are company experts who can share their know-how across the organization. The great news? That's an empowering, team-building experience for all involved – and a more cost-effective strategy to create highly relevant training content.

According to a report from Panopto, the average team member spends more than five hours each week locating key information from their co-workers or re-creating it themselves. If you find a way to capture that information and make it simple and accessible, you'll save those hours – and keep your experienced employees from losing productivity due to continuous questions on how to perform team processes.

Effective knowledge sharing improves team and individual productivity, empowers your employees, and builds a strong, connected community. If you're not devoting resources to collecting and sharing your organizational knowledge, you're losing efficiency.
What Is Knowledge Sharing?
Knowledge sharing is an internal knowledge management process that empowers employees to exchange information or skills with their peers. This lets you use the expertise you already have in-house for employee onboarding and on-demand development and support.

What could that look like in your organization? You might:
Prepare your experts to hold regular classes in their areas of expertise with lunch and learns, or offer one-on-one mentorships.
Partner with experts to create informative process documents that can be shared throughout the organization.
Create a knowledge base or internal wiki and provide access to knowledge base authoring tools that encourage your staff to contribute.
Compile a list of internal experts that your team can reach out to if they have specific questions.
4 Benefits of a Knowledge-Sharing Culture
Knowledge sharing benefits your organization and streamlines training—and it's good for people, too. Sharing information improves your employees' sense of belonging within the organization, develops rapport, improves teamwork, increases engagement, and empowers the entire workforce to become experts in their field – and in their organization.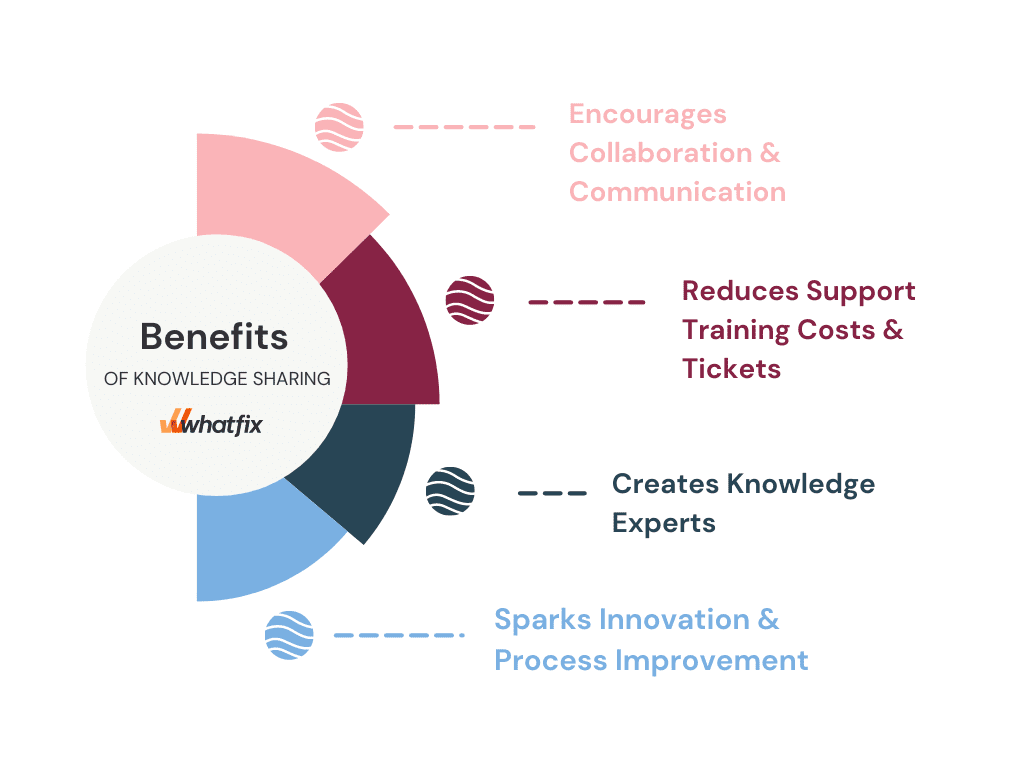 1. Encourages Collaboration and Communication
Establishing a process for knowledge sharing makes it easier for people to work collaboratively and communicate what they know to their team. It adds actionable steps to a process that otherwise may not happen consistently—it lets your staff know when and how to share their expertise.

Employees are sometimes hesitant to share their knowledge (a practice known as "knowledge hoarding"). A variety of factors can impact this, such as whether or not they are knowledge workers, their level of autonomy, and how connected they are with their team members.

Establishing a culture of knowledge sharing can help people overcome these barriers if they exist in your organization. It also ensures that valuable knowledge makes it across company silos, so employees from different teams or departments still get the opportunity to learn from each other.
2. Reduces Support Training Costs and Tickets
Large companies lose, on average, $47 million per year in productivity because they don't have efficient systems set up for knowledge sharing. Employees take longer to complete projects and end up feeling frustrated while they struggle to get the information they need to get their work done. They may also lean on your IT department to solve small problems that they could address themselves.

Knowledge-sharing systems simplify this process. If an employee feels lost on how to solve a problem, they can turn to a knowledge base to find the answers they need. This allows team embers to learn how to use the tools needed for their jobs and get their work done faster—and it saves your resident experts or IT department from feeling overwhelmed with troubleshooting requests.
3. Creates Knowledge Experts
Knowledge sharing allows your workforce to accumulate information and skills that would've been tough to build if they were going it alone. The process leverages your existing, internal experts and helps create new experts out of the rest of your team.

Handled right, this can be an empowering experience for everyone involved. Your existing experts receive public recognition as experts in their field—their skills, opinions, and experience become the gold standard for your organization. Everyone else in your organization gets the benefits of mentorship, allowing them to grow their own knowledge and progress in their career goals.

This also allows your organization to attract and retain talented staff. Employees are naturally drawn to companies that will invest in their career growth and offer opportunities for them to take advantage of the collective knowledge of the organization. Making it clear that you prioritize skill development for your staff could offer you a competitive advantage.
4. Sparks Innovation and Improvement
Knowledge sharing gives your team the power to tackle complex problems by allowing them to build on each other's solutions. It fosters an innovative environment where staff members can lean on one another for problem-solving instead of shouldering burdens solo.

In 2018, a team of researchers studied how knowledge sharing allowed for more innovation in online programming competitions. In each contest, competitors had one week to solve the same coding challenge. Each contest submission was public, so competitors could reference submissions as they came in, using them to inspire their own solutions.

Researchers found that overall performance increased steadily over time because competitors were allowed to borrow and "tweak" the work of their predecessors. This environment also allowed for "innovative leaps" or moments where a competitor made major changes to the status quo.

Knowledge sharing can provide your employees with a similar jumping-off point when they're faced with sticky problems. By accessing and iterating on existing organizational knowledge, they can either make efficient tweaks for streamlining processes or take major innovative leaps to provide a significant process improvement for the whole company.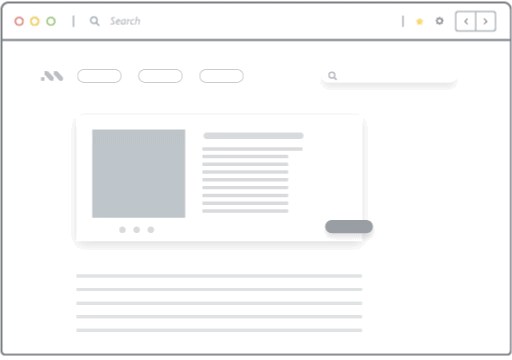 Create personalized learning & training flows for your enterprise apps and processes with Whatfix
6 Tips to Create a Knowledge-Sharing Culture in Your Workplace 2022
If you're feeling a little lost on how to build a knowledge-sharing culture, you're not alone. In fact, according to a 2020 survey from Deloitte, 75% of companies agreed that knowledge sharing is "important or very important for their success over the next 12–18 months." However, only 9% felt prepared to implement knowledge-sharing processes in their own organization.
Here are a few steps to cultivate a culture of knowledge sharing in your organization:
1. Hire a Knowledge Manager
Any good knowledge management system should be accessible to all of your employees, and it may help to hire and designate one person as the keeper of the process. This person—the knowledge manager—is responsible for:
Developing the knowledge-sharing system from scratch
Acting as the point person for rolling out new knowledge-sharing initiatives
Scheduling and facilitating classes where experts can teach their co-workers (and record it for repeated use)
Identifying knowledge gaps in the organization
Managing knowledge base software
Whether or not you need a knowledge manager may depend on the size of your organization. While a small startup may not need one person to take on this role, a large company with an extensive workforce may benefit from hiring a knowledge manager.
If you do decide to add a knowledge manager to your staff, look for someone who is altruistic and trusting, as these traits are associated with more knowledge sharing.
2. Invest in a Knowledge Management Software Tool
Investing in the right tool can streamline your entire process, making it easy to manage how knowledge sharing works for your company and allowing employees to contribute. Consider:
Knowledge base software, which allows you to create a centralized internal knowledge base to store your information
Digital adoption software, which you can use to create in-app tutorials and walkthroughs of your digital processes and tools to help your employees learn how to navigate them
Documentation tools, which can help you easily capture technical instructions on how to use software
File storage tools so your staff can find what they're looking for in an organized database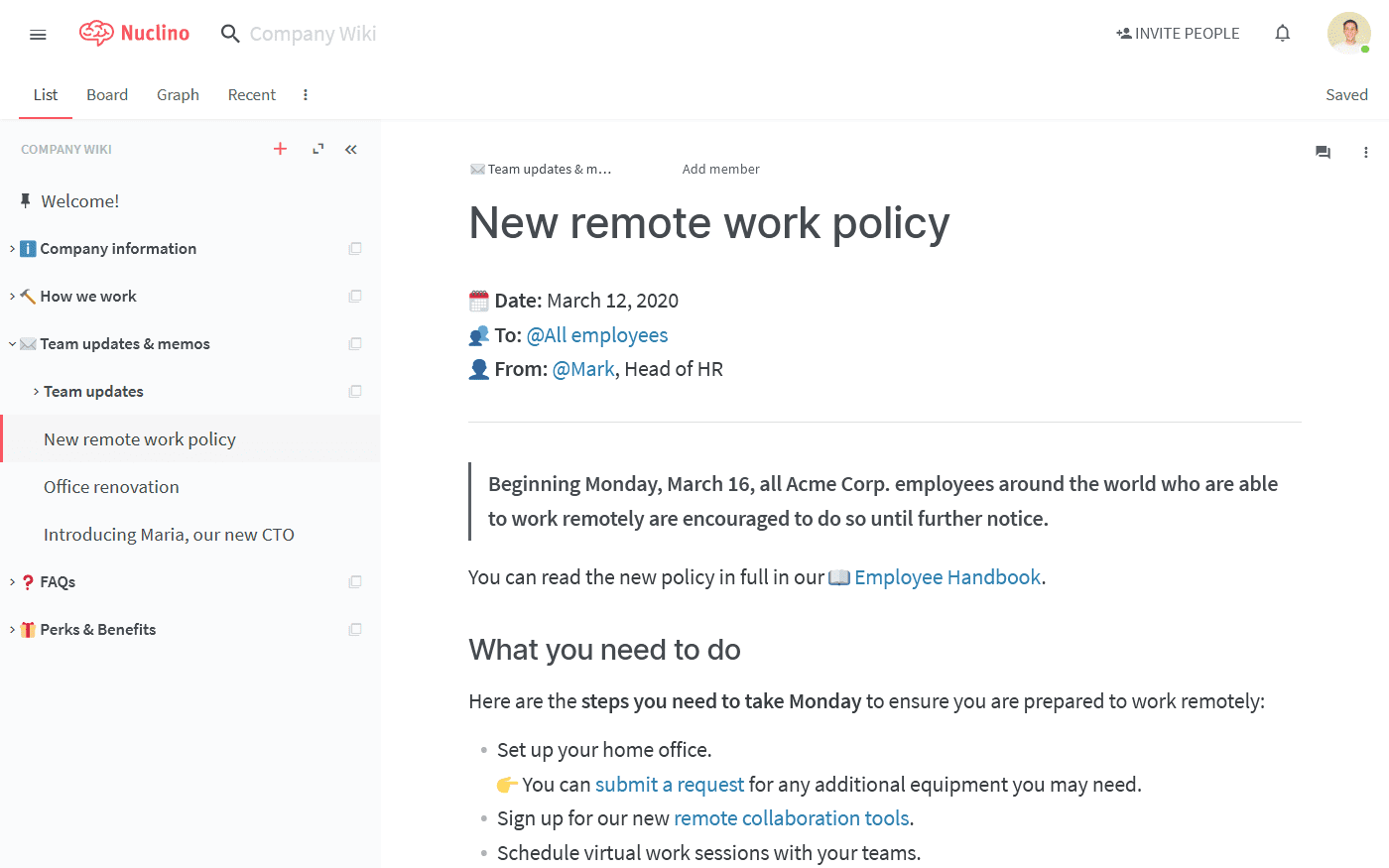 Above: Example of Nuclino's internal knowledge base that they use for internal HR processes.
3. Publish Internal Guidelines for Writing and Sharing Knowledge
Creating a set of internal guidelines to explain how employees should share their knowledge can make the process easier for them to follow. These guidelines should be simple to understand and actionable—you don't want to introduce any barriers for your staff.
If your organization includes a knowledge manager, they could own this process and even offer to train employees on how to use the knowledge management system.
Your guidelines should offer specific directions on:
How to navigate the knowledge-sharing system and contribute to the database
The type of information employees should share
Naming guidelines for files—you want to be sure that file names are descriptive and easy to find
Where to save new additions, so information remains organized
Formatting guidelines for documents to ensure they're consistent and simple to read (and creating templates for your staff to use can help streamline this process)
You can also teach your staff how to navigate the system using digital adoption software like Whatfix. With Whatfix, your staff can get in-app, step-by-step instructions on how to add their own resources and use the knowledge database effectively.
4. Encourage Employees to Document Processes and Create Tutorials
Knowledge sharing only works if employees participate in the process. That means they need the time and incentive to do so, and it means their managers will need to be willing to carve out time for their employees to create knowledge-sharing resources.

Asking your employees to write down their go-to processes or create tutorials can be an empowering experience for them. It allows them to take ownership of their knowledge and skills while presenting themselves as experts to their colleagues.

Your staff may need guidance from you or from your knowledge manager on the best way to document things in a way that's easy to understand. This is another area where it may help to create a set of internal guidelines to help them along.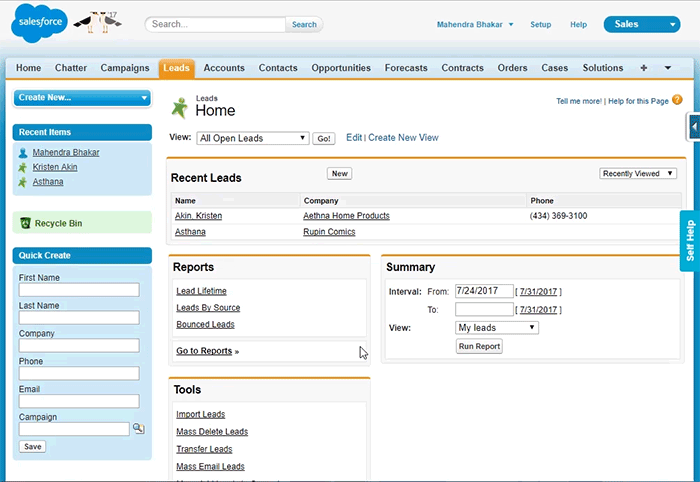 Above: With Whatfix, organizations can create in-app self-help knowledge bases that empower employees to find and share answers to FAQs on-demand, in the flow of work in common work software such as the Salesforce example above.
Establish company norms around knowledge sharing by encouraging your leadership team to model it as well. The people in your organization will follow your lead.
Norms play an important role in knowledge sharing. People may be more likely to engage in altruistic behavior (knowledge sharing included) if they see that it's the norm within the organization. Showing your staff how to share knowledge and why they should help encourage those who would typically keep quiet with their co-workers about what they know.
6. Schedule Lunch and Learns Hosted by Internal Employees
Scheduling informal lunch and learn events can offer a fun way to build community, break the ice, and make people feel more willing to share. You can also record each event and save it in your knowledge management database for easy reference.

Some options include:
Allowing your resident experts to present on a topic of their choosing
Creating a book club where your staff can discuss works related to their field or to work in general
Setting up smaller group meetings where staff can be cross-trained on different roles
Encouraging open-ended Q&As with experts and members of the leadership team
3 Common Barriers to Knowledge Sharing to Watch For
Sometimes, underlying issues in your organization can get in the way of knowledge sharing. If you're struggling to implement changes or if employees are hesitant to join in, look for problems like:
An overworked staff
Too much competition
Low trust among your employees
Solving these problems is no easy task, but you can create a work environment that's more conducive to knowledge sharing. That may mean hiring additional employees and ensuring that they have the time to participate, or it could mean eliminating company policies that encourage cutthroat behavior, like incentives or public comparisons. And you may need to model the trust you'd like to see among your staff, always showing that you're willing to share what you know to help others succeed.
With Whatfix's employee training and development tools, create interactive in-app L&D content to empower your workforce with on-demand support and knowledge. Learn more about Whatfix's learning and development solutions now!
Subscribe to get new content delivered directly to your inbox.