On a daily basis, your employees will have repetitive questions. What is our vacation policy? How do we respond to upset customers? Where can I find that onboarding checklist?
We've all been there before, whether we're the person asking the question or the one on the receiving end — and it can be equally frustrating for either side. Stopping what you're doing to ask (or answer) a simple question might not be difficult, but it can be disruptive. And it's not always easy to jump back into a focused flow. 
But companies depend on so much internal knowledge to run smoothly and provide consistent products and services. It's crucial that employees and customers have access to the information they need right when they need it — something that is easy to do with a knowledge-sharing platform.
What are the best knowledge-sharing tools in 2022?
Nuclino
Notion
Confluence
Microsoft SharePoint
Google Workplace
Papyrs
GitBook
What is a Knowledge-Sharing Platform?
A knowledge-sharing platform (sometimes called an internal wiki or intranet portal) is a centralized hub for sharing information, guidelines, policies, instructions, process documentation, and more. Information stored in a knowledge-sharing platform is designed to be easy to find, understand, and engage with.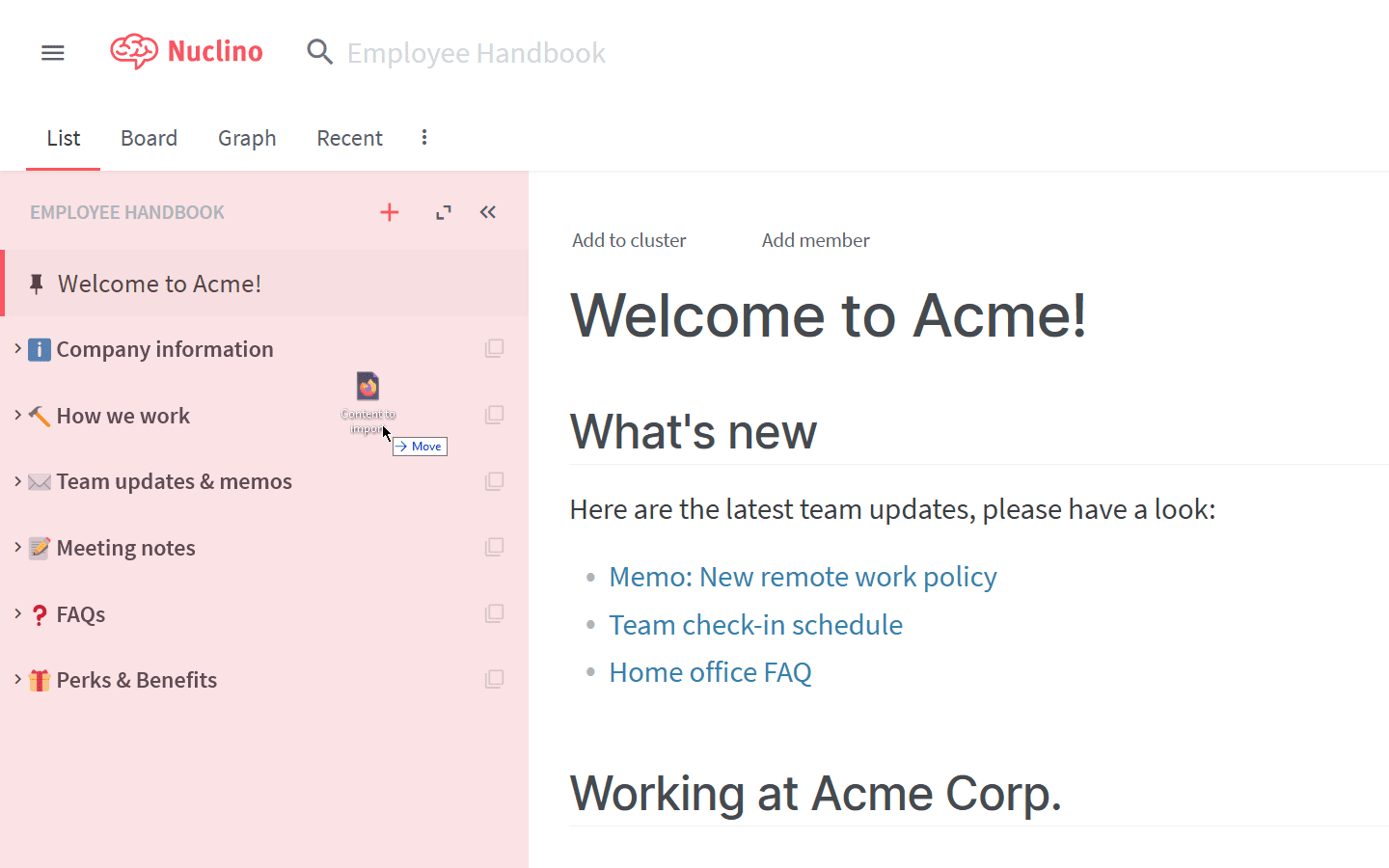 Some popular uses for a knowledge-sharing platform include: 
Employee onboarding checklists 

HR policies and guides 

Company updates and information 

Product or software instruction guides
Using a knowledge-sharing platform to store and share important documents or information can reduce the amount of time your team spends looking for answers or instruction, so they can work more productively – helping your organization cultivate a knowledge-sharing culture.
Knowledge Sharing Platform vs. Knowledge Base
A knowledge-sharing platform and a knowledge base are fairly similar on the surface, but they do have a few distinct differences — the biggest being in functionality. 
A knowledge base usually just stores a company's information in one location. Documents, images, videos, and graphics are all easy to find and share, but they simply exist in a folder without context, instruction, or the ability to engage with other team members. Knowledge bases usually have limited search capabilities, lack question, and answer functionality, and often take an all-or-nothing approach when it comes to permissions. 
A knowledge base is great at making specific information available for employees, customers, or other third-party stakeholders — but it often falls short in the usability or experience department. 
A knowledge-sharing platform, on the other hand, takes the same information and presents it in a contextualized way, making it easier to understand and engage with. In addition to storing knowledge, a knowledge-sharing platform users can collaborate, ask questions, provide feedback, and make easy edits all without leaving the software.
Key Features of Knowledge Sharing Platforms
The right knowledge sharing platform can make your teams' work a lot easier, but in order to do so, you'll want to keep an eye out for a few key features, including: 
Powerful search.

A good search engine can make all the difference when it comes to finding exactly the right information. A robust search should be at the top of your features list. 

Mobile friendly.

Employees and customers need to be able to access information regardless of what device they are using. A mobile-friendly knowledge-sharing platform is a key to delivering a positive experience to all. 

Reporting and analytics.

A built-in reporting and analytics feature can show you where weak points in your training may be. You can use these insights to improve existing processes to see better outcomes. 

Integrations.

When your knowledge-sharing platform works with the apps and tools your team is already using, it's even easier for them to find the information they need to get their job done.

Collaboration and communication.

When team members can ask questions or give feedback within the software itself, it boosts productivity and reduces confusion. Look for a knowledge-sharing platform that offers collaboration and communication features, like Q&A functionality.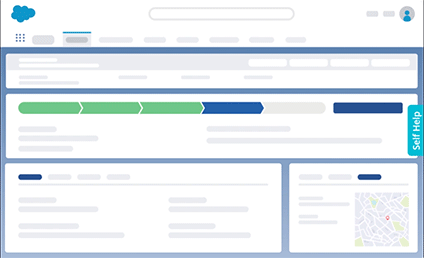 Create personalized learning & training flows directly in your digital apps Whatfix
7 Best Knowledge Sharing Platforms in 2022
Here are seven of the best knowledge sharing tools for companies to improve their communication and document organization: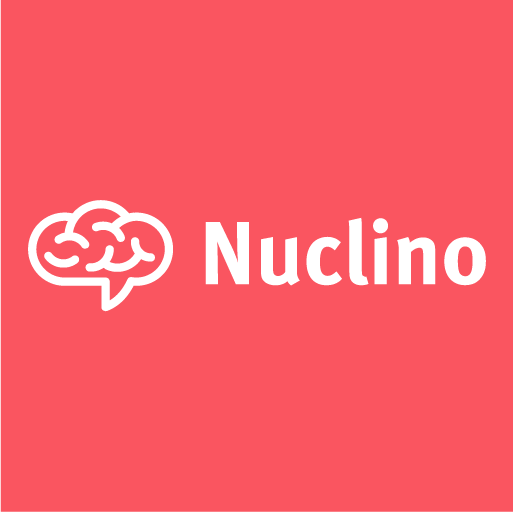 Pricing:

Free for up to 50 items

G2 Rating: 

4.6 out of 5 stars

Capterra Rating:

4.7 out of 5 stars
Nuclino is an internal wiki creation platform that provides a simple way to bring knowledge, documents, and projects together under one roof. Although seemingly basic on the surface, Nuclino is lightweight and intuitive, so it's simple to navigate through even for first-time users. Structure content with text, images, and videos for easy reading and add code blocks, embed, tasks, tags, and links for an interactive experience. 
Nuclino lets you view knowledge content in lists, boards, and graphs to see how all your information is connected to better manage workflows and ensure your bases are appropriately covered. Instant search, hotkeys, and markdown editing let you find exactly what you need quickly — and you can even update content without additional distractions or complications.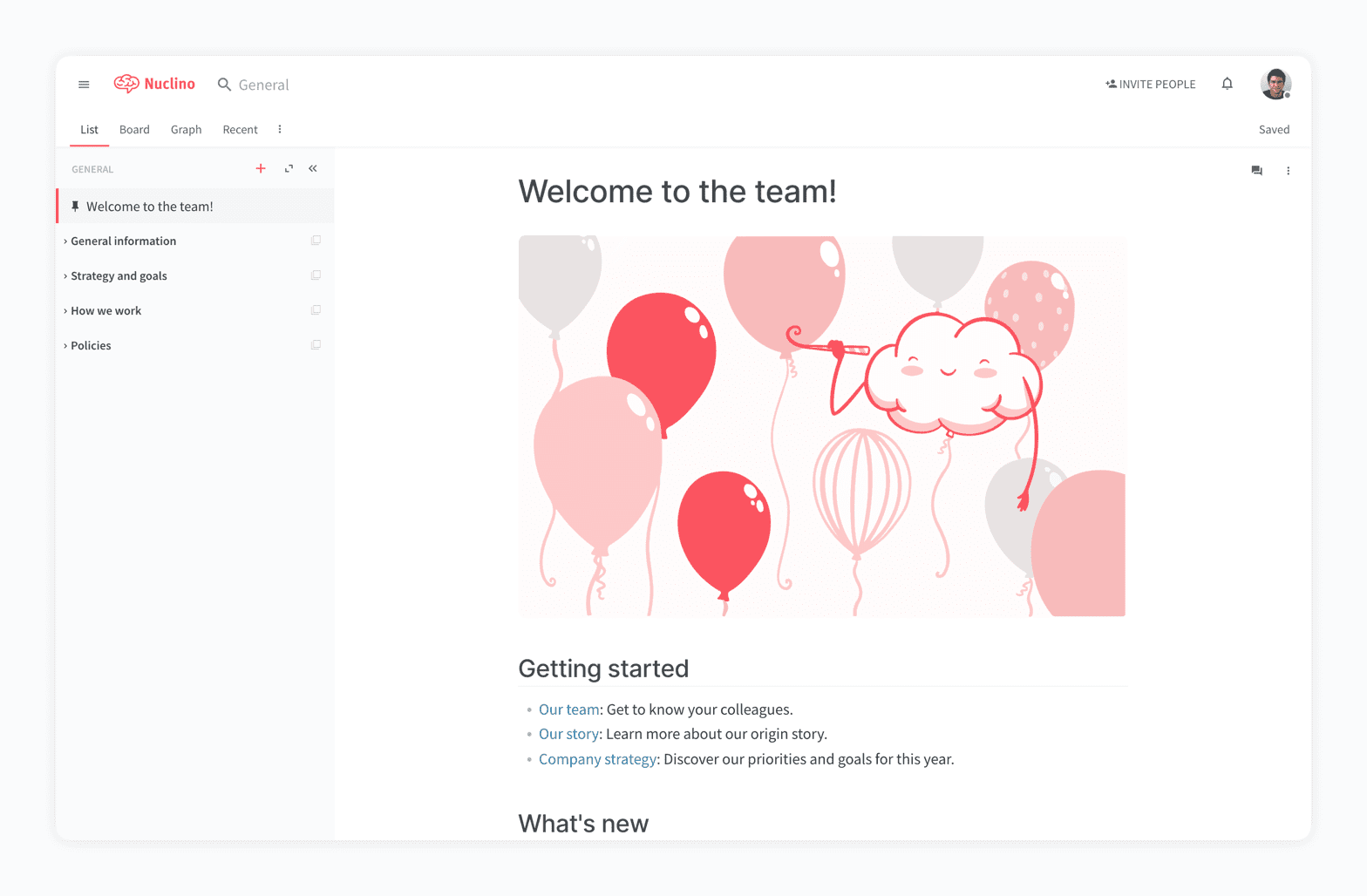 Main Features: 
Clean user interface (UI)

. Nuclino is simple while still being visually appealing. Create information-rich content without creating complexity and clutter. 

Real-time collaboration.

Edits, comments, and document changes are shared in real-time so team members can work on a project together. 

Integration library.

Nuclino integrates with over 40 of the most popular apps, including Slack, Typeform, Google Drive, and Loom, so you can keep using the tools your team already loves.

Contextual organization.

Include links to other pages or items easily by typing @ within any page. You can discover relevant information to further engage employees or customers.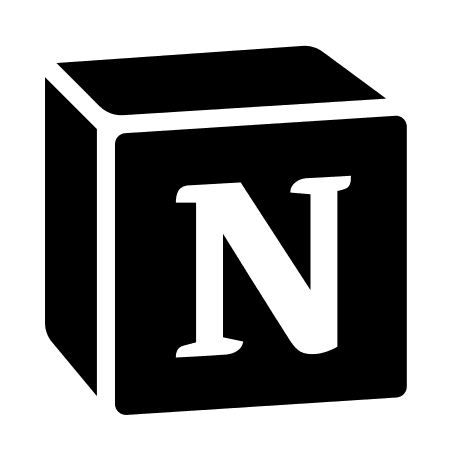 Pricing:

Free for personal use

G2 Rating:

4.6 out of 5 stars

Capterra Rating:

4.8 out of 5 stars
Notion is a customizable workspace that allows teams to create connected pages, lists, databases, tables, calendars, and more, giving them full control over how their information is stored and shared. Because Notion is so customizable, it can also be used for project management, note-taking, content creation, and collaboration — putting your knowledge information side-by-side with day-to-day work. This can help keep the information up to date and avoid the risk that your knowledge base becomes stale. 
Notion also has page-by-page permission and share features, so you can use Notion as both an internal and external knowledge-sharing tool. Allow users to comment and ask questions, or turn off the functionality depending on your audience. Notion puts you in control so you can create the knowledge-sharing platform that works best for you.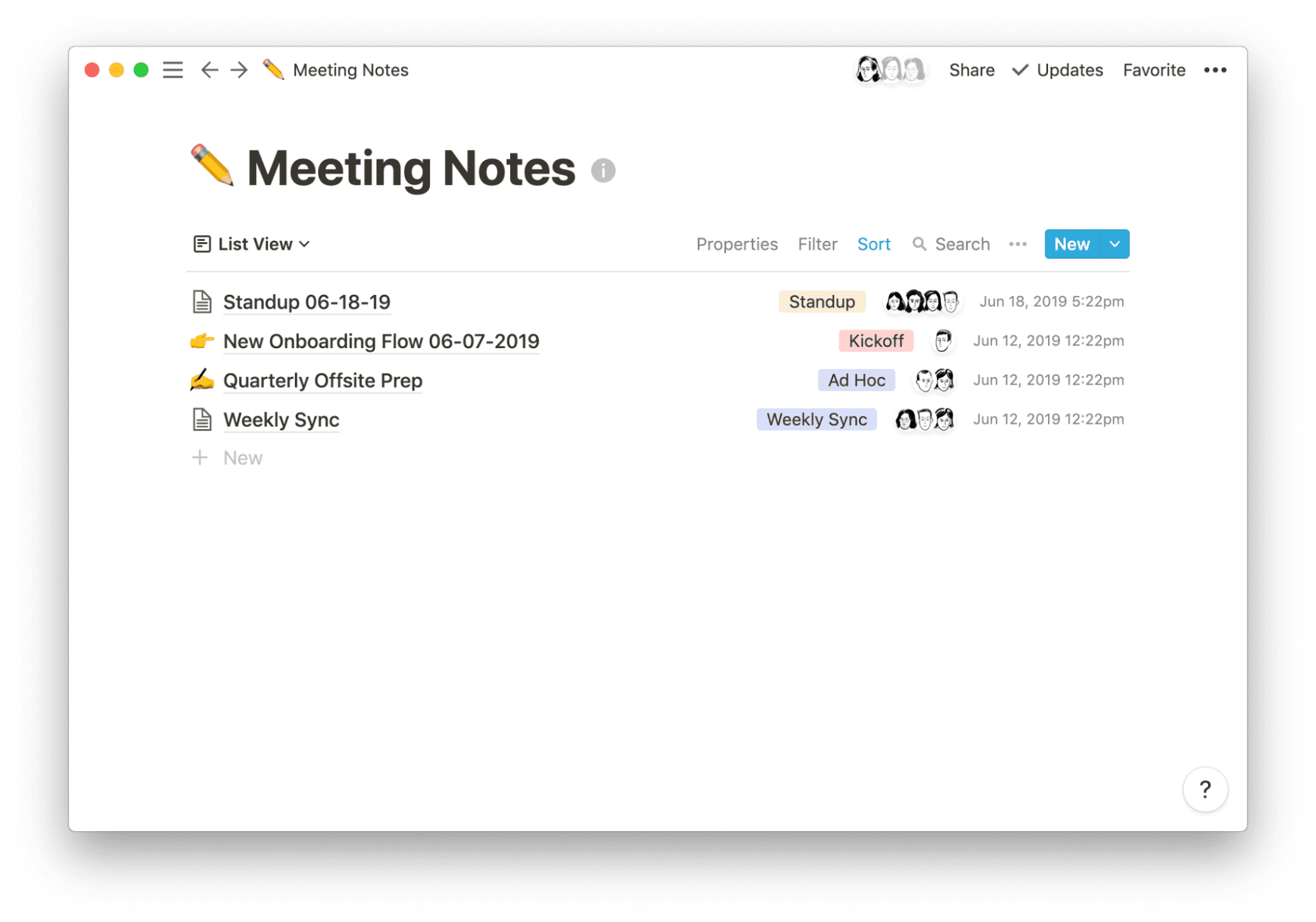 Main Features: 
Easy linking and connections.

Notion lets you link to pages, display database views, or even mirror text from other documents, so when you make a change on one page, it reflects everywhere that page is linked. Your knowledge pages remain up-to-date and relevant without any extra lifting.

Embedding and multimedia.

Upload widgets, videos, icons, images, and graphics to make your knowledge pages as detailed as necessary. You can even embed read-only files from third-party apps like Figma and Airtable.  

Presentation control.

Use content blocks to lay out your information exactly as you want it. Checklists, toggle windows, tables, and dividers give you the ability to customize your pages without needing to code-design pages.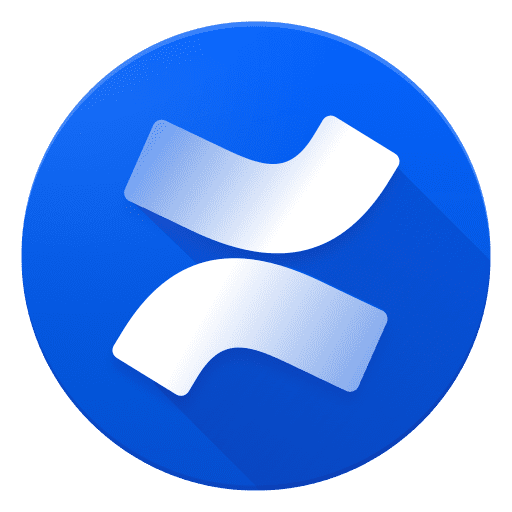 Pricing:

Free for up to 10 users

G2 Rating:

4.1 out of 5 stars

Capterra Rating:

4.4 out of 5 stars
Confluence (created by the team at Atlassian) lets you build, organize, and collaborate with teams no matter where they're located. Manage knowledge content in a single location so everyone on your time has easy access to answers and updates — you can even use Confluence to share meeting notes, project plans, and company announcements to collect opinions and feedback. 
Confluence has a powerful search function and page tree views so you can manage content hierarchy and keep all your information organized. Each user also has a custom home view, pointing them back to their recently visited pages,  in-progress work, or starred information — making it even easier for your team to access the resources they need to work productively.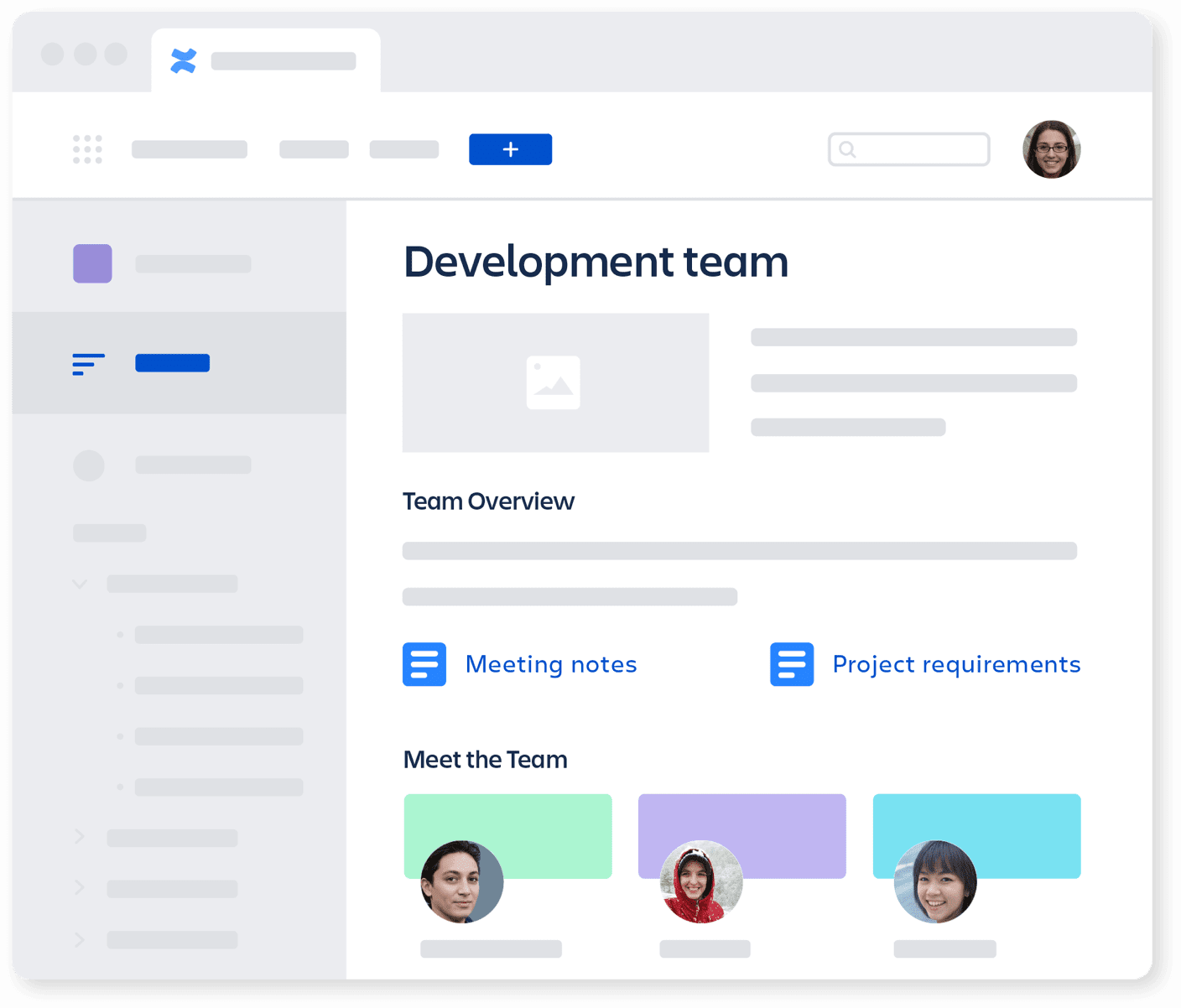 Main Features: 
Tag and task notifications.

Alert teammates of questions, issues, or feedback they should act upon, or push them to information they might find interesting or relevant. Notifications can help your team stay productive. 

Jira integration.

If you're already a Jira user, using Confluence can help you stay on top of tickets and issue-tracking so you can always ensure your knowledge content is up-to-date. 

Integrations and apps.

There are hundreds of apps and integrations available in the Confluence marketplace so you can completely customize your knowledge-sharing platform. 

Pricing:

Starting at $5/user/month

G2 Rating:

4 out of 5 stars

Capterra Rating:

4.3 out of 5 stars
Microsoft SharePoint is a mobile, intelligent intranet portal software that lets teams share content, knowledge, and applications to encourage collaboration. Users choose blocks (including text, images, videos, forms, and more) to customize page layouts without needing to deal with complex coding. You can even add news and announcement feeds to knowledge pages to always keep them up to date with real-time information. 
As part of the Microsoft 365 suite of tools, SharePoint works best with Teams, Docs, Sheets, and Yammer, but it's still possible to integrate with third-party tools and apps. And because it's backed by one of the biggest names in tech, users have access to a productivity library, developer resources, and training to get the most out of SharePoint.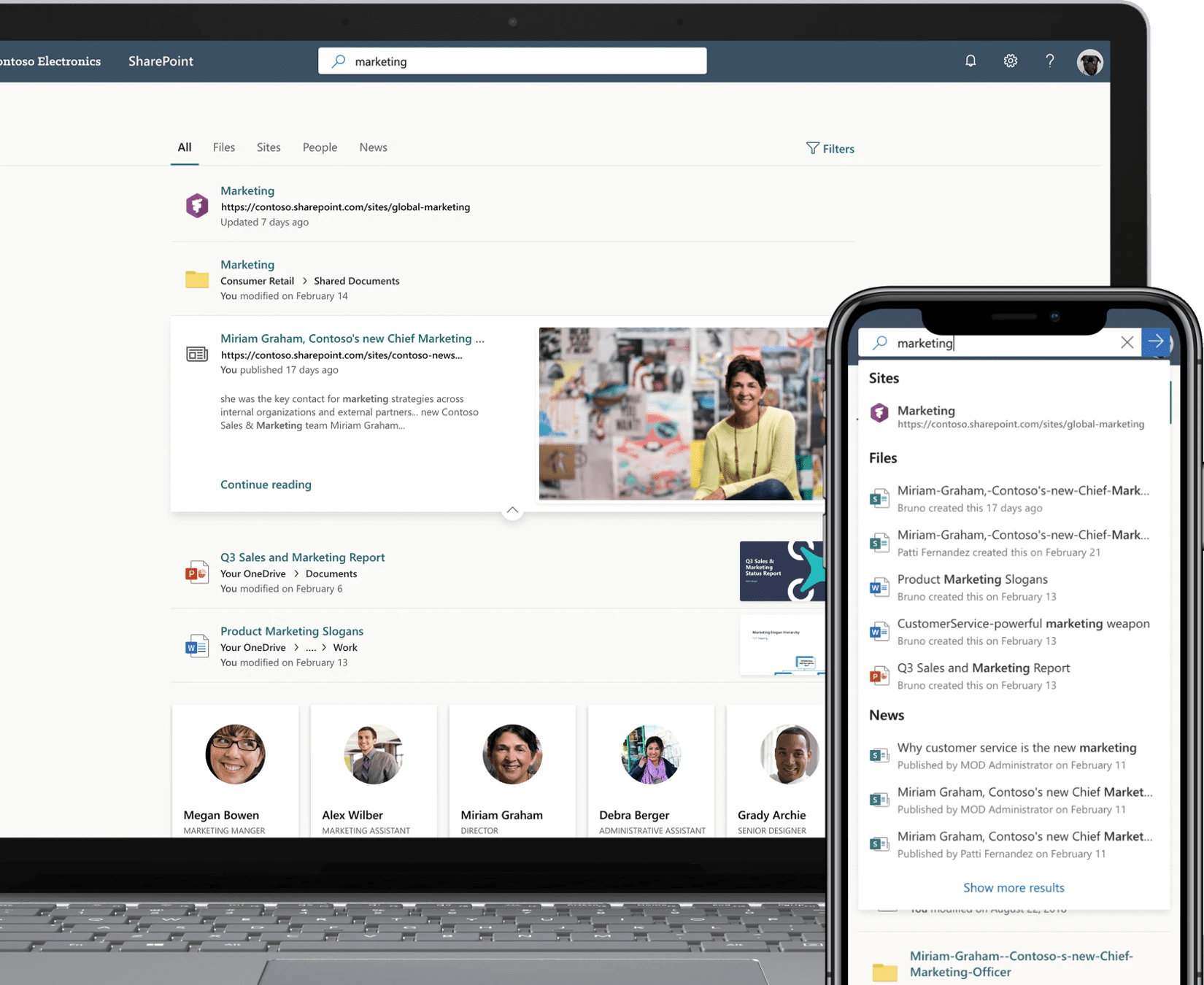 Main Features: 
No-code customization.

Fully customize your knowledge content to create high-quality, website-like pages without needing coding experience. 

AI-powered content suggestions.

SharePoint uses AI to offer users personalized content suggestions, helping them find information that might be relevant to them. 

Security and encryption.

Keep your knowledge and information protected with unique key encryption and advanced access control.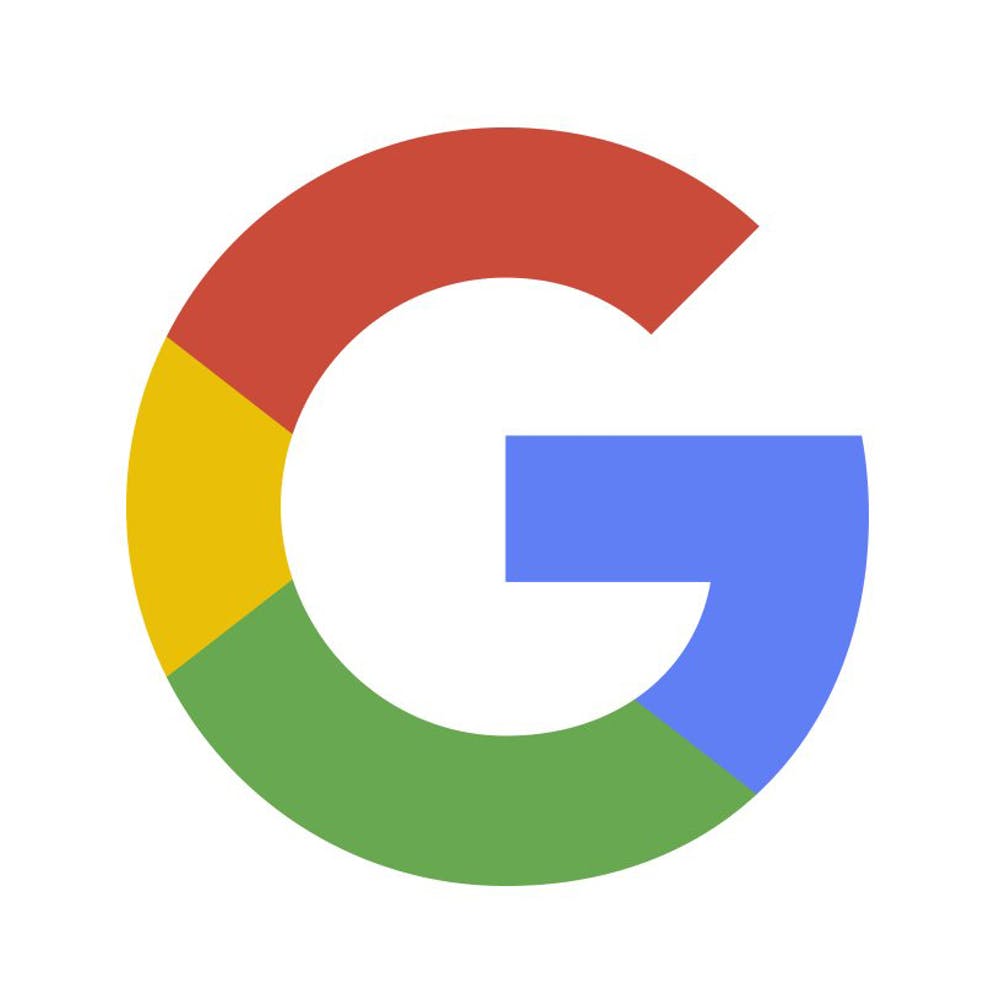 Pricing:

Starting at $6/user/month

G2 Rating:

4.6 out of 5 stars

Capterra Rating:

4.7 out of 5 stars
Google Workplace (formerly known as GSuite) isn't just one app — it's a collection of productivity and collaboration tools designed to fit the way you work. Google Workplace includes apps that function independently (including Gmail, Calendar, Meet, Chat, Drive, Docs, Sheets, and Slides), but all integrate together to create a complete ecosystem of information. 
Google Drive, the suite's document management system, lets you store and organize documents and files like a typical knowledge base. But when you add in the functionality of the suite's other tools and apps, you can easily collaborate, share, and access the knowledge content you need — especially if you're already a Google user.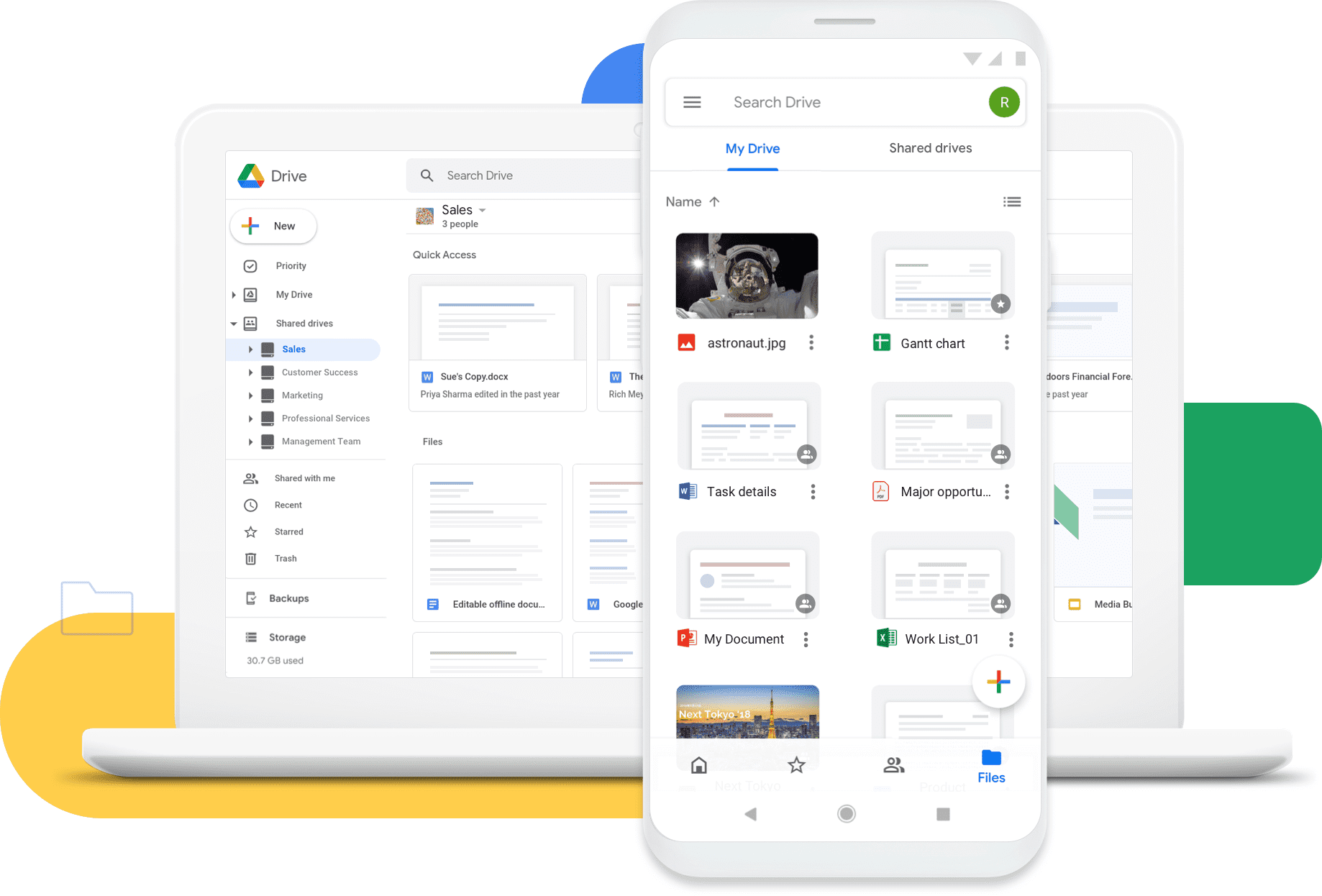 Main Features: 
Flexible tools and features.

The segmentation of Google Workplace tools lets you focus on what features you need and ignore the ones you don't. 

Comprehensive collaboration tools.

Comment, meet, chat, and email all under the same username — keeping all your conversations in one place.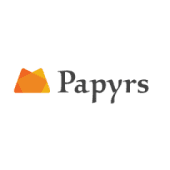 Pricing:

Starting at $89/month for teams

G2 Rating:

4.7 out of 5 stars

Capterra Rating:

5 out of 5 stars
Papyrs uses drag-and-drop layout settings to create easily customizable knowledge notes, files, projects, and discussions. Use widgets for polls, checklists, forms, calendars, and files, or choose a simpler approach and update pages in markdown. Get all the flexibility of a custom-coded intranet without needing the skill or expertise to do so. 
Papyrs lets you drop PDF files, images, docs, and even ZIP files directly onto a page. Users can easily view or download the resources they need without needing to open new windows or search through folders.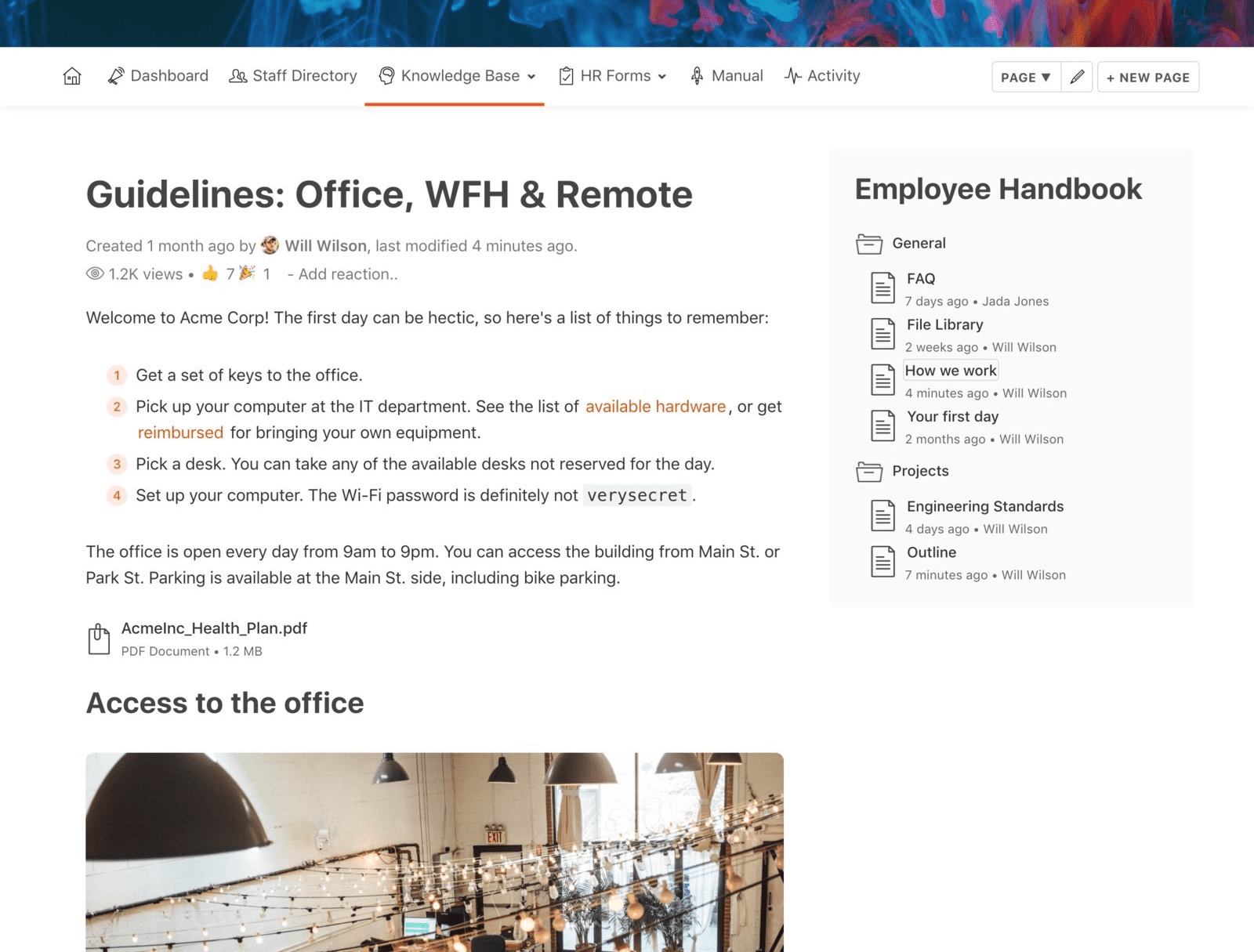 Main Features: 
Interactive collaboration.

Set a place for discussion, request feedback, include forms, and share reactions to spark a more collaborative environment and show that your knowledge content is more than just a static page. 

Version history and activity.

Keep an eye on changes or revert back to old information if necessary. Papyrs keeps past content versions safe so your info is always there if you need it. 

Customizable branding.

Add your logo and choose a theme that matches your company's branding to create consistency with your team.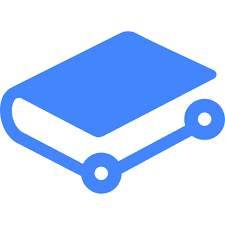 Pricing:

Free for open source projects

G2 Rating:

4.7 out of 5 stars

Capterra Rating:

4.5 out of 5 stars
GitBook is an organized workspace that promises to keep everyone on the same page. GitBook is user-focused, creating website-like pages that are easy to navigate and read even without coding or design work from your team. Your expert team members can collaborate on pages that you can then share with end-users. 
GitBook's main audience is technical teams. It connects with GitHub so you can sync markdown files to turn them into presentable pages. They even offer custom domains, advanced branding, and visitor authentication, so your GitBook pages will look both professional and secure.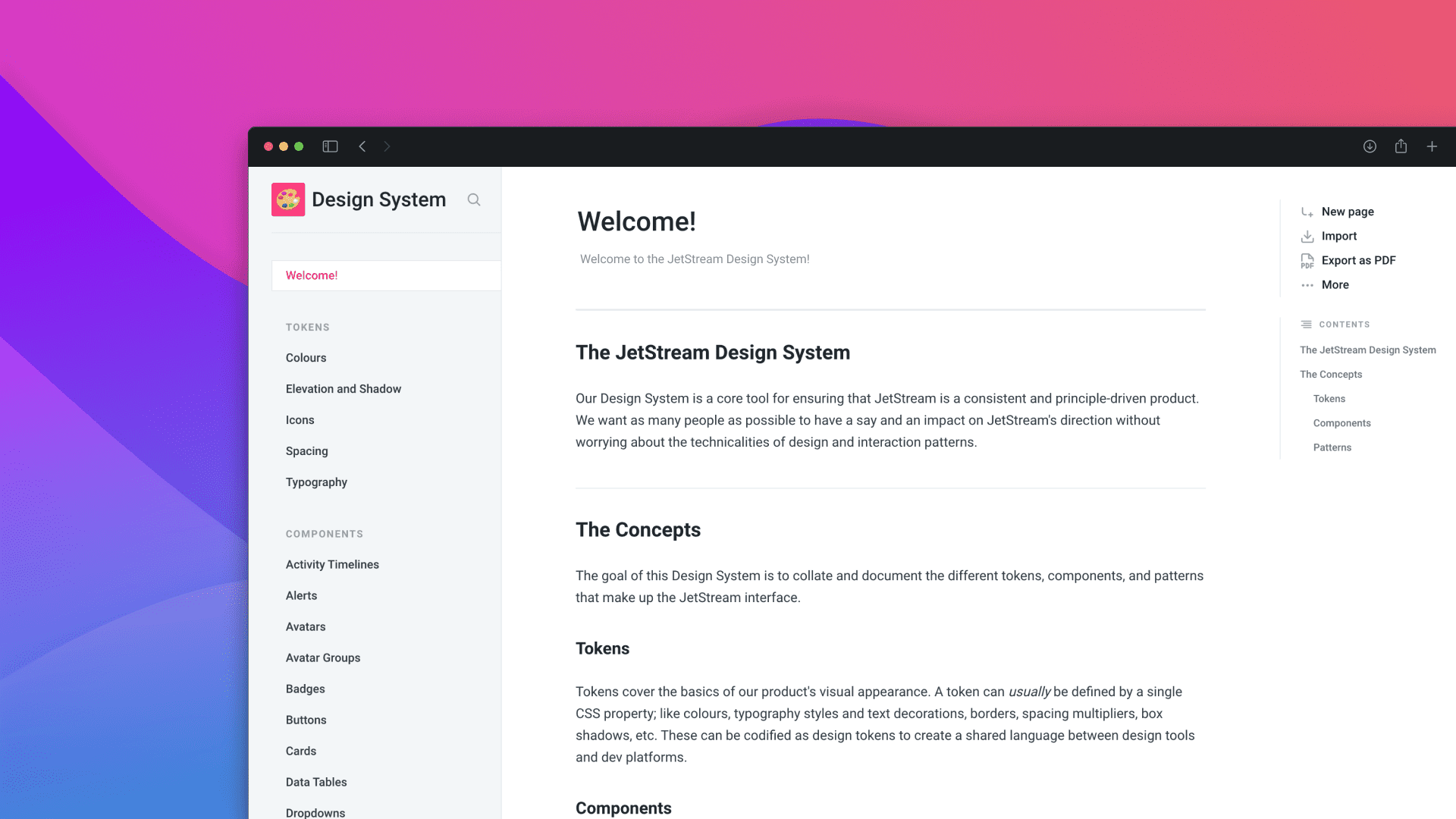 Main Features: 
Live editing.

Collaborate in real-time with live editing permissions. Work together to create documentation, collect feedback, or make changes as you go. 

Change requests.

Manage changes and edits with change requests. Give those in charge the final say while still allowing employees to make adjustments or recommendations. 

Page personalization.

Change fonts, colors, and themes to create a customized page while maintaining GitBook's simplicity.
Choosing a Knowledge Sharing Platform for Your Team
There is a lot to consider when choosing a knowledge-sharing platform for your team, but the most important thing is whether or not your team will use and maintain it. While the trendiest interface or the flashiest features might be appealing, your knowledge-sharing platform will quickly become a waste of time and money if it doesn't align with your team's needs and expectations. 
Select a tool that is easy to use and fits with the software they're already using — and don't skip training. While many of these knowledge-sharing platforms are designed to be intuitive, it's still crucial to properly introduce the new systems and processes in order for it to be most effective. 
A digital adoption platform such as Whatfix can help your team adjust to whatever knowledge-sharing tool you choose. With in-platform walk-throughs, videos, and self-help menus, you can quickly and efficiently get your team up-to-speed so you can make the most of your knowledge content.
With Whatfix, you can also embed links to your knowledge sharing tool and other documents – directly inside your workplace apps and enterprise software.
Subscribe to the Whatfix newsletter now!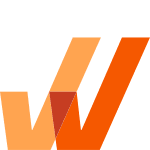 Request a demo to see how Whatfix empowers organizations to improve end-user adoption and provide on-demand customer support