Truth be told, Salesforce already has too many extensive features on its groundbreaking platform! Release after release, the number of features keeps on increasing. And all of this is happening so quickly that Salesforce is almost on the verge of a feature bloat.
"One could argue that thanks to the feature bloat, Salesforce is more complicated today than Siebel was when Salesforce first promised a simple, cloud-based solution. "
– VentureBeat
The advent of Salesforce Lightning could be a solace to the expectations of the organizations using Salesforce. (Since, it has a simpler and cleaner interface.) But the fact is, it could take years for the complete transition from Classic to Lightning, which could, in turn, become complicated by then.
How does this matter really?
With 20K+ employees and 150,000+ customers with 4M+ users, Salesforce already is in the forefront of the CRM race. But, as the features swell up the platform, the complexities to use it increases. Many other practical problems like ineffective user onboarding and training, increased support costs and time to productivity, etc., are proportional to these complexities. And as they increase, the possibilities of curbing the damage would decrease. That would ultimately affect negatively on your Salesforce investment.
Evidently, these gaps are the main reasons why there is a boom in the number of Salesforce consultants, solutions, and third party software on Salesforce.com and its associated platforms like Force.com, SalesforceIQ, Data.com, etc.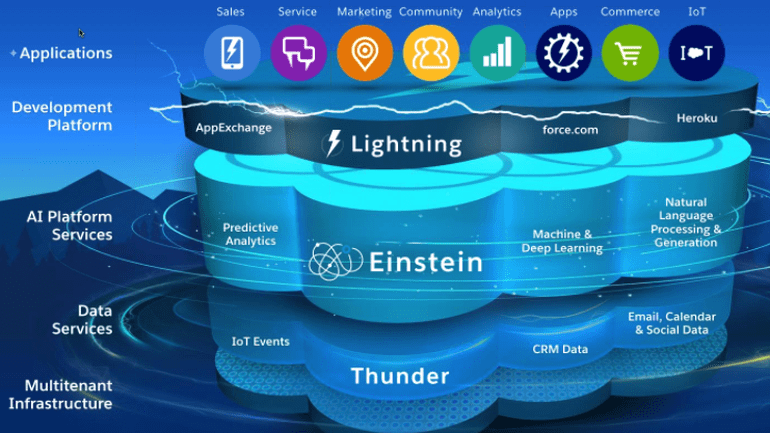 Source
The intent of this article is to introduce you to one such approach that could tackle these situations effectively while helping you streamline your Salesforce training and support.
The approach is actually two decades old and is popularly known as a Performance support systems. This user performance enhancing system basically helps users/customers/learners get help just-in-time on sophisticated software/applications, right at the moment of need.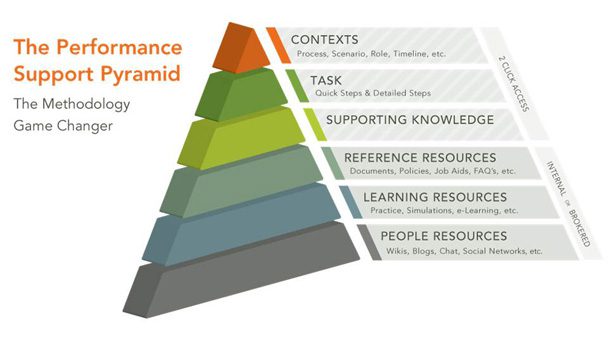 And when it comes to helping users on Salesforce, Performance Support fits in perfectly. But before we see how they can enhance the Salesforce experience, let's first understand a bit about what it is.
What is a Performance support system?
To the uninitiated, Performance support systems (a.k.a Electronic Performance Support Systems) provide just-in-time information and training that complements the training given to the user on a software platform.
It helps users achieve optimum performance when needed, adding up to the overall performance of the business.
Gloria Gery, the pioneer of performance support system defines it as, "an integrated electronic environment that is available to and easily accessible by each employee; Structured to provide immediate, individualised on-line access to the full range of information, software, guidance, advice and assistance, data, images, tools, and assessment and monitoring systems that helps in job performance with minimal support and intervention by others."
If you try and sum up her vision of Performance support systems, then you would definitely see that it is in fact, a Swiss army knife for performance improvement and employee training.
Fun Fact: The above definition of Performance Support System by Gloria Grey dates back to 1991.
For ease of explanation, in the upcoming sections, I'll use the example of Whatfix, which is one of the performance support systems that helps users on Enterprise platforms like Salesforce, Oracle, MS Dynamics, ServiceNow, etc. The idea of such a solution is that when you hit a stonewall while using the platform, instead of going about the usual way, i.e, referring helpdesks, googling, asking your colleagues reaching out to support, etc., you get a real-time contextual help that guides you right within the platform.
Why You Should Get A Performance Support System For Your Salesforce At Once!
Let's try and reason it out. I'll explain five scenarios that will be familiar to you as a Salesforce user, and then how Performance support system would fit into each as a probable solution.
1. Tackling Salesforce feature bloat
Salesforce has been around for about 18 years now. And over the years, there were many features that became obsolete to a point where they were termed useless.
Researching about Salesforce's feature bloat, I came across a list of useless bloats of Salesforce compiled by AdminHero's Brent Downey. Adding on to his points, the main reason for the feature bloat in Salesforce is that users find it difficult to discover, understand and use these features promptly.
Take Salesforce Schema Builder for example. Albeit, it is one of the useful features on Salesforce, but it gets quite tricky at times. Especially due to its multiple features that sometimes throws the user off balance. With a performance support system, you will be able to create quick access guides that can help users through the process builder effectively.
Here's a video that'll show you how a performance support system can help sort out this situation on Salesforce Lightning.
Note: This is in the annotated video format of Whatfix.
https://www.youtube.com/watch?v=Fy97DgdiP04
2. Enabling assistive learning and navigation on Salesforce
We humans have a limited short-term memory capacity. So, no matter the length and quality of your Salesforce training, your employees are bound to forget stuff. Especially since the information learned by the short-term memory will not move into the long term memory unless and until the training is repeatedly practiced over time.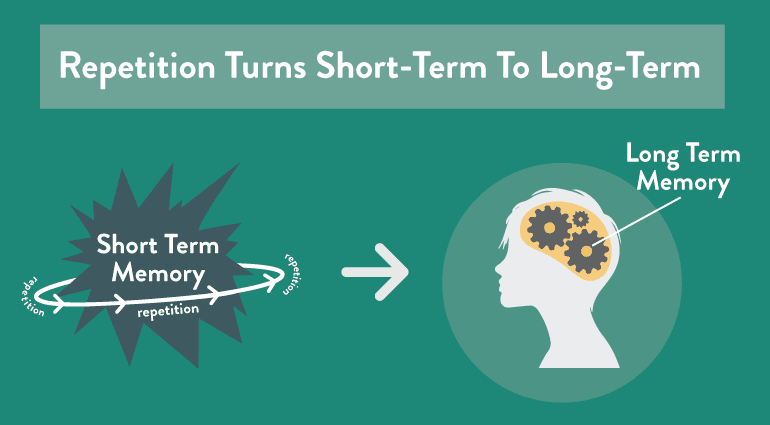 Source
Performance support systems is a boon in such scenarios. These systems help in delivering valued assistance, in form of checklists, task lists, etc., that will help employees not only to jog their memory but also to help them learn while working on Salesforce.
This practice also thwarts the need for memorizing and repeating steps to do a particular task. Which is a major pain point when it comes to learning to use new applications!
As a matter of fact, even Albert Einstein preferred this way of performance support.
In an interview, a reporter asked Einstein whether he could share his phone number in case he had any further questions. Einstein picked up a phonebook (which is the performance support system in this context) to find his own number, which then he wrote on a piece of paper and passed on to the reporter. The reporter was dumbfounded as in front of him was one of the smartest man who ever lived, and he could not even remember his own phone number. He asked Einstein the reason, for which he replied, "Why should I memorize something when I know where to find it?"
3. Providing on-demand training for Salesforce users
Training and onboarding employees on Salesforce has always been a gap that organizations try to fill with extensive instructor-led sessions, workshops and innumerous tutorials and videos. But the fact is, most of these approaches are a one-time thing, post-which the employee is expected to work effectively.
Well, the truth is, each employee has a different learning curve as well as learning style. To facilitate training while making employees comfortable with it, you can choose to implement a performance support solution that works on-demand.
On-demand training through performance support will allow your employees to learn real-time anywhere and at any time, at their own pace. It could be done with performance support solutions that provide Salesforce users real-time interactive walkthroughs which can guide step-by-step from the beginning to the end of a task, on-demand by the employee.
Let me take an example, Consider Whatfix's self-help widget. This widget is available throughout on Salesforce and appears on click when the users need it. The guides in Whatfix's self-help widget will launch an interactive guided walkthrough that can help the employee effectively complete the task at hand.
Here's a snippet of how it works: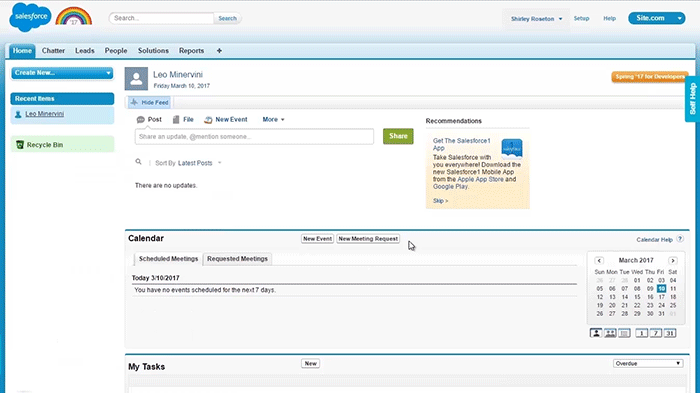 4. Beating the implementation dip to manage change effectively
This scenario could take a back seat for the moment, especially if you are not planning to shift to Salesforce Lightning. But, if you are planning the transition, then this could be a huge lifesaver for you.
Often, when you implement a new change, where your employees need to learn a new tool (in this case Salesforce Lightning), the productivity and enthusiasm consistently dip. The root cause could depend upon the change acceptance and effectiveness of the change management process. This is the implementation dip that a performance support system can simplify.
A performance support tool can help you maintain the situation by reciprocating the processes in Classic on Lightning as well. This means you will be able to train them live on the Salesforce platform while undergoing change. Which saves a lot of time and money on your existing employee training budget.
It also makes sure that your employees are consistently and continuously trained. Which will help them learn the platform effectively, and in turn reduce churn and increase Salesforce productivity.
"Continuous Training Gives 50% Higher Net Sales Per Employee." – ATD Sales Enable
5. Ensuring continuous employee performance on Salesforce
In any learning experience, there will be an 'Aha' moment where you really get what you are learning. Cracking the triggers to those 'Aha' moments is one of the crucial aspects of improving your employee's performance. But then, what's next?
What happens once the 'Aha' moment is delivered? How do you ensure that the performance of the employee is sustained throughout?



In a blog post, Conrad Gottfredson, a professional with 30 years of experience in the learning and training industry, explains the "learning to competency" graph that can help you derive your performance support components.
Let's put it in the context of Salesforce for a better understanding.
The red portion in the above graph represents the initial Salesforce training given to the employee, which could be via instructor-led classroom training or a workshop. During the training, the employee could reach a point where he/she feels that she's mastered the platform. But then, once the session is done, then begins the downward spiral of learning. Moving to the second phase, i.e learning transfer (the green portion), the employees would need to use all that they learned about Salesforce while working on the platform. But then, recalling what they learned and implementing it efficiently and effectively could be tricky here. Especially since the learning curve of employees differ. So some may be efficient enough and some may not.
Now, to ensure that the performance of your employee is sustained continuously, you would have to make sure that their skills are up-to-date, they have the latest resources readily available, etc. Performance support system is the key to make this happen!
That's the third section (the gray portion). In this section, a Performance support system is in place, and it allows you to sustain the innovation, improvement and continuous performance of your employee.
Making the 'Aha' moments consistent and performance of employees ensured throughout the Salesforce platforms!
---
What do you think about adopting Performance support systems for Salesforce? Tell us in the comments.
Are you looking to try out a Performance Support Solution? Then I urge you to check out the next-gen potential of Whatfix.