Salesforce Switcher is a thoughtful tool released along with Salesforce Lightning. It allows users to switch between the newly introduced Salesforce lightning and Salesforce Classic.
Have you read: What's new in Salesforce User Interface?
What is Salesforce Switcher?
Salesforce Switcher is a smart feature, that helps you switch between your preferred user experience.  
To enable the switcher, here's what we suggest you do/try:
After completing these steps, you will have enabled the Switcher.
To make it simpler for you, we've created Whatfix flows that will guide you through the process. Here's how you can make the most out of them.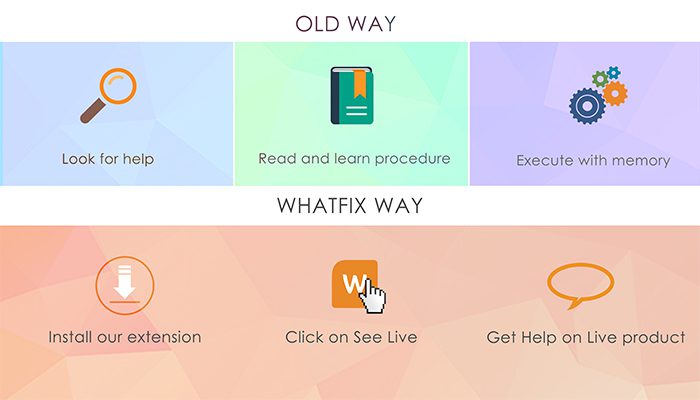 Let's get started with the flows.
This flow will show you how you can switch to the new Salesforce Lightning experience from the traditional Salesforce Classic with a few clicks.
Note: The option will be displayed to the admins/managers only after enabling Salesforce Lightning Experience.

With that sorted out, let's move on to the next part.
Read also: How To Build Kickass Salesforce Apps With Lightning App Builder
Known issues with Salesforce Switcher and What to do about them
There are a couple of problems that could occur when you switch to the Lightning Experience.
1- Switching between interfaces could change the underlying URL routing logic. This may cause problems, especially if you have bookmarks or links shared via email or chatter posts.
2- Users who don't have access to Lightning Experience won't be able to access Lightning Experience links from their Salesforce Classic.
How to fix them?
The ideal solution would be

to keep all members of a team on the same platform, i.e either on Salesforce Lightning or Classic.
Tip:  You might want to run a Salesforce Lightning pilot and then decide whether you want to do a mass rollout in your organization or not.
On the basis of the URL routing logic, we can say that the Salesforce Lighting links may not work for Salesforce Classic users. But it'll work the other way around perfectly. So when such a case happens, the best idea would be to switch back to Salesforce Classic.
Here's a flow that'll help you in such a scenario.
This Whatfix flow will show you how you can switch back to Salesforce Classic from Salesforce Lightning.

Once you switch, the Salesforce Switcher remembers your default user experience until you switch again. With this nifty feature, you can easily train your Salesforce Classic users on Salesforce Lighting Experience.
In our next post, we'll be discussing the best practices for setting up Salesforce Lightning in your organization. So stay tuned.
Want more news and updates about Salesforce Lightning? Subscribe to our weekly newsletter!