As the #1 CRM in the market, Salesforce has been dedicatedly providing CRM solutions to businesses of all sizes. When it comes to innovation, Salesforce has left no stone unturned. Salesforce's grand conference, Dreamforce 2015 itself stood witness to two new remarkable releases, namely the new Salesforce Lightning Experience for organizations and SalesforceIQ for SMB's and startups.
In this post, we will give you a glimpse of what is SalesforceIQ and how its breakthrough technology will help you improve your sales.
Also Read: What's New In Salesforce Lightning UI
What is SalesforceIQ?
SalesforceIQ is an intelligent CRM that was born when RelateIQ joined hands with Salesforce. Powered by RelateIQ's Relationship Intelligence Technology and Salesforce's seamless CRM capabilities, SalesforceIQ aims at helping smaller businesses make the best out of the sales hires.
With SaleforceIQ, your sales team will be able to completely change the way they interact with your customers. It promises to help businesses in collecting customer interaction data, filtering and managing opportunities and leads, and gaining data-driven insights about the team & individual performances. So ultimately, SalesforceIQ aims at making your company sell smarter and better.
Here's a video that'll get you all interested in SalesforceIQ (a.k.a RelateIQ)

What are the features of SalesforceIQ?
Unlike Salesforce CRM, SalesforceIQ is much simpler to navigate. Its nifty features is easily understandable without any background knowledge of the software.
To give you a better idea, we've made a comprehensive list of all of the main features of SalesforceIQ.
1- Automated Data management
By automating the data management, your company will have more time to focus on developing and managing customer interactions. This will help you streamline your sales processes and close deals faster.
2 – Capture and sync with your email
You can quickly connect to SalesforceIQ via your Gmail or Microsoft Exchange. Once connected, SalesforceIQ will automatically sync all the relevant inbound and outbound emails, your calendar, and your scheduled calls.
3 – Integration with 3rd party apps
One of the most sought for feature of SalesforceIQ is its ability to easily integrate with all the critical tools that you use on daily basis. They have listed around 300 apps that can be instantly integrated on their website.
Read Also: Best Practices To Setup Salesforce Lightning For Your Organization
4 – Usage of Relationship Intelligence System
The Relationship Intelligence System captures all the details required to help you through the sales process. It gives you summarized insights about what was done, what can be done and what is to be done to make your sales better.
5 – Personalizing your CRM
SalesforceIQ can be customized according to your workflow and sales pipeline. This will help you go through your work process and update what you track in your sales pipeline as your company expands.
6 – Prioritize Opportunities with Intelligence
SalesforceIQ automatically captures the relevant information about your prospects and existing customers. With this neat functionality, you will be able to prioritize your opportunities and follow-up with them at all touchpoints.
7 – Seamless integrations with Sales Cloud
Being a multi-device product, SalesforceIQ allows you to connect with your SalesCloud. It can directly connect to your Salesforce1 Mobile app, so you can access all your data, insights and customer interactions on the go.
How to get started with SalesforceIQ?
To get you onboard SalesforceIQ we'll first initiate you to the Whatfix Way.
The Whatfix Way will allow you to get real-time interactive walkthroughs on SalesforceIQ which will help you understand the product better and get onboard its processes quickly. To do this, install our browser extension and click on See Live on the following Whatfix flow.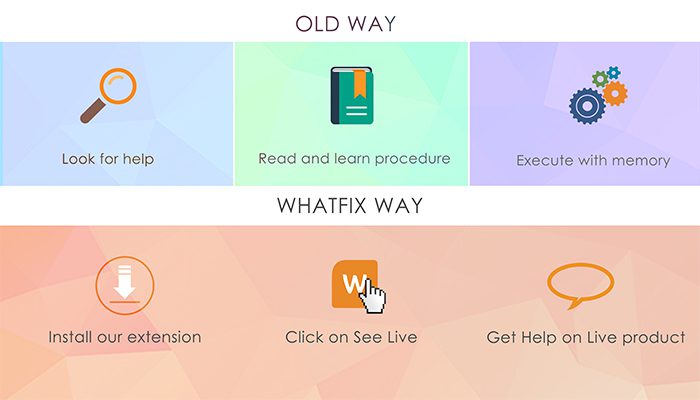 How to create a free account in SalesforceIQ?
This Whatfix flow will show you how to create your free SalesforceIQ account.
Click on See Live to get Whatfix's interactive experience.

How to get started with SalesforceIQ with Whatfix's live tour?
Click See Live on the Whatfix flow and get started with a live tour of SalesforceIQ.

For more news and updates about Salesforce Lightning & SalesforceIQ, subscribe to our weekly newsletter!