Digital transformation is impacting consumer experience and convenience across industries. However, digital transformation in healthcare still needs to pace up as it is the building block of a patient-centric approach to healthcare. COVID-19 highlighted challenges of the healthcare industry related to the quality, access, and efficiency of our current healthcare system, which further accentuates a low level of digital maturity and preparedness.
Healthcare transformation impacts how health care providers diagnose, monitor, and manage patient health. It aims to provide the agility that will optimize operational processes, compliance, and improve the patient experience while reducing costs.
For instance, digital transformation can address 95% of adverse drug instances like medication errors, overdoses, and allergic reactions. Hospitals can save lives with improved compliance guidelines and incur cost savings of 7-11%.
Because of the stated benefits and necessity in the pandemic, the long-overdue transformation in the healthcare industry has finally gained momentum.
What is Digital Transformation in Healthcare?
Digital transformation in healthcare is the positive use of technology to streamline operations, enhance the patient experience, and make on-demand patient care more accessible and cheaper. 
Technological advancements like online appointments, electronic medical records, and unified platforms for data exchange improve the patients' experience and increase interoperability. For instance, Brigham Health hospital network in Massachusetts allows its patients to book online appointments and receive on-demand care via video chats. The hospital registered a satisfaction rate of 97%, and 74% of patients felt that such an interaction improved their relationship with the care provider. 
Smartphone apps like Trace Together, Covid Watch and HaMagen are coming in handy to track infected people, provide the latest communication to the citizens, and issue guidelines for self-quarantine.
Effect of COVID-19 on Healthcare
COVID-19 has led to the loss of lives across the world. Nations are focussing most of their resources to curb the spread of the deadly coronavirus, which is impacting the treatment of chronic or episodic conditions. 
The pandemic has disrupted the consistency of National Health Expenditures, with massive small-term expenditures in healthcare. On the other hand, deferred treatment, curtailment of various services to avoid infection risks have resulted in a decreased health spending. Apart from the economic impact on the healthcare system, a few other noticeable effects are as follows-
Overwhelmed Healthcare Infrastructure- The global health emergency has overwhelmed the healthcare infrastructure of even the most advanced nations. People have experienced a shortage of beds, healthcare workers, and other medical aids. To address this, a major chunk of patients have adopted home-health care. McKinsey suggests that of people seeking healthcare, only 17% of people were admitted in the hospitals for moderate care while 7% got admissions for critical conditions.
Accelerator for Digital Transformation in Healthcare- COVID-19 is an accelerator for transformation in healthcare. High optimism and positive sentiments related to digital healthcare have resulted in significant growth. 
Worldwide corporate funding for digital health companies has doubled to $21.6bn. Investment in telemedicine alone has reported an impressive figure of $4.3bn. Additionally, the US witnessed the largest deal in the sector when telemedicine provider Teladoc acquired digital disease management company Livongo Health for $18.5bn in October 2020. 
Digital Supply Chain- The pandemic has disrupted supply chains for all businesses. Since the survival of people is at stake, therefore, the healthcare industry needs to ramp up its response time and contingency planning more than any other industry. 60% of organizations are looking at increasing their investment in the digital supply chain with an increased focus on automation, AI/ML, and robotics, according to Capgemini. 
For instance: Melbourne Health Logistics has undertaken a Supplier Improvement Pilot Project, which involves 10 Australia-based SMEs and aims to address the challenges in supply chain and inventory management through digitization. Three key focus areas of the project are- implementation of data capturing technologies, improving data quality, and introducing suppliers to the use of Electronic Data Interchange (EDI). It further partnered with the federally-funded AusIndustry Entrepreneurs program to empower suppliers to develop digital capability.
To optimize the digital-first approach and create a healthcare system conducive to patients' needs, it's essential to explore the technology trends in digital healthcare.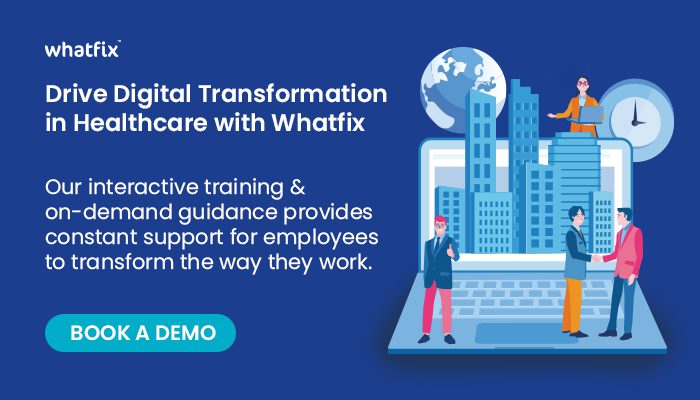 Digital Healthcare Trends
Here is how following technology trends are contributing to digital healthcare-
Telehealth- Telehealth is transforming the way patients interact with healthcare providers. Some of the most impactful technologies under telehealth are- patient portals, telemedicine, mobile health (mHealth), video conferencing, remote patient monitoring. Telehealth is actively being used during the pandemic to increase patient engagement and reduce the burden on hospitals and healthcare centers. 
Telehealth can also be clubbed with IoT devices and wearables to effectively manage high-risk patients by tracking their activity data. COVID-19 Healthcare Coalition conducted a Telehealth Impact Study to gauge the experience of patients. Some of the interesting findings are as follows-
83% of patients felt the patient-physician communication was strong

79% of patients indicated that they were satisfied with their telehealth visit 

67% of patients had fewer costs related to their telehealth visit vs. an in-person visit
Artificial Intelligence- It represents the epitome of innovation in healthcare. It is not only critical for elevating patient experience but also finds application in medical imaging, precision medicine, drug discovery, and genomics. For instance- In Oncology, AI can analyze thousands of pathology images of different types of cancers and suggest the best possible anti-cancer drug combination.
Additionally, AI-based technology finds usage in chatbots and virtual assistants. Droids like Moxi are designed to assist nurses with routine tasks. Also, AI can slash the drug discovery timelines by four years to generate savings of up to 60%.
Data Management & Analytics- Healthcare industry depends heavily on Electronic Health Records (EHR) to manage patients' data in one place. However, because of manual data entry, there is a scope of human error. Therefore, healthcare providers are gradually shifting to better technologies like big data, blockchain, and wearables for obtaining, managing, and analyzing data.
Big Data-

Hospitals can collect data from a wide array of sources to provide data-driven actionable insights. Big data can be used to predict the number of patients expected in a hospital to improve staffing. Resource Management is crucial considering how overwhelmed healthcare staff has been during the pandemic. Big data analytics can further be used for real-time alerts and informed strategic planning.

Blockchain-

Blockchain simultaneously registers every transaction, and detects any conflicting information, thereby offering 100% accurate and decentralized data. Countries like

Australia

&

UK

are leveraging blockchain to manage medical records. Blockchain startups like

Medicalchain

maintain records on a distributed ledger. It allows patients to manage their EHRs through an app, and doctors, pharmacists, insurers need to request access to their data.

Wearables-

Wearable technology ensures preventive healthcare by allowing patients to monitor their internal conditions. For instance, the use of oximeters has increased during COVID-19 to check the patient's oxygen level. Smart watches and fitness bands regularly monitor health of a person and provide recommendations. Apple watch can send realtime alerts to doctor and family if the person experiences atrial fibrillation.
Virtual Reality- Research suggests that the global virtual and augmented reality in healthcare will reach $5.1 billion by 2025. VR is profoundly changing the way patients get treatment. It's a safer and more efficient alternative to drugs. It finds application in the treatment of chronic pain, post-traumatic stress, anxiety, and stroke.
IoT- IoT changes the way healthcare providers interact with patients. With IoT-based wearable devices, healthcare professionals can actively track data for more critical patients. Hospitals can also use IoT for asset management by tracking the real-time location of medical devices like nebulizers, oxygen pumps, and wheelchairs. It can contribute massively to digital transformation in healthcare with the data generated and captured by the IoT devices.
However intuitive these technological trends seem, digital adoption in healthcare is still low. Only 7% of companies have gone digital in the healthcare segment as compared to 15% in other industries.
How a DAP Helps in Embracing Digital Technologies?
Users of digital health applications like healthcare workers, patients, insurance companies, and third parties are not essentially digitally-enabled demographics and need support in using these technologies. Whatfix DAP can guide healthcare employees and patients to navigate the application seamlessly by providing them step-by-step guidance via interactive walkthroughs. Whatfix can improve digital adoption in healthcare as it leverages learning in the flow of work and can be your partner in change by providing personalized experience, on-demand support & training. 
To learn more about Whatfix DAP, schedule a demo with our transformation experts.