Electronic health records are at the heart of modern healthcare in the developed world, and since they went mainstream in the 1980s, they've seen massive adoption in countries like Australia (92%), New Zealand (97%), the United Kingdom (97%), and the Netherlands (98%).
A cost-benefit study published in the American Journal of Medicine shows that, on average, over a five-year period, electronic health records offer healthcare organizations an $86,400 ROI per provider—or roughly $17,280 per primary care provider on staff per year.
And why not? The 2011 NAMCS Physician Workflow Study shows most physicians agree that EHR adoption correlates with better patient care (78%), helps them access their patient's medical charts remotely (81%), and alerts them to potential mis-prescriptions (65%).
If you're at the stage where your organization is ready to invest in an EHR system, it's understandable that you have lots of questions:
Do we opt for a cloud-based EHR system or an on-premise deployment?

How do we undertake the project? Does our EHR provider have the expertise required, or do we need to assist them with internal oversight?

How much can we expect an

EHR implementation

to cost, given the size and scope of our facility?

How do you ensure compliance and data security after your health operations go digital?

How do we train our staff after setting up our EHR?
This article will serve as a comprehensive guide to understanding how EHRs work and will cover their key features and benefits and the major key points to watch out for when you're choosing from the 500+ different EHR vendors on the market.
An EHR software is an electronic platform that hosts digital copies of a patient's health records— including their diagnoses, prescriptions, medical history, laboratory test results, progress notes, and immunization records, etc.
EHR software platforms help healthcare professionals collaborate across departments & organizations, reduce medical errors, store and access patient records easily, and avoid potential hazards, such as misprescriptions or severe contraindications. EHR software is a core technology that is driving healthcare digital transformation.
EHR Systems vs. EMR Software
Clinicians tend to use the terms EHR and EMR interchangeably—but while they have some identical functions, electronic health records are more powerful & far-reaching than electronic medical records.
On one hand, electronic medical records (EMRs) serve as digital paper charts where physicians track their patient's medical records and monitor parameters such as blood pressure readings & vaccinations—but, very importantly, all that data doesn't leave the healthcare organization.
In fact, they might have to be printed out and mailed to different specialists if the patent has to visit different facilities.
The most significant advantage EHRs have over EMRs is that they share data across organizations and can route a patient's data to other specialists within and outside your hospital.
Key Features of EHR Software
What are some of the features you can expect out of an electronic health system, and how it going to affect your organization's workflows?
An EHR serves as a second brain where you can store the bulk of your patients' data, book and monitor appointments, reference industry best practices in your diagnoses and prescriptions, and get real-time patient care alerts and reminders.
Digital charts:

An EHR aggregates all of a patient's healthcare history into an electronic interface where providers can track their diagnoses, allergies, laboratory tests, and medical images (i.e., X-rays, CT scans, mammograms, etc.)

Smart prescriptions:

 Using an EHR, a doctor's prescription is instantly available at a clinic's pharmacy with the click of a few buttons. EHR systems can also sync with larger healthcare databases to flag potential contraindications and suggest optimal doses of the medication a doctor is prescribing for a patient.

Alerts:

EHR systems can remind PCPs and nurses to dispense a patient's medication and ensure it's the right drug (using barcode scanning).

Automated scheduling:

EHR software tools can integrate with a hospital's scheduling system to keep it updated with patient appointments.
The costs of implementing an EHR system can be significant. This 2005 study by the Medical Group Management Association Center for Research and the University of Minnesota School of Public Health shows that an EHR purchase and deployment costs $32,606 per FTE physician.
But, when you measure against the gains in patient outcomes, cost savings, reduction in medical errors, and better patient-doctor relationships, EHR software offers a clear advantage over paper-based health records.
1. EHR software reduces medical errors
According to a study in the British Medical Journal, it's estimated that medical errors lead to approximately 250,000 fatalities annually. They're the third leading cause of death in the United States, behind heart disease and cancer.
This can either be due to misdiagnosis, misprescription, or some other mistake when clinicians dispense medication to patients. There's also the fact that doctors' handwritings are famously illegible, and instructions can be misinterpreted by the dispensary.
EHR software platforms can help avoid medical errors by flagging potential contraindications, drug reactions, or concerns in a patient's medical history, like allergies and underlying conditions.
2. Access to complete and accurate information
1.5% of medical prescriptions in the United States have some dispensing mistakes, and at least one out of five Americans have received prescriptions with medical errors.
EHR platforms are connected to an up-to-date database that can flag prescriptions because of potential allergies, food and drug reactions, and conflicting instructions from different doctors.
3. Lower operational costs
Hospitals with basic EHRs tend to have 12% lower average costs than their peers. And it's not difficult to imagine why—they reduce repetitive tasks, flag errors providers might overlook manually, and increase the billable hours a clinic's staff can spend attending to patients.
Things to Consider When Selecting a New EHR System
There are many variables to account for, when you're in the market for a new EHR system—given they're a long-term investment, it's important to opt for a platform that can serve your company's needs today without becoming less efficient as you switch your operations over wholesale.
1. Cloud-based vs. on-premise EHR
A cloud-based EHR runs on a third-party's servers, while an on-premise deployment hosts your electronic health records on your local servers. Both alternatives offer certain disadvantages, but the right option really depends on your unique situation.
For example, a cloud-based EHR might cost you significantly more, but it's a safer bet if you're a smaller clinic that doesn't have the budget to commit to long-term server maintenance. Conversely, an on-premise installation might need in-house technical expertise, but it's significantly cheaper if you're a larger hospital with hundreds of staff.
2. Size of your hospital, provider, or practice
The size of your hospital—that includes your scope, number of departments, and staff headcount—is the biggest factor you should consider when you're choosing an EHR. As mentioned earlier, a 5,000-bed hospital campus might be better off choosing a full-stack, on-premise EHR, while a small, five-person clinic might need to crunch the numbers to justify the purchase.
The greater the size of our hospital, the more capabilities your EHR deployment will need and the higher your price tag, both for the installation, training, ongoing maintenance, security, and compliance.
Are you willing to commit the budget necessary to protect your patients' data, weather ransomware attacks, and ensure compliance with HIPAA standards? Ideally, your shortlisted vendors should have a track record of providing guidance with health tech compliance and should help you develop a new library of policies and best practices to guide your switch to an EHR.
A 2014 survey by TransUnion Healthcare shows that 65% of respondents would avoid healthcare providers that experience a data breach, and 46% expect a notification within 24 hours of the breach. Your EHR adoption strategy should account for ransomware attacks, malware, and hackers before you go live.
Before you go live, you need to test your EHR in a sandboxed environment to confirm it can sync healthcare information, patient records, drug information, prescriptions, etc., between departments and healthcare organizations without breaking in transit or getting corrupted over the lifetime of your EHR.
6. End-user training and support
An evaluation of physicians at Case Western Reserve University & MetroHealth Medical Center, Cleveland, showed that 75% of physicians surveyed thought they would benefit from additional training, while 46% felt their training was inadequate.
Before you opt for an EHR, you must gauge the quality of training programs, courses, and certifications it offers, to ensure your staff will be equipped to use its full functionality.
EHR software is a high-cost investment that can provide many, many benefits to healthcare providers. They're also a must for hospitals and providers to provide the level of customer experience that patients demand. To ensure this investment is successfully adopted, you'll want to support it with a digital adoption platform – also known as a DAP.
A DAP allows hospital IT teams to create in-app guidance and on-demand help content for doctors, providers, nurses, staff, administrators, and patients using the new EHR. This can include product tours, interactive flows, field validation, tooltips, task lists, self-help wikis, and more.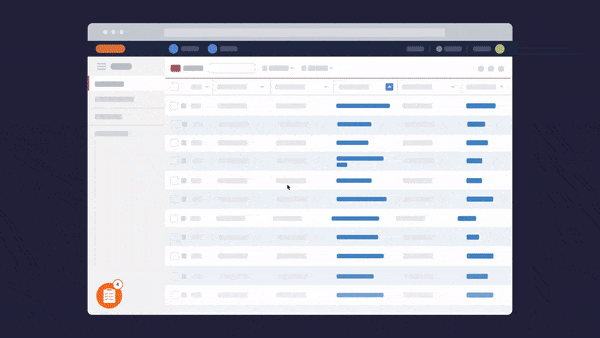 A DAP also empowers healthcare IT teams to analyze and track user analytics to understand adoption trends and identify and fix friction and pain points inside the new EHR and its workflows.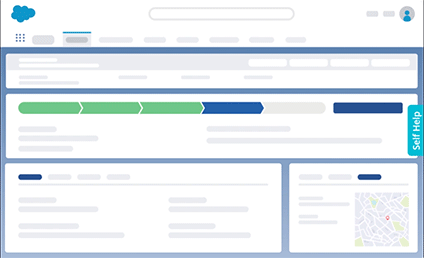 Create personalized learning & training flows for your enterprise apps with Whatfix
Ensure your preferred EHR is interoperable with other mainstream EHR platforms to ensure you can deliver a seamless experience to your patients if they have to consult third-party specialists. IT teams will also want to list out all of your core software applications (think things such as your healthcare LMS) your hospital or healthcare provider office uses – such as any patient scheduling, communication portals, billing systems, etc. – to ensure that your new EHR will be natively compatible or if you'll need to work on customized integrations.
11 Best EHR Systems in 2023
Here are eleven of the best EMR and EHR software vendors for healthcare providers in 2023: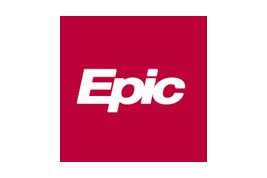 Review Rating:

4.2 out of 5 stars, based on 912 reviews

Price:

Contact for pricing—Epic has a complicated feature-based pricing structure; a basic, self-hosted installation can start as low as $1,500, but billing for large facilities with custom needs can run as high as $500,000
Epic is a full-stack electronic medical records platform that does it all. Whether you're a one-person practice or a medical director at a university hospital, Epic makes it easy to manage your entire medical workflow inside one source of truth.
At the center of Epic's user experience is a design ethos built to improve the patient experience with virtual 1:1 consultations, specialist referrals, insurance vetting, and remote monitoring for keeping tabs on your patients' vitals. On the patient's end, users can access their medical history, receive alerts, and make payments through iOS & Android mobile applications.
The lineup of features that put Epic at the top of our list are also its biggest downside, especially for smaller practices—Epic has a wide range of customizations that can help you unlock the product and its ecosystem—for a cost. Depending on your needs, your budget for Epic can jump 2x to 100x.
Epic's loadout of features can be demanding for physicians to master and you might need third-party adoption tools and a deliberate learning program to bring your team up to speed.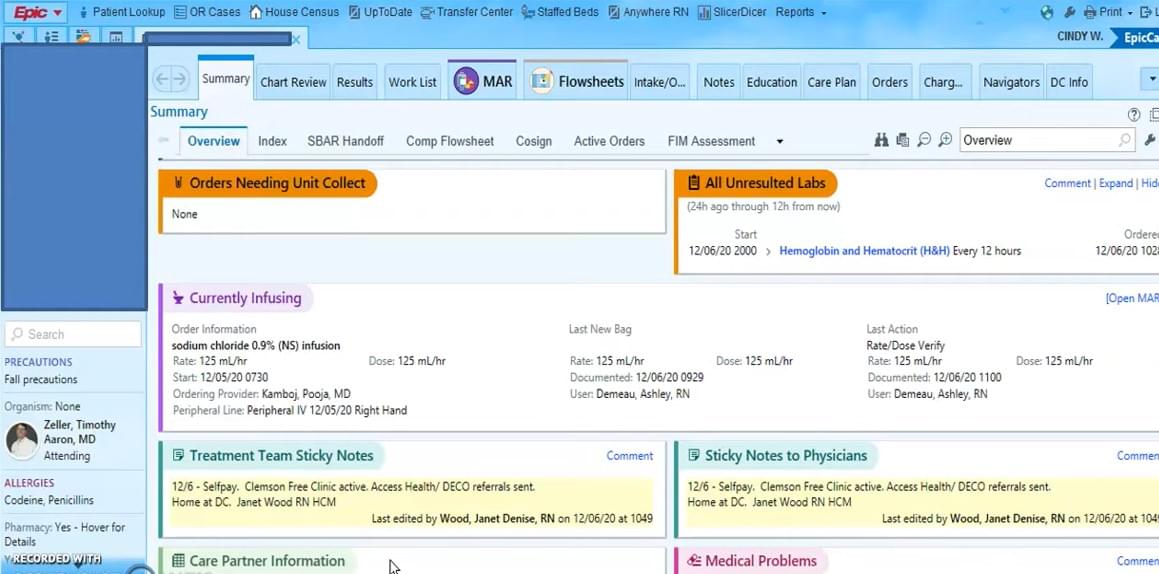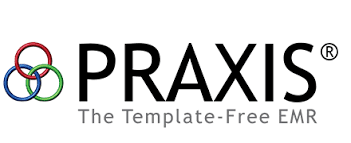 Review

Rating: 5 out of 5 stars, based on 167 reviews

Price:

Starts at $259 per provider per month
Praxis operates quite differently from mainstream EHR platforms. Unlike the standard model where EHRs reference a patient's information against a medical database, Praxis uses artificial intelligence to find patterns in patient diagnoses so that you can attend to customers faster & still account for one-of-a-kind situations.
Put simply, it learns & becomes smarter the longer you use it, and with that predictive intelligence, it's easy to recommend the fever instructions for a case of the common cold for a case of Mediterranean Hemorrhagic Fever with few, if any, changes.
Praxis interoperates with third-party EHRs, accommodates specialties from cardiology to chiropractic care, and can be customized for your use case, whether you're a researcher, a medical director for a hospital campus, or a leader at a new practice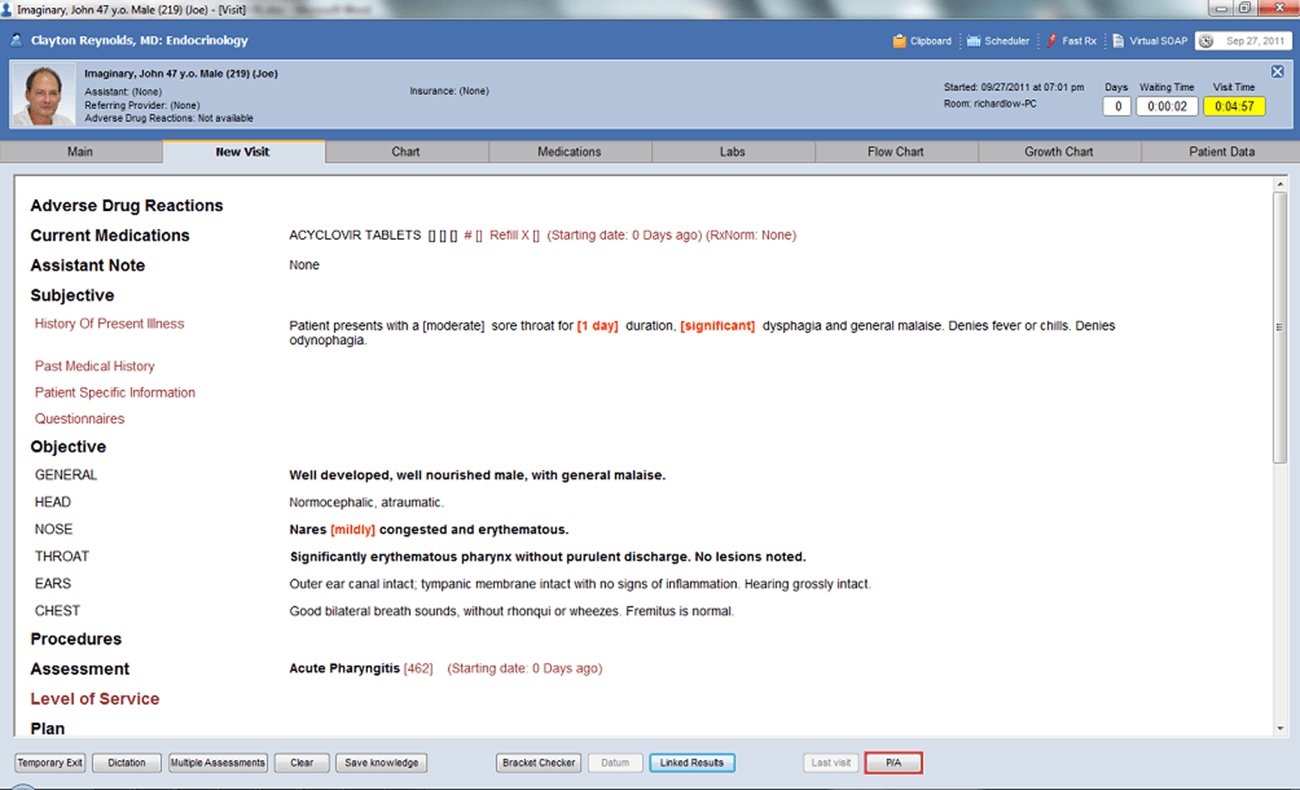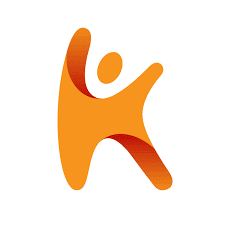 Review Rating:

4 out of 5 stars

Price:

Starts at $125 per provider per month
Kareo Clinical is an electronic health system designed to help smaller, independent medical practices manage their entire workflow. It offers:
A comprehensive dashboard populated with KPIs, shortcuts, to-dos, and charts

HIPAA-compliant video conferencing, so you can branch into telehealth easily

A secure online patient portal where patients can view their health records, treatment plans, patient docs, and messages, plus a billing portal for making payments online, and

Itemized charge receipts that breakdown bills by the procedures the patient has undergone and the medication they've received
Kareo Clinical supports cross-clinic data transfers, and patients can backup (as an XML file) and share some or all of their medical records with a new doctor via email, or direct message (on Kareo's platform).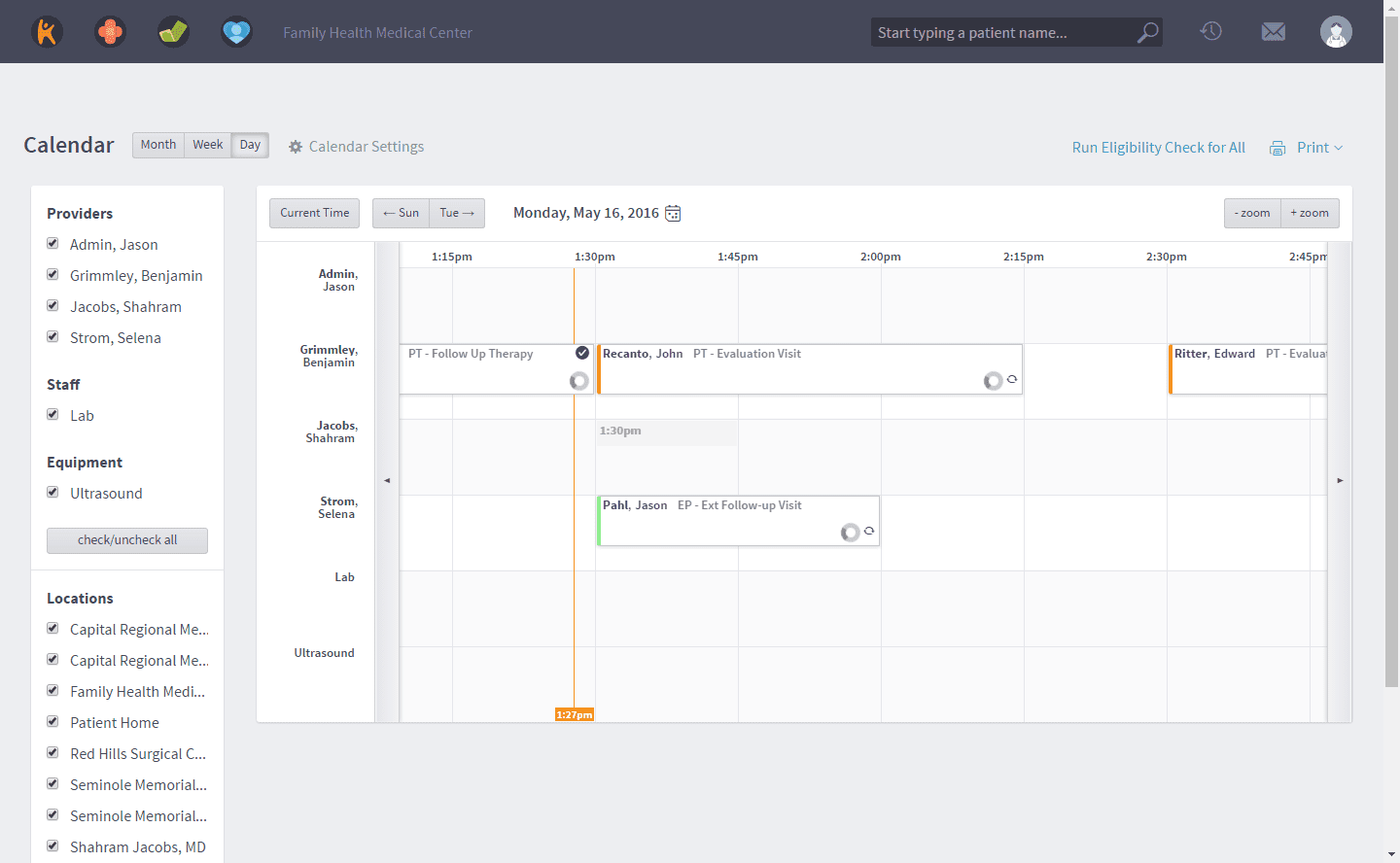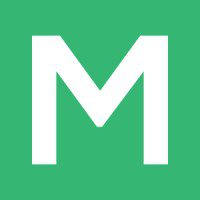 Review Rating:

3.1 out of 5 stars

Price:

Contact for pricing
Meditech Expanse offers a wide range of features designed to help healthcare organizations:
Create and share prescriptions across departments inside an all-in-one platform; Expanse also helps providers factor allergies, contraindications, and potential drug reactions into the prescription process

Give patients easy access to their medical history, request appointments, and prescriptions; Expanse complies with industry data-sharing protocols such as HL7 & FHIR, and patients can easily transfer their easily to new providers & clinics

Hold consultation sessions and monitor your patients' vitals virtually, including blood pressure, heart rate, and glucose levels, and

Manage your revenue cycle, billing, and claims to collect accurate financial data before treatment and reduce self-pay debt
Compared to some of its peers, Meditech appears to be more expensive (around $397 per physician per month) but it offers a more extensive health tech stack and, in general, aims to be a holistic product for managing experiences in larger organizations.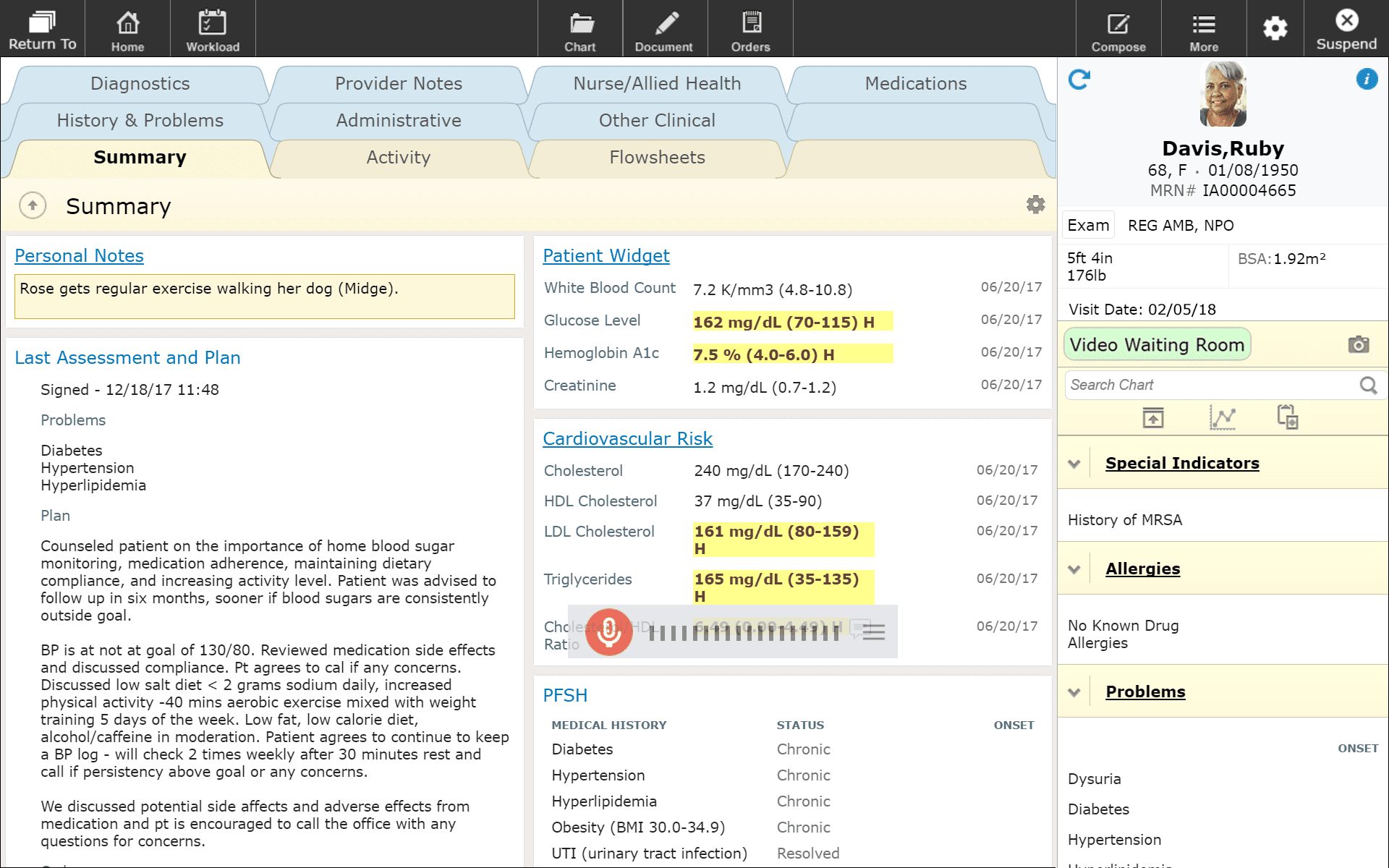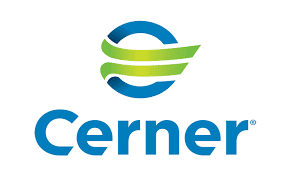 Review Rating:

3.5 out of 5 stars, based on 232 reviews

Price:

Starts at $25 per user per month
Cerner is an enterprise EHR platform designed around the needs of large-scale healthcare organizations with a higher-than-average headcount, a huge customer base, and disparate technology tools already in use. Among others, Cerner offers:
Bespoke integrations & third-party plugins via Cerner's API

All-in-one clinical documentation, where healthcare providers can document patient encounters quickly, using templates and workflows to streamline the process, reduce errors and save time

Virtual care capability that connects providers and patients for remote monitoring and consultations

A relatively low entry price for hospitals with a large number of practitioners on staff
It's trusted by enterprise-scale healthcare operations such as the Veterans Administration, Mayo Clinic, Kaiser Permanente, and Oxford University.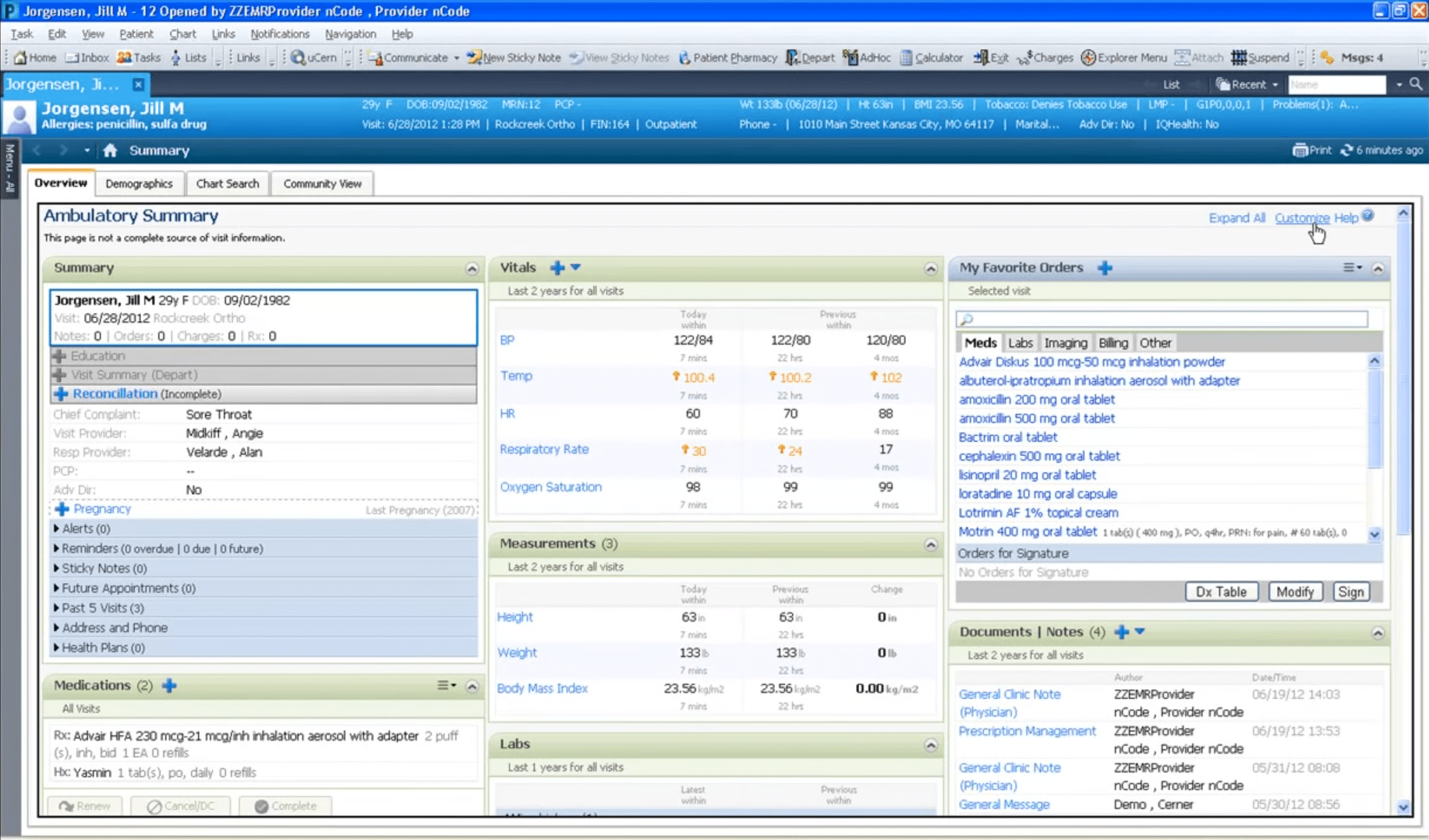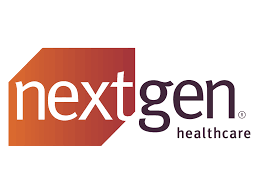 6. NextGen Healthcare EHR
Review Rating:

3.7 out of 5 stars, based on 145 reviews

Price:

MediTouch EHR/PM starts at $379 per provider, per month for physicians and nurses at $299 per provider, per month for nurses
NextGen offers an extensive stack of health tech tools for simplifying patient communications, billing, reporting, and data sharing between providers—at every stage of the healthcare experience, NextGen helps providers pre-qualify patients, verify their insurance, schedule and hold virtual sessions, prescribe medication, and submit claims to insurers.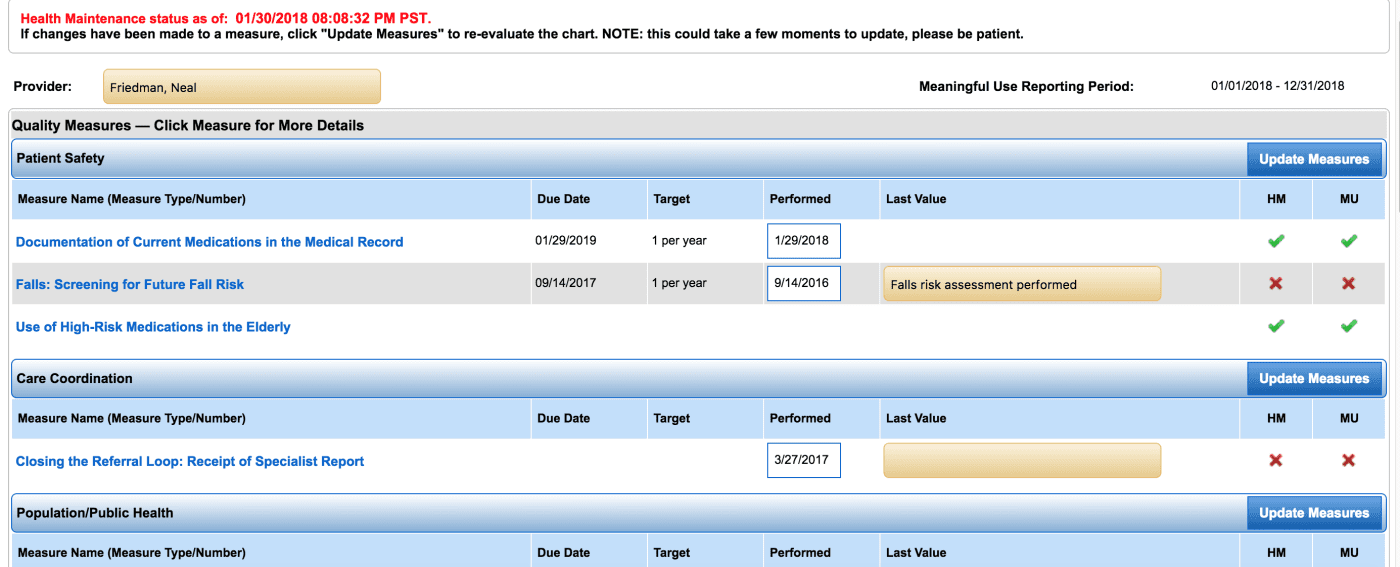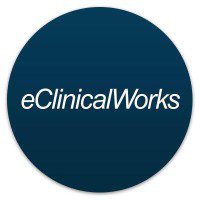 Review Rating:

3.6 out of 5 stars, based on 143 reviews

Price:

Starts at $449 per physician per month for a basic EHR installation—practice management and revenue cycle management features cost extra.
eClinicalWorks might not be as popular as category leaders like Epic & Cerner, but it offers a very tight collection of practice management tools designed to assist physicians whether you're running a small community care center or a larger urban specialty center.
But, to understand how eClinicalWorks works, we need to look at their product philosophy: eCW is designed to help physicians switch from paper to EHR so they can be connected to pharmacies, laboratories, supply chains, and other specialists, both within their organization and outside.
Using eClinicalWorks, physicians can schedule appointments, collect patient data, keep accurate medical records, and share them (i.e., medical histories, laboratory test results, and e-prescriptions) with other departments, pharmacies, or third-party specialists—and all that data sharing happens compliantly since eCW is HIPAA-compliant and your patients' data is protected by default.
Arguably, eClinicalWorks' most powerful feature is their PRISM medical search engine with which providers can obtain patient records from external hospitals & providers, filter through a patient's medical history with keywords, and better understand your patients' medical records using an organized timeline view.
Outside day-to-day patient experience, eClinicalWorks also does a decent job with revenue cycle management and providers can bill self-pay patients, file claims with insurers, issue refunds, and also manage denials, claims rejections, and appeals from one dashboard.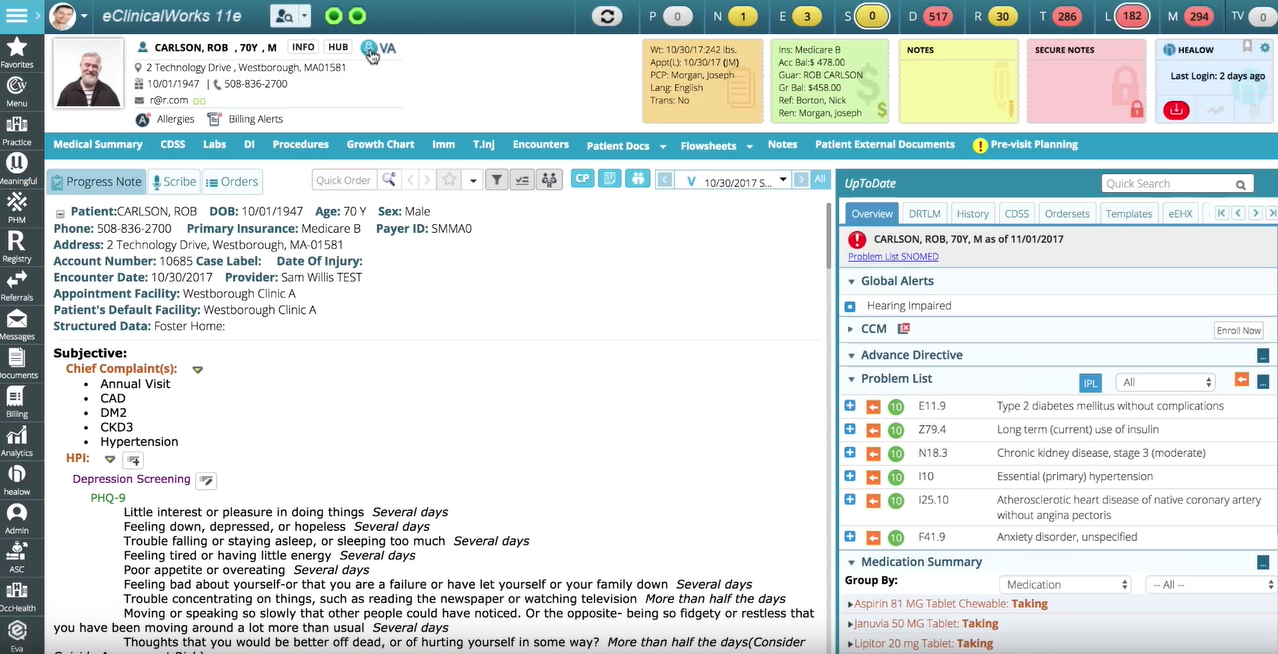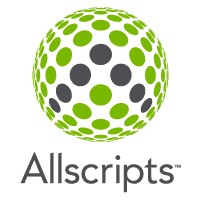 Review Rating:

3.3 out of 5 stars, based on 87 reviews

Price:

Contact for a custom quote
Allscripts offers a combination of electronic health services that can feel disjointed, although they fit perfectly if you have experienced implementation technicians to help you. It simplifies appointment scheduling and visitor management, medical recording, e-prescriptions, and telehealth sessions and supports third-party integrations via Redox Engine.
On the downside, Allscripts usually aims to lock customers into long-term contracts, and with the company's large size, it's easy to feel you're not getting the personalized assistance you need to make the most of the platform.
It doesn't help that Allscripts sold their hospital arm to Constellation Software a year ago— while Constellation has a robust reputation as a good SaaS holding company, there's a possibility that customer experience will suffer now it's been abstracted away from the company's former leadership.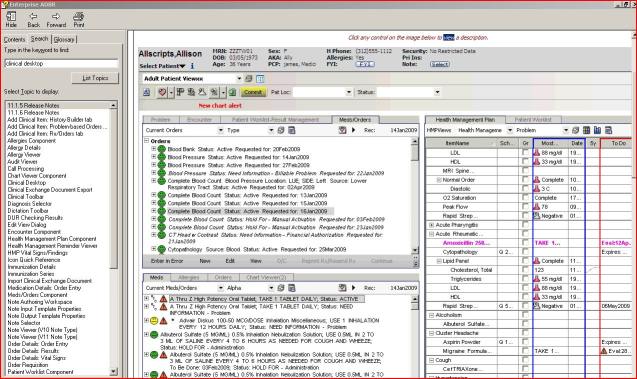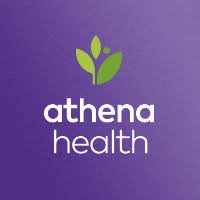 Review Rating:

3.5 out of 5 stars, based on 95 reviews

Price:

Crowdsourced reports suggest it starts at $140, per provider, per month
AthenaHealth is a comprehensive EHR product that offers everything you need to run a modern practice—HIPAA-compliant medical records, mobile applications, telehealth experiences, and billing tools for managing your revenue cycle.
Compared to the rest of the options we've reviewed, AthenaHealth has a strong user training score and when a healthcare organization switches to AthenaHealth, you get paired up with a customer success manager & live support agents to onboard your team, guide you through the learning phase, and provide ongoing support. AthenaHealth promises live 24.7 customer support via phone, email, chat, or web.
But, it's not smooth sailing all the way either: AthenaHealth's user interface could use a redesign, visual elements can be unresponsive, and you'll need to tackle quite a few bugs from time to time. Secondly, their pricing structure is quite opaque and when you pay separately for different product modules, it can add up.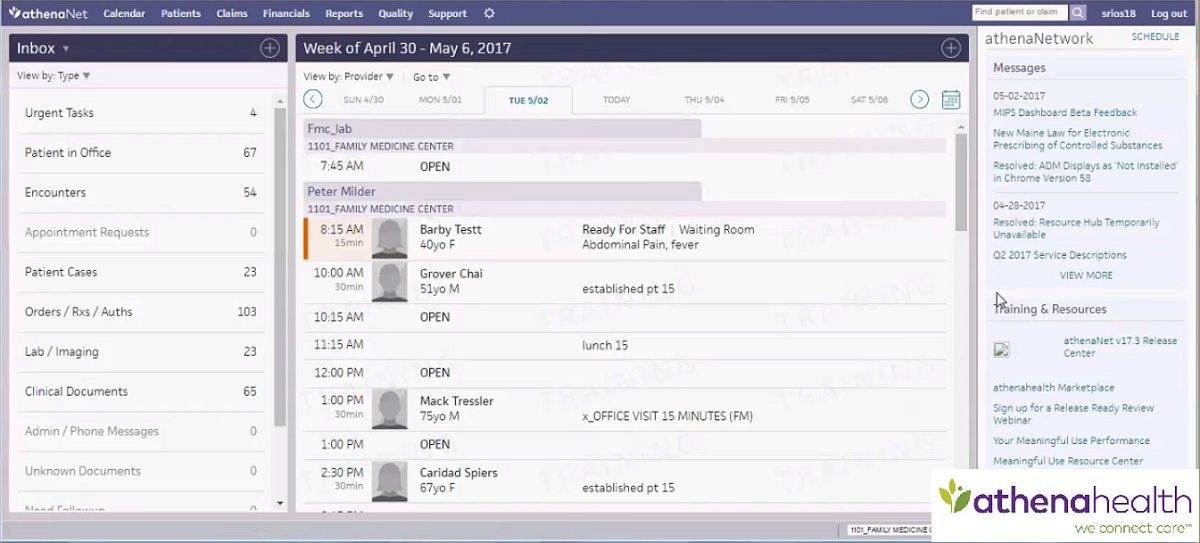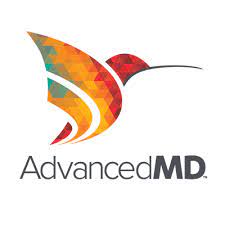 Review Rating:

3.6 out of 5 stars, based on 57 reviews

Price:

Practice management starts at $429 per provider per month, while an EHR+practice management bundle costs $729 per provider per month
AdvancedMD is easily one of the best EHRs, thanks to a tastefully designed UX with color-coded elements, a configurable dashboard, and a SaaS model that ensures that users are always running the latest and most secure version of AdvancedMD.
The product suit comes in two bundles, namely:
Practice Management, which is designed for scheduling appointments, billing, claims, front-office management, telehealth experiences, and feedback tools; and

Core EHR features are designed to help physicians store and retrieve patient data
Support-wise, AdvancedMD leaves a lot to be desired and it can be frustrating trying to reach a live representative, navigate a fresh installation, or get your staff up to speed if you're new to AdvancedMD.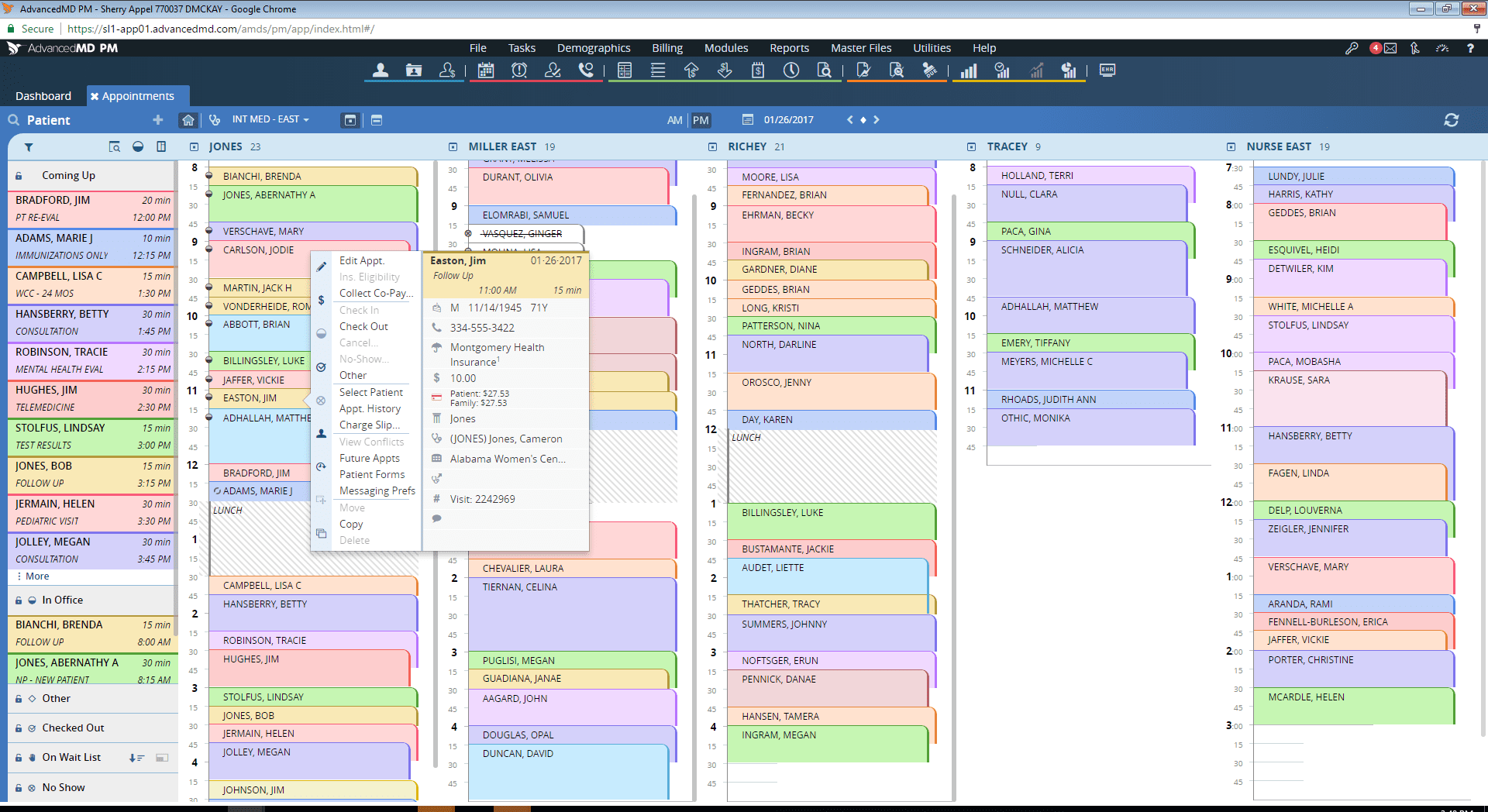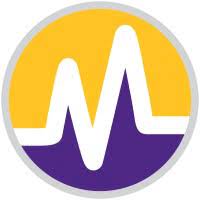 G2 Review Rating: 4.6 out of 5 stars, based on 43 reviews

Price: Varies depending on the features you opt for
ModMed helps healthcare organizations digitize their day-to-day operations with the devices they're already familiar with—iPhones & IPads. It's designed to be mobile-friendly so that physicians can communicate with their patients easily, schedule consultations, curate patients' medical histories, send patients automatic reminders, etc. via their mobile devices.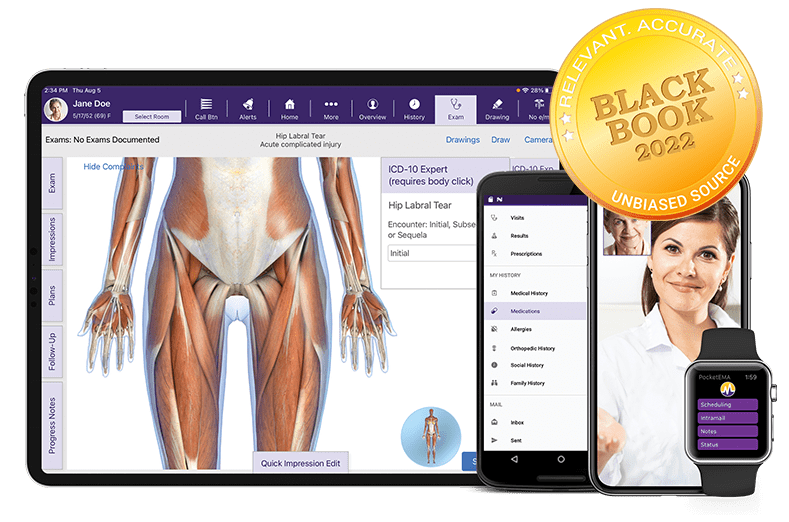 Realize the true value of your healthcare applications with Whatfix in-app guidance and on-demand support
EHRs are a second brain for healthcare organizations—they help you manage patient workflows, hold telehealth consultation sessions, monitor patient vitals, share data with third-party clinics & specialists, collect payments, file claims, and manage disputes from a single digital interface.
But, all that firepower the offer can get in the way if your staff can't master how your EHR works quickly enough. Whatfix is a guided onboarding platform that helps healthcare organizations coach their physicians to use their EHR by offering on-demand, contextual help.
Whatfix acts like a canvas on top of your EHR's interface so that users can access product docs, watch explainer videos, and find helpful resources that teach them how the product works—right inside the user interface.
Like this article? Share it with your network.
Subscribe to the Whatfix newsletter now!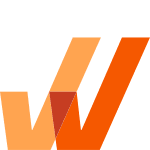 Software Clicks With Whatfix
Whatfix's digital adoption platform empowers your employees, customers, and end-users with in-app guidance, reinforcement learning, and contextual self-help support to find maximum value from software.