Tracking productivity is tricky, especially with the rise of remote work and teams engaging and collaborating virtually, distributed across the globe. Managers tasked with tracking and monitoring team member's level of productivity require innovative and interactive tools to guide their teams to be more efficient and productive. 
To help, employee productivity tracking software empowers managers with the tools to assess their team's quality of work and improve task completion time – without micro-managing their employees' day-to-day.
What are the best tools for tracking employee productivity?
Whatfix

Time Doctor

ActivTrak

iDoneThis

Airtable

ProofHub

Everhour

Asana

ConnectTeam

Workplus

Teramind
What Is Employee Productivity Tracking Software?
Employee productivity software offers real-time data on employee efficiency and the time taken to complete assigned tasks. The data analyzes employee behavior and records task-based timelines to measure their productivity during working hours. It helps employees manage their workload for optimum results, while also offering managers the ability to track their direct reports' usage of software applications and measure employee performance – with the ultimate goal of improving employee performance.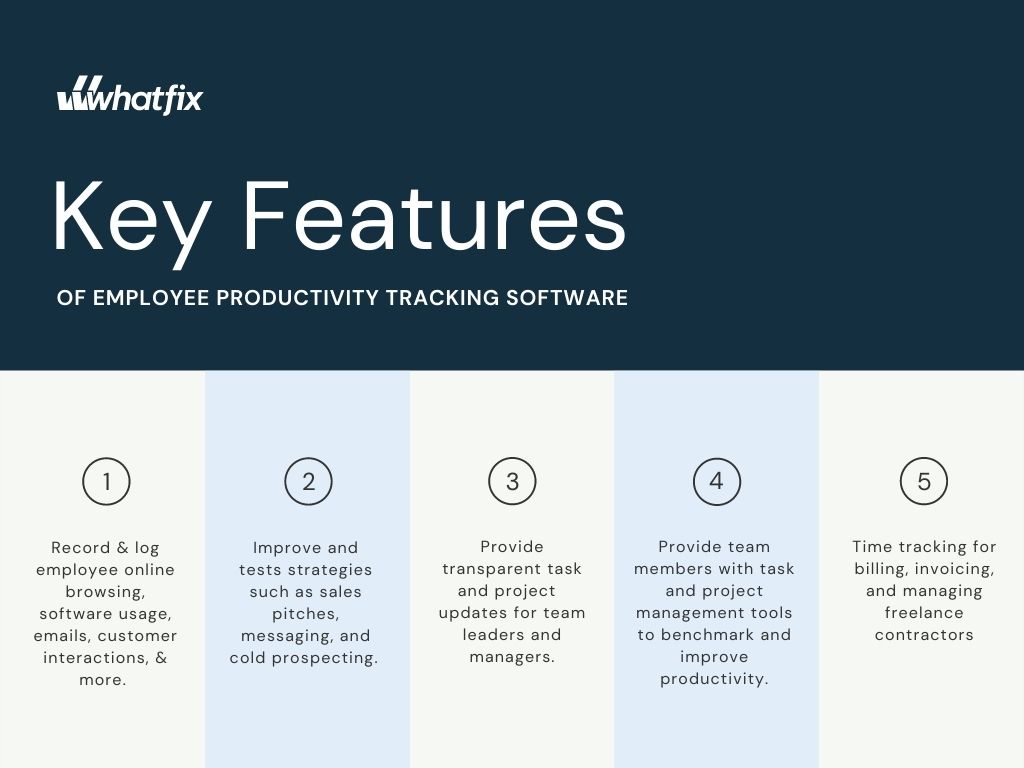 Such software helps team managers and business owners optimize and refine their employee engagement, and create innovative methods to streamline tasks that help save time and money – and deliver maximum ROI.
Benefits of Employee Productivity Tracking Software
Employee productivity tracking software has numerous benefits that help both employees and managers/business owners. Here are the most beneficial:
Productivity drops when objectives and goals are not clear. When employees track their tasks, it helps them by presenting a clear understanding of their immediate priorities, as well as long-term goals. This sets the tone for tackling the most important tasks and eliminates confusion.
Employee productivity tracking software allows team members to quickly access every task assigned to them and prioritize them accordingly.  This helps team members overcome roadblocks and improve overall employee accountability.
These tools also provide transparency for managers, as it allows them to go into their dashboard to get a quick overview of what work has been done – which allows managers to get a quantifiable, honest view of what has (and hasn't) been accomplished.
Employee productivity tracking software helps managers and employees track day-to-day work, check for blockers, and create strategies to improve productivity and efficiency. Features such as task and project dashboards present a visualization of overall progress that helps employees improve their daily productivity.
4. Simplifies Task Prioritization
Time tracking tools empower managers to adjust task allocation based on priority, milestones, and schedules. This enables employees to prioritize their tasks and optimally manage their work calendar to manage their deadlines. 
5. Provides a Real-Time Job Status
In large organizations where projects have longer timelines, employee productivity tracking tools are instrumental in offering an accurate, real-time status update. They segment each task based on department while ensuring cross-team visibility and accountability. These updates are available to anyone working on the project, allowing for simple collaboration even for remote workforces. 
6. Streamlines Billing for Freelancers
Most companies bill based on the number of hours invested in a project. Employee productivity tracking software gives a detailed insight into the time invested per task to generate an accurate invoice for the end client, allowing for better management of hourly team members and freelance contractors. 
11 Best Employee Productivity Tracking Software in 2023
There are many employee productivity tracking software tools, packed with different feature sets. However, it is essential to understand which software works best for your team, your employees, and your organization's unique needs.
Here's a list of some of the best employee productivity tracking software to help companies manage, monitor, and improve their workforce's productivity: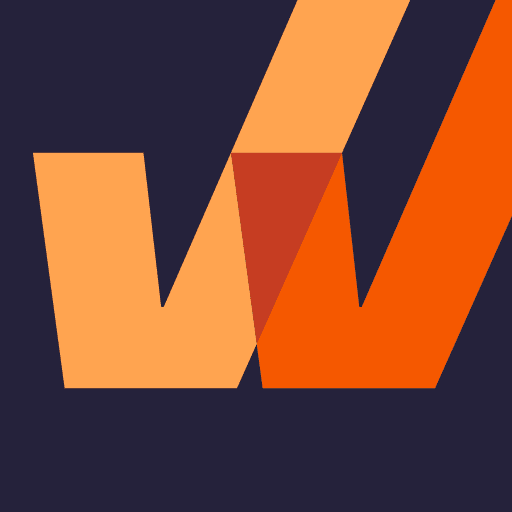 Best works for: Monitoring enterprise application usage
Whatfix is a digital adoption platform (DAP) that simplifies organizational processes and drives productivity levels by providing employees with on-demand training and support on the software tools and processes they use in their day-to-day.
With contextual in-app training content, Whatfix offers on-demand support, combined with insights to measure training effectiveness. Its features such as in-app guides, walkthroughs and flows, self-help FAQs, beacons, task lists, and pop-ups all improve employee's productivity by helping them become expert users, while in the flow of work. Whatfix helps employees understand their tasks by offering contextual resources directly in your team's software apps, thereby, reducing third-party intervention, and saving time.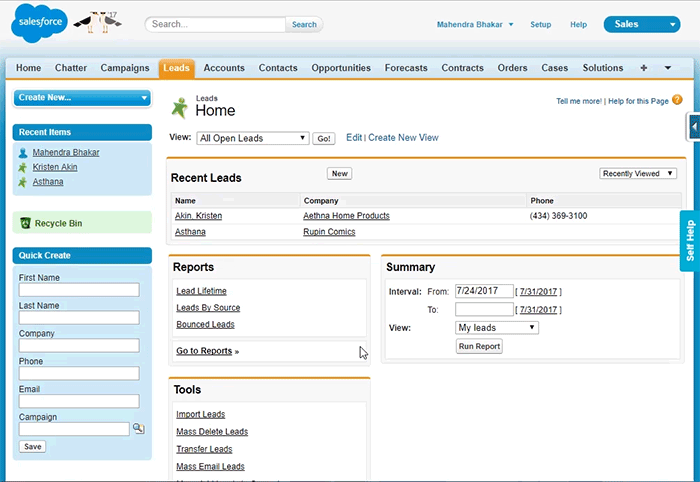 Features
Benefits

In-app FAQ and knowledge base

Add in content to answer FAQs, link to

internal wikis

, and provide contextual resources in an in app

knowledge base

.

Interactive walkthroughs, flows, and product tours

Visual step-by-step guides with visual representations help users become application experts.

Automatic tasklist progression monitor

Helps managers and leaders track work efficiency and to determine employee productivity, while also giving end-users a checklist of items they need to complete.

Pop-ups, tooltips, beacons 

Short and helpful content that gives a simple explanation about each feature, highlights new and updated features, and alerts users of critical errors and information

Integrations

Works on top of leading enterprise software applications and systems across CRM, ERP, HCM, and more – while also natively integrating with LMS systems.
Best works for: Remote Employee Management
Time Doctor offers detailed insights and analytics into the amount of time spent by an employee on tasks. This helps employees manage their time better and assists managers in exploring the scope of their productivity, while also providing feedback on how to improve it.
With several feature sets, including project management, time tracking, and employee monitoring, this solution helps employees share productivity reports easily. Managers receive weekly progress reports outlining employee time tracking statistics to help maximize productivity in the future. Companies can seamlessly integrate Time Doctor with most project management and internal communication platforms, and track employee time with ease.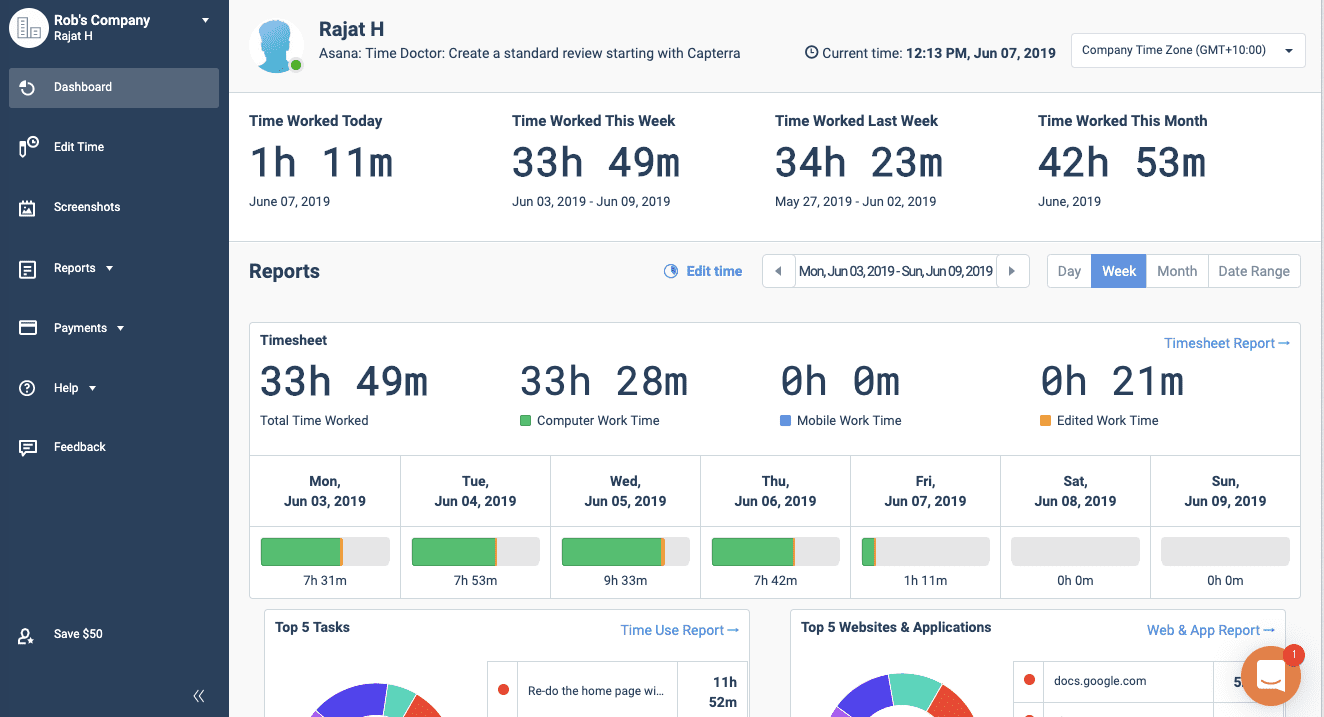 | | |
| --- | --- |
| Features | Benefits |
| Time tracking | Offers insight into the daily productive and unproductive times. |
| Web & app usage | Keeps track of the websites and apps being visited and used during work hours.  |
| Employee controls | Giving employees the autonomy to manage their time to improve productivity. |
| Work schedules and attendance tracking | Helping employees input their schedules and track attendance. Alert managers when employees are late. |
| Time usage alerts | Alerts managers of time wasting activities and can block unproductive or non-work related websites. |
| Payroll | Easy processing of payroll and billing. |
| Integrations | Equipped to integrate with 60+ accounting, project management, and communication software. |
| Work-Life Balance | Track productive hours and alert in case of excessive workload to avoid burnout.  |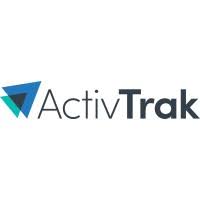 Best works for:  Workforce analytics to measure employee productivity
An affordable and easy-to-use employee productivity monitoring software, ActivTrak is best suited for SMBs, especially for those managing a remote team. It integrates with hundreds of different platforms – including starter templates that sync with the variety of Google Cloud, Microsoft, and Salesforce suite ecosystems – leveraging those native capabilities, especially those in the analytics sector. 
ActivTrak enables managers to access and assess employee performance via its easy-to-understand dashboard. This dashboard offers insights and deep-dives into employee productivity data to improve workflow understanding, thus improving overall productivity levels through better processes. Its time tracking functionality further supports the analytics features to measure employee performance. 
ActivTrak's interactive UI gives it a BI (business intelligence) touch when merged with productivity-focused and data monitoring tools. While tracking is an integral part of the software, its access control tools ensure user privacy too.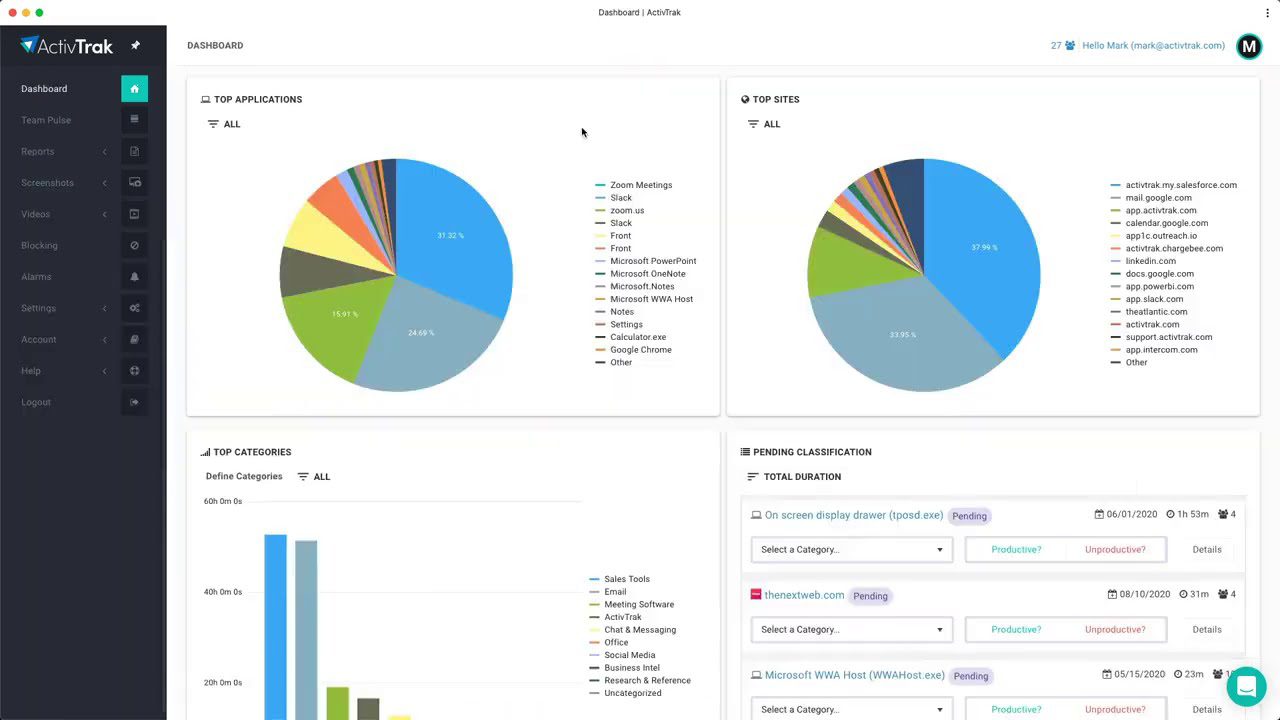 | | |
| --- | --- |
| Features | Benefits |
| Workforce analytics | Tracking and improving employee productivity with the help of data. |
| Interactive dashboard | Offers a quick summary of the workforce productivity and engagement. |
| Application and website usage  | Easy to understand graphs and data to determine how each team member's time is spent. |
| Work efficiency tab | Data about employee productivity hours and focused hours per day. These are also used to compare timelines and project milestones. |
| Automated data collection | Streamlined collecting of key employee data and centralizing it in one category |
| Data analysis | Dashboards present data with drill-down abilities to make informed decisions.  |
| Pre-built content | Pre-built metrics and analytics boards are available to track employee productivity and performance. |
| Burnout risk assessment | Tracking work hours against a stipulated timeline to check for the possibility of employee burnout. |
| Self-service insights | Easy to understand insights that can be observed by the non-analysts members |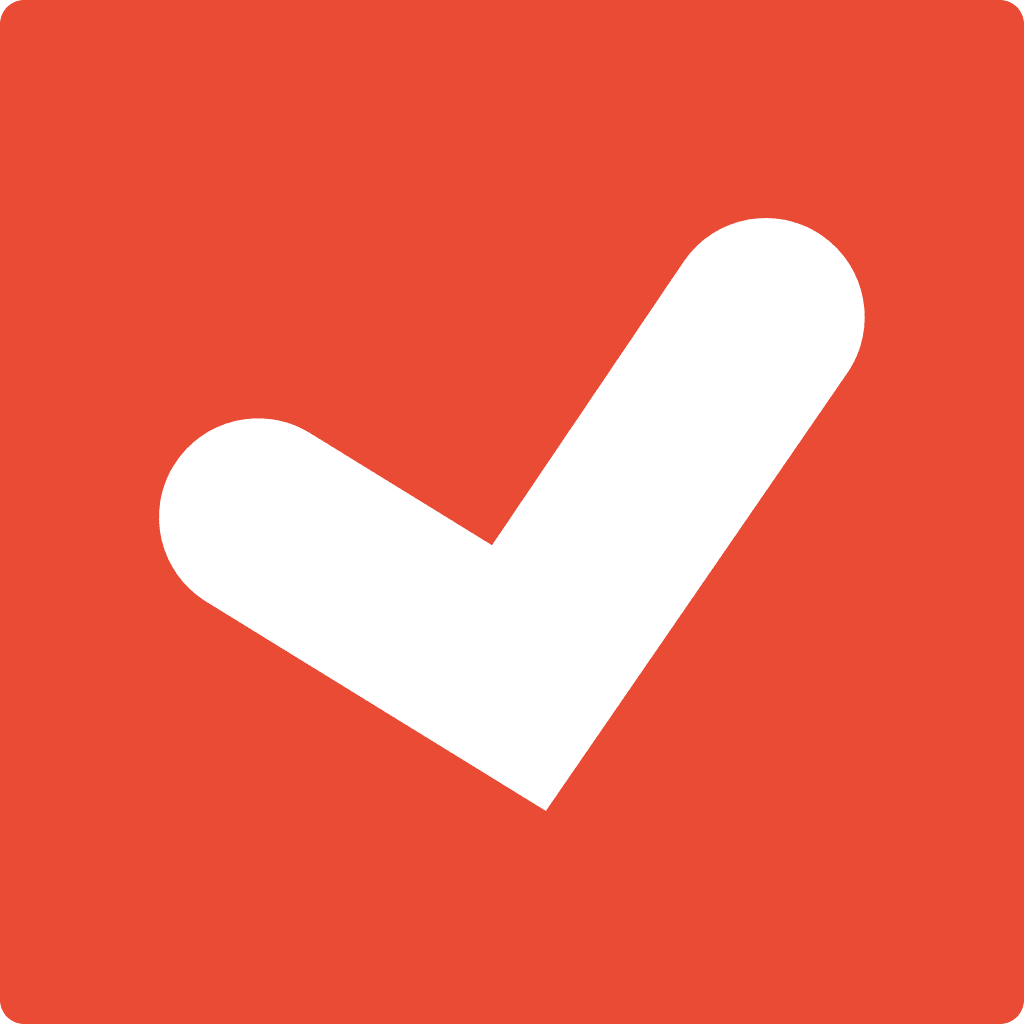 Works best for: Task management and team synchronization 
iDoneThis is a no-frills, agile time management tool that helps streamline teams' work processes and supports simple cross-functional collaboration. Employees can easily update the status of their tasks and projects by tracking their progress, adding tasks, and even tagging team members on projects. These statuses are quickly reviewed by managers who can also access the employee progress reports anytime. 
iDoneThis is a great solution for teams working off a sprint model, allowing managers to benchmark the productivity of each team member, hold them accountable to this amount of work, and begin to improve that level of productivity to improve team member output.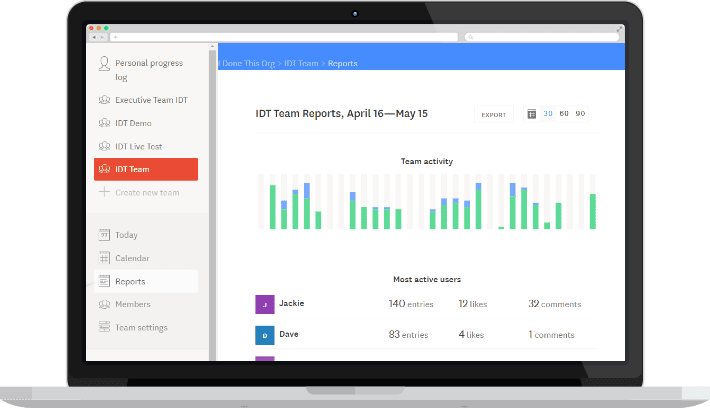 | | |
| --- | --- |
| Features | Benefits |
| Centralized accessibility | Easy to access status information from a centralized platform. |
| Daily check-ins | Daily updates on team progress, task status, and crisis management. |
| Progress reports | Offers actionable insights into employee progress and productivity to help make informed decisions.  |
| Robust reporting | A high-level view of the team and organizational progress. |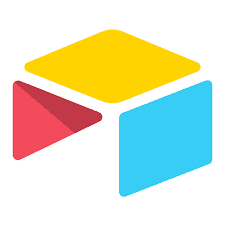 Works best for: Managing and tracking projects for collaborative teams
Airtable is an easy-to-use and versatile online collaboration and project management tool. It allows users to enter data, manage projects, assign tasks, plan their product roadmap, organize data inventories, and more – all in a modernized spreadsheet with a beautiful, intuitive UI. With Airtable, team members can see the progress of their duties, see upcoming tasks, work on collaborative projects, and get an overview of larger projects. 
Airtable also integrates with the Google suite of products, allowing team members to invite members to add their inputs and edits directly to the documents. Its friendly color schemes make it easier to categorize each task and scan through the project, while adhering to brand guidelines.
Airtable has different pre-built templates that help users easily understand and adopt an already simple interface. The tool is loved by content creators, which may be a result of the wealth of pre-built templates such as content calendars, social media tasks, and editing and publishing sheets. In fact, the Whatfix content marketing team uses Airtable to manage its editorial and publishing calendar!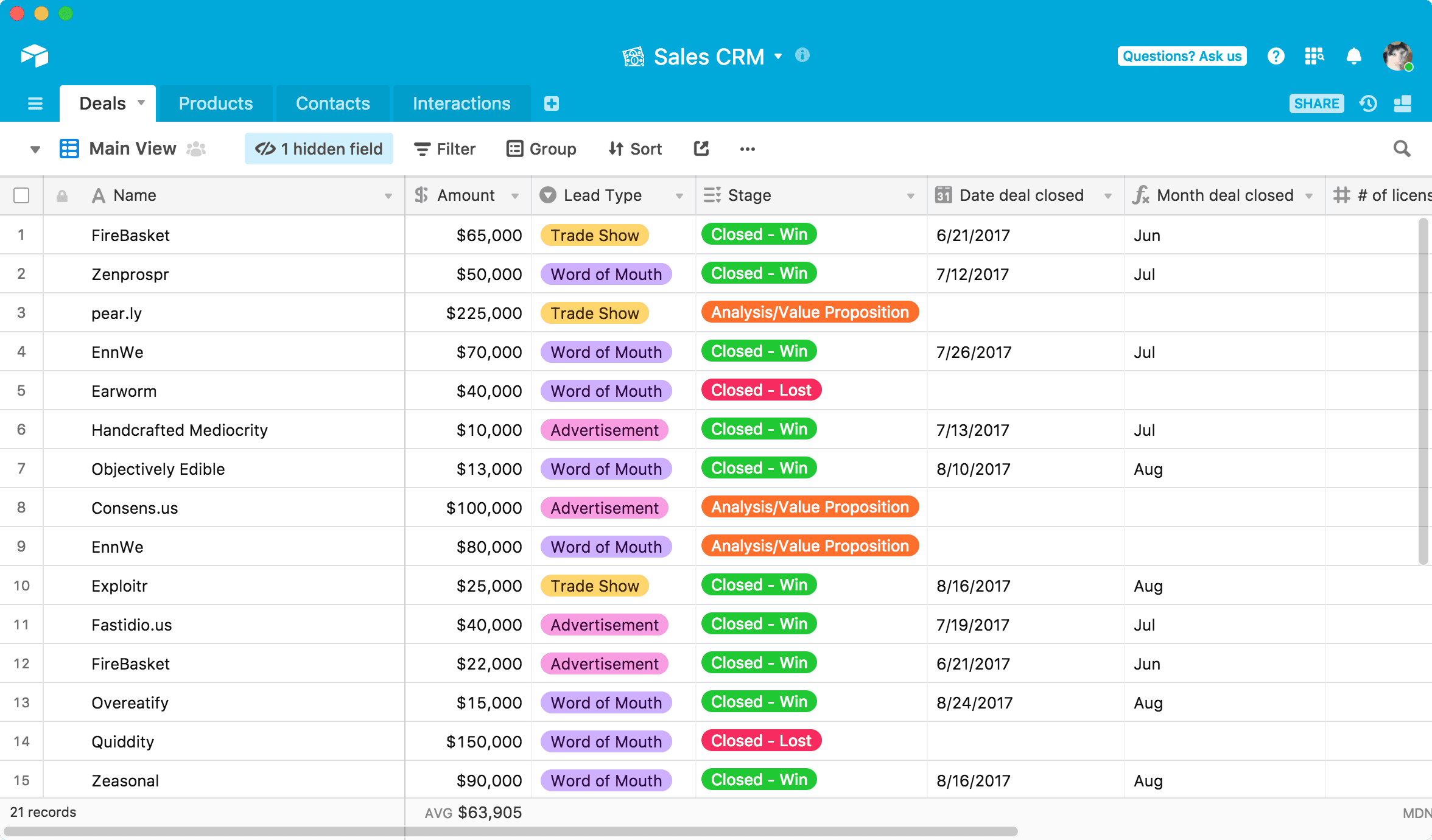 | | |
| --- | --- |
| Features | Benefits |
| Excel-style grid view | An interactive and engaging spreadsheet to help with data management. The data is compiled and filtered categorically for easy access. |
| Status updates and tagging | Quickly update the status of projects and individual tasks, tag new owners or blockers, and more – all improving the transparency of project and task ownership and completion. |
| Calendar view | A simple calendar to plan milestones and view deadlines |
| Product roadmap | End-to-end product journey in a simple templatized manner. |
| Integrated workflow | Can be easily integrated with Google documents, sheets, etc.  |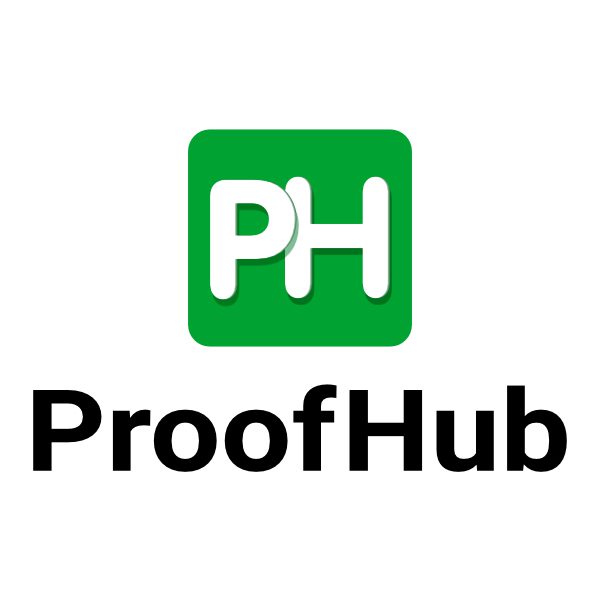 Works best for: Efficient and transparent project planning and collaboration
A SaaS-based project management software, ProofHub is a great way to decentralize communication among team members and clients. It integrates chats from internal messaging tools such as Slack and MS Teams, project management Kanban boards and Gantt charts, and internal workflows to help streamline communication, driving projects to completion, and enable remote teams to stay connected.
ProofHub has the customization option to suit different teams and working methods. The user-friendly interface further simplifies end-to-end project planning, giving managers a bird's eye view of all the open and completed tasks and to-do lists. In the event of roadblocks, ProofHub also uses organization tools to present team members with contextual files and process documentation to help them find solutions to problems when they happen.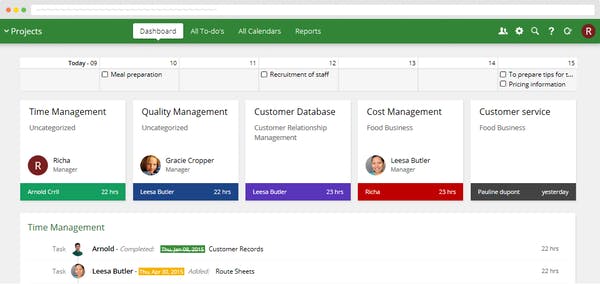 | | |
| --- | --- |
| Features | Benefits |
| Excel-style table view | Organizes project-related data in one place. |
| Kanban boards | Helps divide tasks in the form of workflows where each team member has their role assigned to them clearly.  |
| Calendar view | Easy to schedule recurring tasks, reminders, and task deadlines |
| Integrated workflow | Easy integration with different document formats like docx. Pdf. etc, all on one platform.  |
| Chat tools | Enabling direct messages to make team and client conversation more efficient. |
| White-labed solution | Personalize the ProofHub account to add a custom image to match the brand's identity. |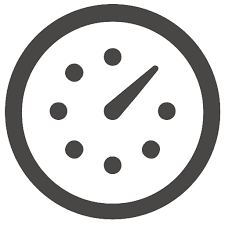 Works best for: Time tracking and workforce management for freelancers
Everhour is a comprehensive time and workforce management solution. It helps users enhance their productivity with integrations in popular freelancer platforms such as Asana, Trello, Basecamp, Clickup, and more – allowing for budgets, invoices, payroll to be automated. The seamless project scheduling & tracking tools further make it easier for users to stay on top of the progress and create comprehensive reports at the end of the month.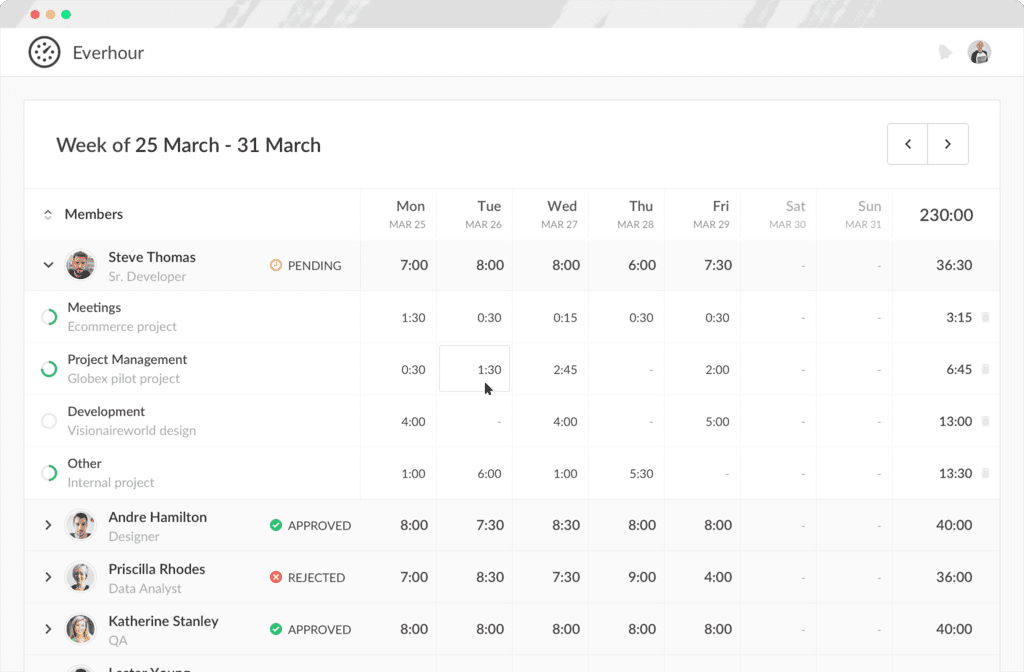 | | |
| --- | --- |
| Features | Benefits |
| App integration | Seamless integration with project management applications like JIRA, Asana, etc.  |
| Project estimates | Helps set time estimates to see the productive hours and how much is left to plan for the tasks accordingly.  |
| Time Logs | Allowing managers to track their team's work hours, productivity timeline, and project time as well.  |
| Reminders | Perfect for deadlines, these reminders help users stay aware of the approaching deadline. |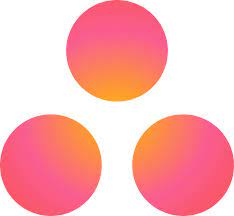 Works best for: Project management and task tracking
Asana is a task management software helping users categorize their projects into tasks and subtasks. The easy-to-understand dashboard allows users to receive project details, reminders, team members, and duties. 
The calendar feature presents the complete picture of project status, where users are able to tag different team members when passing off tasks. For greater collaboration and efficiency, Asana has native integration with Google Docs and Sheets. Reminders and project deadlines sent directly to employees' emails help with task management and managing timelines.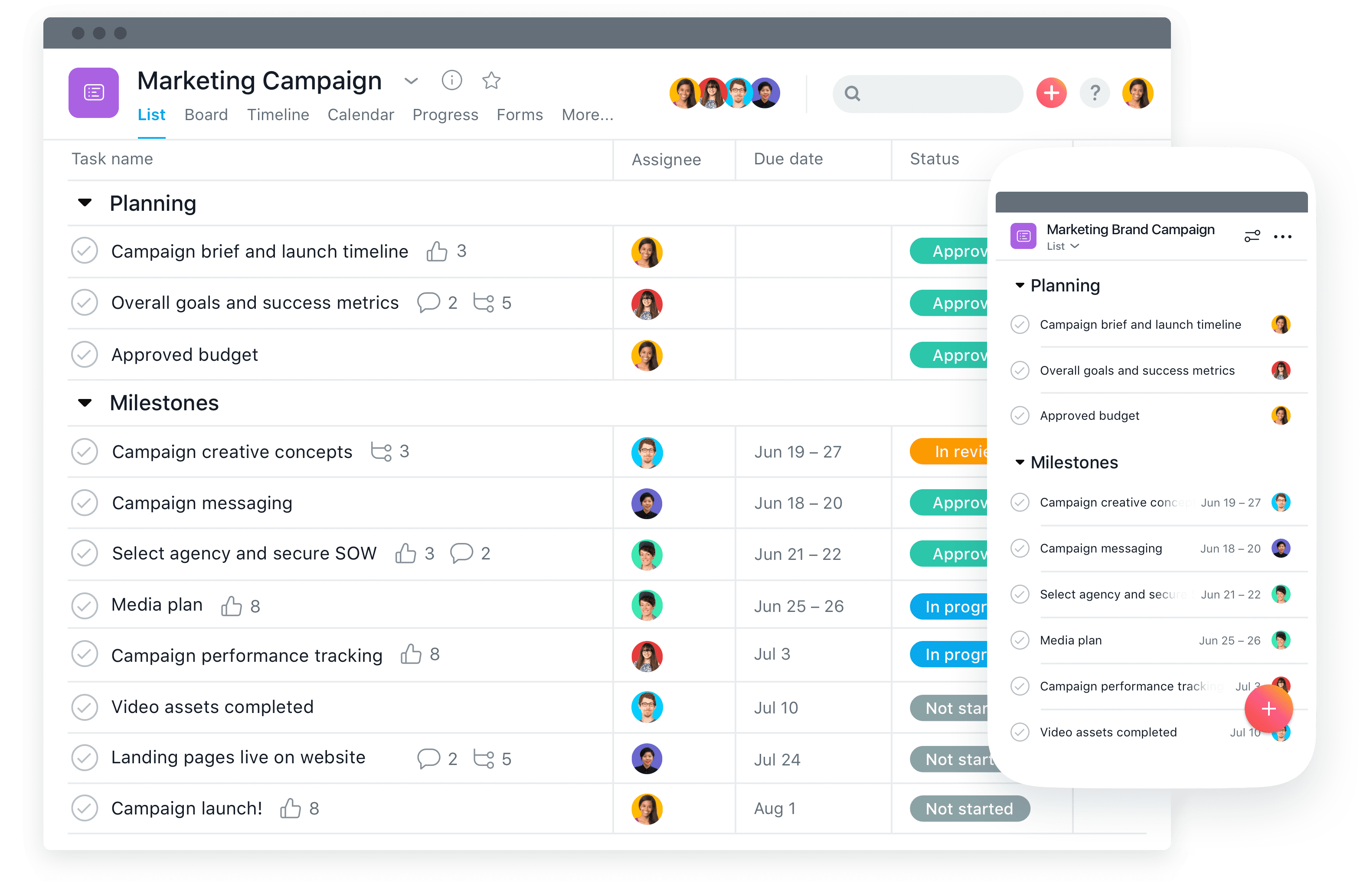 | | |
| --- | --- |
| Features | Benefits |
| Forms | Add all the details of the projects in these forms which are connected to projects. As a result, everyone associated with the project can easily access these lists.  |
| Tasks and subtasks | Easy to access dashboard categorizing tasks and subtasks to the users.  |
| Dependencies | Pending task reminders and highlighting designated members to expedite the work.  |
| Rich text | Used in larger text fields to keep the message clear and organize ideas in bullet points |
| Workload management | A resource management tool offering a single view of the team's work and bandwidth. |
| Task management | One-stop destination to assign tasks to all members of the project. |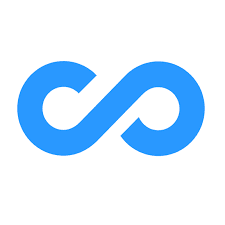 Works best for: Team communication, employee scheduling, and task management for non-office teams
ConnectTeam is a scalable and customizable employee management platform simplifying internal communication and promoting collaboration. The platform is especially focused on training non-desk employees, boosting transparency among team members, and boosting employee engagement. A few examples of industries that ConnectTeam is built for include construction, retail, logistics, hospitality, and film.
With its focus on non-office teams, it offers unique features for its core user personas including geofencing, GPS tracking, on-the-go reminders, mobile dashboards, and more.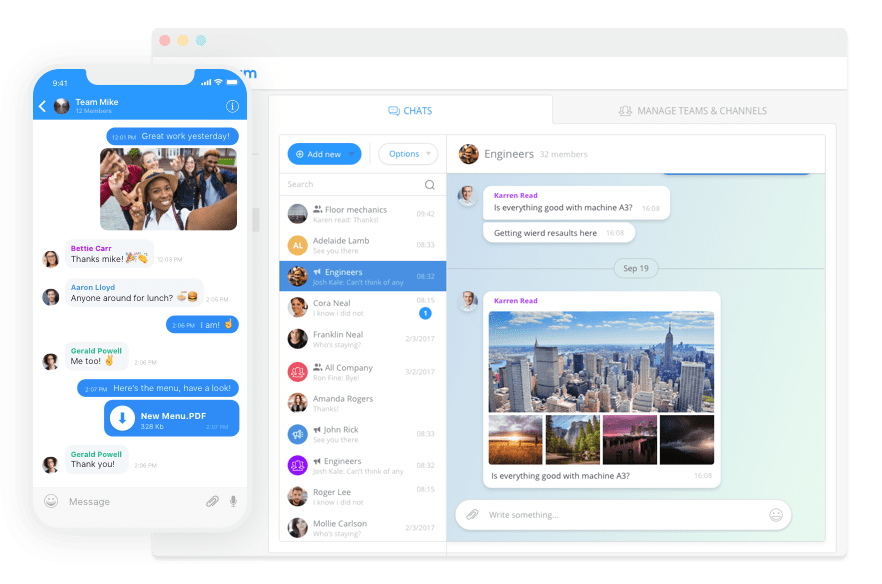 | | |
| --- | --- |
| Features | Benefits |
| Employee communication | Multiple ways to enable users and team members to communicate and engage with each other. |
| Task management | A simple overview of the project, underlining tasks and respective team members, along with deadlines and extra notes if any. |
| Employee scheduling | Simple to schedule employee tasks, meetings, and setting deadlines. |
| Training and knowledge center | Hands-on content training resources for users and managers to understand and become exports on the tool, as well ass customizable content that can be uploaded for particular projects or policies. |
| Forms and checklist  | An easy-to-access list to help users categorize their project requirements and other related pointers are attached to the project. They can be referred to later when required.  |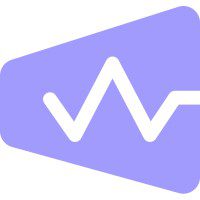 Works best for: Workforce and productivity monitoring and analytics
A time tracking and employee monitoring software rolled into one – Workpuls is helping team managers get a detailed report on the team performance. The software relies on productivity monitoring data to create workforce and productivity insights. It also allows managers to organize their project timelines, budget them for greater revenue, and offer precise project insight to stay on top of the progress.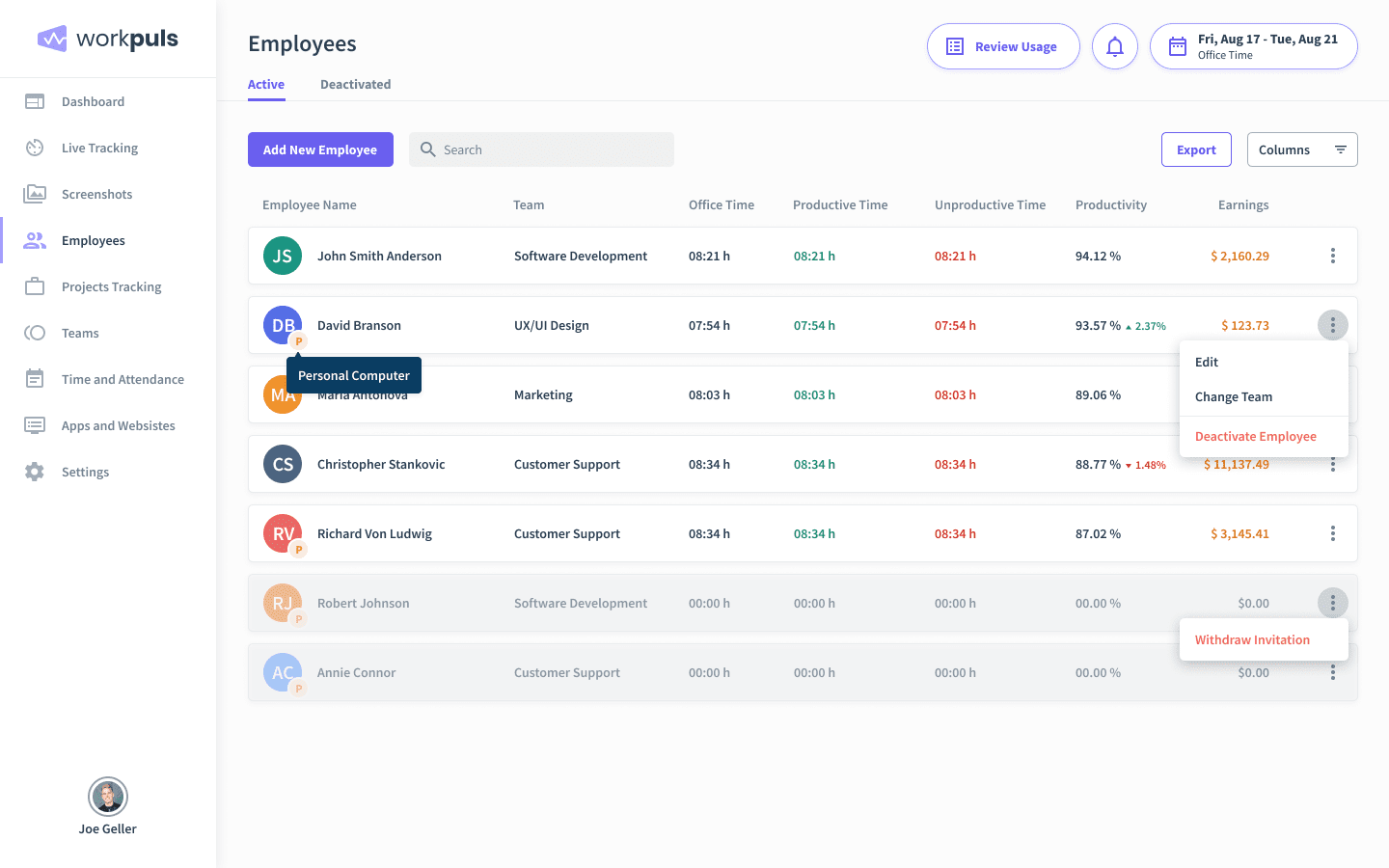 | | |
| --- | --- |
| Features | Benefits |
| Activity tracking | Helping track the online activities of their team members, app time usage, and overall productivity. |
| Regular screenshots | Periodic or rules-based screenshots of the employee activities to track productivity. |
| Verified attendance | An automated attendance to track employee presence without investing in expensive manual clock-ins and outs  |
| Project budgeting | Say no to extra cost and improve per-project earnings with the help of our advanced data and down-to-the-decimal project budgeting feature.  |
Works best for: Employee monitoring, employee behavior analytics, data loss prevention, and insider threat detection 
Teramind is a comprehensive employee monitoring solution helping team managers track their employee work, engagement levels, and activities. It also monitors employee behavior to detect insider threats, suspicious activities and safeguard confidential information. 
Teramind offers three different solutions – Starter, UAM, and DLP. Teramind Starter helps team leaders record screens, receive live viewing of the applications and websites to track employee work. The Teramind UAM helps in user activity monitoring, audit forensics, and policy regulations. Lastly, the Teramind DLP tracks and filters content that may indicate data loss and prevent it in the future.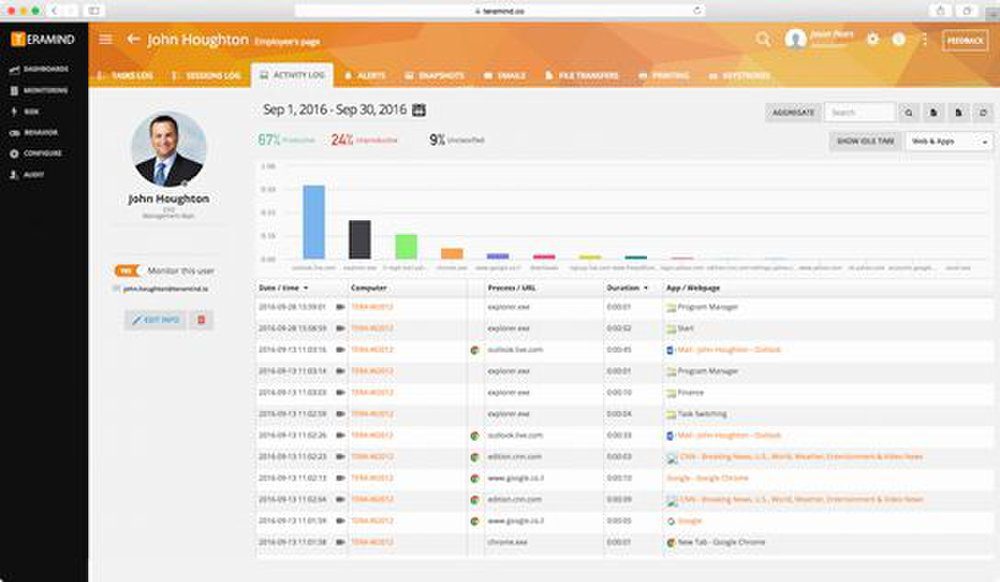 | | |
| --- | --- |
| Features | Benefits |
| Privileged user monitoring | Tracking and accessing privileged employee activities with ease.  |
| Remote employee monitoring | Monitoring remote teams and their tasks, creating customizable reports, productivity levels and app usage.  |
| User behavior analytics | Understanding user anomalies and uncovering potential threats to the organization.  |
| Vendor access management | Understanding vendor teams activities and regulating their activities to safeguard company information and policies against third-party members.  |
| Compliance and audit | Assuring compliance to the latest guidelines like HIPAA, GDPR, and others keeping business owners informed about the latest development. |
Next steps for tracking and improving your team's productivity
Lack of employee productivity and engagement leads to missed deadlines and unfilled expectations. Tracking employee productivity and efficiency is a proven strategy to understand how your employees are working, and make data-backed decisions on how to improve their processes and productivity.
It's worth noting that the level of monitoring is different for every company, team, industry, etc. Some level of tracking helps improve accountability and therefore, the overall growth of the organization – but micromanaging employees and tracking their every move can be extremely counterproductive and lead to dissatisfied employees who feel alienated, not trusted, and taken advantage of.
The right balance between employee privacy and productivity adds a lot of merit to team performance. Be sure to not overstep your bounds and be fully transparent with your team members.
Subscribe to get new content delivered directly to your inbox.