What Is Process Documentation?
Process documentation refers to the detailed, step-by-step instructions on exactly how to do a process. It's a type of technical documentation that refers to the collection and recording of all the information about a specific business process— including the exact steps, tools, and procedures needed to achieve a process's desired outcome. This type of documentation is sometimes referred to as a standard operating procedure (SOP).
Well-documented business processes empower organizations to create documentation to simplify complex processes across their business functions: from creating a more streamlined employee onboarding process, preventing knowledge loss when employees leave, transfering knowledge between different employees and business departments, maintaining consistency in processes or results, and more. Ultimately, you'll spend less time and human resources educating employees while still empowering them to do their best work.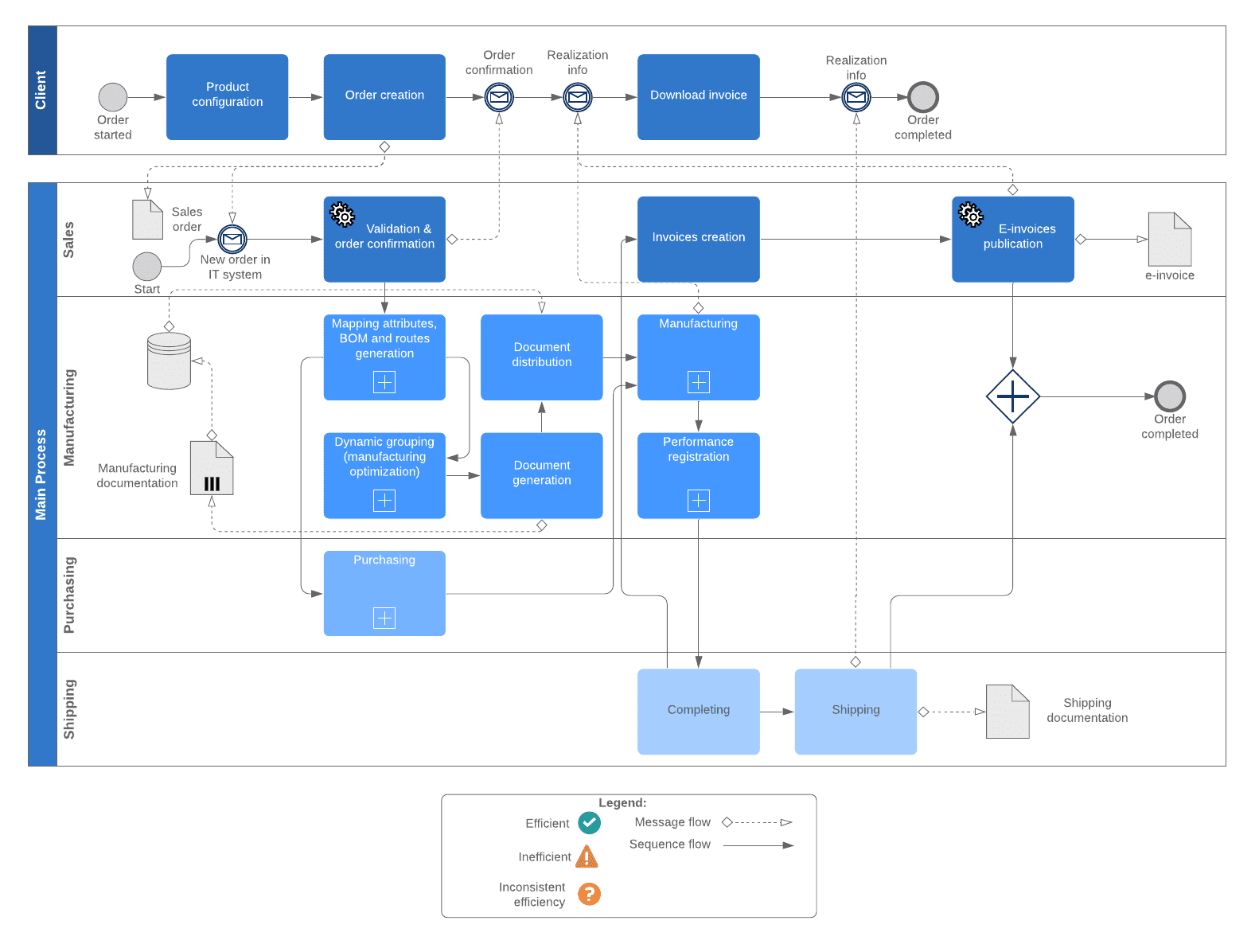 Above: Example of a business process documentation on the lifecycle of new incoming orders – from end-user order creation, invoicing, purchasing, completion, and shipping.
Examples of Process Documentation Format Types
Process documents exist in many format types, including:
Visual Process Maps
Flowcharts
Quick Reference Guides
White Papers
Onboarding Documents
Video Tutorials
Checklists
and many more.
These documents should be available to employees in a central location, such as an internal knowledge base, so they can be easily found and referenced when needed.
Common examples of process documents include employee onboarding checklists, performance review guidelines, content publishing how-to's, customer support guides, and software documentation such as API documentation.
To consider a non-business example, think about a family recipe. Carefully documented recipes are the perfect example of what good process documentation does—it streamlines any process in your business (or personal life) and improves the overall outcome.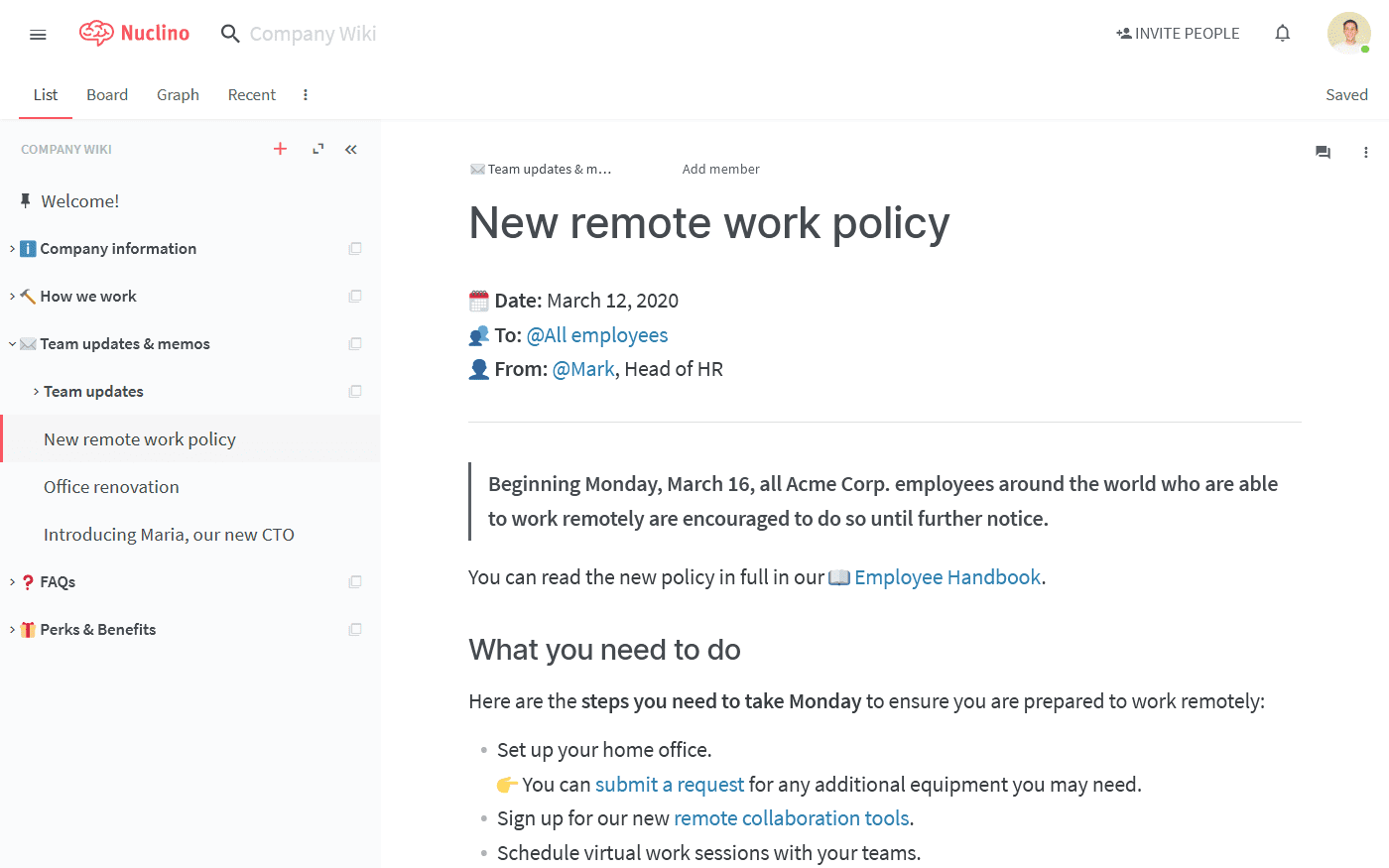 Above: Example of an organization using an internal wiki to publish and store their business processes, including the one above on its remote work policy and how to apply for it.
4 Benefits of Process Documentation
While it takes some time and effort to consciously document each of your business processes, the benefits of doing so far outweigh the initial inconvenience. Here's how process documentation helps your business.
1. Preserves Organizational Knowledge and Improves Consistency
Robust process documentation saves your employees from needless trial and error, as they aren't forced to reinvent the wheel each time they repeat a common process. What's more, documentation of tried and true processes empowers other employees to achieve similar results – maintaining consistency across your workforce and encouraging knowledge sharing.

It also helps when key team members leave an organization — proving a system to leave behind the knowledge they have in the form of documentation. Without this documentation, organizations would need to recreate processes from scratch or contact old employees for support in training new hires.
TIP: To encourage knowledge sharing across your organization – invest in hiring a learning & development (L&D) leader to build a company-wide knowledge management strategy.
Process documentation makes company policies, rules, and procedures readily available for employees, so they're always mindful of following them. For instance, your customer service guidelines might clearly state information reps must not reveal during a customer service call to avoid breaching privacy rules.

Non-compliance with state and government rules results in fines, reputational damage, revenue loss, and business disruption. In a December 2017 report, Globalscape found that non-compliance cost companies over $14 million on average. Process documents ensure your company doesn't face that unnecessary cost and support your compliance training strategy.
3. Improves Employee Productivity
Readily available process documents in a company wiki or knowledge base allow employees to quickly reference how to do a specific task, rather than wait for a colleague to help them out.

In a Workplace Knowledge and Productivity study, Panopto found that employees spend 5 hours on average per week waiting to receive information and support from the right person. Without process documentation, your employees are likely wasting time waiting on other staff or leadership to guide them on how to do their job.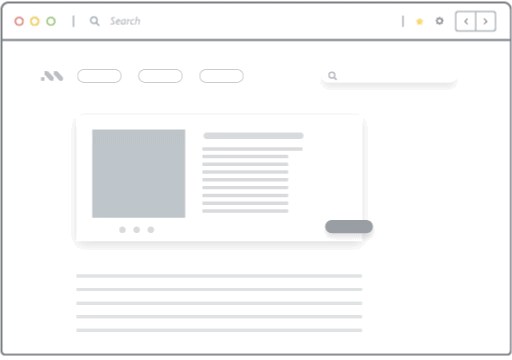 Create personalized onboarding flows, embedded wikis, and process tips for your enterprise apps with Whatfix
Whatfix empowers your users with contextual flows and self-help widgets, improving productivity and proficiency while cutting training and support costs.
4. Prepares Your Business for Mergers and Acquisitions
Mergers and acquisitions generally require you to share your business' unique approach to sales, onboarding, marketing, and software development processes in detail. Documented processes make this easier, as you don't have to compile this information from scratch.
How to Effectively Document Your Business Processes in 2022
Process documentation requires organization and research, so employees who read it can achieve the best possible results. Here are six steps to create and templatize your business documentation process:
1. Define a Project Scope for the Process You Want to Document
Think of each process document you create as its own project. Defining the scope of this project early on, including important information such as due dates, stakeholders, and success metrics, all keep your process documentation focused on specific business goals.
Let's say you're documenting the process to onboard new hires. The project scope for this document would include the following details (and possibly more):
Duration of documentation: This could range from weeks to months, depending on the document. For an onboarding process document, you may assign three months for the documentation team to gather insights from the human resources (HR) and learning and development (L&D) teams, observe new hire onboarding, and prepare the final document.
Key stakeholders: This includes everyone involved in documenting the process (researchers, interviewers, and writers), those in charge of the process (such as the HR and L&D teams), readers of the document (future HR managers), and internal and external reviewers of the process and the document.
Success metrics: This refers to how you'll measure the benefits of documentation. Key results for an onboarding process document might be shorter time-to-ramp for new hires, higher productivity for your HR team, or better employee retention.
Without a defined scope to track progress, your process documentation project could easily consume more of your staff's time than needed or be relegated to the back burner in favor of other activities.
2. Collect All Information on the Business Process
Once you zero in on timelines and goals for your process documentation, it's time to collect information about all the raw materials needed for the process. Collecting this information upfront makes it easier to chronologically organize the process document.
There are several ways to collect information about a process. One approach is to appoint a person or team in your organization to collect all process-related information. This team might include dedicated researchers and interviewers who gather information from different teams through interviews, surveys, or shadowing teams as they work. This approach might work well for large organizations with enough manpower.
Alternatively, you might also appoint one dedicated person in each team to document processes as they occur or evolve in their team. Smaller businesses might find this approach more feasible.
No matter how you choose to collect process information, here are the details you need:
Duration of the process: How long the process takes to complete. A new hire onboarding process, for example, might last up to 8 weeks after an employee starts.
Process inputs: Documents, time commitments from each team member, and resources needed for the process. For the employee onboarding example, you'll need employment forms, time to run onboarding training, and subscriptions to specific apps.
People and skills: Employees needed to perform the process itself. For employee onboarding, you'll likely need HR managers, team managers, and executives to run important meetings, as well as subject matter experts for role-specific training. As for skills, those involved with onboarding should be proficient with specific tools and have solid public speaking skills, writing capabilities, and the ability to provide useful feedback.
Tools: Software you rely on to conduct the process efficiently. For instance, onboarding managers may use employee onboarding software, corporate LMS, and employee training software. You must also consider other tools that will be used in this process as well, such as communication platforms to broadcast announcements for new hires, company wikis to update information, calendar tools, and video conferencing tools.
Method of the process: Detailed explanations about how the process is conducted and the role of each employee. For our onboarding example, HR managers need to send emails, employment forms, additional paperwork, and set up meetings with different team members.
Order of the process: The chronological order of each of the process' steps— what happens first, second, third, and so on. Your onboarding process likely begins with HR managers sending paperwork to employees. This might be followed by setting up introductory meetings in the first week.
With all the process information in place, grab your laptop to create your process' draft outline.
3. Create a Visual Outline for the Process Document
A visual outline or flowchart shows you at a glance if you've covered all the important steps for a process in a logical manner.
To create your outline, take a look at the "method of the process" section in your research. You likely have a jumble of steps to be performed by different people in your organization. Arrange the different steps in the method section in the order of the process and note the person responsible for performing it.
Depending on the timeline of the process, group each of the steps under blocks of time, such as week 1, week 2, and so forth. Some processes may also have a preparatory period, so be sure to note that as well. An onboarding process might group steps according to a period of onboarding, such as "Pre-onboarding," "Day 1," "Week 1," and so on.
If the process doesn't have a specific timeline, simply group connected steps into appropriate categories for differentiation. For example, keyword research is a marketing process with no specific start or end date. In this case, you might group similar steps under headings like "Choose main keywords," "3 Ways to Find Keywords," and "How to Ideate Articles Based on Keywords."
Bring your process document outline together in a visual format such as a flowchart, table, or treemap. Here's one example for an employee onboarding process document: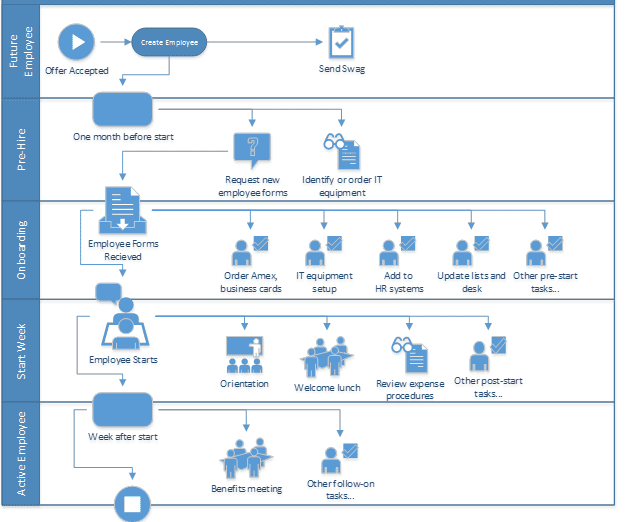 Look for any missing steps in your process, or if you've ordered any steps incorrectly. If you're all set, it's time to get down to the details.
4. Add Details to Your Process Using Simple Language
If your process document is too complex to understand, readers may spend more time training in order to understand the process, rather than using the process to reach business results. To make your process document useful for readers, add details in clear, simple language.
Create your process document by taking your outline and adding detailed instructions for each step. Inform readers about what to do and what not to do, for best results.
Here are some do's and don'ts to keep your process documents clear and actionable:
Do include visuals, diagrams, and screenshots to better explain concepts.
Don't use complex language or jargon readers may not understand. Instead of "inaugural employee induction," use "first-day orientation."
Do provide enough information for readers to successfully complete the process.
Don't use unnecessary adjectives and adverbs, and focus on the information you want to convey. Don't say, "Send a warm, welcoming, hearty email to our newly hired champions." Say, "Send a welcome email to all new hires."
Do provide links to additional reading and examples readers might find helpful.
Once you've run your process document through this quick checklist, it's time to submit your work for review.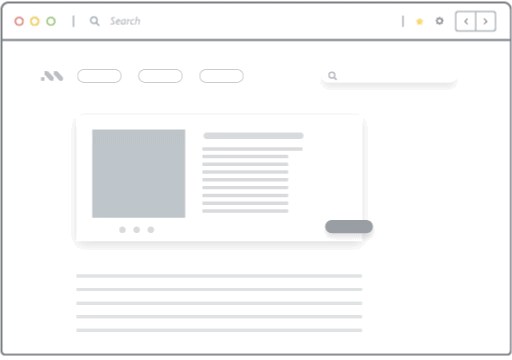 Create personalized learning & training flows for your employee onboarding with Whatfix
Whatfix empowers your users with contextual flows and self-help widgets, improving productivity and proficiency while cutting training and support costs.
5. Get Feedback from Key Stakeholders
Key stakeholders can verify if your process document meets its primary goal: to teach readers how to best perform a given task.
Conduct one-on-one or group meetings with key stakeholders to get feedback about your process document. Alternatively, if you're using a collaborative documentation tool, stakeholders can leave comments directly on your document. If many stakeholders are involved, the latter might be a more efficient option.
Ask key stakeholders if your document is easy to understand, accurate, and helpful. Look for information gaps and information overload. Your document may never be perfect, but peer reviews are a great starting point for making improvements.
6. Make It Easily Accessible Online
While you may have physical copies of your process documents, a good way to make them accessible anytime, anywhere for employees is to publish them online. Online documentation is easier to update and maintain, more collaborative, provides user analytics on usage, and is easier to access.
There are various places you can host a process document online. Use a simple online storage tool such as Dropbox or Google Drive to store your documentation or an internal knowledge base with a search bar to help employees find what they need. Tools such as Notion and Tettra also let you build a simple company wiki with links to different departments and processes. 
For documentation related to specific software applications or processes, use a digital adoption platform (DAP) such as Whatfix.  DAPs make it easy to create and host step-by-step contextual walkthroughs, tooltips, tutorials to teach employees how to use complex software such as Salesforce and Workday.
What Is a Digital Adoption Platform?
Best Practices for Creating Process Documentation
Following the steps helps you to create an effective process document for any situation. There are also some best practices to keep in mind to make sure your documents are as thorough as possible.
1. Choose a Process Documentation Tool with Collaborative Features
Process documentation involves a number of stakeholders. A collaborative documentation tool makes it easy for all stakeholders to contribute ideas, suggest changes, and even edit the document if needed.
Choose a documentation tool that allows you to add different editors, commenters, and reviewers to a document. Stakeholders should be able to asynchronously leave comments and ideas on a document, so you don't have to wait to get everyone in the same room to collect feedback on it.
The software should also automatically update and save changes as different people edit the document, such as a Google Doc. This ensures even if you forget to hit "Save," your changes are still safe.
2. Create Governance Rules for Updating Your Documents
While collaboration is key to making process documentation a success, you also need to set rules around how you update your documents, so only people who have complete knowledge about a process are allowed to edit or make changes to a document. Such rules ensure your process documents are factually accurate and consistent with your editing standards.
Set permissions for who can update process documents, the frequency of updates, the type of changes allowed, and if stakeholders need to be informed about changes. For instance, HR-related documents may only be edited by senior HR managers and executives, once every quarter, and the HR team needs to be informed too.
3. Use Interactive & Contextual Content Formats
Interactive content—dynamic content such as quizzes, walkthroughs, product tours, and surveys—shows up when users take certain actions. For instance, an in-app, step-by-step interactive walkthrough appears when users click on a help button and guides users to complete a specific process. Interactive content engages users and helps them retain information better.
You can personalize interactive content based on an employee's role and make it contextual to the task they're performing. For instance, in a keyword research guide for beginners, you can add a pop quiz to make it more interesting or hands-on research activity to be completed in a keyword research tool.
4. Review Your Process Documents Regularly
Review your process documents on a quarterly or bi-annual basis as you adopt new tools, hire new talent, and brainstorm new ways to solve business problems. Check for factual accuracy, outdated information and images, out-of-date online resources, and processes for new features.
If your organization or processes haven't changed over a period of time, check your employee's productivity levels with current processes. Look for ways to maximize productivity and add relevant changes to your process documents.
5 Types of Software Tools for Process Document Creation
If you want employees to look forward to reading your process documents, don't stick to big blocks of text alone. Use visual elements like images, videos, and GIFs to make your process documentation compelling.
Here are some tools to create process documents in different formats for better retention and adoption.
1. Video & Screen-Sharing Tools
Use video and screen-sharing tools to create training videos that show employees step-by-step instructions to perform a process. Seeing each step visually helps avoid any confusion when readers perform the process in the future.

Examples of video and screen-sharing tools include:
Loom lets you record both your screen and yourself as you talk through a process.
Camtasia helps you create professional-level videos and tutorials with advanced editing options.
ScreenFlow records your Mac, iPhone, or iPad screen and lets you publish videos in different formats.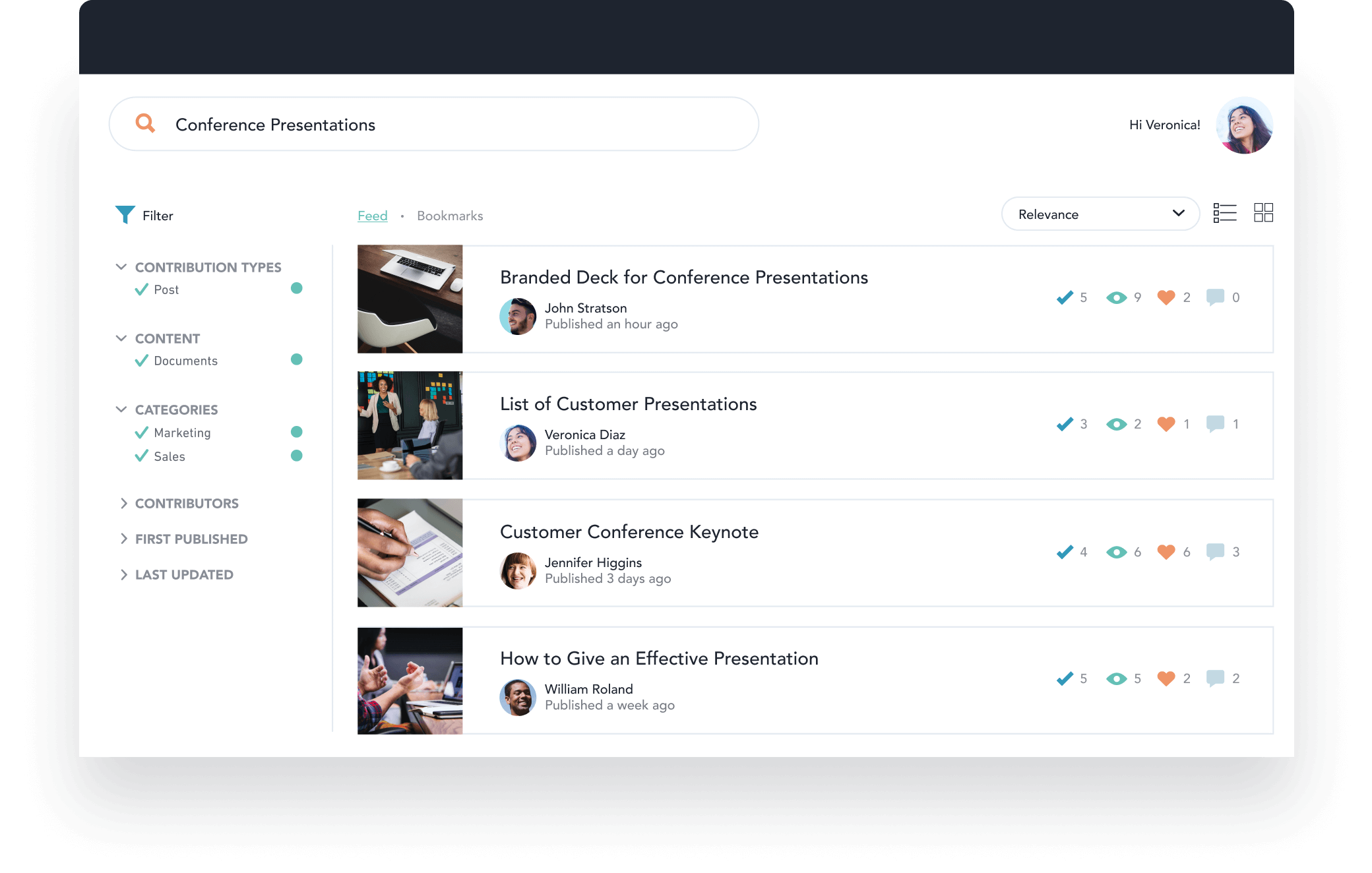 2. Flowchart & Diagramming Tools
Create visual representations of your processes, like flowcharts, tables, charts, and tree maps using flowchart and diagramming tools. Such tools are great to create a visual outline of your process, so stakeholders can view important details at a glance, as well as add diagrams to better explain certain parts of a process.
Examples of flowchart and diagramming tools include:
Lucidchart lets you draw diagrams with connecting arrows to show components of your process.
Smartdraw offers over 70 diagram templates to choose from.
Miro allows you to use sticky notes and a freeform pen in your drawing.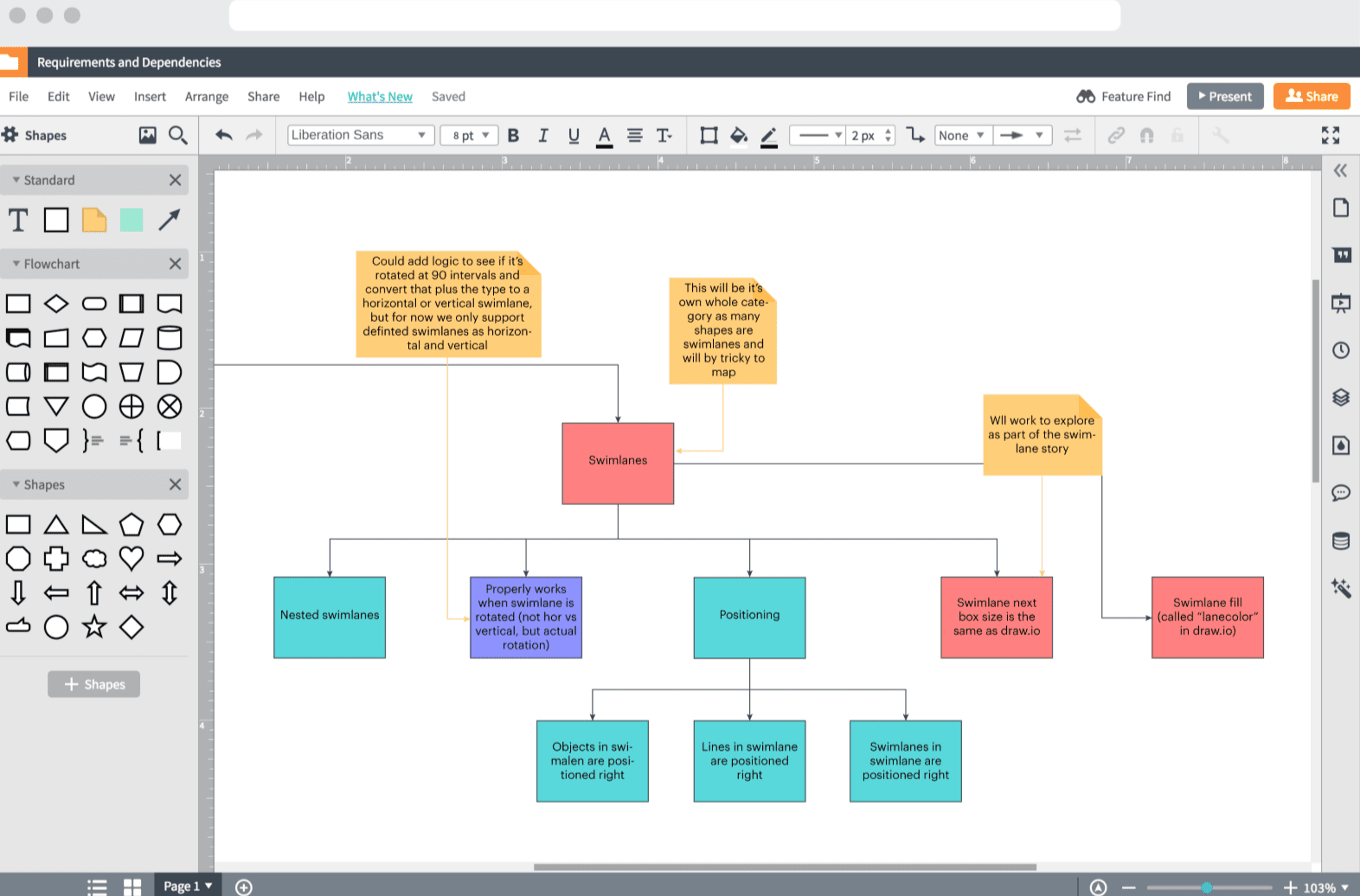 3. Knowledge Base Software
Knowledge base software houses your process documents. Such software comes with a search feature, so users can easily find what they are looking for.
You can also level up your internal knowledge base by adding its articles to apps employees use with Whatfix. For example, Whatfix lets you embed sales-related articles inside your team's Salesforce app, so they can learn while working.

Examples of knowledge base software include: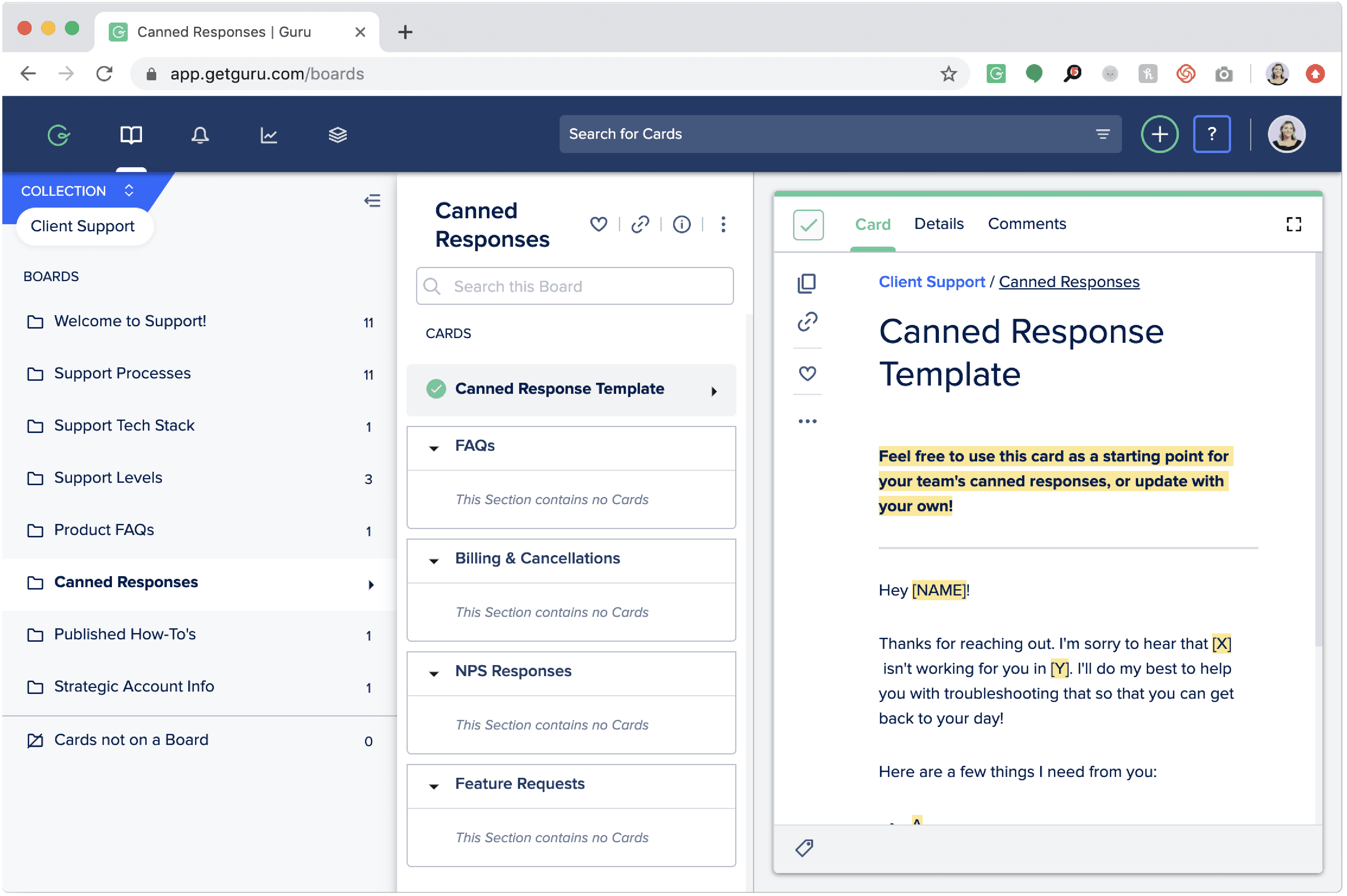 4. Document Collaboration Tools
Document collaboration tools allow stakeholders to provide timely feedback and contribute suggestions to your process document, so you can improve on them.

Examples of document collaboration tools include:
Google Docs is a widely used collaboration tool where your team can add comments to a document, assign action items to others, and automatically save changes.
Bit.ai lets you add images, text blocks, inline comments, link previews, and over 100 file types to your documents.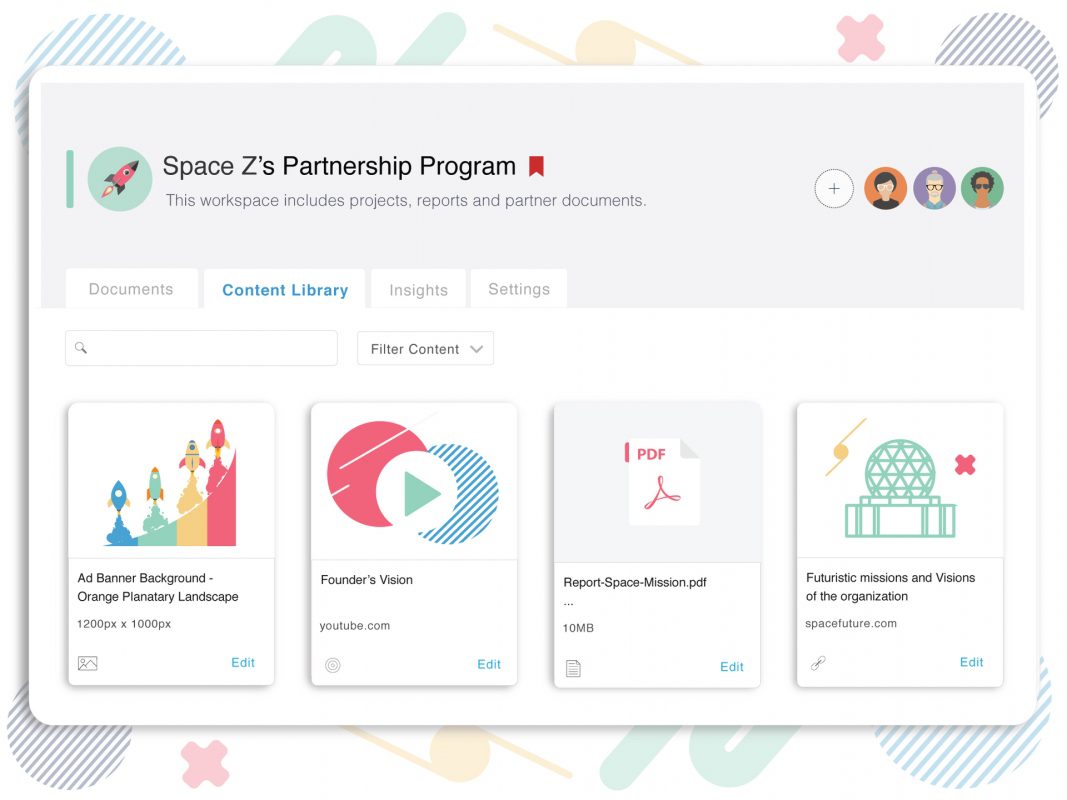 5. Digital Adoption Platforms
Digital adoption platforms (DAPs) are ideal for teaching employees how to perform certain processes within new tools. DAPs make it easier for users to learn and remember your process with interactive and personalized content formats.
Example of a digital adoption platform:
Whatfix lets you create step-by-step walkthroughs, in-app prompts, task lists, videos, and self-help widgets to teach users how to use new software.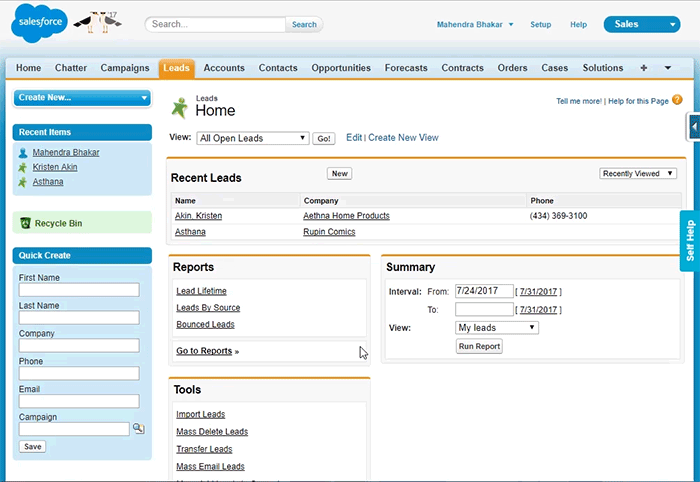 Add Process Documentation to Your Business Tools for Best Results
Most business processes rely on tools—sales use CRM software, marketing uses landing page builders and marketing automation platforms, and HR teams use people management software – and so many more. It makes more sense to store process documentation inside the tools that enable a specific process instead of a static knowledge base or company wiki.
For instance, if you're documenting your keyword research process, consider adding help articles and instructions on how to do keyword research right inside your preferred keyword research tool. When onboarding new sales reps, let them access sales knowledge, tips, and tricks to better use Salesforce right inside Salesforce.
Whatfix lets you create step-by-step walkthroughs inside business tools, so you can demonstrate how to perform specific tasks. You can also add checklists, tooltips, and videos related to a process inside your tools.
With process documentation stored in tools, employees can access knowledge right in the middle of work instead of toggling between apps.
Subscribe to get new content delivered directly to your inbox.