Disruptive technologies, such as Human Capital Management Systems (HCM), have the power to spark a digital transformation within your enterprise. Its 'recruit-to-retire' capabilities help you manage everything to do with employee management, from hiring to onboarding, retention and employee exit formalities.
No wonder enterprises rush to adopt the new technology with great zeal, pegging the market for HCM tools at $131 billion. A study by IDC even claims that, between 2017 and 2021, 13% of organizations are expected to invest in HCM cloud solutions – globally.
Yet, the HCM Adoption Trends and Customer Experience report, shows that while HCM adoption rate is high, the ROI and customer satisfaction are quite low. Either the employees just don't use the software efficiently or the technology is unable to mold itself to the unique problems of the client. These lead to not just delayed or completely lost ROI, but also employee productivity and morale loss.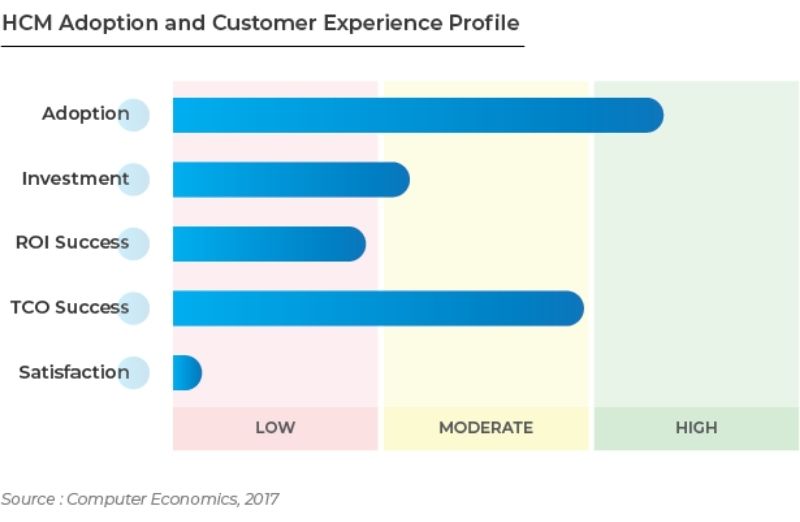 Hence, it becomes so much more critical to develop a structured approach to HCM adoption.
HCM software provides a holistic, digital approach to people management. HR departments use the data from these applications to understand and manage their entire workforce. HCM software empowers HR departments to automate manual and routine processes, and streamline all aspects of employee management – while giving employees more control over their own personal benefits and records.
Trials & Tribulations of HCM Adoption
You must have heard of how seasoned sailors start preparing months ahead for their voyage. This helps them escape the horrors at sea, from storms to running out of fuel, or even poor coordination amongst the ship's crew, which can affect the expedition. Thankfully, all of these negative circumstances can be avoided with the right planning.
Similarly, as a business leader, you are considered one of the captains of the organization's human resources. To keep the 'business' vessel afloat and thriving, you need to be cognizant of issues that can flare up, and limit the success of the newly adopted cloud-based HCM:
47% of employees feel that their company doesn't pay attention to their needs when introducing new technology. Such a clash in expectations between end-users and management leads to poor HCM adoption rates. Additionally, the introduction of new HR systems lead employees (who were quite comfortable with the old workflow) to develop 'fear of the unknown'. Especially since cloud HCM applications must always be rolled out organization-wide, the scope of driving adoption among a user base of a hundred thousand employees is much harder.
Many organizations have point solutions that take care of CRM, resource planning, hiring and the like; while operating in silos. Owing to this segregated structure, the HCM can never give a holistic view of their human capital. This, in turn, prevents the system from ever functioning at its maximum potential. And even if the systems get aligned, the data exchange between ends up not being seamless enough.
Many a time, HCM systems are not personalized to the region, basis factors such as regulatory requirements, language, and employee experience. This can spell 'disaster', especially when large, complex multi-country HR programs are being run.
HCM systems are known to have the lowest ROI, as compared to all other enterprise application software. When an HCM replaces an old system, the change affects all employees; and not just a particular department. This is further exaggerated when employees are not properly trained on the application. This makes the success of HCM implementation projects very dependent on effective change management initiatives.

In the next section, let's look at ways to avoid these turbulent scenarios so that you can attain the organizational benefits that come with technology adoption.
8 Point Guide to HCM Adoption
Here are the different stages of planning, from analysing organizational needs to deployment and beyond, to achieve maximum returns from your HCM tools.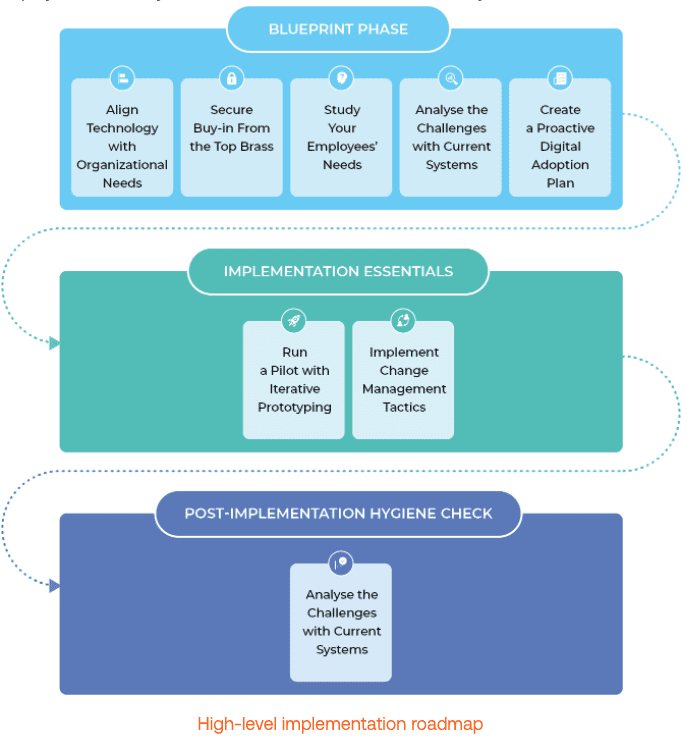 1. Align technology with organizational needs
As an HR leader, it is your responsibility to pragmatically map the HCM solution adoption strategy to your company's needs and budget. While most large organizations can afford complete HCM suites (big bang approach), SMEs tend to adopt select modules based on what makes most business sense for your company (phased approach).
This would also be a good time to figure out what is the ROI you expect of the HCM tools. While you are obviously aiming to harness the complete power of the HCM to bring transformative change, it might be more practical to think about it in a phased manner.
Your company might be struggling with a particularly huge skills gap, or your hiring process might not be keeping pace with your growth needs; selecting the KPIs beforehand will help you pick the vendor that will deliver exactly what you need.
2. Secure buy-in from the top brass
Securing support from the CHRO and other board members is crucial, before investing in HCM technology, as (s)he is the one who will be most concerned about improving workforce efficiency at lower operating costs. Just prove to the C-suite that the HCM solution can bring great value to the table. This will make it easier to get over the hoops when you encounter problems in the adoption of the HCM system by specific departments.
3. Study your employees' needs
If you want the new HCM solution to be accepted by your employees, it needs to be tailored to fit their needs. So, invest in studying your employees through surveys and interviews to understand their comfort levels with technology, preference of tech features and collect even basic demographic data such as age, gender, blue/white collar etc.
Companies are increasingly employing design thinking, to study how employees perform their daily tasks, and where the opportunities for optimization are. Design thinking helps you uncover needs you or your employees might not have been aware of and hence design solutions to fit within the flow of work. This helps improve engagement levels and adoption of the tool in a completely new way.
4. Analyze the challenges with the current systems
Make sure that the new HCM system plugs the gaping holes that the older HR systems were unable to fill. Here is a checklist of issues you may be currently facing, and how a new tool can fix each of them:
Lack of automation: It would help to have time-consuming jobs, such as content creation and admin tasks, automated by the new tool

Poor integration: The new tool should be able to integrate with technologies of the future as well as legacy systems

Impossible to localize: If the tool allows for localizing content to the many geographical regions that is implemented in, it will help increase the employee engagement levels

Choppy user experience: End-users will be motivated to continue with the HCM solution if they find the UI and UX to be visually pleasing and easy to navigate 

Analytics of learning is tedious: The new HCM solution must xAPI or SCORM powered, so that it can have the capability to track, record and analyze employee data effectively
5. Create a proactive digital adoption plan
While planning for digital adoption happens the moment you start thinking of an enterprise application, it's immensely valuable to roll out the HCM with a digital adoption plan in place. You may start with customized training (elearning slides or classroom sessions) but further in the adoption cycle, it's necessary to refresh and reinforce employee software knowledge by in-app guidance offered by digital adoption platforms (DAP).
Just as everything else, training is becoming on-demand and today's digital workforce expects their corporate L&D department to help them upskill, without needing to step away from day-to-day work. Digital adoption solutions such as Whatfix combine the benefits of adoption with training by offering ways to:
Learn while doing

Paced, personalized learning

Continual learning through microlearning plans.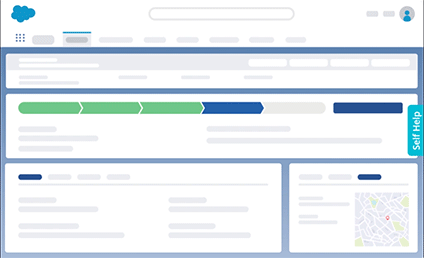 Create personalized learning & training flows for your enterprise apps with Whatfix
B. Implementation essentials
6. Run a pilot with iterative prototyping
You will need to have the HCM solution's out-of-the-box functionality configured further to suit your organization's unique needs. To this end, you will need to run a battery of trial runs, and record the results experienced by a select set of key stakeholders. This will test the new HR product and processes in your organization's distinctive environment.
Once they try out the technology, in different scenarios, you can use their opinions to make any necessary changes to the system before the final rollout. With this agile methodology, you can iron out any kinks in the systems and truly personalize it to your organization. It usually takes months to stabilize a cloud solution, but once it does it will be sure to fit your company's needs.
7. Implement change management tactics
Since employees will be the ones using the tool, you need to communicate to them the 'why' and 'what' of the change to everyone involved, so they feel like they are a part of the process. In fact, according to a McKinsey study, when there is an excellent change management strategy in place; ROI for new technology tends to double. This means that more employees will use the HCM solution to deliver results at the workplace.Get your employees familiarized with the new HCM solution, as they work, via personalised training guides, in the form of microlearning tools (such as Whatfix).
By automatically creating multilingual interactive guides, featuring interactive tooltips, Whatfix helps users get contextual help with using the HCM tool, in real-time. You could even identify suitable change champions, the early adopters of technology, for special training sessions of the HCM tools. Then, they can be encouraged to preach the benefits of the tool to other employees. Ultimately, these steps will drive more users to adopt the HCM software.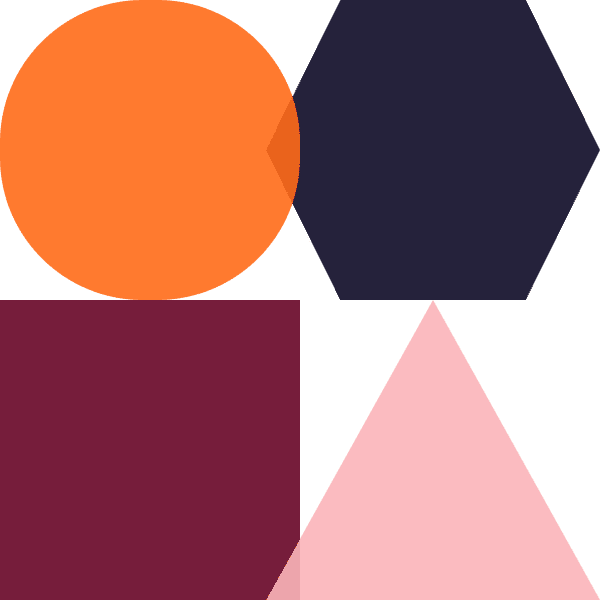 Driving End User Adoption of Cloud HCM Applications
C. Post-implementation hygiene check
8. Analyze and course correct
Even after implementing the approved prototype, you need to continue tracking how the end-users interact with the HCM system. Insights thus secured will help you identify the road blocks that prevent employees from using the tool. This will help you make alterations in the training content/delivery that will further improve the adoption rates. Whatfix has built-in analytics that helps you do just that.
"By failing to prepare, you are preparing to fail," said American Polymath Benjamin Franklin. So it's time to get your planning A-game on for a successful adoption of an HCM solution.
"By failing to prepare, you are preparing to fail."
BENJAMIN FRANKLIN
AMERICAN POLYMATH
Increase end-user adoption with Whatfix
With Whatfix, you can create in-app learning workflows, contextual training and onboarding, and self-help knowledge bases. Learn more about how Whatifx can support your HCM adoption today.
Subscribe to the Whatfix newsletter now!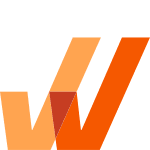 Request a demo to see how Whatfix empowers organizations to improve end-user adoption and provide on-demand customer support