What is HCM software?
Human Capital Management Software is all about managing the most important asset of a company – its people. From recruiting to ensuring a lower employee churn rate, all the responsibilities fall under the Human Resources department. But, with the pool of functions that an HR has to perform, the best would be to provide them with sophisticated Human Capital Management software that makes their work seamless and moreover, efficient.
What do HCM systems do?
Human Capital Management software supports a range of HR department functions for an organization, from benefits administration to recruitment and performance management.
Some of the functional components of HCM solutions are:
Manage your entire workforce with a single, global system of record
Manage the entire talent lifecycle—from effectively sourcing and recruiting to onboarding new hires
Manage employee goals and performance
Control labor costs, reduce manual processes and simplify compliance for all of your employees
Maximize the accuracy of payroll and compensation data using modern and innovative technology
What are the benefits of HCM Software?
Some of the major benefits of leveraging Human Capital Management software for your business are:
Increase hiring speed and quality by easily sourcing and recruiting candidates.
Increase employee engagement with work-life solutions that motivate employees and deliver a great experience.
Retain talent by providing professional learning and growth opportunities for their career.
Maintain expenses for specific projects and other costs.
Anticipate workforce attrition with powerful insights.
Tailor your Core HR processes to account for unique employee needs.
Leverage analytics capabilities for intelligent workforce decisions.
Accelerate HR processes with self-service.
Now we know why and how HCM software is absolutely essential for greater workplace efficiency. However, choosing the best HCM software is a tricky business. Because you can either choose to have a specialized tool to perform one function efficiently. Or, you can go for a consolidated tool to help you manage all the HR process under one umbrella.
So, in this article, we have listed down 16 popular Human Capital Management software in no particular order of preference.
The list of Essential HCM Software Tools
Workday
SuccessFactors
Oracle Fusion
PeopleSoft
Saba Cloud
Kronos Workforce Central
NetSuite
UltiPro
TimeAttend by Replicon
CEIPAL Workforce
HRweb
Zenefits HCM
Gusto HCM
Bamboo HR
Zoho People
SumTotal Systems
These human capital management tools are extensively used by Enterprises and SMB's to carry out their regular HR tasks. For simplicity and quicker decision making, we have expanded on the Human Capital Management software listing on the basis of its Pros, Cons, and pricing.
1. Workday Human Capital Management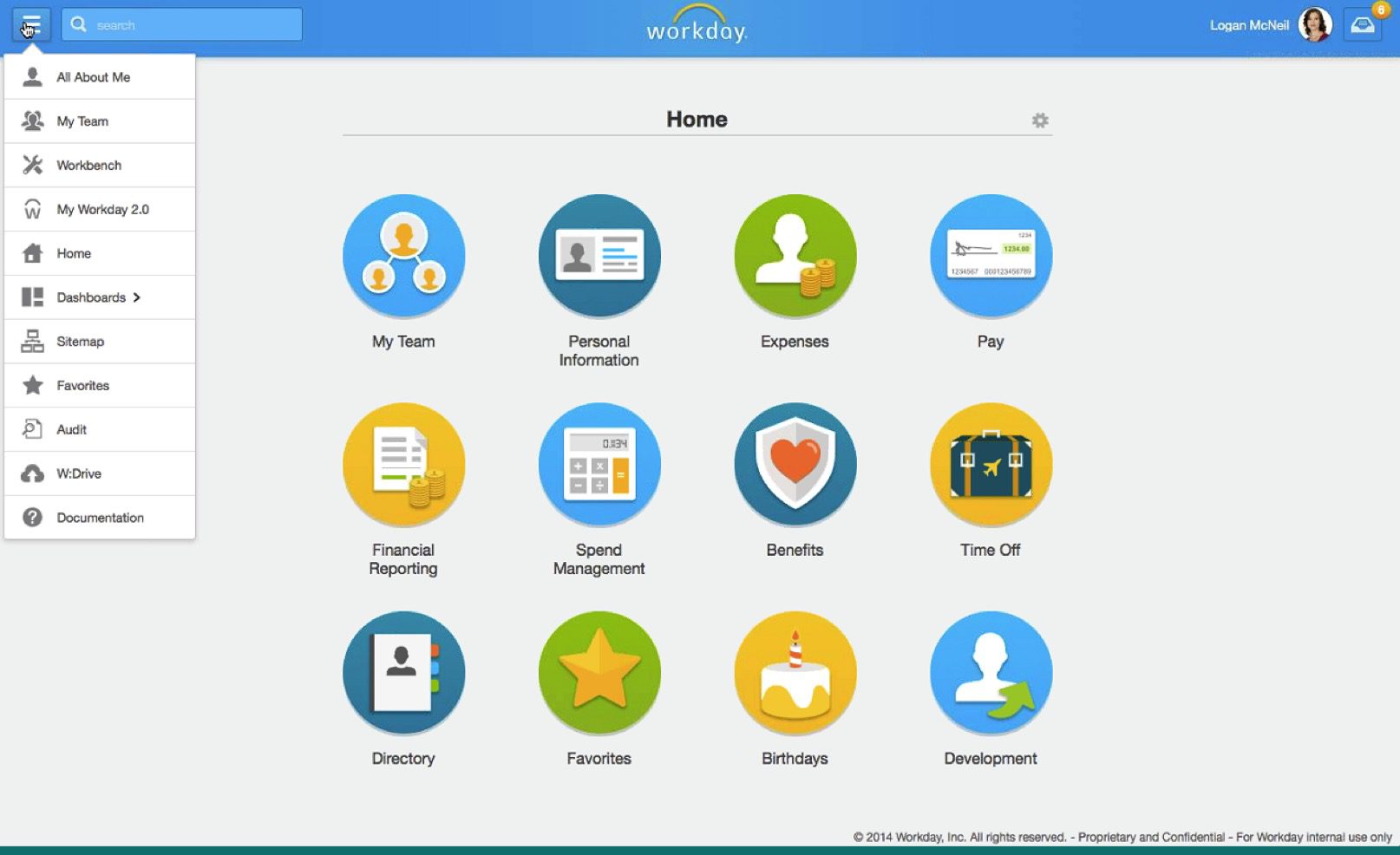 Workday is one of the most popular HCM software in the market now. Its real-time reporting and analytics feature like prism analytics helps in making better business decisions. It has a myriad of application modules like financial management, human capital management, financial performance management, etc., which together contribute to bringing all the Human resources activities under one umbrella.
Pros – Workday is one of the pioneers in data migration and software integration. Because of this, many companies that were on different platforms switched to Workday's HCM software without losing their employee data or spending countless hours in migration.
Cons – Does not allow integration of calendar, users need to toggle back and forth between scheduling tools to Human Capital Management software all the time.
Workday Pricing – Depends on the modules opted for and the number of users of the platform. Approximately, Workday's 3-year minimum contract commitment starts at $100-200 per employee per year.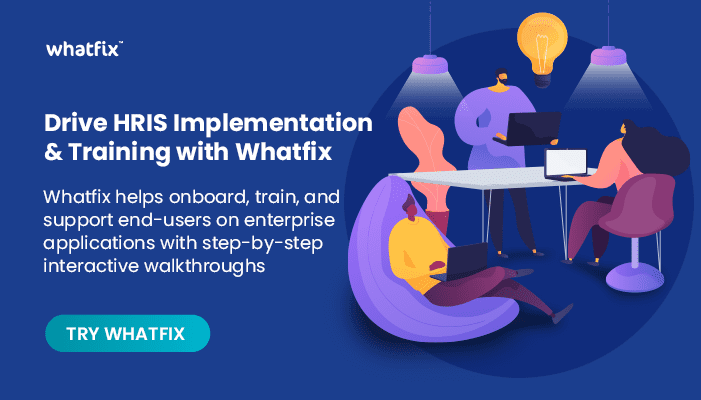 2. SuccessFactors

On par with Workday and one of its biggest competitors, SuccessFactors is another efficient HCM software. It has the potential to manage all employee operations throughout their lifecycle in the company. Modules such as – core HR functionalities, talent solutions, analytics solutions, etc., are combined into one single Human Capital Management software.
The Core Human Resources element (Employee Central) provides a central resource for employee control, as well as payroll. This makes the suite capable of handling all the major human capital management solutions starting from employee management data to performance reviews.
Pros  -It comes with a writing feature that guides users to respond to performance review questions easily. Additionally, this HCM software also offers a small business toolset called 'Perform and Reward' for companies with under 500 employees. This resource allows users to look at org charts, employee profiles, goals and incentives and other metrics, in order to make decisions at a more granular level.
Cons – It is devoid of built-in tutorials or demo videos. This makes training a little complicated.
SuccessFactors Pricing – Quote-based pricing, depending on the number of modules in use. The annual subscription starts at $85 per employee.
Recommendation – To carry out SuccessFactors training and onboarding with ease, try Whatfix. Whatfix ensures seamless HCM software training with the help of interactive walkthroughs. An in-app interactive walkthrough is a guided tour that breaks down lengthy online processes into step-by-step instructions. The instructions are visible in the form of balloon tips right within the website/web app and the user does not need to leave the screen to read the next instruction.
3. Oracle Fusion HCM Software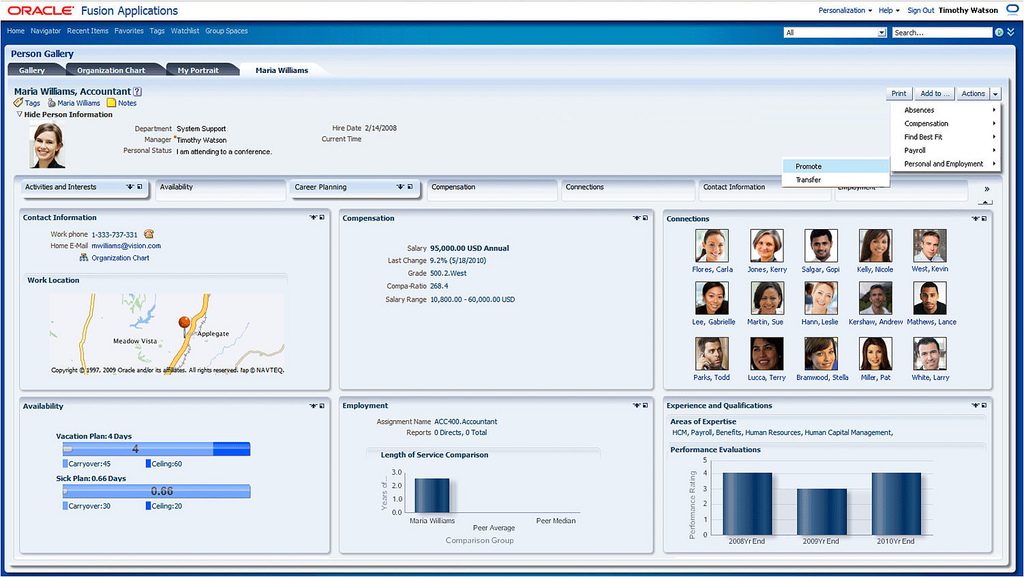 Oracle's Fusion Applications – the leading vendor of top HCM software, manages the employee life cycle for about 40 million workers in 14,000 organizations across 40 countries. With integrated modules for core HR, payroll, talent management, performance management, collaboration, and analytics, etc, it makes it extremely easy for a user to carry out all the HR functions within one HCM software. Above all, it has embedded business intelligence that provides faster, more informed decision-making based on the available employee data.
Pros – Oracle HCM cloud has multiple deployment options – on-premise, on-demand, SaaS (public or private cloud) or hybrid, which provides ultimate flexibility and choices to its users.
Cons– Communicating with Oracle over queries is an arduous process. In addition to that, the company provides very little proactive support to its customers.
Oracle Fusion HCM Pricing – They have predefined and fixed pricing for all its modules and facilities. The entire document mentioning the prices can be found here.
Tip – You can again use Whatfix and its guided walkthroughs to simplify training and onboarding on this HCM software.
4. PeopleSoft HCM Software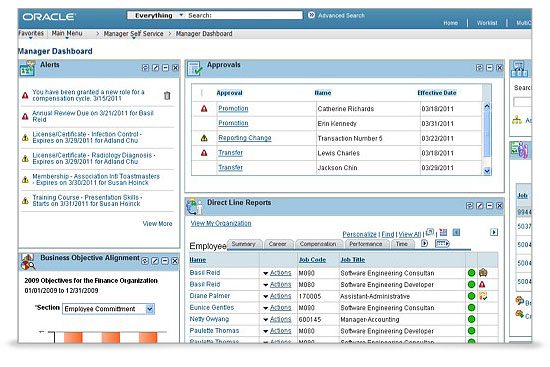 Oracle's PeopleSoft HCM delivers a robust set of best-in-class human resources functionality that enables you to increase productivity, accelerate business performance, and lower your cost of ownership. For core HR functions, it has modules like talent and workforce management, labor rules and monitoring, and workforce service delivery.
Pros – The talent management module can be integrated with core HR systems and other larger Enterprise Resource Planning (ERP) systems.
Cons – The interface is a little outdated and sometimes becomes difficult to navigate through. Buttons in the place of drop-down menus would have been a more efficient solution.
PeopleSoft Pricing – A detailed pricing can be found here
5. Saba Cloud HCM Software

Saba Cloud HCM software offers a cloud-based intelligent talent management solution used by over 2,200 customers and 31 million users in over 195 countries and is available in 37 different languages. Saba can be implemented as a complete human resources management software solution, or can also be adopted on a module-by-module basis. The modules include – compensation, recruiting, succession, planning, performance, and eLearning.
Pros – It is easily customizable, and can be easily tailored to suit your organization.
Cons – It's difficult to make the simplest of changes or improvements. You need a help manual to navigate to a setting you want to disable or modify.
Saba Software Pricing – Starts at $19 per user per month.
6. Kronos Workforce Central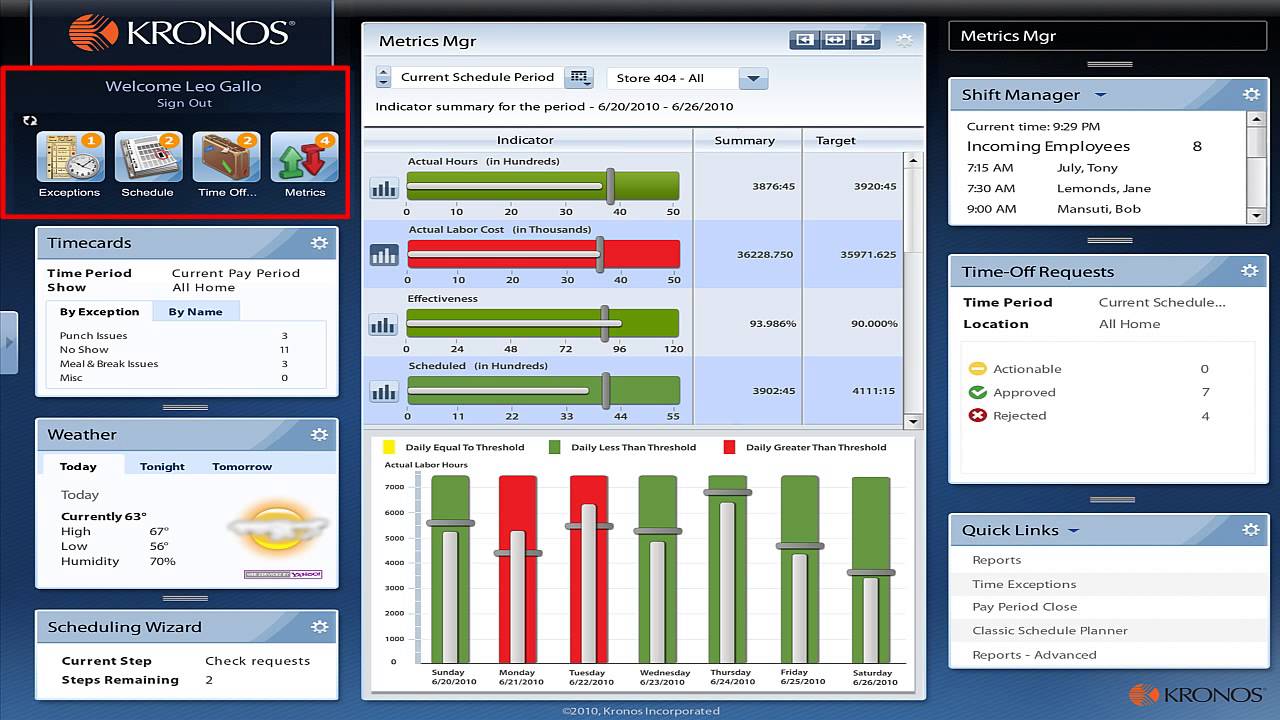 Kronos Workforce Central is a suite of workforce management applications that includes Kronos HRMS, payroll, time and attendance, absence management, scheduling, and more. This Human Capital Management software is suitable for organizations of all sizes. Workforce Central is a single automated solution that enables organizations to manage schedules, track time and attendance, comply with leave policies, and measure productivity.
Additional features give managers reports and information regarding labor demands, employee availability and scheduling across the organization.
Pros- It translates to scalable software that can easily adjust to changes in your business.
Cons– The site is very difficult to navigate. Login is often required more than once to get into the system.
Kronos Pricing – Anywhere from $5,000 to $1,000,000 depending on the organization's network size.
7. NetSuite HCM Software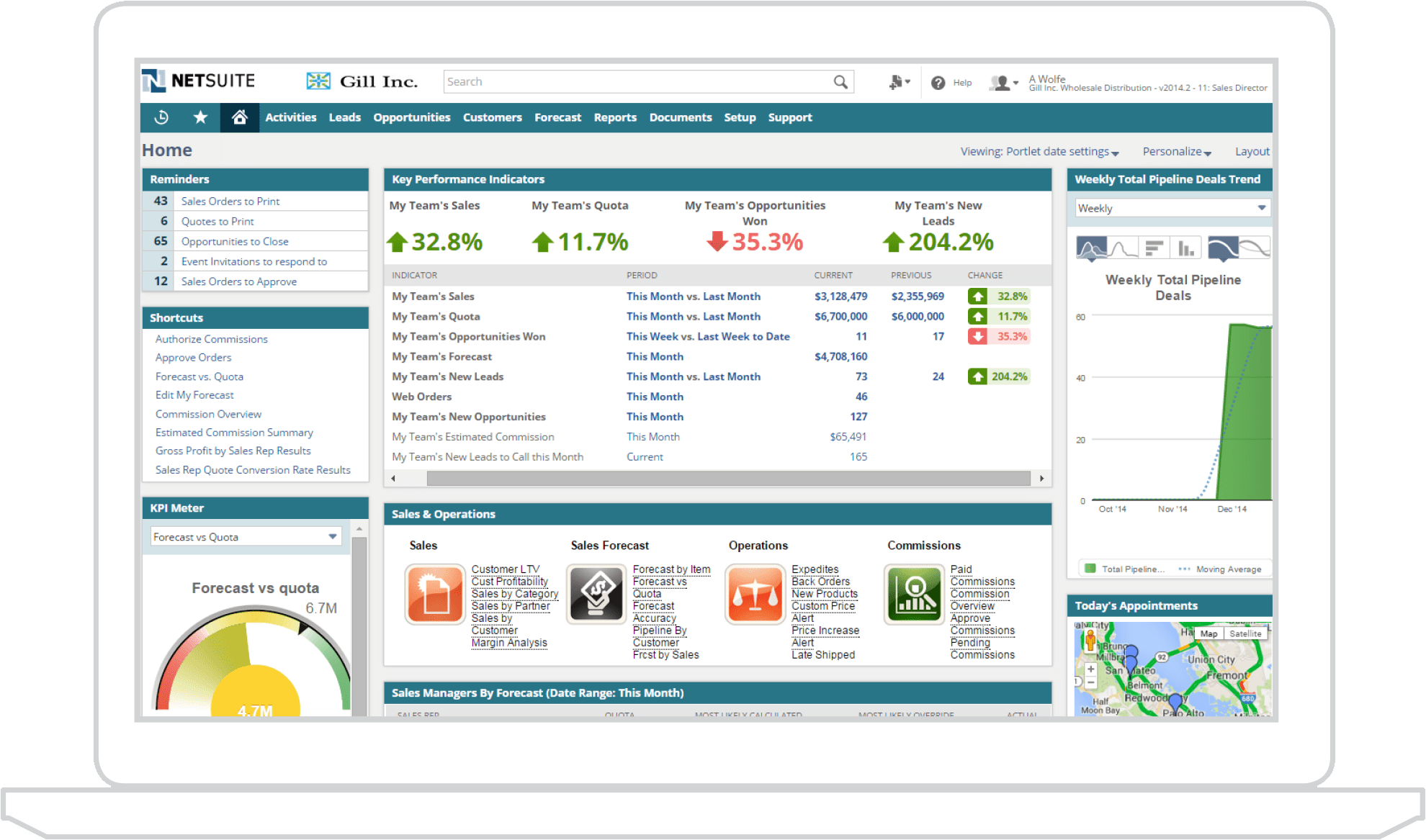 NetSuite offers ERP software as well as Human Capital Management HCM software. The HCM module provides a unique advantage in addressing the challenges of HCM through an integrated, intuitive, flexible, and comprehensive HCM solution.
It comes with features like – payroll services, incentive compensation management, employee center (a centralized portal where employees can access self-service capabilities such as tracking time, expense management, purchase requests, etc.)
Pros – You can become efficient in NetSuite in a matter of days or even hours.
Cons – The APIs available for integration have a little unclear documentation. But, you can use Whatfix to increase the readability of complicated documentation.
NetSuite Pricing – Starts at $499 per month.
8. UltiPro HCM Software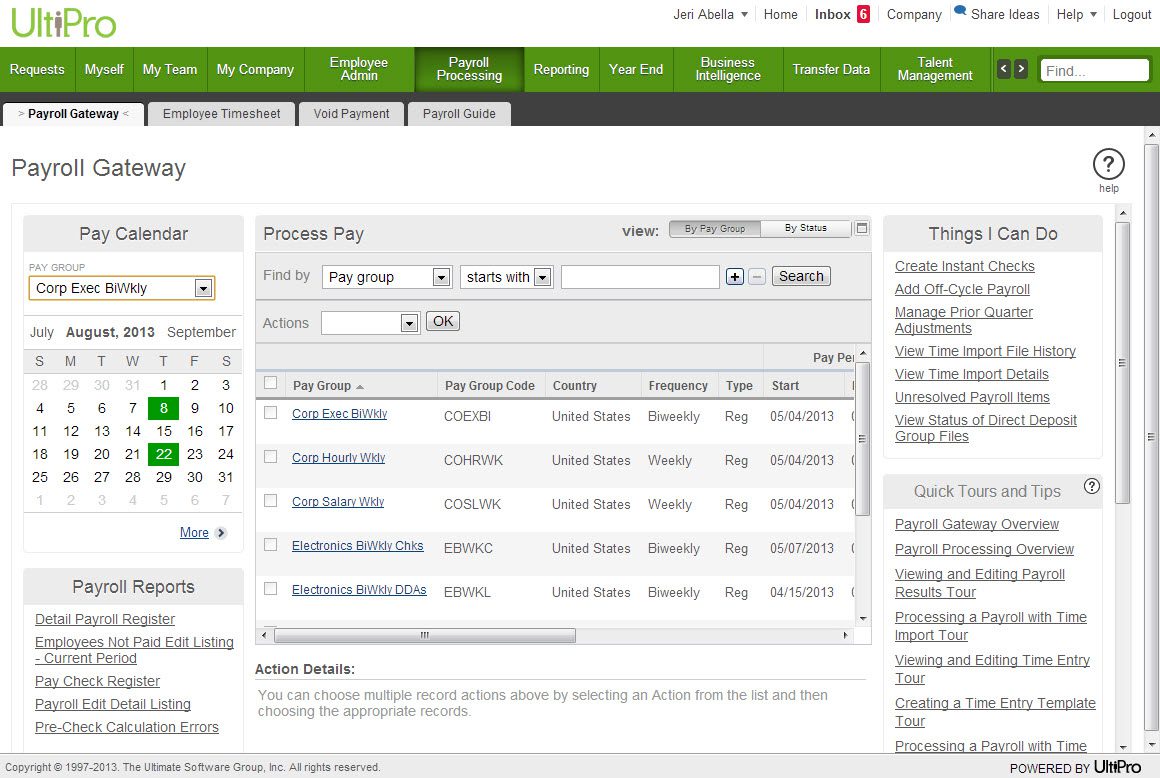 UltiPro by Ultimate Software is a comprehensive payroll, Human Resources, and talent managing system that provides an end-to-end approach to people management. It has unified feature sets for talent acquisition, user onboarding, payroll, benefits administration, real-time reporting, performance review, time and attendance, succession planning, and more.
It can be scaled to meet the needs of companies of all sizes in a variety of industries and provides a centralized database for worldwide workforce information.
Pros – It comes with quick tour videos which make the software easy to understand.
Cons – The additionally integrated modules, might tend to misbehave.
UltiPro Pricing – You would require having an UltiPro Workplace license. Each license costs around $600 per 5 users per year
9. TimeAttend by Replicon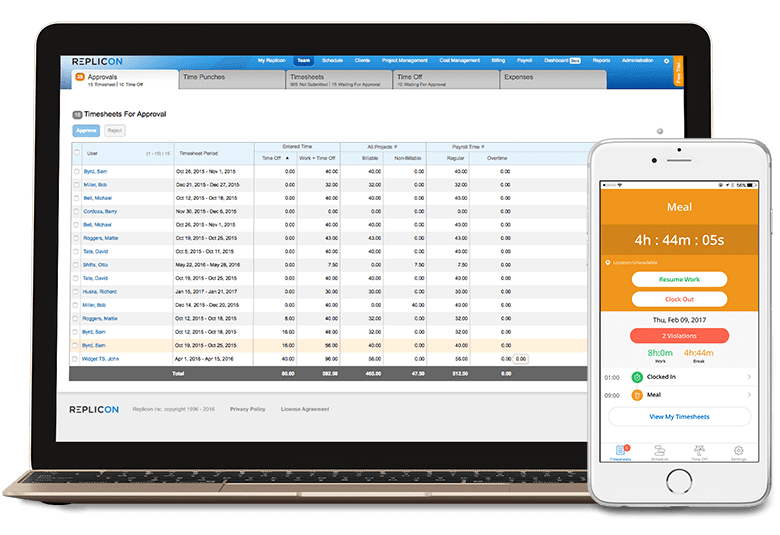 Replicon TimeAttend is a cloud-based solution that makes it easy to collect attendance and time from data, which helps to process payroll accurately and ensure labor compliance for all types of employees. From the administrator's portal managers can see which of the employees are on the clock, if someone has missed a punch or if there are any requests that need approval.
Pros– One system to track time and/or jobs for all employee types–exempt, non-exempt, hourly, union workers, etc. Employees can easily log time and get it approved from anywhere in the office or even in the field. Also available on mobile.
Cons – Although this Human Capital Management software is meant for companies of all sizes. The shift scheduling feature is only available in the Enterprise package.
Replicon TimeAttend Pricing – Starting at $8 per user per month.
10. CEIPAL Workforce

With CEIPAL Workforce, you can have all your employee information at your fingertips. Also, your employees can update their own respective information on the employee self-service platform. The mobile Cloud has a great mobile app to manage employee profiles, leaves, expenses, and timesheets from any mobile device.
Pros – Automatically generate reports from the available data.
Cons – It takes time to learn how to use this human capital management tool efficiently.
CEIPAL Workforce Pricing – Starts from $ 21 per user per month.
11. HRweb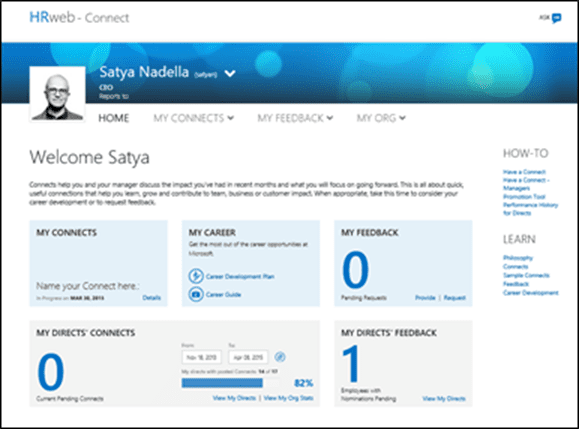 HRweb includes functionalities for employee information tracking, leave tracking, tracking time, employee reviews, recruitment, etc. Also, It's integrated with QuickBooks, which helps you become more organized by quickly retrieving all your important files from one location. And creating a custom library for your organization.
Pros– Security levels can be set for each separate manager so that he only views employees that report to them. Simple UI, click and point selection with lots of pre-filled drop-down menus makes it easy to get up and running for very basic users.
Cons – Expenses reports are difficult to go through and cannot be downloaded in .xls or .csv formats.
HRweb Pricing – Starts at $39.95 per month per user.
12. Zenefits HCM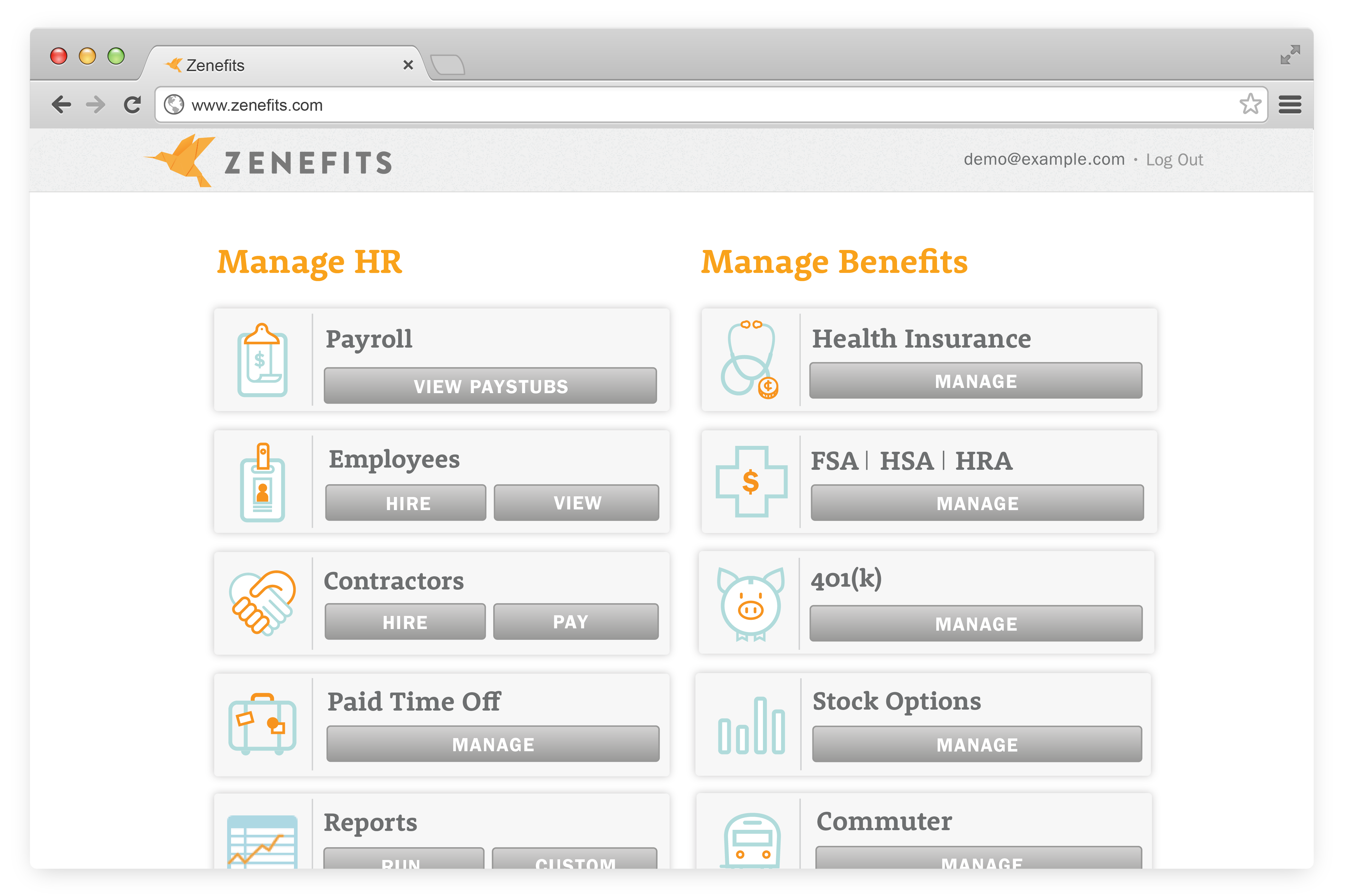 Zenefits has a series of specialized apps that lets you manage all Core HR functions like compensation management, insurance, tax management, calculation of payroll as well as keeping employee records. The system also logs employee attendance and records time sheets. designed specifically to comply with the US taxation and employment laws.
Pros – Allows integrating documents from Google apps. It helps to add resumes, performance feedback meeting notes, and other related documents.
Cons – Certain feature takes time to load when you use it on Chrome.
Zenefits Pricing – Payroll costs $35 per company and $5 per employee per month. An employee's background check can also be conducted using Zenefits, a standard check is $25 plus county record fees ranging from $3 to $65, and a premium check to search everywhere a new hire's lived in the past 7 years costs $35 plus county fees.
Human Capital Management Software for SMBs
The companies listed below provide solutions that are better suited for SMBs. However, they can also be used by enterprises.
13. Gusto HCM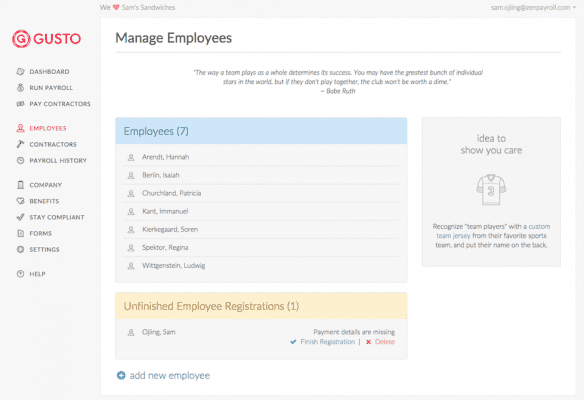 Gusto (formerly ZenPayroll) is a fully-featured payroll, benefits administration, and compliance management platform. Designed to serve mainly small businesses across the United States, provides tools to manage core HR needs such as time tracking, hiring, onboarding, and training, among others. Employees can fill out their personal details into online accounts and track all paperwork in one central place.
Pros – Email reminders for simple daily tasks make sure that things are getting done.
Cons – Does not have a built-in time tracking and so you need to connect with other applications to do so.
Gusto Pricing – Basic implementation at $39 plus $6 per person.
14. Bamboo HR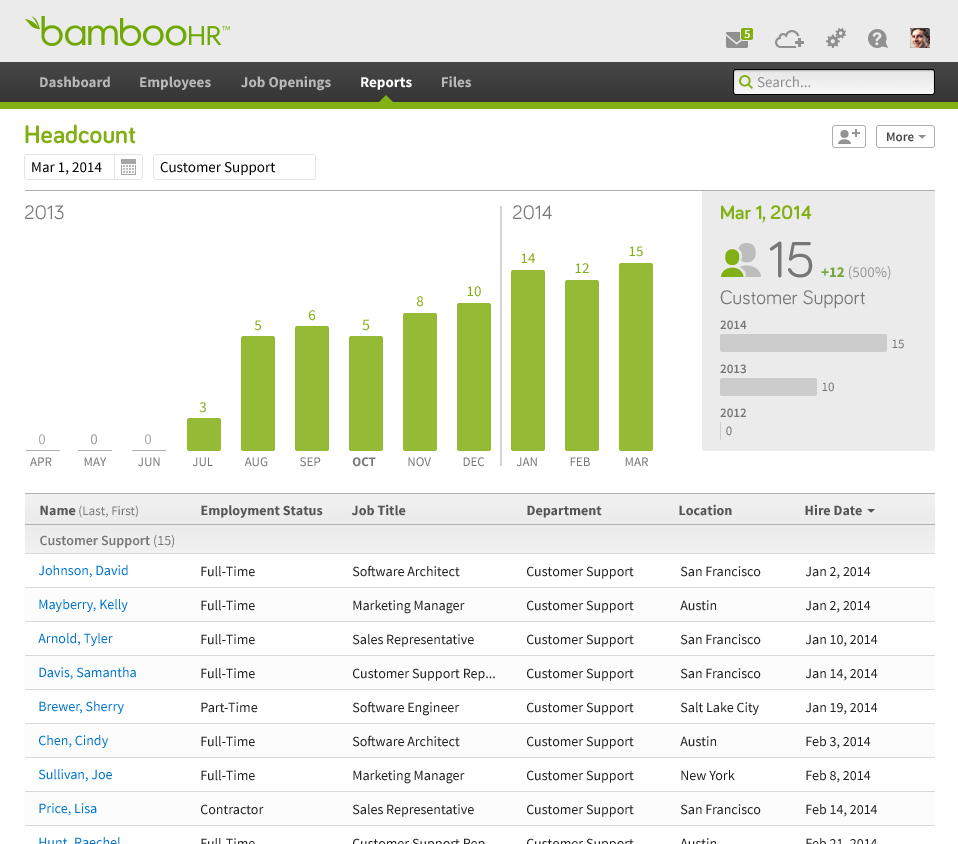 Targeted towards SMSs, Bamboo HR offers a Human Capital Management software that includes an applicant tracking system (ATS) and all other HRIS software to manage all aspects of the employee lifecycle. The HR process automation tools are accessible in several languages and multiple currencies. It does a great job of delivering the right balance of both functionality and ease of use.
Pros– An open API allows the software to be integrated with a company's existing HR tech vendors, and the performance review function fits with the way more companies are working.
Cons – Doesn't have a payroll management system.
Bamboo HR Pricing – Subscription-based depending on the number of employees plus a one-time implementation fee. Begins from $7 per user per month.
15. Zoho People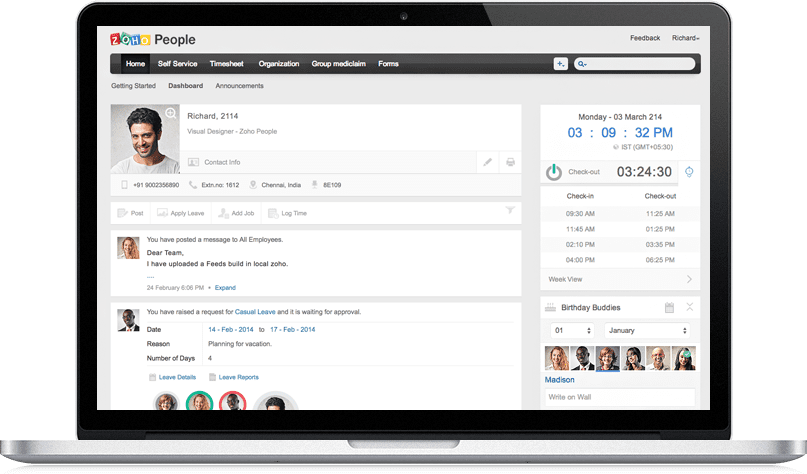 Designed for SMBs, Zoho People is one of the simple and flexible HCM systems that cover employee management operations, from records, time/attendance, and leave. Zoho People is ideal for companies that want a solution that can be implemented easily without having to customize the whole system. Zoho People is integrated with the most popular Zoho productivity systems and comes with open APIs and webhooks that make it fully scalable and customizable.
Pros– Great for tracking different types of time off, logging hours in the office, and keeping track of employee information.
Cons – The terminologies used for various features are a little difficult to understand.
Zoho People Pricing – Starts from $9 per month per user.
16. SumTotal Systems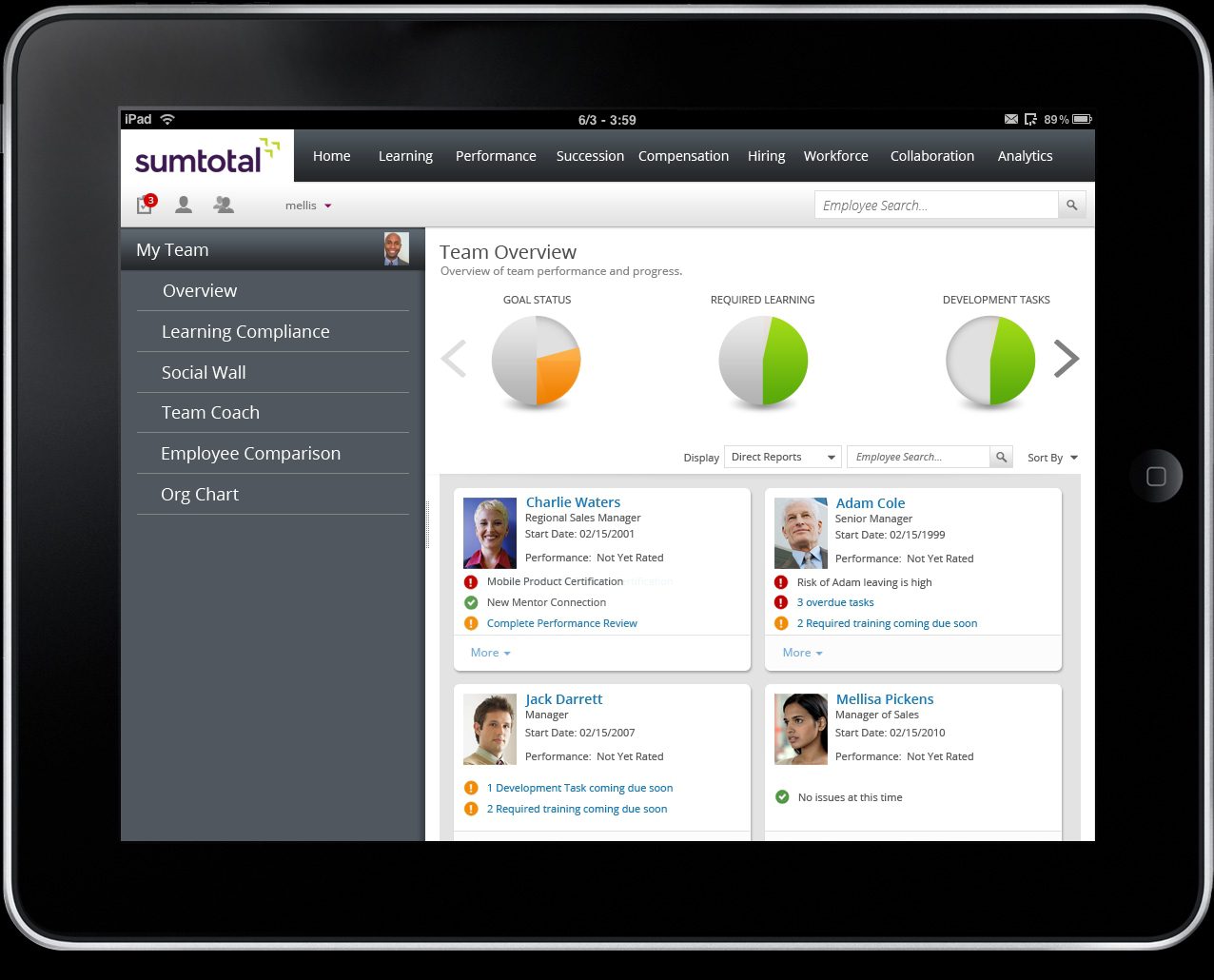 SumTotal is a Human Capital Management software solution for small to mid-sized businesses across almost all industry verticals. This full human capital management suite includes applications for applicant tracking, payroll, personnel tracking, learning management, and employee evaluation. It has a superior user experience and it can be implemented without the use of 3rd party vendors.
Pros- The interface can be customized as per your company's requirements.
Cons– If you create an activity and users subscribe to it, it is not possible for you to delete it.
SumTotal Pricing – One-time pricing – $10,000
Did we miss out on any efficient human capital management tools? Do mention it in the comments.
____
Whatfix simplifies training on HR tools and ensures you a seamless training and onboarding experience. To know more about how Whatfix can help your organization, sign-up for a free demo right away.