Change is inevitable on the path to growth and success. And while change brings many positives and possibilities, it can also be a source of discomfort and resistance for employees. As changes are implemented, organizational leaders can employ different approaches to change management to facilitate the positive aspects of transformation and minimize bumps along the way.  
The Bridges Transition Model helps teams guide employees and leaders through transitions with close consideration of how people respond to change.  This particular change management model softens the daunting nature of change by focusing on the human experience, enabling employees to feel more comfortable quickly, and helping them to focus on learning new processes.
What is the Bridges Transition Model?
The Bridges Transition Model is a framework that guides organizations through the process of transition. This framework was introduced by William Bridges, a prominent organizational consultant, in his 1991 book, "Managing Transitions: Making the Most of Change."
This approach to managing transitions focuses on the human response to change as a multifaceted process through which organizational leaders can support their team members. In this sense, transition is not simply the existence of change, it is the process that an entity undergoes as that change occurs. 
For this reason, the Bridges Transition Model requires a thorough understanding of how individuals respond to change, both emotionally and psychologically, and ultimately lessens the discomfort that employees encounter when things change. Because it focuses on the emotional trajectory of individuals encountering change, this model can be applied to transitions outside of the workplace as well. 
The Three Stages of Transition
Here are the three stages of the Bridges transition model:
According to the Bridges Transition model, the first stage of the process is the recognition of an ending. No matter what it is that's ending – a way of doing things, a business leader's tenure – team members commonly feel resistant, or even grief-stricken, when confronted with change on an organizational scale. This first stage is all about helping team members understand what is changing and,  equally important, the context of why the change needs to happen. 
Once members of the organization come to terms with the impending change, there is a neutral stage. This in-between stage can be a source of confusion and uncertainty, but it can also provide an opportunity for new beginnings, innovation, and creativity. During this stage, leaders need to demonstrate their support for employees by prioritizing transparency and establishing accessible support channels.  
The last stage of transition involves building a foundation for the way forward. At this point, organizational leaders need to provide clarity about what this new beginning will bring and ensure team members that stability will accompany it. As time passes, team members will begin embracing changes, falling into their new routines, and easing into their new normal.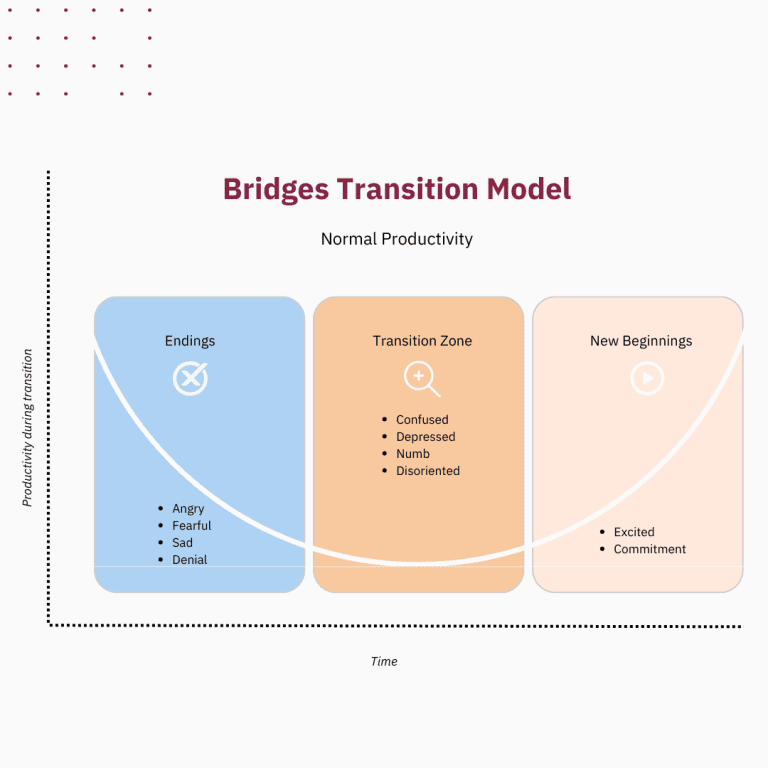 How to Apply Bridges Transition Model for Change Management
As organizations adapt to changes in industry climate, roll out new processes, or even make updates to the management team, it is critical for leaders to recognize that these changes have wide and sweeping effects on team members. 
The Bridges Transition Model is structured to mirror the phases that individuals go through as they experience change. Though each team member might progress through these changes at different paces, organizations can structure the transition process to support employees as they work through their feelings every step of the way. 
By following these steps, organizational leaders can use the Bridges Transition Model to guide their organization and support its employees through change:
1. Address employee concerns and fears
As soon as change begins to take place, organizational leaders should prepare to support employees as they enter stage one and come to terms with whatever it is that's coming to an end. 
At the beginning of the transitional period, employees can feel afraid, disoriented, and even angry. By communicating clearly about the details of what is changing, and acknowledging and addressing employee concerns and fears, leaders can help employees work through these feelings and move onto the next stage. 
Leaders should encourage employees to express what they are feeling. They should make space to listen to concerns and be prepared to explain how employees will be able to shift their existing knowledge and experience once the change takes place. The more communicative and transparent leadership can be about impending change, the more comfortable team members will be as things progress. 
2. Set KPIs for transition management
Over the course of the transition, it is critical to track key performance indicators (KPIs) to monitor progress as time passes. At the beginning of the transition, leaders should gather to establish change management KPIs to be tracked so the team can demonstrate outcomes and make necessary adjustments for future approaches to change management. 
Some examples of KPIs to track for change management include: 
Change implementation time

Change-related incidents

Employee and stakeholder satisfaction

Training participation and effectiveness

KPI measurements for relevant projects

Communication effectiveness
By monitoring all these different aspects over the course of the transition, change management teams can assess the effectiveness of change management processes and their effects on overall organizational performance. 
3. Prepare employees as the shift approaches
As the time to transition approaches, keep employees in the loop. Employees need to be clear on what to expect, what benefits the change will bring, and what part they will play in the transition.
Change management teams should disseminate updates as they arise and provide opportunities for support and feedback whenever possible. In this context, support might mean a number of different things, from simple Q&A sessions to full-scale training initiatives. What matters is that employees feel prepared, supported, and even excited about what's in store.
4. Support employees as they acquire new skills
As employees move through the transitional period, they may require additional skills in preparation for the change. Change management teams can work with learning and development teams (L&D) to implement training programs or utilize digital adoption platforms that integrate with new software to guide employees through the training process. 
Implementing digital adoption platforms (DAPs) facilitate employees' skill acquisition by delivering real-time guidance, personalized learning paths, and interactive onboarding experiences within digital tools. By offering step-by-step assistance and contextual support, DAPs reduce the learning curve, enhance confidence, and enable continuous learning, ensuring employees efficiently and effectively acquire new skills while navigating complex software and processes.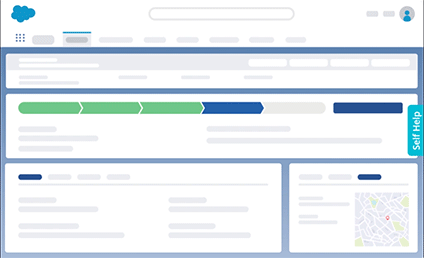 Whatfix helps you scale enterprise-wide changes, improve user engagement, and drive user adoption
5. Train and equip managers to support employees during the transition
Because managers are often the people working most closely with employees who feel less comfortable with the transition, they must be prepared to work alongside their team members, provide support, and reinforce positive takeaways as the transition progresses. 
Managers can support employees during the transition by: 
Addressing questions and concerns

Communicating openly and practicing active listening

Seeking employee input and feedback

Offering necessary change

Being transparent about expectations, timing, and potential disruptions

Acknowledging and celebrating milestones related to change

Highlighting how the change will provide opportunities for growth
Change management teams should ensure that managers are proficient in the skills their teams are required to learn and know the transition details to keep employees comfortable and ready to take on the future.
6. Encourage continuous learning and adaptability
Organizational change is rarely a one-off occurrence. Managers and change management teams should encourage a culture of continuous learning so employees become more versatile and ready to adapt, and see change as more of an opportunity for growth than an obstacle to overcome. 
Continuous learning also improves employees' confidence and problem-solving skills and fosters creativity, which ultimately brings employees into a better position to feel self-assured in their abilities to handle change and challenges, empowering them to move forward with confidence. 
7. Assess the effectiveness of the transition model
As the transition period ends, change management teams should refer back to KPIs, employee feedback, and other metrics to determine the effectiveness of the organization's approach to change management. This is a fundamental step in ensuring the success of any initiative. 
These assessments will allow teams to measure success, identify areas for improvement, ensure alignment with organizational objectives, and mitigate potential risks associated with the change. By keeping tabs on every aspect of the transition's progress, change management teams can ensure positive outcomes and improve approaches for future transitions. 
Take charge of organizational change with Whatfix DAP
Navigating through organizational change is a multi-step process. Whatfix helps you scale enterprise-wide changes, improve user engagement, and drive user adoption.
Digital adoption platforms provide targeted training, real-time guidance, and personalized support, helping employees adapt to changes seamlessly. By offering in-app tutorials, contextual assistance, and performance metrics, DAPs enhance user proficiency and minimize resistance, ensuring successful adoption of new tools and fostering a smoother change management process within organizations. 
To learn more about how Whatfix enables change management, schedule a free demo with us today!
Like this article? Share it with your network.
Subscribe to the Whatfix newsletter now!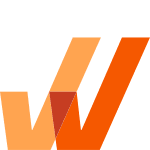 Software Clicks With Whatfix
Whatfix's digital adoption platform empowers your employees, customers, and end-users with in-app guidance, reinforcement learning, and contextual self-help support to find maximum value from software.