ANALYZE
Maximize Your Software Potential with Data-Driven Insights
Easily track and analyze user behavior for informed decision-making with no-code event tracking using Whatfix Analytics
Leverage data to drive user engagement, adoption, and proficiency
Capture all user actions without engineering dependency
Whatfix provides easy-to-install and easy-to-use event capturing and data management capabilities. Using our visual, drag-and-drop tagging editor, software owners can easily track all user actions such as clicks, page visits, mouse hovers, and more actions without technical expertise.
Take data backed decision to prioritize features
Gain a deeper understanding of which features are most used, most valuable, and have the highest impact on your business goals. This information will allow you to make informed decisions on which features to prioritize in your development pipeline.
Boost Process Efficiency through Improved Completion Rates and Reduced Time
Optimize processes by providing detailed insights into user behavior and interactions with the application. This information can be used to identify pain points and inefficiencies in the user journey, leading to improved user experience and overall process optimization.
Enhance User Experience through Comprehensive User Journey Analysis
Pinpoint UX gaps by providing a comprehensive view of how users interact with the application. By continuously monitoring and analyzing user journeys, identify areas of friction and opportunities for improvement, leading to an improved user experience and increased product adoption.
Learn how Cardinal Health Canada supported the launch of its new customer-facing website with Whatfix's interactive guidance and self-service help features, streamlining its user adoption to a better customer experience with a 24/7 self-help solution.
Features
Powerful analytics that power intuitive user experiences
Behaviour Analytics
Understand key user behaviour within your application. Identify critical dropoff spots where users need a little extra navigation help with User Actions and Funnels.
Identify areas where users need help
Discover opportunities to accelerate adoption
Track business process completion and feature adoption trends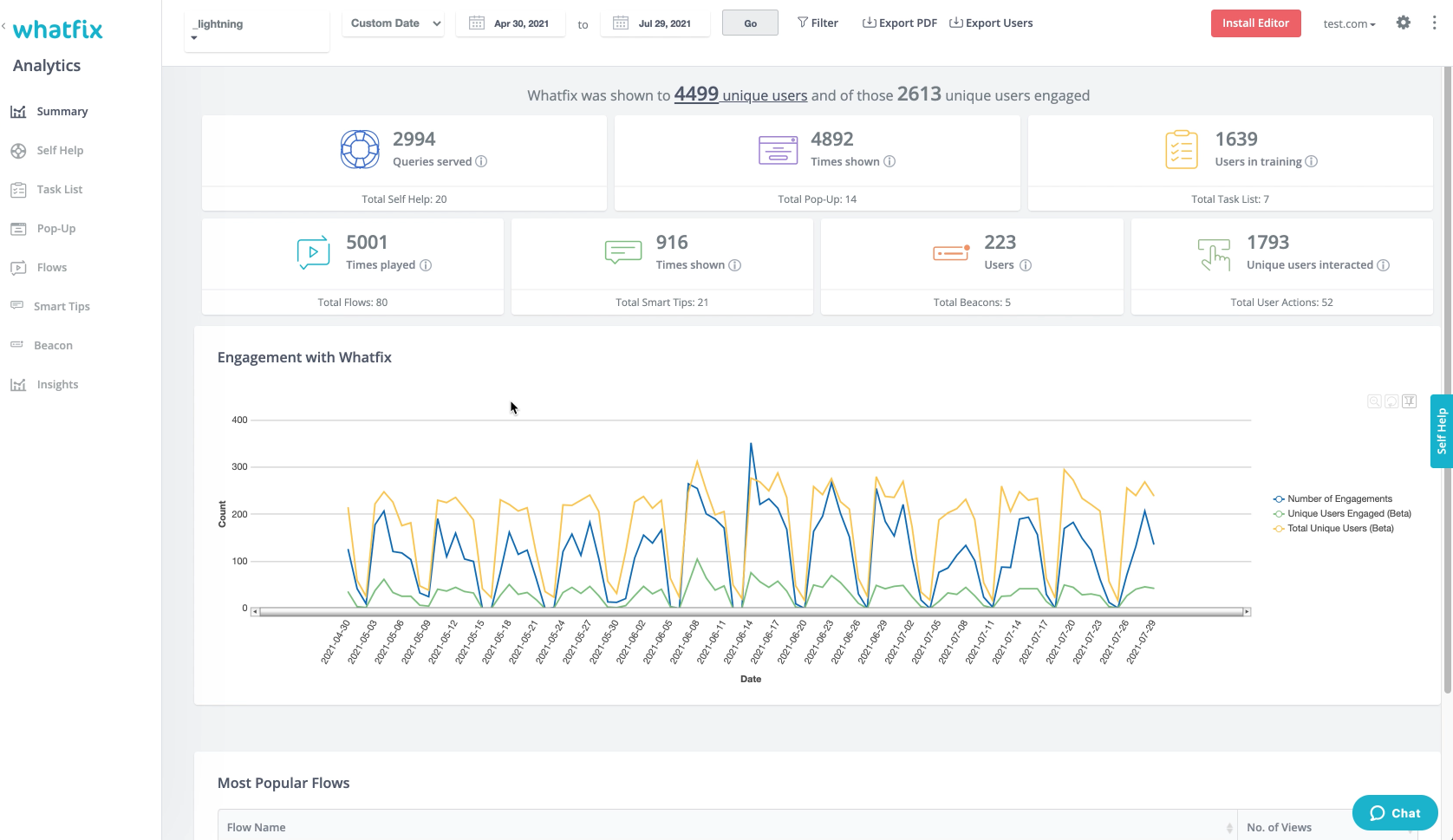 Guidance Analytics
Track how users interact with Whatfix widgets and help content. Collect granular insights into your most used flows, self-help search terms, and other key performance metrics.
Get performance data on all widgets
Identify gaps in your help content
Optimize user experiences in real time
User Feedback
Obtain user feedback seamlessly on your Flows and Self Help content. Use that feedback to influence new content creation and continuously enhance your in-app experiences.
Improve Flows with real-user feedback
Offer contextual self help on a wide range of search terms
By The Numbers
The Whatfix difference
Increase in employee productivity
Reduction on support queries
---
Reduction in training content creation costs
---
Reduction in go-to-launch enterprise applications
---
Faster time to proficiency for a new employee
Reduction in knowledge discovery time
---
---
"Whatfix is easy to use and navigate. Its analytics provide good value for in-depth analysis. The documentation has been very thorough and helpful."
"The analytics within the Whatfix platform is very robust and we look forward to utilizing it to improve our flow design."