ANALYZE
Discover key user insights to build a data-driven digital adoption strategy
Whatfix Analytics offers actionable data on user behaviour within your applications, consumption of Help content, and real-time feedback on in-app experiences.
Leverage data to drive user engagement, adoption, and proficiency
insights
Actionable user insights
Get actionable insights into user behaviour throughout your application. Leverage these insights to build and optimize data-backed onboarding, continuous training, and other in-app user experiences.
data
Real-time data
Get data in real time, as it happens. Use this data to act quickly to problem areas inside your app to ensure a seamless user experience.
execution
Simple execution
Enable tracking features such as User Actions with the click of a button. Easily execute integrations without the need for coding or development support.
Learn how Cardinal Health Canada supported the launch of its new customer-facing website with Whatfix's interactive guidance and self-service help features, streamlining its user adoption to a better customer experience with a 24/7 self-help solution.
Features
Powerful analytics that power intuitive user experiences
Behaviour Analytics
Understand key user behaviour within your application. Identify critical dropoff spots where users need a little extra navigation help with User Actions and Funnels.
Identify areas where users need help
Discover opportunities to accelerate adoption
Track business process completion and feature adoption trends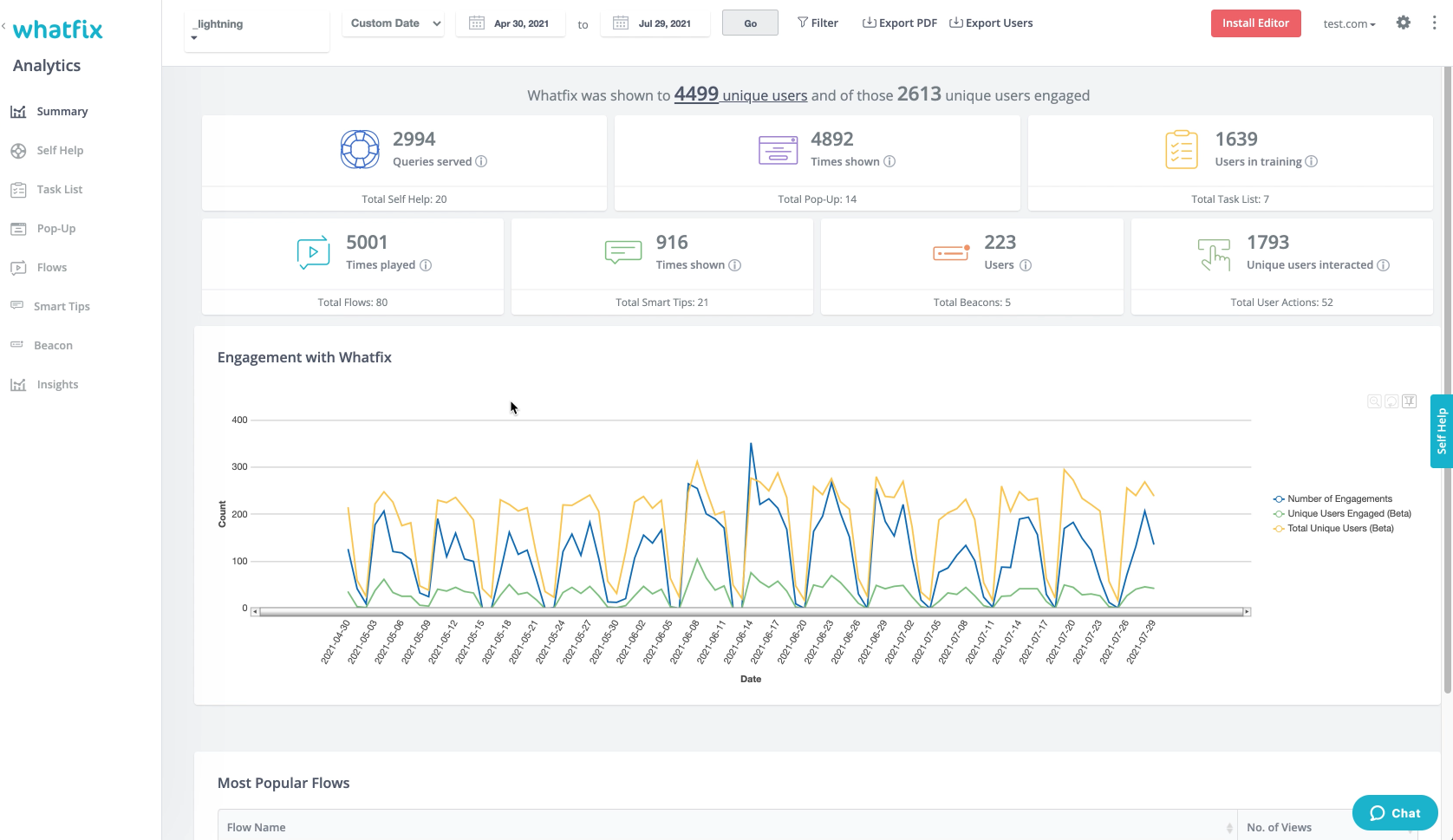 Guidance Analytics
Track how users interact with Whatfix widgets and help content. Collect granular insights into your most used flows, self-help search terms, and other key performance metrics.
Get performance data on all widgets
Identify gaps in your help content
Optimize user experiences in real time
User Feedback
Obtain user feedback seamlessly on your Flows and Self Help content. Use that feedback to influence new content creation and continuously enhance your in-app experiences.
Improve Flows with real-user feedback
Offer contextual self help on a wide range of search terms
By The Numbers
The Whatfix difference
Increase in employee productivity
Reduction on support queries
---
Reduction in training content creation costs
---
Reduction in go-to-launch enterprise applications
---
Faster time to proficiency for a new employee
Reduction in knowledge discovery time
---
---