The days of collaborative work are here. Employees are now expected to work closely together with their team rather than working individually. Collaboration helps an organization improve efficiency and increase productivity if it has the right collaboration tools in place. It creates a team of individuals with their own strengths, brought together for a better working environment.
Why use Collaboration Tools for your Business?
A report from The Economist Intelligence Unit found that access to information breeds employee engagement and empowerment. Having ready access to the data and insights that employees need for their jobs, improves their engagement, productivity, and overall experience. For many companies, this means putting in efforts to perfect their use of collaboration tools. Another study found out that employees primed to act collaboratively stuck at their task 64% longer than others and showed higher engagement levels and success rates. 
Online collaboration is a part of your growing digital workplace that helps bring staff, partners, and clients together at one location to work collectively and achieve mutual goals. Every member working in your team needs to communicate, assign tasks, discuss projects and share their knowledge with other team members and team collaboration tools help with just that. They improve the process and the outcome of teamwork while saving time, money and energy.
Apart from this, the outbreak of coronavirus has made a lot of companies look for arrangements to accommodate remote working, to limit its impact on employee productivity which has led to an increase in demand for tools to manage remote teams, including those that ease out collaboration. 
So, here are some collaboration tools that can help employees work remotely and collaborate with their teams. 
6 Types of
Collaboration Tools To Keep Employees Productive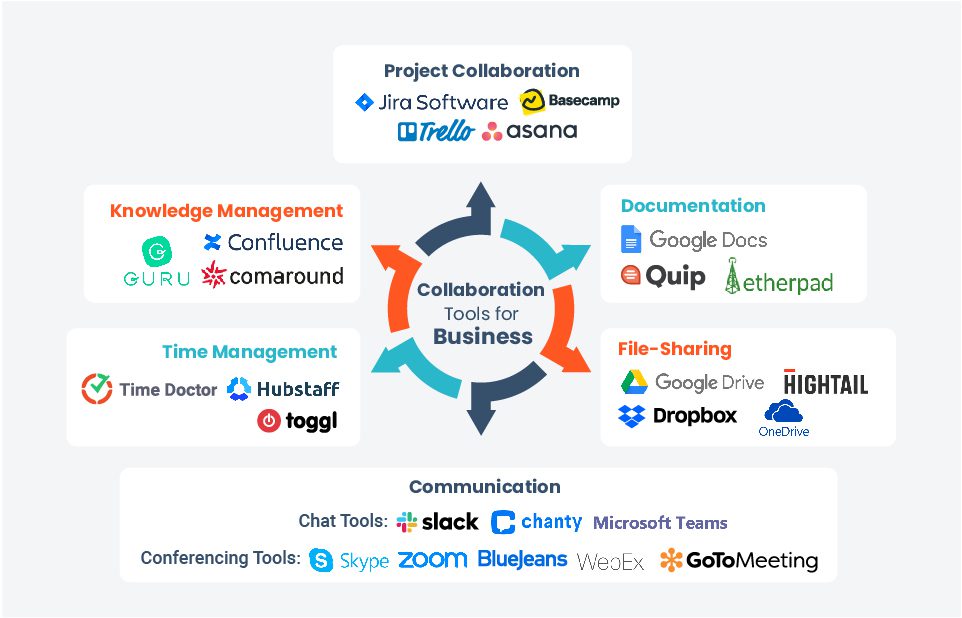 1) Communication Tools 
Team communication used to be one of the biggest challenges for a remote workforce, back when emails and conference phone calls were the norm. But today, there are a lot of great tools to make communication a lot easier even while working remotely. Whether you need to schedule a meeting or have a private chat with a team member, these communication tools help you stay connected and foster team building.
Chat Tools 
Slack

– Slack is the most common, well-crafted and flexible messaging communication tool used by remote teams. Its private or open chat channels, reminder settings, searchable archives, and numerous Slackbots enhance instant communication within a team. Slack provides voice and video calls along with screen sharing and it also has a search feature to make it easier for you to search for any information.  

Pricing: Free to use with storage limitation, Basic plan starts at $6.67 user/month.
Chanty

– Chanty is a team chat and a single notification center that enables you to stay up to date with everything important. Its powerful integrations save time by delivering notifications from third-party apps. Also, the built-in task manager allows creating new tasks or turning any message into a task. Chanty has a clean and intuitive interface that lets your team chat in public or private conversations, search for any information, forward/pin important messages, and share files. It also provides communication via high-quality audio and video calls. 

Pricing: Starts at $3 per user/month.
Microsoft Teams

– Microsoft Teams enables communication by chat messages in private or group conversations, voice calls and video meetings, pictures, and documents. It provides full integration across Office 365 apps, simple cloud storage per user and access to all Microsoft Office tools in one place.  

Pricing: Free to try with limited features, Paid plans start at $5 user/month.
Audio/Video Conferencing Tools
Skype – Skype is undoubtedly the most popular communication tool which ensures staying in touch with people all over the world for free via voice calls, video calls, text messages, and screen sharing. It also allows worldwide mobiles and landline calling even if a person doesn't have a Skype account. The most exciting feature of Skype is that it allows audio and video calls between multiple devices which means, one person could be on a computer and another could be on their mobile device. Pricing: Free up to 25 users, Paid plans $2 per user/month.

Zoom

– Whether you need to connect with a massive number of colleagues through video conferences or run a webinar with many guests, Zoom is the best option for you. Zoom includes features like file collaboration, group messaging and whiteboarding to assist you while working with your team efficiently. Its most advanced feature is selective screen sharing where some participants can see the presenter's screen and some can't. 

Pricing: Free up to 100 participants with a 40 minute time limit, Paid plans start at $14.99 per month/host.
Blue Jeans

– BlueJeans provides cloud-based video conferencing service connecting participants across different devices and conferencing platforms. It enables you to schedule, join and host one-touch meetings from anywhere and on any device. It drives meeting productivity by integrating with the scheduling, messaging and productivity tools. It also leverages AI and voice recognition to make your meetings intelligent. 

Pricing: Starts at $12.49 per host/month.
WebEx –

WebEx represents a group of products -WebEx Meetings and Cisco Spark, each of which has its own features, but mainly focused on video calls. Admins establish the rules in WebEx like restricting a meeting at any time, passing the mouse control, letting attendees download or comment on a shared file. WebEx is best for conducting webinars and training sessions. 

Pricing: Starts at $13.50 per month/ host.
GoToMeeting

– GTM provides HD-quality videos perfect for conducting webinars and hosting conferences. Drawing tools help to make annotations while sharing the screen. With GTM, you can also schedule a new or recurring meeting in advance. It includes other features like the ability to hand over your computer's control to another member and one-click recording to make a meeting more productive. 

Pricing: Starts at $19 user/month.
2) Documentation Tools
Documentation tools allow remote teams to edit documents collaboratively in real-time and share it with all team members.  
Google Docs

– Google Docs is the most famous documentation tool that allows multiple people to edit the same doc simultaneously, leave comments, or see changes made by every participant. It enables all participants to have a central place for storing and sharing information. Google Docs is very convenient since it is cloud-based hence no installations required and all changes made on documents are automatically saved to Drive so you don't lose them. 

Pricing: Free for the average user and $5/user for the business version.
Etherpad

– Etherpad is a customizable open-source online editor that enables collaborative editing in real-time. It is a simple, free to download editor that helps many people work on the same document simultaneously. 
Quip

– Quip is a suitable solution for the collaboration on docs, notes, checklists, task lists with real-time messaging. It enables users to build a rich, multimedia, and multi-asset document. With Quip, teams can import and work live on different file types.  

Pricing: Starts at $10 per user/month.
Xtensio – A collaborative workspace where teams can easily create and share beautiful living documents altogether. What drives over 150,000 people to Xtensio are the strategic and visual templates that get you started. They ask you the right questions and guide you through your process. They unlock what's encrypted in your brain and help you turn it into a beautiful communication piece.
3) File-Sharing Tools
Remote teams can make use of file-sharing tools instead of overflowing their team's email inboxes with attachments. These cloud-based file-sharing tools make it easier to upload and share files with your team at a single location which can be accessed through any device. 
Google Drive

– Google Drive is the most popular cloud storage service that provides space for collaboration and keeps files saved at one location. Files stored in Google Drive are easily accessible by every team member via any device. It lets you choose the level of interactivity to assign a participant. Also, the UI is intuitive and easy to use. 

Pricing: Free up to 15Gb of storage, $1.99/month for 100Gb storage.
Dropbox

– Dropbox enables you to store all files together in one place and share them with others to collaborate. It allows syncing your work from any place and any device. When documents are edited, each team member gets the latest version. The version history feature allows you to recover and restore the previous versions of files. 

Pricing: Starts at $9.99/month.
Microsoft OneDrive –

OneDrive makes it easier to share documents across platforms. It allows your team to collaborate with Word, Excel, PowerPoint, and OneNote. The downside comes with editing, proofing, sharing documents with clients outside of Microsoft365, which is where Dropbox may be a better option. 

Pricing: Free up to 5 GB storage, Paid plans start at $1.99/month.
Hightail

– Hightail is a cloud service for sharing large files (up to 10gd). It lets you stream your work process right in the browser so that it can be previewed without downloading. Hightail enables the sharing of images, videos, PDFs, presentations, MP3 files, and receives real-time feedback from clients. The tool enables digital signing of files and synchronizing them. It is loaded with collaborative features to enable easy collaboration, eliminating the need to share files via emails. But a drawback of this tool is that shared files tend to expire quickly. 

Pricing: Free for a 7-day period, Paid plans start at $12/month.
4) Project Collaboration Tools
Project collaboration tools enable teams to plan, coordinate, control and monitor their projects or daily tasks. These tools help with projects as they grow in complexity.
JIRA

– JIRA is a powerful agile project management tool mostly used by product, tech or engineering teams to work in a well-organized controlled manner and stay efficient. It provides useful features like boards with different categories like

to do

or

in progress

or

done

, real-time insights reports, roadmaps to assign work and manage the activity of all team members. JIRA helps all your team members to plan, track, and release great projects. 

Pricing: Starts at $10/month for up to 10 users.
Asana –

Asana helps in creating and organizing tasks, dividing the work amongst team members, setting deadlines, getting an overview of the ongoing work, monitoring progress. It allows you to assign tasks to team members and notify them about important project developments. It also allows team members to share their end goals and coordinate over milestones with the team. While Asana is a great project collaboration tool, it has a limitation of assigning project tasks to only one person. 

Pricing: Free up to 15 members,  $10.99 per user/month.
Trello –

Trello contains an online board with cards optimized for organizing tasks and creating lists to assign and share with others. With the Kanban board, you can view any project and figure out the responsibilities of every team member to keep track of their work. Each Trello card has a comment section to facilitate team communication. It also provides reminders and email notifications to never miss a deadline and integrates with tools like Evernote, Google Drive, GitHub, and Slack for a united team experience. 

Pricing: Free up to 10 boards, Starts at $9.99 per user/month.
Basecamp –

Basecamp is designed to organize employees, delegate tasks, and monitor progress. It allows you to chat with colleagues, receive feedback, build to-do lists, schedule projects, share files, and create daily/weekly stand ups. It has a portal for outside clients to manage projects and deliverables with the project team, without altering any plans. 

Pricing: Free 30-day trial, Paid plan at $99/month.
5) Time Management Tools 
Time management tools help teams manage the hours of the day by planning the time to be spent on each task. Effective time management tools help you to perform your daily tasks within set deadlines.
Time Doctor –

Time Doctor tracks time and takes screenshots of your team's computers to ensure that they're working on their assigned tasks. This increases productivity and helps you figure out the issues faced by an employee while working on a project. It is great to manage the remote and outsourced employees as you can see exactly what they are working on. The only issue is that some employees might feel uncomfortable working under a watch. So, it is a leader's responsibility to work with the tool in the best way possible and keep a limited watch whenever necessary. 

Pricing: Free 14-day trial, Paid plans start at $7 per user/month.
Toggl –

Toggl comes with a browser extension that allows you to simply tap a button on your browser instead of repeatedly going back to start and stop the time for your tasks. It generates visual reports for users to see where they've been spending most of their time and alter their schedules accordingly. It also provides a snapshot of estimated vs actual time for a project, to help you plan better in the future. 

Pricing: Starts at $10 per user/month.
Hubstaff –

Hubstaff allows you to manage workflows and productivity of remote employees effectively by setting time or cost limits to projects and establishing weekly limits for each team member. It's time tracking capabilities ensure timely payment for the delivered work. 

Pricing: Free up to 5 users, Paid plans start at $4.17/month.
6) Knowledge Management Tools
Organizations use knowledge management tools for sharing information internally and externally. Some examples of knowledge management tools are learning management systems, customer relationship systems, and knowledge bases.
Confluence

– Confluence organizes teamwork and centralizes all information required to stay up to date. It allows users to create meeting notes, project plans, product requirements, receive feedback, and search for company information. The tool also offers features like 'Questions' to vote and 'Team Calendars' to schedule projects. 

Pricing: Starts at $10/month.
Guru

– Guru enables easy access to the latest information from any device. It permits users to organize and manage information by filtering it category-wise and getting insights on the knowledge base. It provides a browser extension for integration to third-party apps that permit single-click access to trusted answers. Support teams use this feature to remember product nuances, issues, and saved responses.  

Pricing: Starts at $380 for 20 users.
ComAround –

ComAround Knowledge helps you write, edit, and publish knowledge articles or make how-to videos. It offers machine translation to save time and money, so that content can be shared throughout the support flow effortlessly. 

Pricing: Free 30-day trial, Paid plans start at $45/month.
Which Is Your Favourite Collaboration Tool? 
So these were some of the most popular team collaboration tools in the market today. Which tool does your organization use? And how have they helped your teams work together? Let us know in the comments. Let us know your favorite tools that make working remotely and managing remote teams simpler!
These tools definitely make a manager's life easy when it comes to building teamwork. However, onboarding employees to these tools, training them, and getting them to actually use these tools can be a daunting task, especially when your workforce is distributed or remote. For successful software adoption, you can use the Whatfix Digital Adoption Solution that provides in-app guidance to users and enables learning in the flow of work. Whether it is onboarding users to a new tool or helping them sharpen their skills on it, Whatfix DAP can give them the required guidance. The specially designed walkthroughs help users complete different tasks and unlock the true value of the software.