What Is a Digital Adoption Manager?
A digital adoption manager is a technology leader that owns a company's digital adoption strategy and enables employees to maximize their productivity and output by extracting the most value from all software applications and technologies a company has invested in. 
A digital adoption manager's responsibility is to ensure the ROI of software investments and digital transformation. This requires both technical and interpersonal skills, to implement and train users on complex systems, support employees during transformational changes that impact their day-to-day, and drive overall digital adoption.
According to Glassdoor, the average salary for a digital adoption manager is $90,225/year in 2022.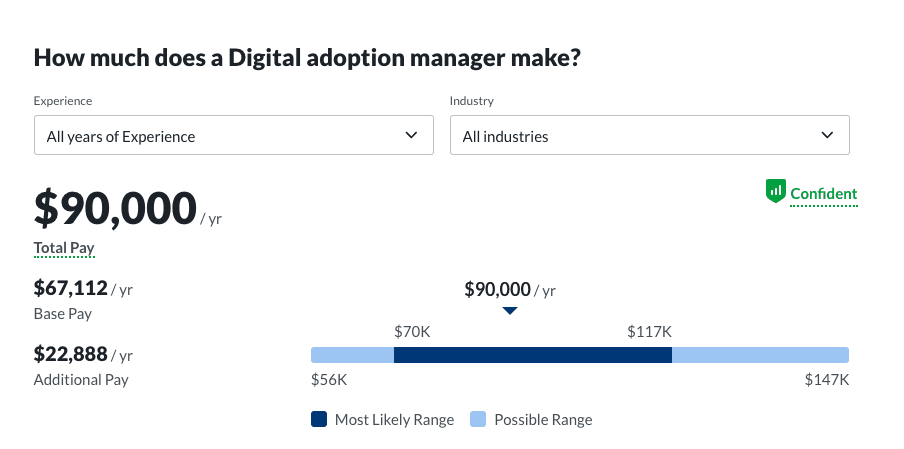 The Rapid Rise of the Digital Adoption Manager
The DAP market size has grown 400% since 2018, with organizations spending $400M on DAP providers in 2021, up from $100M in three years and up 40% YoY. According to data from Everest Group, that number is expected to hit $550M in 2022 and climb exponentially to upwards of $1.3B by 2025.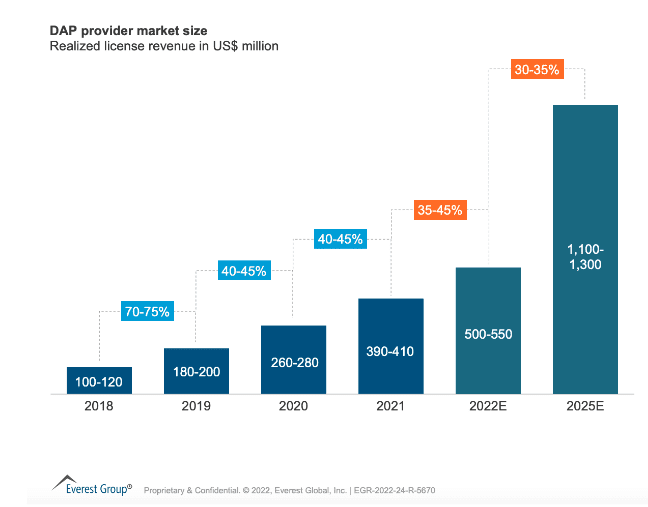 This makes sense, as COVID-19 forced organizations to adopt a digital workplace model, which relied on new technologies to continue operations – many of which were fully adopted after the pandemic ended and still are utilized today.
Even before COVID-19, organizations rapidly adopted new technologies through enterprise digital transformation – from tools to improve employee experience and productivity, to tools that re-imagined the customer and user experience.
The exponential growth of the DAP space parallels this industry-agnostic technology evolution. DAPs help organizations facilitate this change to new digital processes, provide contextual performance support for its end-users to adopt and use these applications at a high level, and act as an insurance policy for organizations to ensure ROI from expensive software investments. 
That last point – a digital transformation insurance policy – is critical for enterprises' bottom line, as 84% fail to find ROI with their digital transformation initiatives.
This has led to the emergence and rise of the digital adoption manager. 
In 2022, the number of LinkedIn professionals with a digital adoption-related title grew by 29%, with nearly 5,000 LinkedIn users having digital adoption in their job title.
These professionals range from owning an entire organization's digital adoption strategy, to specialist roles that focus on driving the adoption of just one application, and digital adoption platform (DAP) implementation leaders.
Here are a few examples of professionals with digital adoption manager as their title on LinkedIn:
Responsibilities of a Digital Adoption Manager
A digital adoption manager's core responsibility is to oversee a company's entire digital adoption strategy. This branches across the employee lifecycle, with these digital adoption managers specializing in extracting the most value from software and technology that enables employees to be their best.
1. Building employee digital dexterity that drives overall performance
Digital dexterity refers to the ability to adapt, adopt, and correctly use digital applications and processes that are designed to make them more efficient. While technology in theory should improve your employee performance and productivity, it relies on employees to be able to use them correctly. 
Digital dexterity is the foundation of your digital adoption strategy, and digital adoption professionals must be able to build these digital skills with all types of employees, including
New employees who haven't used a specific application vendor before.

New professionals coming out of college who haven't used B2B software before.

Older employees who are used to manual processes that need to be reskilled to use digital applications.
2. Facilitating internal change quickly, with little downtown
Digital adoption managers will need to be change agents, and understand how to get employees up-to-speed quickly during change initiatives. This is often easier said than done, as digital adoption leaders need to ensure that all data is migrated correctly, new processes are adopted correctly, and that data isn't being sacrificed in the short term. With user error comes a loss in productivity, which in turn impacts revenue.
3. Onboarding new hires to digital applications and processes
Digital adoption managers will need to create onboarding processes to introduce and familiarize new hires with a company's tech stack and digital processes. 
This may sound simple, but consider how many software applications you use in your role. This list is lengthy, with almost all of a company's processes now moved to digital portals. 
I considered my own role, and here are a few of the major applications and digital processes that have internal unique-to-Whatfix workflows that I would need to be contextually onboarded on:
Salesforce and Pardot for contact management and attribution.

Highspot for sales enablement.

Asana and Airtable for project and task management.

JIRA for internal project management and IT tickets.

JumpCloud for employee single-sign-on.

SuccessFactors for our people management including time-off, performance reviews, and more. 

Gusto for our pay stub tracking and health benefits portal.

Workboard for our goal management.

Zoho Expenses for our expenses.

Guideline for 401K management.

Trica for our equity management.
4. Training users on new software applications
Onboarding goes beyond new hires. When an organization has new technology needs and implements a new application, a digital adoption manager owns that implementation process. This implementation plan will include getting buy-in for new applications, training employees, overcoming internal resistance, software rollout, and IT performance support for these tools.
5. Provide on-demand support for all employees
Digital adoption managers go beyond onboarding as well, as employees will need to be continuously supported as they use these applications in their day-to-day. 
Traditionally organizations have had internal IT departments that supported employees when they had IT and software-related issues and questions, but that is no longer feasible with all processes becoming digital.
Digital adoption managers identify pain points and under-utilized features and then create support content to help provide employees with performance support at the moment of need. This can take the form of internal wikis, process documentation, in-app guidance, and on-demand self-help.
6. Ensuring ROI of software and technology investments
Gartner reported that organizations worldwide spent over $4.4T on software and IT investments in 2022. According to Asana, the average employees uses 13 applications over 30 times each day.
With such a high-cost investment comes the need to ensure ROI of these investments. The goal of a digital adoption manager is to help the CIO ensure that these software applications are properly implemented, onboarded, and adopted across the workplace, regardless of application or department.
Why Organizations Must Hire a Digital Adoption Manager in 2023
Digital adoption managers help organizations navigate digital transformation and the digital workplace, and the many challenges that come with it. Here are the few of the biggest reasons all enterprises should invest in a digital adoption manager hire this year.
To faciliate successful digital transformation:

All organizations have faced

digital transformation challenges

over the last few years, and will continue to face these as they navigate new ways of working in the digital workplace. Digital transformation brings the opportunity to scale an organization's growth and drive its people's productivity to new heights. 

To achieve ROI for digital investments: CIOs need insurance that their costly technology investments will have ROI, or risk a company's stability and future. Digital adoption managers act as the insurance policy that drives new technology adoption, and these professionals are tasked with measuring digital adoption levels to benchmark and improve overall adoption.
To bridge the digital skills gap:

Digital adoption managers will be responsible for all

reskilling

and

upskilling

programs necessary to foster a culture of digital dexterity and help employees who may be less familiar with new digital tools to have the toolset they need to adapt to change.

Owning the DAP implementation and management process:

Many organizations have turned to digital adoption platforms (DAPs) to manage their digital stack, drive adoption, and enable employees with the in-app guidance and on-demand support they need. It's almost certain that any organization hiring a digital adoption manager also will have invested (or soon will) in a DAP. A digital adoption manager will be the leader of this implementation, as well as monitor its usage and success.
A digital adoption manager is responsible for overseeing these efforts, as well as setting up the infrastructure in place to properly implement and onboard these new tools and digital processes. 
It doesn't stop there either, employees will need consistent performance support to maintain high levels of productivity with these new apps and achieve overall digital adoption.
See how Whatfix enables employees to reach their full productivity potential and drives technology adoption and ROI for enterprises now!
Like this article? Share it with your network.
Subscribe to the Whatfix newsletter now!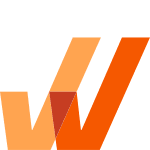 Software Clicks With Whatfix
Whatfix's digital adoption platform empowers your employees, customers, and end-users with in-app guidance, reinforcement learning, and contextual self-help support to find maximum value from software.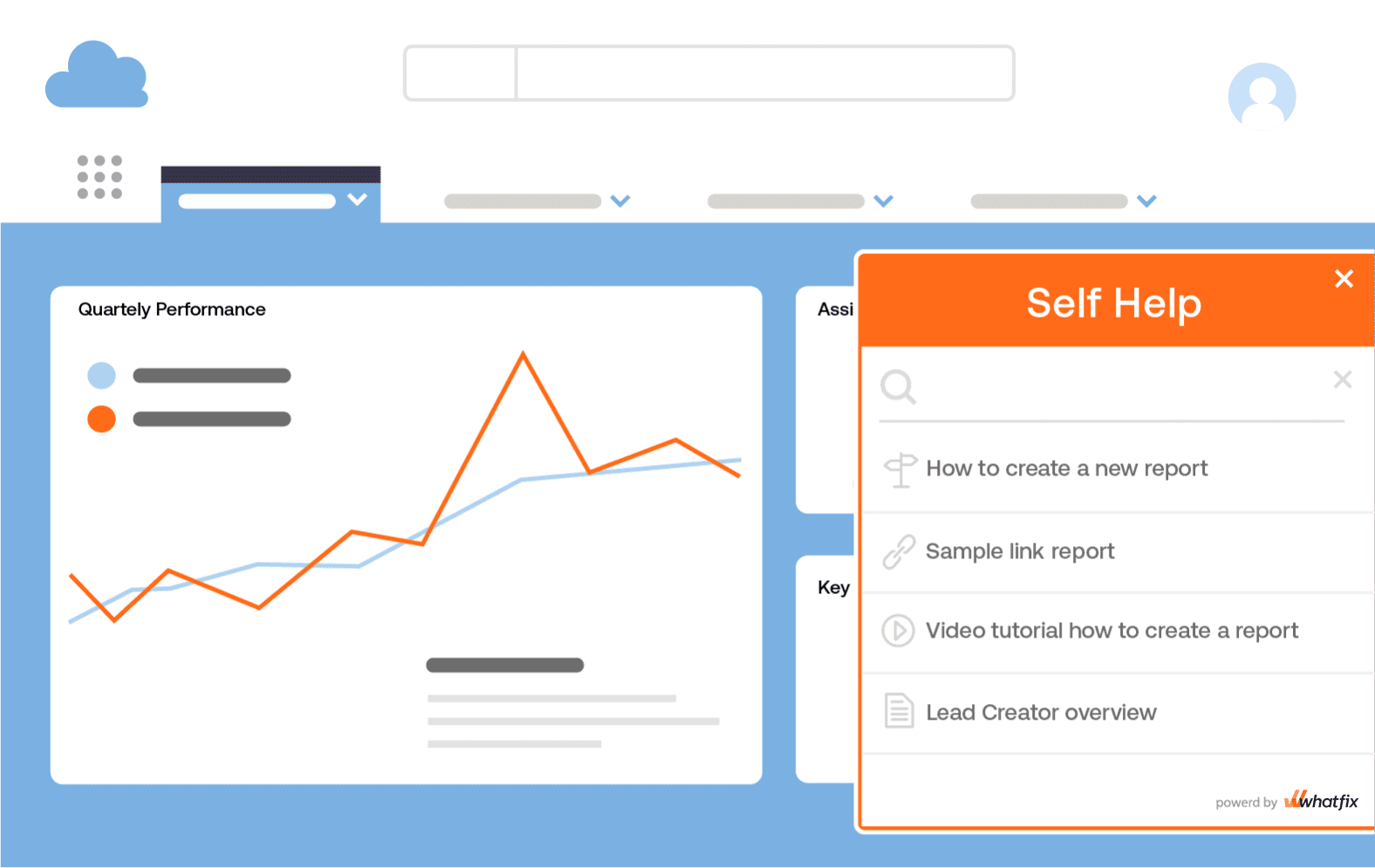 11 Best DAPs in 2023 - Ultimate Comparison Guide