Craving dessert? So, you search for your favourite patisserie on a delivery app. Then you read online about the huge carbon and plastic footprint caused by food deliveries. Immediately, you cancel plans of take-out and switch on YouTube to learn how to make a soufflé instead. This is digital dexterity (DD) in the simplest sense of the word. It is the ability of individuals to use different technologies with the drive/ambition to improve their lives.
What is Digital Dexterity?
In the organizational context, Digital Dexterity is the secret-sauce to building an agile and flexible workforce that is instrumental to the success of digital transformation projects. It allows companies to adapt to the advent of new technologies, changing customer expectations, industry shifts and so on. And digital literacy is only one part of attaining digital dexterity. Apart from bolstering technical skills, DD is about aligning talent and business strategy to ultimately attain better business outcomes.
Whenever you roll out new technology, DD is what determines if your employees are ready to adjust the workflow to accommodate the new software. Thus, it is all about smoothly and swiftly recalibrating human and digital resources to meet the ever-changing technological and market conditions.
A consumerized workplace culture (facilitated by using contextual in-app guidance tools such as Whatfix), long-term vision, and willingness to experiment, fail and learn from failure are some of the top features characteristic of digital dexterity.
Why Focus On Digital Dexterity?
Companies are hurtling at top speed into a future chock-a-block with disruptive enterprise technologies, as proposed by Ray Kurzweil in "The Law of Accelerating Returns". This is especially true since SaaS technology makes it so much easier for companies to experiment with new software options.
Therefore, today, it is essential for enterprises to 'evolve digitally or die-out'; in line with the modern-day dictum of 'survival of the digitally fittest'. 
And in this mad rush to transition from the old-school PC era to the more sophisticated SaaS, AI, and IoT era; internal workforces end up not evolving as quickly. Therefore, there has been a widening disparity between the 'rate of technology introduction' and 'employee's ability to exploit the technology'. This chasm-like digital dexterity gap is one of the biggest obstructions in the path to digital transformation. 
Fix this gap, and you are likely to change how your organization uses technology to deliver value to customers and employees. In fact, according to Gartner, employees with high DD are 3.3 times more likely to launch, finish and obtain the outcomes from digital transformations, than those with moderate DD.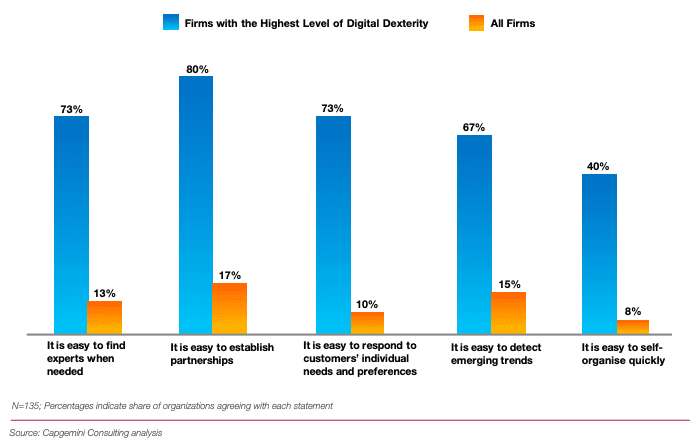 Why, you ask? Because dextrous enterprises ensure that IT and business work together to drive data-driven decisions that result in real ROI. What's more, digitally dexterous employees tend to:
Be politically savvy
Have business acumen
Adapt to changing new ways of working
Collaborate with others who have diverse perspectives and experience
Harness AI and other disruptive technologies at the right time
Use varied media to communicate with others, and so on. 
This bouquet of core competencies ensures that employees are able to better exploit new technologies and ways of working.
But unfortunately, it is seen that only seven to 18% of enterprises have digital dexterity. No wonder most (70%) digital projects are doomed to fail even before they are implemented.
Preparing The Workforce To Be Digitally Dexterous
Investing in the latest technologies is great! But it's money down the drain if your employees are unable to fully embrace the new technology. This is why enterprises need to upskill their employees and foster a tech-friendly business culture and behavior. It is in such a digitally dexterous environment that workers feel empowered to operate with greater flexibility and innovate and collaborate more while taking risks in order to achieve business goals.
To this end, here are seven steps your organization can take to be better prepared for digital initiatives:
1. Map your organization's digital future:
First, assess the market and upcoming technology trends. Next, identify the new technologies that your company plans to adopt in the foreseeable future – to stay one step ahead of the competition. Then, assess how these technologies and digitizing operations will impact your organization and existing processes and what new skills your employees will need to learn to stay relevant.
2. Understand what makes employees tick
Instead of ignoring what the end-users feel about the IT upgrades, business leaders need to find out what can do to keep them engaged.
By harnessing surveys and focus group discussions, you can find out what your employees feel about new enterprise technologies. You can ask them about their technology-led concerns and what solutions would work best to help attain business goals. 
Once you understand their diverse needs, you can segment employees into homogeneous groups. Then, you may target digital dexterity development programs that best suit each of these well-defined groups. You may even encourage employees to develop digital dexterity by offering incentives and bonuses linked to the progress of their company's digital initiatives. Therefore, by treating employees as consumers, you can strategize a tech-friendly work environment and workflow.
3. Remove barriers to dexterity
Adopting and harnessing technology can be made easy and stress-free with hands-on learning modules, design thinking (empathy and customer journey maps), and A/B testing. You could also try an evolved approach to software onboarding by using Digital Adoption Platforms (DAP) such as Whatfix. Its smart Interactive Guides are a great onboarding support tool that eliminates barriers to entry and promotes agility, which in turn improves digital dexterity.
Also, remember that clear communication is central to making your employees "digitally-ready" for the change. So, ensure that you 'set the digital business narrative', which puts the spotlight on the importance of DD for the success of your tech-led business project and how individuals can contribute to it.
You can use different media (emailers, internal forums, launch party, etc) to explain to your employees how the new IT system or software can make a difference in attaining business goals more efficiently.
Whatfix onboarding overlay widget, even allows you to showcase a welcome video (maybe with a message from the CEO) as soon as users switch on the new technology platform. This level of change management is sure to help set employee expectations and thus improve adoption rates.
4. Focus on continuous learner-centric training
Today, one of the biggest roadblocks to digital dexterity is the lack of a skilled talent pool. In fact, a McKinsey Global Institute survey predicts that (owing to AI and automation) more than 1/4th of employees will need to be retrained or replaced between 2018 and 2030. Enterprises can remedy this situation by offering easy access to customized software and soft skills training.
With Whatfix's in-app guidance system, you can increase the effectiveness of your training programs – in real-time. It is also possible to improve employees' ability to use digital tools and lower resistance to change by making enterprise technology easy to use and available on-demand. And via advanced analytics, this on-demand solution also measures training effectiveness to deliver personalized learning modules. You can improve employee competencies, central to digital dexterity, by prioritizing experience-based learning programs. These include innovation programs, workflow shadowing, academic partnerships, job rotations, peer advocacy and reverse mentoring. 
For instance, Singapore Airlines (SIA) launched SIA [email protected], a development program to improve the digital skills and competencies of employees. This innovation-focused program featured "training, workshops, expert talks, and peer-learning sessions covering data analytics, design thinking, and agile capabilities." Such initiatives surely helped make it easier for SIA employees to stay agile and support continuous learning.  
What's more, by enabling technology self-service, workers can complete tasks on their own without having to depend on IT or support teams. You could try Whatfix's context-sensitive self-help widget in order to reduce helpdesk support overheads and receive help in real-time. 
5. Invest in leadership development
Apart from training your workers, it is also important to empower business unit leaders and function heads to understand emerging technologies that could disrupt their industry. And then train them to openly discuss digital options and choose the right tools that can drive growth. They should also have the acumen to change mindsets and design new digital-friendly workplace models, by modifying existing processes and flows.
Heidrick & Struggles' research shows that digital dexterity of leadership can be mapped by their ability to mobilize, execute, and transform with agility (META). 
Here is a step that the HR team needs to be super involved in. To promote digital dexterity, it's important to have a workforce that has different perspectives to offer. It would also be helpful to have workers with a myriad of specialized skills ranging from technology to psychology and communication to draw on, in order to make the digital transformation a success. Therefore the HR leads, in partnership with the business heads, should:
Identify skill gaps in the existing workforce by running data analytics.
Keep updating a dynamic list of skills that are required for your organization to stay digitally dexterous. 
Empower technical staff to make business decisions and business employees to take technical decisions.
7. Catalyze a cultural change
Truly digitally dexterous employees are not only tech-savvy but also thrive on risk-taking, learning, and collaboration, adopt an iterative way of working, learn from failures and embrace innovative and systems thinking. The organization also will encourage advanced data tracking and analysis to drive customization and innovation. P&G does just that with its Decision Cockpit that offers a centralized data and analysis repository for decision-makers across geographies. It also has conference rooms called "Business Spheres" for collaborative decision-making. To make such cultural upgrades to your workforce you need to implement strategic changes in your organization's processes, incentives, budgets, policies, and management. 
Not sure if your employees are ready to face changes in your organization's digital landscape? Here is a quick checklist to assess digital dexterity preparedness:
Does your organization readily accept new technologies? Have the last 3-4 IT projects seen a positive ROI?
Do employees have access to real-time, contextual support to navigate new technologies? Do they have the option to learn how to use the new tool, as they work on it?
Are your core operations digitized?
Does your company seek out new talent who have varied digital and cultural competencies?
Are your organization's decisions based on data and analytics?
Does your firm encourage collaborative problem solving and learning?
Does your organization link employee performance metrics to the success of digital initiatives?
Do your employees innovate and adopt new roles and new ways of working to support digital projects?
Is your workforce flexible enough to participate in new technology initiatives, with constantly changing requirements?
Do you devise digital change management plans in partnership with employees?
Are your digital transformation project timelines structured to ensure there is room for failing and learning from mistakes?
If you have answered 'no' to more than 50% of these questions then it's time to get back to the DD drawing board. 
There is no shortcut to digital dexterity, so get ready to invest significant time and effort into getting your workforce digital-ready.
Who Takes Charge Of Digital Dexterity?
Just like digital transformation shouldn't solely be the responsibility of the IT or HR team, improving digital dexterity also requires a dedicated task force with diverse functional backgrounds and seniority levels. It just isn't efficient for verticals, to work in silos, in order to improve their team's DD.
Therefore, apart from IT and HR, you need to collect inputs from every single department. This is what will help deliver a truly holistic digital dexterity strategy.
Take, for instance, a scenario where the C-suite members of a fictitious hotel chain decided that it is time to embark on a digital transformation journey. Immediately, the designated DD task force goes ahead and scans the digital landscape to identify technologies that could help them beat the competition in the hospitality industry. Then, backed by research, they choose to adopt AI-powered guest services. Next, they prepare a wholesome strategy to insert AI into the customer service workflow. To ensure that the IT project is a success, the task force not only ensures that the employees are comfortable using the new technology to delight guests, but also that they enforce management practices that shape how work gets done.
They also get senior leaders of customer service, operations, and HR to team up with the CIO to devise digital dexterity goals. Then, HR hires the right talent to execute this AI project. At the same time, the existing talent (in operations and customer care) is trained on how to use the new technology to engage positively with the guests and improve efficiency.
The CIO and HR head also work together to ensure that employees don't face any resistance to new technology adoption. Et voila! The hotel chain climbs up the digital dexterity ladder to successfully operationalize new technology.
Remember, digital dexterity is what every organization needs. But it is also something that requires your continuous attention. So, start working towards a digitally sound workforce NOW, for a more dexterous tomorrow.
We've Got The Right Solution!
Thankfully, you don't have to devise ways to improve your organization's digital dexterity all on your own!
The context-aware, analytics-driven, and personalized DAP Whatfix can help improve your employee's digital comfort with new technologies as they use them.
Click here for a free trial of this tool to see how it helps your employees stay agile with continuous learning in the flow of work. We are also happy to offer a quick demo to understand how Whatfix can help organizations bridge the digital dexterity gap.